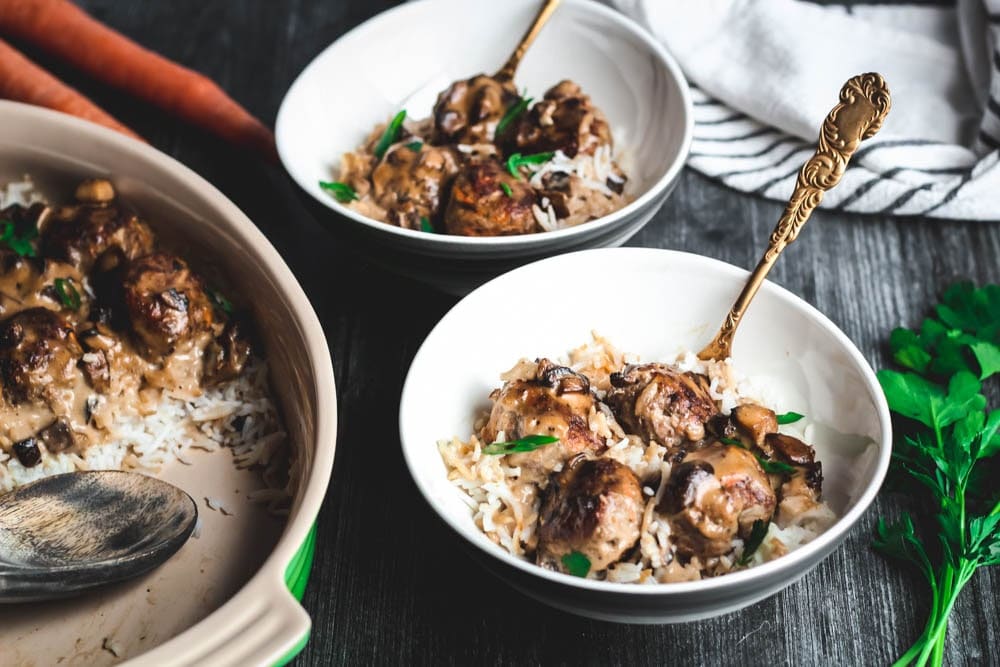 Poor Boy Supper is a delectable combination of everything I love about meatloaf and meatballs with a bit of twist. The meatballs are made with a mixture of shredded carrot, onion, and potato with seasonings, bread crumbs and egg to hold it all together. The result is a pillowy-soft meatball that has the flavor undertones of a meatloaf.
There is also a background flavor of potato that is surprising in this dish but also quite familiar. The meatballs are served on a bed of good ole' white rice and topped with unctuous brown mushroom gravy.
Frankly, the rice and gravy alone would make a bowl of heaven.
I'm not even sure where the name came for this classic family dish, but it always brings back great feelings of nostalgia for me and well, it's downright tasty. This dish can be served family style or as a make-ahead casserole. The latter is how it was usually served at my house growing up, but I have to say I didn't get nearly enough Poor Boy Supper growing up.
Both my mom and my sister decided to give up red meat for a number of years. Since my mom was the primary cook in the house this meant that we were pretty much no longer eating red meat anymore unless I snuck in the occasional Whataburger with my dad.
Poor Boy Supper just disappeared from life as I knew it. I don't recall ever asking my mom for a steak or pot roast. The one thing I really missed were those meaty little clouds of joy smothered in gravy. My mom rarely gave in during those years, but thankfully this was a passing trend in our lives.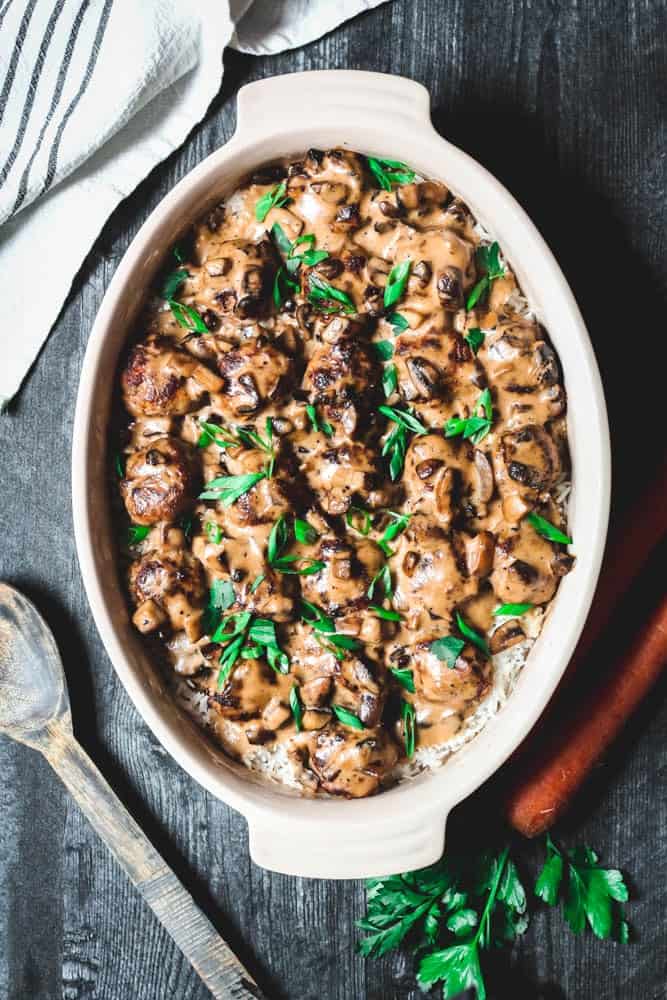 After a few years, my mom started to introduce beef back into her diet which meant, hooray, more Poor Boy Supper. It's even been in my family long enough that not only was it a favorite of my dad back in the day, but it's also become a favorite of my stepdad in more recent years.
The original recipe, of course, includes Campbell's condensed mushroom soup. I've covered this in other posts where I've rewritten the recipe to eliminate this pantry staple. I honestly have no problem with cream of mushroom condensed soup and made this recipe for years with it, but I've developed a serious love affair with mushrooms. Mushrooms just aren't front and center in the condensed can of convenience, so I elect to make my own sauce.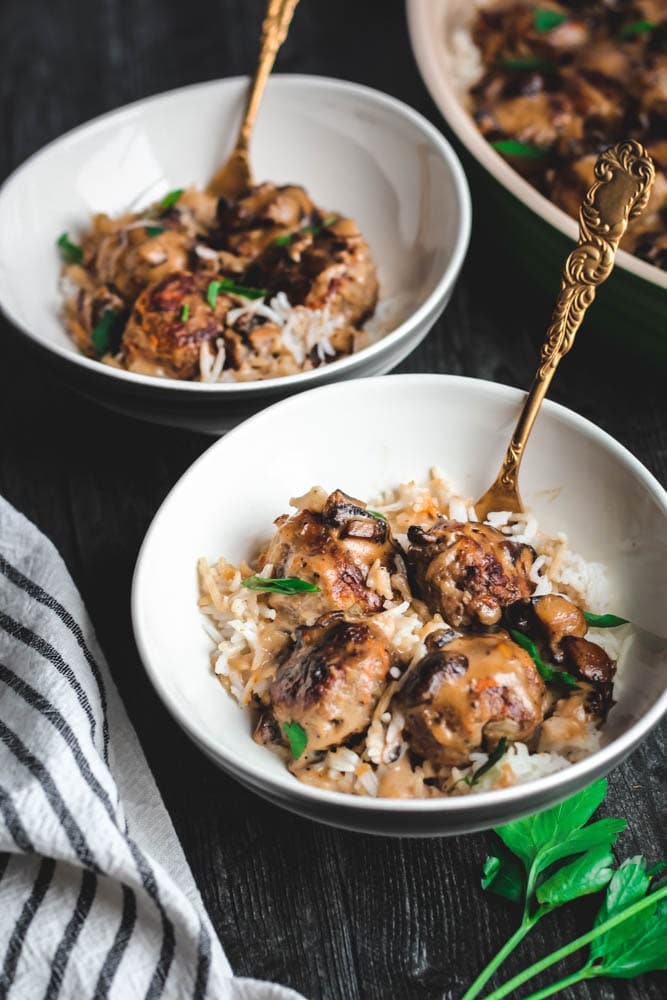 This recipe certainly wasn't any less satisfying with the use of Campbell's, but recreating the sauce as I have in my recipe really sends the dish over the top. It easily becomes something you could serve to company particularly if the guest list includes kids. I don't know many kids who aren't into meatballs, and the gravy is always optional if you've got a ketchup-only little one.
Poor Boy Supper is great served right away, but it's also fantastic as a quick reheat on a busy weeknight. You'll see in the recipe I cover two final cooking options depending on your plan to prepare and serve.
I'd love to hear which way you all prefer to make it in the comments section below. Please also let me know what you think of the recipe!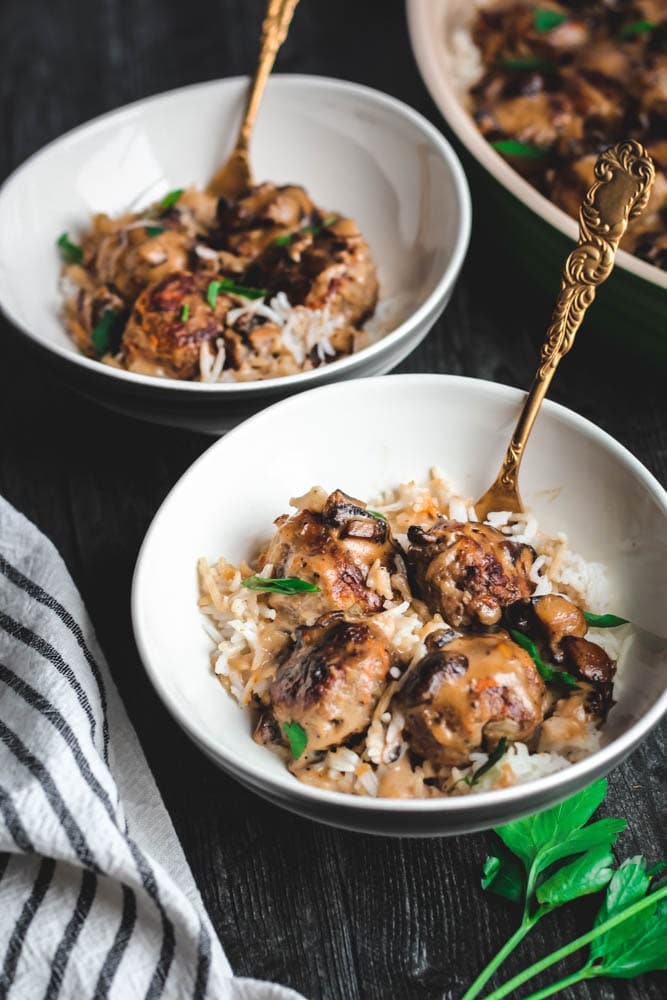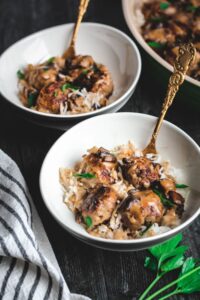 Poor Boy Supper
An old-school family favorite! Meatloaf-like meatballs over a bed of white rice topped with a delectable mushroom cream sauce. The meatballs are full of grated carrots, potatoes, and onions for a flavor and texture, unlike any meatball you've ever had. This is a great make ahead meal too!
Ingredients
1

small russet potato

1

small onion

2

medium carrots

1

lb

ground beef, 90/10

1

egg

¾

C

Italian breadcrumbs

2

tsp

salt

1

tsp

pepper

1

cup

uncooked basmati

or other long grain rice

8

oz

cremini mushrooms

2

C

beef stock

⅔

C

heavy cream

½

tsp

Worcestershire

½

tsp

garlic powder

½

tsp

onion powder

2

Tb

butter

2

Tb

olive oil

2

Tb

flour
Instructions
Preheat oven to 350 degrees.

Peel carrots. Remove the outer layer of onion by removing both ends and then peeling the outside skin. Do not cut the onion in half as it's easier to grate whole. Using the large grate side of the box grater, grate carrot, onion, and potato. Before adding to bowl gently squeeze some of the liquid out. Add to bowl with ground beef, Italian breadcrumbs, 1 egg, 1.5 tsp salt and ½ tsp pepper.

Prepare rice according to package instructions. I always recommend that you give your rice a quick rinse under cold water prior to cooking. Just put the rice in a fine strainer and rinse. I know some people will say that doing this rinses off all the nutritional value of the rice, but frankly, I'm not looking to white rice to make a solid contribution to my health. I want it to be fluffy and light. That's what is most important to me so I rinse.

Add 2 Tb of olive oil to a pan over medium heat. Add meatballs in batches to pan to sear. Turn after 2-3 minutes or once meatballs are well browned on one side. Leave on the second side for 2-3 minutes and move to a baking sheet.

Once all batches are complete, put the sheet pan in oven for 10 minutes to completely cook through while you make the sauce. Set a timer so they don't turn into hockey pucks in the oven. If you plan to make ahead, skip this last step of finishing the meatballs in the oven. Instead, stop after searing and set aside. See the final instruction step for more details.

Wet a paper towel and ring out well. Wipe mushrooms to remove any apparent dirt. You never want to rinse mushrooms under water or they will absorb that water and steam instead of searing when cooked. Cut into ¼-inch dice.

In the same pan used for meatballs, add 2 Tb of butter. Add diced mushrooms, stir to evenly coat in oil and leave undisturbed for 2-3 minutes. Stir and repeat for another 2-3 minutes or until mushrooms are golden brown and smell nutty.

Add 2 Tb of flour to mushrooms and cook, stirring constantly, for about 2 minutes. You want the flour to smell a bit nutty and to not see any visible white flour anymore.

Add 2C of beef stock and bring to a boil over medium-high heat. Boil for about 5-7 minutes or until thick enough to coat the back of a wooden spoon. Add the heavy cream and bring back to a boil. Season with ½ tsp salt, ½ tsp pepper, garlic powder, onion powder and Worcestershire. Boil for another 5 minutes, stirring constantly. Turn off heat.

You can serve right off the stove or make this meal ahead. If serving right away, top rice with meatballs that you've finished in the oven, add the sauce, and enjoy!

If you want to make ahead, as noted above, stop cooking meatballs after searing (IE: do not finish in the oven). The meatballs will finish cooking when you reheat. Cover the bottom of a large casserole dish with the cooked white rice. Top with meatballs and then cover in sauce.

Place in the fridge until ready to reheat. This casserole can be kept in the fridge for up to 5 days prior to cooking. When ready to cook, preheat the oven to 350 degrees. Cover the casserole loosely with foil and place in the oven for about 30 minutes or until warmed through. Once warmed, serve and enjoy!
The following two tabs change content below.

Hey-ooo! I'm Hailey, and I'm a number cruncher by day and cussing cook by night. I created this site to share my love for delicious food that feeds the soul as well as the belly. I hope my recipes have you running to the kitchen to cook some damn good grub!