Meatloaf Meatballs and Rice with Mushroom Gravy is a combination of two of my favorite comfort foods: meatloaf and rice with gravy. It can be served family-style straight from the stove, or the recipe is a perfect make-ahead dinner.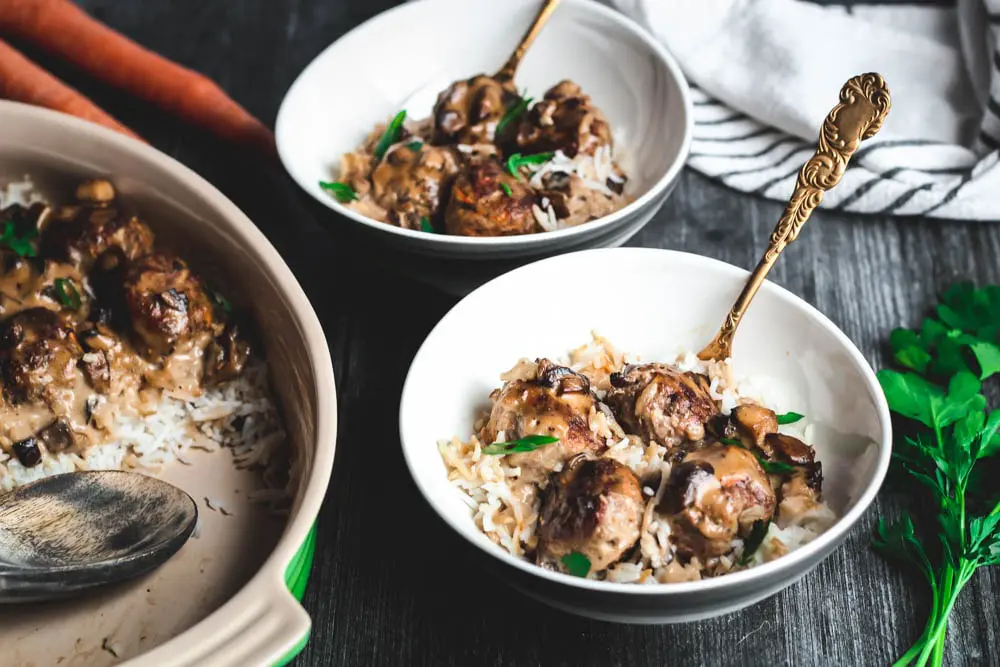 The recipe was always known as "Poor Boy Supper" in my family (no idea why). I renamed the recipe, so all the readers know what they're getting and so more people could find it online!
The first thing that comes to mind when I take a bite out of these homemade meatballs is meatloaf. The meatballs are made with a mixture of shredded carrot, onion, and potato with seasonings, breadcrumbs, and egg to hold it all together. Sounds a lot like meatloaf, right??
A meatball's best friend is sauce. You can't serve them without it. Many might think the perfect complement to a meatball is tomato sauce, but you won't find any in this recipe.
Instead, these juicy meatballs are served on a bed of white rice and topped with homemade mushroom gravy. Frankly, the rice and gravy alone are a bowl of heaven.
INGREDIENTS
The original recipe for Meatloaf Meatballs and Rice uses Campbell's Cream of Mushroom soup. No hate, but if I can make a recipe better without condensed soup, that's what I'm going to do. The result is totally worth it.
To make the recipe you'll need:
Potato- russet potatoes are my preferred variety for this recipe.
Onion
Carrot
Ground beef- I use a 90/10 or lean ground beef for this recipe, but 80/20 or chuck will work.
Egg
Seasoned breadcrumbs- also known as Italian seasoned.
Long grain rice- Basmati rice is my go-to variety no matter what recipe, I'm making but any long grain rice will work.
Mushrooms- I use baby portabella mushrooms which are also known as cremini mushrooms. If you can't find them, check out this article with recommended substitutes.
Beef stock- Use the low sodium version whenever possible, so you can control the salt content.
Heavy cream
Worcestershire sauce
Garlic and onion powder
Butter
Olive oil
All-purpose flour
Salt and pepper
While the ingredient list isn't short, this recipe is easy to make. Most of the ingredients are inexpensive and commonly kept in the pantry.
INSTRUCTIONS
The recipe starts with making the Meatloaf Meatballs from scratch. The potato, onion and carrot are finely grated before combining with the beef, eggs, and breadcrumbs. Then meatballs can be formed.
The meatballs can be cooked in one of two ways, in the oven or on the stove. Cooking on the stove will yield a crisper exterior while cooking them in the oven is less messy and less time-consuming. The meatballs are really delicious either way.
Once the meatballs have been cooked, the gravy is prepared. Check out my Perfect Basmati Rice post for tips on how to make foolproof long grain rice. Just be sure to omit the Sazon for this recipe.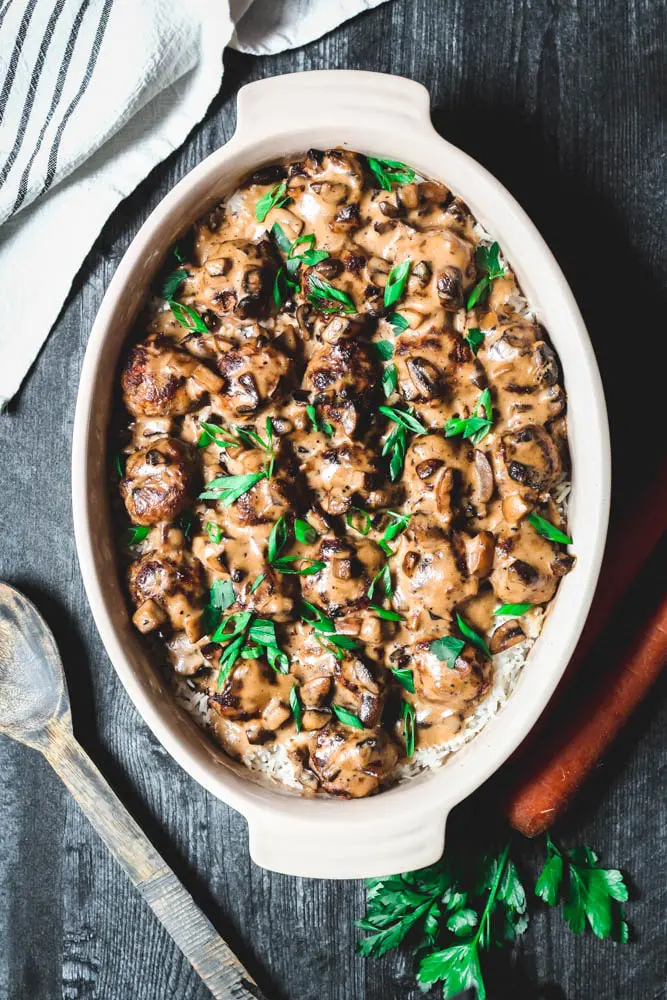 The mushroom gravy is so simple. Browning the mushrooms properly is the most important step in making the gravy. Make sure the mushrooms are golden brown before adding the flour and beef stock.
Once all of the elements are prepared, the dish is ready to serve, or it can be stored in the fridge for up to 3 days before reheating and serving.
SUBSTITUTIONS
There are a few different substitutions you could make to Meatloaf Meatballs with Rice depending on what you're trying to accomplish.
Ground turkey or chicken can be substituted for beef but note that the texture of the meatballs may differ from the beef variety.
Condensed Cream of Mushroom Soup can be used in place of the making the mushroom gravy from scratch. Heat the condensed soup with enough liquid to reach the desired consistency. Beef stock or water will work for the liquid.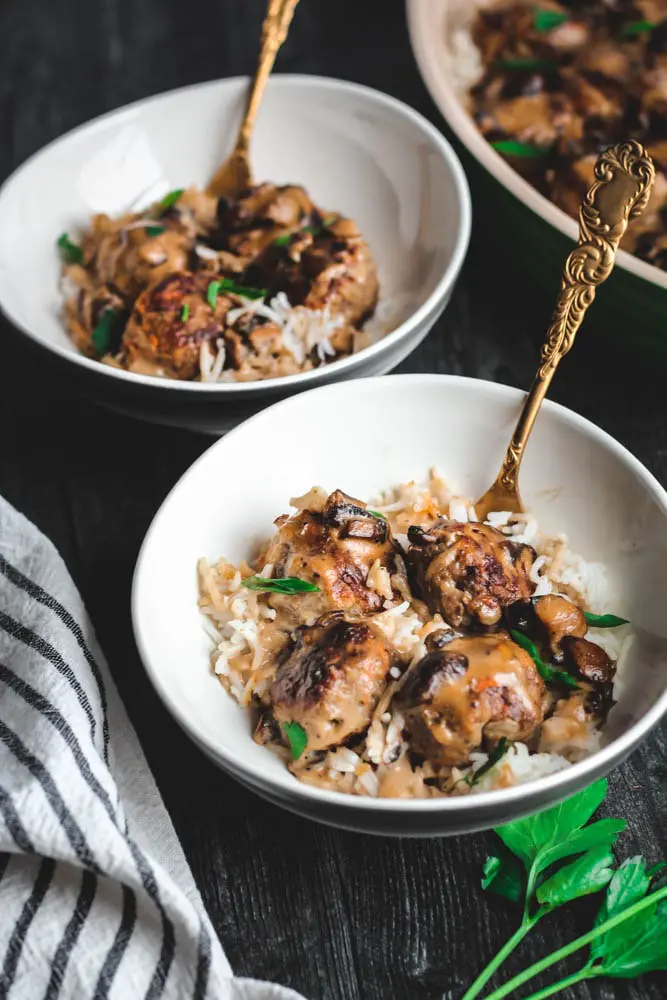 EQUIPMENT
There is no special equipment required to make this recipe. I recommend using a cookie scoop for even meatballs, but it's not required.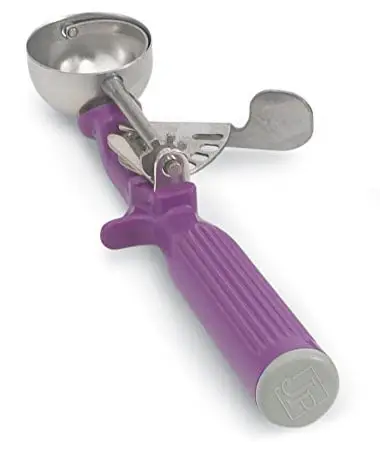 STORAGE
You have two options for prepping and storing Meatloaf Meatballs. If you're making the meatballs ahead of time, I recommend cooking them fully before storing them in the fridge or freezer. They will keep for up to five days in an airtight container in the fridge before serving with the rice and gravy.
Alternatively, you can freeze the cooked meatballs. Be sure you allow the meatballs to fully cool to room temperature before freezing.
Once the meatballs are cooled, arrange them on a sheet pan and place them in the freezer. Once the meatballs are frozen, transfer them to a plastic storage bag. They can be kept in the freezer for up the three months. Thaw completely before reheating.
You can also prepare the entire dish, including the rice and gravy, and store it in the fridge for up to 3 days before serving or the freezer for up to three months. Be advised that the rice will become quite soft if frozen.
TOP TIP
If you're going to take the time to create your own mushroom gravy without condensed soup, don't rush over the SUPER important step of browning the mushrooms. This article from Bowl of Delicious does a great job of detailing how to properly brown shrooms.
Brown your mushrooms right, or you might as well use the condensed soup shortcut outlined in the Substitutions section above.
MORE RECIPES YOU'LL LOVE
If you're a fan of mushrooms, meatballs, or both, be sure to check out some of these other recipes on the blog.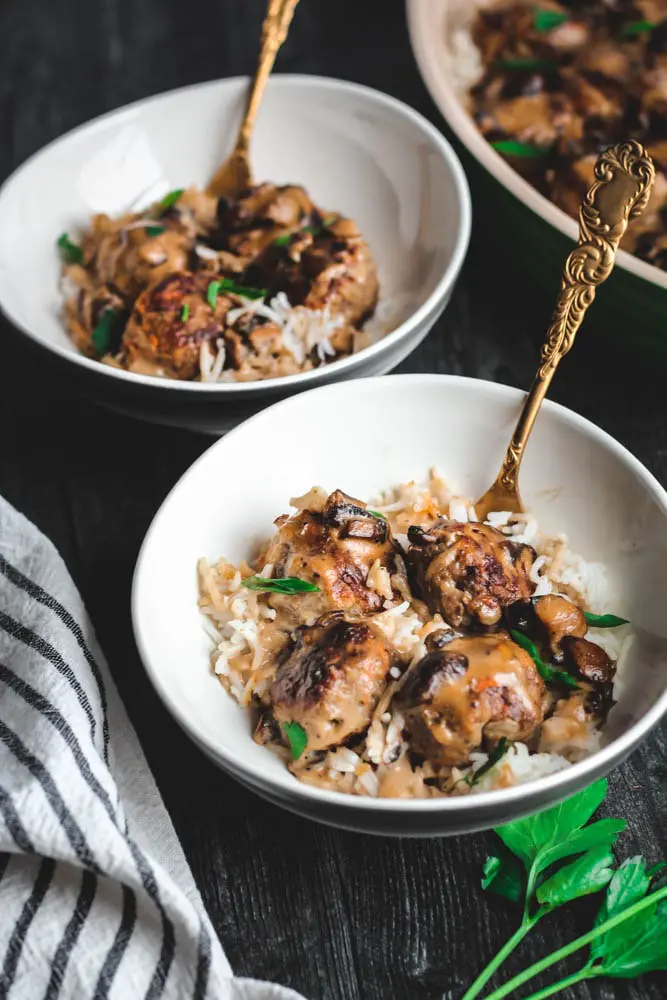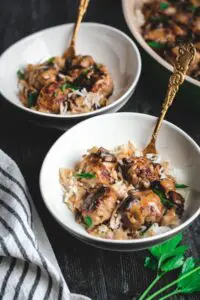 Meatloaf Meatballs and Rice with Mushroom Gravy
Meatloaf Meatballs and Rice with Mushroom Gravy combines the flavors of meatloaf and rice with gravy for a delicious dinner that can be made ahead or served right away.
Ingredients
1

russet potato

small

1

onion

small

2

carrots

1

lb

ground beef, 90/10

1

egg

¾

C

seasoned breadcrumbs

2

tsp

salt

divided

1

tsp

ground black pepper

divided

3

cups

cooked long grain rice

8

oz

cremini mushrooms

also called baby portabella

2

C

beef stock

⅔

C

heavy cream

½

tsp

Worcestershire

½

tsp

garlic powder

½

tsp

onion powder

2

Tb

butter

2

Tb

olive oil

2

Tb

flour
Instructions
Preheat oven to 350 degrees.
To prepare the meatballs:
Peel carrots and onion. Grate carrot, onion, and potato. Add to a mixing bowl with ground beef, breadcrumbs, egg, 1½ tsp salt and ½ tsp pepper. Mix well with hands until combined. Use a cookie scoop or hands to divide into golf ball-sized portions.
To cook the meatballs on the stovetop:
Add 2 Tb of olive oil to a pan over medium heat. Add meatballs in batches to pan to sear. Turn them over after 2-3 minutes. Leave on the second side for 2-3 minutes. Reduce heat to medium-low and continue cooking meatballs until they are cooked through (about 10 minutes), stirring occasionally to avoid burning.
OR to cook the meatballs in the oven:
Place the prepared meatballs on a sheet pan. Bake at 375° for 20 minutes, turning each meatball over halfway through cooking.
To make the mushroom gravy:
Wipe any visible dirt from the mushrooms with a dry cloth. Dice into ½-inch pieces.

Add 2 Tb of butter to a saucepan (if you cooked your meatballs on the stove, you can use the same pan). Add diced mushrooms, stir to evenly coat in oil and leave undisturbed for 2-3 minutes. Stir and repeat for another 2-3 minutes or until mushrooms are golden brown.

Add 2 Tb of flour to mushrooms and cook, stirring constantly, for about 1 minute.

Add beef stock and bring to a boil over medium-high heat. Boil for about 5-7 minutes or until thick enough to coat the back of a wooden spoon.

Add the heavy cream and bring back to a boil. Season with ½ tsp salt, ½ tsp pepper, garlic powder, onion powder and Worcestershire. Boil for another 5 minutes, stirring constantly. Turn off heat.

You can serve right off the stove or make this meal ahead. If serving right away, top rice with meatballs and gravy and enjoy.
To make ahead:
Cover the bottom of a large casserole dish with the cooked white rice. Top with meatballs and then cover in sauce. Coverly the dish tightly with plastic wrap or foil.

Place in the fridge until ready to reheat. This casserole can be kept in the fridge for up to 5 days prior to cooking.

When ready to cook, preheat the oven to 350 degrees. Cover the casserole loosely with foil and place in the oven for about 30 minutes or until warmed through.
FREQUENTLY ASKED QUESTIONS
Can the recipe be made ahead of serving?
Yes. The meatballs can be cooked ahead of time and kept in the fridge or freezer. Alternatively, the whole recipe can be completed and kept in the fridge for up to 5 days. Check out the post for more details.
Do I have to use ground beef?
No, the meatballs can be made with ground turkey or ground chicken.
Do I have to make the mushroom gravy from scratch?
Condensed cream of mushroom soup thinned out with water or stock can be substituted, but the mushroom flavor won't be as strong as it is in the homemade gravy.
The following two tabs change content below.

Hey-ooo! I'm Hailey, and I'm a number cruncher by day and cussing cook by night. I created this site to share my love for delicious food that feeds the soul as well as the belly. I hope my recipes have you running to the kitchen to cook some damn good grub!