Louisiana Meat Pies made with flaky crescent roll dough filled with a rich and meaty filling. These easy and quick pies are perfect football food but also make a standout weeknight dinner when paired with a simple salad.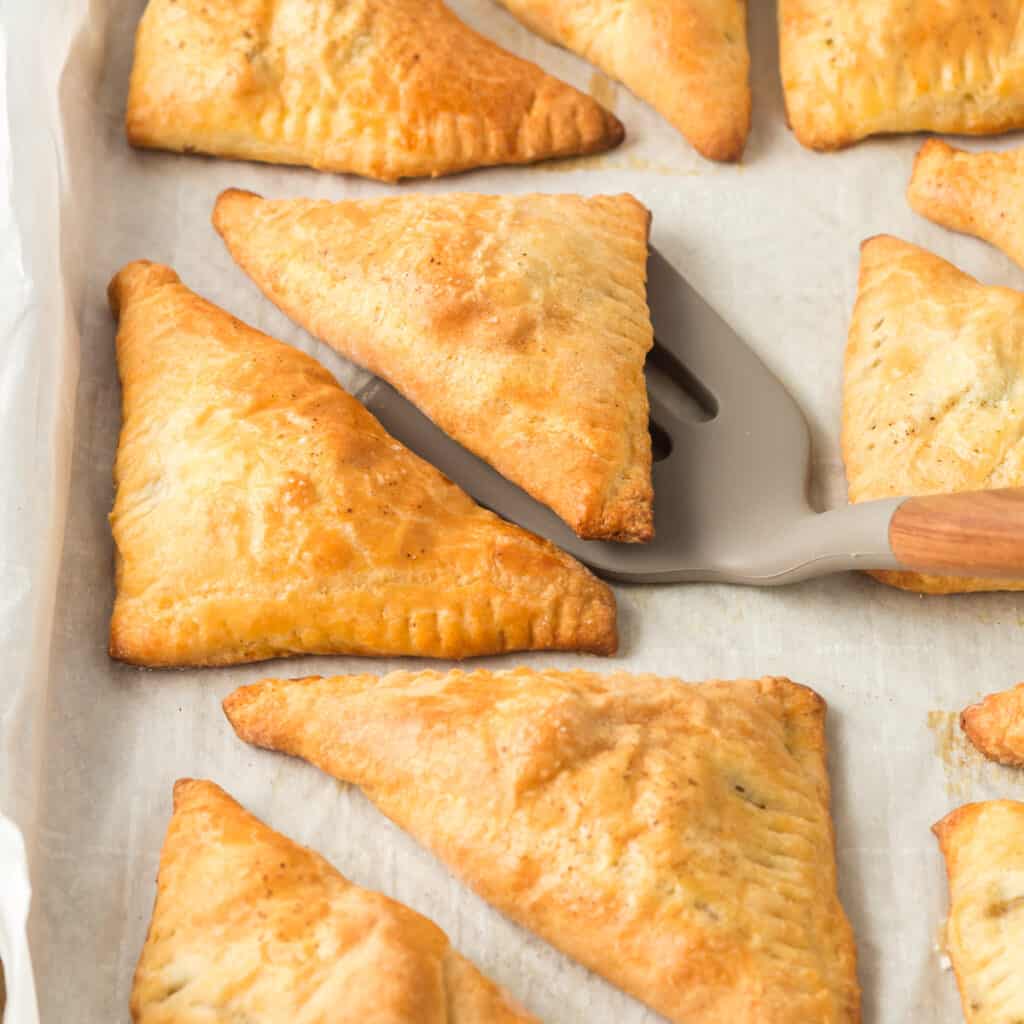 Louisiana Meat Pies are easy as could be and make the perfect potluck dish for any type of gathering, particularly one that includes sports. Prepared Crescent Roll dough makes this meat pie recipe quick and simple, but it also lends a wonderful buttery, flaky texture to the meat pies. Young or old, even the pickiest eaters will love Louisiana Meat Pies.
One amazing summer of my life was spent in Louisiana. I lived in New Orleans for two months and worked in the French Quarter. My less than rigorous intern workload meant I was off by 3 pm every day (god…I miss my twenties) and spent most of my free time eating and drinking my way through the city.
Still to this day, I'm inspired by the flavors of Louisiana. These Meat Pies are one such example of how the inspiration stays with me to this day.
What is a meat pie?
Meat pies are nothing more than a hand pie filled with meat. I just love a good hand pie…IE a pie that you can easily hold in your hand. Hand pies can be found in both savory and sweet form, and one such savory hand pie is a meat pie. The English commonly call them pasties (not to be confused with the nipple covers).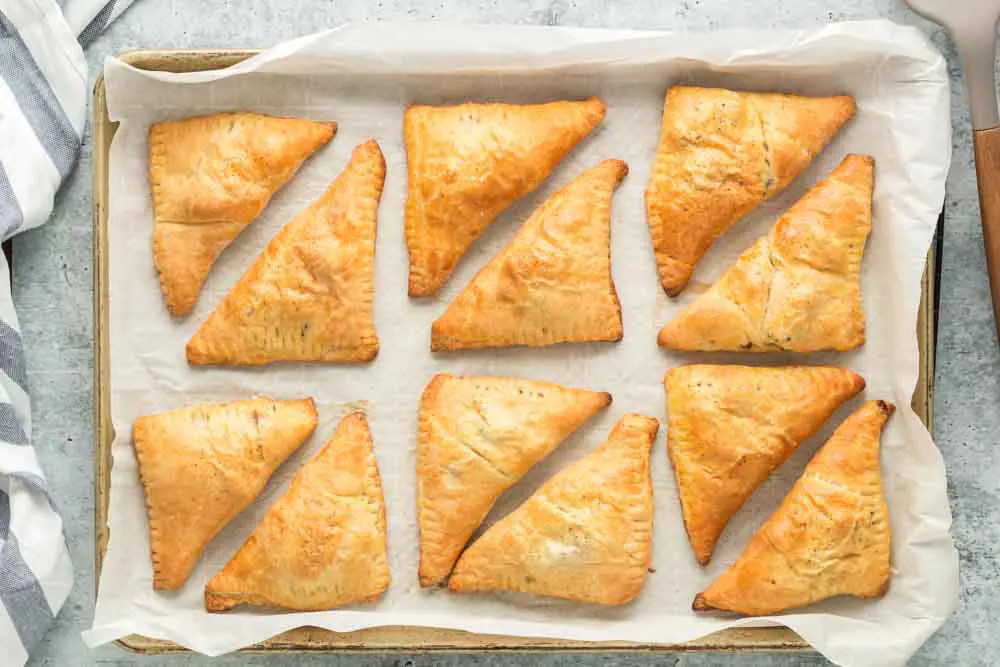 Ingredients
Louisiana Meat Pies contain a mixture of cooked ground beef and pork. The original meat pie recipe is pure and simple, and I didn't want to mess that up in my spin-off. Green onions and garlic along with a splash of Worcestershire sauce are the backbones for the pies' savory filling.
The ingredients include:
Ground pork
Ground beef- I like to use 80/20 (or chuck) for this recipe.
Green onions
Garlic
Salt and Pepper
All-purpose flour
Worcestershire sauce
Beef stock
Egg
Crescent Roll Dough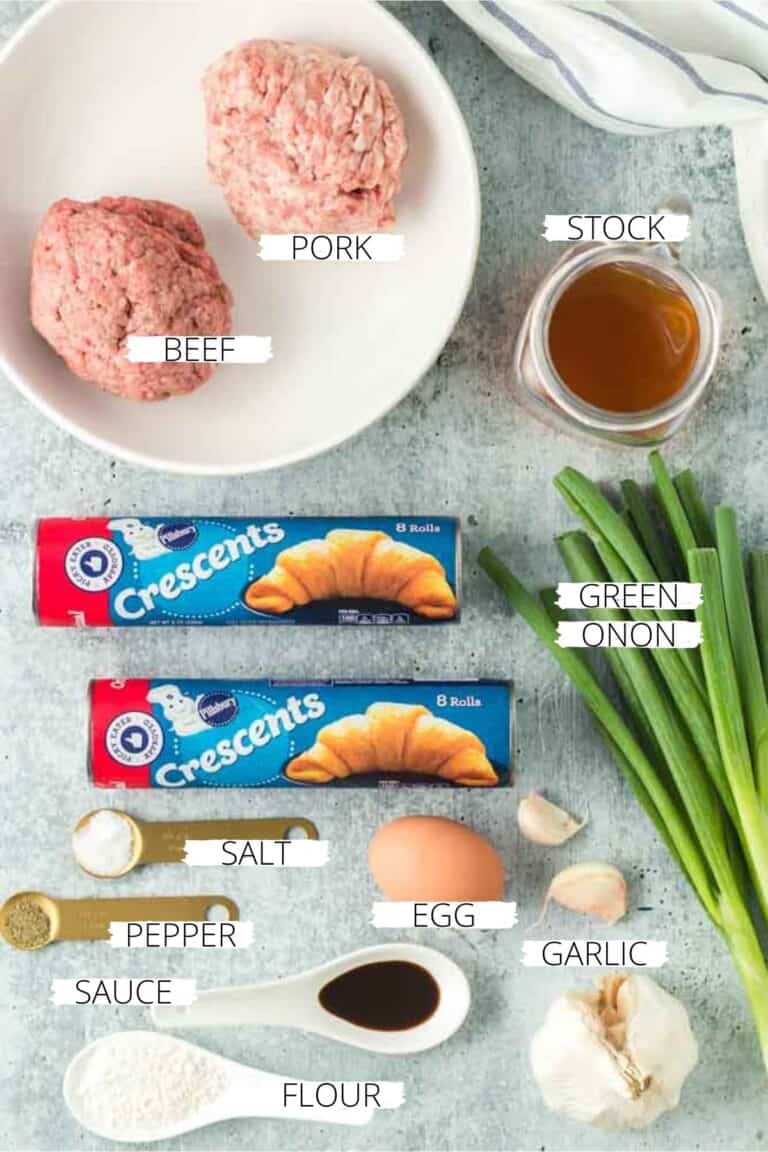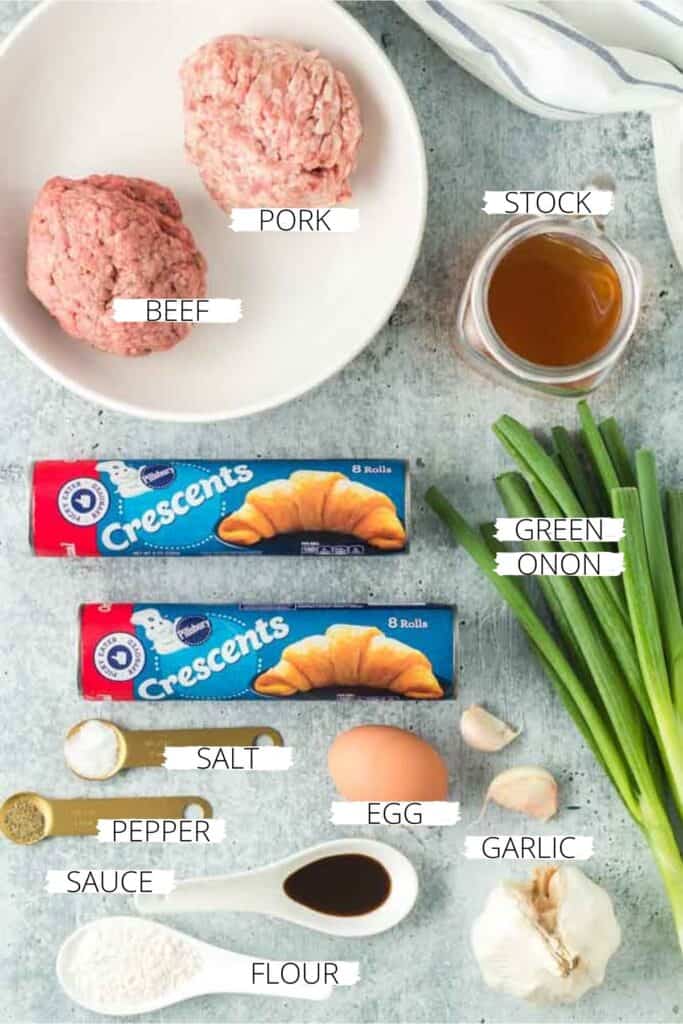 TIP: Pillsbury has a Crescent Roll Dough Sheet that makes this recipe even easier. If you can't find it, no big deal. The process shots I've included show how I pinch the seams of the perforated dough to make it one solid sheet.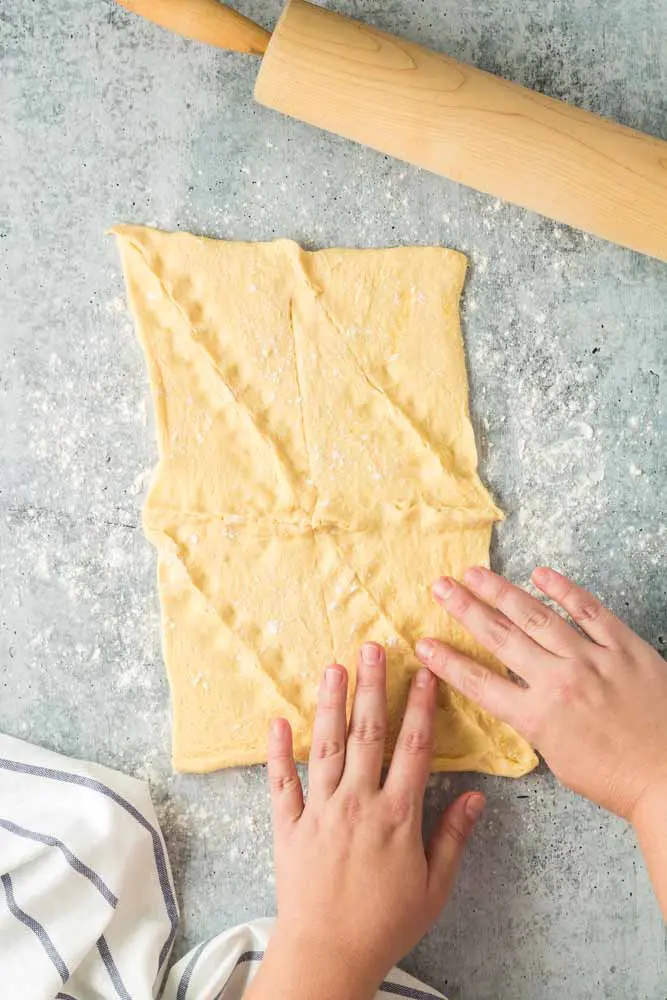 Instructions
There are three steps to this recipe: making the filling, assembling the meat pies, and baking. The filling for my Louisiana Meat Pies is lightning-fast to make. It can also be made in advance (see my "Top Tip below). Assembling the pies is also quick and easy because crescent roll dough is very forgiving.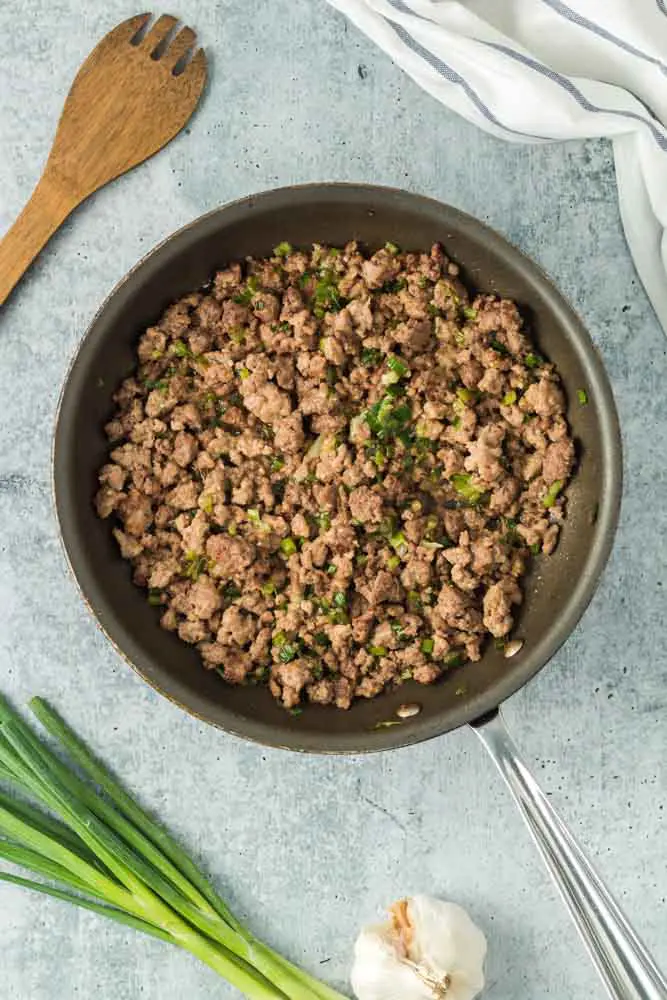 The primary difference in my recipe versus others is the use of crescent roll dough. I tried this recipe with pie crust as I use in my Shepherd's Hand Pies, but the pies were too dry. My goal was to achieve the moist crust that you get from deep frying but from the oven. Crescent roll dough does just that!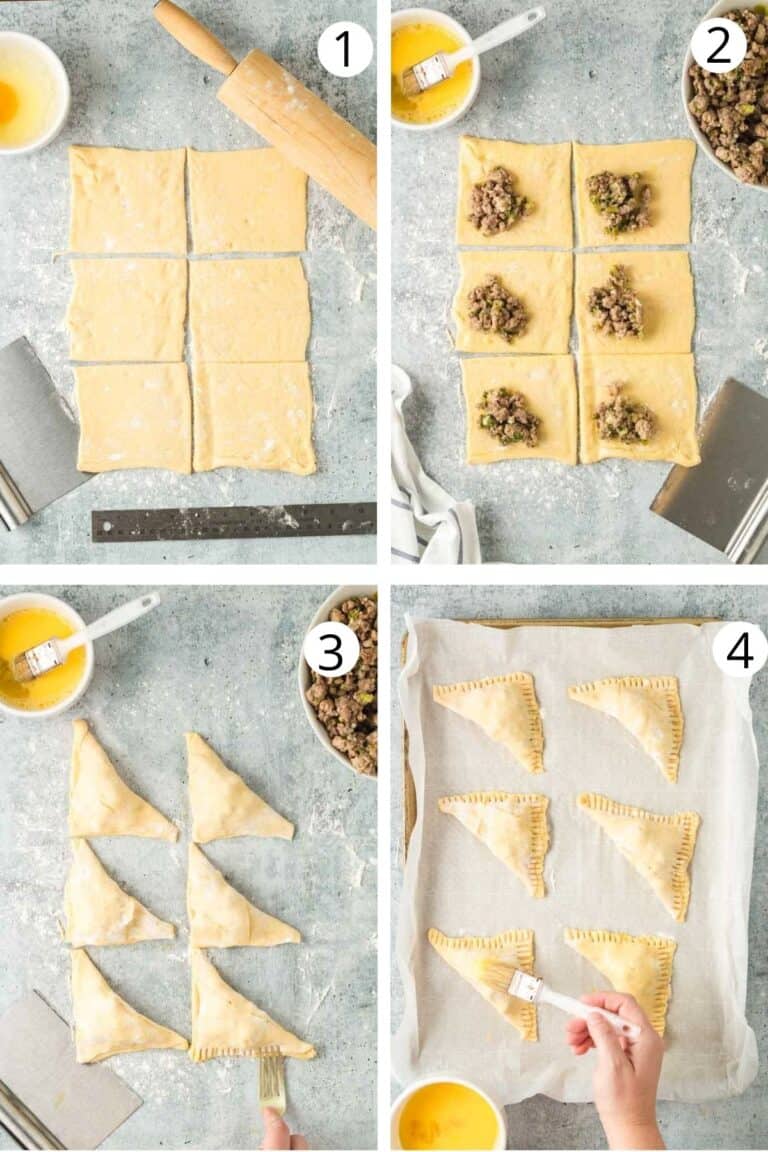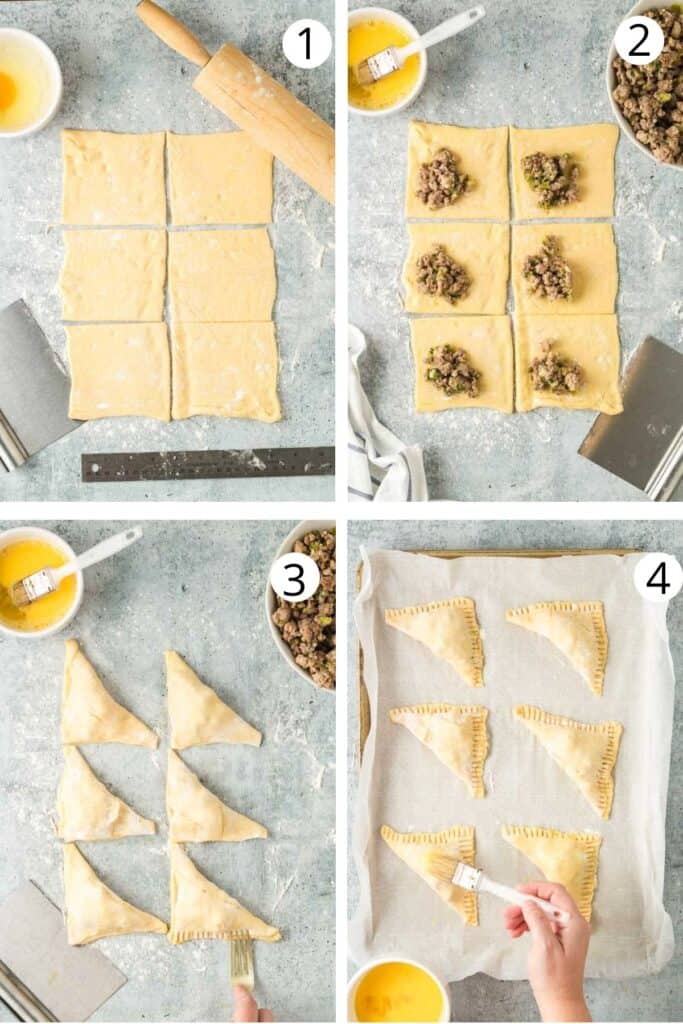 It is buttery and rich just like fried pies but requires a fraction of the effort. Not only is it completely fail-proof, but Crescent Roll dough is also delicious! If you prefer to make your dough from scratch, check out this recipe from Baking a Moment for homemade crescent roll dough.
Substitutions
The ingredients in this recipe are so simple that it doesn't leave a lot of room for substitutions. A few that come to mind are:
100% ground pork OR beef- instead of the 50/50 mix
White or red onions- instead of green onions
Water or chicken stock- instead of beef stock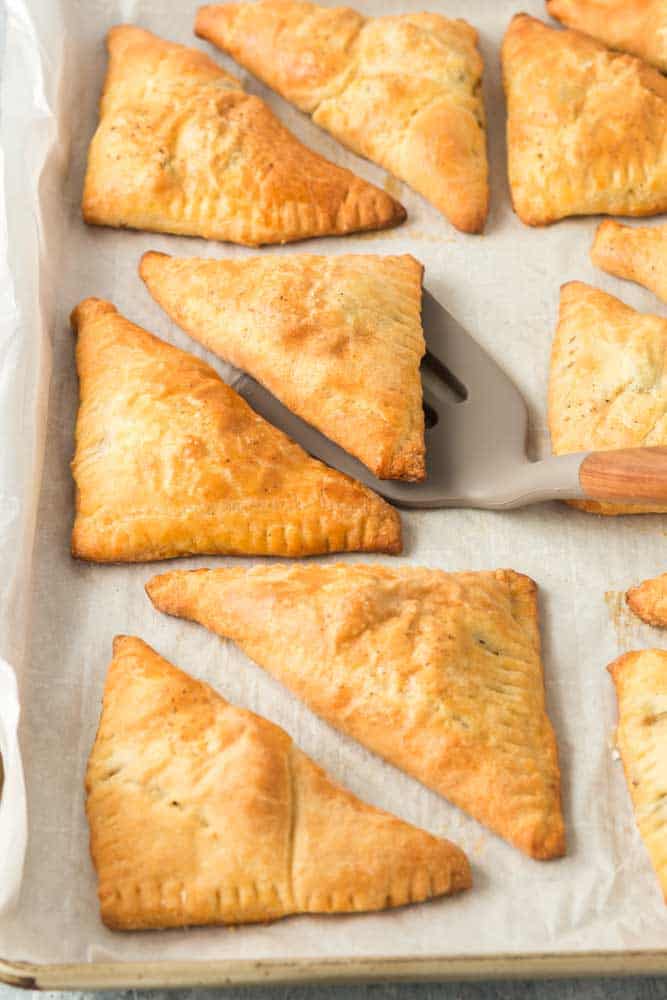 The recipe could also be converted to vegetarian by replacing the ground meat with a plant-based alternative like Beyond or Impossible. Be sure to also use vegetable stock or water as a substitute for beef stock.
Equipment
You won't need any kind of special equipment to make Louisiana Meat Pies. In fact, they are so easy to make, the recipe is perfect to cook with little ones who have an interest in the kitchen. Meat pies are super tasty no matter what they look like.
Storage
The pies are best eaten warm soon after baking. The crust will absorb the liquid from the filling if left in the fridge for long making the filling dry and the dough wet. That's not what we want.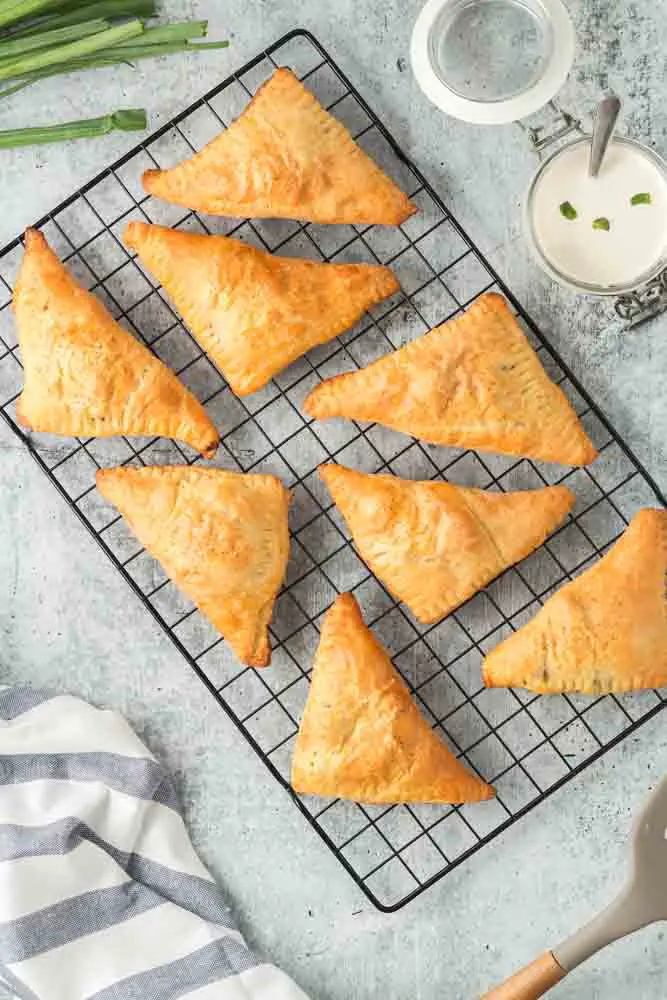 Alternatively, the cooked pies can be frozen whole after cooling and kept for up to 3 months in an airtight container. To reheat, allow the pies to thaw first and then reheat in a 250-degree oven until warmed through.
Serving Suggestions
If you're serving Louisiana Meat Pies as party food, then all you need is a good dipping sauce. My recipe includes a horseradish dipping sauce that I love with ground beef, but you're welcome to choose any dipping sauce that tickles your taste buds. Russian dressing or fry sauce would both also pair well.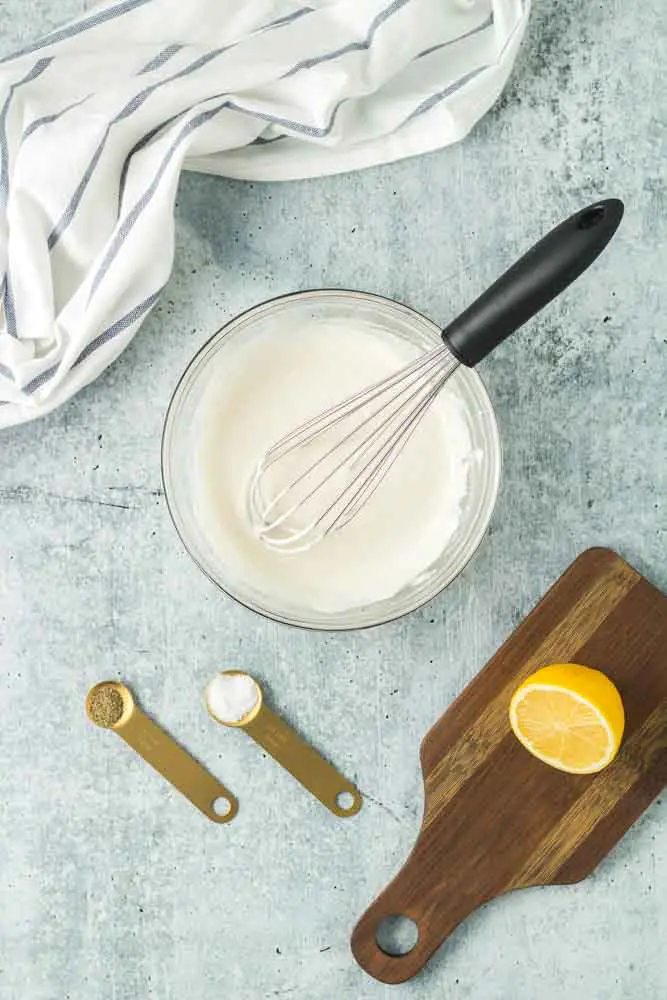 I love to make my Louisiana Meat Pie recipe for dinner though. They are the perfect way to mix up the normal dinner routine. Paired with a simple green salad, they make a beautiful weeknight dinner.
Top tip
Make your meat filling in advance! Hot filling will make assembling the meat pies a nightmare. Because it has plenty of fat in it, the dough can get sticky and just turn into a general pain in the ass if the filling is warm. It's so easy if the filling is properly cooled.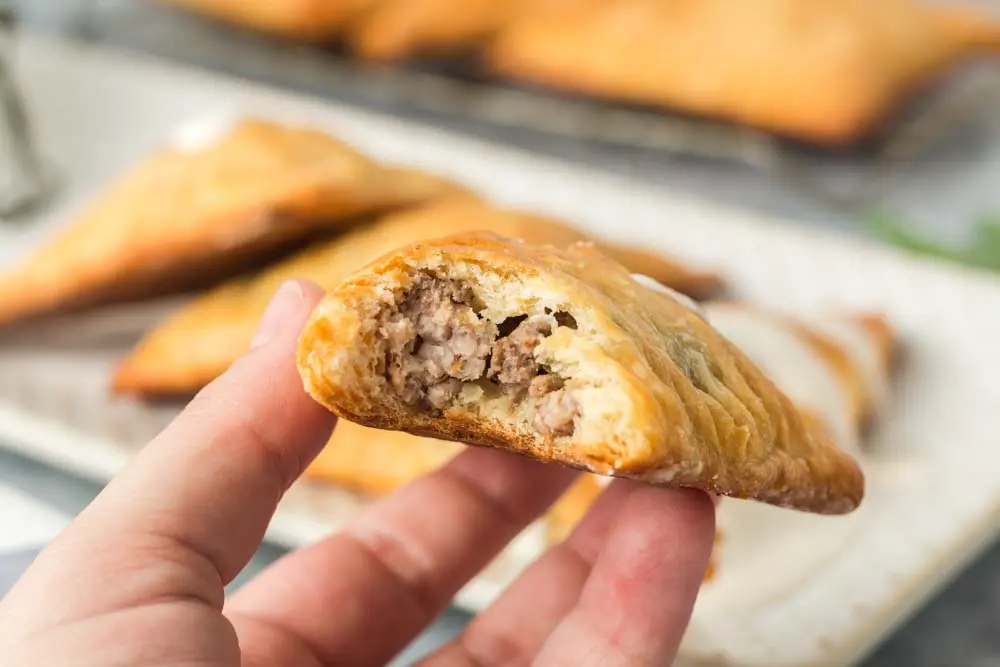 I like to make the filling at least an hour before I'm assembling the meat pies. If you're short on time, you can also spread the filling out on a sheet pan and let it cool in the fridge for about 30 minutes before assembling the pies.
The filling can be stored in the fridge for up to three days before assembling.
More Savory Pie Inspiration
Looking for some other unique savory pies to check out? Here are a few of my favorites.
Try out this recipe or any of the others in the Savory Pies category, and let me know how it goes. I'd love to hear what you think.
Helpful Utensils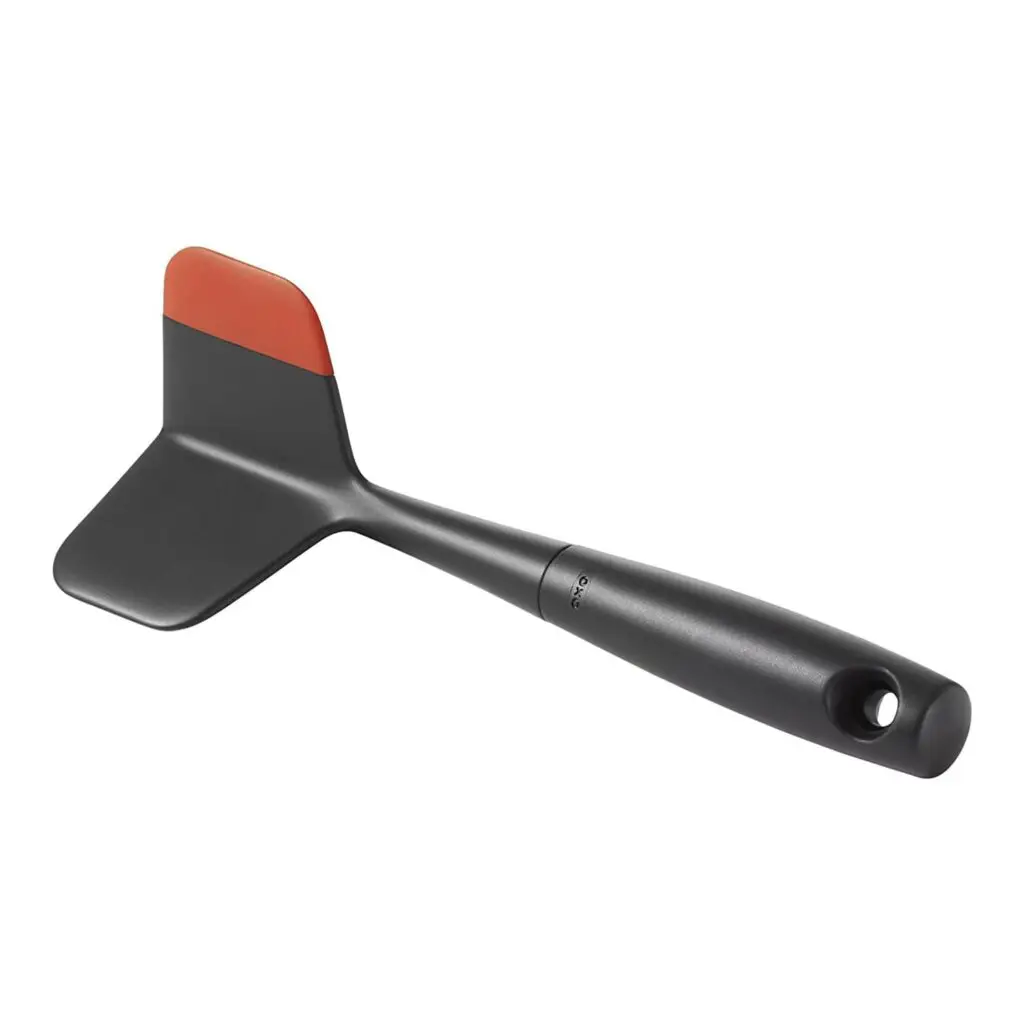 This little gadget is the thing you never knew you needed until you had it, and then you'll find yourself using it all the time! Breaking up ground meat while cooking is quick and simple with this chopper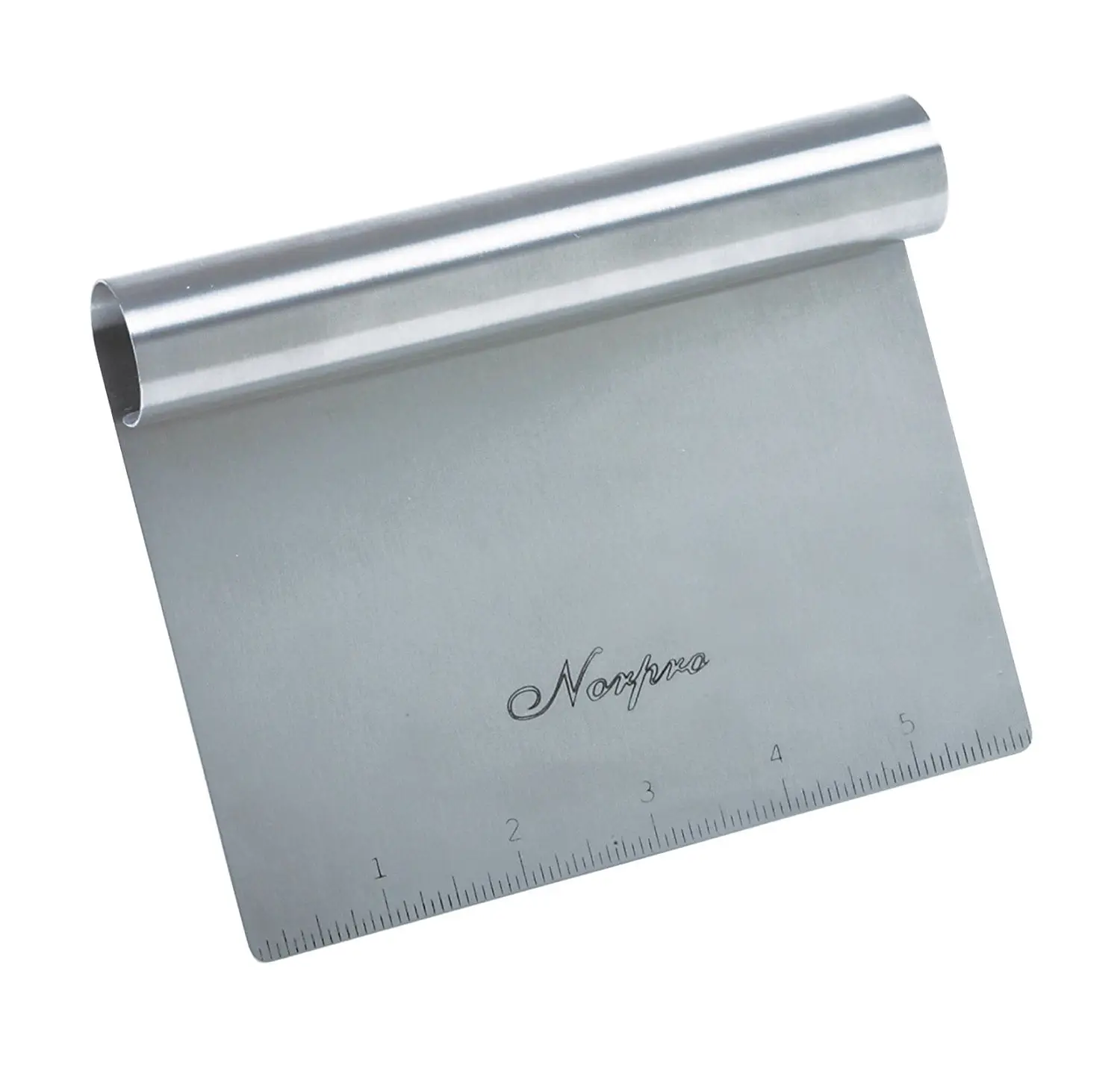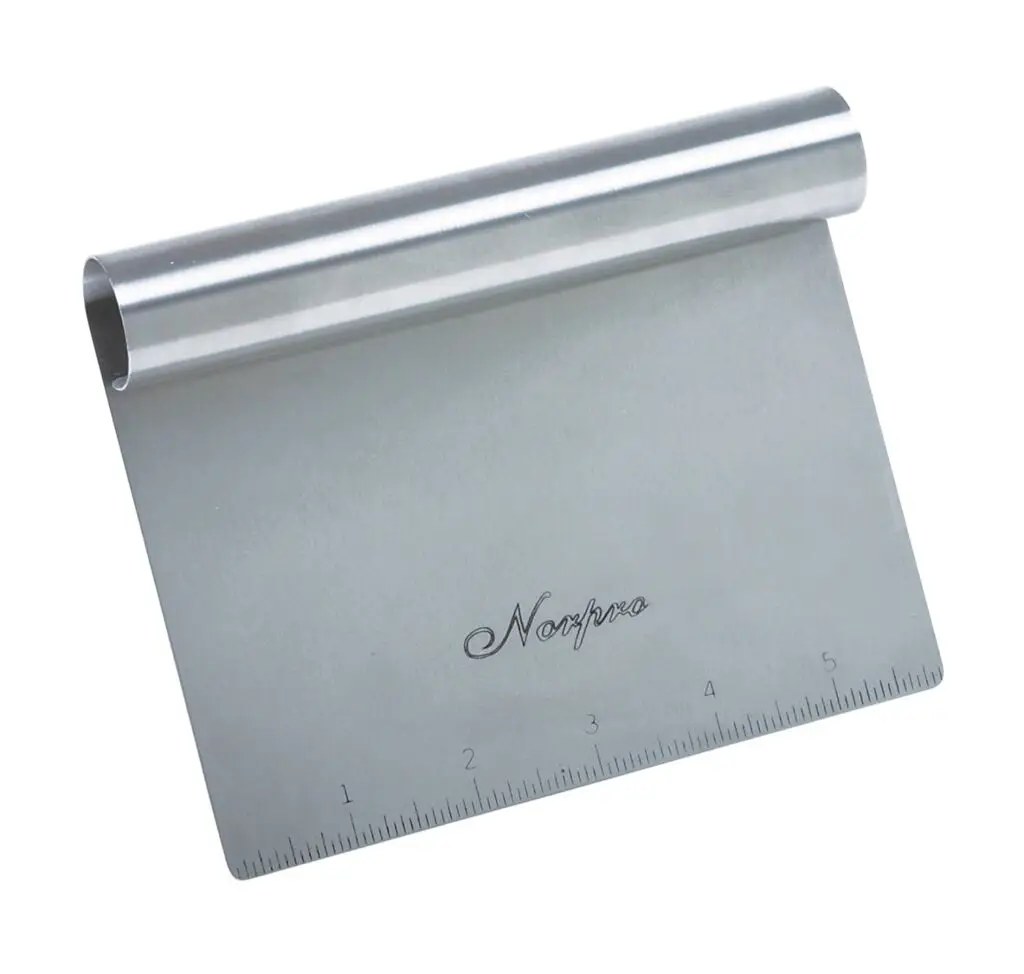 Anytime you're working with dough, a bench scraper is your best friend. If you're like me and have hot hands, a bench scraper makes handling dough so much easier and less messy.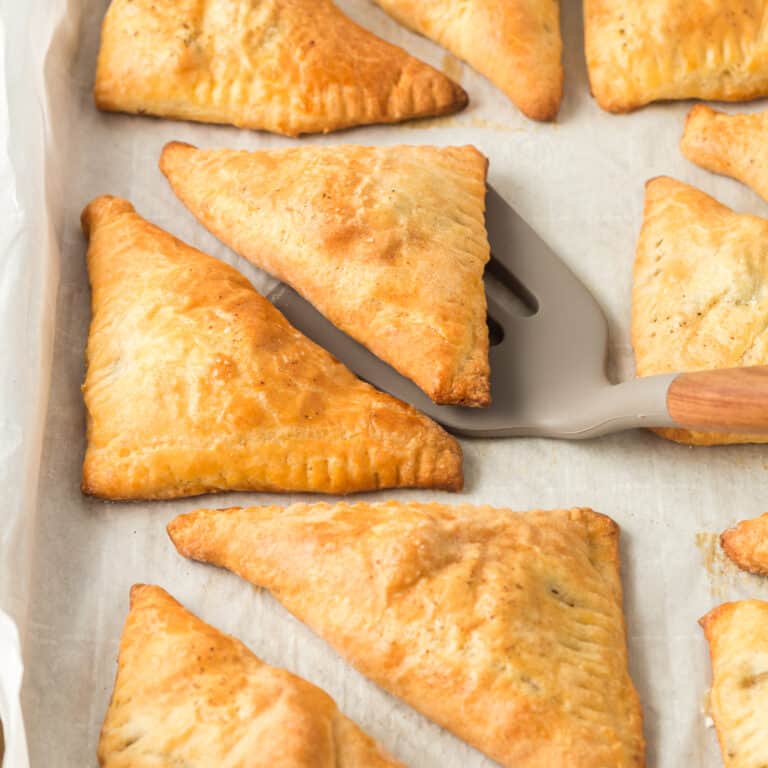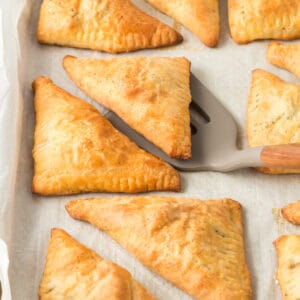 Louisiana Meat Pies
Savory hand pies made with flaky crescent roll dough filled with a rich and meaty filling. These easy and quick pies are perfect football food but also make a standout weeknight dinner when paired with a simple salad.
Ingredients
Meat Pies
1

tsp

olive oil

½

lb

ground beef

80/20 or chuck

½

lb

ground pork

4

green onions

2

cloves

garlic

minced

½

tsp

salt

¼

tsp

ground black pepper

1

heaping Tb flour

1

tsp

Worcestershire

½

C

beef stock

2

tubes crescent roll dough

preferably the non-perforated kind

1

egg
Horseradish Dipping Sauce
¼

C

sour cream

¼

C

mayo

1-3

Tb

creamy horseradish

more or less as desired

juice half lemon

2

dashes Worcestershire

pinch

salt and black pepper
Instructions
Heat a large nonstick skillet over medium high heat. Add oil and once hot, add the ground beef and pork.

Cook the meat for about 10 minutes until browned. Break up the meat while it's cooking until the texture is small crumbles. Cut the green onions into ¼-inch pieces, including the white portion of the onion.

Once the meat is browned and cooked through, add garlic, green onions, salt and pepper. Cook for another 3 minutes. Add flour, stir well to combine and cook for 2 minutes. Last, add Worcestershire and beef stock.

Reduce the heat to medium-low and let the mixture simmer for 1-2 minutes, stirring often until the sauce is thick. The sauce should coat all of the meat.

Cool the filling completely before filling the hand pies. You can make the filling in advance or spread out the filling on a sheet pan and place in the fridge for 30 minutes. Once the filling is cooled, preheat the oven to 375 degrees.

Remove the crescent dough from the can and place on a lightly floured surface. If using the preforated dough, pinch together the seams using your two index fingers, being careful not to tear the dough. Once you've pinched all the seams, sprinkle a light dusting of flour on top of the dough and lightly roll over the dough to flatten and seal your pinched seams.

Crack one egg into a small bowl and whisk in 1 tsp of cold water. Set aside with a pastry brush for assembling the pies.

Lightly flour the top of your crescent roll dough and roll out to a roughly 6" x 9" rectangle. If you want perfect squares, trim the edges to be straight, and then cut the dough into six 3-inch squares.

Place 3 Tb of filling in one corner of each square. Using a pastry brush, lightly coat all four edges of the square with egg wash. Fold the corner opposite of the filling over the top until the edges meet to form a triangle shape. Carefully press down the edges with your fingers.

Carefully remove the hand pie from your work surface and place it on a baking sheet prepared with parchment paper. Use a fork to seal the edges completely.

Bake for 12 to 15 minutes or until golden brown. Crescent roll dough browns quickly so keep an eye on them. The filling is totally cooked so you're just trying to bake the dough.

To make the sauce, combine all of the ingredients in a small mixing bowl and chill until ready to serve.

Once cooked, cool for a couple of minutes before serving with horseradish cream sauce.
Frequently Asked Questions
Do I have to wait for the filling to cool before stuffing the hand pies?
Yes! Crescent roll dough will become awful to work with if the filling is hot. I like to make the filling ahead of time, but that's not required.
Can I make the pies in advance and reheat to serve?
The pies are best served fresh. If you have leftovers that you don't want to throw out, you can freeze the pies once they are cooled and store them for up to 3 months in an airtight container. When you're ready to reheat, allow the pies to thaw before warming in a 250-degree oven.
Can this recipe be made vegetarian?
Yes! In fact, someone left a comment on Pinterest about how good they turned out using a plant-based ground meat alternative, so that's a good option. Be sure to also substitute the beef stock or water.
The following two tabs change content below.

Hey-ooo! I'm Hailey, and I'm a number cruncher by day and cussing cook by night. I created this site to share my love for delicious food that feeds the soul as well as the belly. I hope my recipes have you running to the kitchen to cook some damn good grub!