Quick Cilantro Lime Sauce with Garlic is super easy to make and delicious on just about anything. If you're searching for a creamy, garlicky dressing that can be made in less than five minutes, you've found it!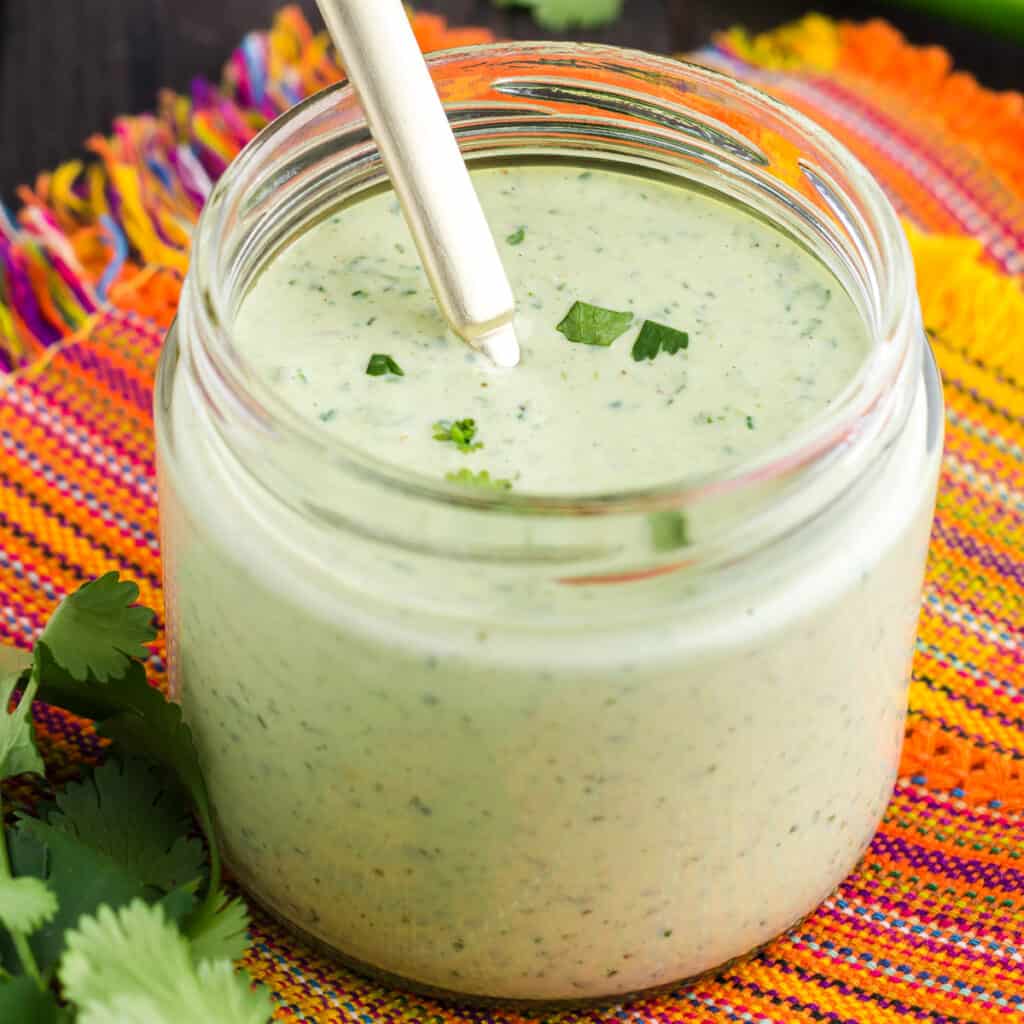 Cilantro Lime Sauce is a perfect pairing for tacos. It is fantastic on Braised Salsa Verde Pork Tacos or with Sheet Pan Chicken Fajitas. But that's not all it's good for.
The delicious dipping sauce that comes with yucca fries inspired this recipe. If you haven't had yucca fries, think thick-cut French fries.
Accordingly, you cannot go wrong in pairing this sauce with any sort of fried delight. From French fries to fried fish, this creamy concoction is the perfect match.
Ingredients
The ingredients for this quick recipe are simple.
Mayonnaise – if you are a mayo hater, then you can substitute Mexican crema or sour cream.
Garlic – Either whole cloves or the store-bought minced garlic will work just fine.
Cilantro – Parsley is a possible substitute.
Jalapeno – Add a serrano pepper for increased spiciness or leave it out if you don't like the heat.
Cumin
Allspice – This is the secret flavor ingredient for the sauce!
Oregano- I use Mexican Oregano for this recipe, but regular oregano works too. Check out my Substitutes for Oregano for more information on the difference between the two types.
Salt
Lime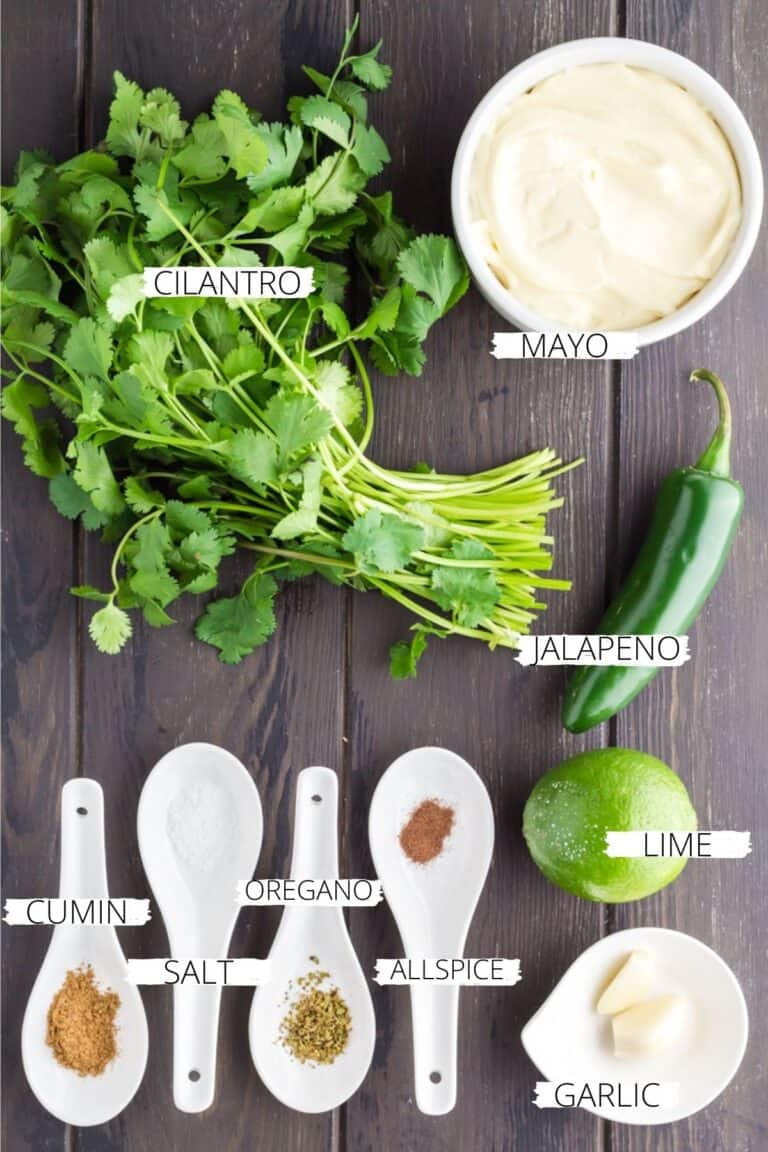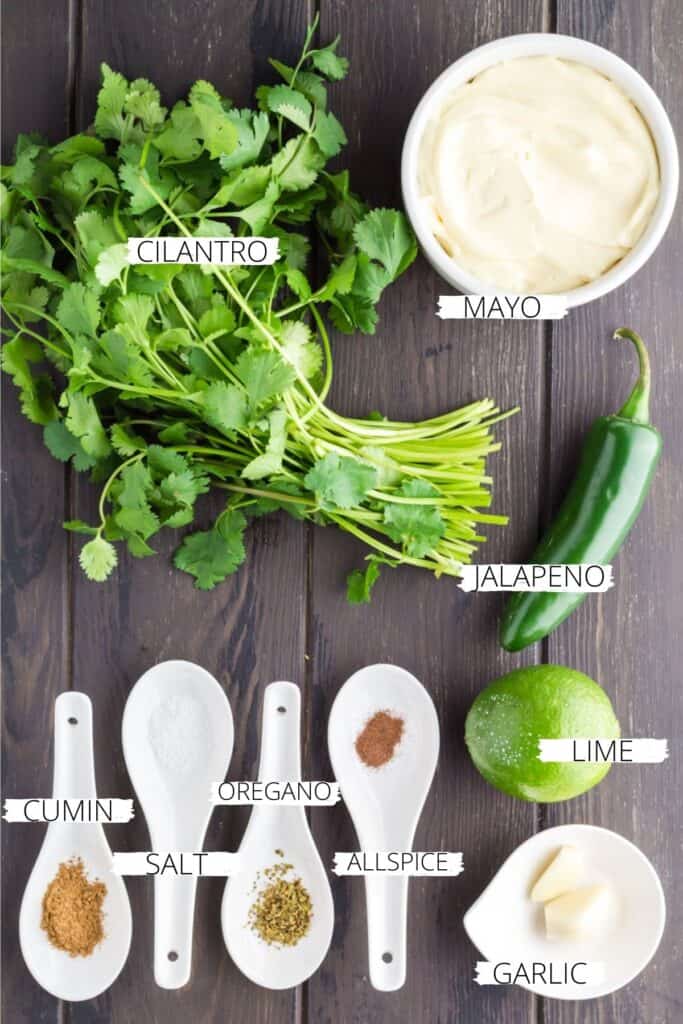 Instructions
You won't need to take any notes for this recipe because it's as simple as 1, 2, 3…
Prepare ingredients.
Place in a food processor and puree.
Stuff your face with deliciousness.
Substitutions
First, if you are not a fan of cilantro then I'm a little surprised you have found your way to this post. You can however create a bright and flavorful sauce without the cilantro. I would recommend fresh flat-leaf Italian parsley as a replacement.
Also, if you hate mayo and would like to make a Cilantro Lime Sauce without mayonnaise then you can use Mexican crema or sour cream as a substitute. Mexican crema is available in the dairy section of the store, or you can make your own. Isabel Eats has a simple and delicious recipe for homemade crema.
Variations
Vegan and vegetarian eaters can also enjoy this recipe. All you need to do is replace the mayo with vegan mayonnaise. The flavor of the sauce will stay the same, but the texture may be slightly different.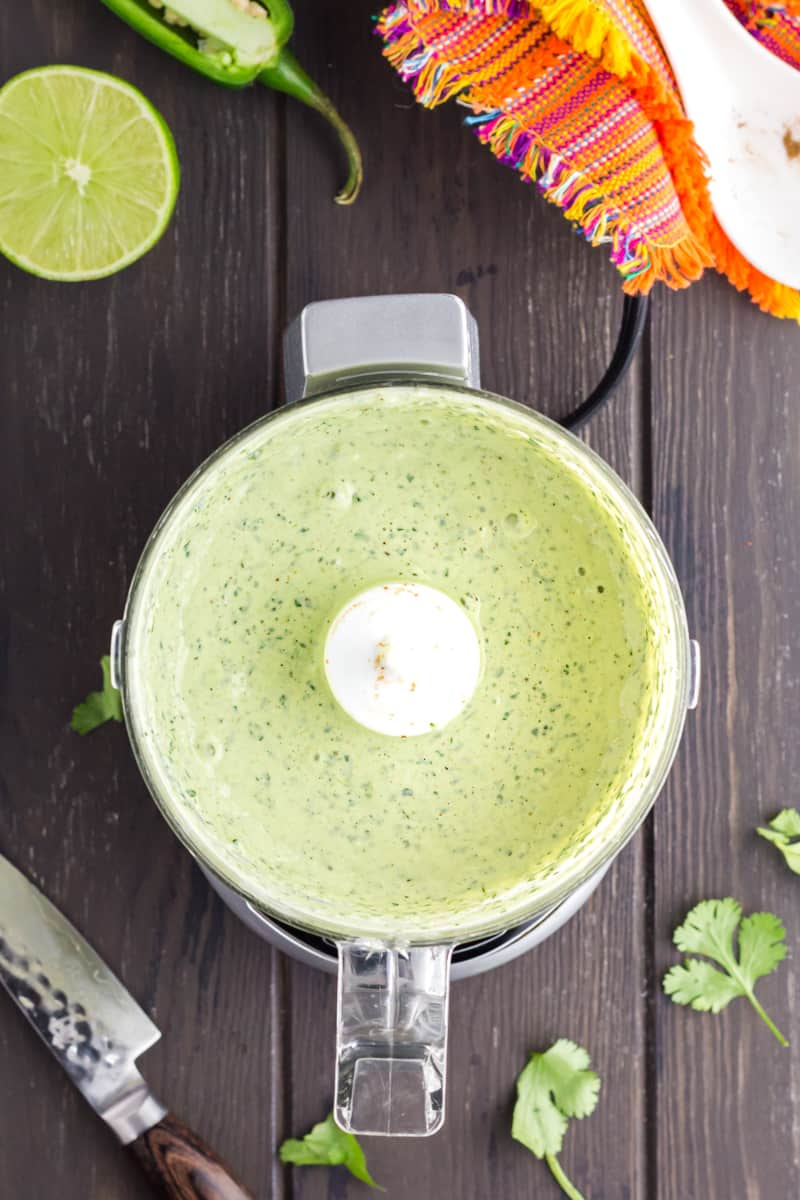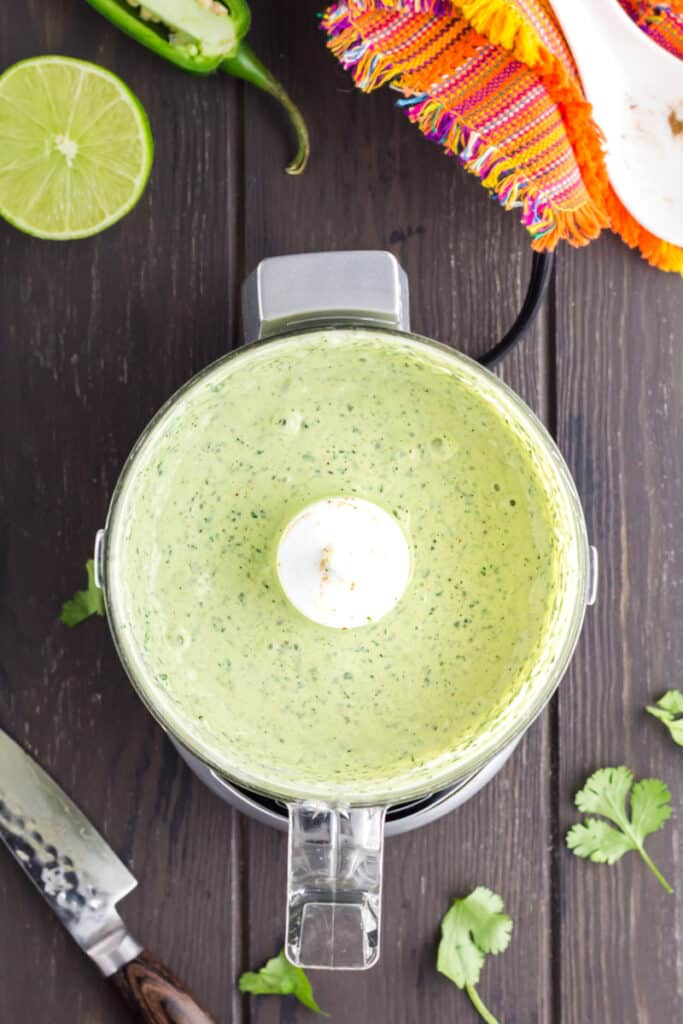 Equipment
A food processor is very handy in creating a smooth and creamy Cilantro Lime Sauce with Garlic. It's not totally essential if you are okay with the texture of the sauce being a bit chunkier. The flavor would still be yummy.
If you don't have a food processor, I recommend making a garlic paste using this technique. Then use a sharp knife and mince the jalapeno and cilantro as finely as you can before combining them with the other ingredients.
Storage
Serve: Allow the prepared sauce to chill in the fridge for at least 30 minutes before serving so all the flavors blend.
Store: The prepared sauce can be kept in an airtight container in the fridge for up to five days.
Freeze: The recipe does not freeze well.
Top tip
The garlic needs to be thoroughly combined into the sauce. That's because the recipe uses raw garlic. Raw garlic has more of a bite or spiciness than cooked garlic, so you don't want to bite into a big chunk in the sauce.
If your garlic cloves are on the bigger side, it will help the process if you chop the cloves into smaller pieces. Be sure to let the sauce puree for long enough in the food processor that there are no garlic pieces floating in the sauce.
If you're making the sauce without a food processor, see the technique link above in the "Equipment" section.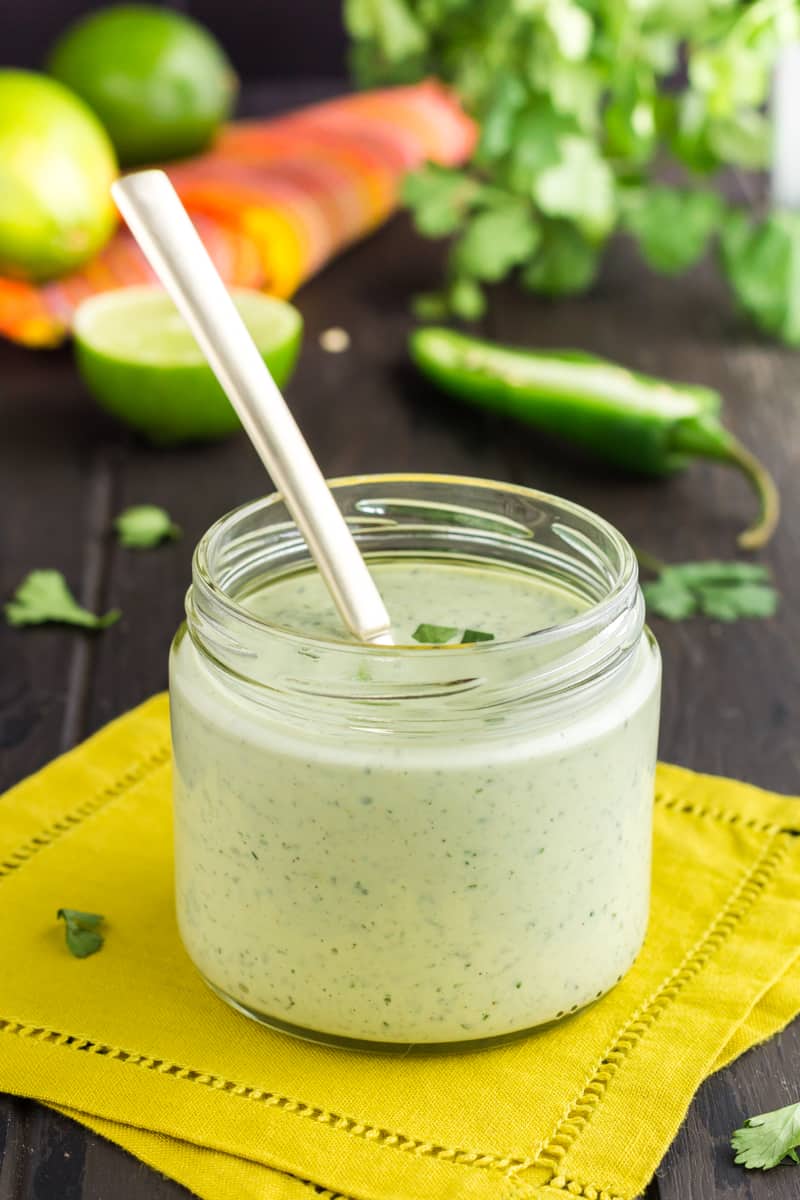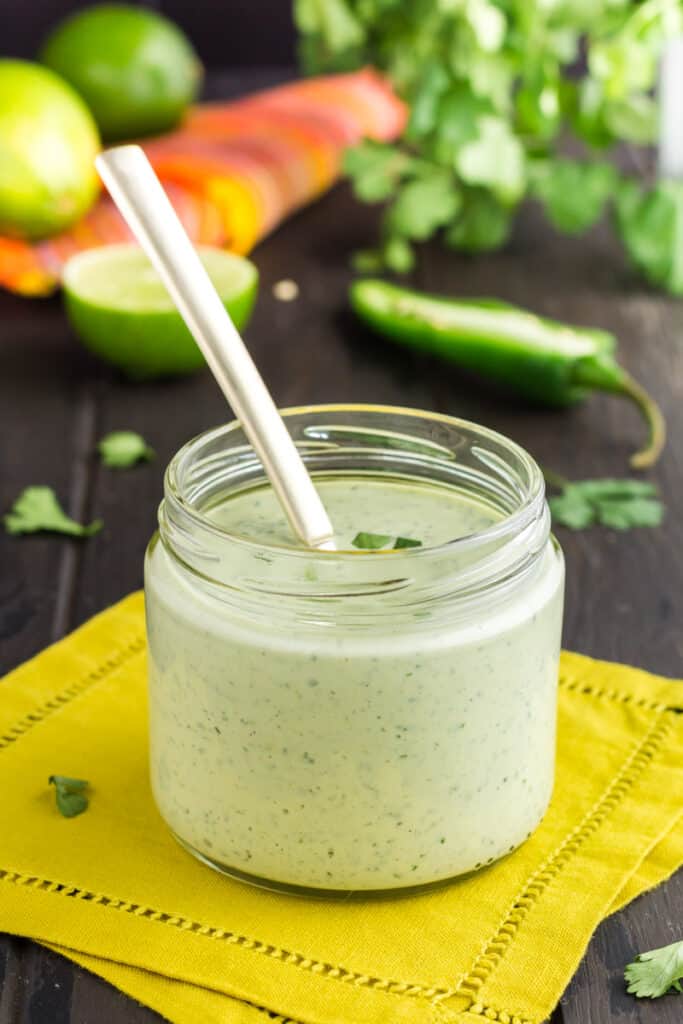 Quick Cilantro Lime Sauce with Garlic is the perfect creamy condiment for almost anything. Try it on tacos, nachos, grilled meats, French fries, and more! Let me know what you think by rating the recipe.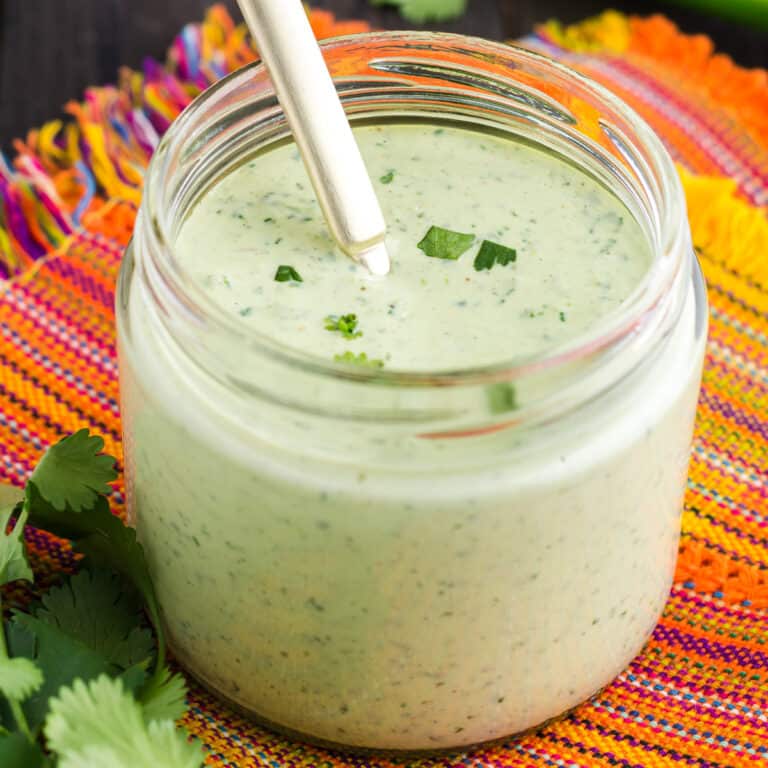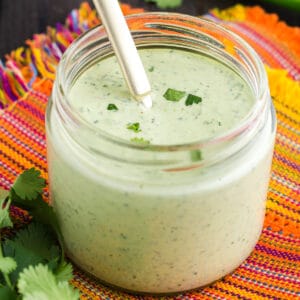 Quick Cilantro Lime Sauce with Garlic
Cilantro Lime Sauce with Garlic is a Cuban-inspired sauce that is good on just about anything! The sauce is creamy, tangy, and garlicky and can be made in less than 5 minutes!
Ingredients
1

cup

mayonaisse

2

garlic cloves

peeled

¼

cilantro leaves

well-packed

½

jalapeno

seeded, deveined, and coarsely chopped

1

tsp

cumin

⅛

tsp

allspice

¼

tsp

dried Mexican oregano*

or plain oregano

⅛

tsp

salt

juice of ½ lime

about 2 Tb
Instructions
Place mayo in a small food processor.

Add remaining ingredients and puree until smooth.

Allow the sauce to chill for at least 30 minutes before serving.
Notes
If you don't have Mexican Oregano, standard oregano will work just fine.
I don't have a food processor. Can I still make the recipe?
Yes, but the texture may be a bit more chunky. Also, be sure to make the garlic into a paste using this technique so it can be easily incorporated.
Can the recipe be made vegan/vegetarian?
Yes, you just need to substitute vegan mayo for regular.
Can the sauce be made without mayonnaise?
Yes. I recommend Mexican crema or sour cream as a replacement.
Is cilantro required in the recipe?
If you hate cilantro, fresh Italian flat-leaf parsley can be used as a substitute.
The following two tabs change content below.

Hey-ooo! I'm Hailey, and I'm a number cruncher by day and cussing cook by night. I created this site to share my love for delicious food that feeds the soul as well as the belly. I hope my recipes have you running to the kitchen to cook some damn good grub!