The flavors of French onion dip, crispy potato chips, and classic breaded fried pork chops combine to create your new favorite comfort food, Oven-Fried French Onion Pork Chops with Lipton Soup Mix. The best part is that the recipe only takes 30 minutes from start to finish.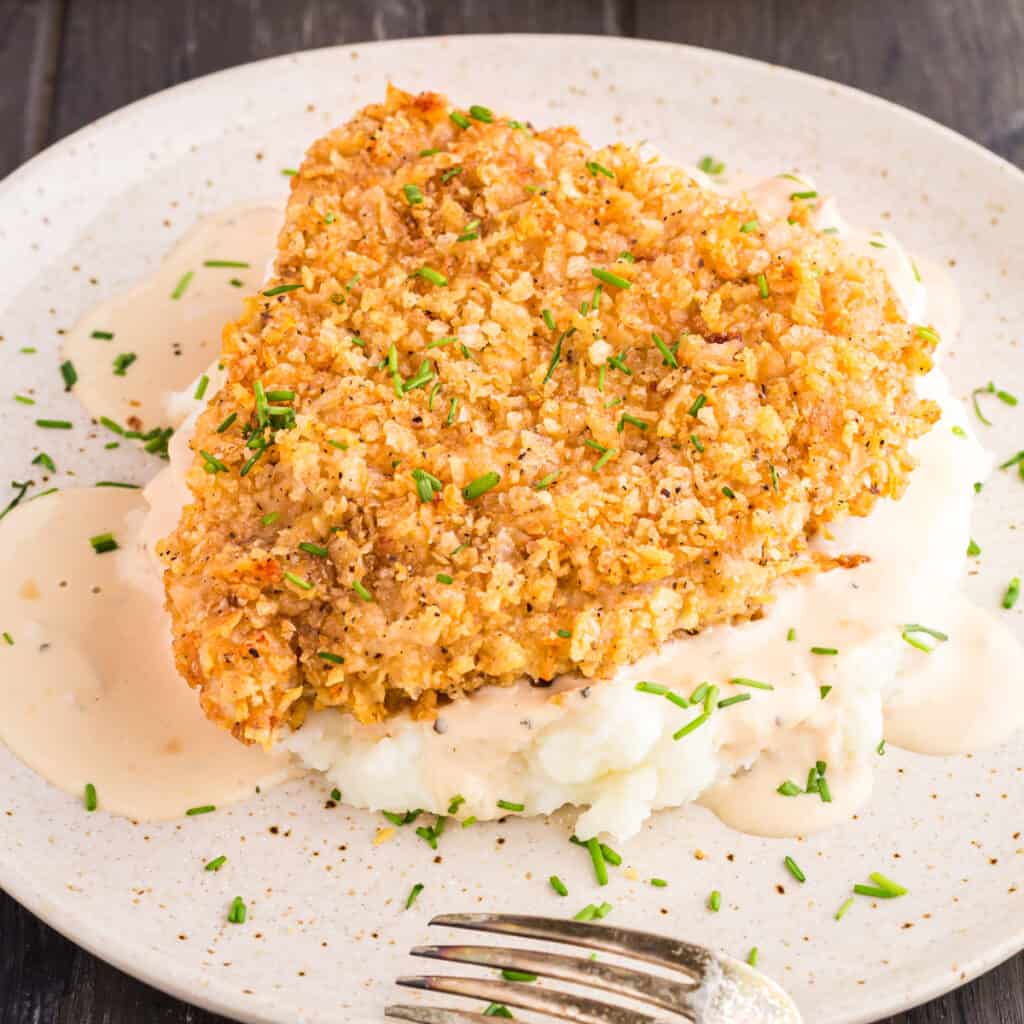 There are some other French Onion Pork Chops out there, but almost all of them are smothered-style that is reminiscent of French onion soup. I took a different route to French onion flavor for my recipe and used one of my favorite party snacks as inspiration.
French Onion Dip with potato chips is one of my favorite snacks during sporting events. The creamy dip flavored with onions and Worcestershire sauce is the perfect match for salty potato chips.
I needed a good excuse to eat the flavors of French onion dip on a regular weeknight, so I set out to create a recipe that was quick and easy. These oven-fried pork chops breaded in potato chips, yea that's right I said potato chips, will become a regular in your weeknight meals.
Ingredients
The ingredients for this recipe are simple and inexpensive. There are two key ingredients: potato chips and Lipton Onion Soup Mix. Potato chips make these pork chops one of a kind. The Lipton mix is the secret to a quick and flavorful sauce.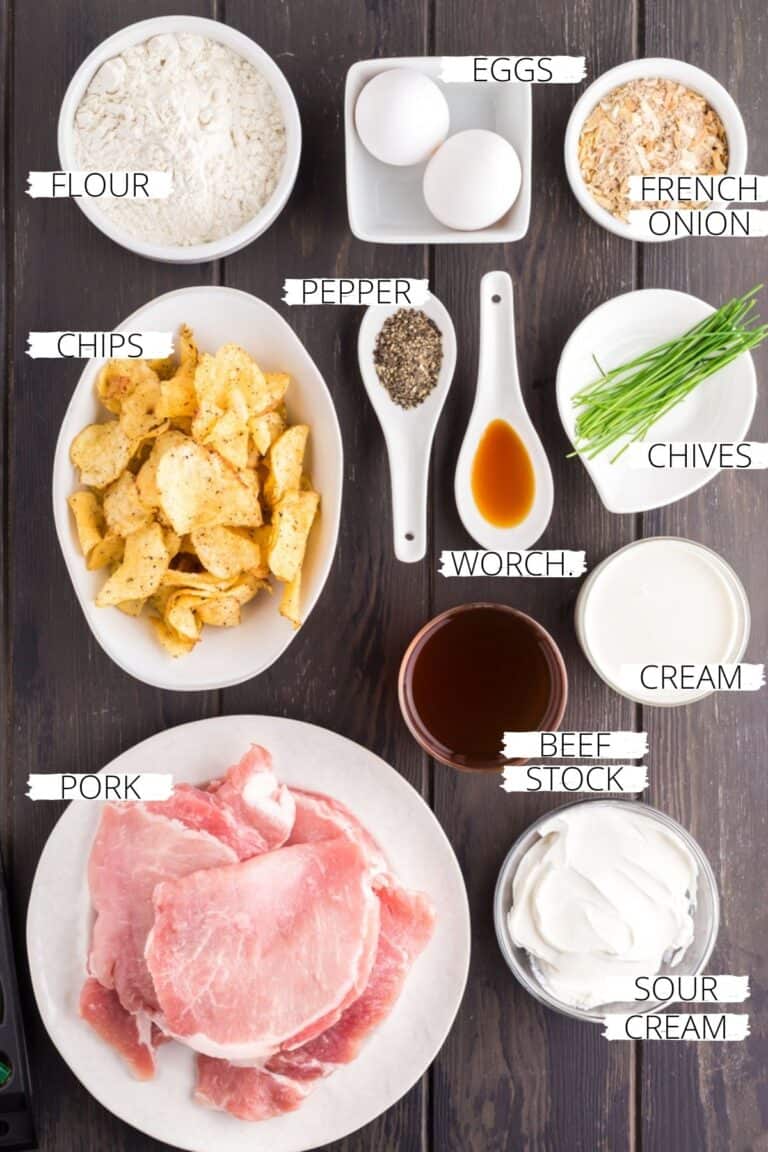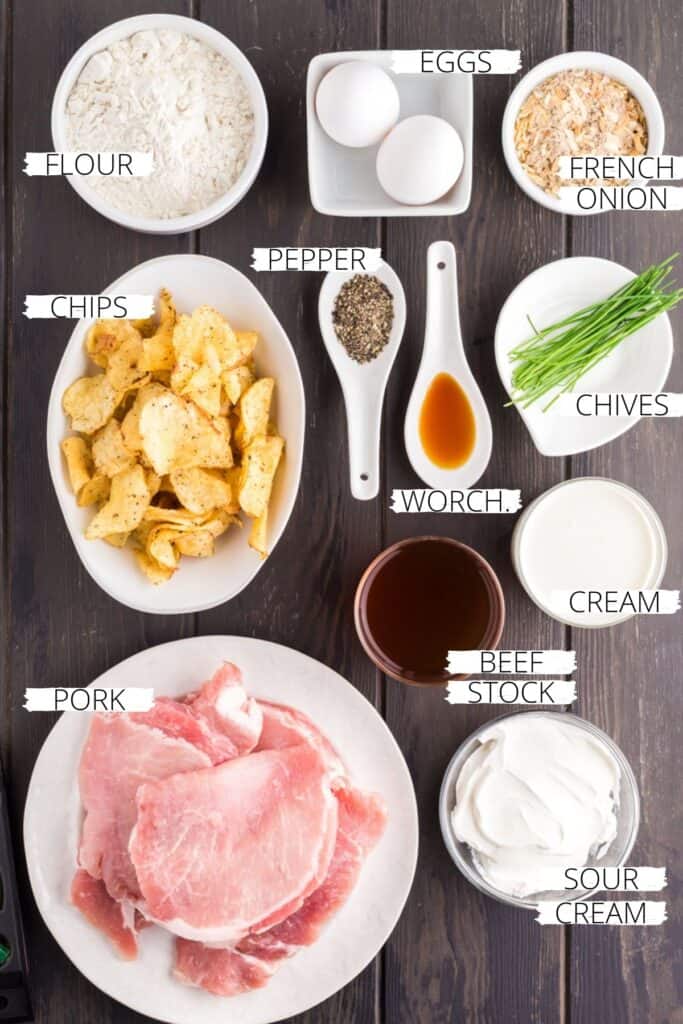 Pork chops- The recipe calls for boneless center cut loin chops, but any pork cut that is less than one-inch thick will work.
Flour
Black pepper
Kettle potato chips- I highly recommend kettle-style potato chips as they make the best crunchy breading. I chose the salt and pepper flavor but plain would also work.
Eggs
Sour cream- Full or reduced fat sour cream works, but I don't recommend fat free.
Heavy cream
Beef stock
Lipton onion soup mix- This is the key to a quick sauce. You can use other brands but be sure to buy the DRY mix. You are not looking for French Onion Soup. Buy it on the spice aisle.
Worcestershire sauce- Most onion soup mixes have dried Worcestershire in the mix, but I like to amplify that flavor.
Chives
Instructions
The process for making Oven-Fried French Onion Pork Chops with Lipton Soup Mix is quick and easy. There are 3 major steps.
Bread the pork chops.
Bake the pork chops.
Make the sauce.
Breading the pork chops is a traditional three-step breading process. The first step is to dredge the chops in flour. Then they go into an egg wash before being coated with crushed potato chips.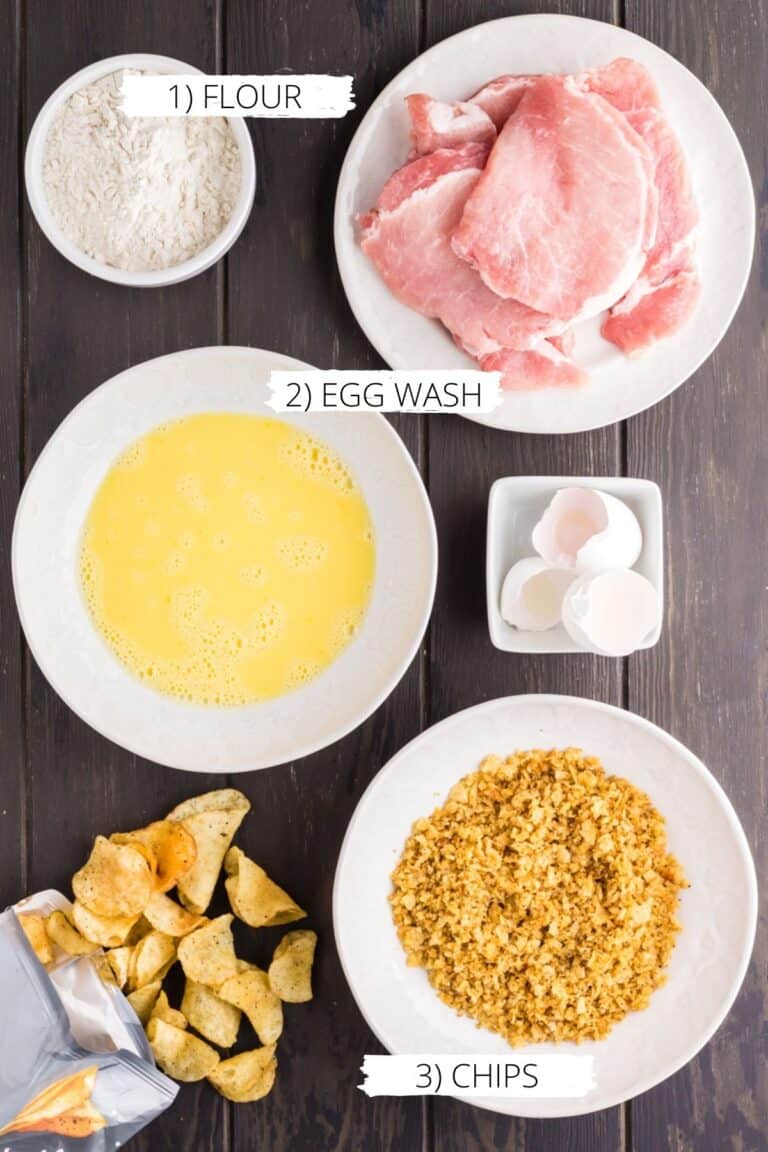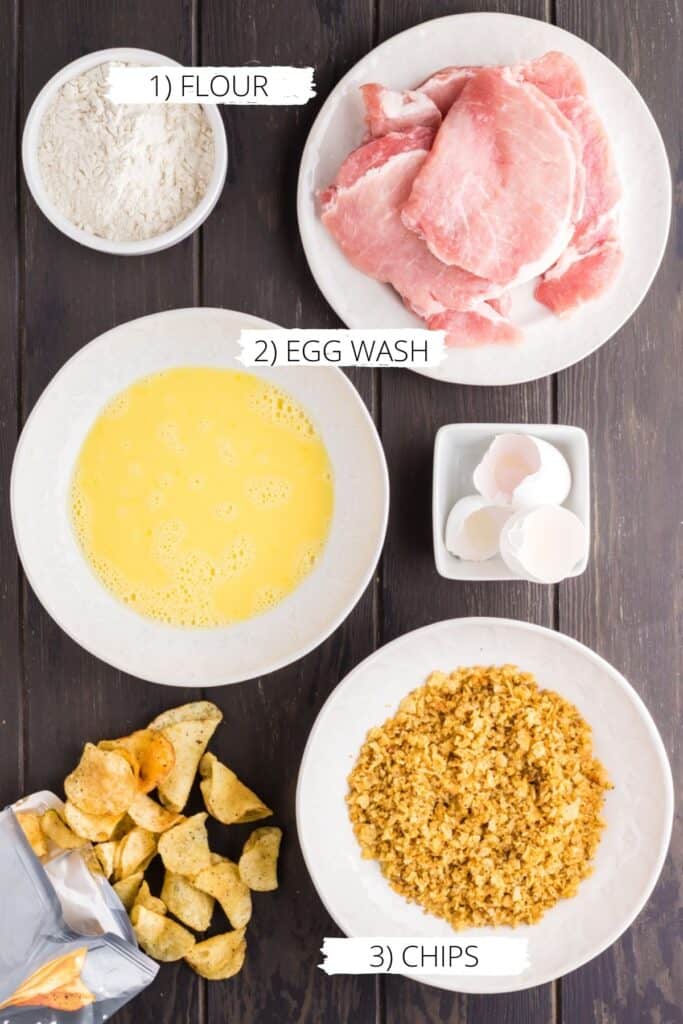 I like to bake the breaded chops on a wire rack on top of a sheet tray. The extra airflow around the pork chops allows them to get crispy in the oven. It's also important to flip the chops over halfway through the baking time.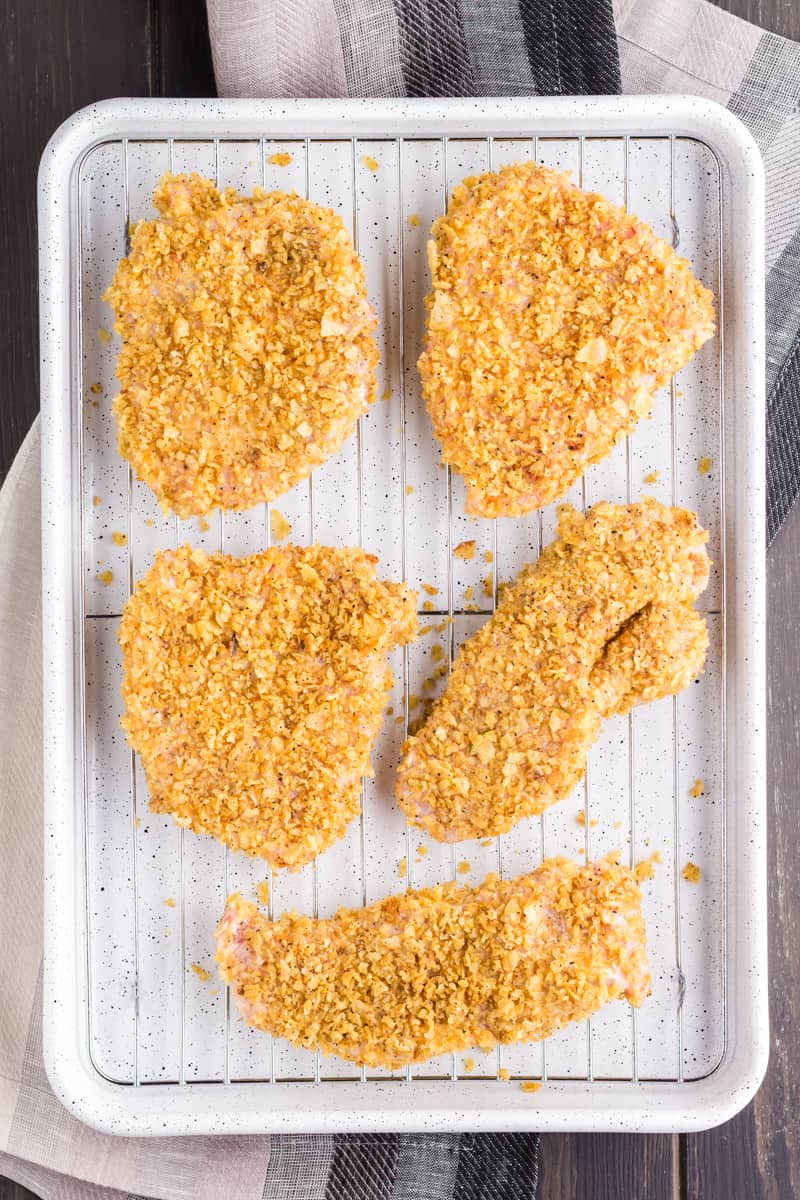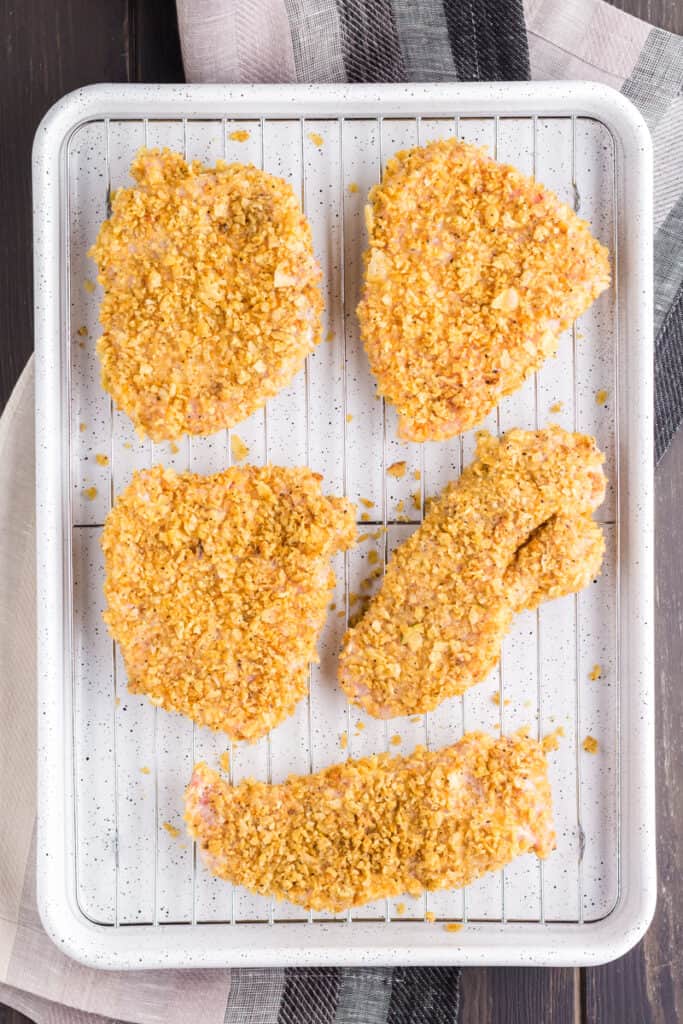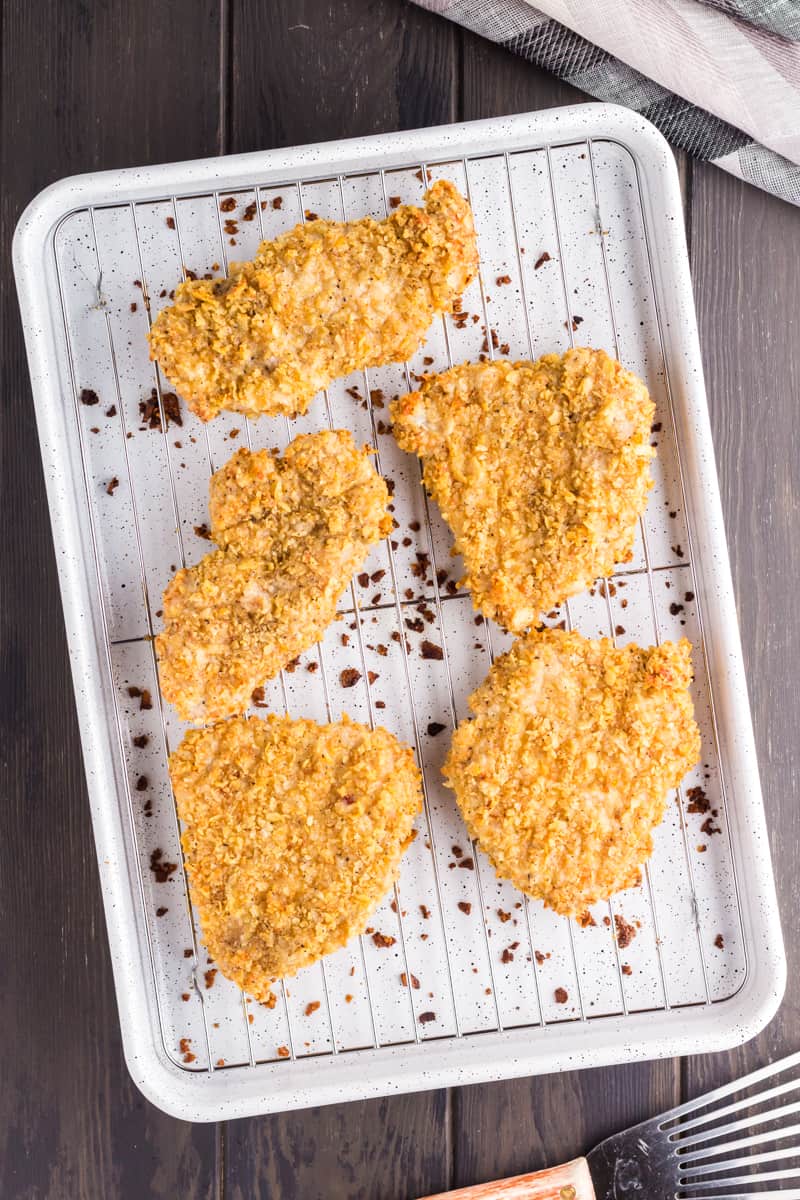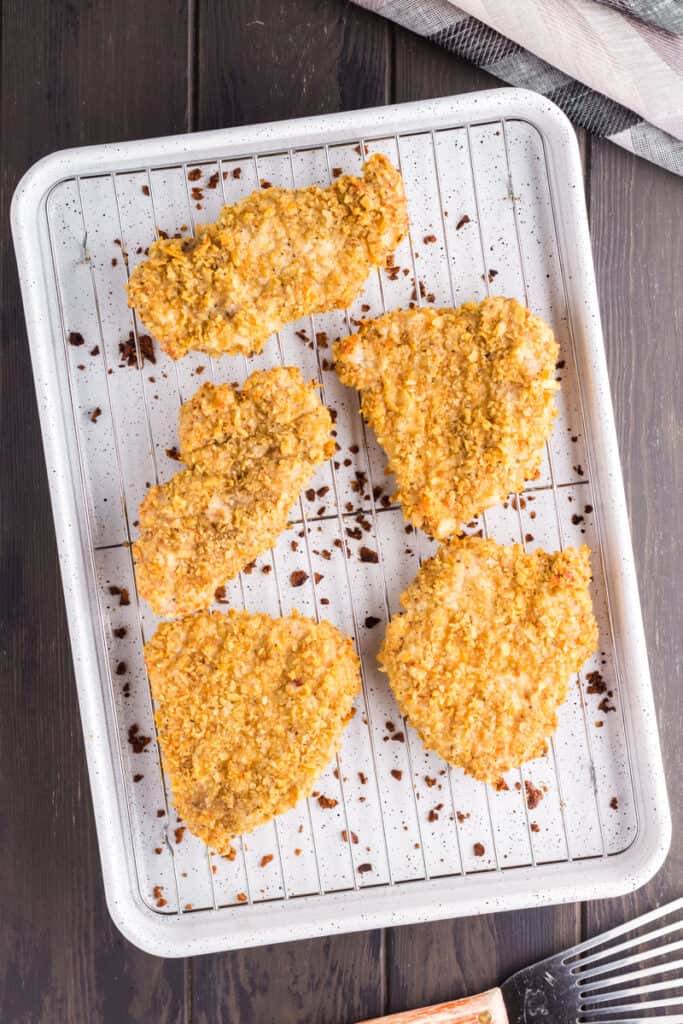 The sauce for the recipe is so simple to make too. It is best to start with the sour cream and slowly add the heavy cream while whisking constantly. Then I add the beef stock to the mix, again slowly and whisking constantly. This ensures the sauce is silky smooth.
Once the sour cream, cream, and stock have been combined, I add the remaining ingredients. The sauce then just needs to be brought to a boil before serving.
Substitutions/Variations
If you aren't a fan of pork chops, this recipe would also be delicious with boneless skinless chicken breasts. The recipe could also be converted to vegetarian by substituting portabella mushrooms in place of the pork chops.
Equipment
French Onion Pork Chops do not require any special equipment. I recommend baking the pork chops on a wire rack set on top of a sheet pan, but if you don't have one, you can still make the recipe. The first time I tested the recipe, I baked it on a parchment-lined sheet pan, and it turned out great.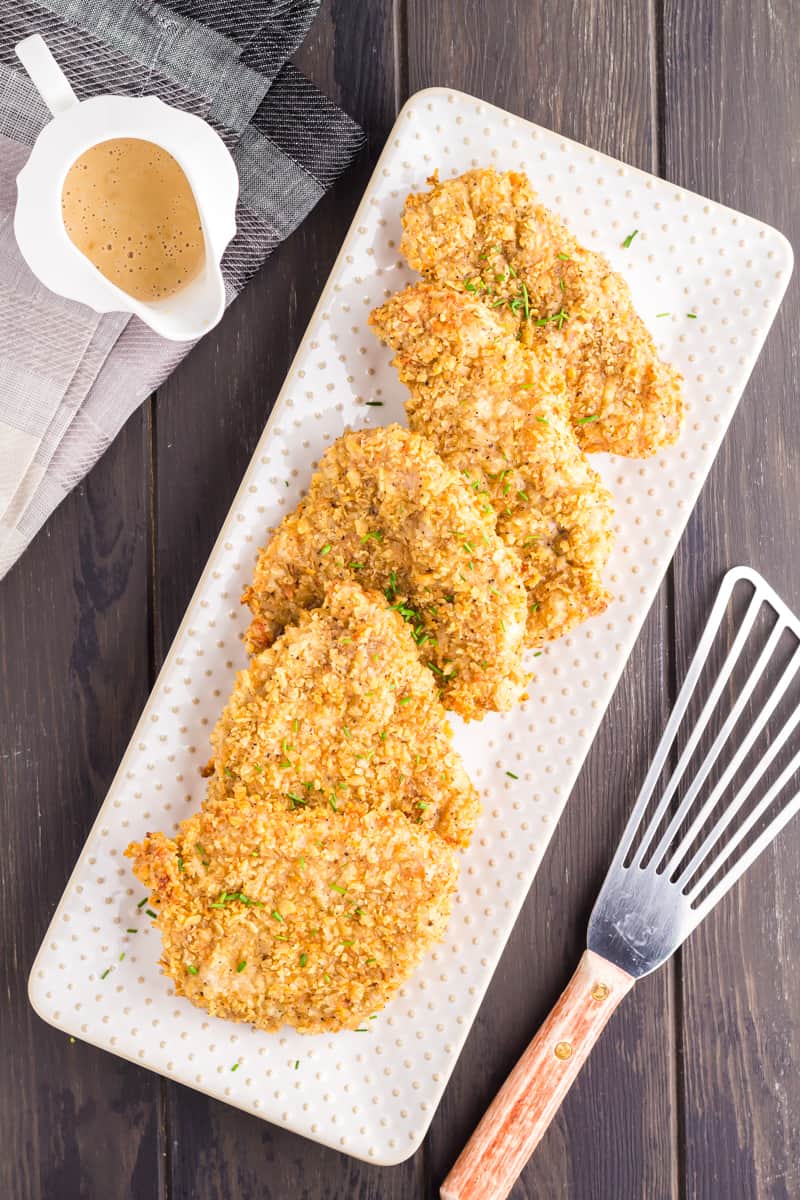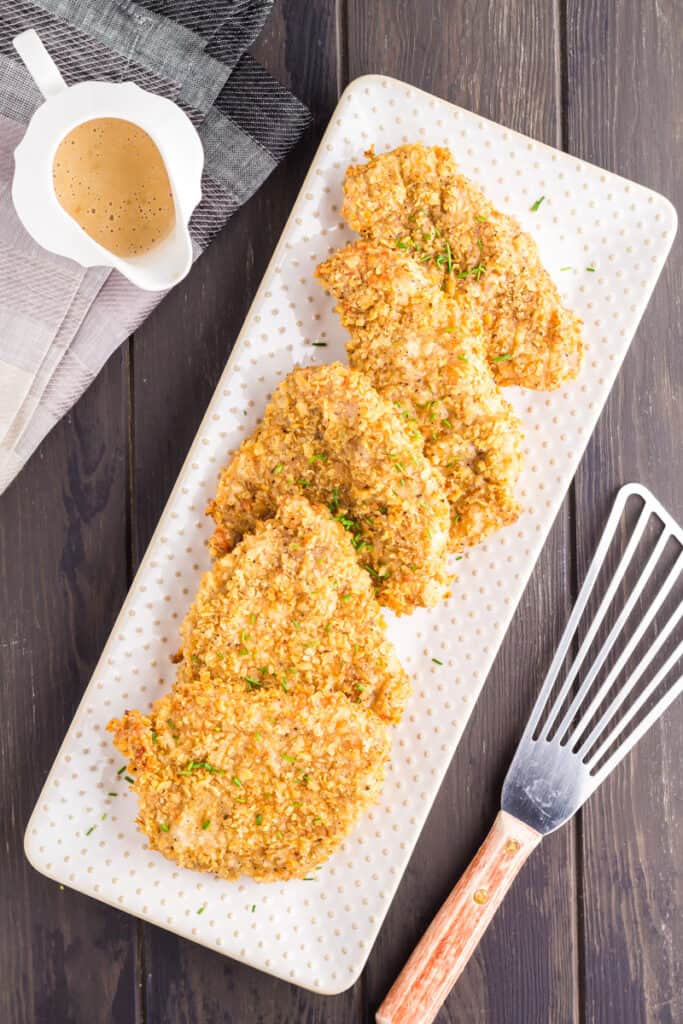 Storage
Serve: There are so many options for what to serve with French Onion chops. Mashed Potatoes are an obvious choice. Breaded pork chops and rice are also a delicious pairing. Check out my Perfect Basmati Rice recipe for an easy, fail-proof rice cooking method. I also love egg noodles with this recipe.
Store: Like any breaded and "fried" item, the pork chops are best served fresh from the oven. The pork can be safely stored for up to three days in an airtight container in the fridge.
Freeze: This recipe does not freeze well as the breading will become soggy.
Reheat: The best way to reheat the pork chops is in the oven to bring back some of its original crunch. I recommend taking the chops out of the fridge while the oven preheats so they aren't ice cold when they go in. Reheat at 350 for about ten minutes.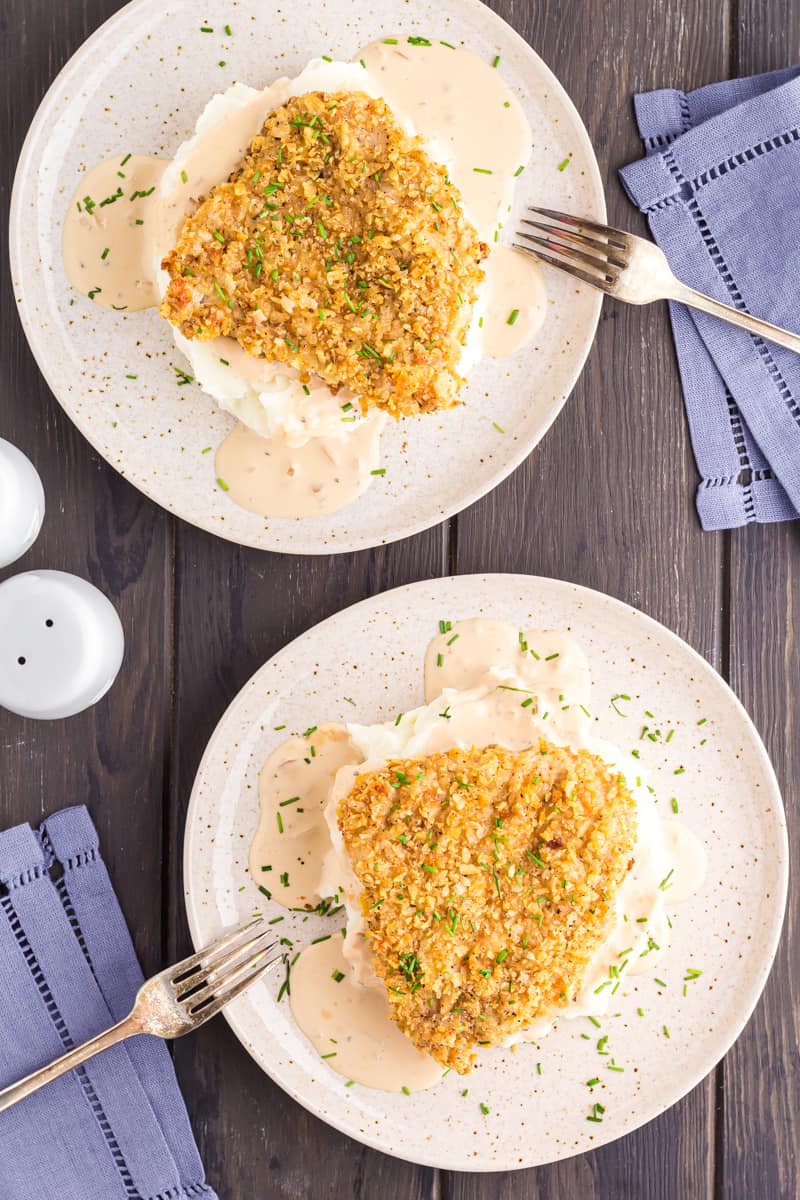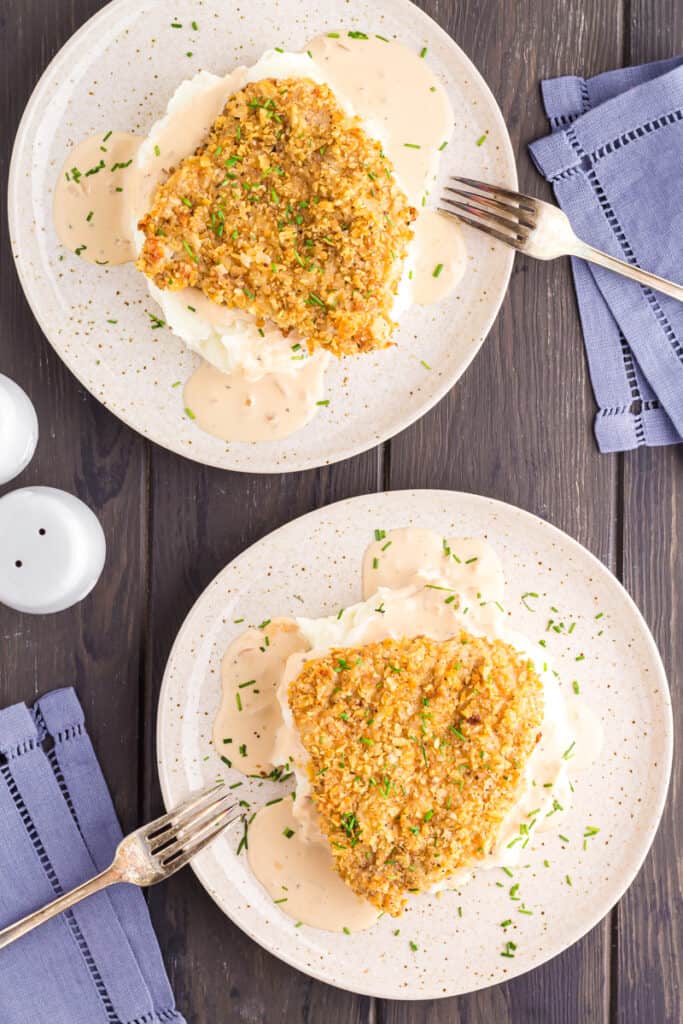 Top tip
Be sure to crush your potato chips pieces into a fine crumb. If the crumbs are too big, it will be harder to make them stick to the pork chops. A food processor is helpful to get the right consistency quickly, but you can also put the chips in a plastic storage bag and crush them with a rolling pin.
When creating the sauce, take the time slowly incorporate the sour cream and heavy cream first and then the beef stock. By thinning the sour cream first with heavy cream, you avoid any sour cream clumps in the sauce. If you try to add the beef stock to the sour cream first, you're more likely to get clumps.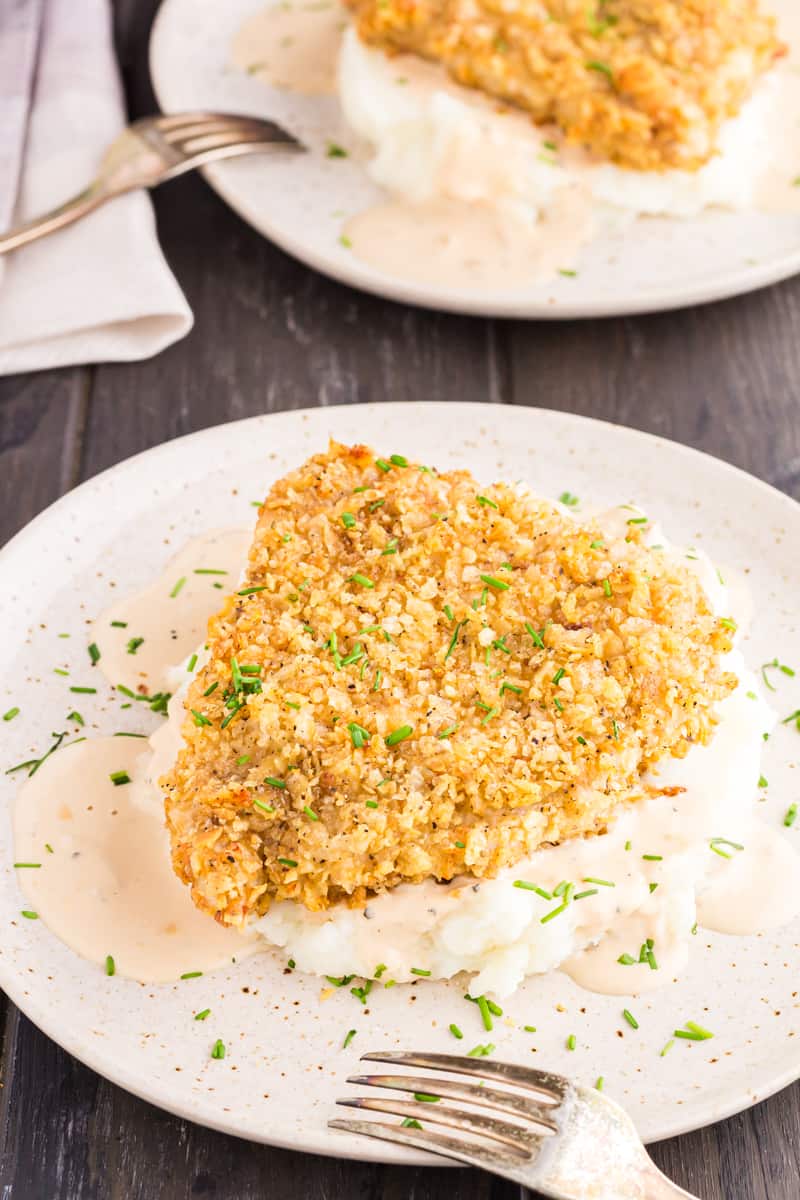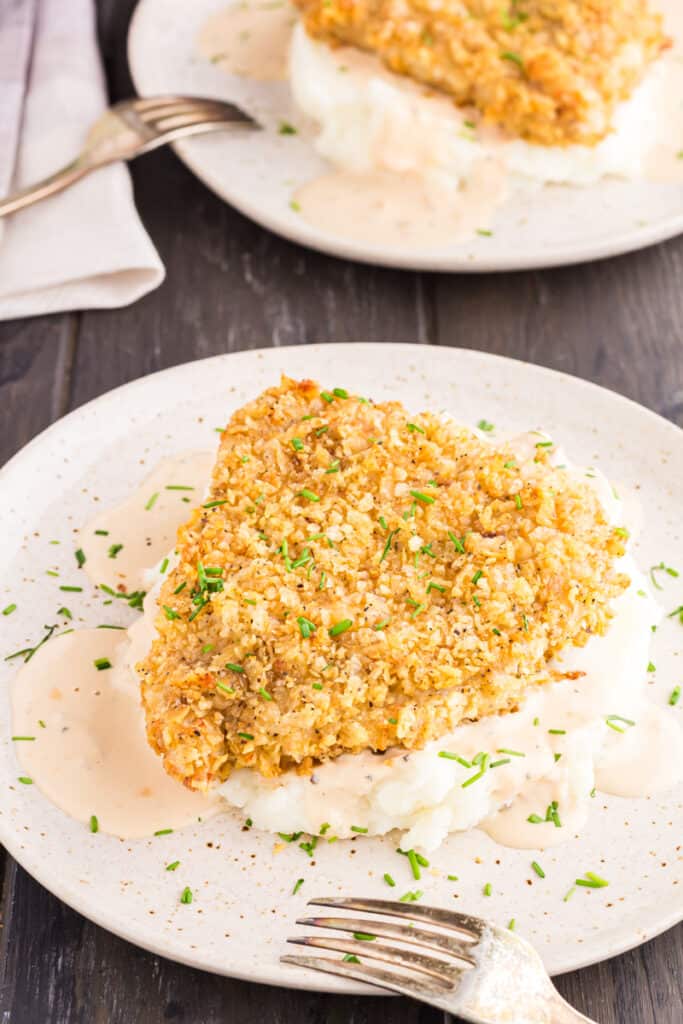 French Onion Pork Chops with Lipton Soup Mix are the perfect quick and easy weeknight meal that everyone will love. Try the recipe out and give it a rating if you enjoy it!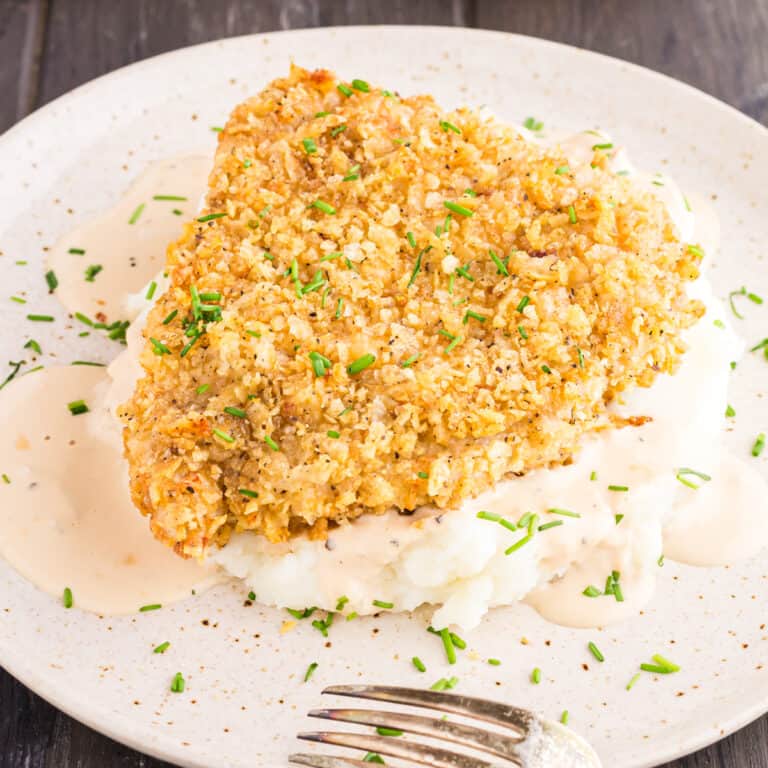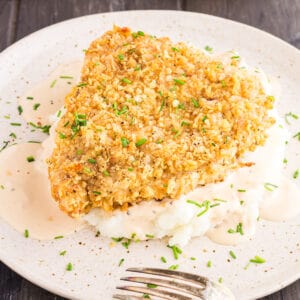 Oven-Fried French Onion Pork Chops with Lipton Soup Mix
French Onions Pork Chops combine the flavors of french onion dip, crispy potato chips, and breaded pork chops into a 30-minute dinner that everyone will love.
Ingredients
1

lb

thin-cut boneless pork loin chops

or 4 pork chops

1

cup

all purpose flour

1½

tsp

ground black pepper

divided

4

cup

salt and pepper kettle chips

2

eggs

½

cup

sour cream

1

cup

heavy cream

1

cup

beef stock

1

oz

onion soup and dip mix

1

tsp

worcestershire sauce

2

Tb

minced chives
Instructions
Preheat the oven to 450°F. Prepare a sheet pan with a wire rack. Lightly grease the rack with baking spray.

Prepare a breading station for the pork chops.

Combine the flour and 1 tsp of black pepper in a plastic storage bag.

Beat the eggs with 1 Tb of water in a small mixing bowl.

Crunch the potato chips into fine crumbs and place on a plate.

Coat each pork chops first in flour, shaking off any excess, and then in the egg wash. Shake off any excess egg before dredging each pork chop in chips, pressing down lightly to make sure the pork is totally covered.

Place the breaded pork chops onto the prepared wire rack. Cook in the preheated oven for 20 minutes. After 10 minutes, turn each pork chop over and cook for another 10 minutes.

While the pork chops bake, make the sauce. Start by placing sour cream into a small saucepan. Slowly add the heavy cream, whisking constantly. This will ensure a smooth sauce.

Add the beef stock, onion dip mix, Worcestershire, and ½ black pepper to the sour cream and turn the heat onto medium-high. Bring the sauce to a boil stirring often.

Boil the sauce for 5 minutes, stirring constantly, and then reduce the heat to low until ready to serve.

Serve each pork chop with a generous serving of French Onion sauce and garnish with minced chives.
What's the best way to crush the potato chips?
I used a food processor which is the fastest method. You can also put the chips in a plastic storage bag and use a rolling pin to crush the chips.
What should I serve with French Onion Pork Chops?
Mashed potatoes, white rice or egg noodles.
Do I have to use the Lipton brand of onion soup mix?
No, any brand will work. Just make sure it is the dry soup mix, not soup.
The following two tabs change content below.

Hey-ooo! I'm Hailey, and I'm a number cruncher by day and cussing cook by night. I created this site to share my love for delicious food that feeds the soul as well as the belly. I hope my recipes have you running to the kitchen to cook some damn good grub!