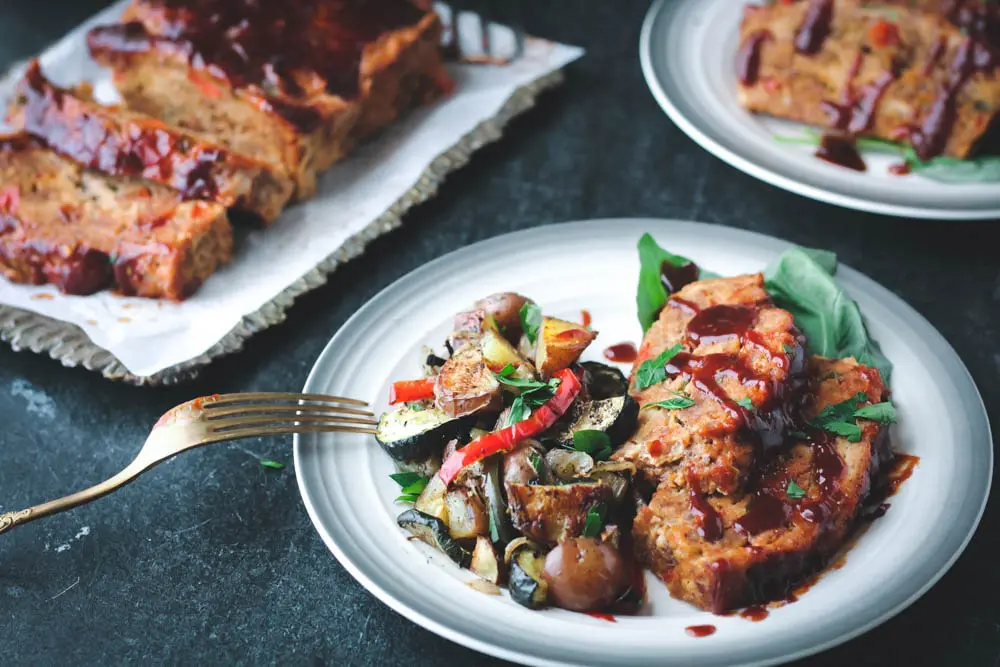 Sausage and Peppers Meatloaf is the classic flavor combination you know and love but wrapped up in a whole new package. We love Italian sausage and simply sautéed bell peppers and onions at my house, but I was looking for a way to reinvent the familiar in a new but approachable way. Enter Italian meatloaf.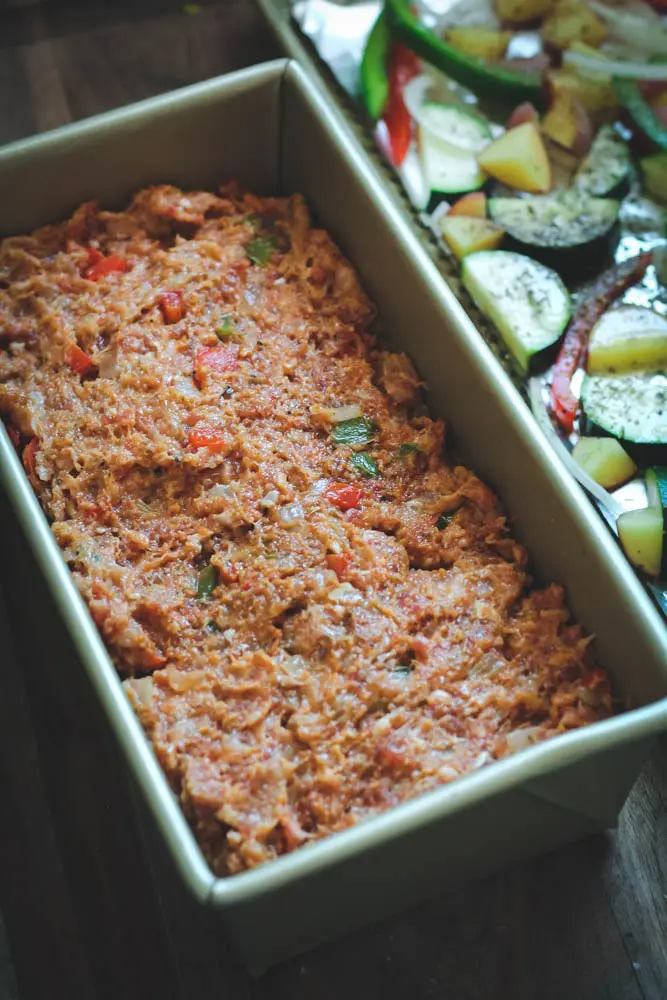 Everybody loves the classic American comfort food of meatloaf. It is so easy to make and packed with flavor. All it takes is smooshing a few good ingredients together (playing with your food basically) and baking them for about an hour. Voila!
Good ingredients that bring a real f*cking flavor punch to the table are necessary for a good meatloaf.
In this recipe, the sautéed peppers and onions provide a sturdy flavor base for the Italian sausage. I decided to use ground chicken in the recipe instead of combining the sausage with beef to lighten up the dish a bit.
Because ground chicken can be a little bland and lame on its own, I also include plenty of spices and seasonings in the recipe so that every single bite is rich and flavorful. Spices like paprika, fennel, and oregano are combined with some of the more usual suspects like garlic and onion powder to produce a beautifully balanced taste.
As with most comfort food recipes, so much of the oomph of this dish is in the sauce. I'm a big fan of the old school ketchup-based sauce, so I didn't want to deviate away from that too much. I just fancied it up a little the addition of balsamic vinegar and Italian seasoning. It's the perfect complement to the meatloaf.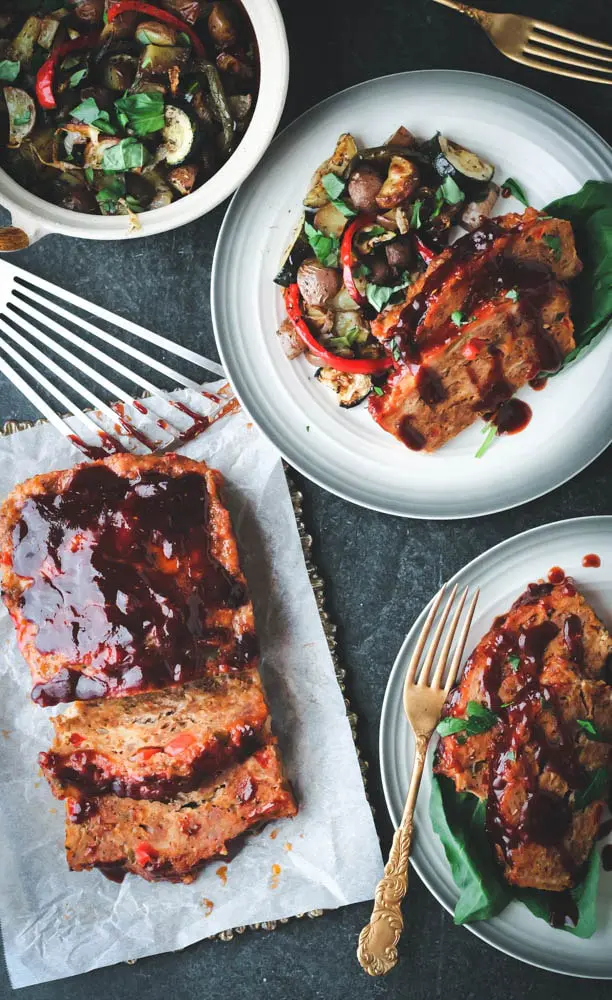 My initial thought of what to serve with my Italian Meatloaf was perhaps pasta with red sauce, but that was too close to the standard sausage and peppers dish we frequently make. Instead, I thought potatoes of some variety would be more appropriate given they are the natural bestie of meatloaf.
The Italian Roasted Veggies that I eventually settled on are a combination red potatoes, zucchini, peppers and onions that I season liberally with dried Italian seasoning before slow roasting in the oven.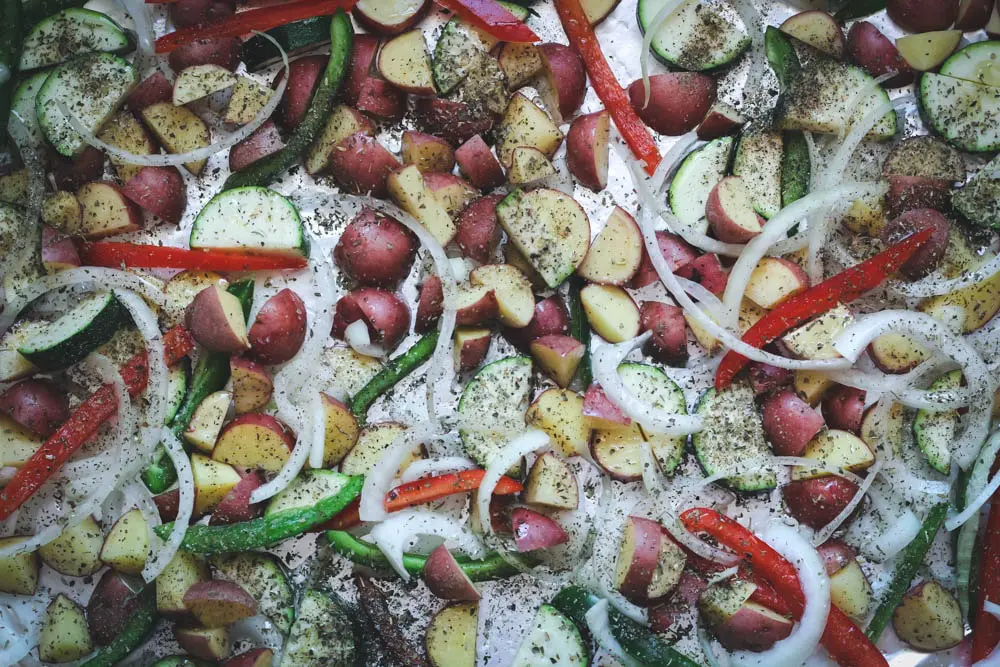 Once the vegetables are tender, the heat is cranked up to make sure the vegetable have lovely dark-charred edges. Those edges are the good shit…the best, really. When the veggies come of the oven, they are finished with fresh basil and parsley, and for me, a pinch of finishing salt like a Maldon Sea Salt.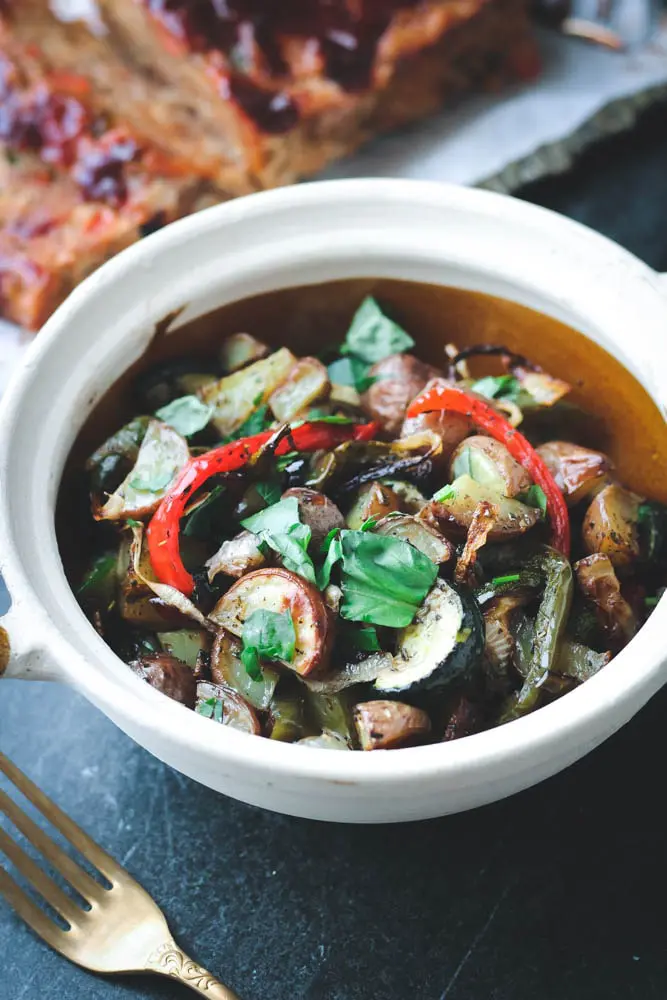 Roasted vegetables like these are so simple but completely soul satisfying.
I love this meal not only for its comfort food factor but also because it's such a low maintenance recipe. Once you've done your initial chopping, you're pretty much just kicking back waiting for your scrumptious Italian meatloaf and veggies to bake in the oven.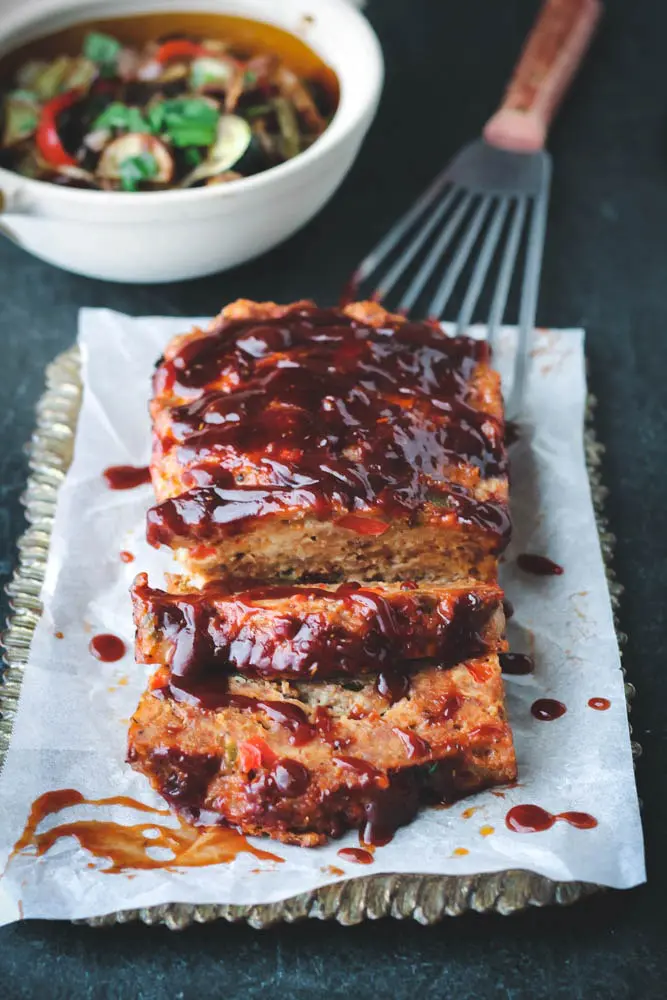 I have formulated the recipes so that both the vegetables and the meatloaf not only share ingredients but also cook time and oven temperature. I would love to have a double oven one day, but I don't yet so I try to make my recipes, like this one, one-oven-friendly.
Sausage and Peppers Meatloaf with Italian Roasted Vegetables will be a pleasant surprise at your dinner table. The idea itself will have everyone applauding your push to make dinner more exciting, and the flavor combination will have everyone licking the plate.
Try out the recipe and let me know what you think in the comments section below!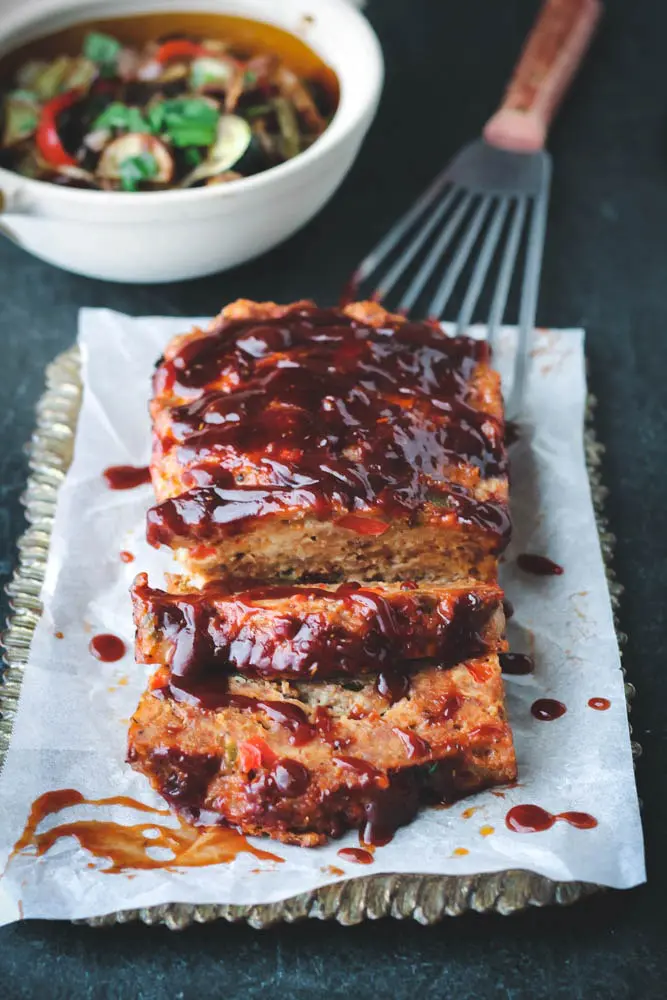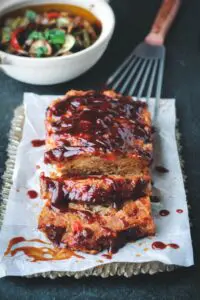 Sausage and Peppers Meatloaf with Italian Roasted Vegetables
An Italian-inspired twist on a classic American comfort food. Meatloaf made with Italian pork sausage and ground chicken and flavored with sauteed onion, peppers and garlic will remind you of the classic sausage and peppers flavor combination you love but will also surprise you a little. Slow roasted potatoes, zucchini, peppers, and onions are the perfect complement.
Ingredients
Meatloaf
1

lb

Italian pork sausage

1

lb

ground chicken

1

Tb

olive oil

½

red bell pepper

½

green bell pepper

½

yellow onion

1

garlic clove

minced

1

egg

¼

C

Italian seasoned breadcrumbs

1

Tb

tomato paste

1

tsp

Italian seasoning

1

tsp

paprika

1

tsp

kosher salt

½

tsp

garlic powder

½

tsp

onion powder

½

tsp

black pepper

½

tsp

fennel seed

crushed

¼

tsp

ground oregano

¼

tsp

cayenne pepper
Meatloaf Sauce
½

C

ketchup

1

Tb

balsamic vinegar

½

tsp

Italian seasoning

1

Tb

brown sugar

pinch

black pepper
Vegetables
½

red bell pepper

½

green bell pepper

½

yellow onion

1

lb

small red potatoes

1

large zucchini

3

Tb

olive oil

½

Tb

Italian seasoning

1

tsp

kosher salt

½

tsp

black pepper

2

Tb

fresh basil

1

Tb

fresh Italian flat leaf parsley
Instructions
To make meatloaf
Preheat the oven to 350 degrees.

Dice the onion and red and green bell pepper into ¼-inch pieces. Add 1 Tb olive oil to a medium saute pan and place over medium-high heat. Once the pan is hot, add the peppers and onions and cook for 5 minutes or until soft.

Add the minced garlic and stir to combine. Cook for one additional minute. Then pour the cooked vegetables into a large mixing bowl and set aside to cool for a few minutes.

Once the vegetables have cooled slightly, add the egg, tomato paste, and all of the spices and mix together with a small whisk or fork. Next, add the breadcrumbs and mix to combine.

Add the ground sausage and chicken and use your hands to mix together all of the ingredients thoroughly. Your hands are really the only way to mix the ingredients well. If you're squeamish about it, invest in some disposable kitchen gloves.

Once the mixture is well combined, press the mix into a meatloaf or loaf pan. If you don't have one, you can also shape the loaf in a free form way on a sheet pan. Bake for 45 minutes.

Make the sauce by combining all the ingredients in a small bowl. Once the meatloaf has baked for 45 minutes, remove it from the oven and coat the top in half of the sauce.

Turn the oven heat up to 450 degrees. Place the meatloaf back in the oven for 12 minutes or until the sauce is hot and starting to caramelize. Let the meatloaf stand from the oven for at least 5 minutes before slicing.

The remaining sauce can be heated in the microwave for about 30 seconds and used for extra dipping.
To make vegetables
As you are prepping your vegetables for the meatloaf, slice the remaining half of the onion and red and green bell peppers into ¼-inch strips. Place the sliced veggies on a baking sheet prepared with baking spray or nonstick foil for easy cleanup.

Next, dice the red potatoes into no bigger than ½-inch pieces. You want the potatoes to be small so they cook at a similar rate to the other vegetables. Cut the zucchini in half lengthwise and remove the two ends. Cut into ½-inch thick half moons.

Use your hands to mix all of the vegetables together well on the sheet pan. Spread them out evenly in a single layer. Drizzle with 3 Tb of olive oil and sprinkle with salt, pepper, and Italian seasoning.

Place in a preheated 350-degree oven at the same time as the meatloaf and cook for 45 minutes. Pull the pan from the oven and toss the vegetables. Spread them back out across the pan and turn the oven heat up to 450 degrees. Put the veggies back in the oven for 20 minutes or until they start to develop a nice char.

Roughly chop the fresh basil and parsley and sprinkle on the roasted vegetables. Serve immediately.
The following two tabs change content below.

Hey-ooo! I'm Hailey, and I'm a number cruncher by day and cussing cook by night. I created this site to share my love for delicious food that feeds the soul as well as the belly. I hope my recipes have you running to the kitchen to cook some damn good grub!