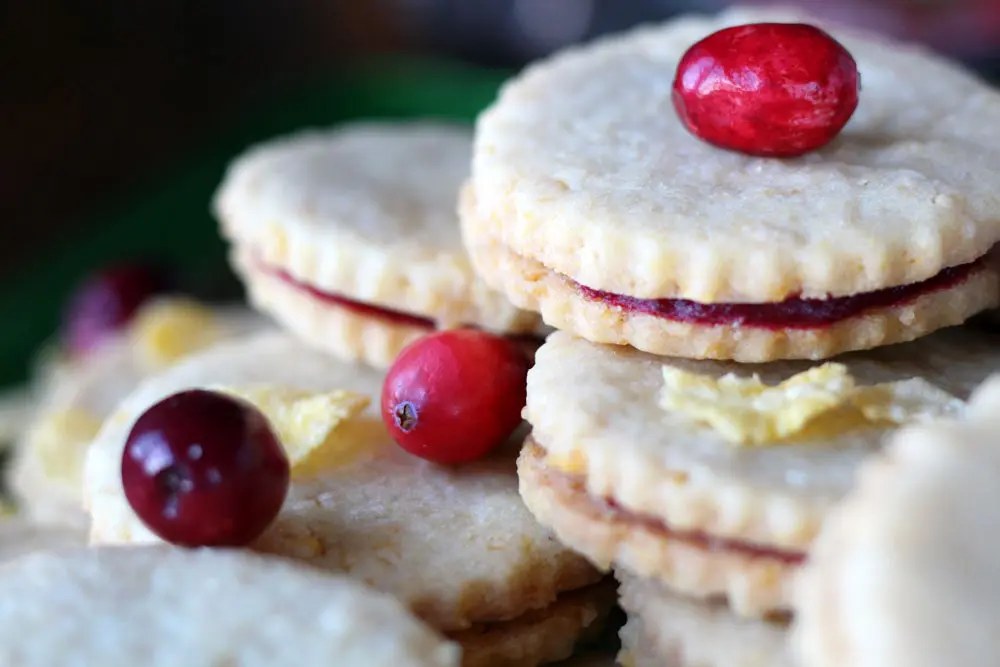 HAPPY NATIONAL COOKIE DAY!
Corn Flake and Cranberry Jam Cookie Sandwiches are a beautiful little treat to add to your holiday lineup. The Corn Flake shortbread is laced with a bit of cornmeal and pulverized Corn Flake cereal for a subtle sweetness and great texture. The homemade cranberry jam is so easy to make and has just the right balance of sweet and tart to play nice with the shortbread.
These cookies are such a crowd pleaser!
There's something so wonderful about the simple pleasure of a jam cookie. They always remind me of the holiday with the beautiful bright red color. The flavor of the cookies is also reminiscent of the always popular iced sugar cookies, but these cookies are more buttery and rich.
I personally prefer shortbread to sugar cookies. First, I can never get enough butter in my life and that is the prominent taste in shortbread. I also think it's a bit more subtly sweet. Sugar cookies lead with a vanilla and sugar flavor where shortbread is more salty and buttery with a touch of sweetness. With the addition of a jam filling, you have a perfectly balanced sweet experience.
The idea for adding Corn Flake crumbs to the dough was inspired by a recipe I saw for Corn Nut shortbread. I don't love the flavor of Corn Nuts personally, but I loved the idea of a shortbread with a strong corn flavor. I tried a few different corn treats to incorporate into the shortbread dough, and the two winners were Corn Flakes and Fritos (check out the Frito Shortbread and Caramel Cookie Sandwiches recipe too).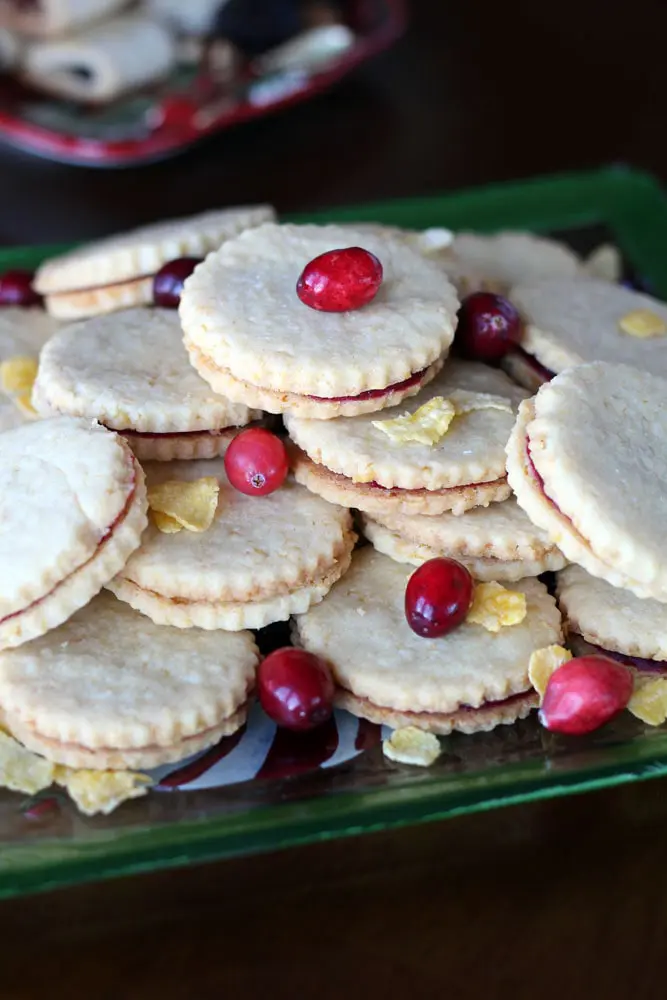 When I took a batch of these cookies to my office, no one could believe there were Corn Flakes in the dough. Everyone just kept saying these are soooo good for shortbread, what is in them?! For that reason, I absolutely love this recipe for a cookie swap or a holiday cookie spread. The recipe is simple and approachable but with a little surprise!
I absolutely love cranberries. Cranberry sauce is an absolute must on my family's holiday table, and it's always fun to use fresh cranberries when they appear at the grocery store during this one special time of year. If you don't like cranberries or if you want to make this recipe during the warmer months, strawberries or raspberries would both be delicious.
You can use fresh or frozen berries and play with what other spices you might like to incorporate.
Really any combination of fruit and spices will pair beautifully with the Corn Flake Shortbread Cookies. If you didn't want to make cookie sandwiches, these cookies would be simply delicious all on their own. Dipping half the cookies in chocolate, in particular, white chocolate would be lovely, would also be a great way to sweeten up the cookies a bit without making the jam.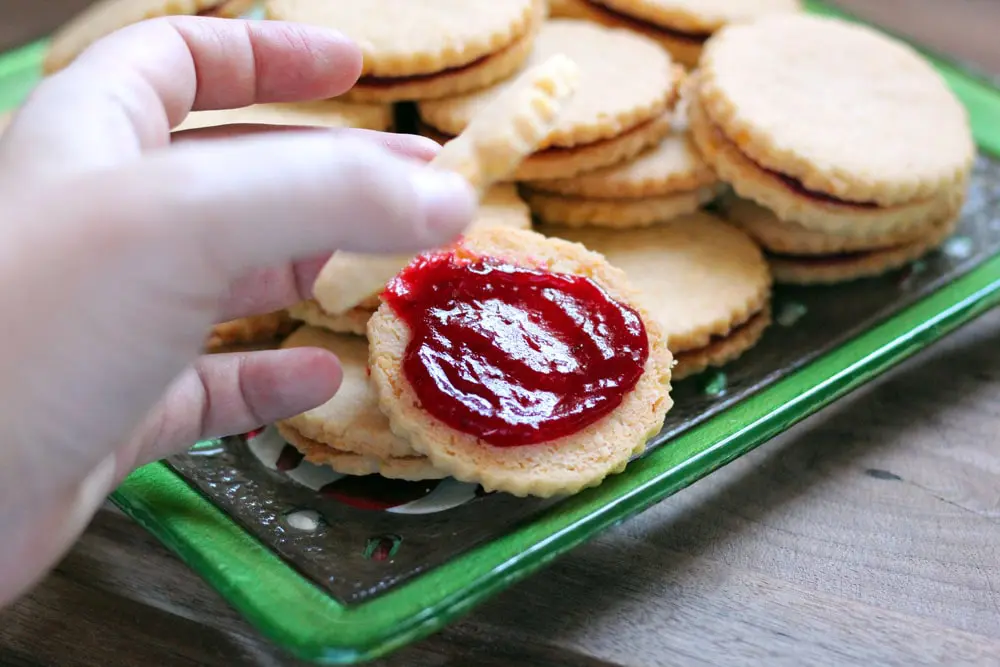 I love to make the jam for its amazing festive color and delicious holiday flavors. You'll have leftover jam which is never a bad thing either. A piece of toast is infinitely more interesting and tasty with homemade jam!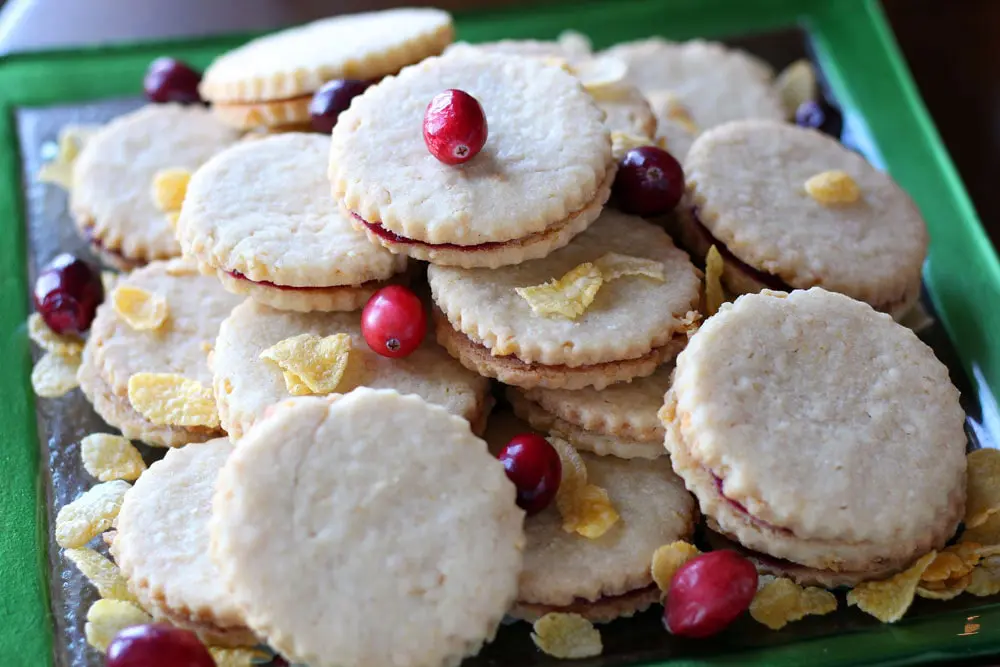 Helpful Utensils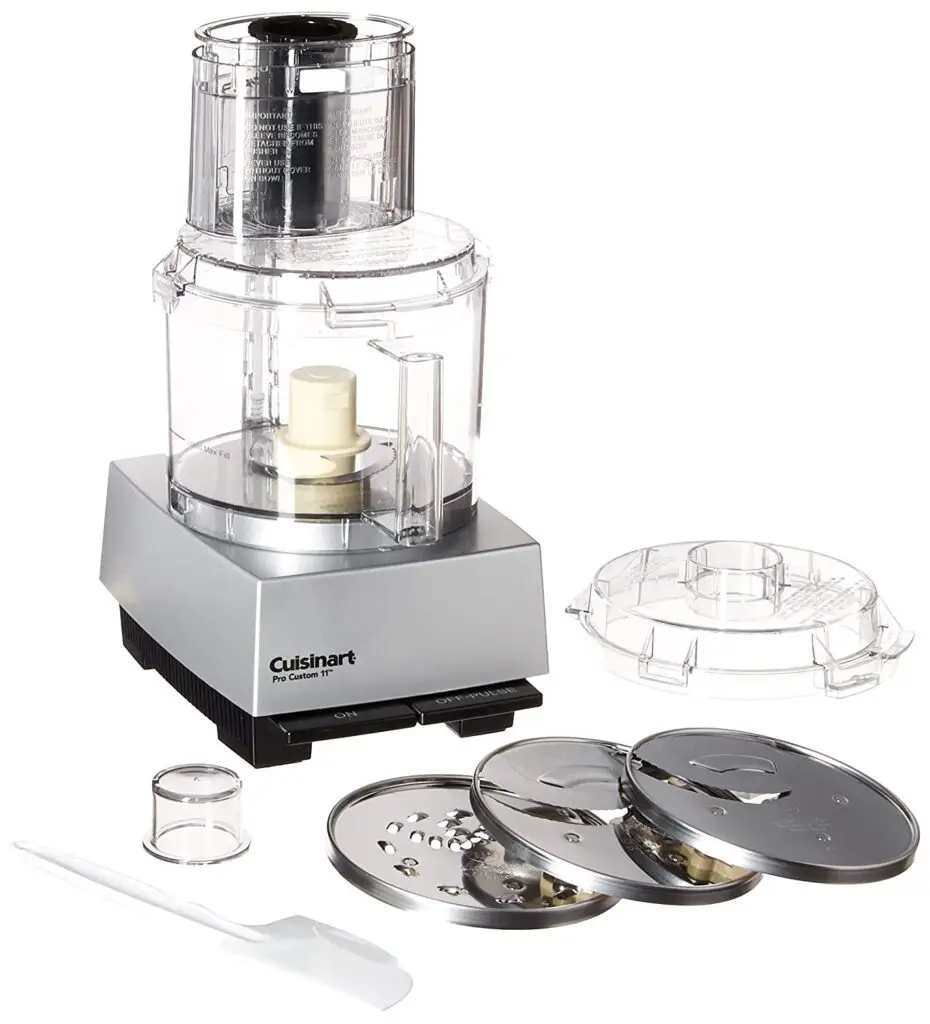 There are oodles of different ways to use a food processor, and they literally last a lifetime. Mine is nearly 15 years old!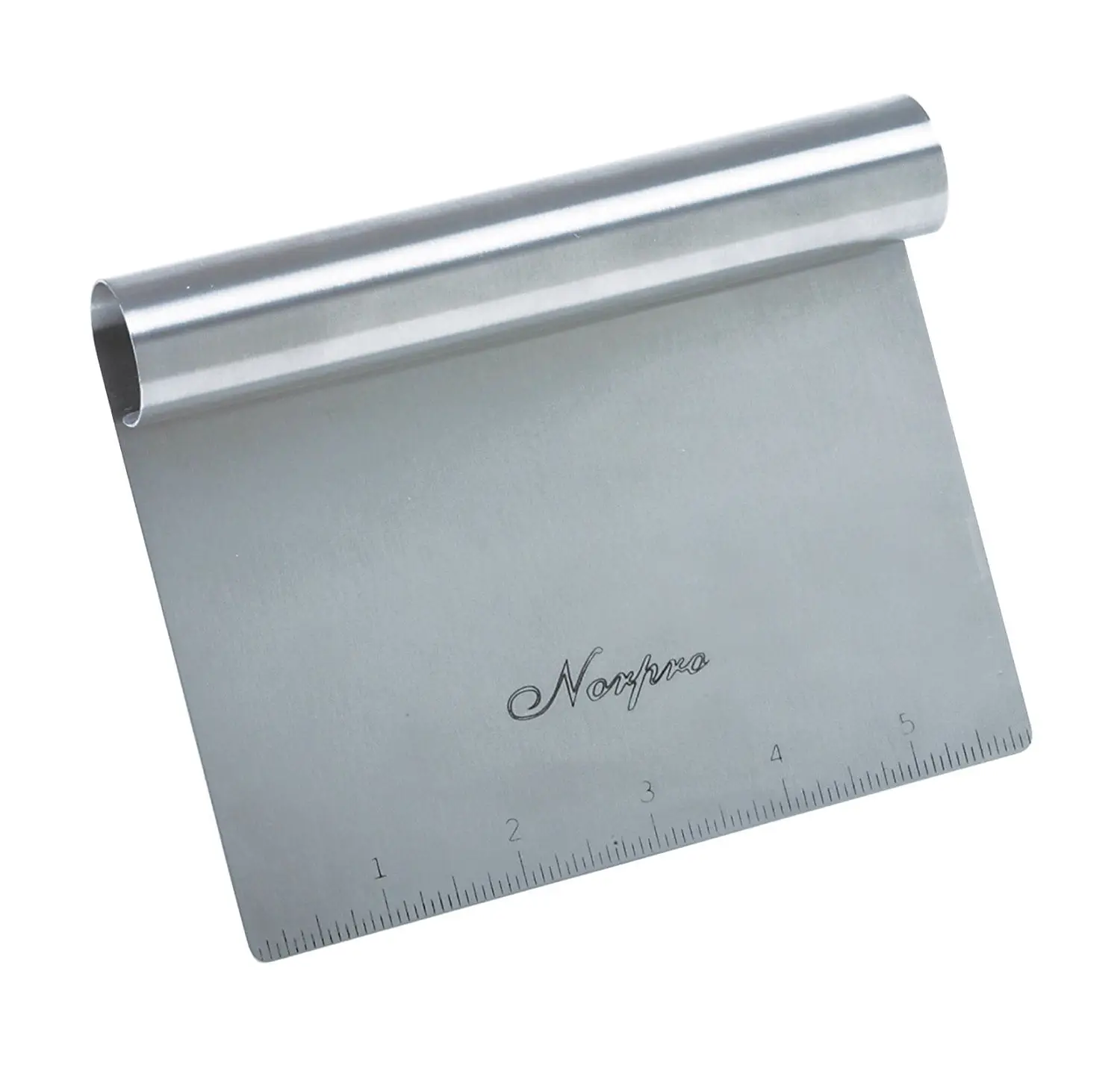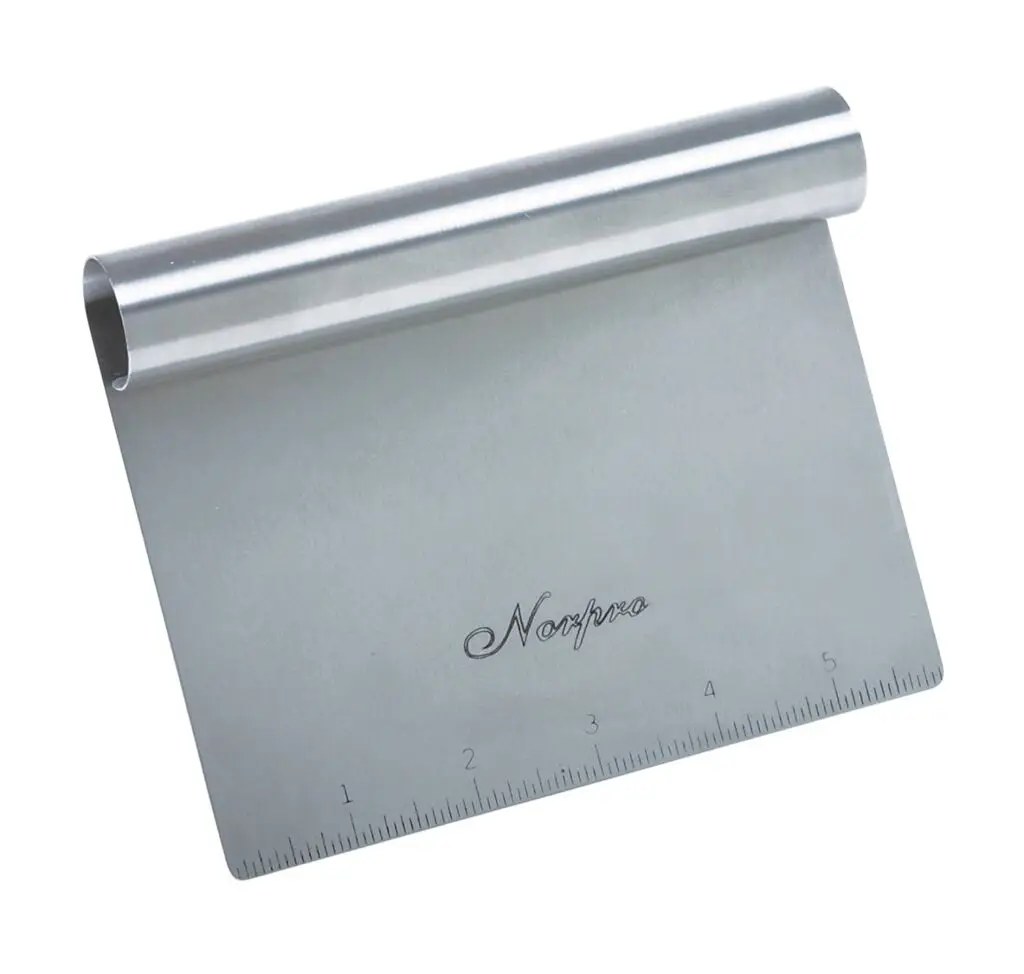 A bench scraper is absolutely essential to working with any sort of pastry or cookie dough. It makes delicate work a breeze.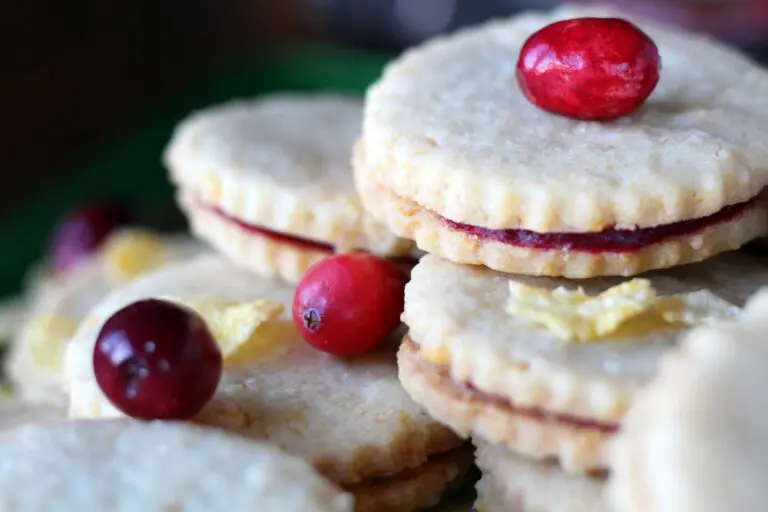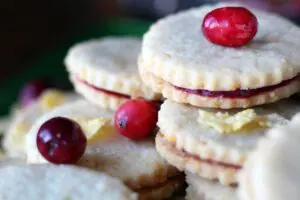 Corn Flake Shortbread & Cranberry Jam Cookie Sandwiches
Homemade cranberry preserves spiked with orange and pumpkin pie spice is sandwiched between two buttery, melt-in-your-mouth shortbread cookies, but this is not your standard shortbread. This shortbread has been loaded with Corn Flake crumbs for added flavor and texture.
Ingredients
Corn Flake shortbread
1

C

butter

room temperature

1

egg yolk

½

C

white sugar

1.5

C

all purpose flour + more for rolling out

¼

C

cornmeal

1

tsp

kosher salt

1

heaping C Corn Flakes cereal
Cranberry jam filling*
12

oz

fresh or frozen cranberries*

½

C

white sugar

½

C

freshly squeezed orange juice

½

tsp

pumpkin pie spice

⅛

tsp

kosher salt
Instructions
To make cookies
Place the butter in a stand mixer bowl or a large mixing bowl. Using a mixer, cream the butter on medium speed for about 30 seconds. Add the sugar and cream on high for 3-4 minutes or until pale and fluffy. Scrape down the sides and bottom of the bowl.

Add the egg and mix on low speed until well combined. Scrape down the bowl one more time and mix briefly on low until all the ingredients are combined.

Turn off the mixer and add the flour and salt. Turn the mixer on low at first and then mix on medium speed just until combined. Don't overmix your cookie dough, or you will end up with tough cookies.

Add the Corn Flakes to a food processor (if you don't have one, you really need one- there's a link above to a great one that will last almost forever). Grind until the Corn Flakes have the consistency of Panko breadcrumbs. Add the crumbs to the mixing bowl and mix on medium for 10 seconds. Bring the dough together and make sure the Corn Flakes are thoroughly combined by-hand with a spatula.

Turn out the prepared dough onto a sheet of plastic wrap, and chill for at least 2 hours. It's best to let the dough chill overnight so the cereal and the dough become one, but you'll need to chill for at least 2 hours so the dough is easy to roll out. If you're short on time for chilling, split the dough into two equal halves before wrapping in plastic wrap.

Once chilled and ready to cook, remove from the fridge and allow to warm up just enough so that you can roll it out, usually about 30 minutes. Preheat the oven to 350 degrees and prepare two baking sheets with parchment paper.

Flour your work surface well.

Roll out the shortbread out into something resembling a rectangle (don't worry, we're going to trim the rough edges), rotating the dough 90 degrees every few rolls to ensure it's not sticking. Add flour as necessary to keep the dough from sticking to your surface. Shortbread dough is super forgiving so if the dough splits or cracks while you're rolling it out, just smoosh or pinch it back together.

Once the dough is about a quarter-inch thick, trim the edges off the dough to form an even rectangle. I like to measure using a classic metal ruler that I keep in the kitchen, but you can also eyeball it. They will taste great even if they aren't exactly the same size, but do aim for at least similar cookie sizes so they cook evenly. Reroll any scraps until you've used almost all the dough.

You can use any cookie cutter you'd like or simply cut the dough into 2" x 2" squares using a pizza wheel or a bench scraper. If you don't have a bench scraper, GET ONE. They are a secret weapon when it comes to working with pastry. I've linked to one above for easy purchasing.

Using your bench scraper, gently lift the cookies from your work surface and place on the prepared baking sheets, about one-inch apart from each other.

Bake the cookies for 12-14 minutes, rotating the pan halfway through the cook time. Allow the cookies to cool for 5 minutes on the baking sheet before moving to a wire rack to cool completely. Be sure the cookies are totally cool before filling.
To make cranberry jam
In a saucepan, combine all of the ingredients. Bring the mixture to a boil over high heat. Once boiling, reduce the heat to medium and cook for about 15 minutes or until most of the liquids have cooked off. Place the hot mixture into a food processor or blender to smoothly puree the mixture.

Allow the jam to come to room temperature before making cookie sandwiches.
To make cookie sandwiches**
Once cookies and jam have totally cooled, turn half of the cookies over so the bottoms are facing up. Top each of the cookies with a heaping teaspoon of cranberry jam. Gently spread the jam out although you don't have to get it all the way to the edges. The pressure of the top cookie will help spread it.

Top each cookie with another and gently press down so that the jam comes just to the edges.

Once all the cookies are assembled, allow to chill in an airtight container for at least one more hour in the fridge to let the cookies fully set.
Notes
* Feel free to substitute with strawberries or raspberries if you're making this recipe in the warmer months when cranberries are less popular or if you just aren't a fan of the tart cranberry flavor.
** This shortbread recipe would be delightful all by itself or you could also dip the cookies into a chocolate of your choice for another option. White chocolate, in particular, would be yummy with the subtle sweetness of the Corn Flakes.
The following two tabs change content below.

Hey-ooo! I'm Hailey, and I'm a number cruncher by day and cussing cook by night. I created this site to share my love for delicious food that feeds the soul as well as the belly. I hope my recipes have you running to the kitchen to cook some damn good grub!