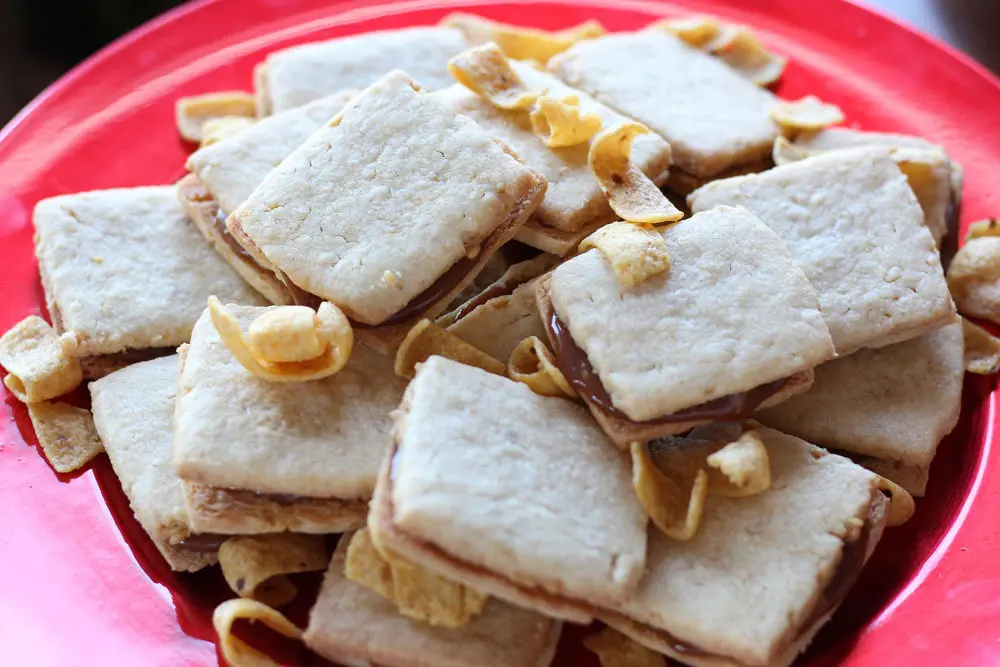 Frito Shortbread and Caramel Sandwich Cookies are straight up f*cking delicious. I'm going hard on my intro here because seriously guys, these cookies are insanely good. I took a couple of batches to work and they disappeared before lunch time! This recipe is basically caramel corn in cookie form. I took one bite the first time I made these and thought, "Holy shit! It's like a Cracker Jack!"
The inspiration for these amazing Frito shortbread cookies came from a Corn Nut Shortbread recipe I saw (which also inspired my Corn Flake with Cranberry Jam Cookie Sandwiches recipe).
Wait, hold up, like Frito corn chips?!?.....yep, those Fritos.
The dough has a bit of cornmeal included which helps tie the salty, corn chips and the buttery shortbread dough together. The end result is a cookie that melts in your mouth but still has a nice bite from the cornmeal and Fritos.
And the caramel sauce and the corn flavor together are seriously like heaven! The homemade caramel sauce that is sandwiched between the cookies is so damn good. It has a rich, toffee-like flavor that you only get from scratch-made caramel. The caramel also has a healthy amount of salt in it which just keeps the sweet and salty play of the cookie going strong.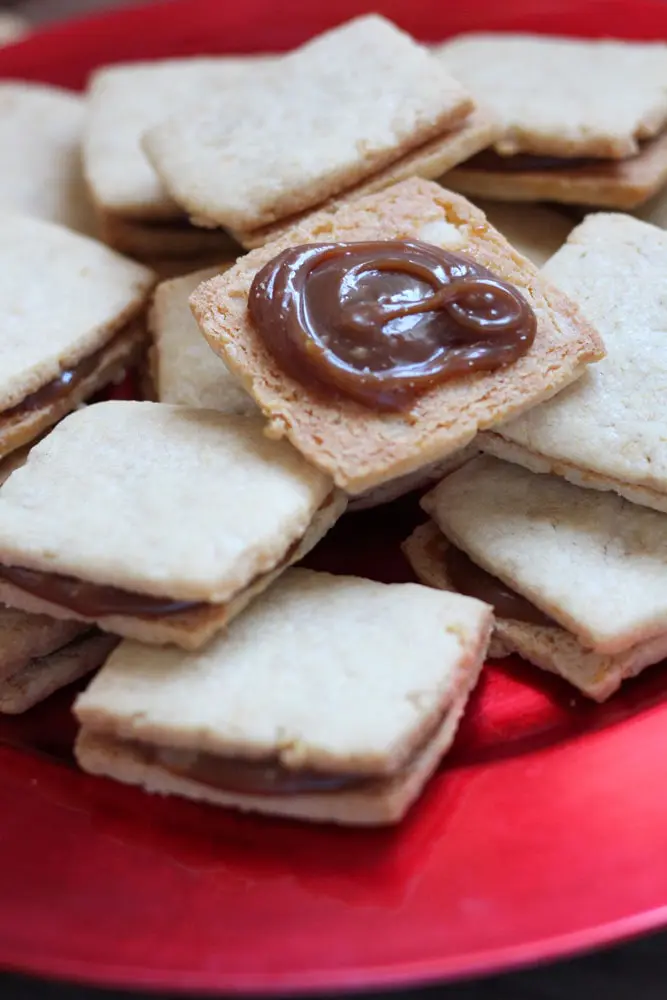 The caramel is the most labor intensive part of this recipe. Rolling out shortbread is really a cinch, so I don't think you'll find that part difficult at all. In fact, I find rolling out dough therapeutic in some ways. It's a good time to just zone out and calm my wild mind.
I digress. The caramel is a labor of love that takes a bit of time, but it is so worth it. This sauce is mind-blowing, melt your panties scrumptious. And the best part is, you will have leftovers after the cookie sandwiches are made.
This caramel would be delicious on anything, but here are just a few ideas of how to use it:
Ice cream sundaes
Folded into brownie batter
By the f*cking spoonful…alright, have an apple with the spoonful to make yourself feel better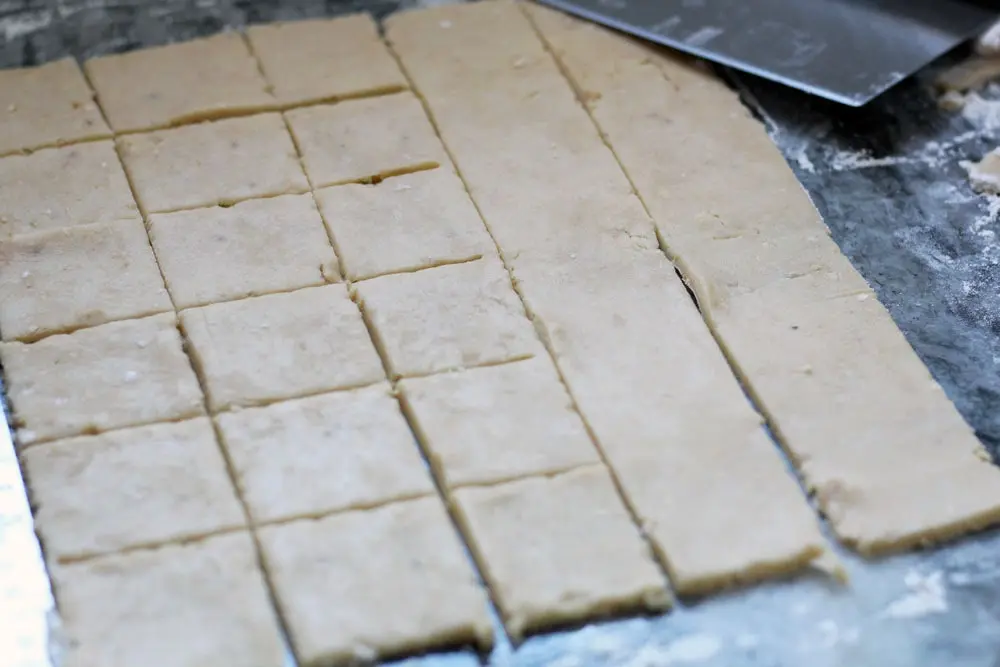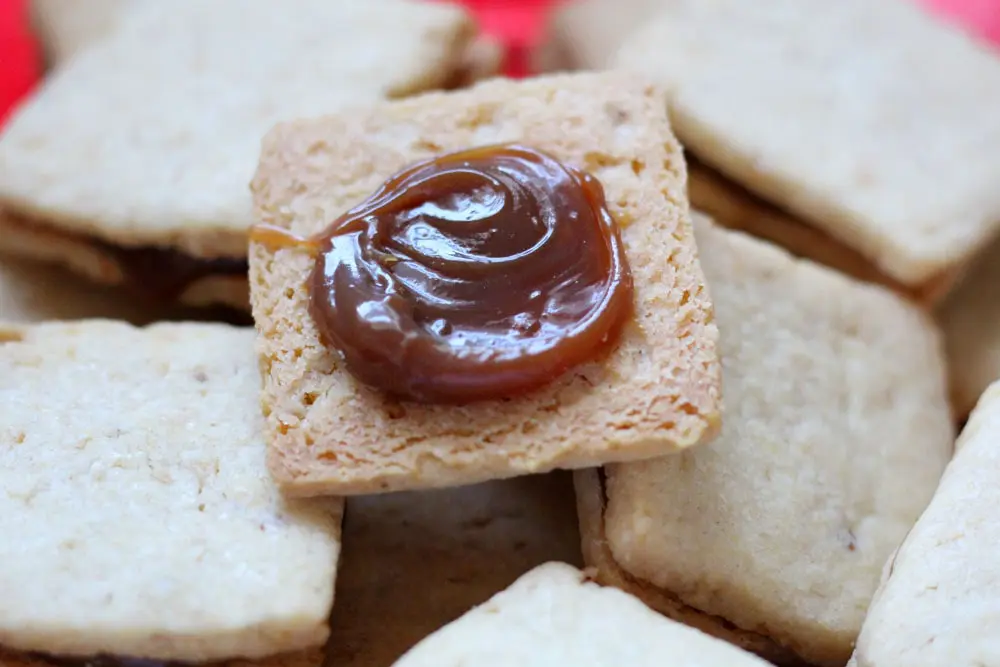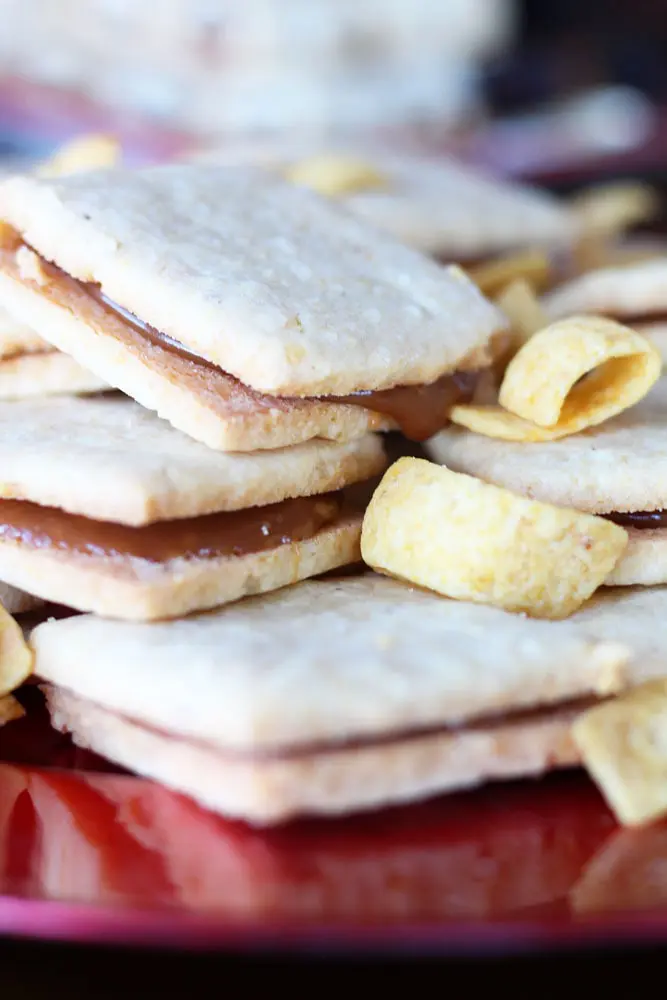 Any way you eat it, I promise you will love it, and the 20 minutes of stirring and watching the caramel will be a distant memory.
I love to make shortbread. There are only a handful of ingredients, most of which I almost always have in my kitchen. The dough is also very forgiving unlike some other kinds of pastry. If you get a little tear in it while rolling it out, just pinch the dough back together and keep rolling. You can also reroll the scraps of this dough as many times as you need to use it all up.
I've used the shortbread for sandwich cookies in this application, but you could also have these cookies all by themselves, and they would be wonderful. If you wanted to add a little sweetness without making the caramel, you could also dip one half of each shortbread into chocolate. I think milk chocolate would be amaze-balls with the Frito flavor.
There are so many ways you could use this shortbread and caramel recipe, but I think Frito Shortbread and Caramel Cookie Sandwiches is the best way. I can't wait to hear what you all think of this recipe! Please leave your feedback in the comments section below.
Helpful Utensils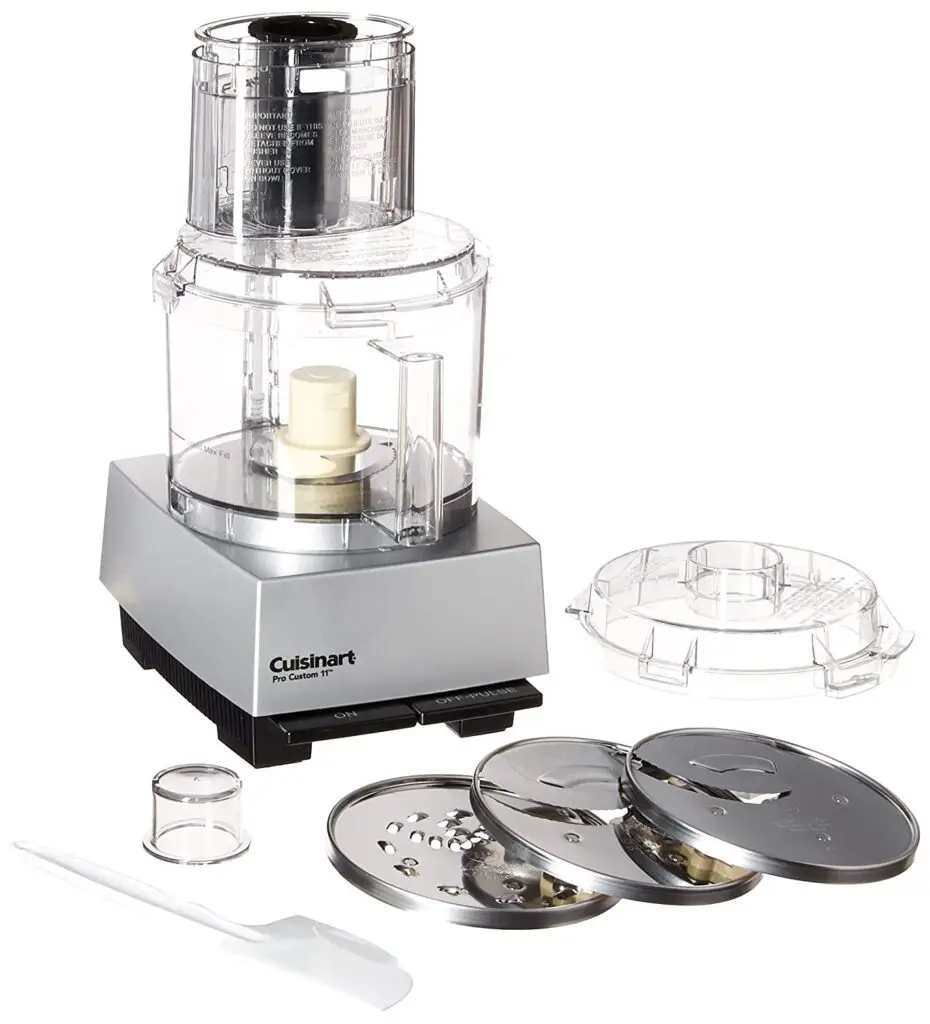 There are oodles of different ways to use a food processor, and they literally last a lifetime. Mine is nearly 15 years old!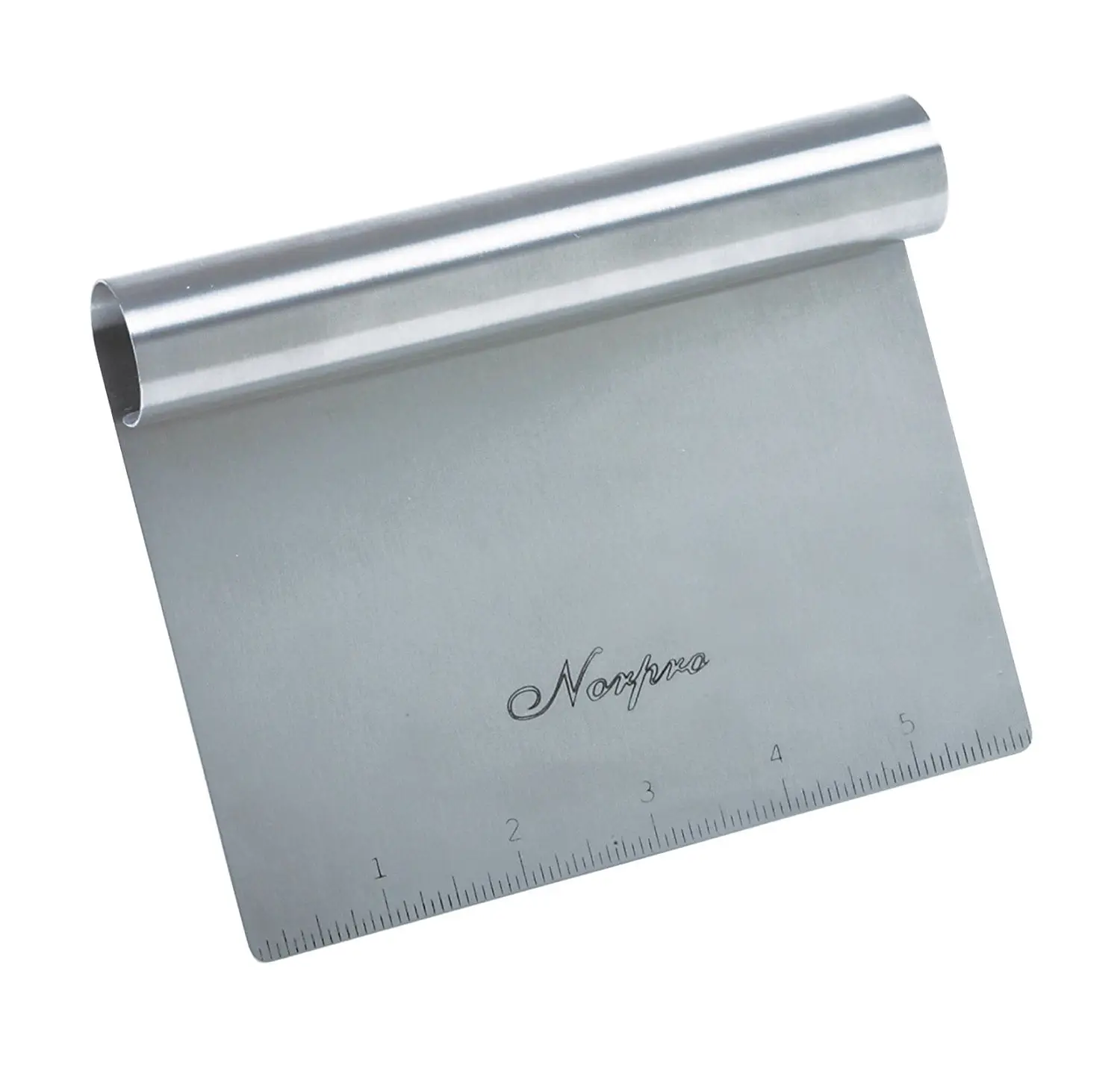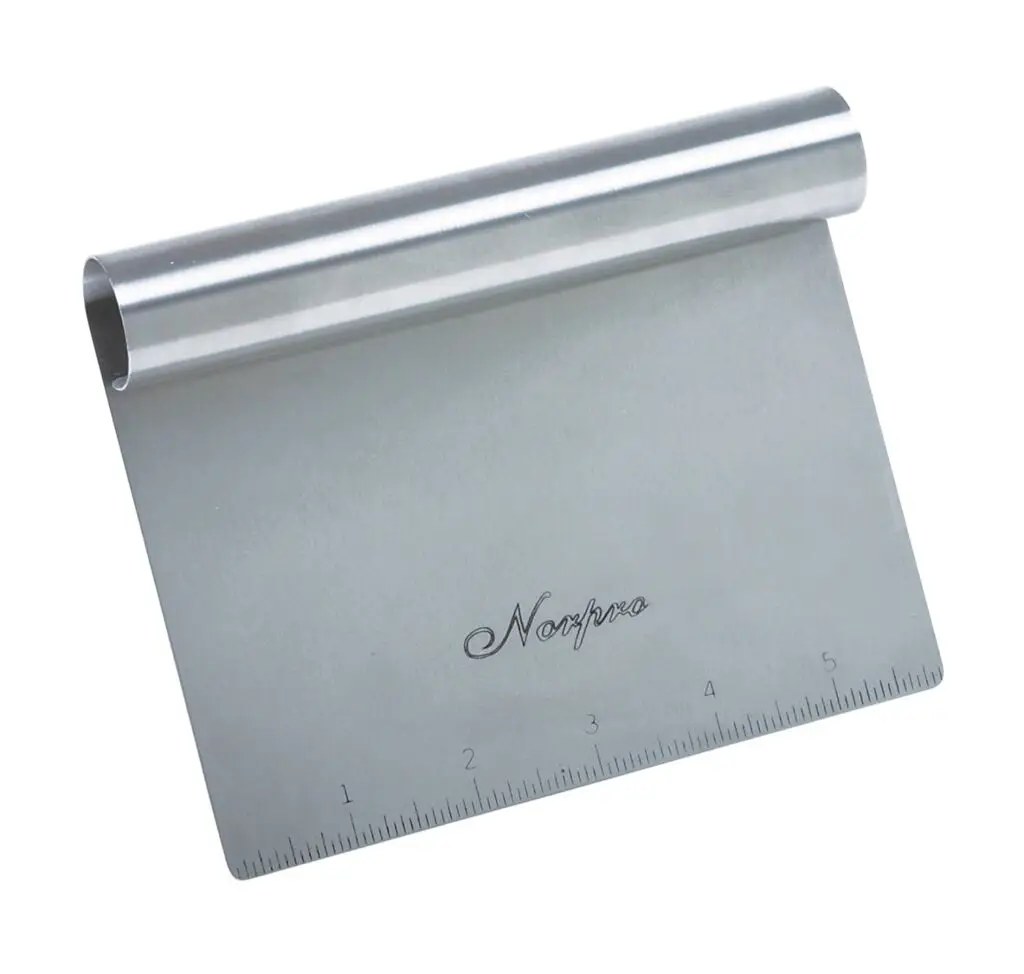 A bench scraper is absolutely essential to working with any sort of pastry or cookie dough. It makes delicate work a breeze.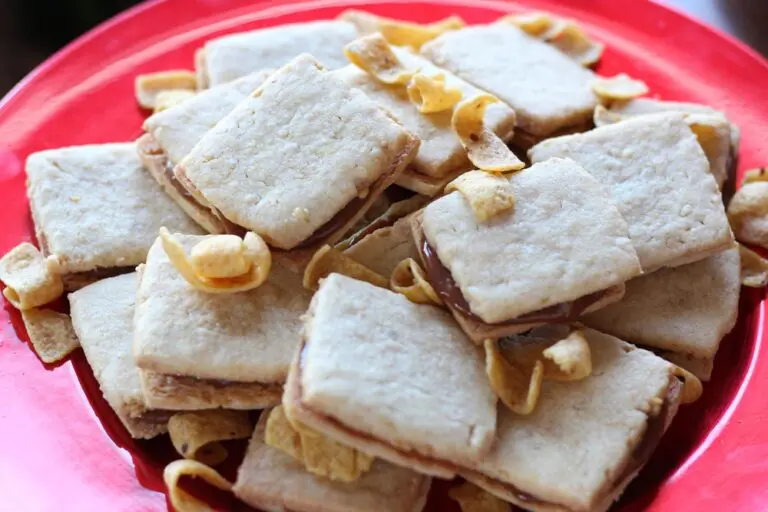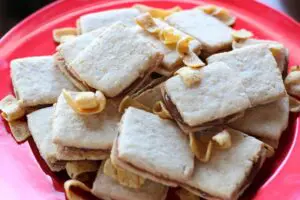 Frito Shortbread & Caramel Cookie Sandwiches
Caramel popcorn in cookie form! One bite of this cookie and you'll know exactly what I mean. Homemade caramel sauce is sandwiched between two buttery, melt-in-your-mouth shortbread laced with cornmeal and salty Fritos. It may sound crazy, but it's crazy addictive.
Ingredients
Frito Shortbread
1

C

butter

room temperature

1

egg yolk

½

C

white sugar

1.5

C

all purpose flour + more for rolling out

¼

C

cornmeal

½

tsp

kosher salt

1

heaping C Fritos chips
Caramel Filling
2

C

heavy cream

1.5

C

white sugar

¼

C

+ 2 Tb light corn syrup

1

tsp

kosher salt

½

tsp

vanilla extract
Instructions
To make cookies
Place the butter in a stand mixer bowl or a large mixing bowl. Using a mixer, cream the butter on medium speed for about 30 seconds. Add the sugar and cream on high for 3-4 minutes or until pale and fluffy. Scrape down the sides and bottom of the bowl.

Add the egg yolk and mix on low speed until well combined. Scrape down the bowl one more time and mix briefly on low until all the ingredients are combined.

Turn off the mixer and add the flour, cornmeal, and salt. Turn the mixer on low at first and then mix on medium speed just until combined. Don't overmix your cookie dough, or you will end up with tough cookies.

Add the Fritos to a food processor (if you don't have one, you really need one- there's a link above to a great one that will last almost forever). Grind until the Fritos have the consistency of Panko breadcrumbs. Add the crumbs to the mixing bowl and mix on medium for 10 seconds. Bring the dough together and make sure the Fritos are thoroughly combined by-hand with a spatula.

Turn out the prepared dough onto a sheet of plastic wrap, and chill for at least 2 hours. It's best to let the dough chill overnight so the chips and the dough become one, but you'll need to chill for at least 2 hours so the dough is easy to roll out. If you're short on time for chilling, split the dough into two equal halves before wrapping in plastic wrap.

Once chilled and ready to bake, remove from the fridge and allow to warm up just enough so that you can roll it out, usually about 30 minutes. Preheat the oven to 350 degrees and prepare two baking sheets with parchment paper.

Flour your work surface well.

Roll out the shortbread out into something resembling a rectangle (don't worry, we're going to trim the rough edges), rotating the dough 90 degrees every few rolls to ensure it's not sticking. Add flour as necessary to keep the dough from sticking to your surface.

Once the dough is about a quarter-inch thick, trim the edges off the dough to form an even rectangle. I like to measure using a ruler that I keep in the kitchen, but you can also eyeball it. They will taste great even if they aren't exactly the same size, but do aim for at least similar cookie sizes so they cook evenly.

You can use a cookie cutter you'd like or simply cut the dough into 2" x 2" squares using a pizza wheel or a bench scraper. If you don't have a bench scraper, GET ONE. They are a secret weapon when it comes to working with pastry. I've linked to one above for easy purchasing.

Using your bench scraper, gently lift the cookies from your work surface and place on the prepared baking sheets, about one-inch apart from each other.

Bake the cookies for 12-14 minutes, rotating the pan halfway through the cook time. Allow the cookies to cool for 5 minutes on the baking sheet before moving to a wire rack to cool completely. Be sure the cookies are totally cool before filling.
To make caramel
Heat the heavy cream in a saucepan over medium-low heat. Keep the cream warm but don't let it boil.

In a large (seriously, a BIG saucepan as the cream will vigorously bubble when you add it to the molten hot sugar…trust me it sucks if it runs all over your stove and it could be super dangerous if it got on you so be cautious and don't skimp on pot size), high-sided saucepan, combine ¾-C sugar and the corn syrup.

Turn the heat on to medium-high. Once the sugar starts to melt, stir the corn syrup and sugar together with a wooden spoon. Once the ingredients are combined, try not to stir it much more unless you feel like the heat isn't evenly distributed. It's okay to stir occasionally, but generally, you should just let the sugar work its magic.

Once the mixture begins to boil, cook for another 7-8 minutes. You're looking for an amber color in this step. If the mixture goes too dark or starts to smell burnt in the slightest way, it's definitely burnt, and you need to start over. It will serve you best to not leave the caramel at all at this point so you can turn the heat down at the right moment.

Once the sugar has reached the right amber color, turn the heat to the lowest setting. Add the remaining ¾-C sugar, ¼-C at a time, or in three even increments, working to combine each ¼-C batch well before adding the next. Allow the sugar to totally melt into the sauce (you don't want to see any granules) before adding the next bit.

After the last batch of sugar is combined, turn the heat up just slightly to medium-low and start adding the warm heavy cream in three roughly even increments. PLEASE BE CAREFUL. As I mentioned above, the caramel will rise and boil vigorously when you add the cream. Allow each batch of cream to fully incorporate and the caramel to thicken slightly before adding the next batch of heavy cream.

Once you have added all of the heavy cream, continue to cook for about 10 minutes, stirring often. The finished caramel should look like a very thick syrup but not quite like the caramel sauce you probably have in mind. Keep in mind, the caramel will thicken as it cools too.

The caramel is ready to remove from the heat when the consistency is just between maple syrup and molasses. You can also coat the back of the wooden spoon with caramel, run a spatula across the back in a line, and watch to see if the caramel cleanly holds that line. If so, it's ready to go! For Pete's sake, don't drag your finger through molten hot caramel!

Once the caramel has reached the desired consistency, remove from the heat and add the salt and vanilla and stir to combine.

For the cookie sandwiches, you want the caramel to come to room temperature so it will be plenty thick.

This caramel sauce it AMAZING and will keep in the fridge for up to 6 months!
To make cookie sandwiches*
Once cookies and caramel have totally cooled, turn half of the cookies over so the bottoms are facing up. Top each of the cookies with a heaping teaspoon of caramel. Gently spread the caramel out although you don't have to get it all the way to the edges. The pressure of the top cookie will help spread the caramel.

Top each cookie with another and gently press down so that the caramel comes just to the edges.

Once all the cookies are assembled, allow to chill in an airtight container for at least one more hour in the fridge to let the cookies fully set.
Notes
*This shortbread recipe would be delightful all by itself or you could also dip the cookies into a chocolate of your choice for another option. Milk chocolate would be yummy with the salty notes of the Fritos.
The following two tabs change content below.

Hey-ooo! I'm Hailey, and I'm a number cruncher by day and cussing cook by night. I created this site to share my love for delicious food that feeds the soul as well as the belly. I hope my recipes have you running to the kitchen to cook some damn good grub!