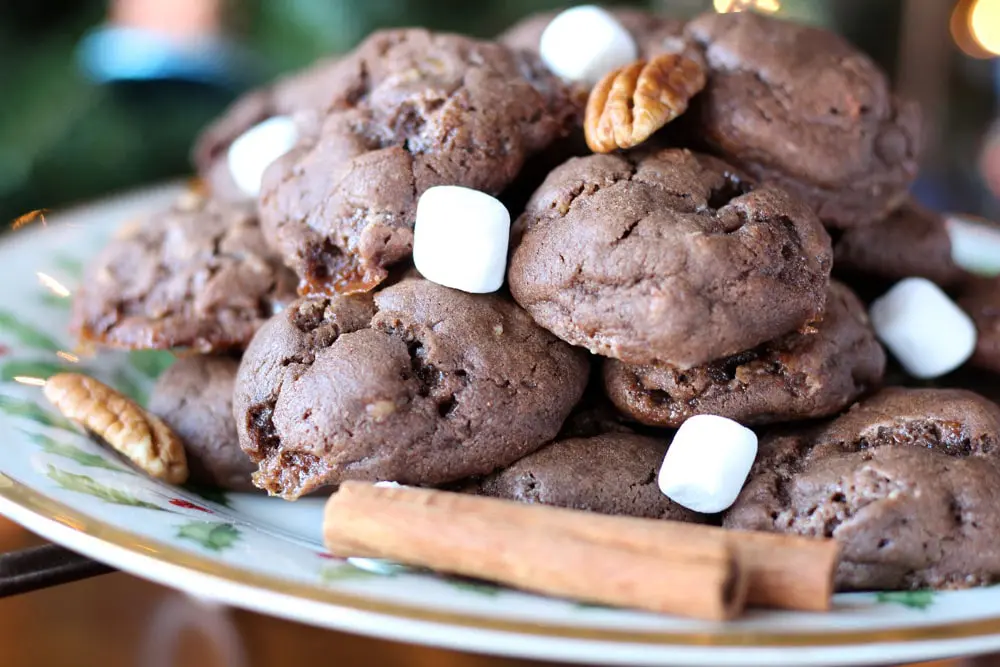 Spiced Rocky Road Cookies are a flavor adventure with a touch of familiarity and nostalgia. The classic combination of chocolate, nuts, and marshmallows is one everybody, young or old, loves, but I didn't stop there. Instead, I gave these cookies new life with a spice bomb that provides tons of new and exciting flavors without overpowering the fudgy chocolate essence.
I love to use spices to bring the flavor of cocoa powder to life. On its own, cocoa can be a little flat or one note in taste, but when combined with cinnamon, cloves, cardamom, and cayenne, yep spicy cayenne pepper, it comes alive!
There is nothing boring about the flavor of these cookies!
If you're thinking, I don't know about all this, please know that you honestly can't even decipher the individual flavors of each spice. That's how mild they are. When you bite into a Spiced Rocky Road Cookie, you have one of those wonderful eating experiences where you recognize and love some of the flavors but also want one bite after another to figure out that sneaky something that keeps tickling your palate.
This recipe is a great one for family and friends of every age. You might think the cayenne would be a turn off for kids, but like I said a moment ago, it's not a discernable strong taste. The spices just add that Christmas spice flavor that we all love this time of year. And, hello, it's f*cking chocolate. Kids LOVE chocolate no matter what else is involved in my experience.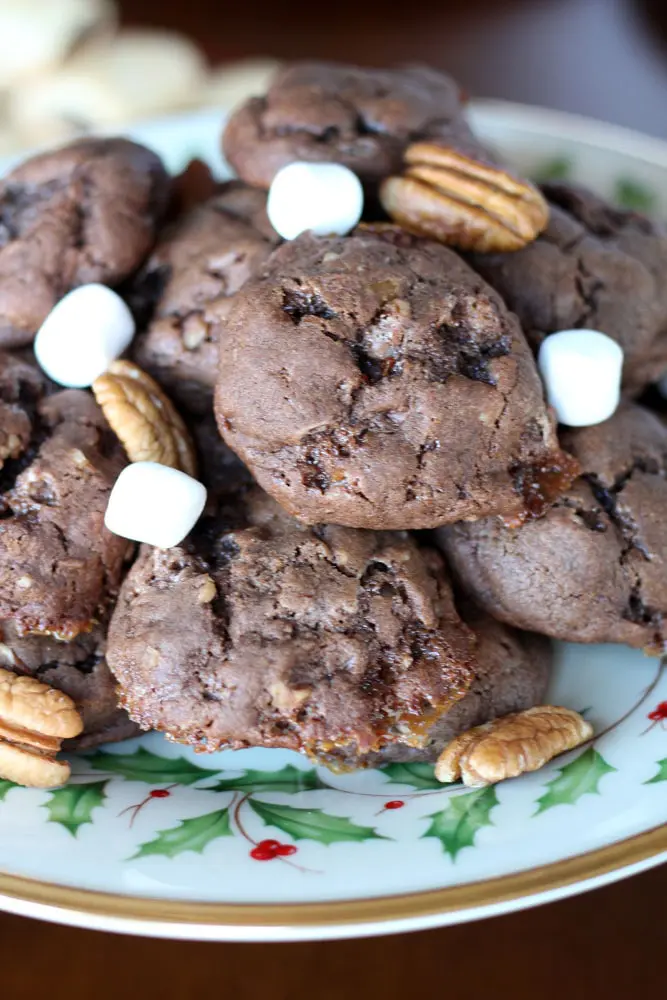 Also, there are marshmallows. I can't think of a more whimsical and child-friendly ingredient than marshmallows. It's probably part of the reason that rocky road ice cream was my favorite as a kid. I used to eat Blue Bell Rocky Road Ice Cream every summer straight from the half gallon container. The sweet chocolate, crunchy nuts, and sticky marshmallows are a party in your mouth that still hasn't gotten old.
I took my love for that old school flavor combination and combined it with my passion for spices to give you a cookie that is something new and exciting while also being warm and comforting. Spiced Rocky Road Cookies are perfect for any holiday celebration.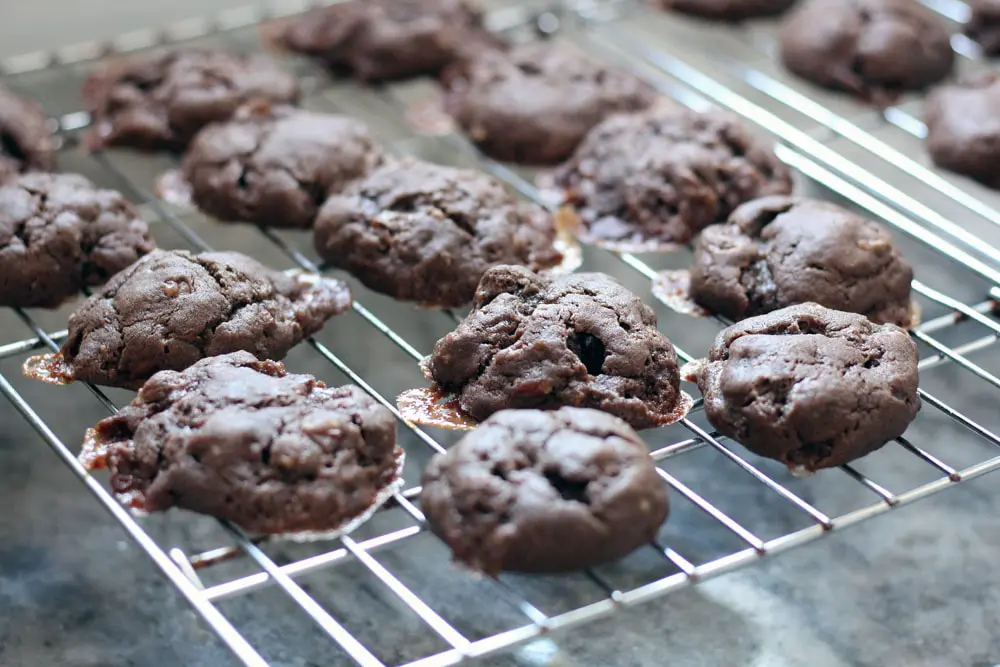 Even Santa would love a little spice on his cookie plate this year!?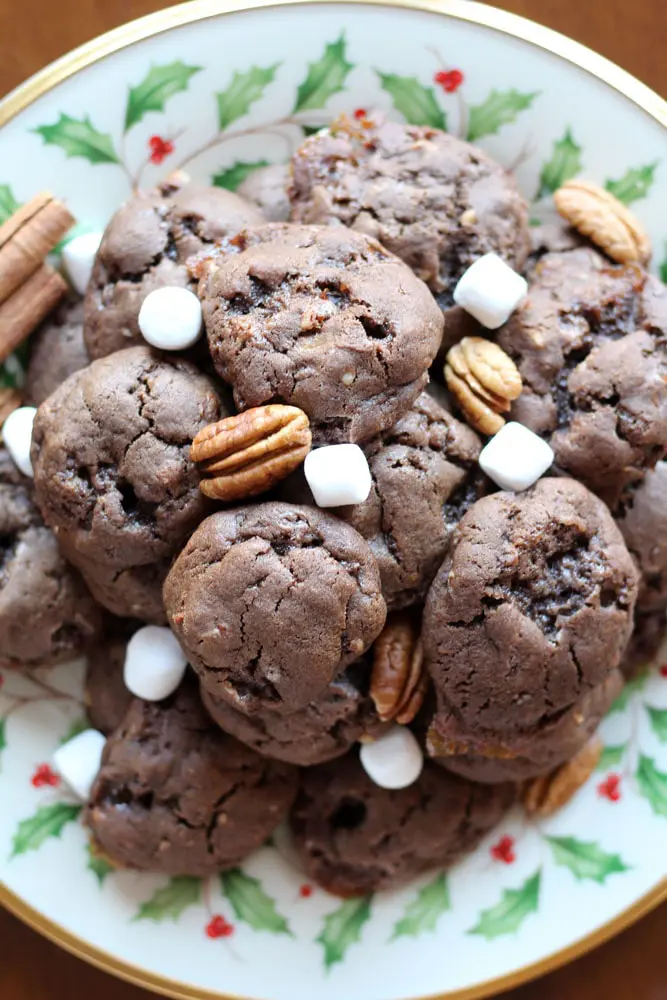 I love these cookies for a cookie swap or a holiday cookie spread. Ginger cookies are a classic part of the holidays, but with all the interesting ingredients in this recipe, these cookies are certain to be something special for your friends and family to try. I hope you have a chance to try out the recipe this holiday season. What do you think of the surprise ingredients? Let me know in the comments section below.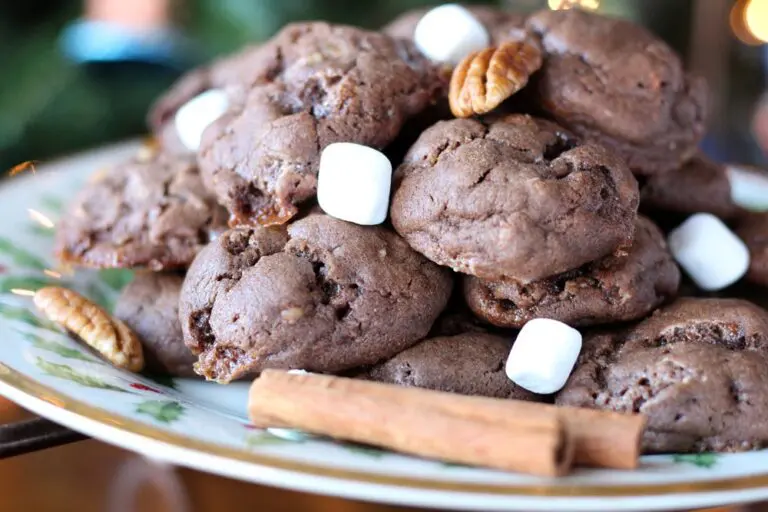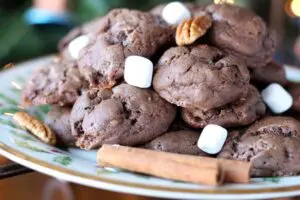 Spiced Rocky Road Cookies
Cocoa, cardamom, clove, cinnamon, and cayenne pepper come together with mini marshmallows and chopped pecans to create a spicy and unique cookie with a little touch of familiarity. Spiced Rocky Road Cookies are rich and fudgy in the center with crisp edges.
Ingredients
1

C

butter

room temperature

1

C

brown sugar

½

C

white sugar

2

extra-large eggs

1

tsp

vanilla extract

½

C

cocoa powder

good quality

2.5

C

all purpose flour

1

tsp

baking powder

1

tsp

baking soda

1

tsp

kosher salt

¼

tsp

ground cloves

¼

tsp

ground cardamom

½

tsp

ground cinnamon

⅛

tsp

ground cayenne pepper

2

C

mini marshmallows

1

C

chopped pecans
Instructions
Place the mini marshmallows in the freezer while you prepare the dough. It will help ensure they stay whole in the final dough.

Place the butter in a stand mixer bowl or a large mixing bowl. Using a mixer, cream the butter on medium speed for about 30 seconds. Add the brown and white sugar and cream on high for 3-4 minutes or until pale and fluffy. Scrape down the sides and bottom of the bowl.

Add the egg and vanilla and mix on low speed until well combined. Scrape down the bowl one more time and mix briefly on low until all the ingredients are combined.

Add the spices, salt, baking powder, and baking soda and mix on low until combined. Turn off the mixer and add the flour and cocoa powder. Mix on medium speed just until combined.

Remove the marshmallows from the freezer and add to the mixing bowl along with the chopped pecans and mix on medium speed for about 10 seconds. Ensure the marshmallows and nuts are well combined and bring the dough together by hand with a spatula.

I like to chill my dough for a thicker cookie, but the recipe is just as tasty if cooked right away. You just might get a bit more spread on your cookie if you don't chill the dough. I chilled mine for about an hour, but you can make ahead and chill for up to 48 hours. If you're going to chill the dough, form the dough into a disc shape and wrap in plastic wrap.

Preheat the oven to 350 degrees, and prepare 2 baking sheets with parchment paper or nonstick foil.

Once chilled, with your hands or a cookie scoop batch out the dough into 1 Tb balls of dough. Place the dough on the prepared baking sheets and place the baking sheets into the preheated oven. Bake for 15 minutes, rotating the pans halfway through the cook time.

Allow the cookies to cool for 5 minutes on the baking sheet before moving to a wire rack to cool completely. Store in an airtight container for up to a week.
The following two tabs change content below.

Hey-ooo! I'm Hailey, and I'm a number cruncher by day and cussing cook by night. I created this site to share my love for delicious food that feeds the soul as well as the belly. I hope my recipes have you running to the kitchen to cook some damn good grub!