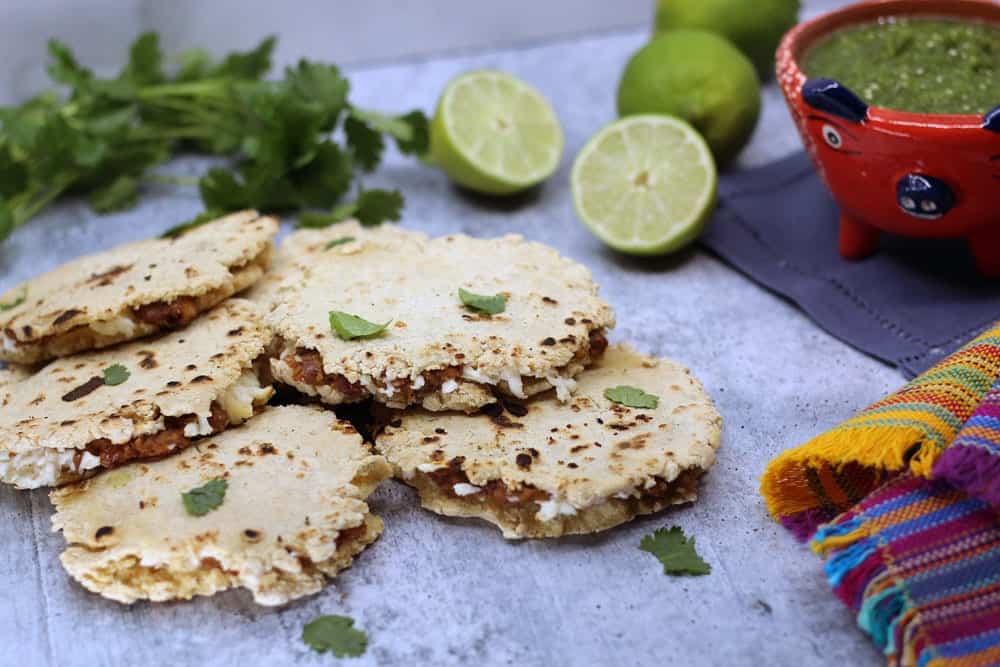 Bean and Cheese Gorditas may sound simple, but they are an explosion of Latin flavors. Freshly made gorditas stuffed with meaty, flavorful refried beans (check out my Refried Beans post for an awesome recipe) and mild Panela cheese create an authentic Mexican street food experience.
For my last post inspired by my recent trip to San Miguel de Allende, Mexico, I decided to make Gorditas. Translated, gordita means chubby girl, but the term is more commonly used to describe the chubby little tortillas you find in the simple street cafes in Mexico.
Now, if you're already thinking about Taco Bell's Cheesy Gordita Crunch, come back to me when you're not drunk.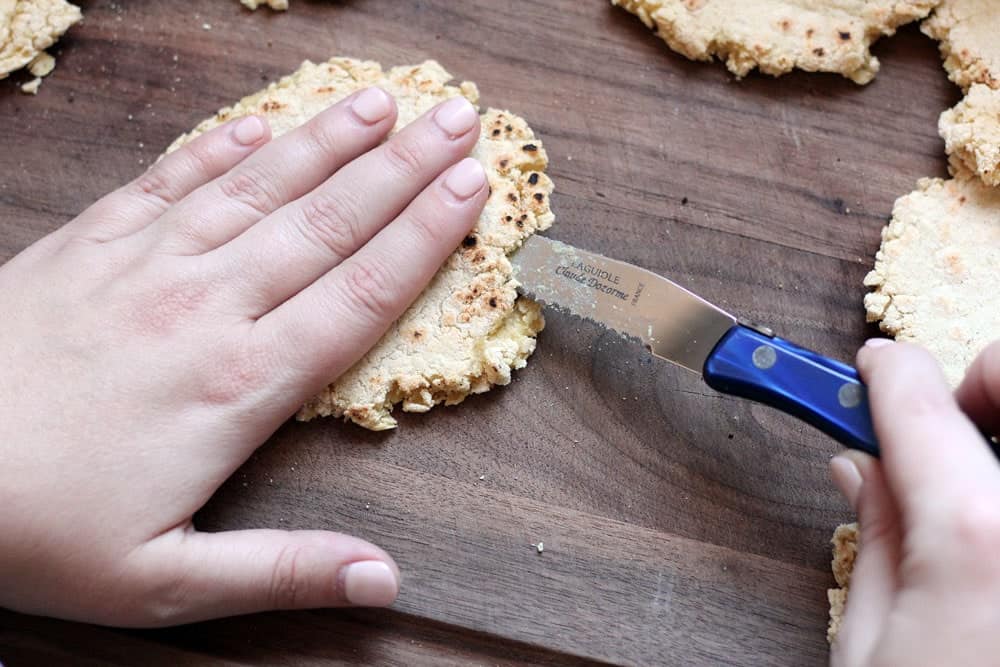 LOL. Just kidding….kind of. These gorditas are nothing like those.
Authentic gorditas are a cross between a soft corn taco and a quesadilla. Gordita shells are made very much like a traditional corn tortilla except that the masa mixture is only pressed to about 1-cm thickness instead of the thin style of tortillas. Gorditas are left slightly thick so that they can be split down the middle like a pita and stuffed with meats, beans, and cheese.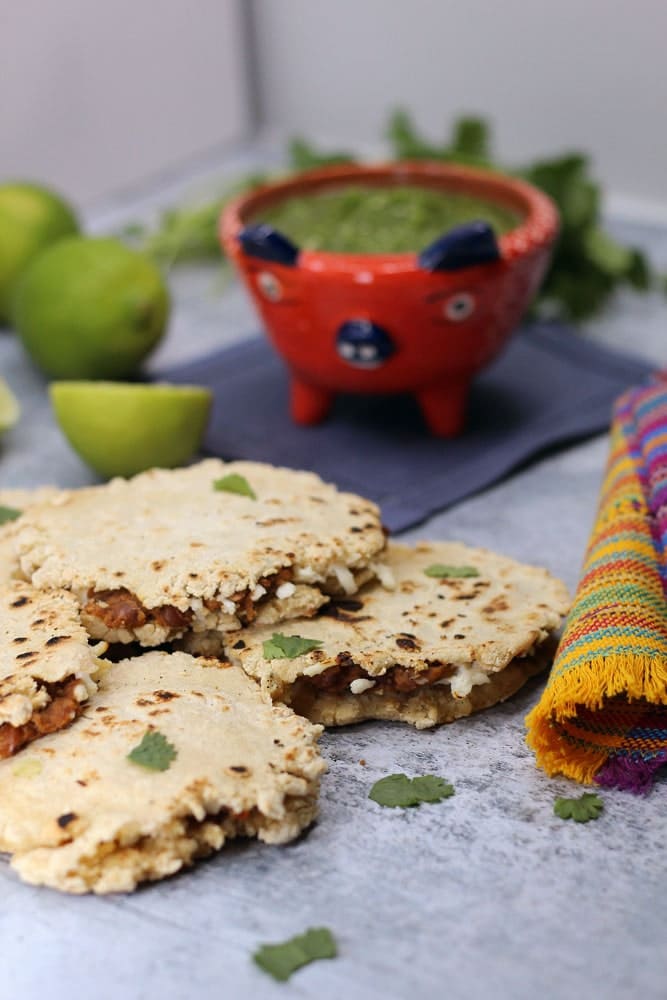 A tortilla press isn't totally essential to this recipe, but it sure as hell makes flattening the gorditas MUCH EASIER.
I've linked to the tortilla press that I have below, but you can also roll out the gordita shells between parchment paper using a rolling pin. It's also worth mentioning how f*cking fun it is to use a tortilla press. Don't ask me why…it just is.
I had so many wonderful new food experiences while we were in Mexico, but the simple Bean and Cheese Gordita Chris and I shared while wandering the cobblestone streets of San Miguel was one of my favorites.
We passed by a street vendor who was making them fresh from scratch, and I couldn't resist. Besides what better than a portable snack to keep spirits high while marathon shopping for dishes and linens! Not only did this vendor have fresh gordita shells on her flat top. She also had a huge lineup of available gordita stuffings.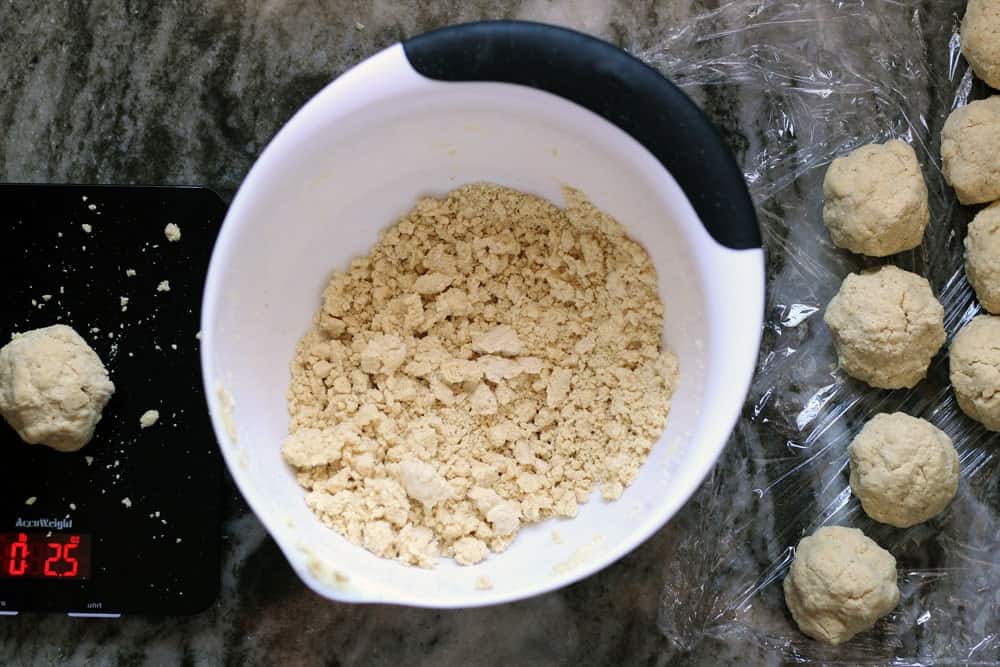 There was chicken, steak, chorizo, carnitas and all kinds of other bowls filled with unrecognizable delights, but at that moment, I wanted something super simple so I chose refried beans. When I asked for cheese, the vendor asked me, "Queso Panela?" I wasn't sure what Panela cheese was, but I never met a cheese I didn't like, so I replied, "Si!" without hesitation.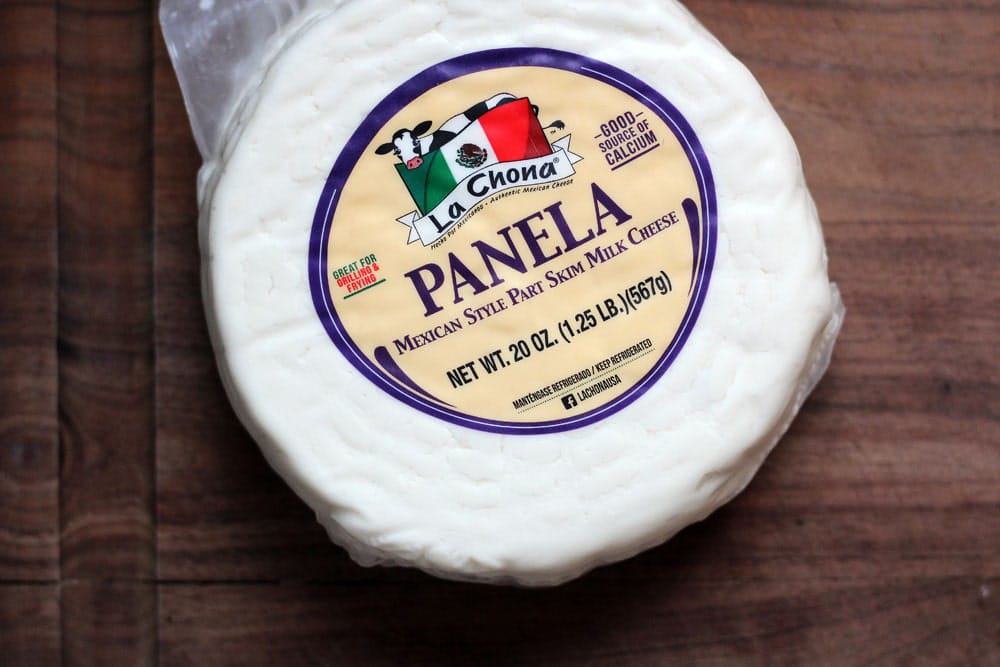 My husband Chris later explained to me that Panela is a simple farmers cheese with a mild flavor similar to queso fresco but a creamier texture, and it did not disappoint in my Gordita. The creamy refried beans married perfectly with the soft Panela cheese, and the chewy gordita shell with a crisp exterior was just the right vessel.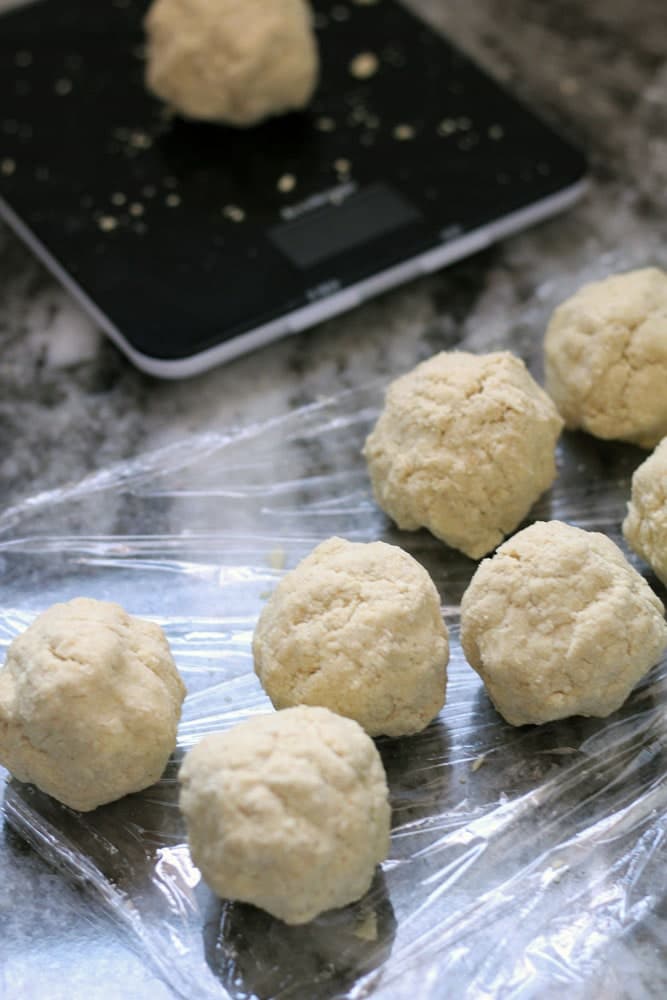 If you're a devoted carnivore, feel free to add a bit of protein to your gorditas, but if you use my refried beans recipe, the beans include chorizo which gives enough meaty flavor to the dish to make it totally satisfying.
Bean and Cheese Gorditas are humble while still being rich and comforting. You'll be so impressed with yourself too when you make fresh gorditas from scratch! Give this recipe a try, and don't hesitate to ask me any questions you might have in the comments section below.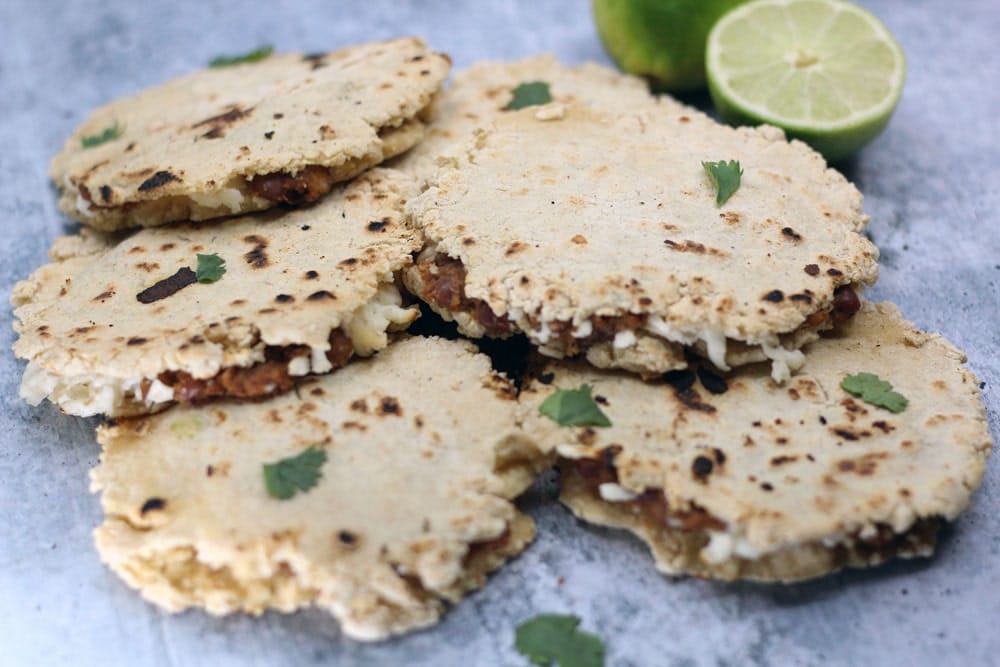 Helpful Utensils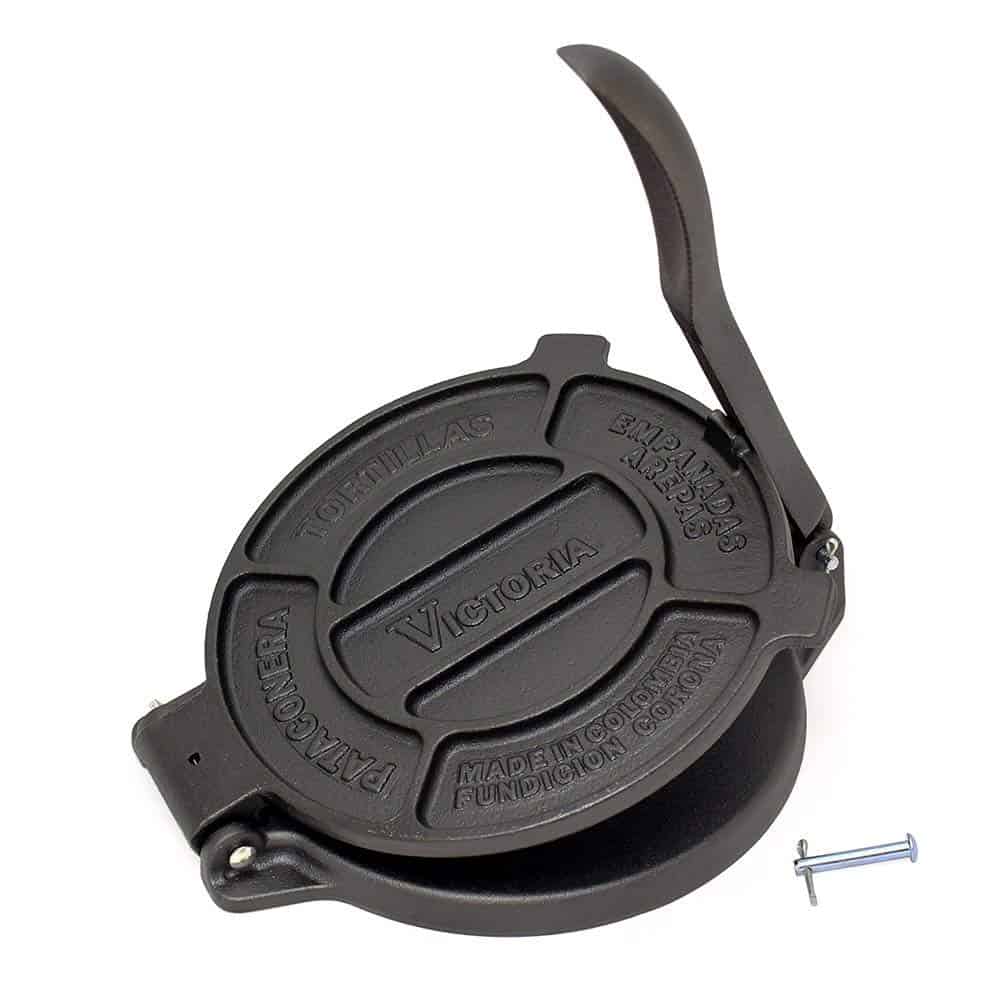 An essential if you want to get serious about your Mexican cooking and so fun to use!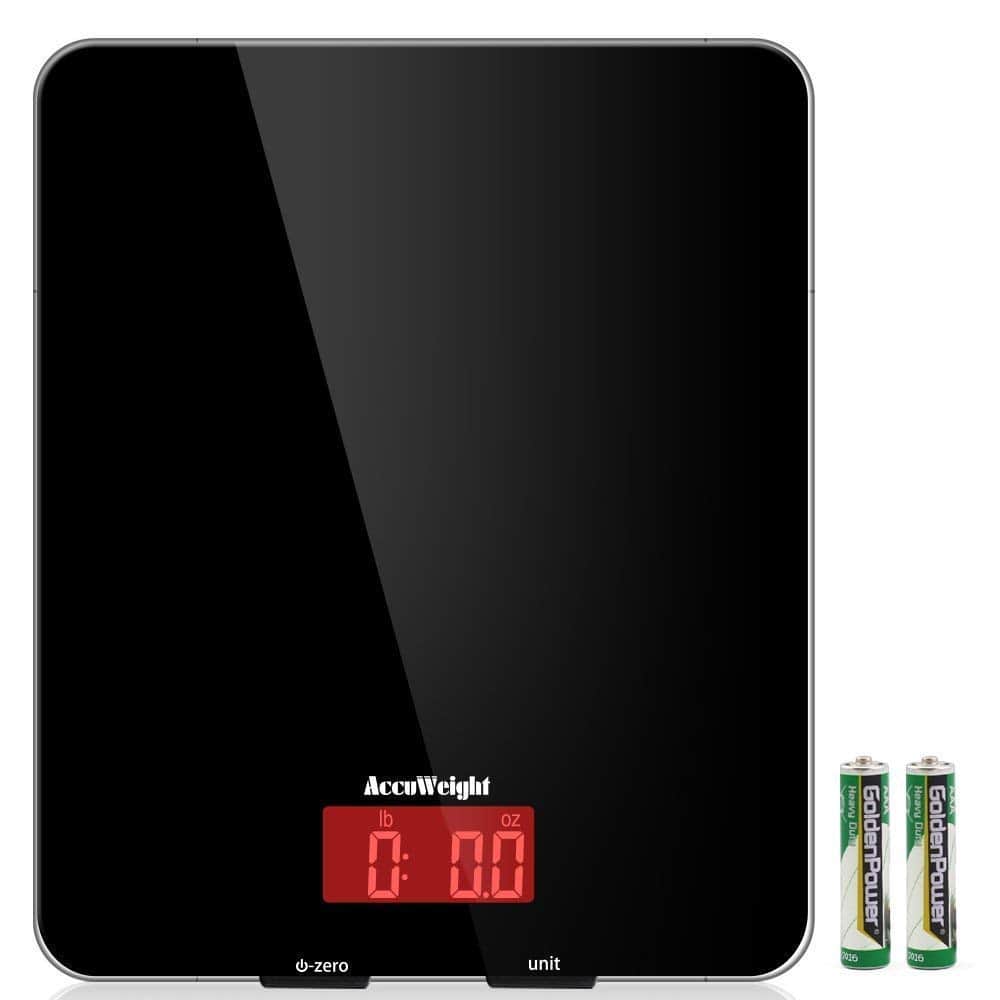 A great kitchen gadget for ensuring equal portions like in this recipe or for precise baking.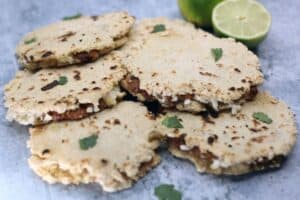 Bean and Cheese Gorditas
Authentic Gorditas, like those found in the street cafes of Mexico, stuffed with chorizo-flavored refried beans and cheese. The gordita shells are made from scratch for a unique, fresh flavor like what you find in a Mexican restaurant. These Mexican snacks are portable and packed with delicious taste.
Ingredients
Gorditas
4

C

masa

2.5

C

hot water

about 120 degrees

1.5

tsp

kosher salt
Fillings
refried beans*

Panela cheese**
Instructions
To make the gordita dough, mix the ingredients together with a stand mixer with a hook attachment or by hand with a wooden spoon. Once the mixture starts to create large crumbs, you're ready to form the dough.

If the masa seems to dry to hold together, add 1 tsp of additional water at a time. You don't want the dough to be too wet. It should be just wet enough to hold together.

To best make gorditas, you need a tortilla press. I have linked to the one I have above for purchase. If you don't want to invest in one, you can roll out the gorditas with a rolling pin, but it will take a bit more time.

Form the prepared dough into 16 2.5-ounce portions. I use a digital scale to make sure I have even portions. I've linked to the one I have above for purchase.

Once you've formed the dough into equal portions, roll each one into a sphere shape. Line the tortilla press with a large piece of plastic wrap. Place the dough ball on the plastic wrap on the tortilla press and fold the plastic wrap over to cover the dough.

Press the dough to a 1cm thickness or the thickness of two tortillas stacked. We're going to split each gordita and stuff it so it needs to be thick enough to not fall apart when split.

Heat a flat grill pan or cast iron pan over medium-high heat. The pan is ready when a drop of water sizzles when dropped on the pan. Working in batches, place the flattened gorditas on the hot pan and cook on each side for 2-3 minutes or until the skin starts to brown. The gorditas will puff just slightly while cooking.

Once both sides have browned, let the gorditas cool for just a minute or two until you can comfortably handle. Once cooled, use a small sharp knife to split the gordita horizontally (see the picture above) into two pieces, but leave a one-inch section intact to hold the two pieces together.

Fill the inside of each gordita with a heaping tablespoon of refried beans and about the same amount of crumbled panela cheese and press the gordita together. Place each gordita back on the hot cast iron pan and sear each side for another 2 minutes each until the cheese inside is melted.

Serve hot with salsa or hot sauce.***
Notes
*Check out my awesome refried beans recipe!
**Panela is a simple farmers cheese from Mexico that has a creamy, crumbly texture and mild salty taste. You can substitute any cheese you like, but I would recommend Monterey Jack.
***I'm obsessed with the green salsa recipe I gave in my Chorizo and Potato Breakfast Tacos post. It's so simple to make and has just the right balance of fresh and spicy flavors.
The following two tabs change content below.


Hey-ooo! I'm Hailey, and I'm a number cruncher by day and cussing cook by night. I created this site to share my love for delicious food that feeds the soul as well as the belly. I hope my recipes have you running to the kitchen to cook some damn good grub!