Hawaiian Chicken Sandwiches are packed with sweet, savory, and salty flavors. They are irresistible! Teriyaki marinated chicken breasts are first grilled to perfection. Next, the cooked chicken is topped with crisp bacon, sweet pineapple, melted swiss cheese, and barbecue sauce for a BBQ chicken sandwich like none other!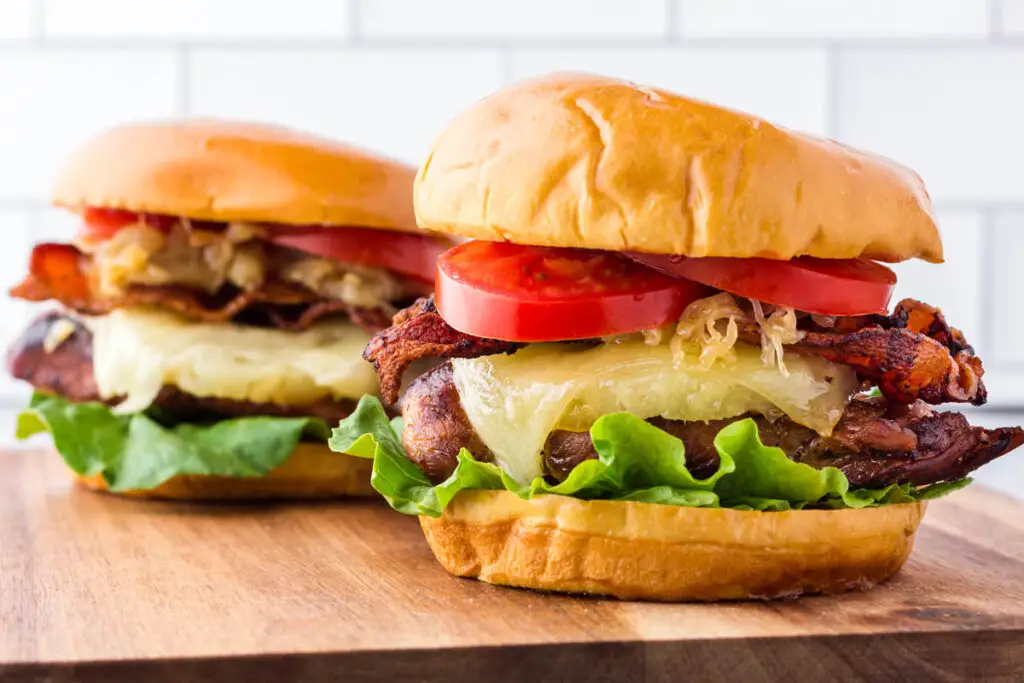 Who said grilled chicken sandwiches are boring? Whoever did, they clearly have never tried my Hawaiian Chicken Sandwiches- no one would ever describe these sandwiches as boring! Even better, they are surprisingly easy to make.
What is a Hawaiian Chicken Sandwich?
The combination of teriyaki chicken and pineapple is what makes this chicken sandwich a Hawaiian one. You could also use a Hawaiian-style bun for serving if you want to up the Hawaiian vibes, but it's not essential. However, the pineapple is totally necessary. Without it, this is just a BBQ chicken sandwich.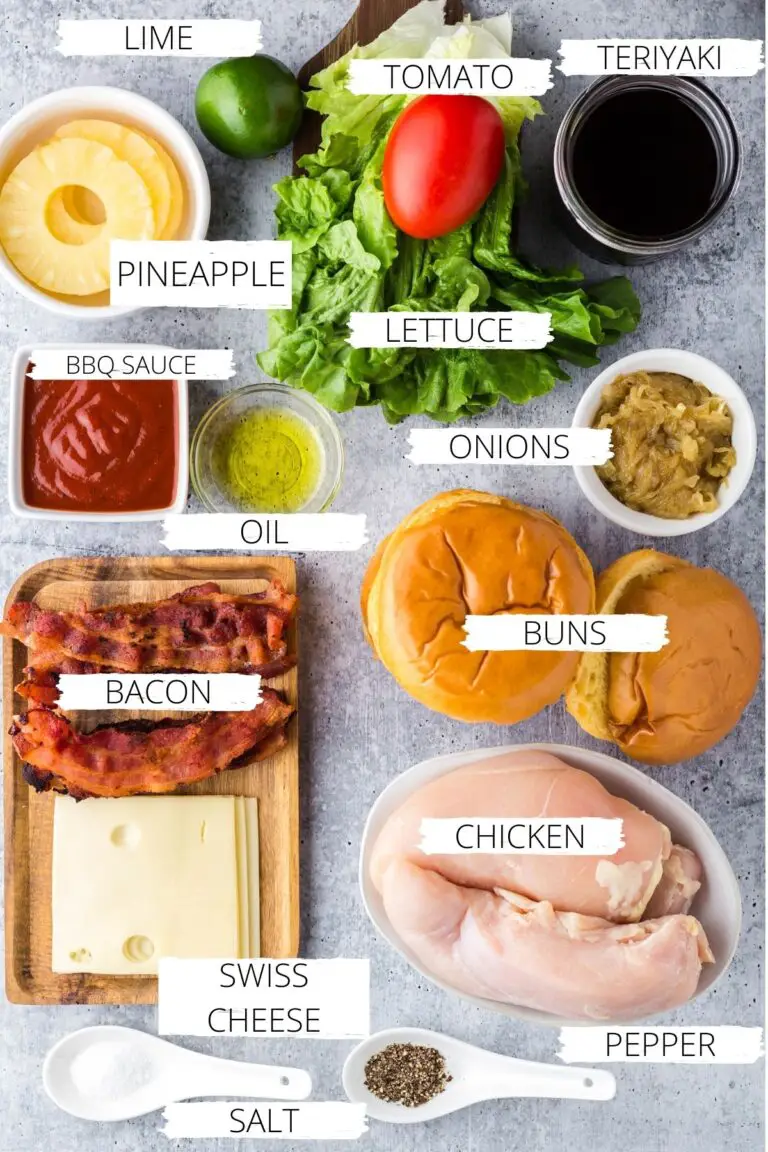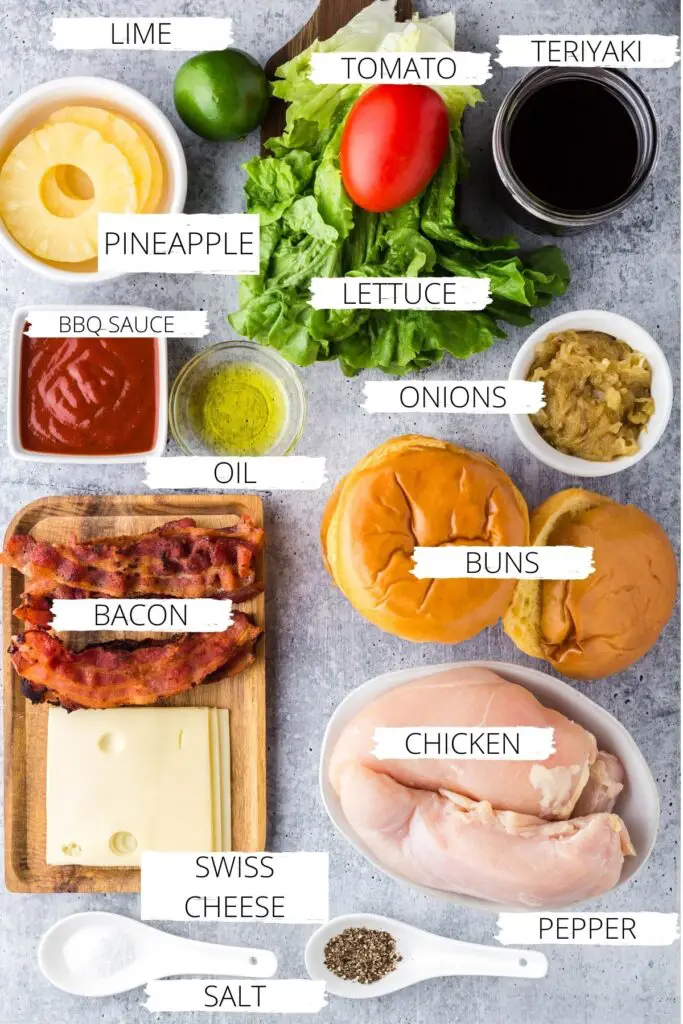 Can I make the recipe ahead of time?
I don't recommend making the chicken breast ahead of time; they can dry out pretty easily. Instead, you can prepare a couple of the sandwich toppings ahead of time so that assembly is faster at dinner time. The items that can be done ahead of time are:
Caramelize the onions- Check out my Caramelized Onions post for more details on this process.
Fry the bacon- The bacon can be reheated while the cheese melts in the oven. You can fry it up to 3 days ahead of time. Once fried and drained, place in an airtight container in the fridge until ready to use.
The rest of the recipe is quick and easy to put together. If you knock out preparing the caramelized onions and bacon ahead of time, assembling the sandwiches takes no time at all.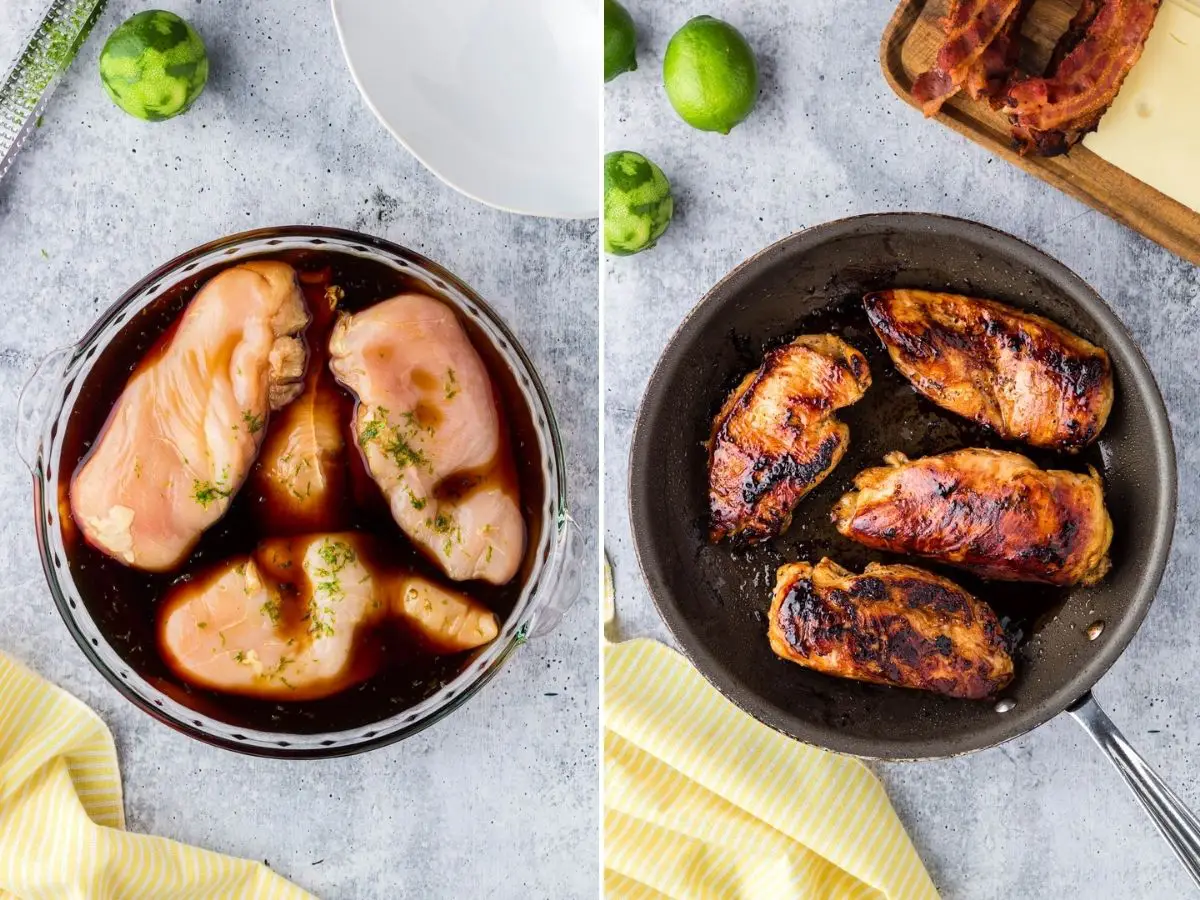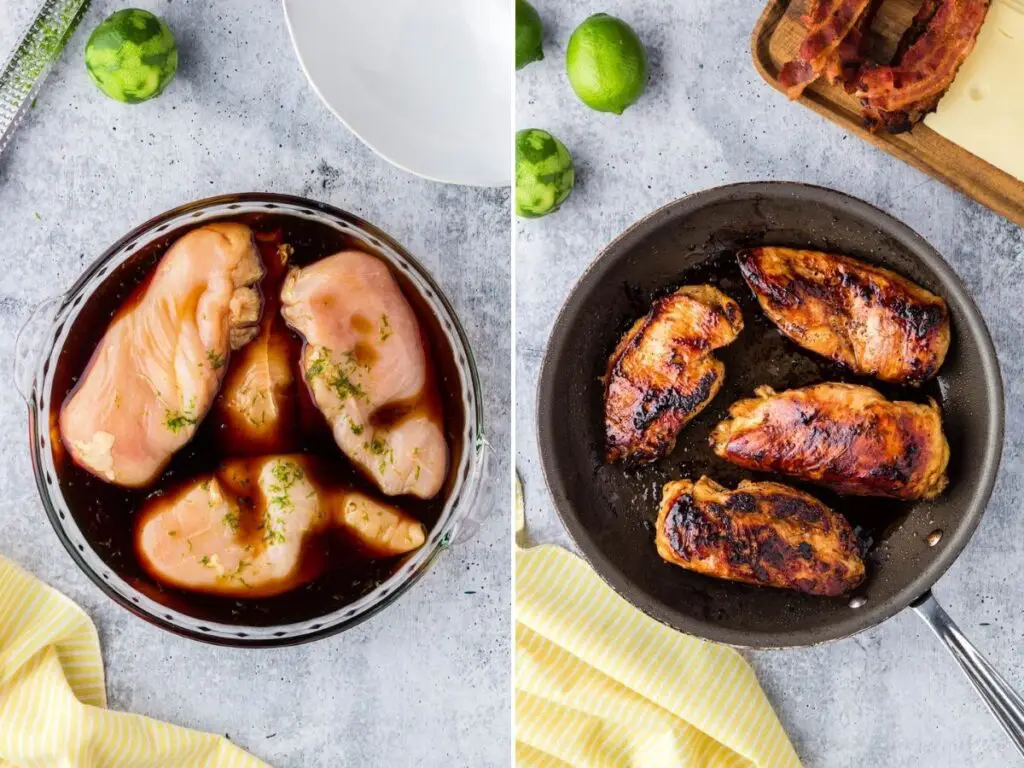 I don't like to marinate the chicken ahead of time. Teriyaki has a lot of salt, and if left on the chicken too long, the meat can get a strange texture. Leave marinating for the day of, and limit the marinating time to one hour max.
What brand of teriyaki marinade to use?
Kikkoman is my preferred brand of teriyaki marinade but feel free to substitute with any store-bought variety you like. If you prefer to make your own, I'm a fan of Cookie and Kate's recipe.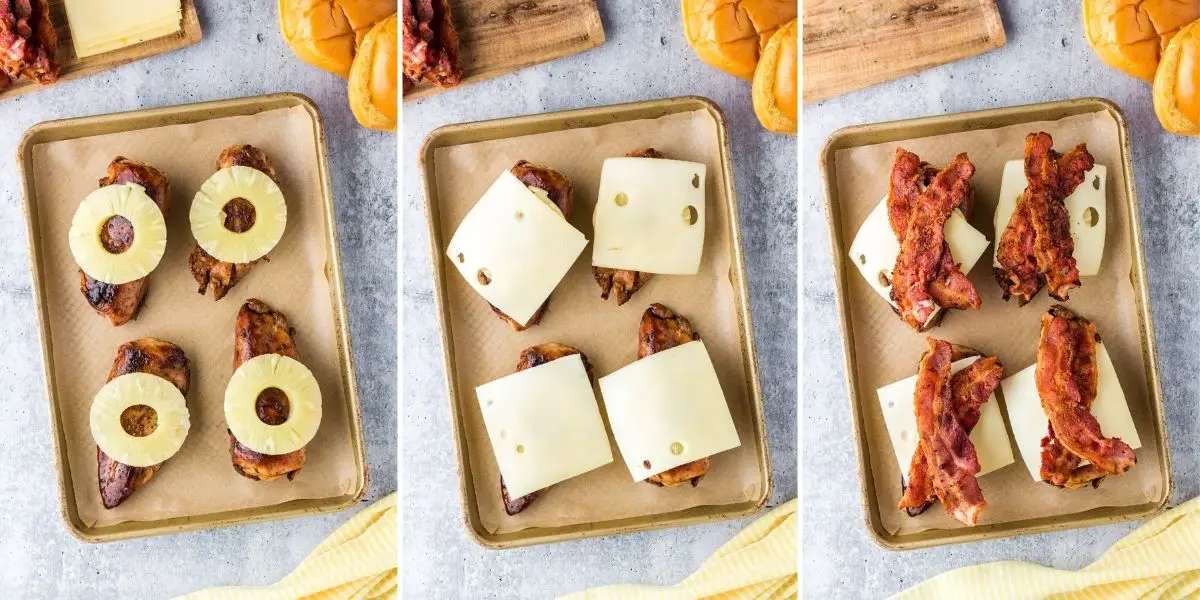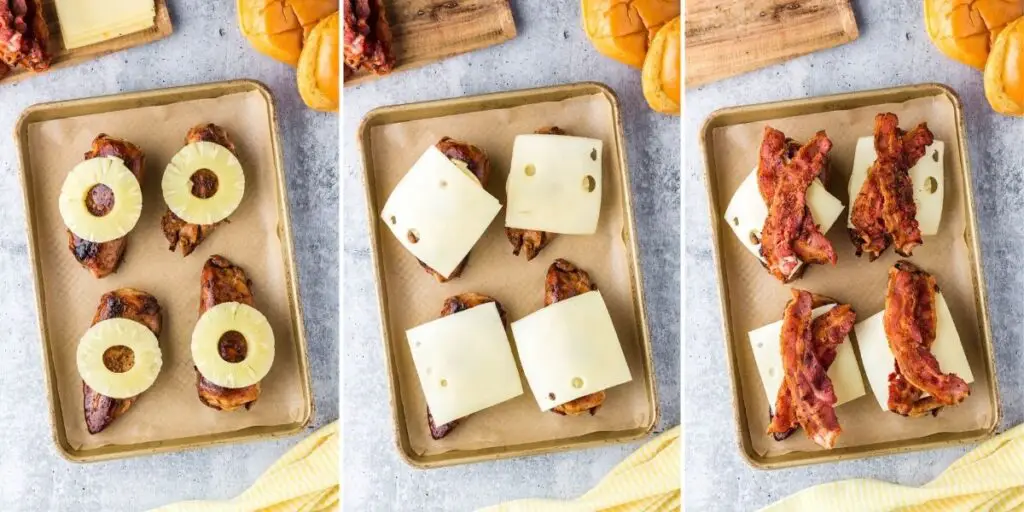 Fresh versus Canned Pineapple
For this application, I think canned pineapple rings are perfect. I love the flavor of fresh pineapple and would never discourage you from using it. Canned pineapple stored in 100% juice is a great choice for a quick and simple weeknight dinner.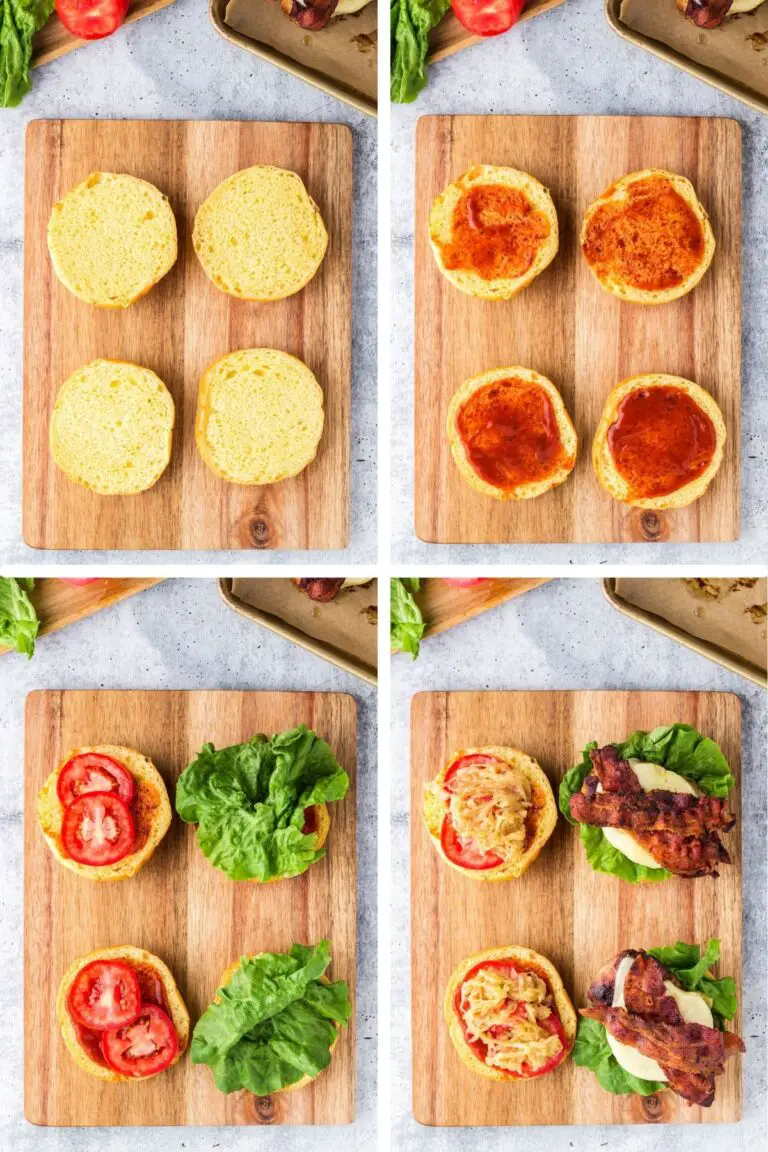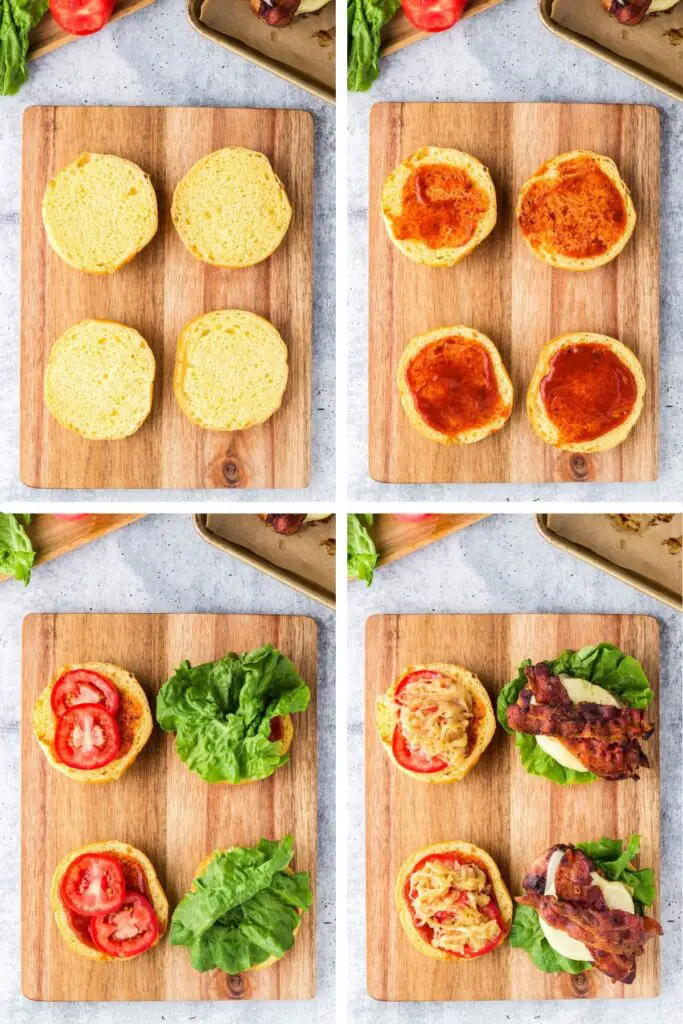 Want to learn how to prepare a whole pineapple? Check out this post from Eat This, Not That.
How to store Hawaiian Chicken Sandwiches
Enjoy these sandwiches hot and fresh! If you have leftovers, you can store the chicken breasts topped with bacon and cheese in an airtight container for up to three days. Always assemble the sandwiches just before eating.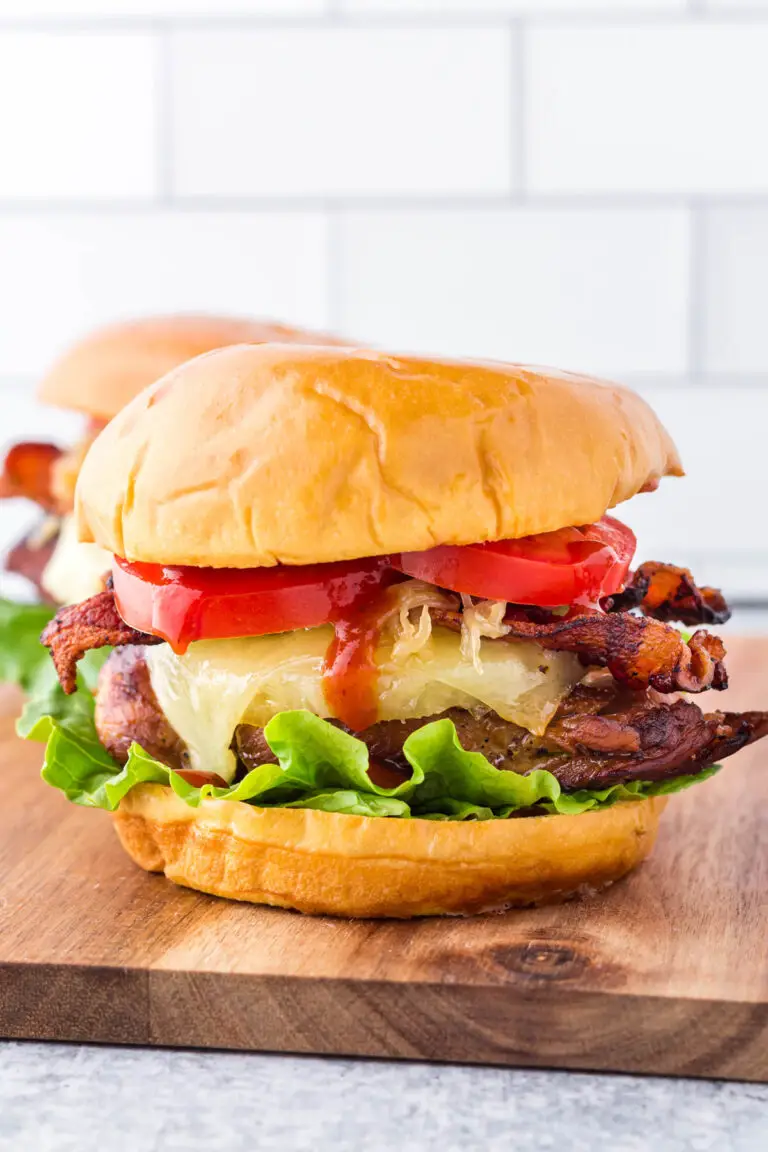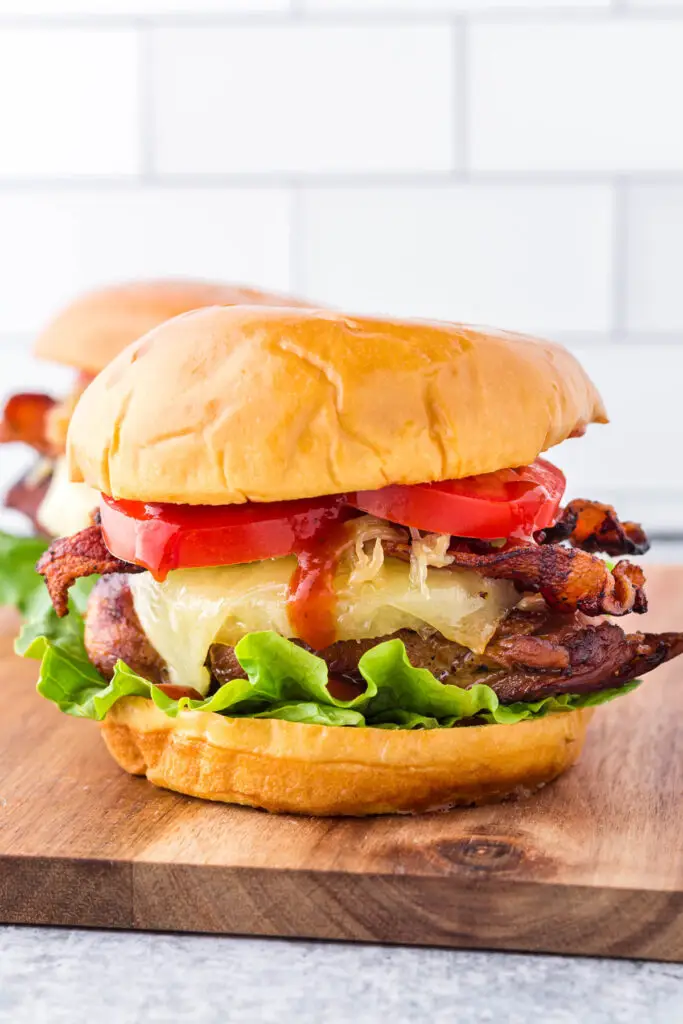 Hawaiian Chicken Sandwiches will make you forget about that god-awful fast-food grilled chicken sandwich you choked down one time. In fact, this recipe is so easy and finger-lickin' good that you'll never want another plain chicken sandwich again. Let me know what you think in the comments section below.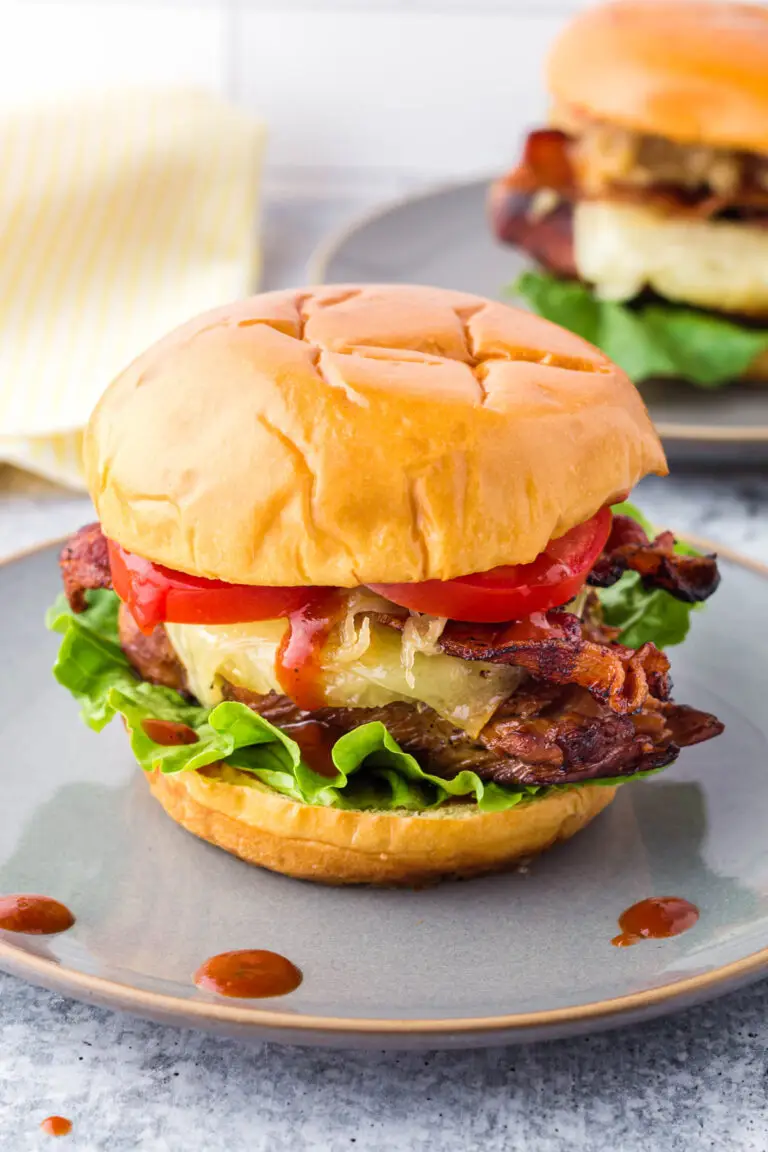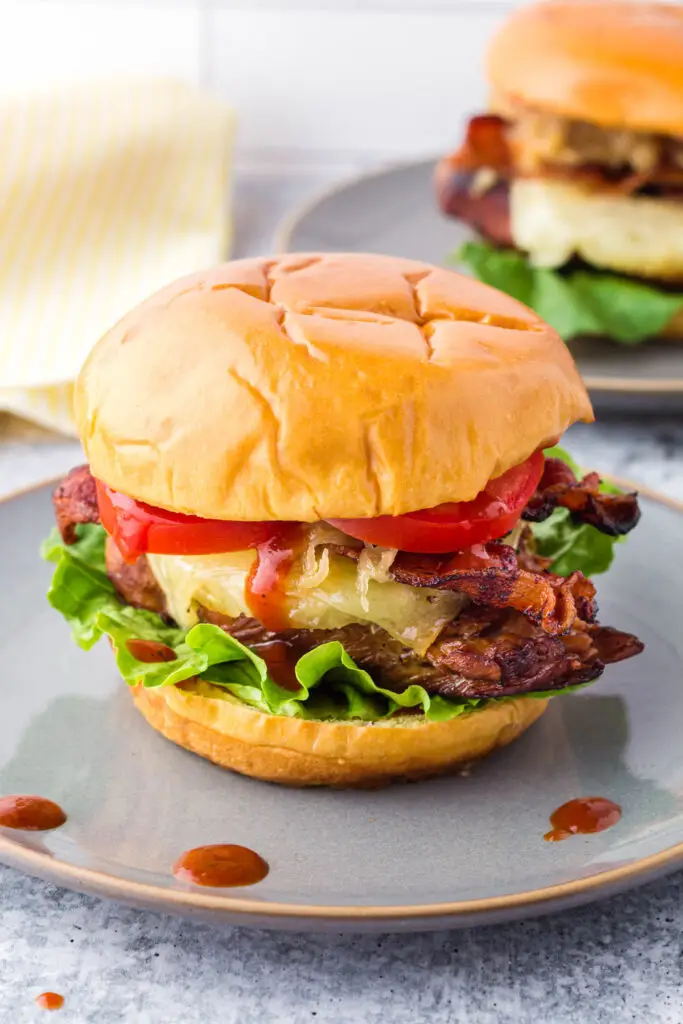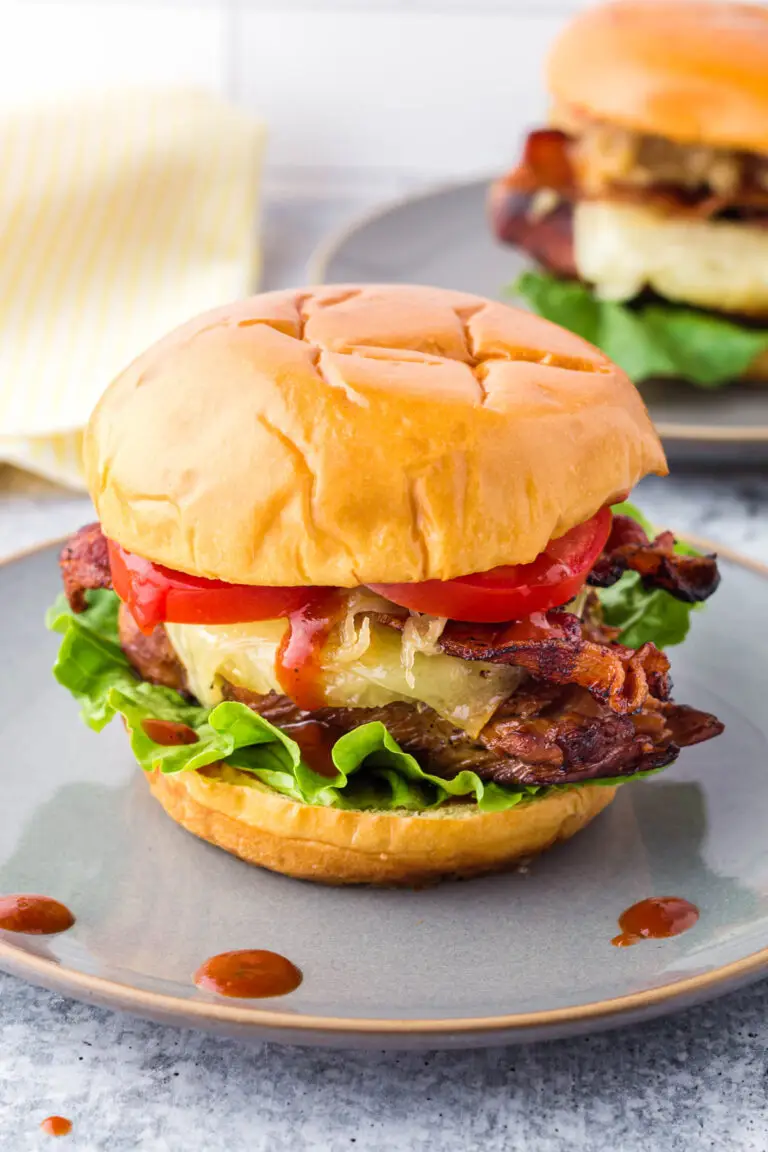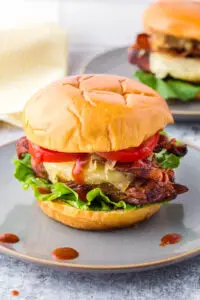 Hawaiian Chicken Sandwich
Teriyaki marinated chicken topped with pineapple, cheese, and bacon makes for mouth-watering grilled chicken sandwiches. Hawaiian Chicken Sandwiches are sweet, salty, and satisfying!
Ingredients
4

boneless skinless chicken breasts

1

lime

1

C

teriyaki marinade

8

slices

bacon

cooked crisp

1

C

caramelized onions*

½

tsp

kosher salt

½

tsp

ground black pepper

2

Tb

oil

4

pineapple slices**

4

slices

swiss cheese

4

brioche buns

4

pieces

green leaf lettuce

1-2

roma tomato

½

C

barbecue sauce
Instructions
Place chicken breasts into a gallon-size plastic storage bag. Top with teriyaki marinade. Zest the lime and add zest to chicken. Seal the plastic bag and place in a bowl. Put in the fridge for 30 minutes to an hour.

Cook bacon to desired crispness. Drain well after cooking and set aside. Slice tomato into ¼-inch slices. Warm the buns for 5 minutes in a 350° oven if you like your buns toasted.

Preheat the oven to broil on high. Prepare a baking sheet with nonstick foil or parchment paper for easy cleanup.

Once the chicken has marinated, remove it from the liquid and place on a cutting board. Pat dry. Season with salt and pepper evenly. Preheat a large saute pan over medium high heat. Add the oil and once hot, add the seasoned chicken.

Cook for 4-5 minutes per side or until completely cooked through. For extra thick chicken breasts, you may need to add another 2 minutes of cooking time per side.

Once the chicken breasts are cooked through, remove them to the prepared baking sheet. Top each chicken breast first with a slice of pineapple then top the pineapple with a slice of swiss cheese. Place the sheet pan under the hot broiler for 2-4 minutes or until the swiss cheese is bubbly hot.

Remove the chicken from the oven. To assemble the sandwich, coat both sides of the bun with barbecue sauce. Add a piece of lettuce to the bottom bun, top with chicken, two pieces of bacon, ¼ C caramelized onions, sliced tomato, and the top bun.
Notes
* Check out my Caramelized Onions post for more details on how to make them yourself. Thinly sliced red onion can be substituted.
** I use canned pineapple that is packaged in 100% juice. Fresh can be substituted as well.
FREQUENTLY ASKED QUESTIONS
Do I have to caramelize onions?
Thinly sliced red onions can be substituted.
What brand of teriyaki sauce do you recommend?
I use Kikkoman, but any brand will work.
Can fresh pineapple be substituted for canned?
Absolutely.
The following two tabs change content below.

Hey-ooo! I'm Hailey, and I'm a number cruncher by day and cussing cook by night. I created this site to share my love for delicious food that feeds the soul as well as the belly. I hope my recipes have you running to the kitchen to cook some damn good grub!