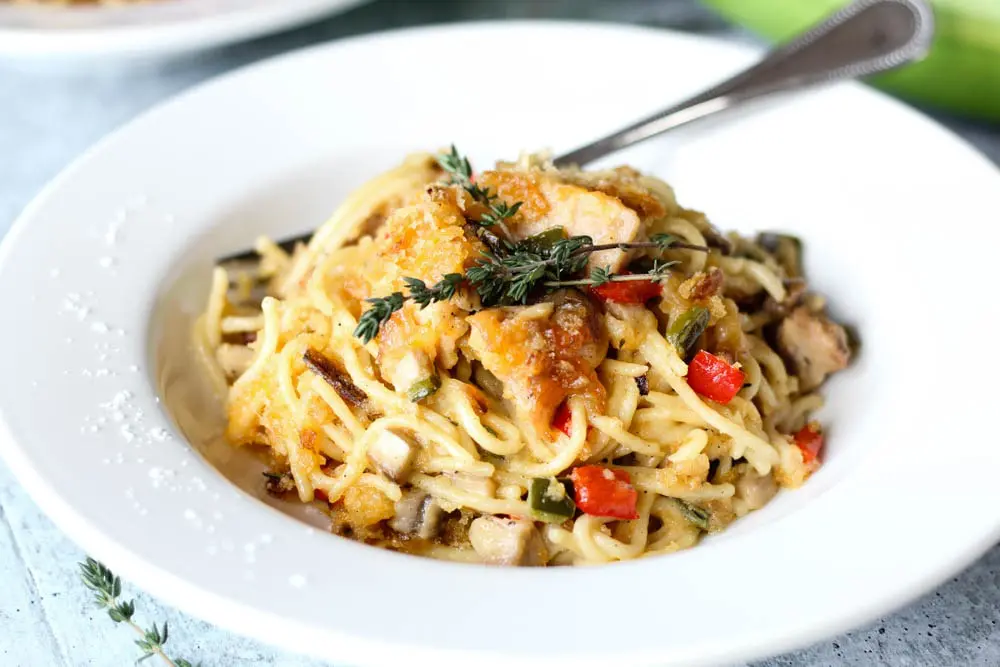 When it came to deciding on the very first recipe to blog about on Cooking and Cussing, there was only one obvious choice: Chicken Spaghetti. Chicken Spaghetti and I have shared a very long relationship. It is hands down the dish I associate most with my childhood and feelings of comfort. In my opinion, there is nothing more soul-satisfying than this cheesy, creamy casserole filled with chunks of chicken, peppers, onions, and mushrooms.
In fact, my mom made Chicken Spaghetti so often that my sister grew an aversion to it. My mom started working on a Ph.D. program shortly after my parents split up. Our schedules were hectic so she often prepared make-ahead meals for my sister and me to ensure we had homemade dinner. Chicken Spaghetti was a regular visitor to our fridge typically with a post-it stuck to the top with instructions to
"Bake at 350 for 1 hour. Love, Mom"
with "Mom" signed with a heart as the "o" like she always did. I never tired of this classic casserole. In fact, it was a recipe I relied on in my early days of adulting.
I can remember in my first few months after college, I was living on my own for the first time in Houston, TX. After having a terrible day at work there was only one thing I wanted to eat. My mom had given us a small recipe book for Christmas a couple of years prior, and in that book was the beloved family favorite. The taste of those perfectly simple spaghetti noodles coated in a creamy, savory sauce with bits of chicken and cheese throughout just made everything else slip away into oblivion.
Since that time, I have refined the recipe for Chicken Spaghetti quite a bit. I no longer use the canned cream of mushroom soup that my mom's original recipe called for. That's not because I think condensed soup is total shit. It's more that I love mushrooms so much that I really want to taste, to chew on my mushrooms. I've made mushrooms more of a star in my recipe instead of the supporting cast role they played before.
I've personally made Chicken Spaghetti so many times that I no longer require a recipe or a grocery list. If I'm looking for a quick taste of home, I can go through the grocery store almost blindfolded, grabbing everything I need and prepare it without breaking a sweat or even thinking much.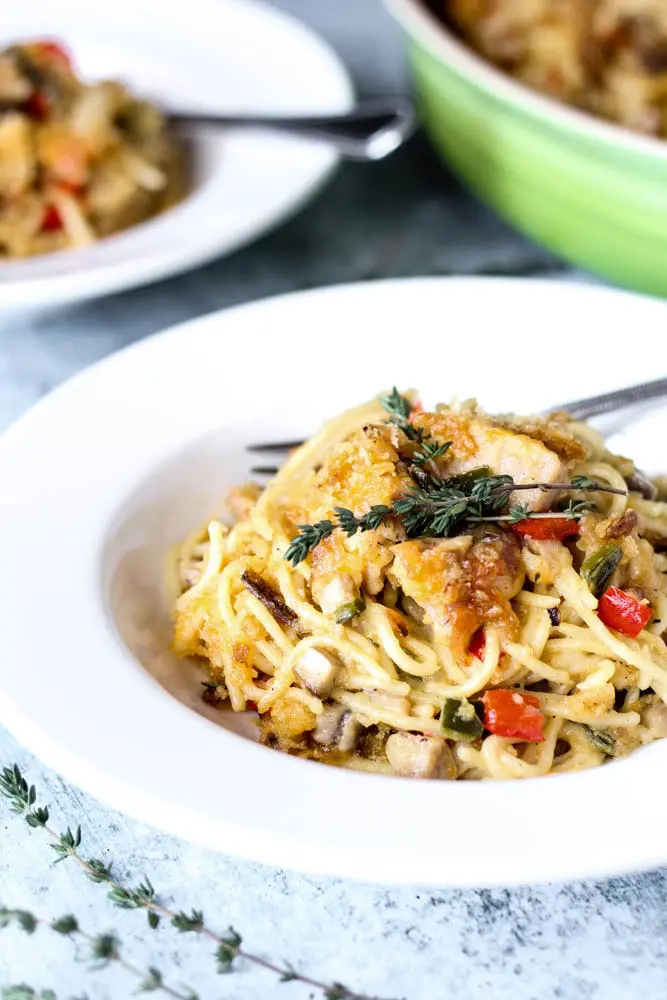 I can't promise that you won't have to think a little bit to prepare this recipe the first time, but I do feel confident it will become a regular family favorite on your dinner table. As already implied, this casserole is a great make-ahead dish. You can make it up to five days in advance and keep in the fridge. Mondays (really any damn day of the week that requires trudging through the woes of work) are infinitely better knowing that this casserole is waiting for you to throw in the oven and do whatever you do to unwind for an hour.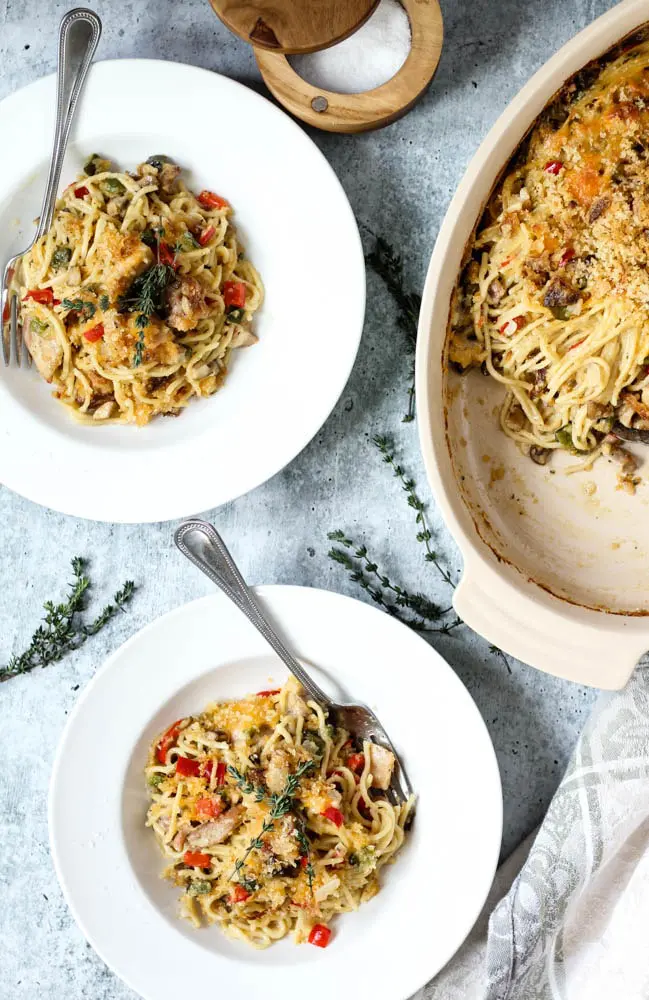 Just follow the recipe up to covering the casserole with cheese and the topping, cover tightly with foil and leave in the fridge until you're ready to bake. If you top with panko and the other crunchy bits before refrigerating, they will lose all their punch and crunch. When you're ready, pull the casserole out and let sit at room temperature for approximately 30 minutes to take the chill off. Top with shredded cheese and topping prior to baking. Follow the instructions below to prepare.
I hope this recipe fills your tummy and provides you with all the feels of a family dinner. Please leave any questions or feedback below. I can't wait to hear what you think!
Helpful Utensils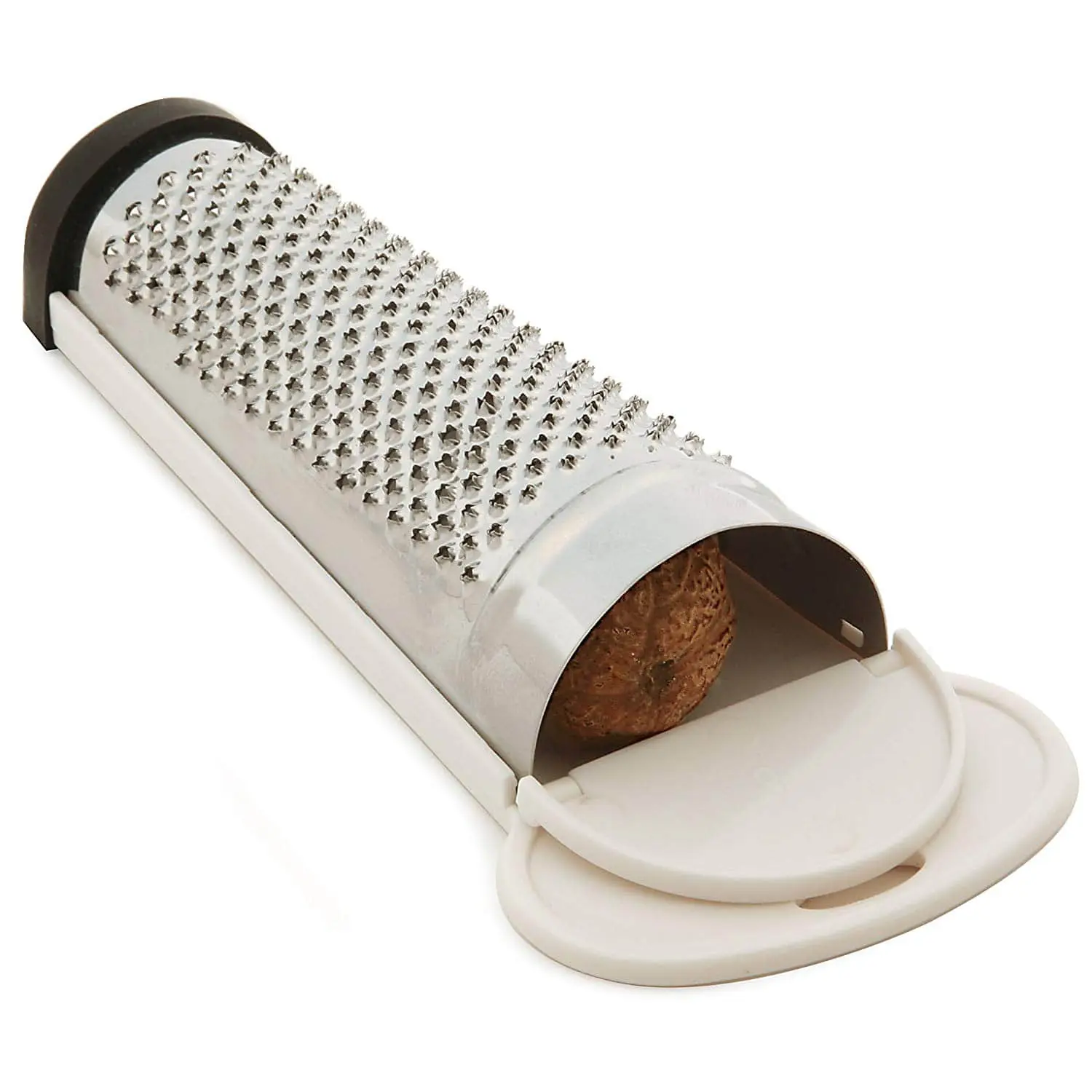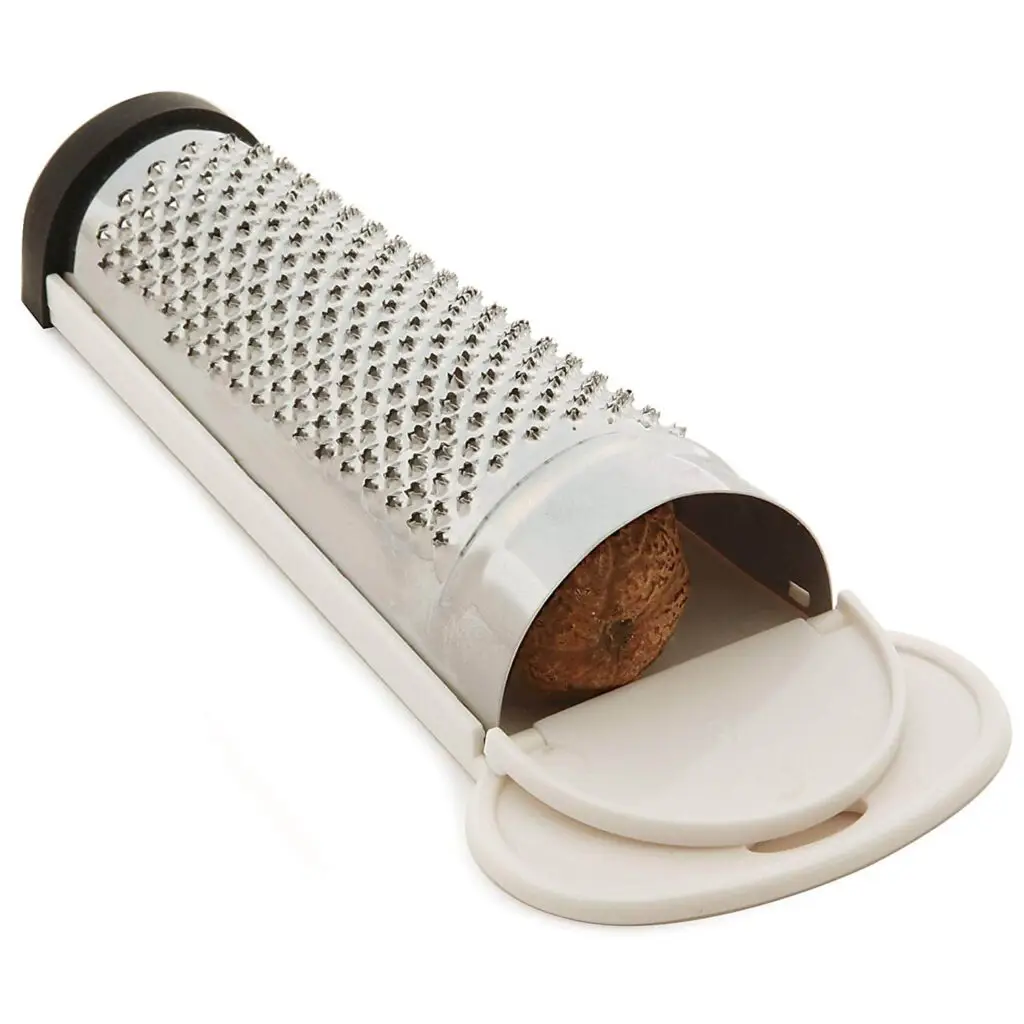 Fresh nutmeg has a lovely mild flavor that you really can't compare to the kind you buy already ground. Whole nutmeg will keep in the freezer for up to 3 years!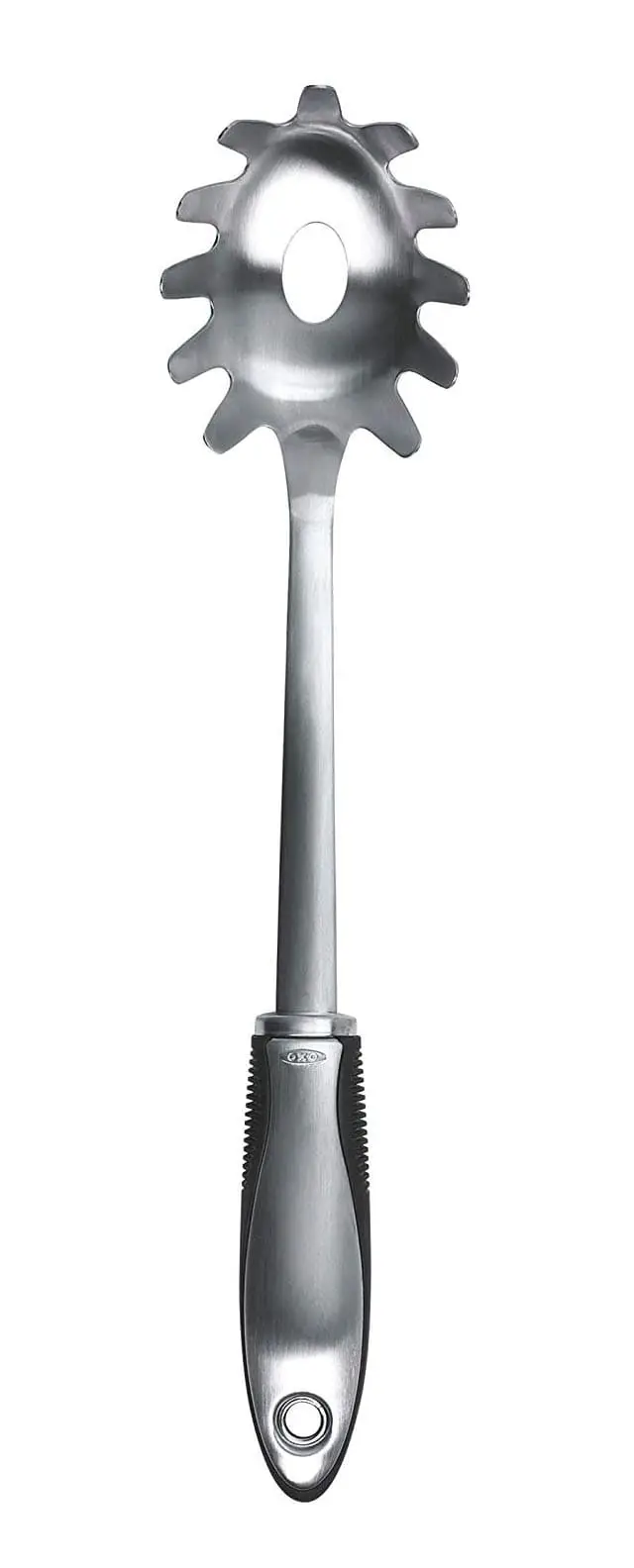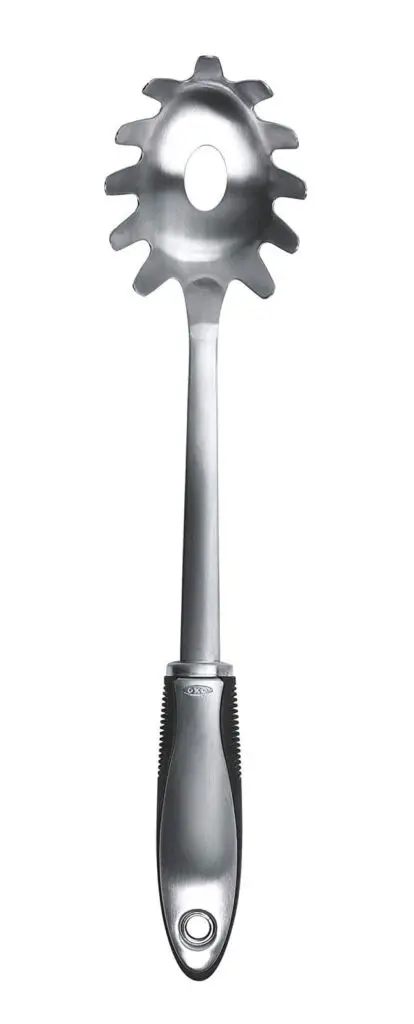 Serving spaghetti with a regular spoon is a real messy task. A spaghetti spoon makes it so much easier!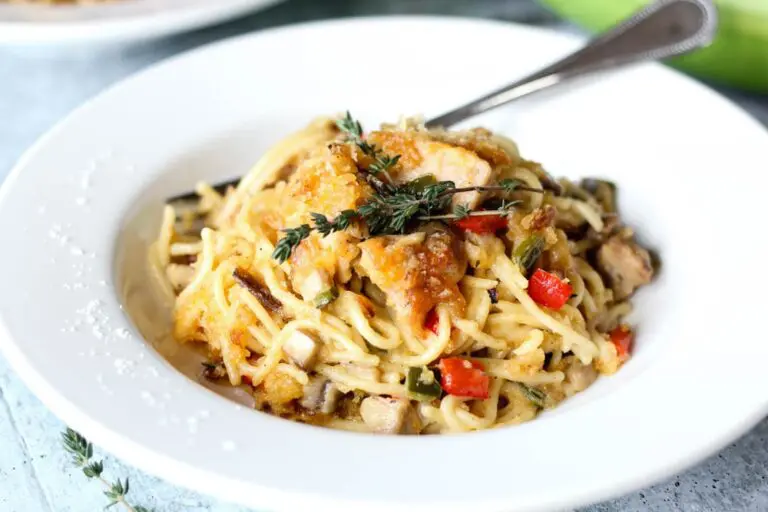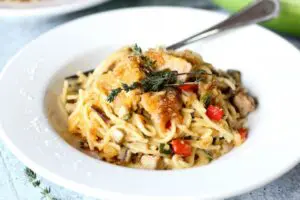 Chicken Spaghetti from Scratch
Chicken Spaghetti is American comfort food at its best. This recipe removes the condensed soup and replaces it with a homemade sauce from cream and chicken stock. There are also tons of veggies in this version so this make-ahead casserole is a complete meal all by itself and a definite family favorite!
Ingredients
1

lb

boneless skinless chicken thighs

12

oz

mushrooms

(8oz cremini + 4oz shitake)

1

poblano

1

yellow onion

1

red bell pepper

5

Tb

butter

3

Tb

olive oil

1

tsp

garlic powder

1

tsp

onion powder

5

sprigs of thyme

or 1 tsp minced

pinch

fresh ground nutmeg*

½

pack spaghetti

1

C

heavy cream

2

C

chicken stock

2

Tb

flour

2

C

grated colby jack cheese**

½

C

panko breadcrumbs

½

C

crispy jalapenos or onions (optional***)

2

tsp

salt

1

tsp

pepper
Instructions
Preheat oven to 375 degrees.

Prepare 9x13 or large round casserole dish with baking spray.

Prepare a baking sheet with foil. Season both sides of chicken thighs liberally with salt and pepper. If you're not a fan of dark meat chicken, you can substitute with chicken breasts. If using chicken breasts, drizzle with ½ tsp olive oil per side prior to seasoning. Bake 20 minutes. Set aside to cool.

Lower oven heat to 350 degrees. Bring a large pot of salted water to a boil. Add spaghetti and cook to package instructions. Drain and pour into large mixing bowl. Coat with 1 tsp of olive oil to keep pasta from sticking together.

While pasta is cooking, wet a paper towel, ring out well and wipe mushrooms to remove any apparent dirt. You never want to rinse mushrooms under running water. They are like little sponges that will just absorb water which will prevent proper browning.

Heat a large saucepan with 2 Tb olive oil and 1 Tb of butter over medium-high heat until the oil begins to ripple. A ripple in the oil means it is getting close to smokin' hot.

Add mushrooms, stir to evenly coat in oil then leave undisturbed for 2-3 minutes until you smell nutty browning 'shrooms. Stir, spread out and again, leave undisturbed for 2-3 minutes. Leaving the mushrooms alone allows them to brown which is essential to their flavor. Browned mushrooms = delicious mushrooms.

Once browned, remove from heat and pour into bowl with pasta. Season with ½ tsp salt and ½ tsp pepper. You never want to season mushrooms with salt prior to browning. If you do, the mushrooms will release their liquid and steam instead of sear.

While the mushrooms sear, dice poblano, red bell pepper, and onion into ¼ inch dice. Heat 1 Tb olive oil and 2 Tb butter in the same pan used for mushrooms over medium-high heat. No need to wipe clean. Once the oil is hot, add the diced peppers and onion. Stir to coat evenly in oil and leave undisturbed for 2-3 minutes.

Once veggies have softened, add 2 Tb of flour and stir continuously until flour starts to cook or about 2 minutes. You will know it's time to add the chicken stock when there is no visible flour in the pan.

Slowly add 2 C chicken stock and cream to butter and flour, scraping the bottom of the pan well to lift all flour and browned bits. That's where all the flavor is! Once you've added the stock, season with 1 tsp salt and ½ tsp pepper, garlic powder, onion powder, thyme, and fresh nutmeg.

Bring the sauce to a boil. Reduce heat to medium and simmer until thick or about 5-7 minutes. Once the sauce has thickened, add any accumulated juices from the resting chicken and the sauce to prepared noodles and stir to combine well.

Dice cooled chicken into small bite-size pieces. Fold 1 C grated cheese and diced chicken into pasta and sauce. Mix well.

Pour the entire mix into a prepared casserole pan. STOP HERE IF YOU'RE PLANNING TO COOK AT A LATER TIME/DATE. Cover with plastic wrap and place in the fridge if you're making the recipe ahead of time.

Melt 2 Tb butter in a microwave-safe small bowl. Combine with ½ C panko. Chop the crispy jalapenos/onions if you're using into a fine consistency similar to the panko. If you leave any large pieces, they will brown too quickly in the oven. Stir the finely chopped crumbs into panko. Top casserole with remaining 1 C grated cheese then panko mixture. Season with a sprinkle of salt and pepper over the top.

Bake at 350 degrees for 1 hour. Remove from oven and allow to rest for 10 minutes before serving.
Notes
* Fresh nutmeg has almost no comparison to ground nutmeg. I don't mind the pre-ground kind for baking, but for adding to a white sauce, there is nothing like freshly grated. You can find whole nutmeg with the other spices at the store. Keep it in the freezer to extend the shelf life to a couple of years. Use a fine Microplane to grate or checkout the link above to purchase the nifty storage container and grater that I have.
** I always prefer to grate my cheese from the block instead of buying the stuff that's already grated for you. There's nothing wrong with the latter if you're in a hurry, but they apply a starch to the grated cheese so it doesn't clump during transit that changes the way it melts. When you grate it at home from the block, cheese is melty and ooey-gooey just like it should be.
*** The crispy onions and jalapenos I mentioned here are French's or the same kind you add to the top of classic green bean casserole during the holidays. I think the jalapenos bring a little punch to the topping, but crispy onions would be equally good and a bit more kid-friendly. You can also make the topping out of just buttered panko if you'd prefer. Use 1 C of panko if you're not adding crispy jalapenos or onions.
The following two tabs change content below.

Hey-ooo! I'm Hailey, and I'm a number cruncher by day and cussing cook by night. I created this site to share my love for delicious food that feeds the soul as well as the belly. I hope my recipes have you running to the kitchen to cook some damn good grub!