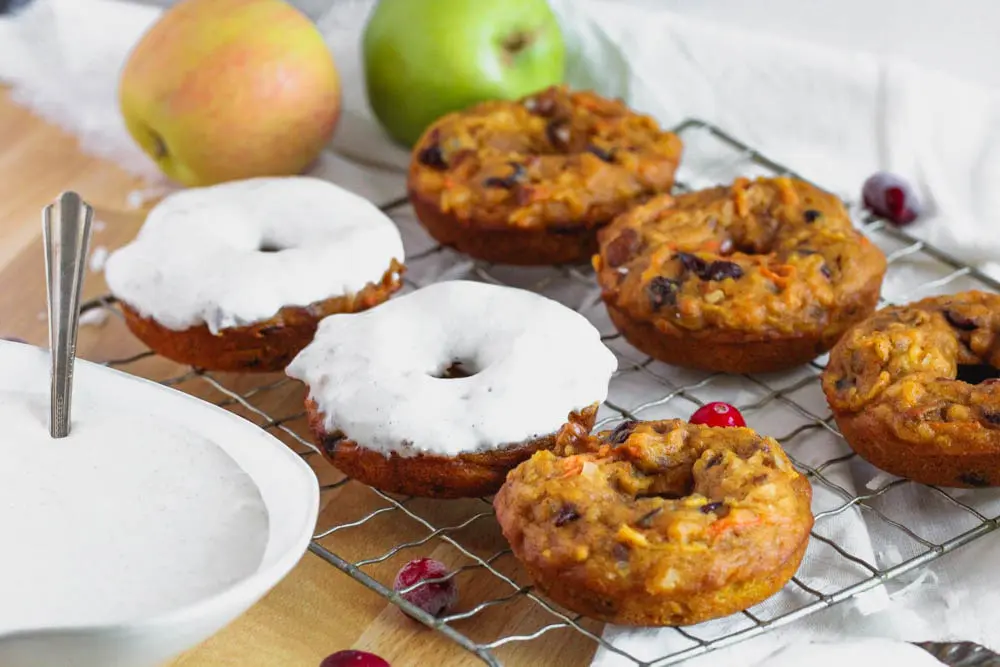 Pumpkin Cake Baked Donuts are so much more than that, but when I tried to include all the deliciousness nestled inside these baked treats in the title, I ended up with a novel for a name.
If you're familiar with Morning Glory Muffins, then the lengthy list of mix-ins for these crave-worthy donuts won't be all that mystifying. I found in my keyword research though that very few have heard of a Morning Glory Muffin, so I abandoned that in the title.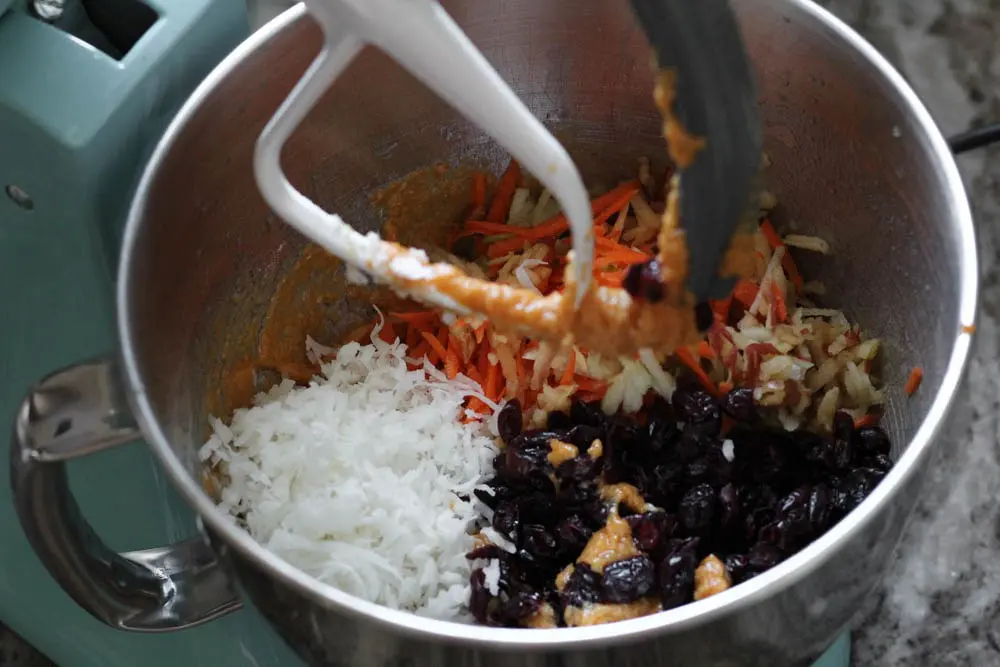 Morning Glory Muffins typically included coconut, shredded carrots, nuts and dried fruit. For my Pumpkin Cake Baked Donuts, I went for all the add-ins I could reasonably include which means these donuts include:
Shredded apple,
Shredded carrot,
Shredded, sweetened coconut,
Dried cranberries, and
Chopped pecans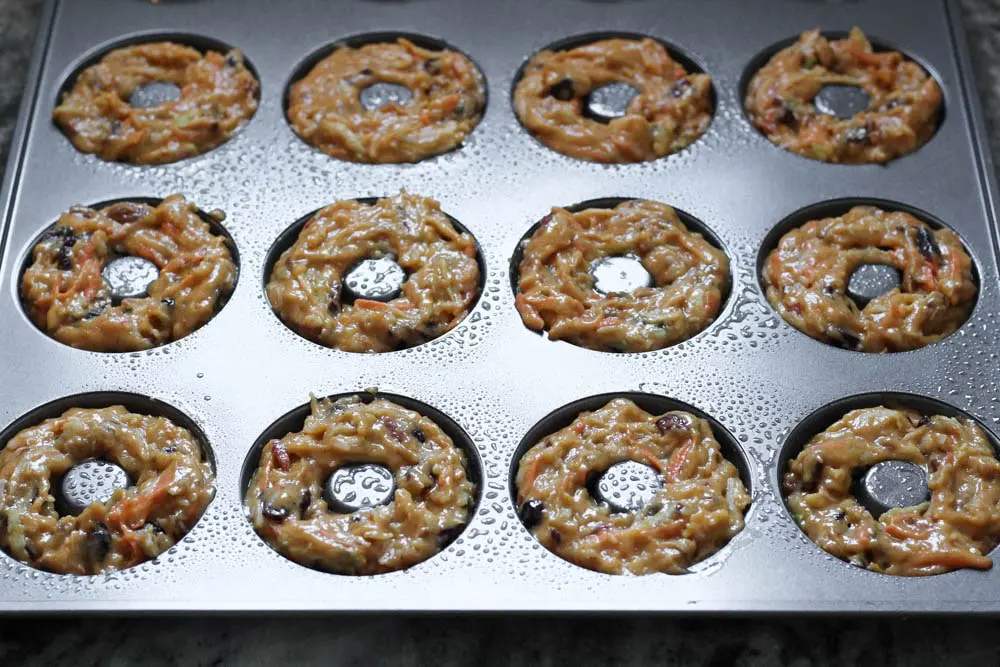 Now, you might be thinking, "WOAH LADY, that's a lot of shit in my donuts," but I promise you, all these flavors and texture work beautifully together.
In my humble opinion, pumpkin can be a little bland if left on its own. It's why we all drown pumpkin pie in whipped cream everything Thanksgiving. Wait, is that just me? ? But when you add the acidity of apple, the earthiness of carrot, the sweetness from coconut and craisins, and last, the bite from pecans, then you've got an autumn treat that is truly memorable!
I finish off my Pumpkin Cake Baked Donuts with the only reasonable pairing for a pumpkin treat, cream cheese, of course.
My cream cheese glaze is slightly thicker than your standard donut glaze but not thick enough to be considered an icing. The slightly thicker texture of the glaze ensures you for damn sure taste cream cheese when you take a bite, but I kept the glaze thin enough that you can still hand dip the donuts just like a proper donut glaze. Basically, it's the best of both worlds.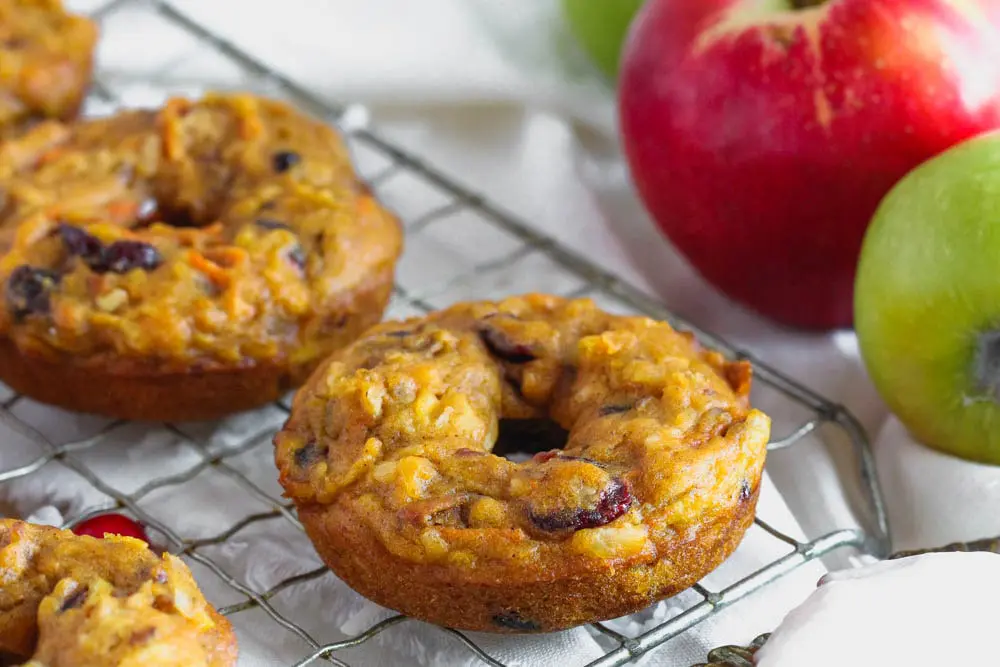 These donuts have been through quite a few rounds of testing which means there have been way more donuts around my house than is reasonable for any family. I'm always taking treats to wherever I'm headed next, just to get them out of the house, and this time it meant delivering some fresh Pumpkin Cake Baked Donuts to my niece's soccer game.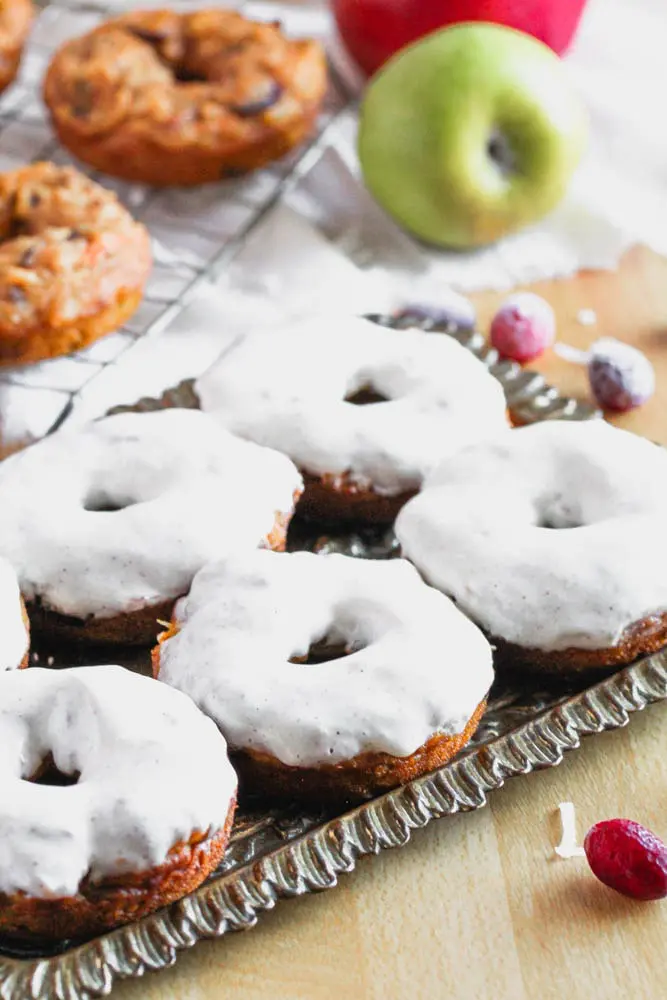 I bore you with those details only to mention that one of the other soccer moms came up to me with a mouth full of Pumpkin Donuts and proudly proclaimed, "These are fucking amazing!"
There is no better reaction to a Cooking and Cussing recipe than that my friends.
If you've been on the fence about purchasing a donut pan, put this on your Christmas list for sure! It makes baking donuts at home so easy that you'll never be venturing out for the heavy fried variety early on a weekend morning again!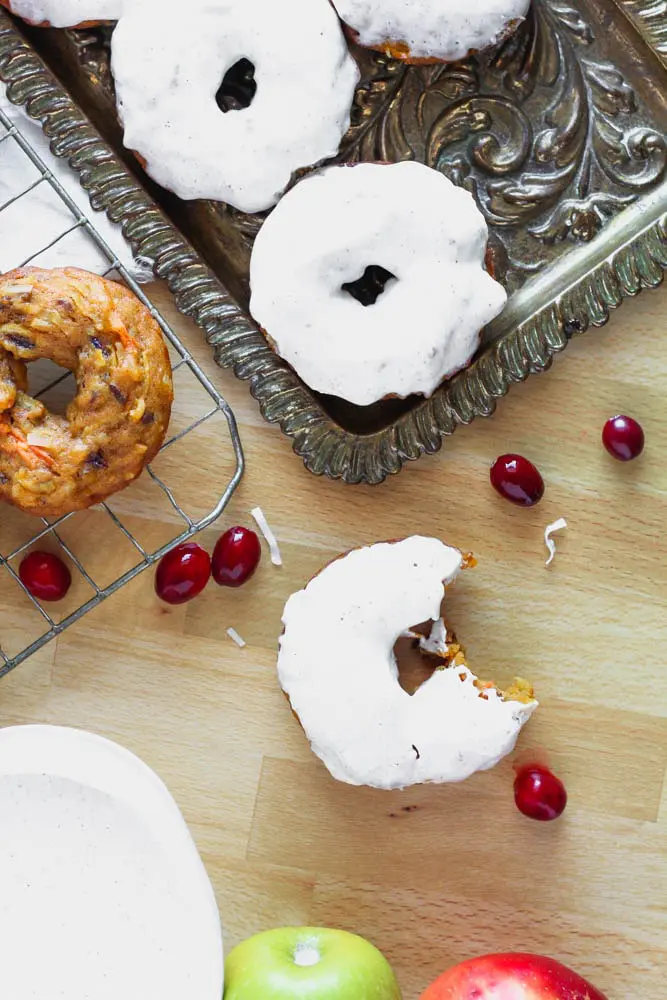 Try out this Pumpkin Cake Baked Donut recipe, and you'll see just what I mean. I can't wait to hear what y'all think of this one!
Helpful Utensils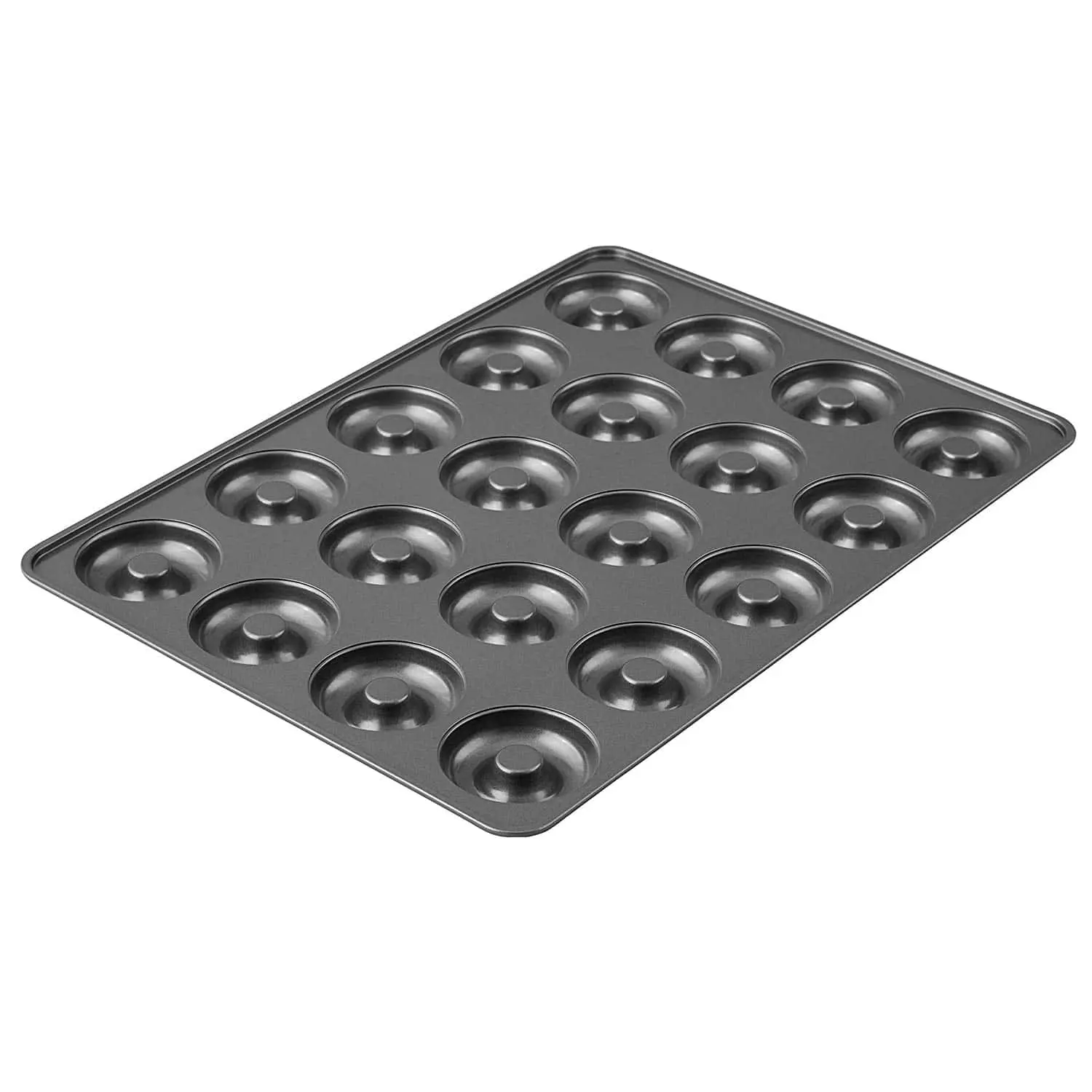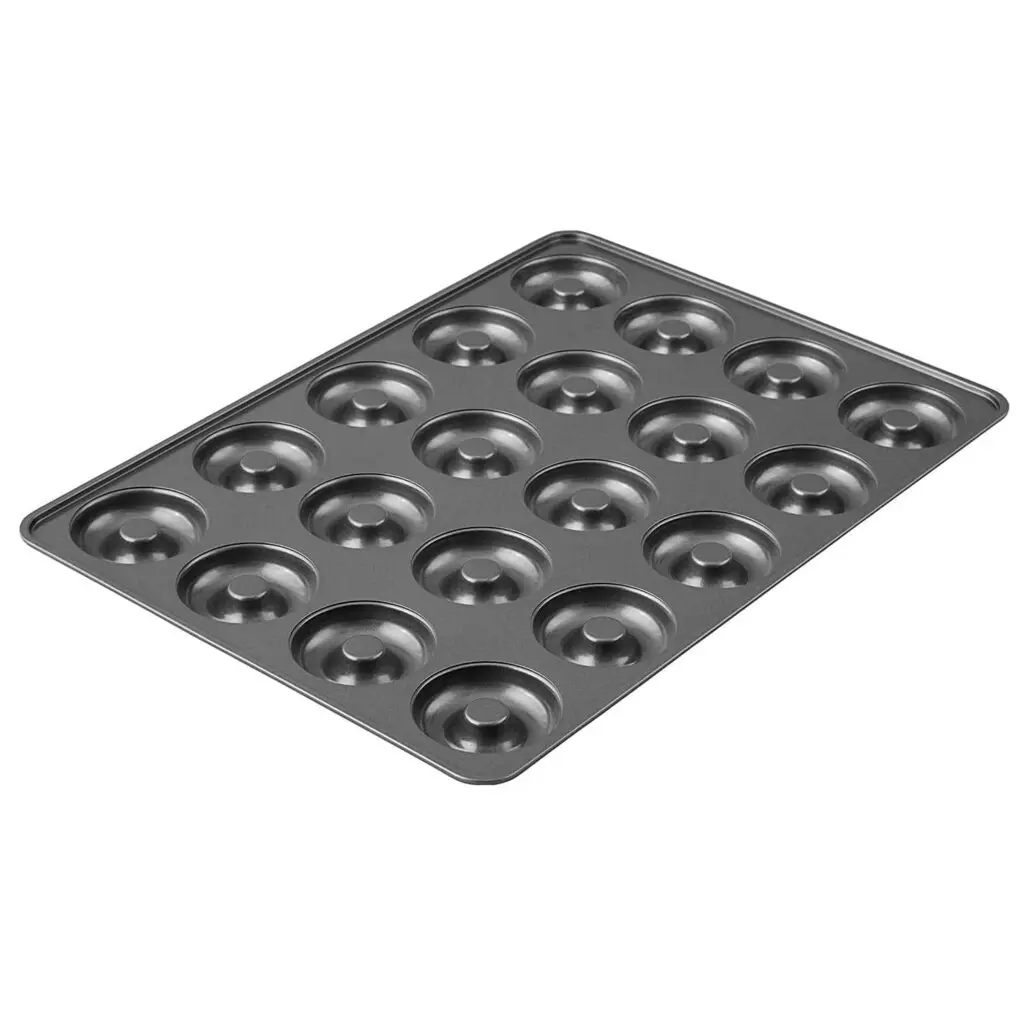 I never knew how badly I needed this pan until I bought one. You will love it too!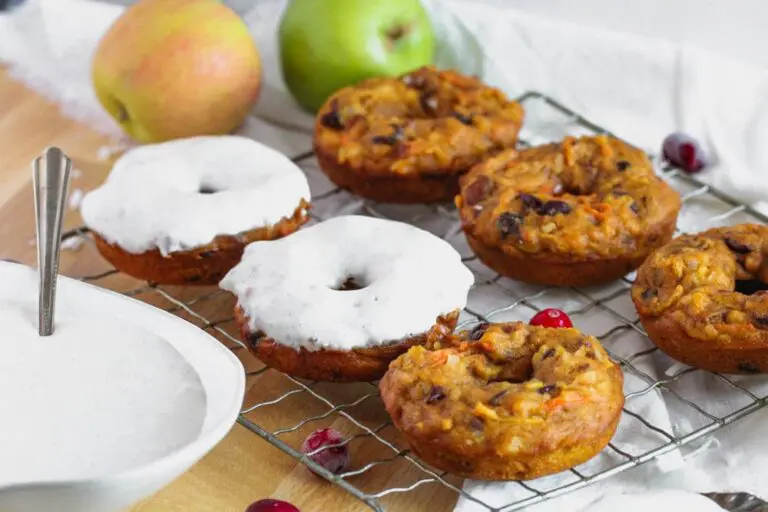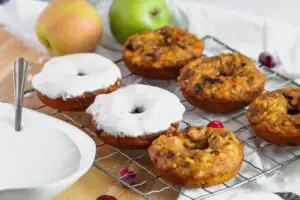 Pumpkin Cake Baked Donuts
Fall flavors are on display in this easy baked breakfast treat. Pumpkin Cake Donuts laced with shredded carrot and apple along with dried cranberries, coconut, and pecans before being smothered in a scrumptious cream cheese glaze. Sort of like a Morning Glory Muffin but better!
Ingredients
Donuts
2 ¼

C

all purpose flour

1 ½

tsp

baking powder

1

tsp

baking soda

1

tsp

kosher salt

2

tsp

pumpkin pie spice

1 ½

C

white sugar

1 15

oz

can pumpkin puree

2

eggs

1 ½

C

vegetable oil

2

tsp

vanilla extract

1

C

grated carrot

2

honeycrisp apples

grated or about 1 ½ C

1

C

chopped pecans

1

C

sweetened coconut

1 ½

C

dried cranberries
Glaze
8

oz

cream cheese

room temperature

½

C

powdered sugar

¼

tsp

pumpkin pie spice

¼

tsp

kosher salt

1

tsp

vanilla extract

¼

C

milk

plus more if needed
Instructions
To make the donuts
Preheat oven to 375 degrees. Grease a donut pan with baking spray. If you don't have a donut pan, I've included a link to purchase one above.

Combine the dry ingredients through the sugar in a large mixing bowl or stand mixer bowl. Mix the ingredients with a paddle attachment on medium-low until well combined.

Turn off the mixture and add the pumpkin, eggs, oil, and vanilla. Turn the mixer back onto medium speed for about one minute or until all of the wet ingredients are mixed into the dry. Turn the mixer off and scrape down the sides and bottom of the bowl with a spatula.

Peel the apple and carrots. Using a box grater, grate the apple and carrots. Add grated carrot, grated apple, pecans, coconut, and cranberries to the batter. Mix on low until just combined. Scrape down the bowl one last time and give the batter one final mix by hand to make sure the add-ins are evenly dispersed.

Put the donut batter into a piping back fitted with a one-inch tip or into a gallon-size plastic store bag. Cut the corner off the plastic bag for a 1-inch opening.

Pipe enough batter into each donut place to reach the top. Bake for 17-20 minutes or until firm to the touch and just starting to brown around the edges.

Remove from the oven and let cool for 10 minutes in the pan. Remove carefully from the donut pan and place on a cooling rack to cool completely before glazing.
To make the glaze
Using a hand mixer, whip the cream cheese on high speed for 30 seconds. Turn off the mixer and add the powdered sugar, pumpkin pie spice, salt, and vanilla. Turn the mixer back on and whip on high speed for one minute. Turn the mixer to low and slowly add milk, 1 Tb at a time, until the desired consistency is reached.

Turn the mixer off and scrape down the sides and bottom of the bowel. Mix on high speed for another 30 seconds or until no lumps remain.

The glaze can be made ahead of time and kept in the fridge for up to a week before using it. Just set out at room temperature for about an hour before glazing your donuts.
To glaze the donuts
Pick up each donut with one finger in the middle hole and one on the edge. Dip the top of the donut in the cream cheese glaze until about half of the donut is submerged. Give the donuts a couple of small turns back and forth to make sure the glaze gets in all crevices and then lift the donut from the glaze. Allow the excess to fall off naturally before turning over and placing the donut back on the cooling rack.

Eat immediately or store in an airtight container for up to 3 days.
The following two tabs change content below.

Hey-ooo! I'm Hailey, and I'm a number cruncher by day and cussing cook by night. I created this site to share my love for delicious food that feeds the soul as well as the belly. I hope my recipes have you running to the kitchen to cook some damn good grub!