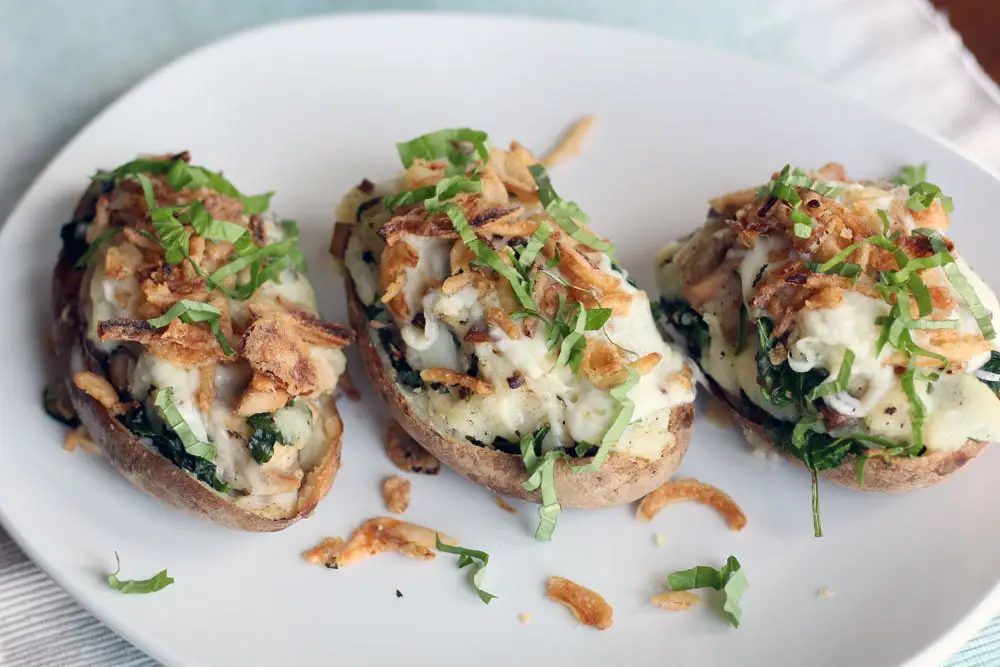 Chicken Florentine Baked Potatoes bring all the elements of traditional Chicken Florentine, spinach, chicken, mushrooms, and cream sauce, but instead of the typical pasta foundation, you get a baked potato! These potatoes are rich without having tons of butter, sour cream and cheese like a normal loaded baked potato, but they are still super filling. Chicken Florentine Baked Potatoes will definitely satisfy the comfort food cravings that arrive with the cold weather.
I don't know about you, but as soon as the temperature gets chilly, I have this undeniable craving for casseroles, meat and potatoes, pasta, and all the other rich, soul-satisfying dishes that also tend to be a little on the heavy side.
What I like most about these potatoes is that though they are both rich and soul-satisfying, when you eat it, you don't feel like a ton of bricks went into your tummy.
The sautéed mushrooms and fresh baby spinach bring an earthy element that complements the flavor of the potatoes while also breaking up the pure starchy consistency. I think a fresh herb should be a requirement with any potato dish as it brings a much-needed contrast. I use fresh basil in this preparation to keep with the Italian theme, but parsley or thyme would also be tasty.
You've got to have butter with potatoes, but I really wanted to try to keep the butter and cream to a minimum while still getting the texture just right. I add just enough butter and heavy cream to the mix to ensure you still get the wonderful creamy mouthfeel that you want from a potato, but it ends up being very little on a per potato basis meaning the added calories are minimal and f*cking worth it.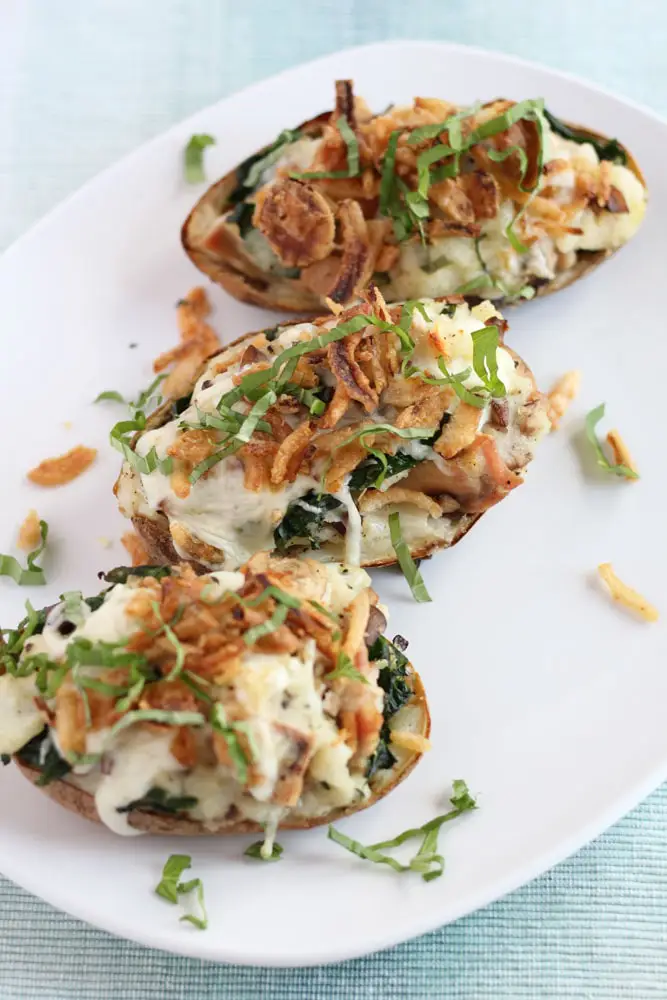 The toppings on this potato are what really bring the richness to the recipe. The cheese and crispy onions on top also ensure that even the pickiest eaters will love this recipe.
Fontina cheese is a scrumptious Italian semi-hard cheese with a mild nuttiness and a slightly sweet finish. It can be a pricey so feel free to substitute with mozzarella, but I will say the Fontina brings a special flavor that goes perfectly with the other ingredients.
French's Crispy Onions bring the crunch and saltiness this dish needs to be a home run!
You may even have some French's Onions in your pantry leftover from holiday cooking, but I find myself using them year-round. They are such an easy way to bring a fun textural element to a dish and let's be real, they are damn good!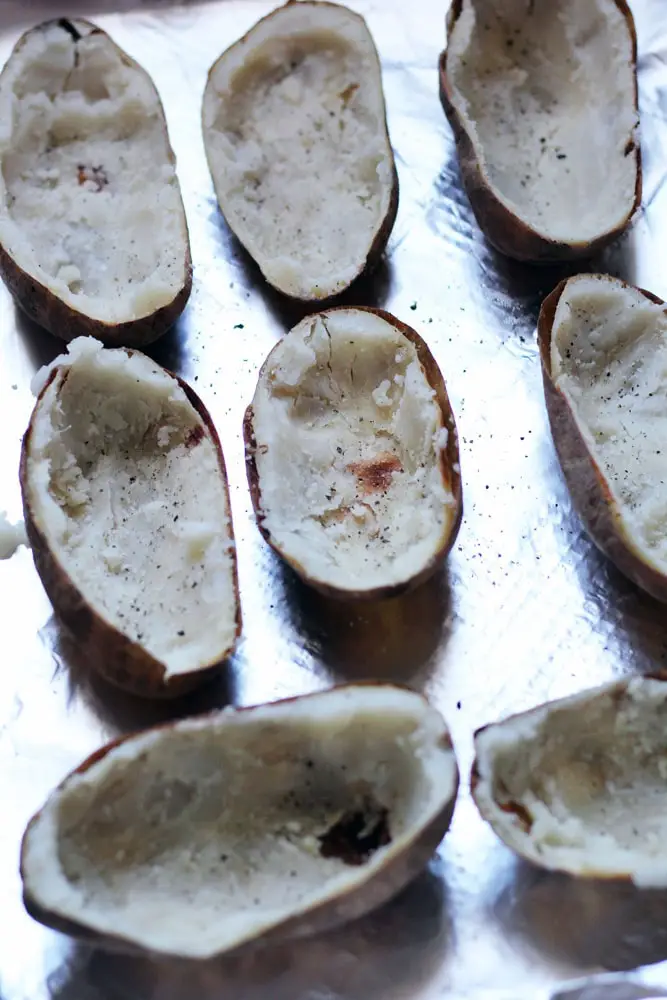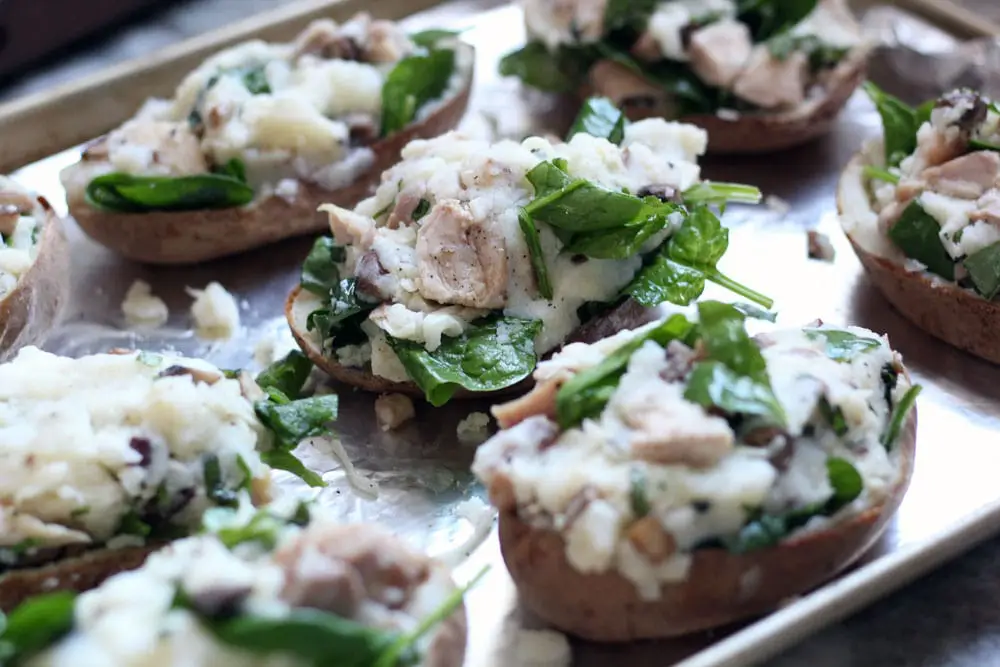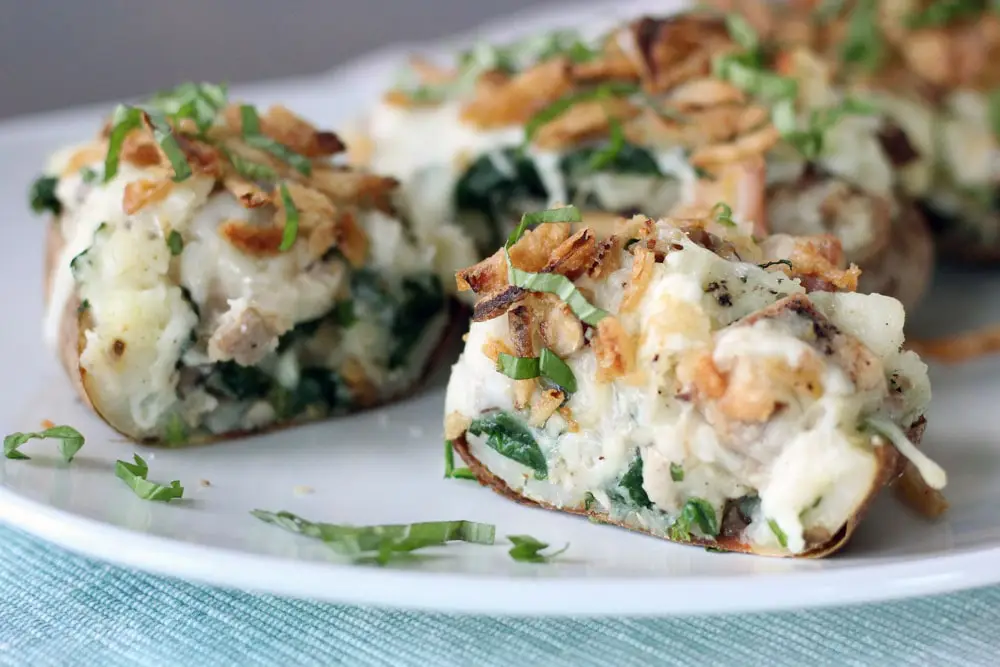 Chicken Florentine Baked Potatoes are a great way to mix up your potato game and feed a crowd. These potatoes would make an awesome weeknight dinner especially if you bake the chicken and potatoes in advance. I'm certain this recipe will be a hit with your family and friends. Let me know what you think in the comments section below!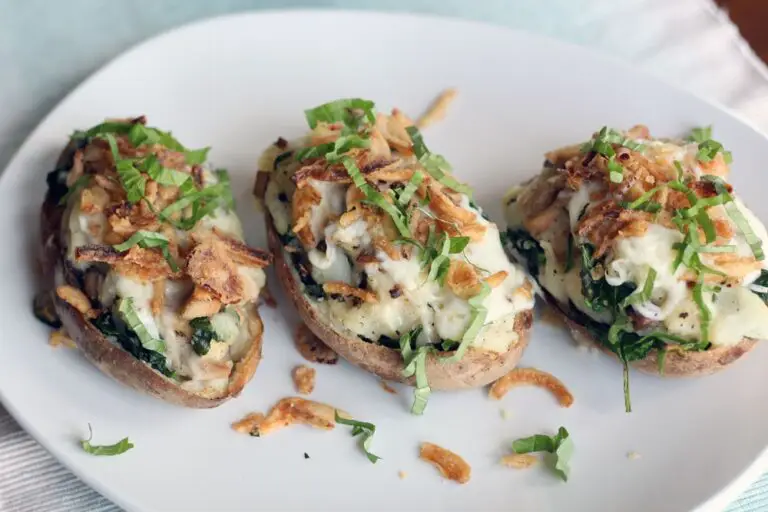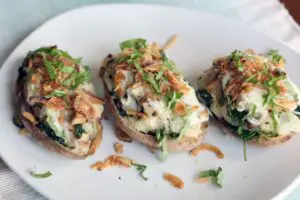 Chicken Florentine Baked Potatoes
The traditional elements of Chicken Florentine, chicken, spinach, mushrooms and cream sauce, all come together in a baked potato! The potatoes are topped off with Fontina cheese and French's Crispy Onions for extra flavor and crunch. This potato recipe is rich but not too heavy.
Ingredients
4

russet potatoes

1

lb

boneless skinless chicken thighs**

8

oz

cremini mushrooms

4

oz

baby spinach

4

oz

fontina cheese

mozzarella can substitute

4

Tb

butter

¼

C

heavy cream

2

Tb

fresh basil

2.8

oz

French's Crispy Onions

garlic powder

onion powder

salt

black pepper

olive oil
Instructions
Preheat oven to 400 degrees. Rinse and dry potatoes.

Wrap the clean potatoes in damp paper towels and put in the microwave on a microwave-safe plate. Microwave on high power for 5 minutes to start the cooking process, and speed up the time in the oven.*

After 5 minutes, unwrap the potatoes and place on a baking sheet. Cook in the oven for another hour to hour and fifteen minutes or until totally soft. Turn each potato over halfway through baking to avoid one side getting browned and tough. Once cooked, remove from the oven and cool for about 10-15 minutes or until you can handle.

Place the chicken thighs on a baking sheet lined with foil for easy cleanup. Season the top side of the chicken liberally with salt, pepper, garlic powder, and onion powder. Place in the oven for 15-20 minutes, depending on the size of the thighs, or until cooked through. Once cooked, remove from the oven and set aside to cool.

Dampen a paper towel and ring out well. Using the paper towel, wipe the outside of the mushrooms and then remove the stem. Dice into quarter-inch pieces.

Heat a nonstick pan over medium-high heat. Add enough olive oil to cover the bottom of the pan. Once the pan is heated, add the mushrooms. Stir to distribute and then leave undisturbed for 2-3 minutes, until golden brown. Stir one more time and cook for another 2 minutes until browned all over. Set aside.

Once the chicken has cooled, chop into bite size pieces. Grate the fontina cheese and set aside. Roughly chop the basil.

Once the potatoes are cool enough that you can comfortably hold (with a dish towel if necessary), split each potato in half lengthwise. Using a small spoon, scoop the inside of each potato half out into a large mixing bowl with the butter leaving about 1cm of potato around the edges to keep the shell sturdy. Season the potato shells with salt and pepper.

Roughly mash the potatoes with a potato masher. Add the cream and continue to mash until mostly smooth. Add the chicken, basil, and spinach and stir to combine. Last add half of the grated cheese, reserving the remainder for the top and mix. Add ½ tsp salt and ½ tsp pepper. Mix well. The mixture may seem a bit dry, but don't worry. When you put them back in the oven the cheese will melt and the spinach will release it's liquid, and they will be just right!

I like to use my hands to pack the potato shells with the filling but you can also use a large spoon if you prefer. Depending on the size of the potato, fill with 1 to 1.5 cups of filling. Pack the filling in tightly. You want a slight mound on top, but you don't want the potato to be overflowing either.

Once the potato halves are stuffed, bake for 20 minutes. Remove from the oven and top with the remaining cheese and the French's crispy onions. Bake for another 5-10 minutes or until the onions are golden brown.
Notes
* You can fully cook the potatoes in the microwave if you're short on time, but I think the texture isn't quite as fluffy when you completely cook in the microwave. The end product will still be super tasty so give it go if you need to.
** Feel free to substitute with chicken breasts if that's your preference.
This dish would be a great weeknight dinner if you bake the chicken and potatoes in advance. Just keep the potatoes and chicken whole (do not cut) and store in the fridge for up to 5 days. Cut the chicken and scoop out the potato as instructed when ready to make the potatoes. Allow the potatoes to sit at room temperature for at least 30 minutes before scooping.
The following two tabs change content below.

Hey-ooo! I'm Hailey, and I'm a number cruncher by day and cussing cook by night. I created this site to share my love for delicious food that feeds the soul as well as the belly. I hope my recipes have you running to the kitchen to cook some damn good grub!