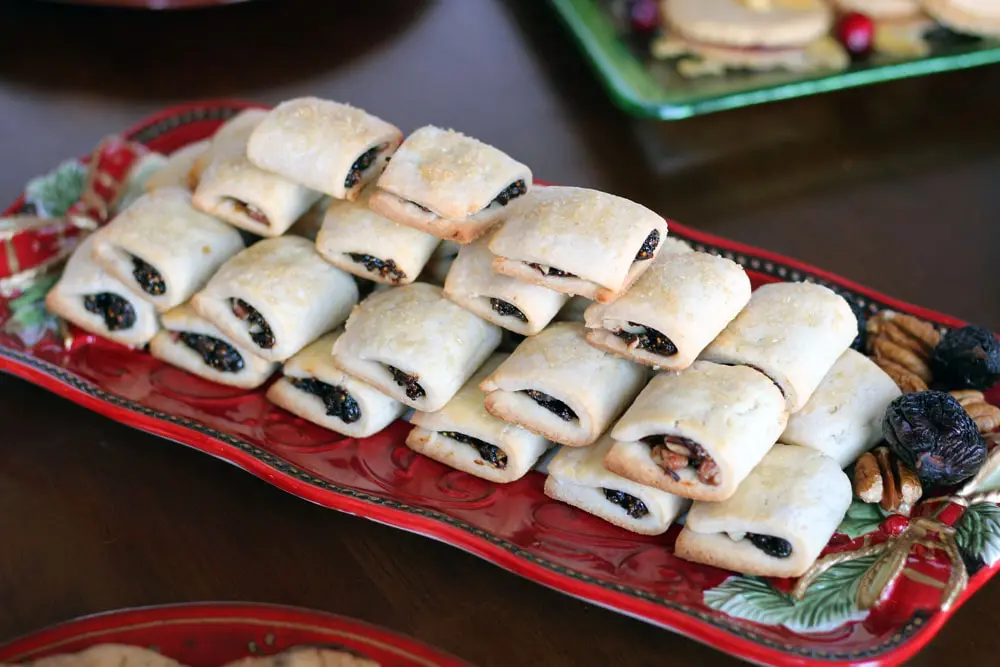 Fig Pecan Newtons are one-part copycat recipe and one-part holiday special. You could easily also call this recipe Fig Pecan Rugelach, but when I've used the word amongst less-kitchen-savvy individuals, they look at me like I'm speaking Russian. It's actually Yiddish if you're curious. It's a very popular Jewish pastry and for good reason!
The cream cheese dough that is the foundation for this cookie is sublime. I've discussed this quite a bit in other posts so if you follow me closely, you know I'm f*cking obsessed with cream cheese. I'm always looking for new ways to use it, and cream cheese pastry dough is a classic application.
The tang of the cream cheese is a perfect balance to the butter in the recipe, and the cream cheese gives the dough a lovely, soft texture.
You might even call the dough supple if you were feeling frisky.
The cream cheese dough in this recipe is the little black dress in your wardrobe. It's simple and classic and something you'll return to again and again, but the fig filling is like the jewelry and shoes….sorry guys. So as not to be too gender-specific, let's say the cream cheese dough is your power suit, but the fig filling is your cufflinks and tie. What I'm trying to say is, each is good on its own, but together they are MAGIC!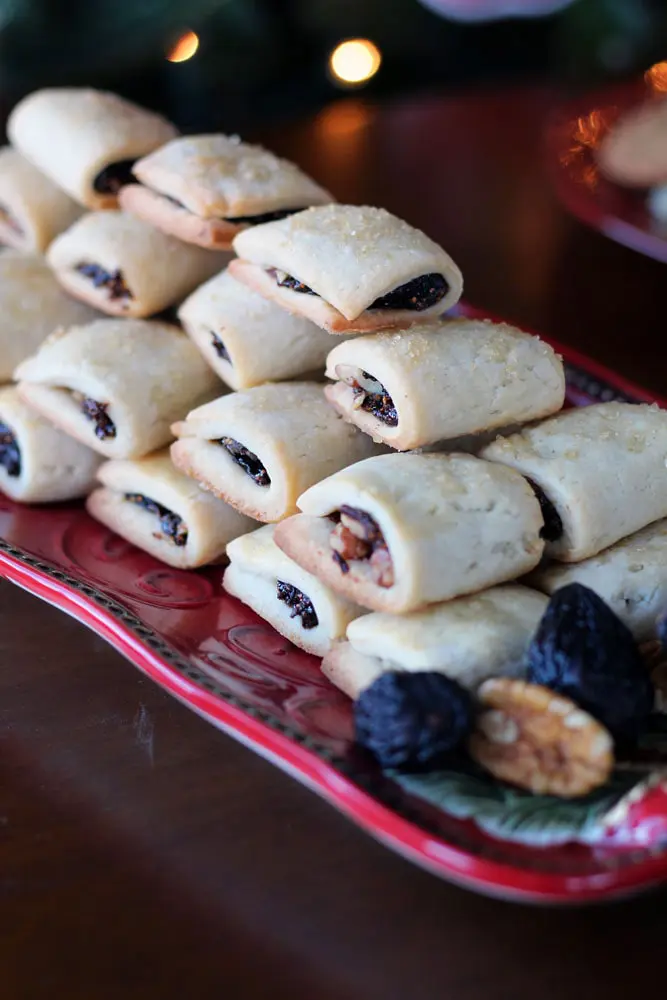 I said this recipe is one-part copycat because the cookies have an undeniable resemblance to store-bought Fig Newtons. That being said, this recipe is a huge upgrade. First, the dough has tons of flavor where the old classic is a little more on the bland side. But the differences are the most pronounced in the fig filling.
The fig filling for this recipe is so rich and deep in flavor, you won't believe it only has a handful of ingredients. It is made using dried figs as fresh are a rare treat. Feel free to substitute fresh figs in the recipe if you can find them. There is no need to soak them though if they are fresh. Just proceed immediately to making the jam.
The flavor of the fig jam is truly a taste of the holidays.
The combination of fig, honey, and vanilla is earthy and sweet, and the smell of this jammy concoction bubbling away on the stove is so intoxicating and rich. It's plain sexy.
I've added the pecans and demerara sugar on top for added texture. I always thought Fig Newtons needed a little more bite to them, and besides, I love to add pecans to any holiday treat. Be sure to chop the pecans super fine though so they meld well with the fig filling. I love the combination of the slightly bitter and buttery pecans with the fig filling!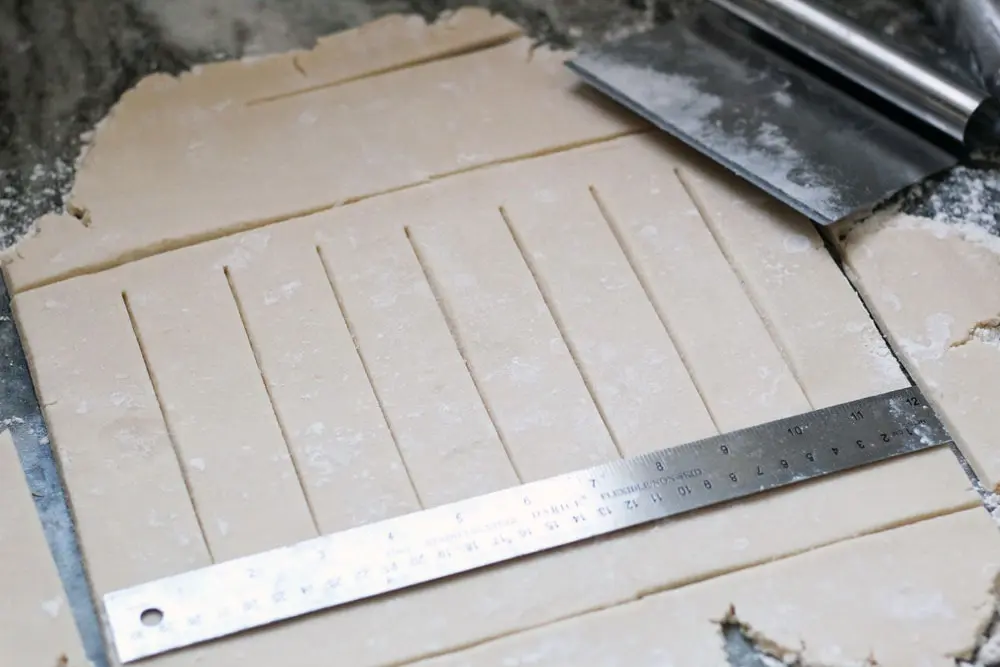 The demerara sugar is the perfect finish for these cookies. It adds a little crunch to the cookie as you bite into it, and it makes the cookies sparkle too. What could possibly be better than a twinkling cookie during the holidays?!
You could easily combine this cream cheese dough with other fruit fillings or even use store bought jam if you're looking for a shortcut, but I hope you try this Fig Pecan Newtons recipe just as it is. It will be a cookie you, your family and friends will adore. Let me know what you think in the comments section below.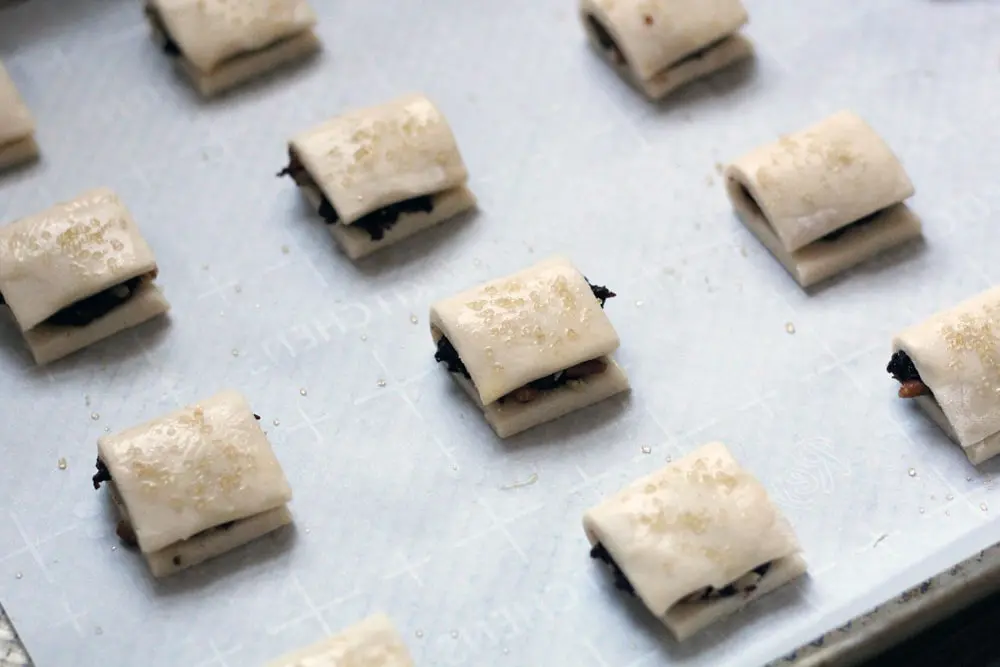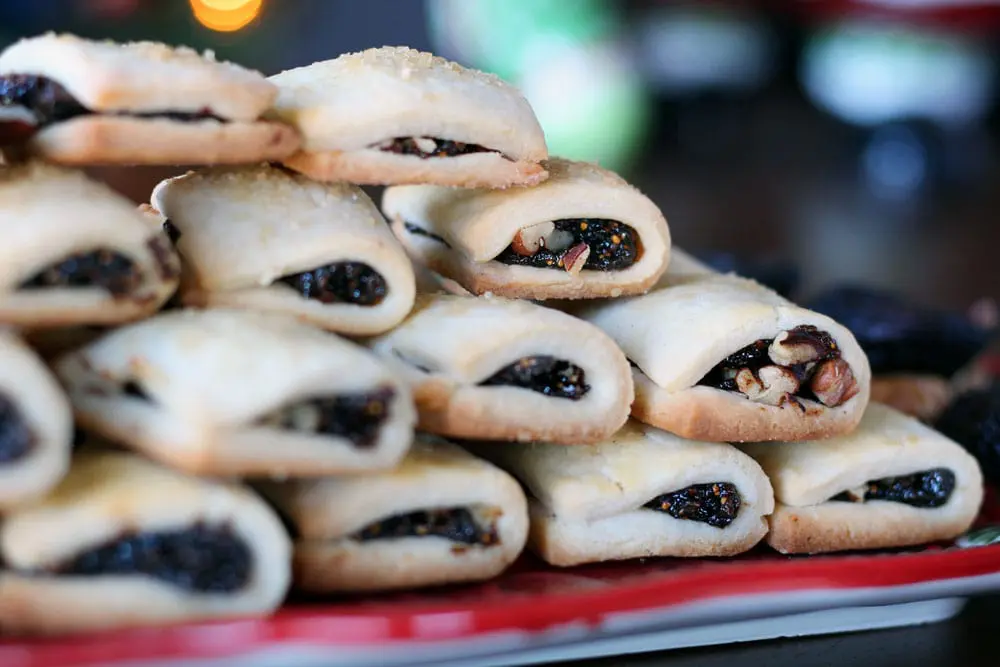 Helpful Utensils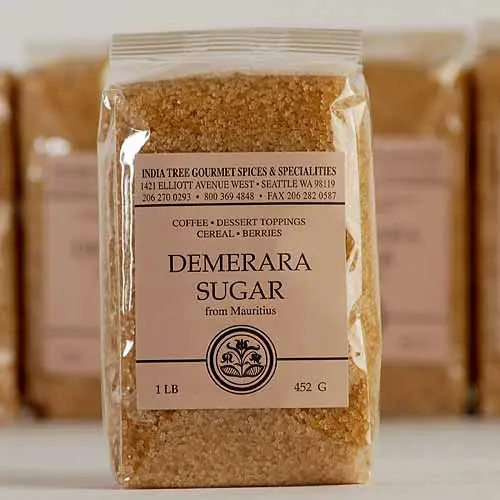 Demerara sugar creates cookies with a beautiful finish and a little added crunch.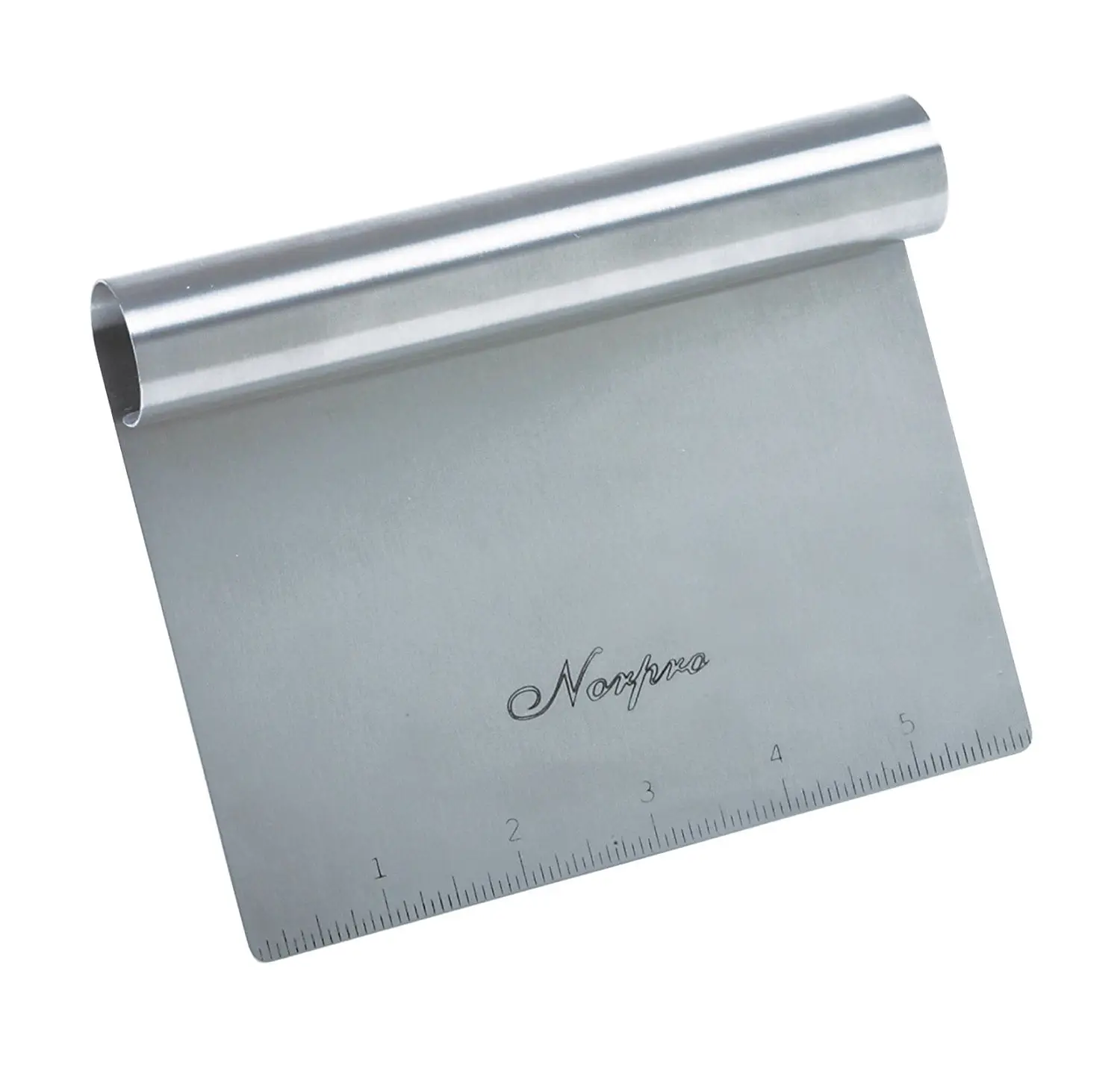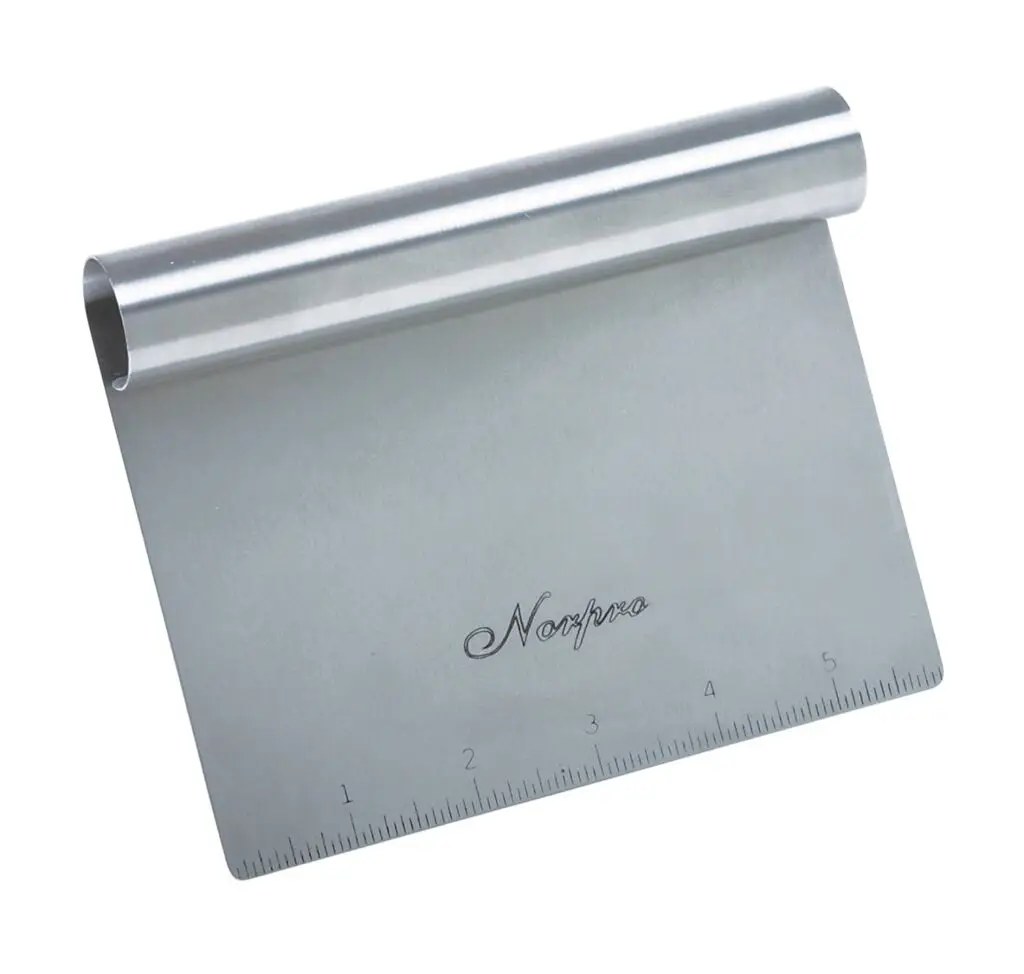 A bench scraper is absolutely essential to working with any sort of pastry or cookie dough. It makes delicate work a breeze.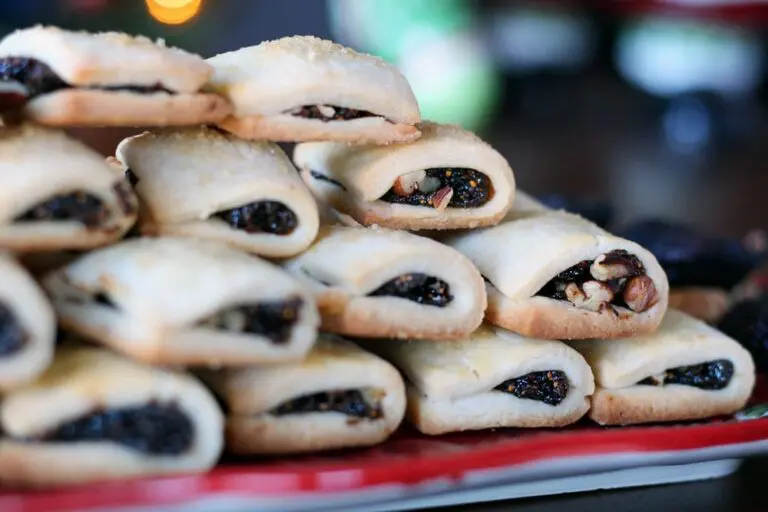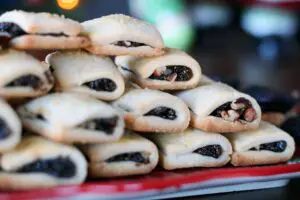 Fig Pecan Newtons
Pillow-soft cream cheese pastry dough is filled with a homemade fig filling made from dried figs that are soaked overnight in cherry juice. The tart cherry juice blended with the intense jammy flavors of the fig is a lovely balance to the tangy cream cheese dough. These cookies are a classic holiday dessert that you will love!
Ingredients
Cream cheese pastry
8

oz

cream cheese

room temperature

1

C

butter

room temperature

½

C

white sugar

1

tsp

vanilla extract

2

C

all purpose flour

1

tsp

kosher salt
Fig filling
10

oz

dried mission figs

2

C

cherry juice

½

C

honey

½

tsp

vanilla extract
Toppings (optional)
1

egg

demerara sugar

optional
Instructions
To make the pastry
Place the butter in a stand mixer bowl or a large mixing bowl. Using a mixer, cream the butter on medium speed for about 30 seconds. Add the cream cheese and white sugar and cream on high for 3 minutes or until pale and fluffy. Scrape down the sides and bottom of the bowl.

Add the vanilla and salt and mix on low speed until well combined. Turn off the mixer and add the flour. Mix on medium speed just until combined. Don't overmix your cookie dough, or you will end up with tough cookies. Bring the dough together by hand with a spatula.

Turn out the prepared dough onto a sheet of plastic wrap, and chill for at least 2 hours. It's best to let the dough chill overnight, but you'll need to chill for at least 2 hours so the dough is easy to roll out. If you're short on time for chilling, split the dough into two equal halves before wrapping in plastic wrap. The dough will keep in the fridge for up to one week.
To make the fig filling
Place all of the ingredients in a medium mixing bowl and allow the figs to soak for a minimum of two hours but preferably overnight. Once soaked, add the fig mix to a saucepan and cook over medium heat until the liquid becomes a thick syrup or about 15-20 minutes. Add the hot mixture to a food processor and blend until it is a nice jammy consistency. Allow the jam o cool completely before using in the rugelach.
To make the rugelach
Once chilled and ready to cook, remove the dough from the fridge and allow to warm up just enough so that you can roll it out, usually about 30 minutes. Preheat the oven to 350 degrees and prepare two baking sheets with parchment paper.

Flour your work surface well.

Roll out the cream cheese dough into something resembling a rectangle (don't worry, we're going to trim the rough edges), rotating the dough 90 degrees every few rolls to ensure it's not sticking. Add flour as necessary to keep the dough from sticking to your surface.

Once the dough is about a quarter-inch thick, trim the edges off the dough to form an even rectangle. I like to measure using a classic metal ruler that I keep in the kitchen, but you can also eyeball it. They will taste great even if they aren't exactly the same size, but do aim for at least similar cookie sizes so they cook evenly.

Cut the dough into 1.5-inch strips using a pizza wheel or a bench scraper. If you don't have a bench scraper, GET ONE. They are a secret weapon when it comes to working with pastry. I've linked to one above for easy purchasing.

Cut each strip into approximately 3-inch pieces. Smear each piece with a heaping teaspoon of fig filling and spread gently across the dough leaving a rim around the edges so the filling doesn't spill out.

Using your bench scraper to lift the dough, fold the dough in half to sandwich the jam in the middle being careful to try and keep the dough from breaking at the crease. Gently lift the cookies from your work surface with the bench scraper and place on the prepared baking sheets, about two inches apart from each other.

Make an egg wash by beating the 1 egg with 1 tsp of cool water. Using a pastry brush, brush the tops of each cookie lightly with the egg wash and then sprinkle with demerara sugar*

Bake the cookies for 15 minutes, rotating the pan halfway through the cook time. Allow the cookies to cool for 5 minutes on the baking sheet before moving to a wire rack to cool completely.
Notes
* The demerara sugar adds a nice texture to the soft cream cheese cookie, but it's not required. I've included a link above to purchase some. It's a baking weapon for finishing.
The following two tabs change content below.

Hey-ooo! I'm Hailey, and I'm a number cruncher by day and cussing cook by night. I created this site to share my love for delicious food that feeds the soul as well as the belly. I hope my recipes have you running to the kitchen to cook some damn good grub!