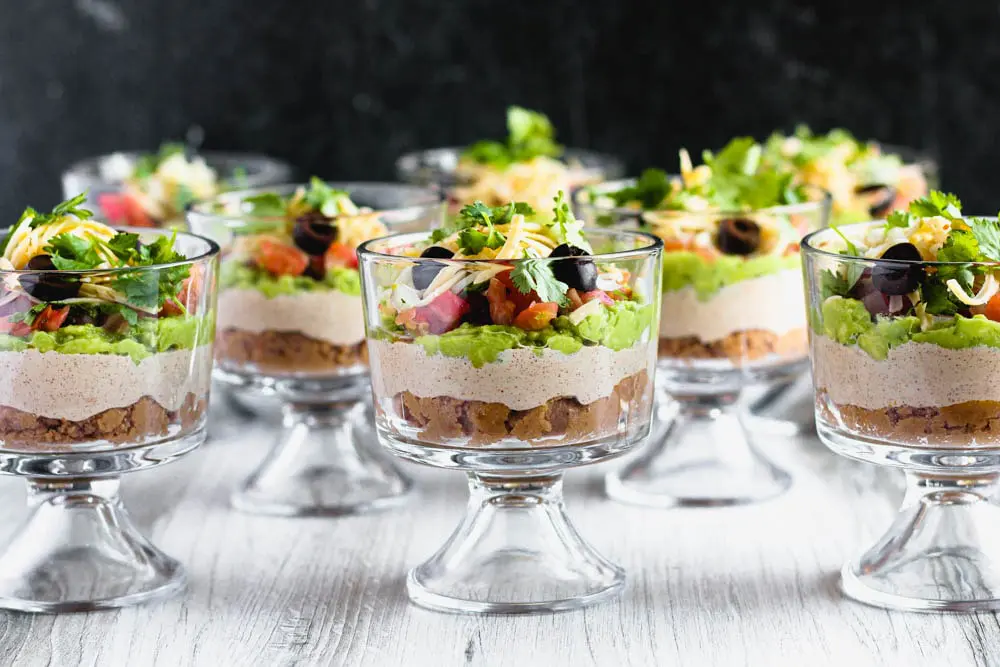 One of my favorite times of year, the start of the college football season, arrived this weekend, and I can't think of a better way to celebrate than with the tailgate classic, Seven-Layer Dip. If you're not familiar with this nostalgic dish made popular in the 80s, it's a layered concoction (probably f*cking obvious already) that consists of beans, sour cream, avocado, cheese and variety of toppings depending on the version.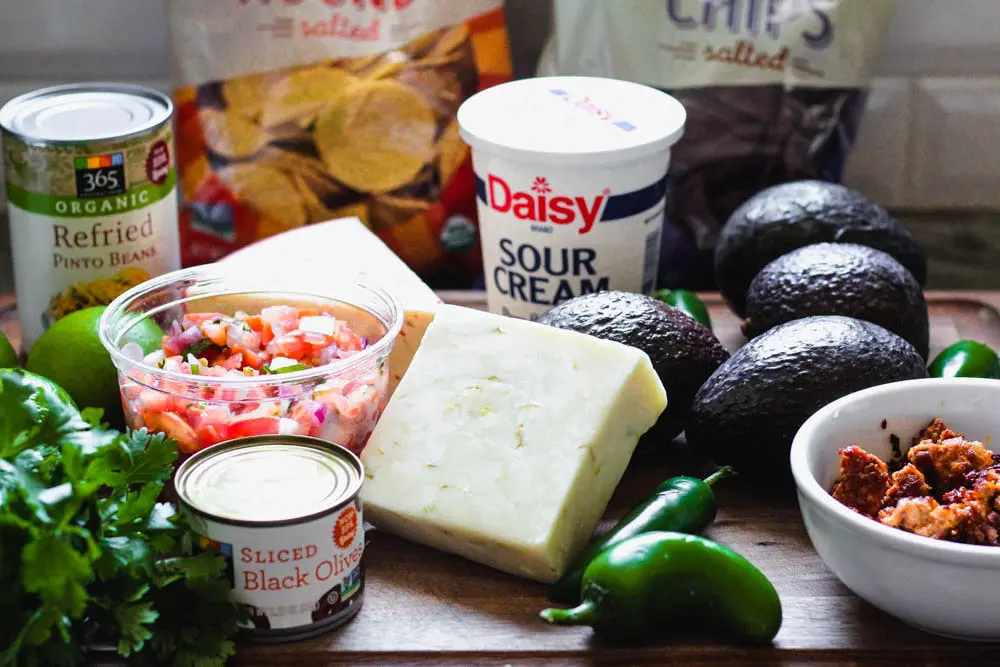 I love to improve a classic dish while keeping what I loved about the original in the first place.
(Another great example of this is my Green Bean Casserole for your holiday spread.) I did just that when I started recipe testing my Seven-Layer Dip. Slight improvements on each layer are what really make my Seven-Layer Dip stand out. I started with a nod to my Refried Beans recipe by incorporating chorizo into canned refried beans for serious flavor with very little work.
The next layer is sour cream. Most old school recipes add a taco seasoning packet to the sour cream, but I like to season the sour cream with a ton of lime zest and chipotle chili powder. No shame in a good seasoning packet, but they usually have a thickening agent that really isn't necessary for your dip.
Guacamole or mashed avocados are up next in this heavenly dip. This is probably my favorite layer of them all, and where I looked to keep it as simple as possible. I'm always game for a little added spice so I incorporate minced jalapeno into my mashed avocado, but that's totally optional.
What is not optional is adding a shit ton of lime juice. The lime juice adds a much-needed acidity to the dish, but it also helps ensure that the color stays bright green and doesn't turn brown on you. It's not cute when that happens.
Once you've laid down the beans, sour cream and avocado, it's time for the toppings. I start with a store-bought pico de gallo. You often seen chopped tomatoes as a topping on Seven-Layer Dip, but I like the added punch of flavor pico de gallo offers. If you're not a fan of raw onions or the spice from jalapeno, you can always stick with chopped tomatoes.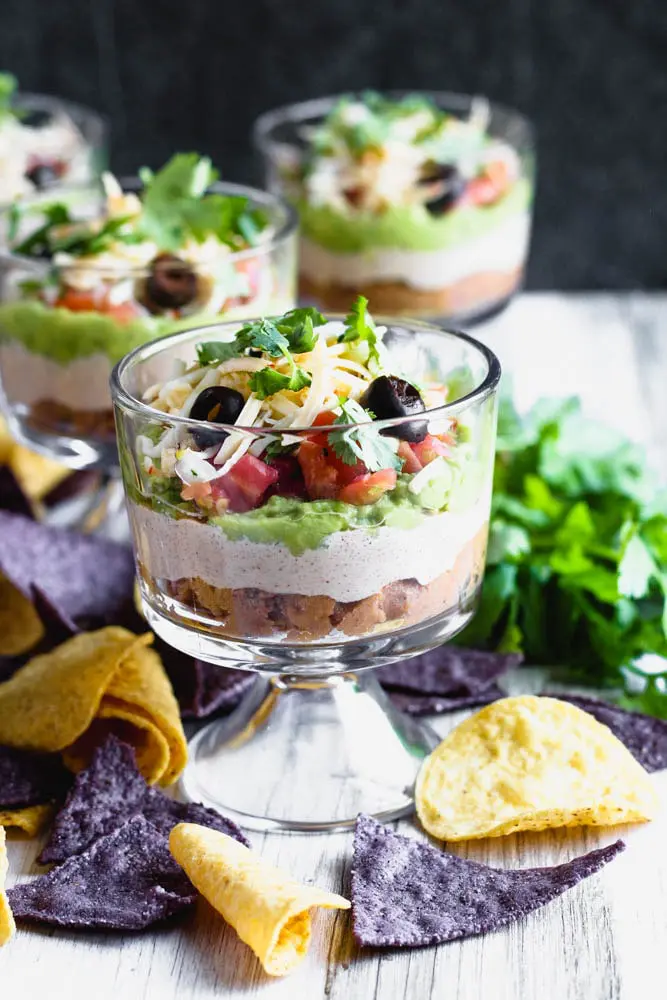 Sticking with my theme of spicing things up a bit, I also used a peppered cheddar in my recipe.
You can use a plain sharp cheddar, but I found an awesome Hatch Chile Cheddar that I thought was a fun addition. Any sort of pepper jack cheese would be a fine substitute if it's not Hatch season.
Last, you can't have Seven-Layer Dip without good old sliced black olive from the can. I tried dressing up this layer in some of my early recipe testing, but it just wasn't right. The olives are meant to be a nice salty accent to the other flavors, and I found more high-end olive overwhelmed the classic flavor I was going for.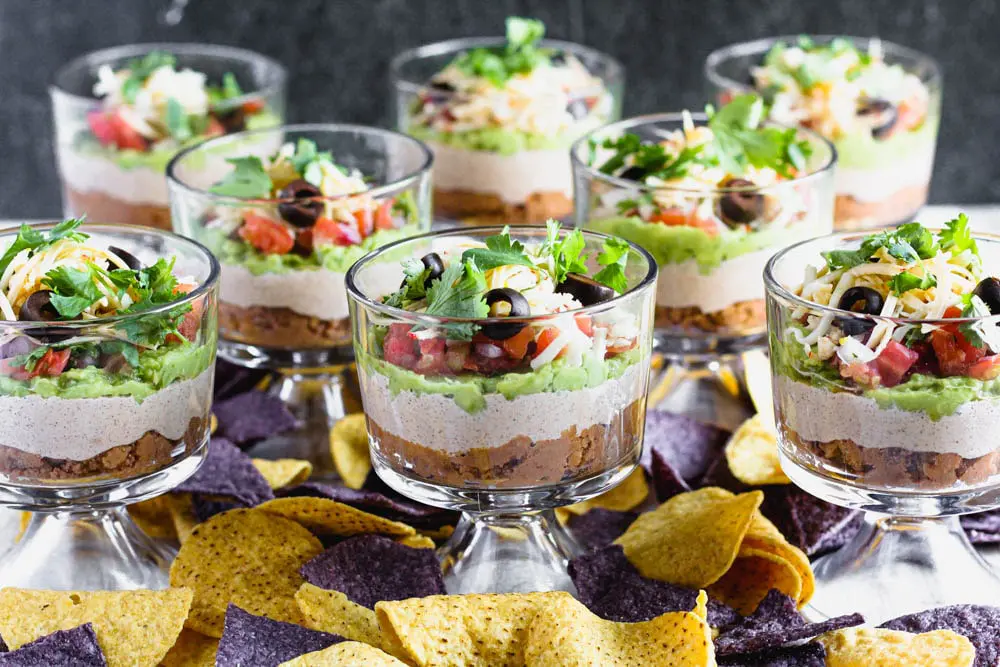 I'm a total sucker for cilantro, so I couldn't help but add a little final splash of freshness with roughly chopped cilantro. I also think it makes for a prettier final product. Speaking of prettying-up Seven Layer Dip, individual servings are also a great way to present this recipe if you have a fixed number of people attending your fiesta.
It's totally fine to stick with a 2-quart glass dish for serving if you have a big crowd coming or want to serve this dip up family style. Just try to keep those first three layers, beans, sour cream and avocado, neat, and your dip will be ready for the big game! Let me know what you think of this football snack!
Helpful Utensils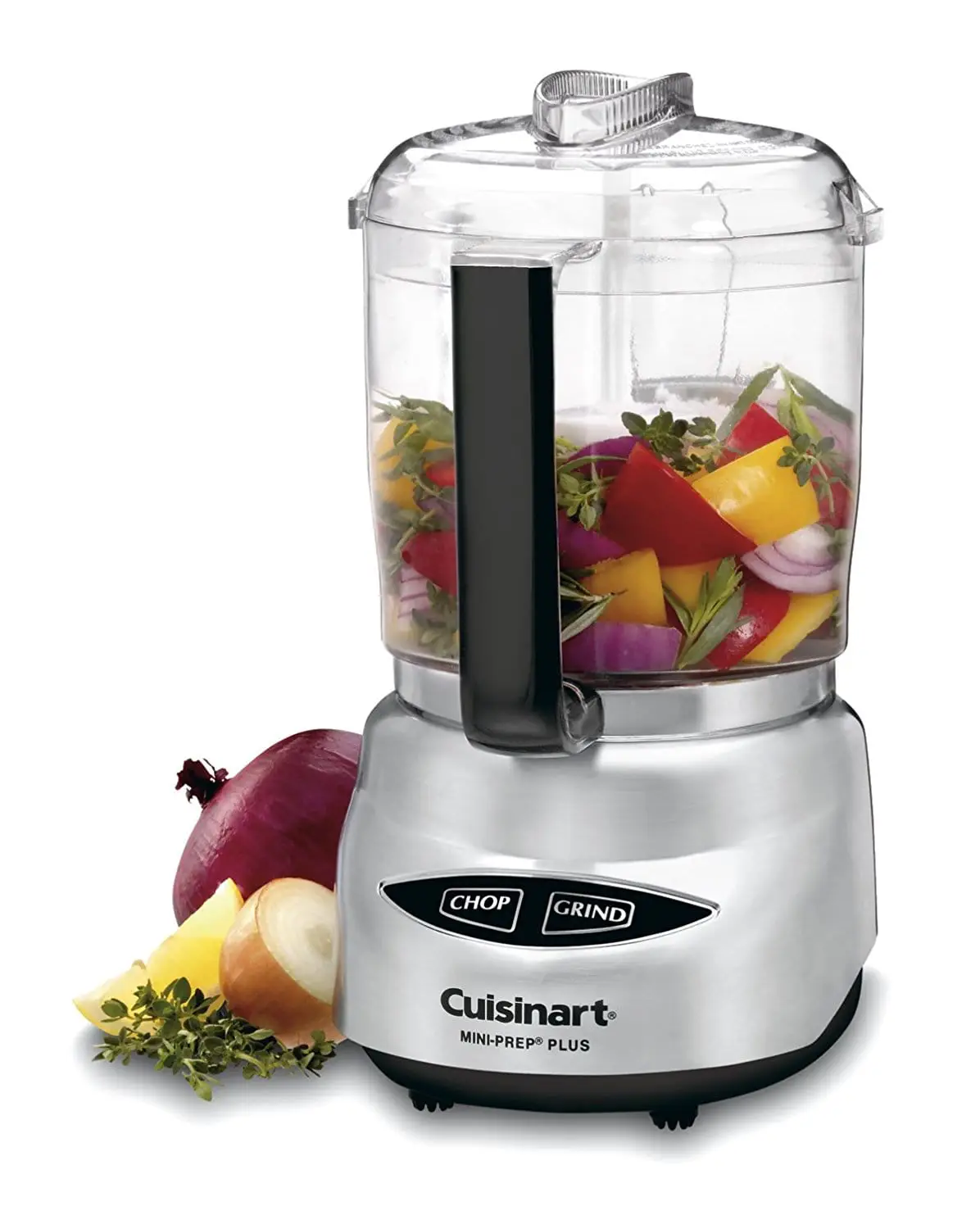 There is no piece of equipment I use more often than my food processor. It's a must-have, and this one is perfect if you have a smaller kitchen or are on a budget.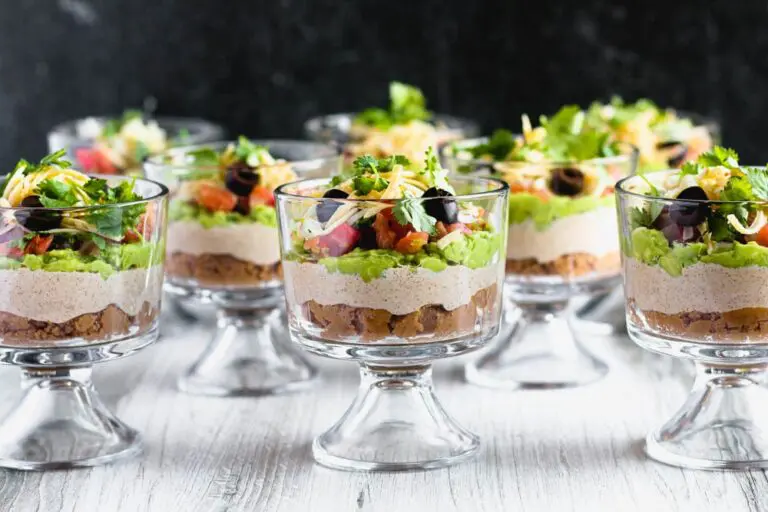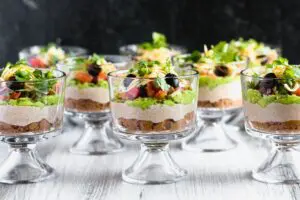 Seven Layer Dip
An update on this classic tailgate dish. Chips and dip are essential party food, but it doesn't have to be fancy to be delicious. Fresh, quality ingredients and plenty of flavor make for an easy appetizer or snack that everyone loves.
Ingredients
Bean Layer
1

tsp

olive oil

4

oz

chorizo pork sausage

1

16 oz

can refried beans

2

Tb

pico de gallo liquid
Sour Cream Layer
2

C

sour cream

1 -3

tsp

chipotle chili powder*

zest of 2 limes

½

tsp

salt
Mashed Avocado
4

ripe avocados

1

small jalapeno

juice of 2 limes
Toppings
1

C

store-bought pico de gallo

1

C

shredded pepper jack cheese

1

2.25 oz

can sliced black olives

drained

cilantro

roughly chopped
Instructions
To make the bean layer, heat a small pan over medium-high heat. Once hot, add the oil and the chorizo to the pan. Cook for about 6 minutes, stirring occasionally.

Once the chorizo is browned, turn off the heat and allow it to cool for a few minutes. Then place the chorizo in a small food processor and grind to a fine crumb. If you don't have a processor, you can finely chop by hand.

Place the chorizo and refried beans into a small mixing bowl and stir well to combine. Add 1-2 Tb of pico de gallo liquid to the beans and mix well so that they have spreadable consistency. Place the bean layer on the bottom of the dish.

Mix together the sour cream, chili powder, lime zest, and salt. Spread over the bean layer. Place in the refrigerator while you smash the avocados to let the sour cream firm up a bit.

Half each avocado and remove the seed. Remove the skin and place the avocados into a large mixing bowl. Using a potato masher, smash the avocados until they are mostly smooth. Add the juice from 2 limes, and combine with a spatula. Half the jalapeno and remove the seeds and stem. Mince finely and add to the avocados.

Take the dish out of the fridge and spread the mashed avocados over the sour cream layer. Top with pico de gallo then shredded cheese, sliced olives and cilantro to suit your taste. Serve with tortilla chips.
Notes
This dish can be made into 8 individual servings (approx. 1C per serving) or family-style in a 2-quart glass dish.
* Chipotle chili powder has heat unlike regular chili powder as it's made from jalapenos. The amount of chipotle chili powder you use is totally up to you. If you like spicy, I would recommend all 3 teaspoons, but if you're feeding a crowd, I would lean closer to 1-2 teaspoons. You can also switch to regular chili powder if you prefer no heat at all.
The following two tabs change content below.

Hey-ooo! I'm Hailey, and I'm a number cruncher by day and cussing cook by night. I created this site to share my love for delicious food that feeds the soul as well as the belly. I hope my recipes have you running to the kitchen to cook some damn good grub!