Holy falafel! Today marks the one-year anniversary of my very first blog post. In celebration, I'm bringing you a new, fun twist on a waffle, Falafel Waffles! I loved creating the recipe for my Black Bean and Corn Waffles so much that I continued to dream up savory recipes that would be a good excuse to eat waffles for dinner. I serve my Falafel Waffles with homemade lamb sausage and tomato-cucumber salad.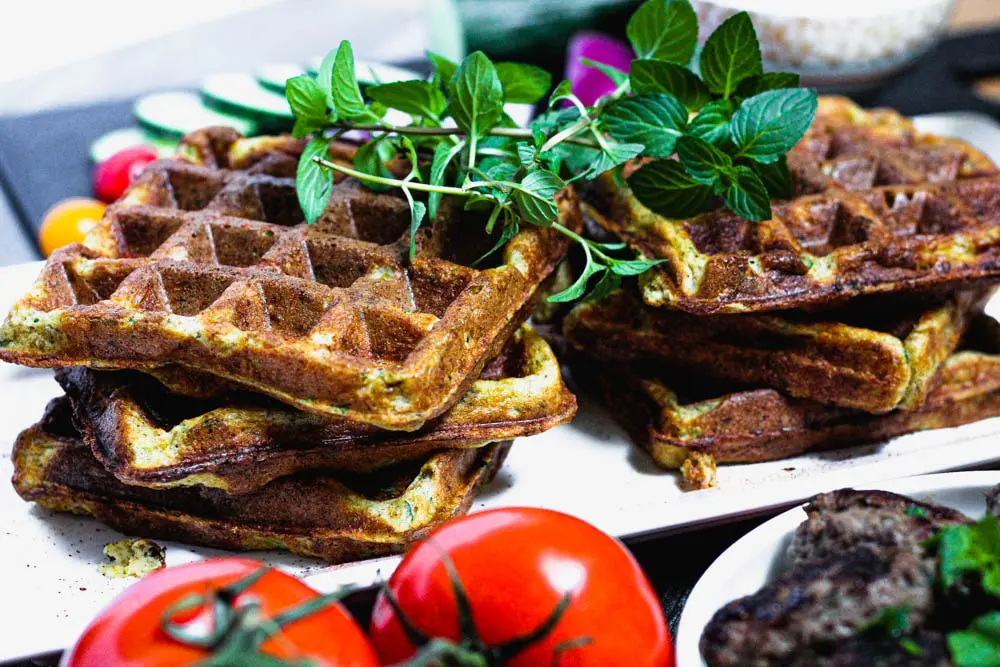 My Falafal Waffles start with premade falafel balls that I crush to a crumb and then combine with my delicious buttermilk waffle recipe. The waffles have the distinct flavor of falafel but also the crisp edges and delicate texture of the best homemade waffles.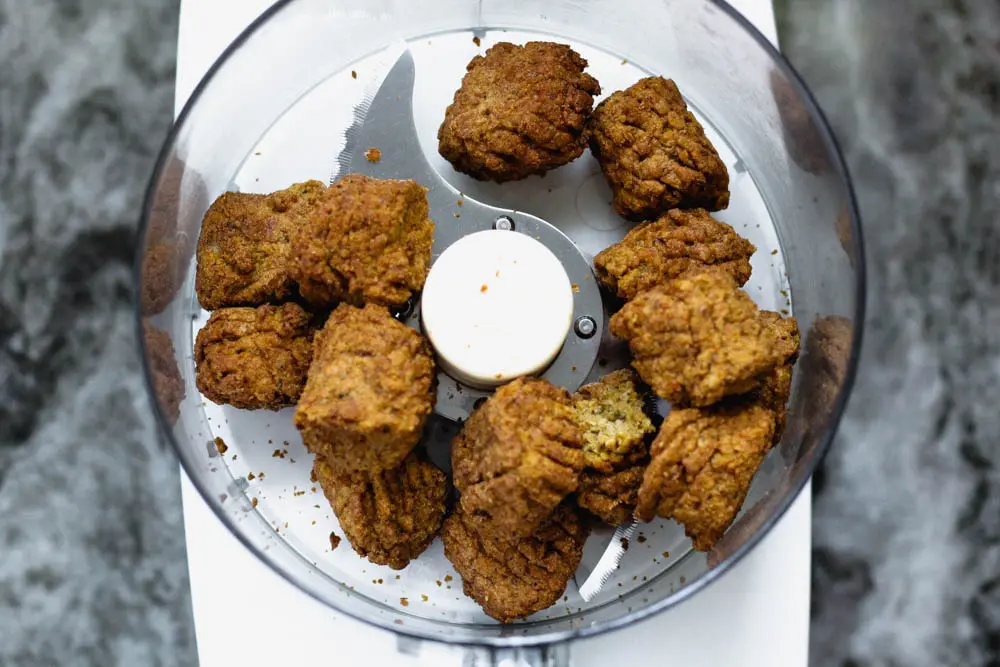 Paired with a super fresh tomato and cucumber salad and a smear of Greek yogurt, these waffles are perfection. If you're a carnivore, add my quick and easy lamb sausage for a complete feast. These waffles are delicious, different and fun to eat.
Call them breakfast, brunch or dinner…whatever you call them, they're damn good! ?
You probably didn't even see the very first blog post that I published at this time last year. I hadn't done any social media at that point. I quietly worked to get about ten blog posts published before I presented Cooking and Cussing to the world. The early days were so exciting. Dreaming up the endless possibilities of life as a food blogger became an (almost) obsession.
I still spend a lot of time daydreaming about what life as a food blogger will be like because I've had an amazing first year immersing myself in this world. I attended a food blogging conference this year where I met so many badass people and got inspired in so many different ways.
I was also struck by just how f*cking many people there are, like me, who dream of making a full time career out of food blogging. It was exciting in one way to know that I had this wonderful community around me, but the competitive part of me thought, can I really find my tribe in this super crowded space?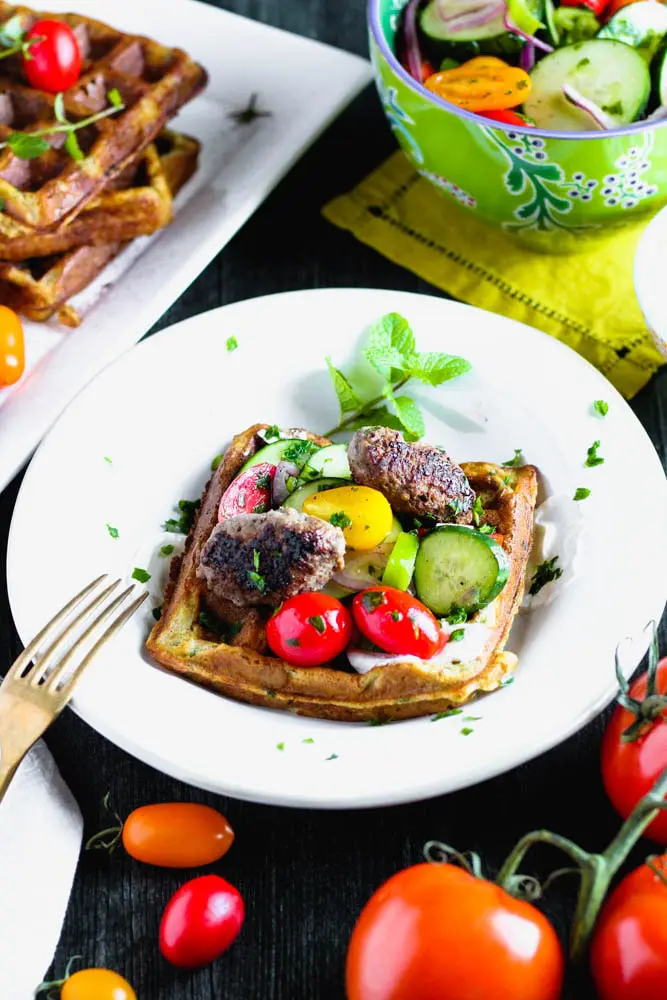 I confess that the hard reality of making it as a full-time food blogger has definitely set in, but I don't feel disheartened or intend to quit. I just realize that it's going to take a little bit longer than I originally anticipated to get to my end goal.
Food blogging may not pay the bills yet, but it definitely feeds my soul in a much-needed way.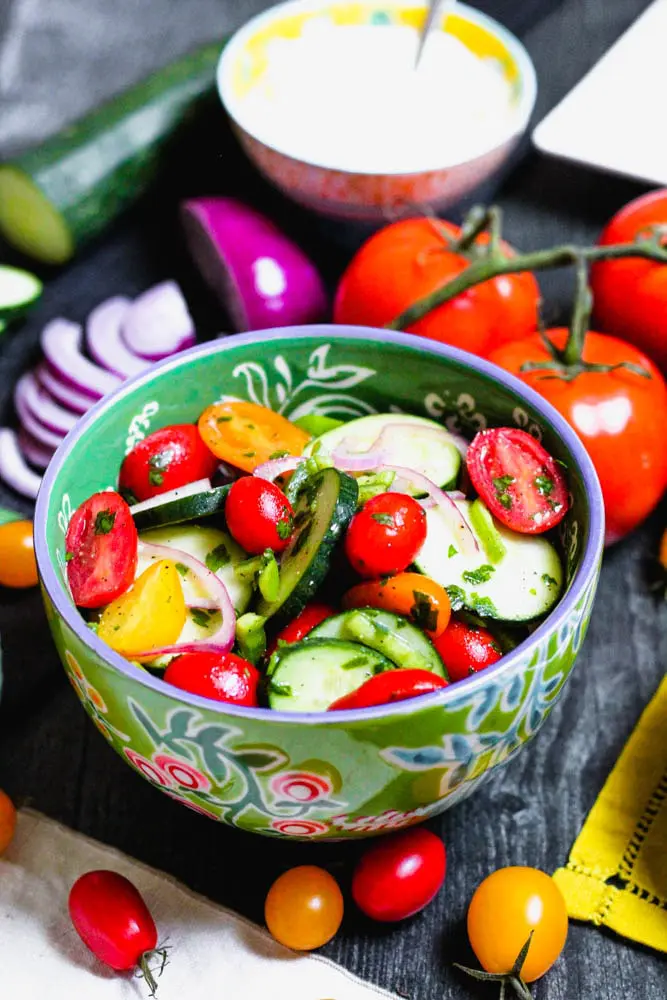 Brainstorming new ideas and recipe testing is seriously the shit that keeps me sane when life gets too complicated. I lay in bed and think of crazy things like Falafel Waffles instead of grueling work projects or things around the house that need to be fixed.
I've also learned a lot about how much I can manage this year and when to take a break. When I first started food blogging, it felt like a race, a race to get to a dream life where I could stay home all day, cooking and cuddling Gus. All of my free time went to the blog, and I never took a weekend off. The race is over now. Now, I'm marathon training.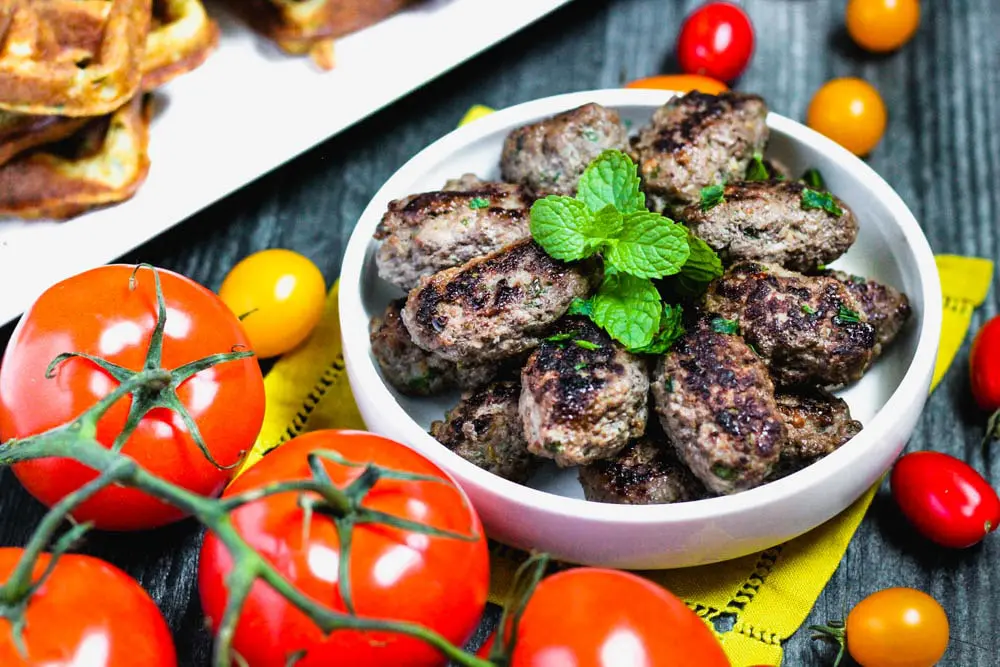 I no longer plan for every hour of my weekend. I leave a good chunk of it open for whatever might happen, nothing or something wonderfully spontaneous. The funny thing is that quite often, I still end up in the kitchen fiddling around. It's just a much more organic way of getting there.
In fact, that's how Falafel Waffles came to be. I bought premade falafel balls on my way home from work one day and thought, I'm going to figure out how to make these balls into waffles because nothing is more fun that breakfast for dinner! The end result was pretty close to the recipe I'm sharing with you today.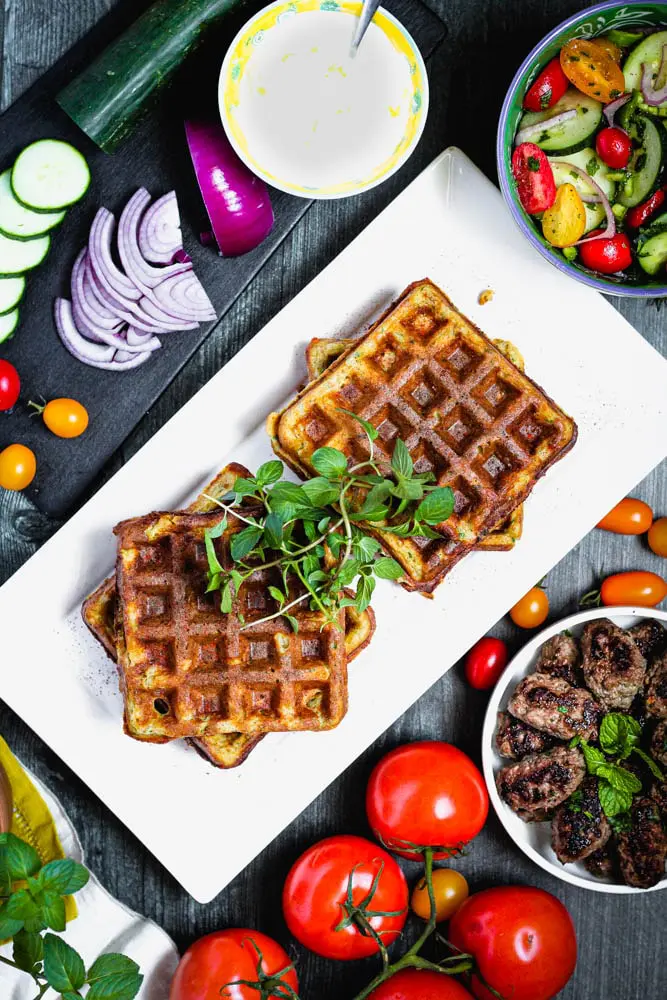 I hope this next year is filled with more experiences just like that. Sure, I'll still plan out plenty of holiday content and have a goal list that seems never ending, but I also want to stay in touch with why I started doing this in the first place, because I love to cook.
Sorry today's post wasn't much about the recipe, but trust it's a good one! I hope you enjoyed some small part of my ramblings or at least weren't bored to tears. LOL! Let me know if you have any questions or feedback about the recipe. I'd love to hear from you!
Helpful Utensils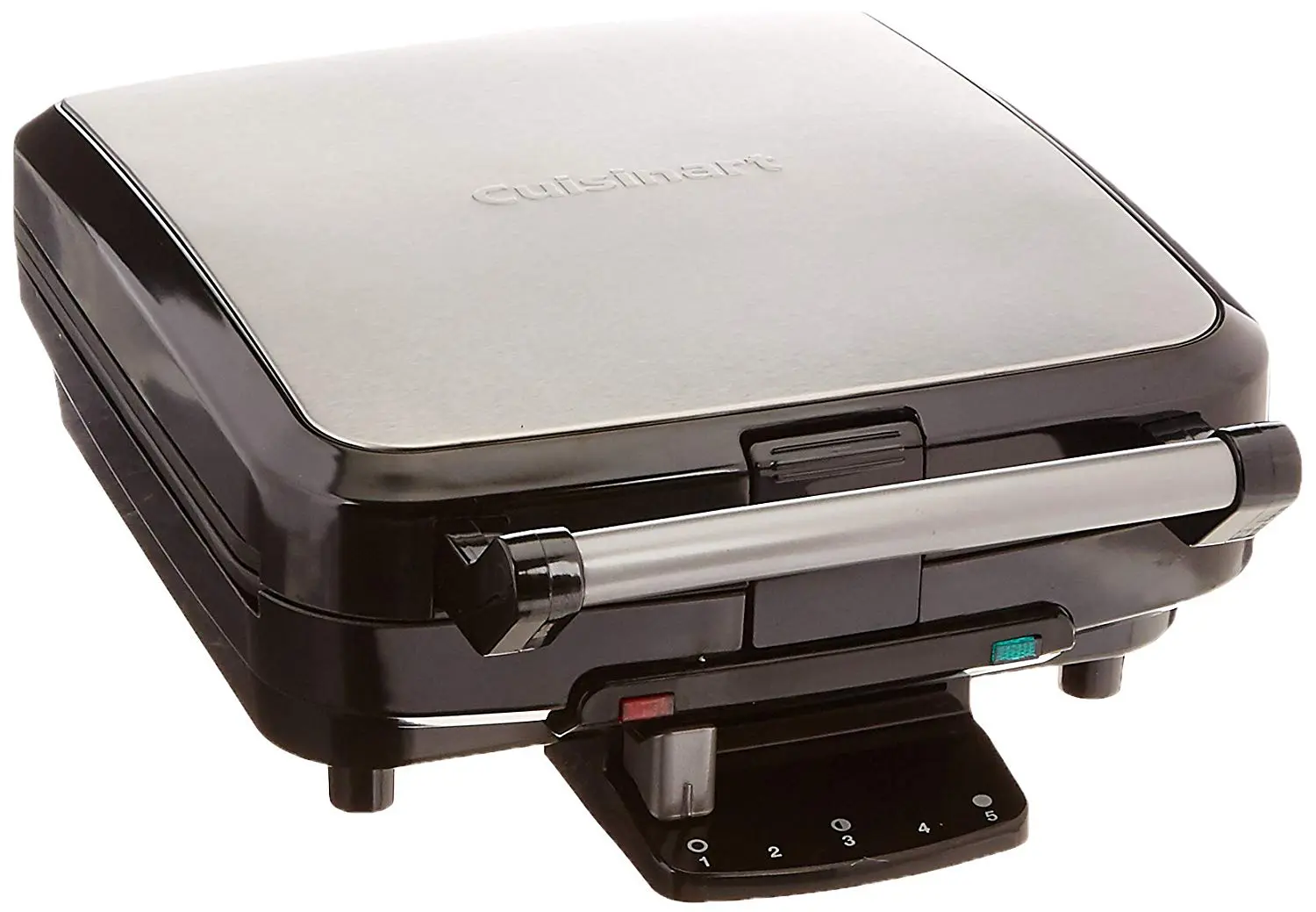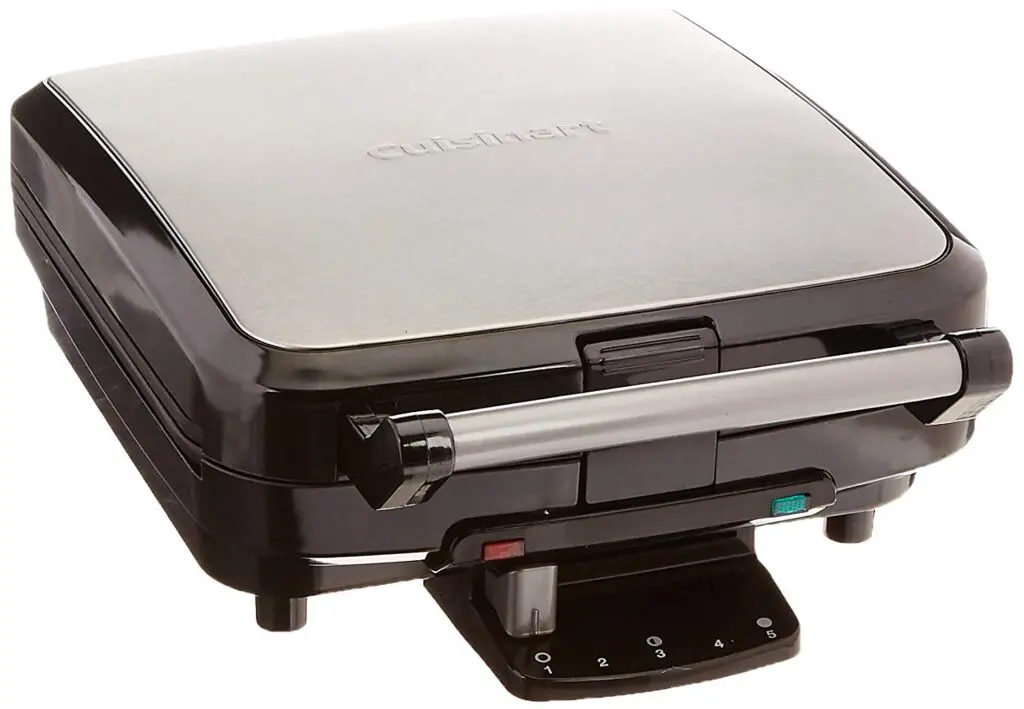 Once you have a waffle maker, you'll find so many cool and different ways to use it. Oh, and good ol' fashion buttermilk waffles are also well worth the investment!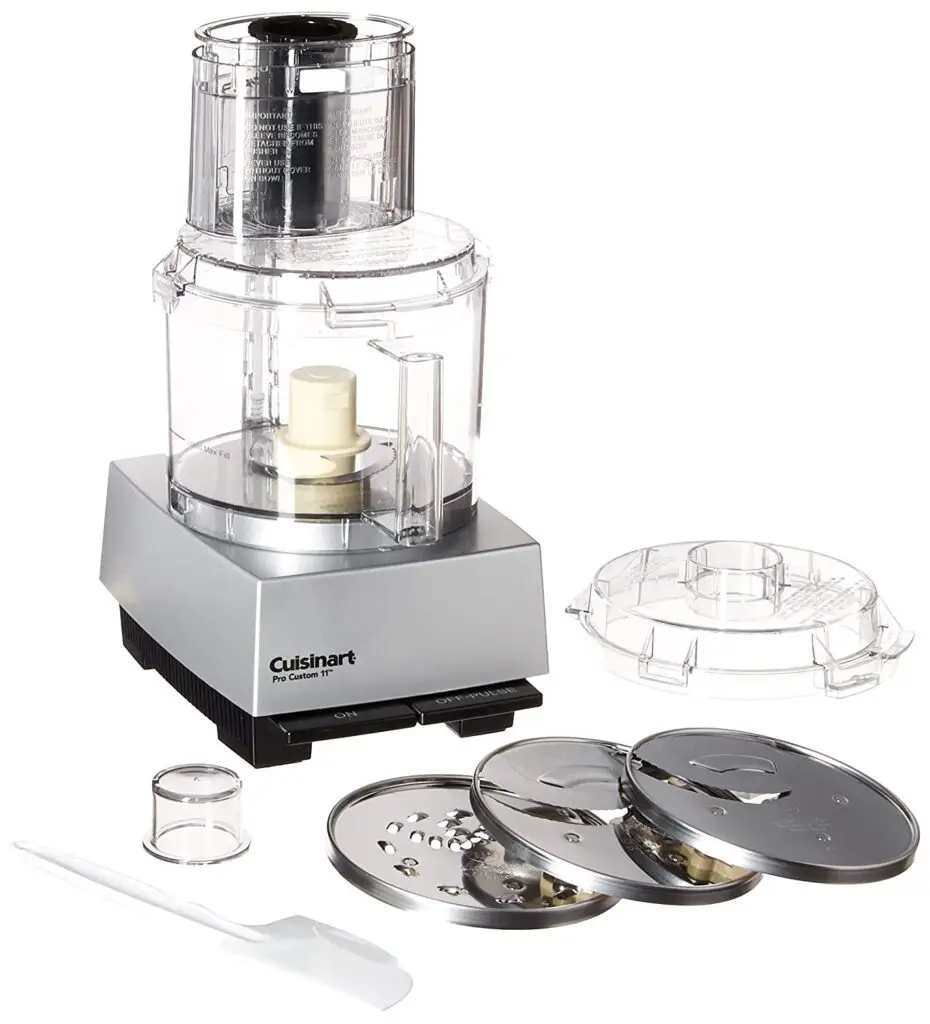 There is no piece of equipment I use more often than my food processor. It's a must-have!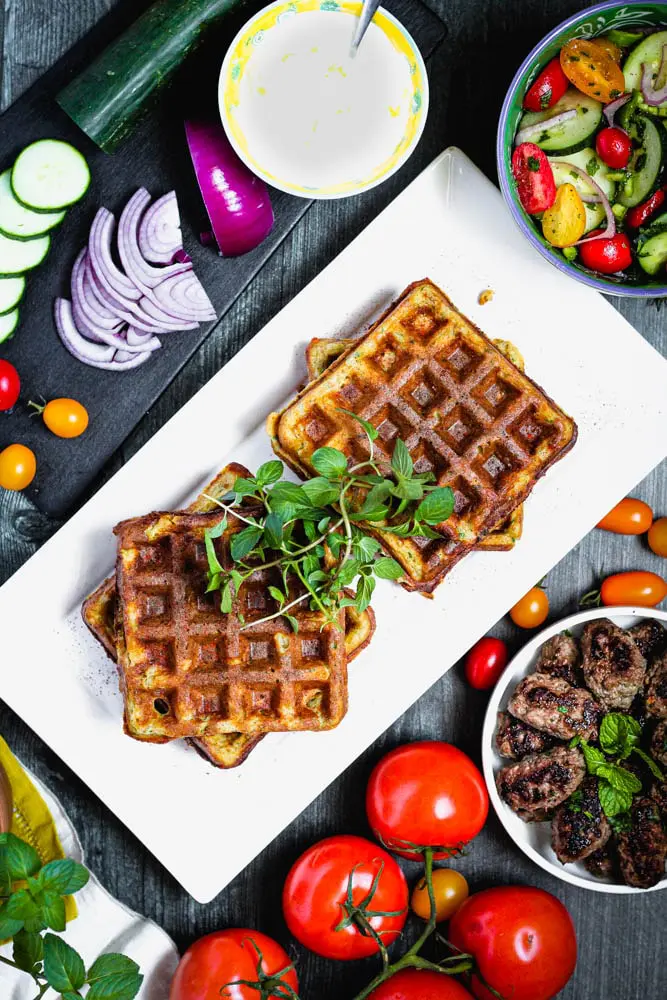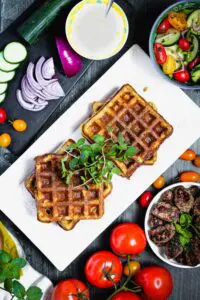 Falafel Waffles with Cucumber Tomato Salad and Easy Lamb Sausage
Falafel balls meet buttermilk waffles for an awesome flavor combination. Great for brunch or dinner, Falafel Waffles are served with fresh cucumber tomato salad, easy homemade lamb sausage and a smear of yogurt. Mix up your weeknight dinner routine with this fun recipe!
Ingredients
Falafel Waffles
8

oz

package of premade falafel balls*

¼

parsley

roughly chopped

1

C

all purpose flour

1

Tb

white sugar

2

tsp

baking powder

1

tsp

baking soda

½

tsp

cumin

½

tsp

garlic powder

1

tsp

kosher salt

¼

tsp

cayenne

1.5

C

buttermilk

2

eggs

separated

⅓

C

butter

melted and cooled

zest of 1 lemon

½

C

greek yogurt

plus more for garnish
Tomato Cucumber Salad
2-3

roma tomatoes or 1 cup cherry tomatoes

1

seedless cucumber

½

C

parsley

½

red onion

1

tsp

salt

½

tsp

black pepper

2

Tb

olive oil

juice of 1 lemon

1

gypsy or anaheim pepper

optional
Easy Lamb Sausage
1

lb

ground lamb

½

red onion

grated

2

cloves

garlic

minced

2

Tb

mint

minced

1

Tb

parsley

minced

1

tsp

salt

½

tsp

black pepper
Instructions
To make the waffles
If you don't have a food processor, check out my link above to purchase one. I use my processor more than any other piece of equipment in my kitchen. Place the falafel balls into the food processor, and pulse until finely crumbed. Add roughly chopped parsley and pulse until minced. You can also crumble the falafel by hand if you prefer.

Separate the egg yolks from the egg whites. Using a hand mixer, whisk the egg whites until they reach stiff peaks. Combine all of the dry ingredients including the seasonings in a large mixing bowl. Add the falafel to the dry ingredients and mix well. Add cooled butter, buttermilk, egg yolks and lemon zest to the dry ingredients and stir until combined. Last, fold in the yogurt then egg whites, being careful not to deflate the egg whites.

Follow the instructions for the appropriate amount of waffle batter for your machine. For mine, it is ½ C per waffle. I have included a link to purchase the waffle maker I use above. I set my waffle iron to a setting of 3 which is the middle setting for my machine. Once cooked, serve with a smear of yogurt, tomato cucumber salad, and lamb sausage if desired.

The waffles can be frozen and reheated in a toaster.
To make tomato cucumber salad
Cut the tomatoes into 1-inch dice. If using cherry tomatoes, slice in half if the tomato is larger than a quarter. Cut the cucumber into ¼-inch slices. Split the pepper vertically and remove the seeds and ribs. Slice each half into thin strips. Half and peel the red onion. Reserve one half for the lamb sausage, if making. Slice the other half into very thin strips.

Roughly chop the parsley and add to a large mixing bowl with the tomato, cucumber, onion, and pepper. Add the olive oil, lemon juice, salt, and pepper and toss gently to combine.
To make lamb sausage
Use your hands to mix together all the ingredients. Form the meat mixture into a cylinder or football shape. I like this shape over a round meatball because it seems to cook a little faster.

Heat a medium nonstick pan over medium-high heat. Add 1 tsp of olive oil to the hot pan and then add the sausages. Cook on the first side for about 4 minutes or until well browned. Turn the heat down to medium and turn the sausage over. Allow the lamb to cook for another 5 minutes or until cooked through.
Notes
*I used Yves Veggie Cuisine brand (see below)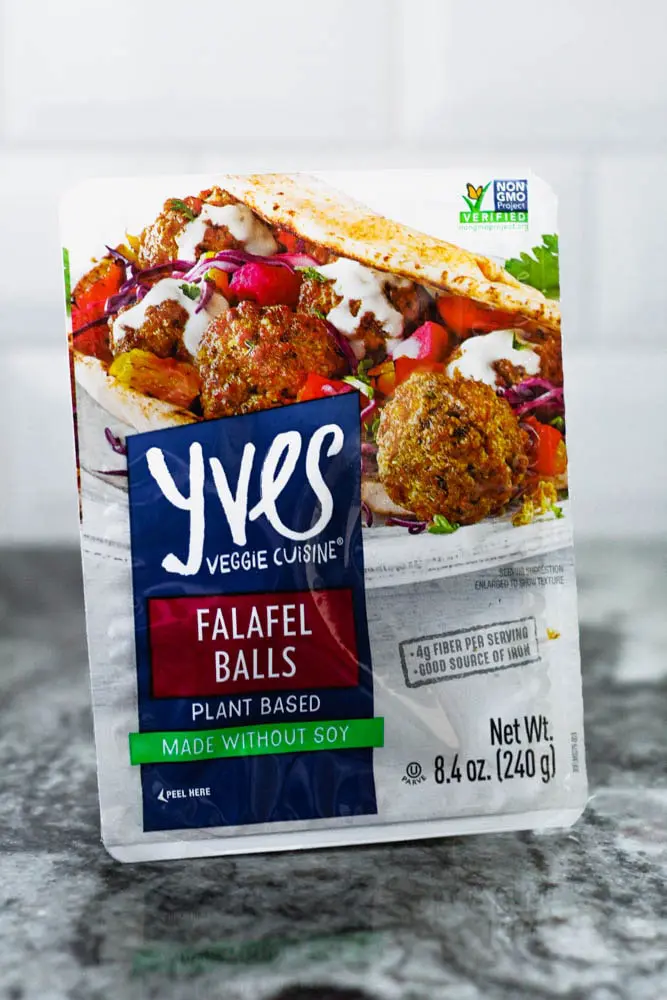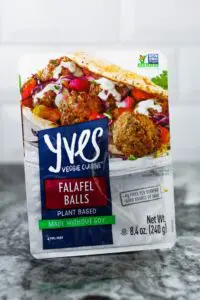 The following two tabs change content below.

Hey-ooo! I'm Hailey, and I'm a number cruncher by day and cussing cook by night. I created this site to share my love for delicious food that feeds the soul as well as the belly. I hope my recipes have you running to the kitchen to cook some damn good grub!