If you came from a home where TV dinners were on the rotation, you probably enjoyed a French Bread Pizza straight from the box. As much as I enjoyed the nostalgic version, Air Fryer French Bread Pizzas are just as fast to make but way more delicious.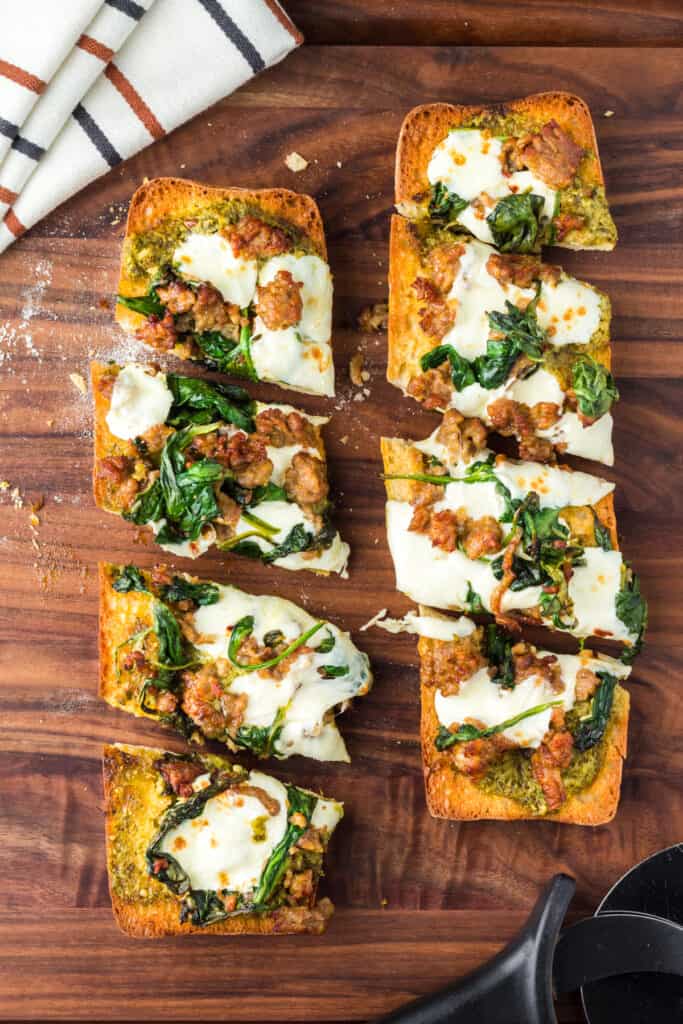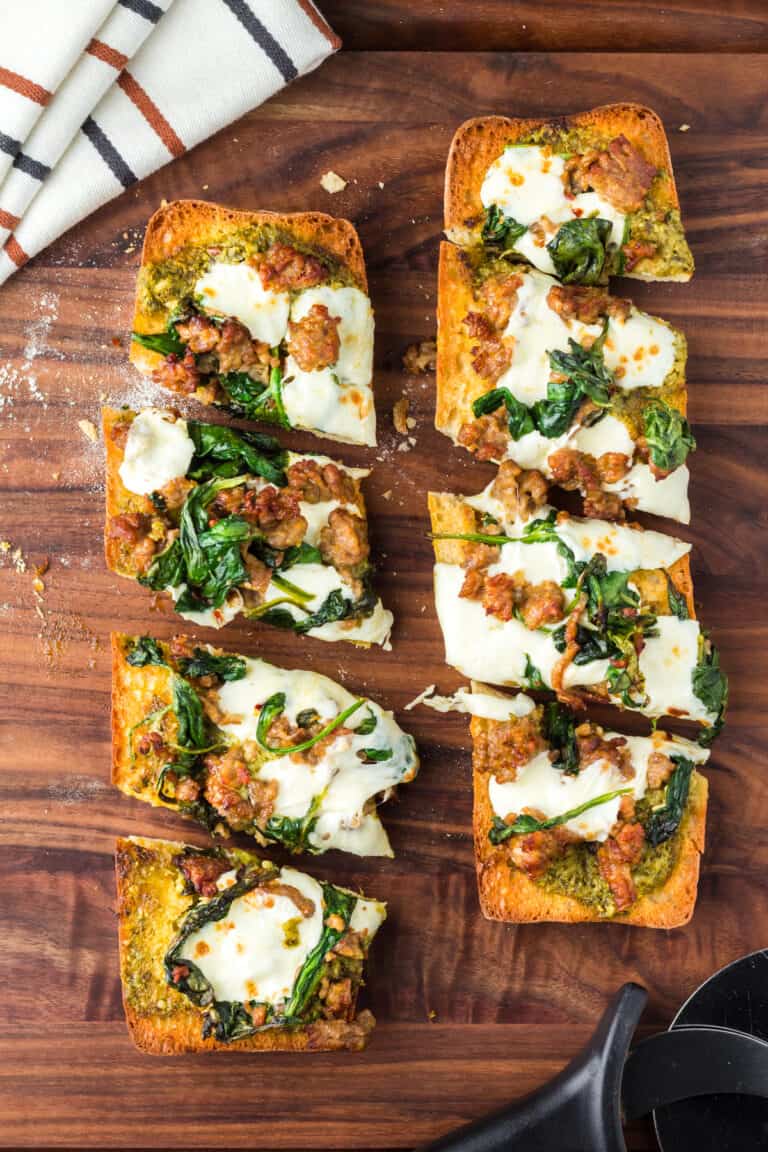 Pizza is one of the world's favorite foods for good reason; it's addictively delicious and totally customizable. French Bread Pizza is one of America's many spins on the dish. The pizza crust is replaced by a toasted slice of baguette or French bread. The rest is up to you.
Ingredients
Air Fryer French Bread Pizzas can include any type of sauce and toppings you like. I am a sucker for the combination of Italian sausage and greens, so that's how I've written the recipe. Bread is the perfect vessel to stand up to this substantial filling, but if you prefer your pizza as plain cheese or pepperoni, make it that way!
To make my Air Fryer French Bread Pizza recipe, you only need a few simple ingredients.
Baguette- or French bread
Pesto-
Mayo
Italian sausage- sweet or spicy
Baby spinach
Vinegar- I recommend sherry vinegar but it can be hard to find. Apple cider vinegar works too.
Fresh mozzarella pearls- or thin sliced mozzarella
Red chili flakes (optional)
Balsamic glaze (optional)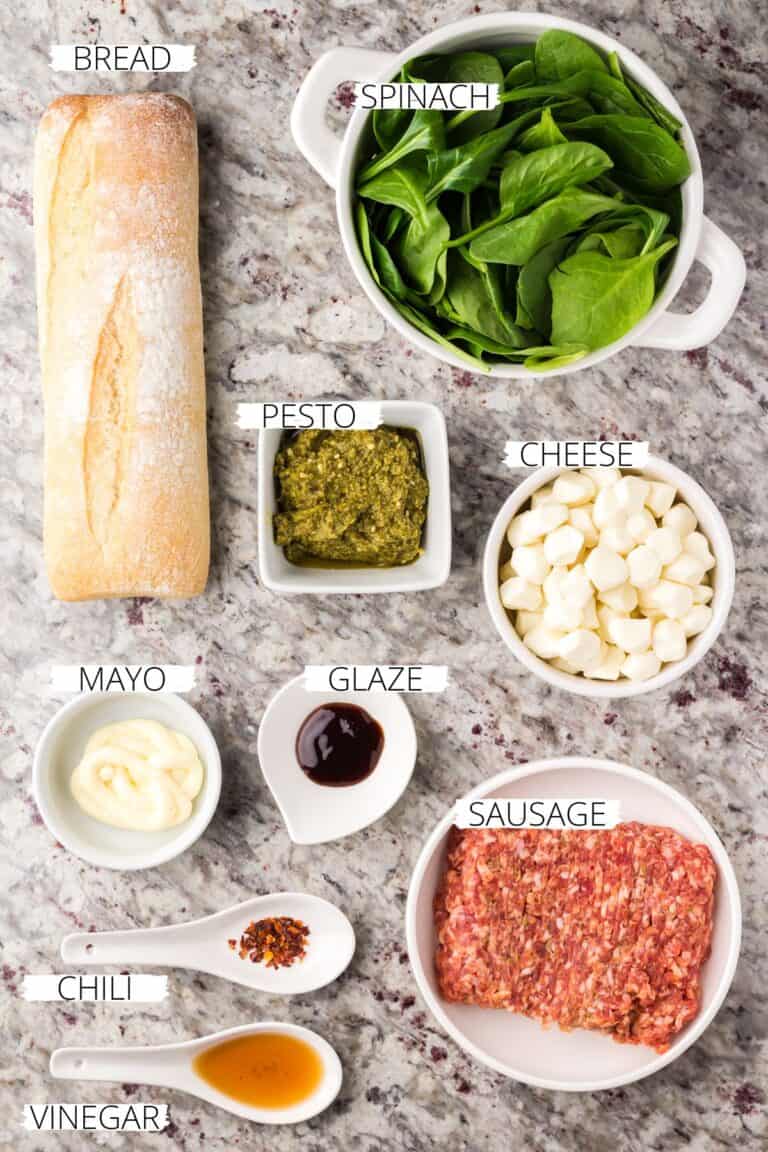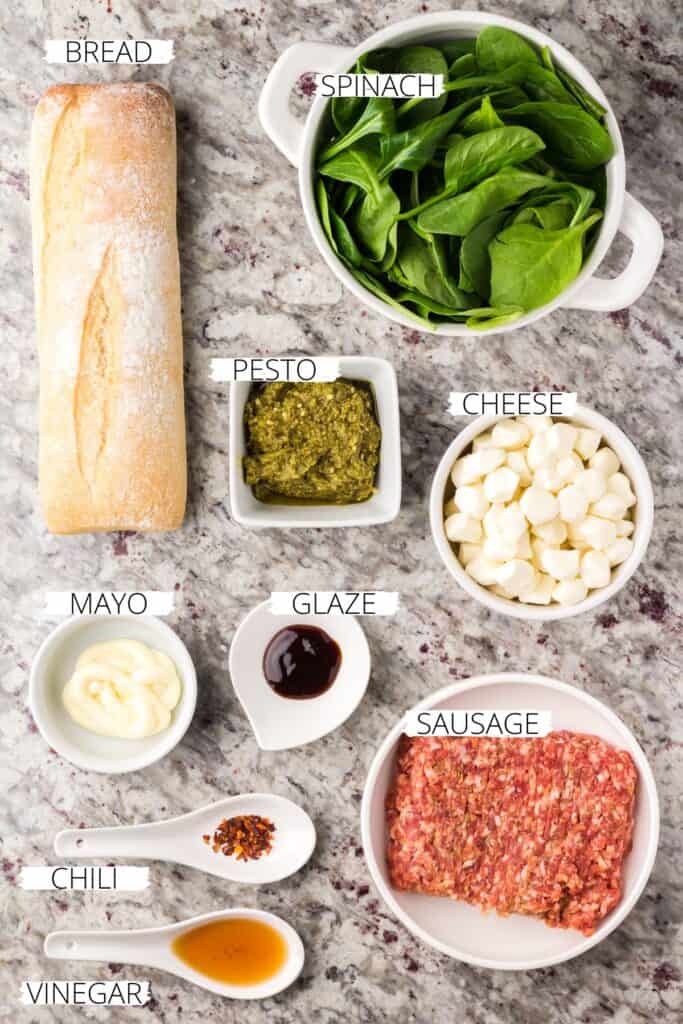 Instructions
It's funny that French bread pizzas are sold prepared in the frozen section when they seriously take less than 10 minutes to assemble. This entire recipe takes about 20 minutes and half of that to cook the ground sausage.
If you like your dinner extra quick, buy cooked ground sausage which will cut the recipe time in half. Either way, the recipe is simple and the steps are easy to follow.
Cook the ground sausage and spinach with vinegar and red chili flakes. Once slightly cooled, add the mozzarella pearls.
Make the sauce by combining pesto and mayo.
Slice open the bread and remove some of the insides to make room for fillings.
Toast the bread in the air fryer for a minute or two.
Fill each bread boat with sauce then toppings.
Bake for additional 5 minutes and serve.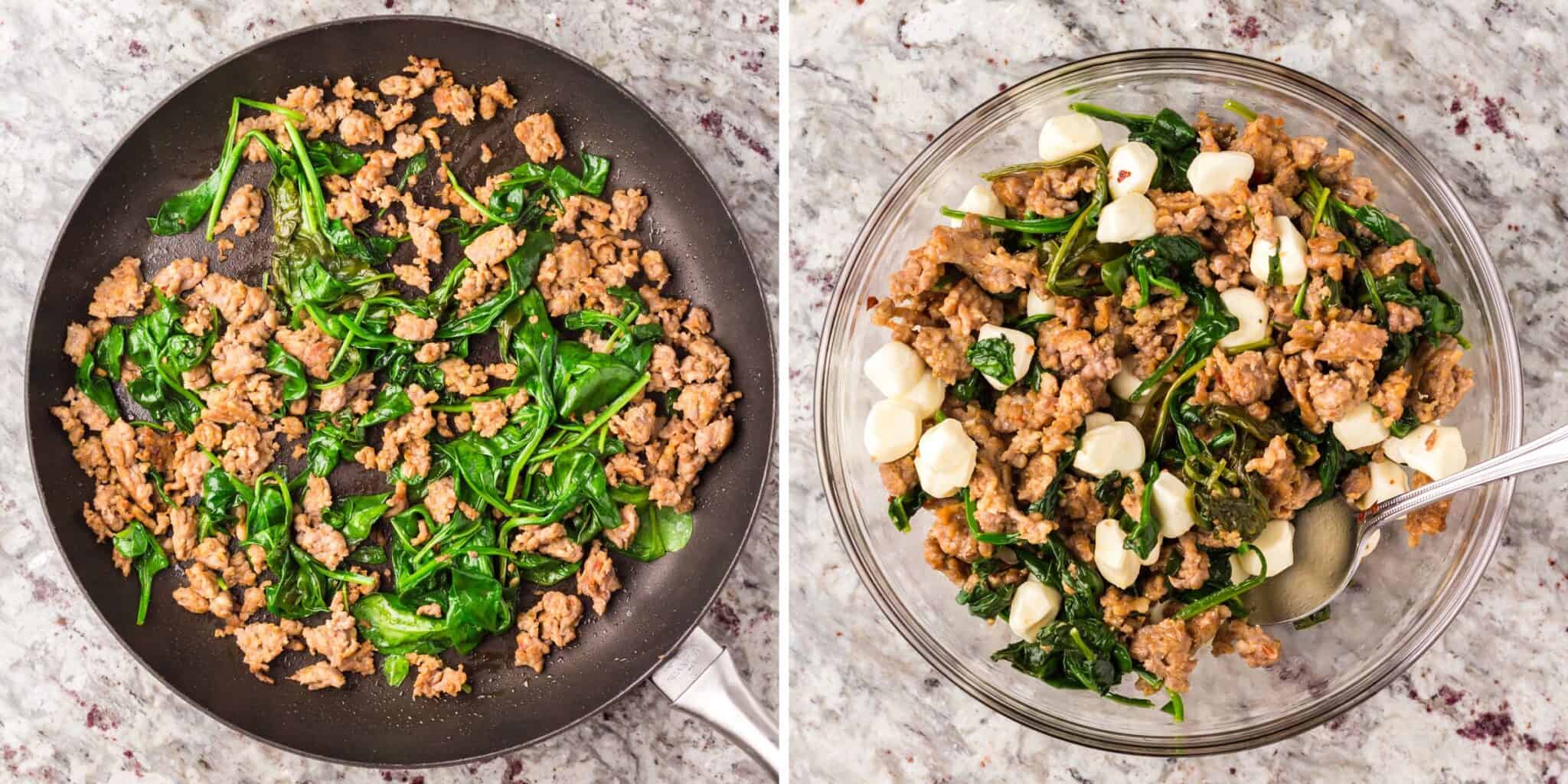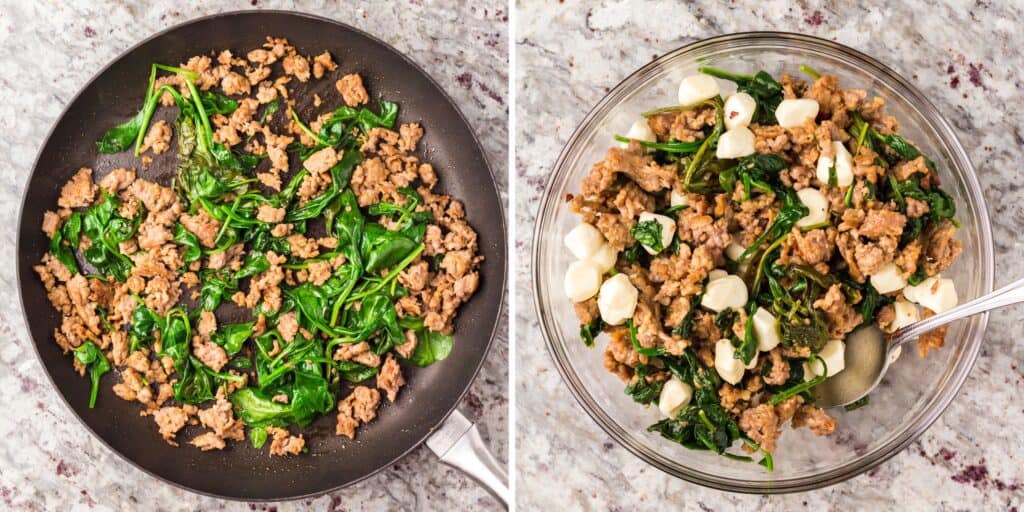 Substitutions
In my recipe, I recommend a baguette instead of "French Bread". French bread is typically wider than a baguette, and it's also much softer in texture. Personally, I love the hardy texture of a baguette and the crunch it gives to the toasted pizzas. If you like a softer texture or can't find a baguette at your grocery store, French bread is a fine substitute.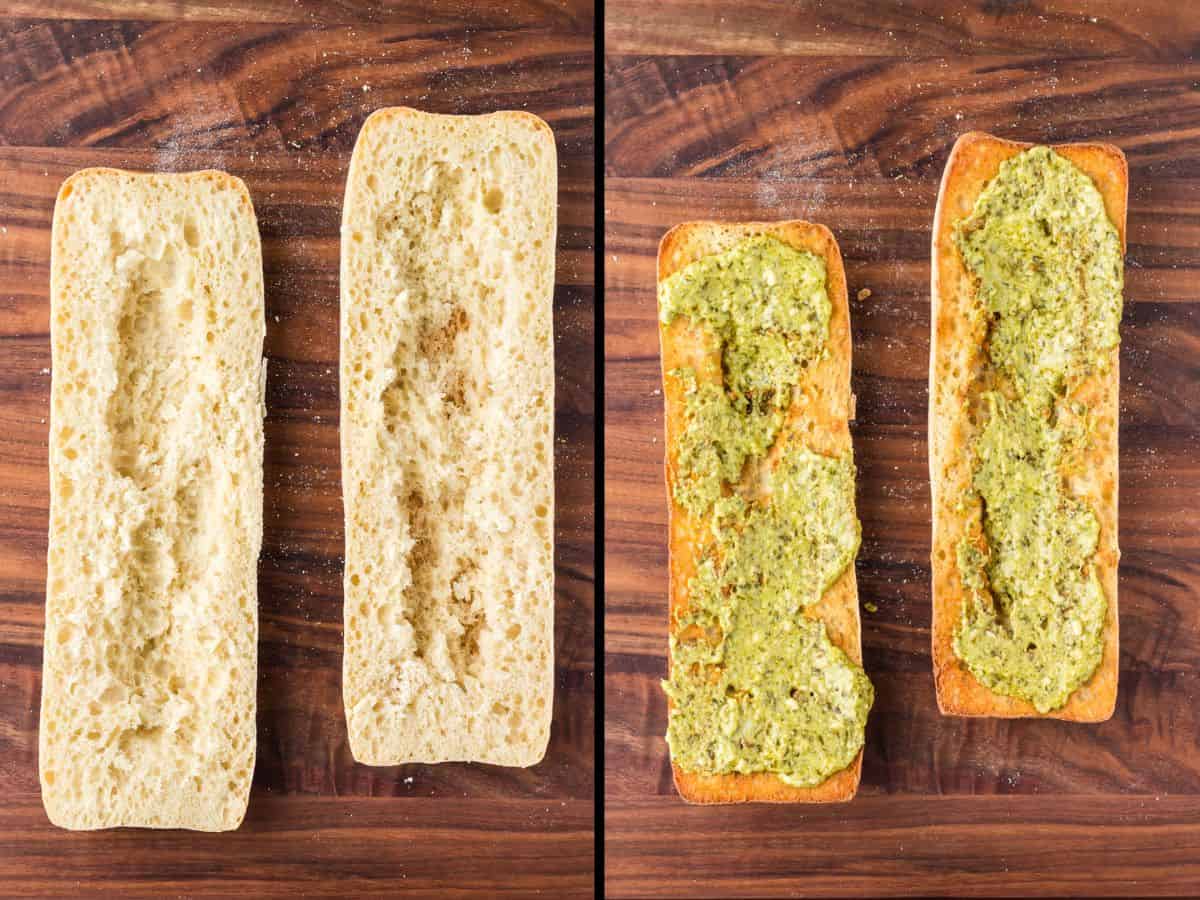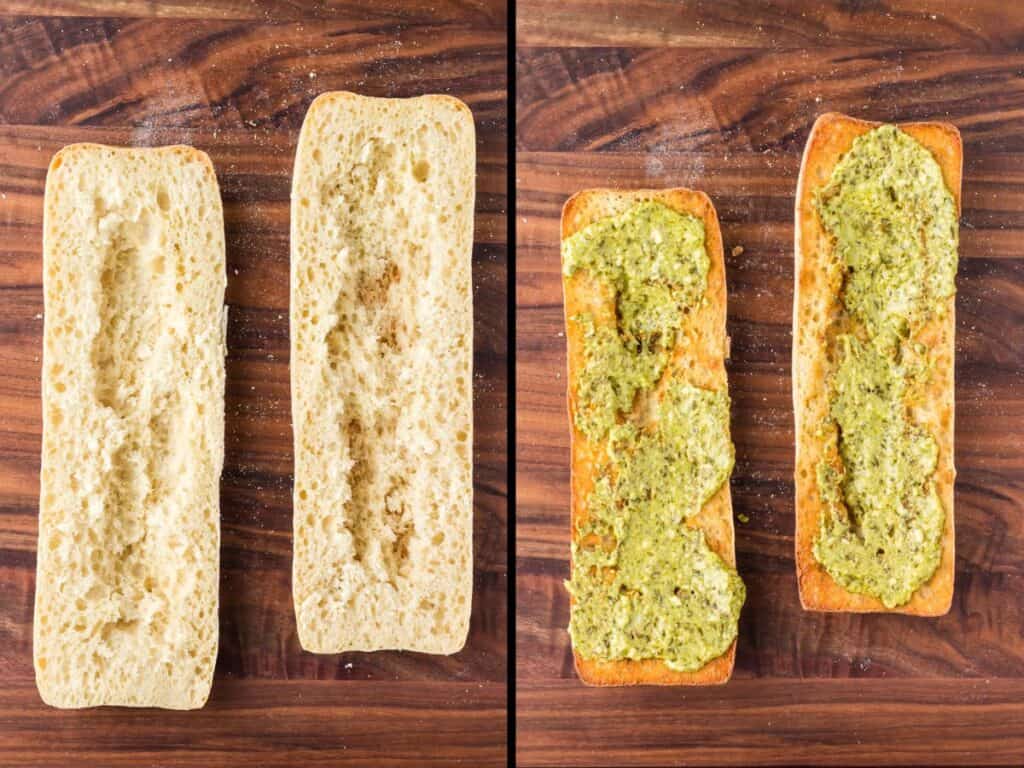 Also, any kind of mozzarella will work in this recipe. Fresh mozzarella is always my preference for pizza. That's how you get those delicious cheese pulls that we all love when eating pizza. Shredded mozzarella will work though if that's what you have.
I recommended mozzarella pearls in the recipe because tossing them with the other ingredients gives a better distribution of cheese throughout the pizza. I've also used thin-sliced fresh mozzarella for my air fryer pizzas and it works well.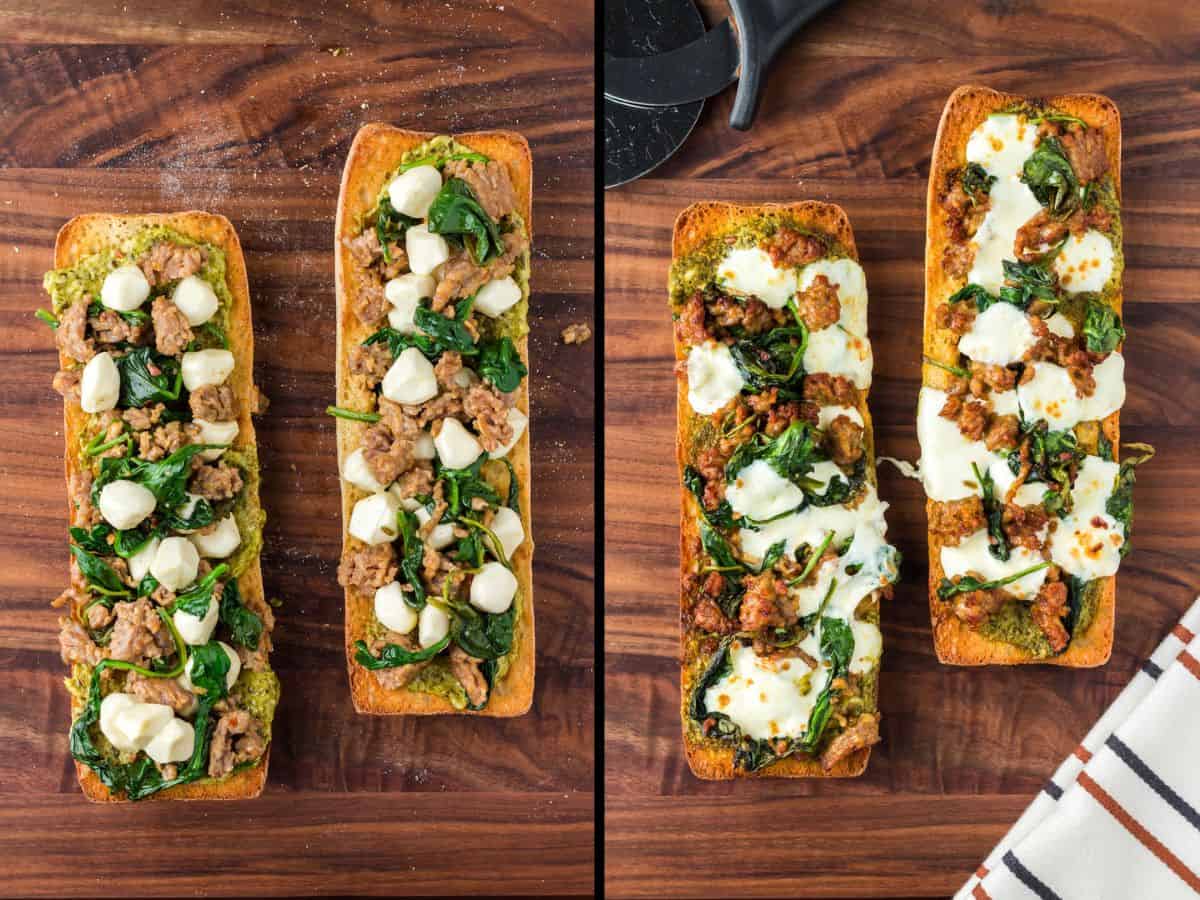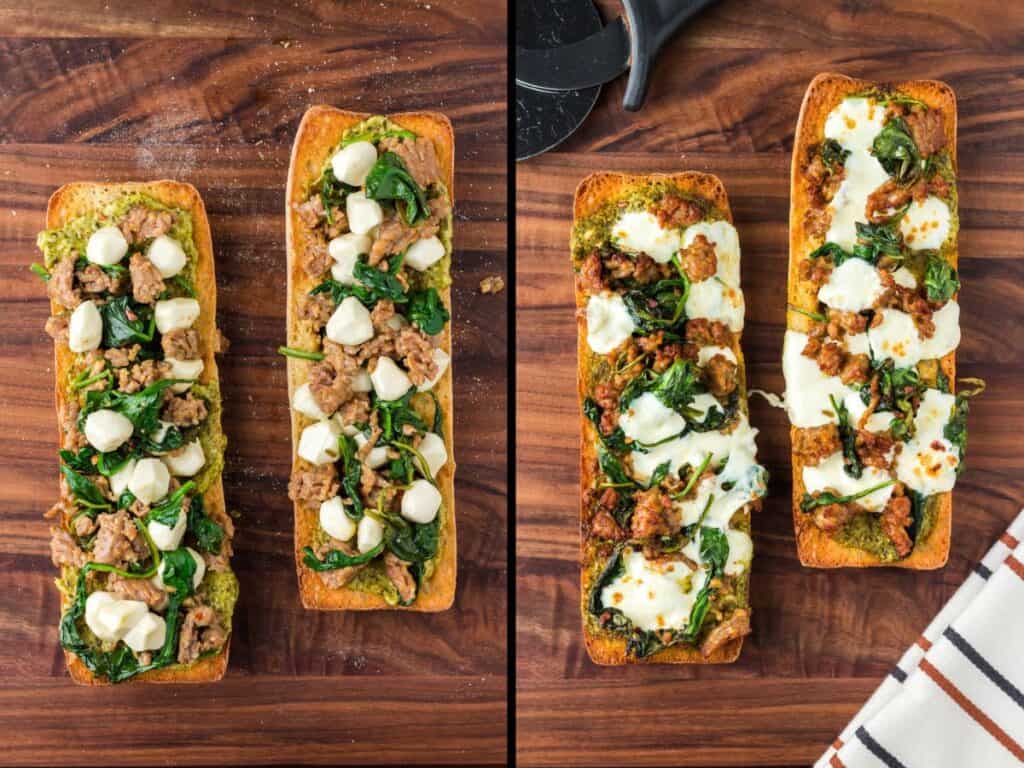 Variations
There are as many variations of Air Fryer French Bread Pizzas as there is pizza in general. Needless to say, I could write an incredibly long blog post about pizza variations, but I'm not an expert. You are! Everyone has their own favorite pizza combinations. Any and all combinations work so try out as many variations as you like.
Your freedom of choice is not just for toppings either. My recipe features a pesto-mayo sauce, but traditional marinara, pizza sauce, alfredo sauce, or garlic spread would all be delicious. Pick your sauce and pile on the toppings. You can't go wrong.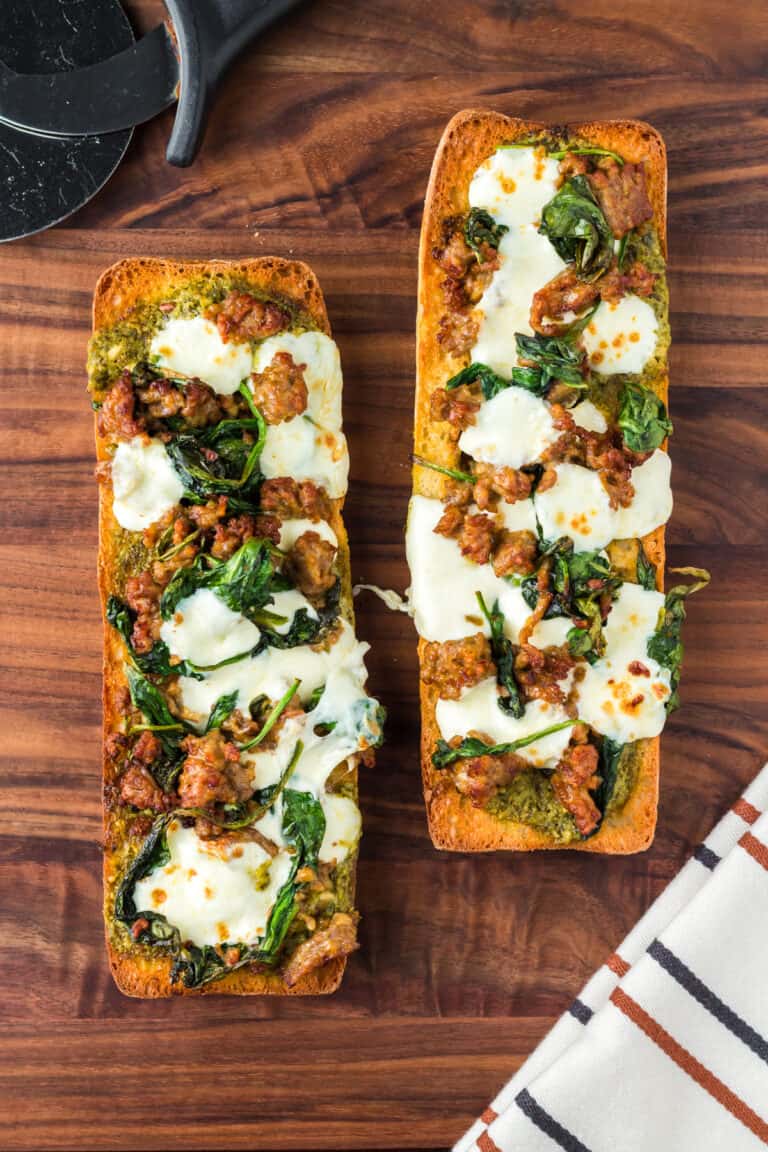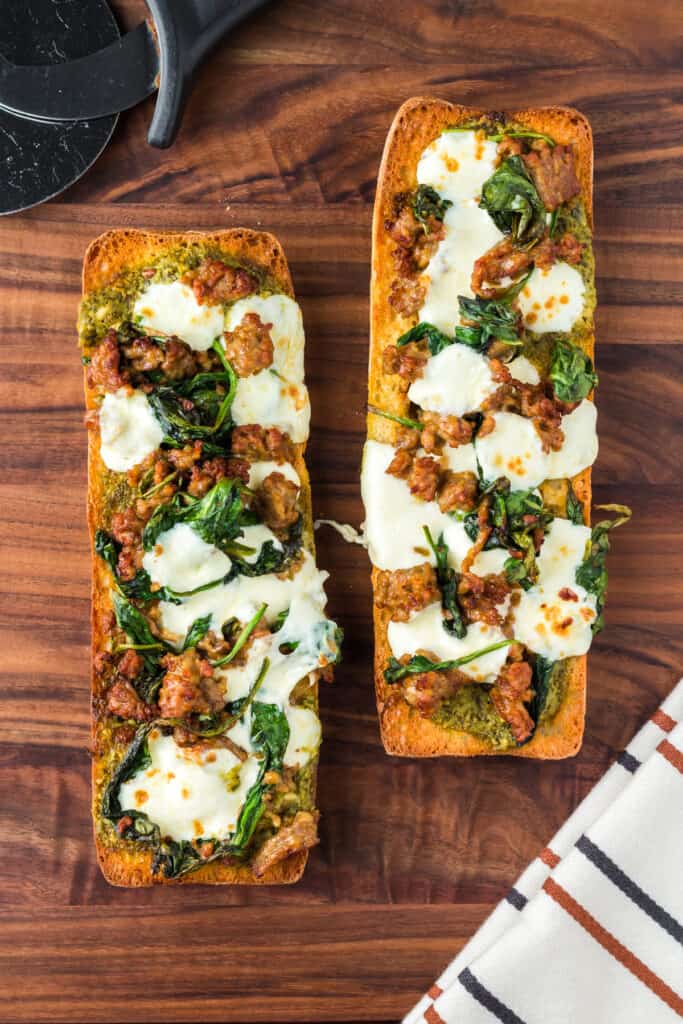 Equipment
As the recipe name suggests, Air Fryer French Bread Pizzas do require an air fryer. If you don't already have one, consider purchasing one if it makes sense for you. Here is a link for the exact one you see me using in the video. I use it almost daily. Think of it like a toaster oven but better.
If you don't have or want one, the recipe can also be made using the broiler in your oven. I sort of hate broilers as I always manage to walk away for 15 seconds and burn the sh*t out of whatever I'm making. That may just be me, so I added some notes at the bottom of the recipe on how to adjust the cooking time if using a broiler.
Storage
Serve: The pizzas should be served hot and fresh from the air fryer.
Store: If you have leftovers, they can be kept in an airtight container in the fridge for up to 3 days.
Freeze: French bread pizzas freeze well. Once fully cooked, let the pizzas cool completely in the fridge before wrapping in plastic wrap and then foil to protect from freezer burn. They can be kept in the freezer for about 2 months.
Defrost: Allow the pizzas to thaw in the fridge for 24 hours before reheating.
Reheat: Pizzas are best reheated in the air fryer. Use a temperature of 350° and heat for 3-5 minutes.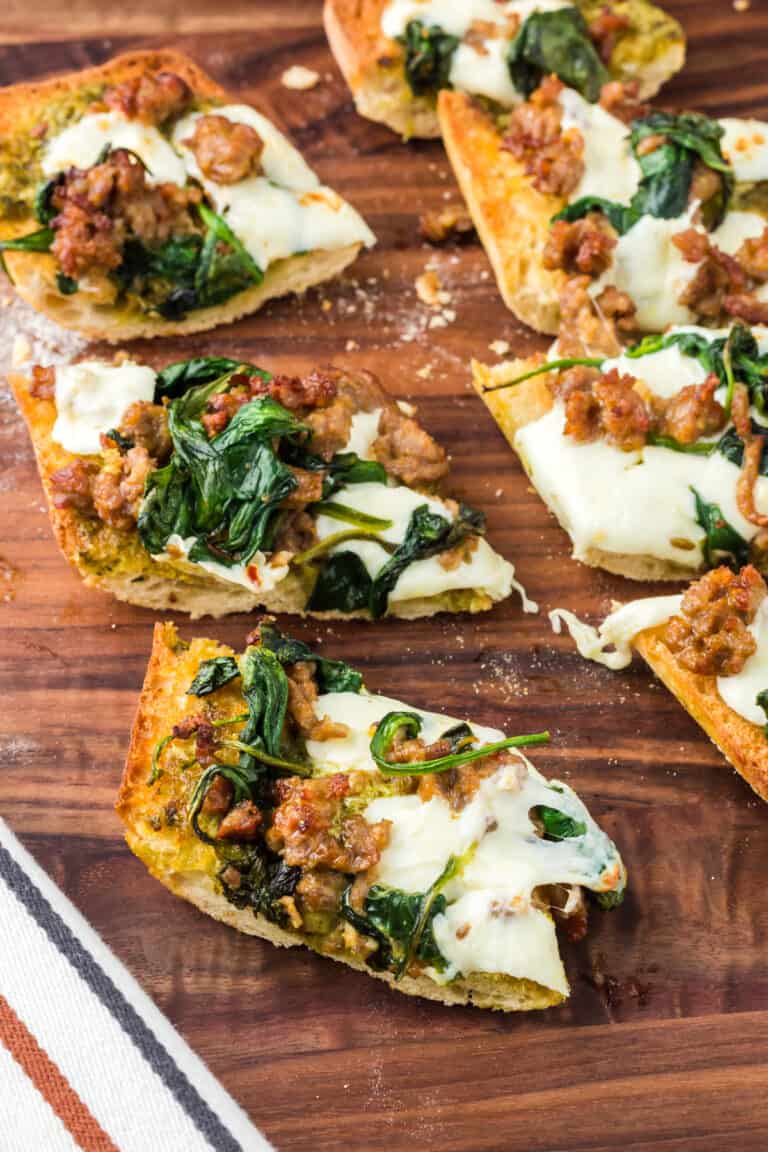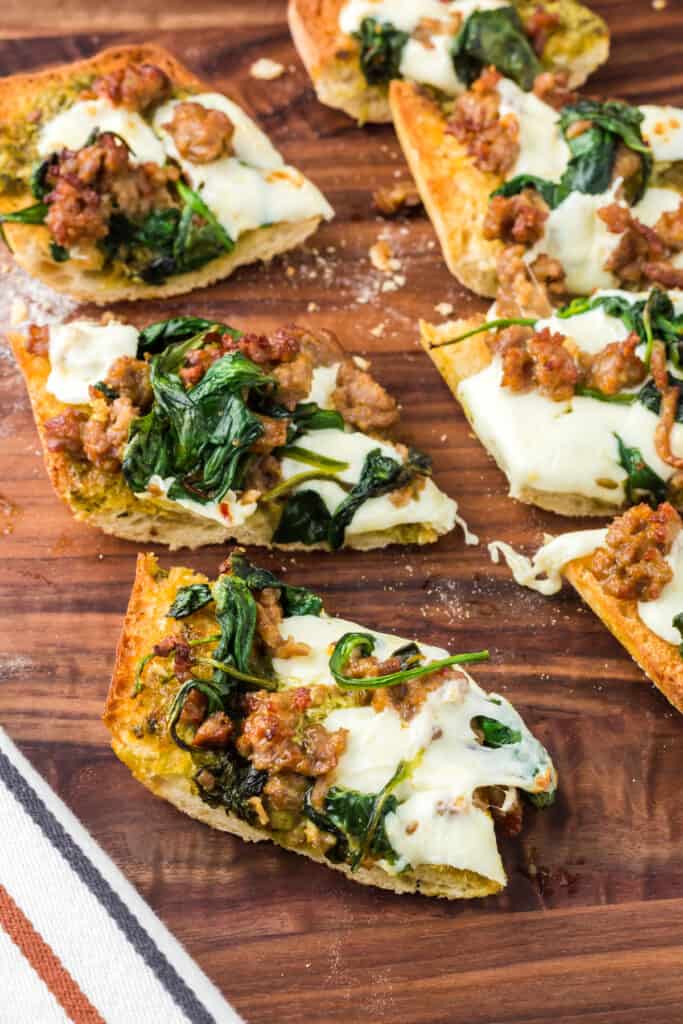 Top tip
Air Fryer French Bread Pizzas cook quickly. That's part of their charm and why you'll come back to this recipe over and over. They can also go from perfectly cooked to overly toasted (or burnt) in a matter of a minute or less.
Stay close to your air fryer when preparing the recipe and check the pizza a minute before the cooking time is done to be sure your pizza is cooked just right.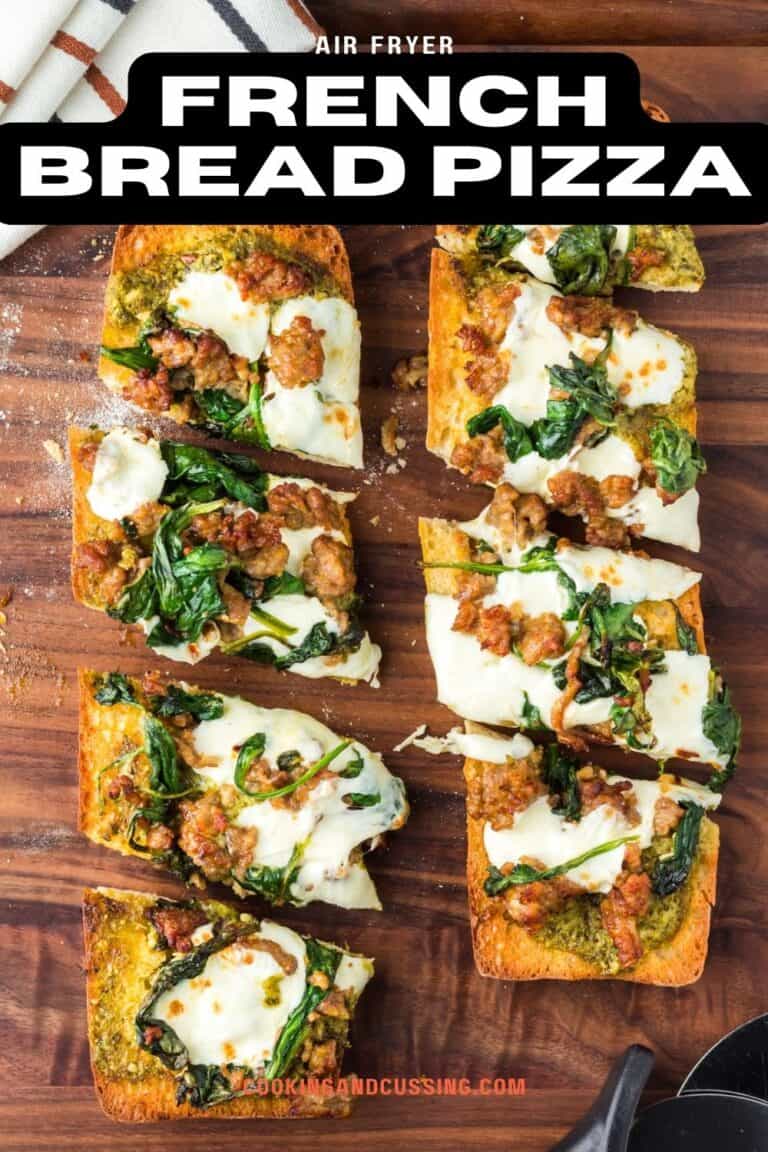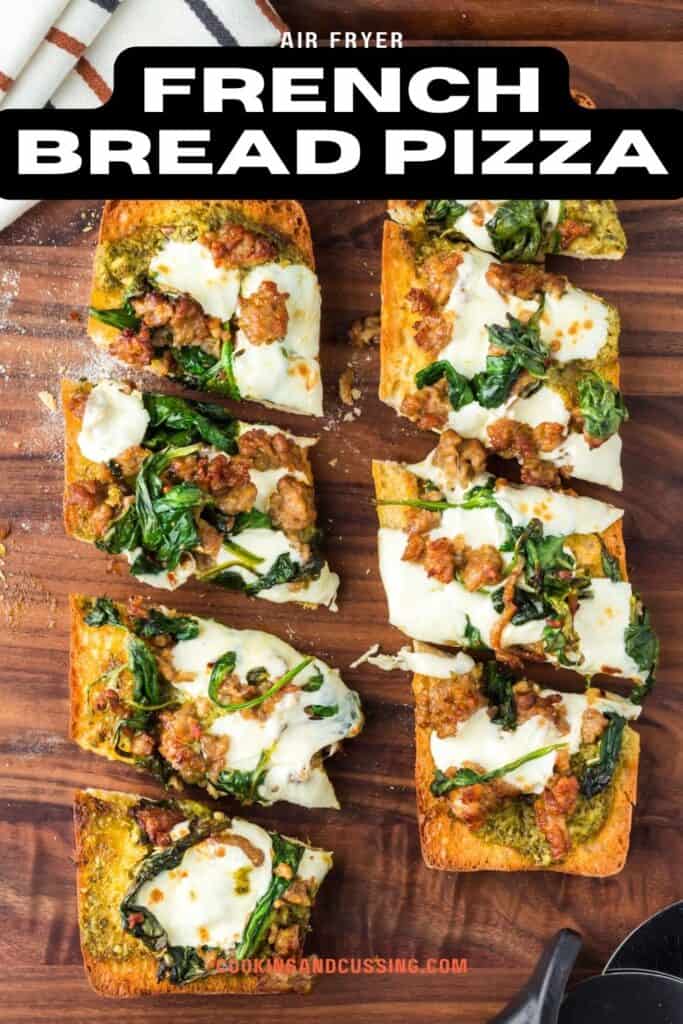 French bread pizza is a family-friendly quick dinner option, but that doesn't mean it has to come from the freezer section. Air Fryer French Bread Pizza made with fresh ingredients will have you questioning why you've been having pizza delivered this long. Check out the recipe and let me what you think in the comments section below.
Looking for some other fun pizza dinner options? Check out my Barbecue Chicken Flatbreads or Cantaloupe and Prosciutto Pizza. Both are jam-packed with flavors that will surprise and delight!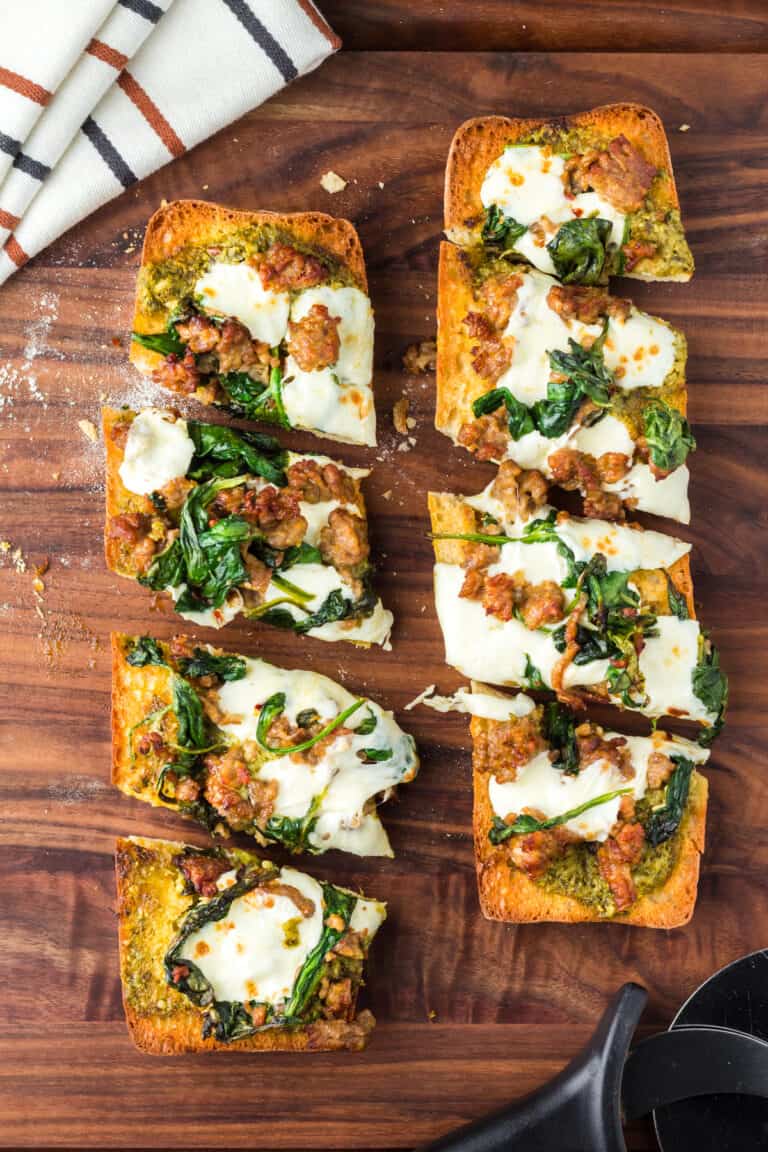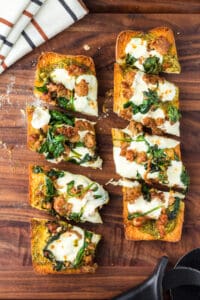 Air Fryer French Bread Pizza
Homemade French Bread Pizza is super quick and easy when prepared in the air fryer. Air Fryer French Bread Pizzas take 20 minutes to make and will disappear even faster.
Ingredients
1

baguette

or French bread loaf

1

lb

ground Italian sausage

4

cups

fresh baby spinach

1

Tb

sherry vinegar

¼

tsp

red chili flakes

optional

8

oz

mozzarella pearls

¼

cup

mayonaisse

¼

cup

prepared pesto

balsamic glaze

optional garnish
Instructions
Brown the ground sausage over medium-high heat for 5-7 minutes or until cooked through.

Once cooked, add the spinach and sherry vinegar and mix to combine. Continue to cook until spinach is wilted. Turn off the heat and pour the mixture into a bowl. Set aside to cool.

Prepare the baguette by cutting it into two equal pieces first and then split each piece vertically to expose the inside of the loaf. Remove some of the bread from the inside but be careful to keep the exterior intact.

After the sausage has cooled for a few minutes, add the red chili flakes and mozzarella pearls. Mix well to combine.

Preheat the air fryer. Toast the bread for 1-2 minutes at 400° and remove from the basket.

Mix together the mayo and pesto. Generously cover the toasted bread with pesto mayo. Next, spoon on as much filling as desired.

Place the pizzas back in the air fryer for 5 minutes at 370°.

Optional: drizzle with balsamic glaze before serving.
Notes
If you don't have an air fryer, the recipe can be made using the broiler setting on your oven. To toast the bread, broil on high for 1-2 minutes. Once filled, broil the pizzas for 3-5 minutes but watch them closely as it's easier to burn them under a broiler.
Frequently Asked Questions
Is a baguette the same thing as French bread?
No, but either will work in the recipe. French bread is usually wider and softer than a baguette.
Can I use different toppings than sausage and spinach?
Absolutely! You can use whatever sauce or toppings you like.
Can I make the recipe in the oven instead?
Yep. Take a look at the notes section of the recipe card for more details.
The following two tabs change content below.

Hey-ooo! I'm Hailey, and I'm a number cruncher by day and cussing cook by night. I created this site to share my love for delicious food that feeds the soul as well as the belly. I hope my recipes have you running to the kitchen to cook some damn good grub!