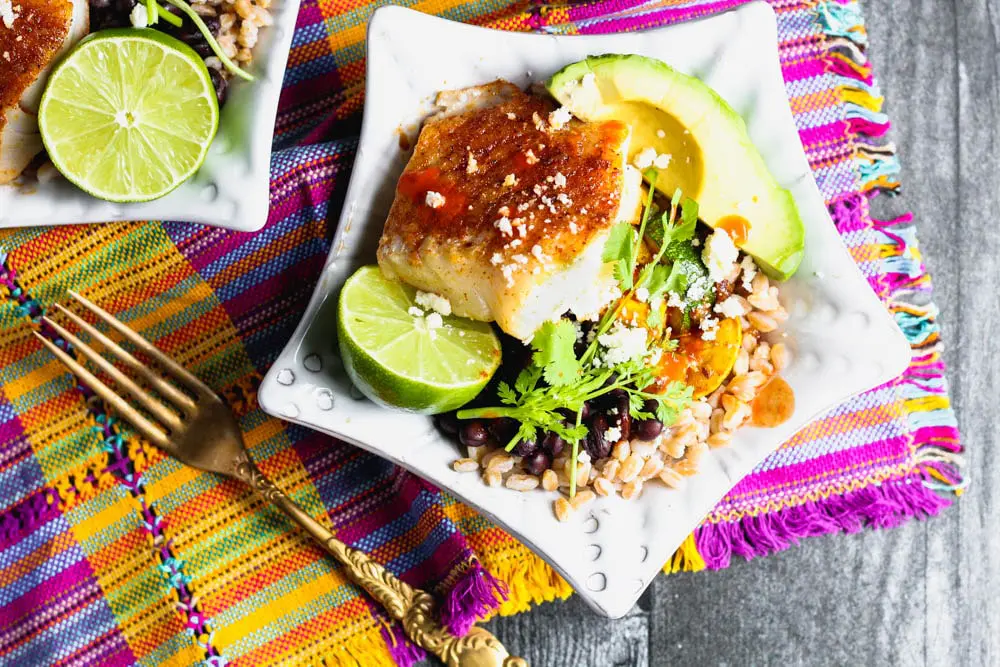 When the weather turns warm and attire scanter, eating a little lighter feels right, and Fish and Farro Bowls are the perfect way to fill up on all the right foods without feeling weighed down. Simple cod filets and summer vegetables are tossed in your favorite taco seasoning for a quick flavor boost and served over farro and black beans for an easy dinner packed with flavor.
The farro in this recipe takes a little bit of time, but the most labor-intensive part, if you even want to call it that, is cutting all the vegetables and herbs. Evenly cut fish and vegetables are essential to fast and consistent cooking. Cutting the haul of vegetables in this recipe was made an easier task by using my new Calphalon Contemporary™ SharpIN™ 20-Pc. Cutlery Set.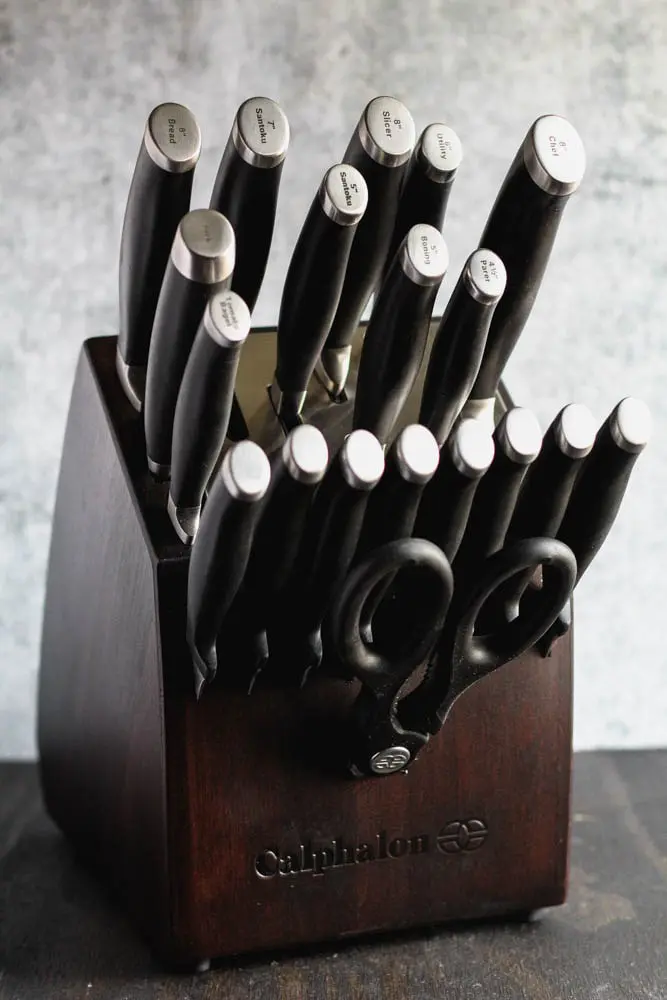 I was lucky enough to meet with a PR representative from Calphalon while I attended the Everything Food Conference in May. I was delighted to be offered the opportunity to try out one of their latest inventions, SharpIN™ technology.
Not only are dull knives more difficult to use. They are also much more dangerous. You are more likely to cut yourself with a dull knife than a sharp one. Using a sharp knife is easy, not forced, preventing many haphazard accidents that happen with an annoyingly dull blade. That being said, I know I never think to sharpen my knives. It's like cleaning your baseboards or blinds…these sorts of tasks just don't happen as often as we would like in the busy lives we lead.
Calphalon has eliminated the task altogether! The maple wood block that holds all the knives is not only really, really good looking, it will also ensure you are ready for any slicing and dicing a recipe requires at any time. I don't know about you, but I'm game for kitchen cutlery that is beautiful, functional and timesaving!
As the wife of a chef, to say we have quite the nice knife collection is putting it mildly, but the Calphalon Contemporary™ SharpIN™ 20-Pc. Cutlery Set is a wonderful contribution to my kitchen. The knives fit nicely in the hand due to ergonomic handles and are easy to use.
Perhaps the most impressive part of this cutlery set beyond the SharpIN™ technology is the huge variety of knives included in the set for such a reasonable price.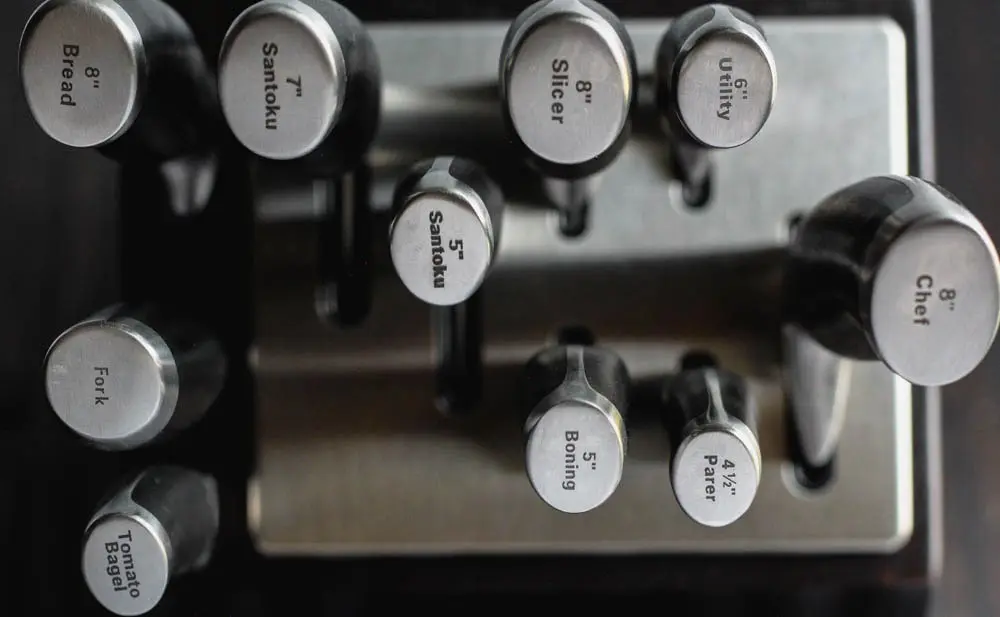 There is knife for any type of knifework a recipe might require. The set includes:
4-½-inch Paring Knife
5-inch Boning Knife
5-inch Santoku
5-½-inch Tomato/Bagel Knife
6-inch Fork
6-inch Utility Knife
7-inch Santoku
8-inch Slicer
8-inch Chef's Knife
8-inch Bread Knife
Kitchen Shears
8 Steak Knives
Sharpening Knife Block
The 5-inch Santoku is my favorite knife in the set. It's an excellent size for handling a plethora of jobs, but it's also small enough that it doesn't feel intimidating to use.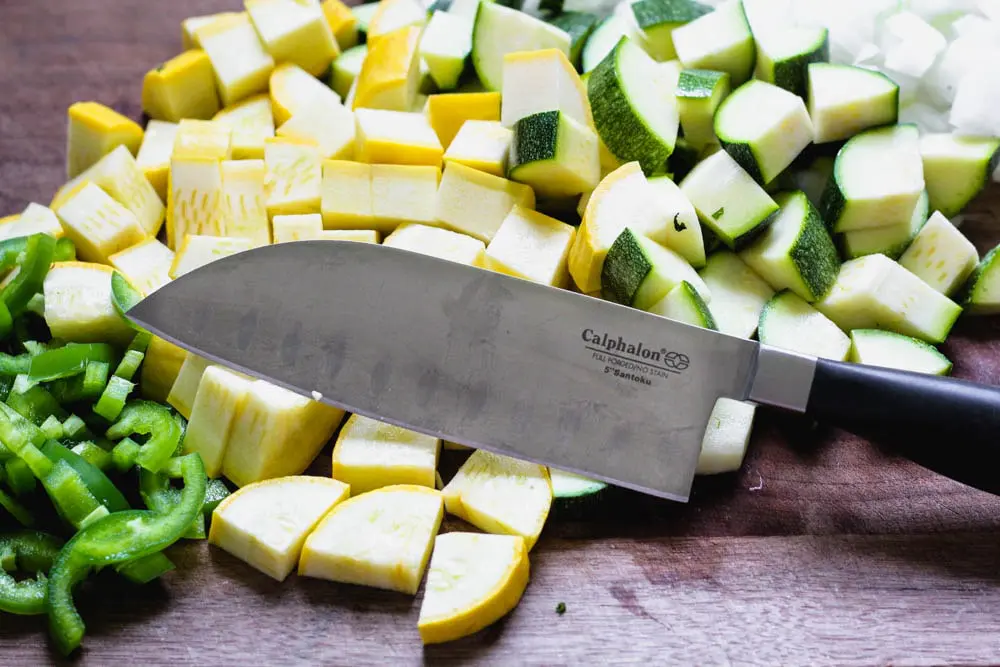 The Paring Knife is also a super slick option to keep handy for delicate jobs like cutting the fish into filets.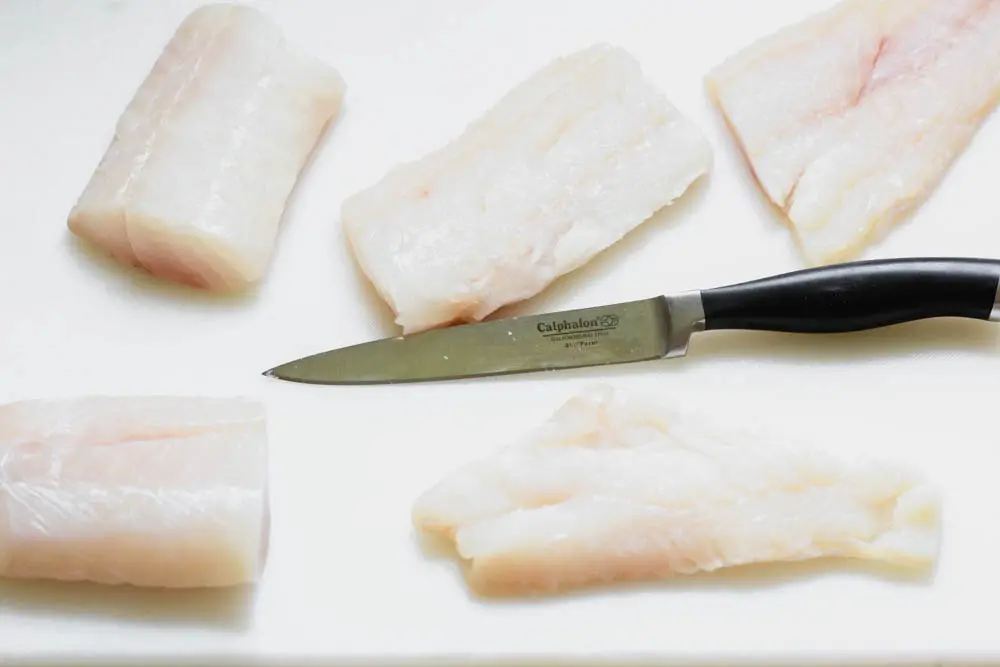 If you're interested in learning more about the Calphalon Contemporary™ SharpIN™ 20-Pc. Cutlery Set, head over to Calphalon to get more details. The knives are a pleasure to use and the sharpening knife block is such a smart addition to any home cook's arsenal.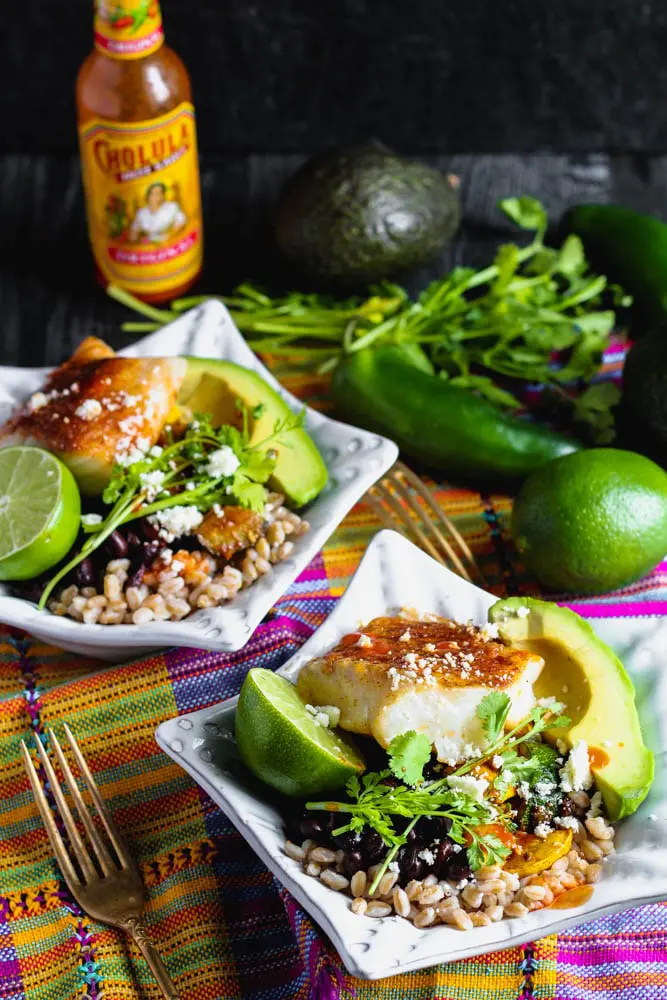 A good knife set is essential to quick and easy prep like that in my Fish and Farro Bowl recipe. Once the farro, fish and veggies are cooked, you simply need to slice cilantro, avocado, and lime for a light and fresh weeknight dinner that is ready in a snap.
I hope you'll check out the Calphalon Contemporary™ SharpIN™ 20-Pc. Cutlery Set and give this easy, summer recipe a try. Both will bring a smile to your face!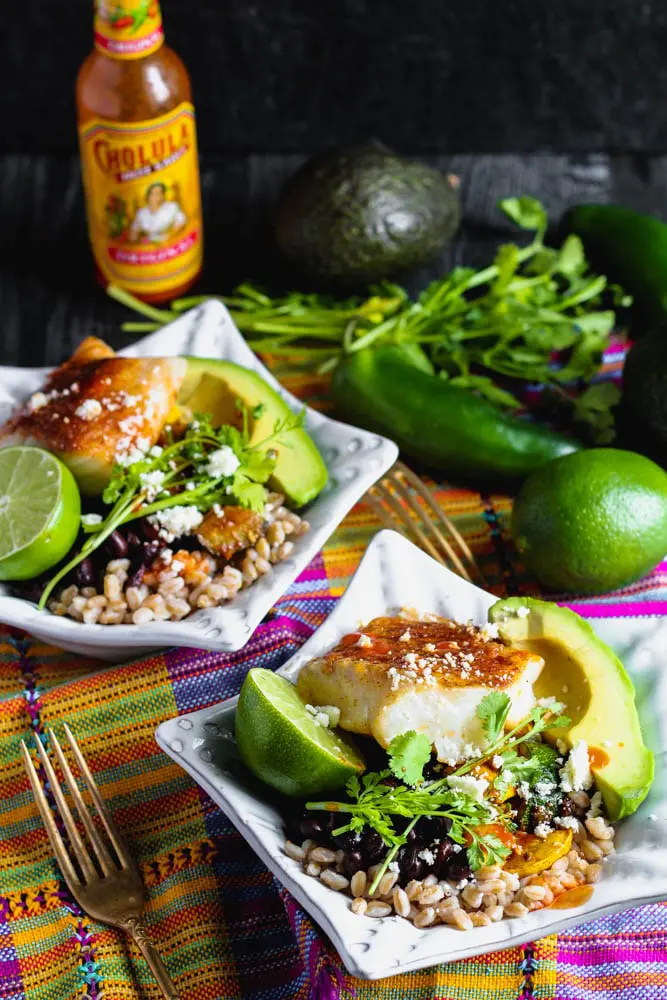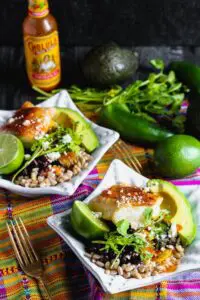 Fish and Farro Bowls
Easy to make, light and super fresh, Fish and Farro Bowls are simple but filled with flavor. Cod filets and summer vegetables are tossed in taco seasoning and served over farro and garnished with cilantro, lime and avocado for a hearty weeknight dinner that won't weigh down.
Ingredients
1

lb

cod

cut into 4 filets

1.5

C

dried farro

1

Tb

kosher salt

1

zucchini

1

yellow squash

1

yellow onion

1-2

jalapeno

, optional

3

Tb

olive oil

1

pack or 3 Tb taco seasoning

1

can reduced sodium black beans

cilantro

avocado

cotija cheese

lime

kosher salt

to taste

ground black pepper

to taste

hot sauce
Instructions
Rinse the farro in a strainer. Place the farro in a large saucepan and cover with water and 1 Tb of kosher salt. Boil like pasta for about 25-30 minutes or until tender. Drain any remaining liquid from the farro and put it back in the hot saucepan. Place a lid over the pan and allow the farro to steam for 5-10 minutes before serving.

Trim the ends from the zucchini and squash. Cut them both into quarter moon size pieces. Dice the onion into ¼-inch pieces. If you like a little spice, prepare the jalapenos by removing the ribs and seeds and finely dicing. Heat a large nonstick pan over medium high heat.

Once hot, add 2 Tb of olive oil, onions, squash, zucchini and jalapenos to pan. Cook for 7-8 minutes, stirring occasionally, until the veggies are soft and browned around the edges. Once browned, season the veggies with 1 Tb of taco seasoning and salt and pepper to taste (depending on the salt in your taco seasoning). Stir to combine. Remove the veggies to a plate and set aside.

Place the cod filets on a plastic cutting board. Dry the filets with a paper towel and season each side of the fish with 1 Tb of taco seasoning (2 Tb total). Add 1 Tb of olive oil to the same pan used for the veggies and turn the heat to medium high again.

Once hot, add the fish and cook for about 3 minutes per side. The fish should be opaque and flaky when done. If you have a digital thermometer, you're looking for 145 degrees in the center of the fish. Once cooked, remove from the heat. Dust each filet with a pinch of kosher salt to finish.

Place the beans into a strainer and rinse well until the water runs clean off the beans. Allow to drain. Roughly chop the cilantro, dice the avocado, cut the limes in half and crumble the cotija cheese.

To assemble the bowls, Place a 1C serving of cooked farro in the bottom of a bowl. Top with 1 C of seasoned veggies and a fish filet. Garnish with cilantro, avocado, cotija and hot sauce. Serve with half a lime.
The following two tabs change content below.

Hey-ooo! I'm Hailey, and I'm a number cruncher by day and cussing cook by night. I created this site to share my love for delicious food that feeds the soul as well as the belly. I hope my recipes have you running to the kitchen to cook some damn good grub!