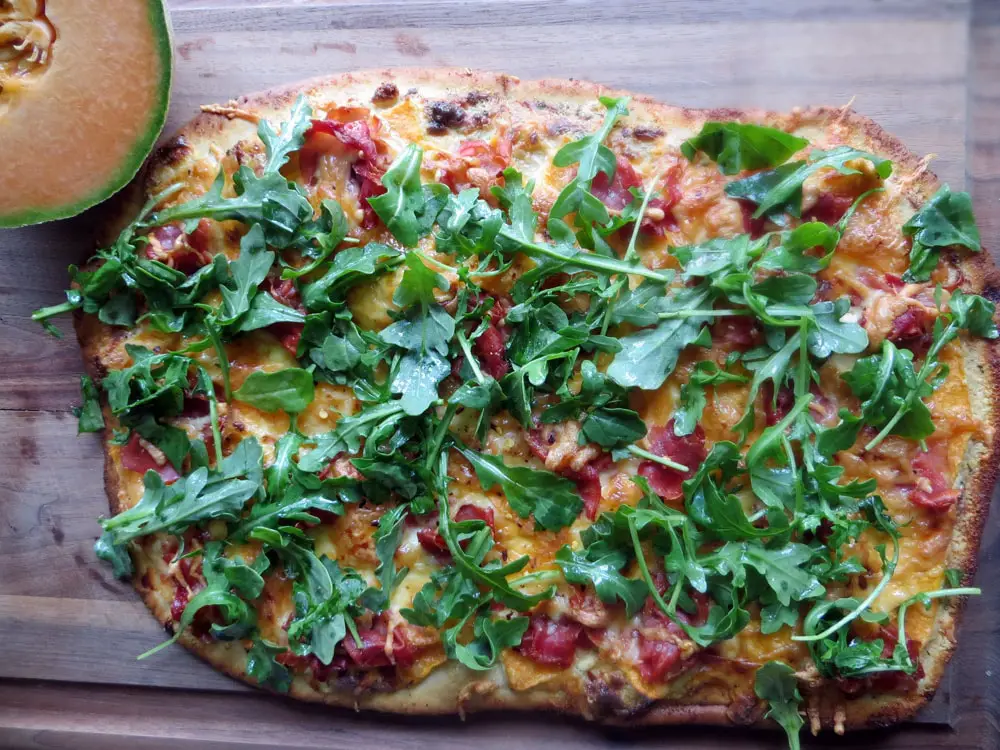 This pizza was a completely unexpected gift from the farmers' market. The combination of intoxicating sweetness from perfect summer cantaloupe combined with the delicate saltiness of prosciutto is enough to make me weak at the knees. Then you hide a lovely layer of cream cheese underneath it all. It's almost too much to take!
There are very few things in life that I don't like to eat. If you're curious, salmon and blue cheese are the two things in life that I try to avoid. I realize this makes me totally basic in a lot of ways, but I can't get down with either. Cantaloupe used to be the third item I would include in my dislikes, until today.
You see as I was standing in line waiting to check out at the market, my arms and bags already filled with a vast array of fruits and veggies, my nose caught wind of something that smelled inexplicably good. I can't even explain the scent except that it was overwhelmingly sweet and somewhat floral with a unique tropical quality.
I probably looked straight crazy, but I let my sniffer lead the way, crossing tables of watermelons, then peaches and lastly, cantaloupe. AH-HA! It was the cantaloupe. But how could that be? I despise cantaloupe. I turned around and started to walk back off, but it was like that smell was pulling me back. I just couldn't resist and turned back to grab one.
As the scent filled my car on the way home, I tried to dream up what the f**k I was I going to do with this cantaloupe. I'd never enjoyed it. I suddenly recalled a honeydew melon and prosciutto pizza I had once that blew my mind. I couldn't remember the exact ingredients, but I could recall that the classic combination of melon and prosciutto paired with salty cheese and peppery greens was like heaven.
So, I set off to try to recreate that flavor profile, and boy did I ever nail it on this one! This pizza may sound downright weird to some of you, but I guarantee it will be one of the most well-balanced slices of pie you'll ever try and come on…pizza with cream cheese as the sauce can't be bad.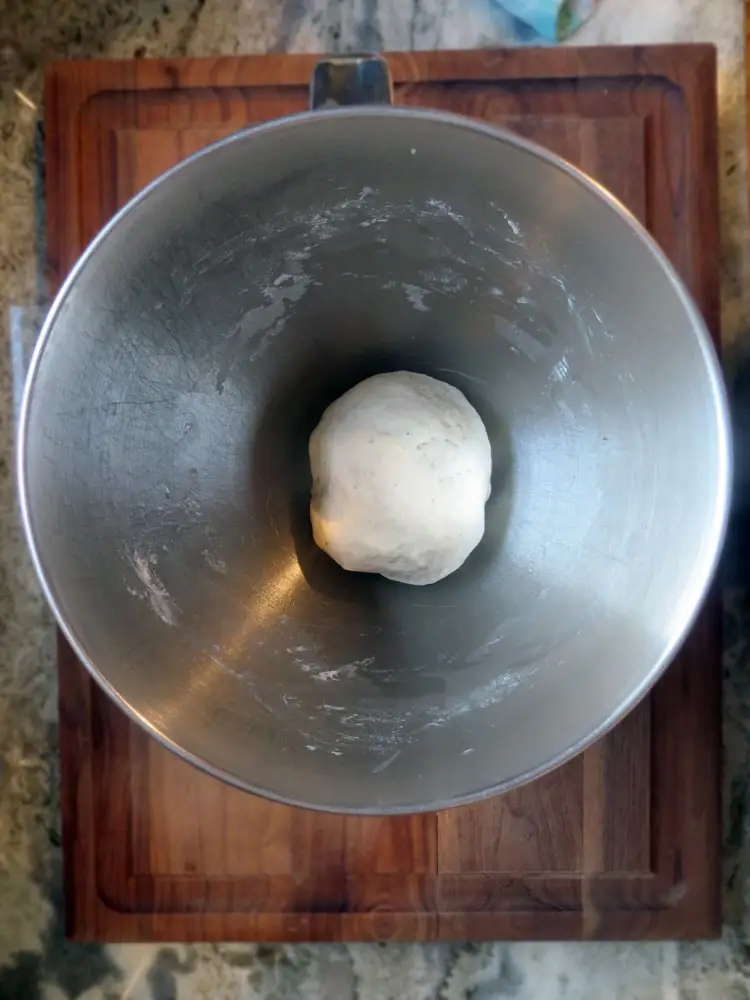 It's also just lovely to look at. This pizza is a reason to like cantaloupe if you've never really cared for it, and if you already love cantaloupe then run, don't walk, to get what you need to make this pizza. Let me know if this little slice of adventure delighted you like it did me.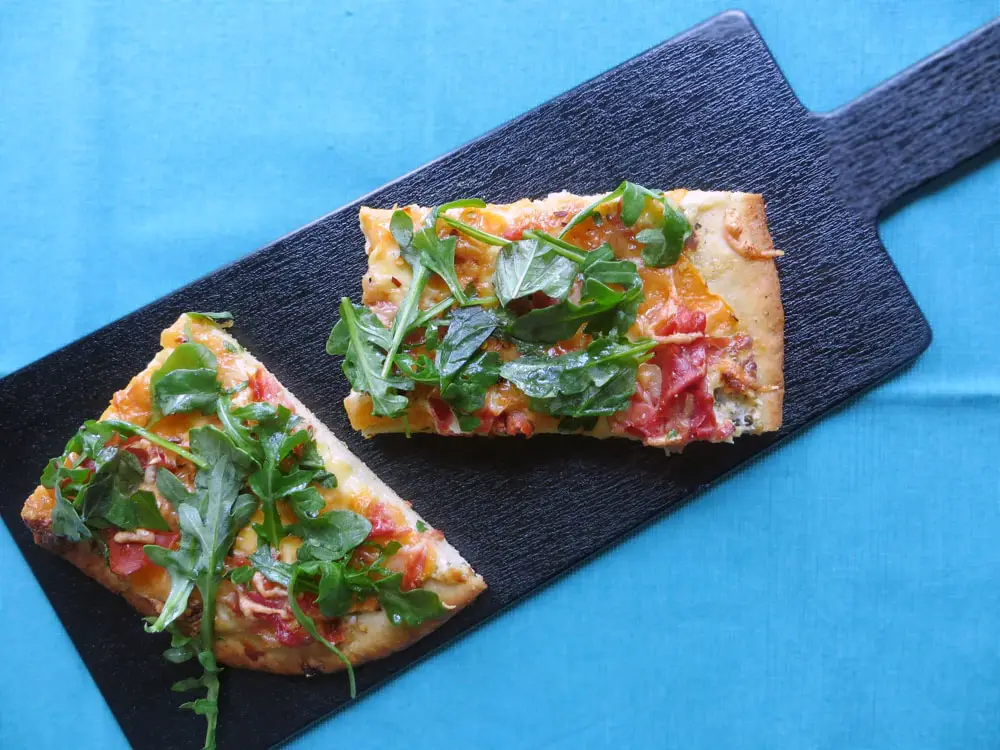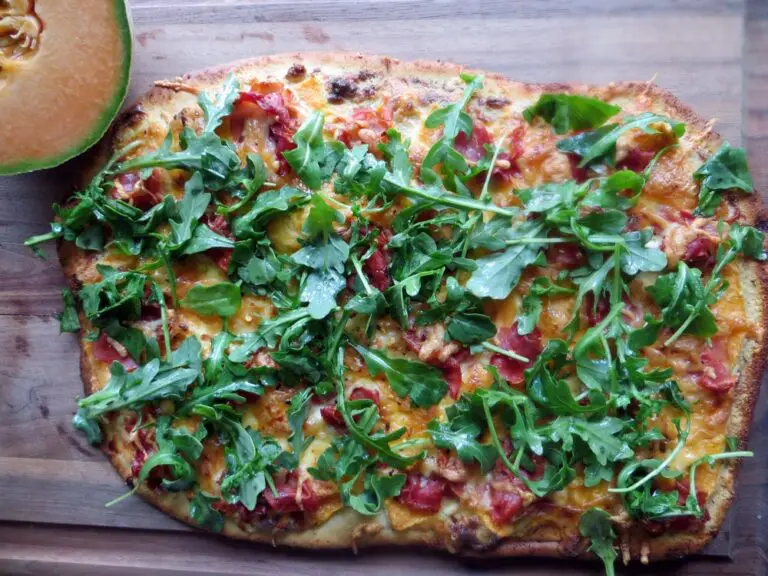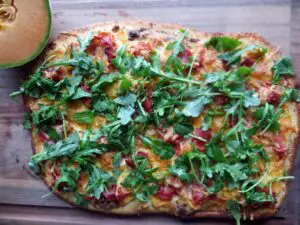 Cantaloupe and Prosciutto Pizza
The classic combination of salty prosciutto and ripe cantaloupe on a layer of crisp crust covered in a cream cheese based sauce and topped with peppery arugula
Ingredients
Pizza Crust
2

C

flour

1

tsp

instant yeast

¾

C

water

½

tsp

sugar

1

tsp

salt

½

tsp

herbs de Provence*

1

tsp

olive oil
Sauce
4

oz

cream cheese

room temperature

½

c

shaved parmesan cheese

1

Tb

parsley

2

Tb

heavy cream
Toppings
¼-1/2

cantaloupe

depending on size

1

oz

prosciutto

thinly sliced

8

oz

or 1C grated mozzarella cheese**

2

Tb

butter

¼

tsp

garlic powder

pinch

Italian seasoning

red pepper flakes to taste

8

basil leaves

1

C

arugula

1

Tb

red wine vinegar

1

Tb

olive oil

salt and pepper to taste
Instructions
To make crust:
Fit mixer with a hook attachment. Combine ¾ C warm water with yeast and sugar in a large mixing bowl. Stir to thoroughly combine. Let sit for about 5 minutes. Add 1 C of flour before turning it on so you don't end up covered in flour. Turn on the mixer. Once somewhat mixed, add 1 tsp salt and herbs de Provence. You don't want to add the salt directly to your yeast mixture as salt can kill the yeast.

Add 2nd cup of flour. If the weather is particularly dry, then you may want to use more like 1 and ¾ C total but generally, 2 cups is about right, You can always add a little more water if the mix is too dry, but wait at least a couple of minutes into mixing before making that decision. It will take some time for the dough to come together. Mix well on low until totally combined. Increase mixer speed to medium-low and allow the machine to work the dough for about five minutes to increase the gluten content or the chew of the final product.

Turn off mixer and remove the dough ball from hook. Shape into a round ball with the least amount of handling possible. Add 1t olive oil to your bowl and smear all over. Add dough back to the bowl. Cover with dish towel and put in a warm place for 1-2 hour or until the dough has approximately doubled in size.

Put a sprinkle of cornmeal on a baking sheet or pizza stone. Flour your counter or other surface for rolling out well with a few tablespoons of flour. Turn dough out onto the surface. Sprinkle rolling pin and top of dough with flour to avoid sticking. Roll out to ¼-inch thickness. The size of the rolled out dough should approximately fill a standard baking sheet.
To make pizza:
Preheat oven to 450 degrees. Dock or poke small holes in the crust with a fork to prevent bubbles in the dough. Par-cook pizza crust for 5 minutes.

Combine cream cheese, heavy cream, shaved parmesan, parsley, and salt and pepper to taste. Mix well and set aside. Cut cantaloupe in half and seed. Slice thinly into half-moons using a mandolin if you have one. Shred 1 C mozzarella cheese from the block using the large grate side of the box grater.

Remove pizza crust from the oven and smear with cream cheese mixture in an even layer. Next evenly cover the pizza with cantaloupe slices. Sprinkle pizza with ¾ C mozzarella, reserving remainder for on top of prosciutto. Separate layers of prosciutto and place across the pizza in small bunches. You don't want to lay the prosciutto totally flat. Top with remaining ¼ C mozzarella.

Bake for another 18 minutes or until golden brown. Melt butter in a small microwave-safe dish. Add ¼ tsp garlic powder, a pinch of Italian seasoning and a pinch of salt. Mix to combine. Dress edges of pizza (where there are little to no toppings) with garlic butter mixture. Also, top entire pizza with red pepper flakes to taste. Bake for an additional 5 minutes. Remove from oven. Cut into 8 slices by splitting first down the long side of the pizza then cutting each half into 4 even pieces.

Tear basil into pieces and mix with arugula in a small bowl. Dress arugula with 1T red wine vinegar and 1 Tb olive oil and a sprinkle of salt and pepper. Top pizza with arugula. Slice and serve!
Notes
*Herbs de Provence is a regular in our pantry, but if you don't have it handy Italian seasoning would be a great substitute. You can even omit the addition of herbs to the crust without totally changing the crust, but it does add a nice extra bit of flavor.
**I always prefer to grate my cheese from the block. The kind you buy already shredded is coated in starch to prevent it from sticking together during transit which makes the cheese not quite as melty and gooey as cheese straight from the block. It's an extra step that is so worth it, but feel free to use the pre-shredded kind if you prefer.
The following two tabs change content below.

Hey-ooo! I'm Hailey, and I'm a number cruncher by day and cussing cook by night. I created this site to share my love for delicious food that feeds the soul as well as the belly. I hope my recipes have you running to the kitchen to cook some damn good grub!