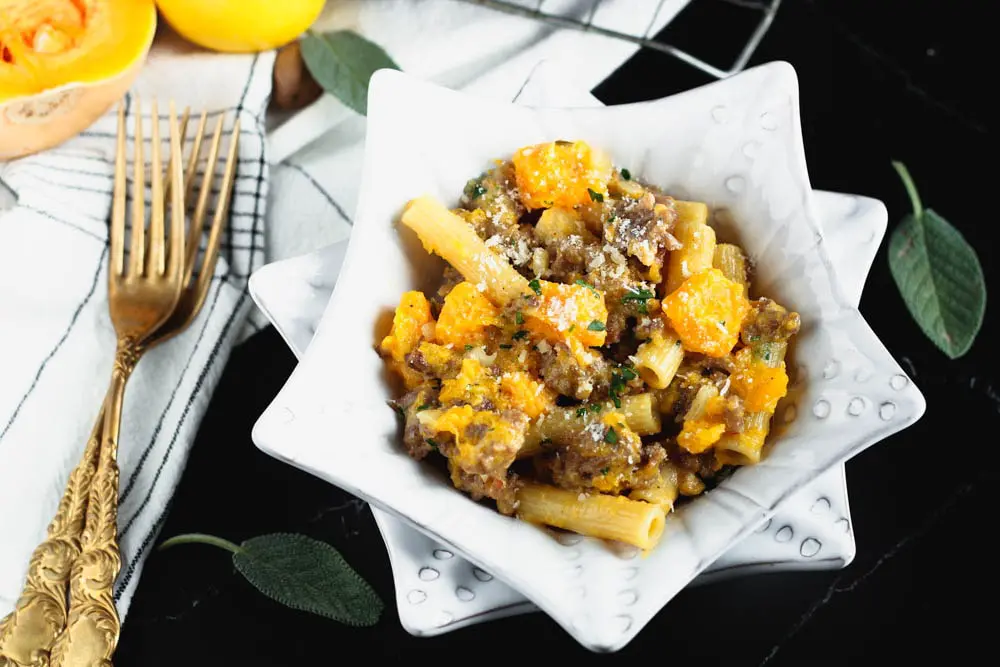 Sausage Butternut Squash Pasta is the perfect recipe for a crisp fall night. Italian sausage gives the pasta rich flavor, and butternut squash makes the sauce creamy and luxurious. Italian sausage and butternut squash are a classic flavor pairing. The earthy, sweet notes of the squash are the perfect complement to the spicy and salty Italian sausage.
What really makes this dish unique is the preparation of the butternut squash. I love to roast squash and that's usually how I prepare it, but for this recipe I wanted the butternut to act as the thickening agent for the sauce and give that velvety mouthfeel that we all love in a sauce.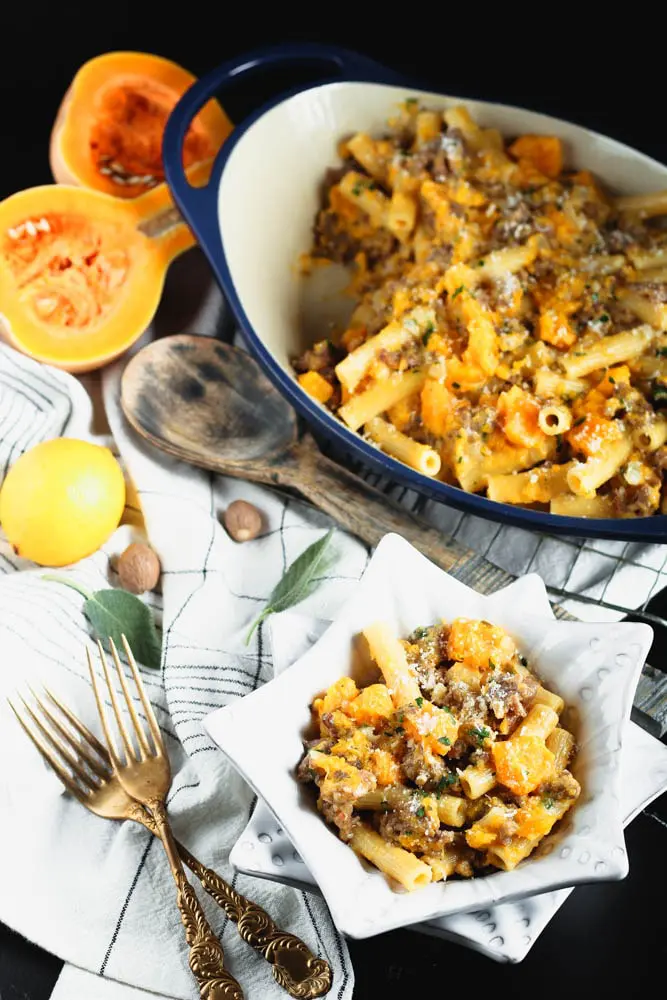 Is there an easy way to cut butternut squash?
The best tip I can provide for preparing butternut squash is to use a sharp knife that is heavy. A knife with some weight to it will do most of the work for you.
You can also find peeled and cubed butternut squash at many grocery stores these days, so feel free to use that convenience if it's available at your local store. You will need about 2 cups of cubed butternut squash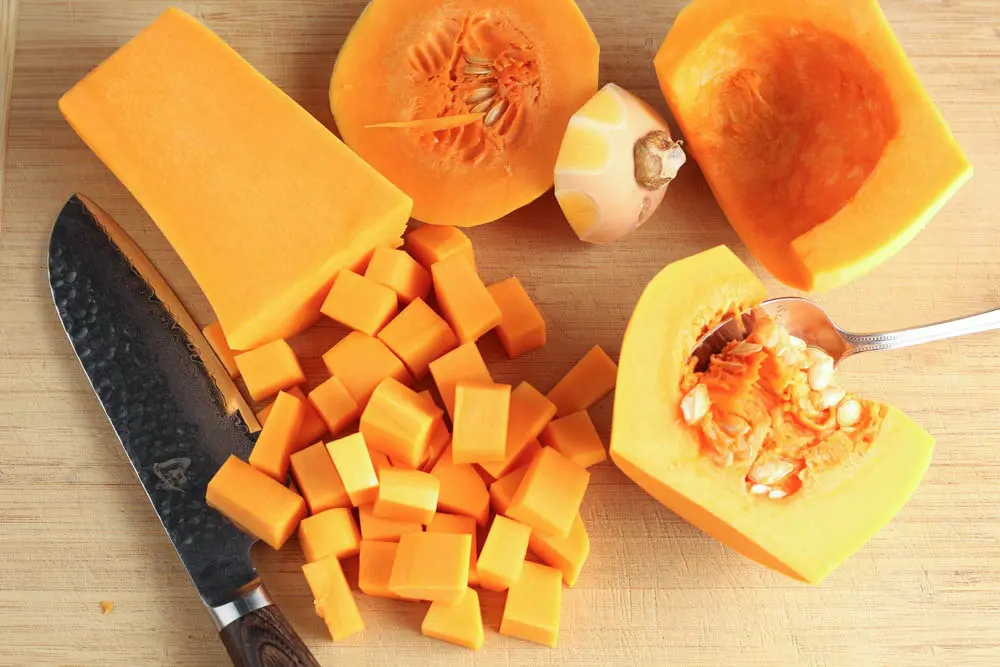 The butternut squash is boiled in chicken stock until tender which then becomes the base for the sauce.
As the butternut squash breaks down, it releases some of its starch into the chicken stock helping to thicken the sauce. Also, as you boil the butternut, the chicken stock reduces by about half, amplifying the chicken flavors and further thickening the sauce.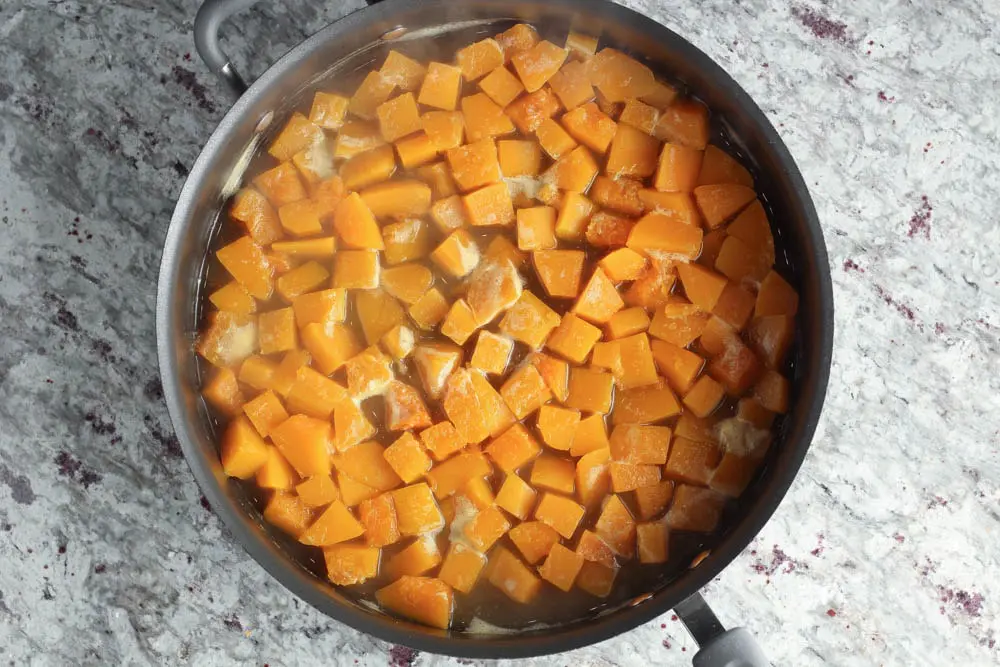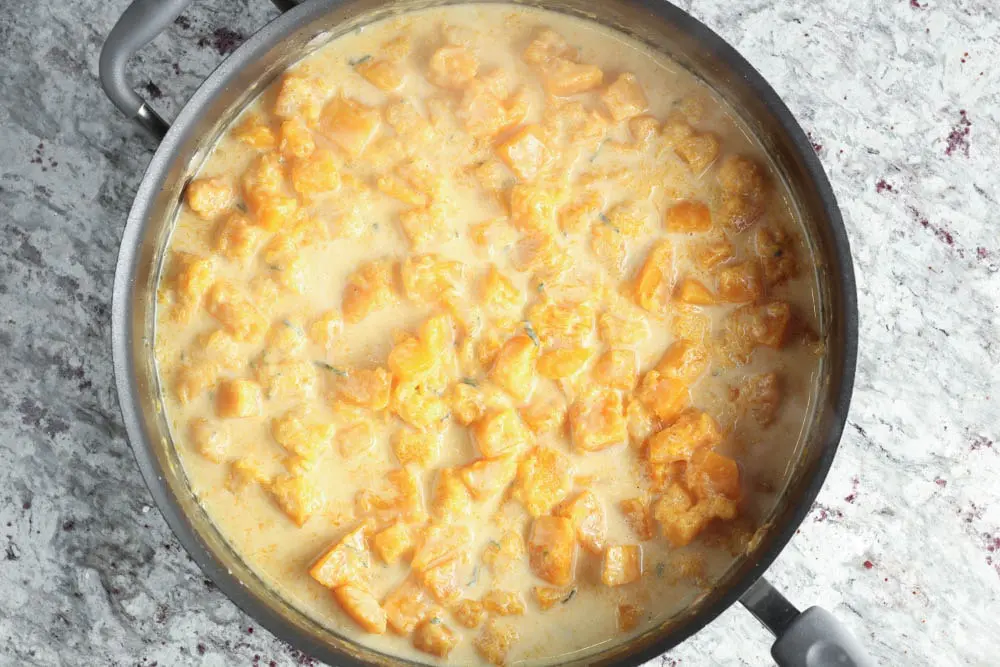 Once the chicken stock and squash have cooked to perfection, a bit of heavy cream makes the Sausage Butternut Squash Pasta sauce insanely delicious.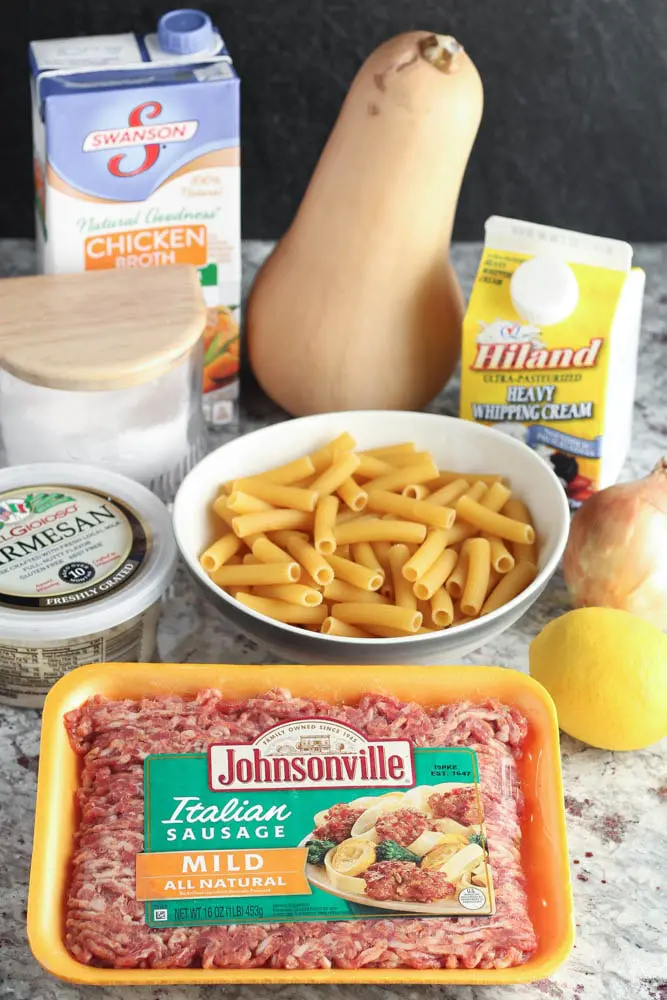 For a lighter version of Sausage Butternut Squash Pasta, try Italian turkey sausage
Italian pork sausage is scrumptious, but it is high in fat. I absolutely love Italian turkey sausage as a substitute for the pork variety when I want to lighten up a recipe. This recipe would be excellent with turkey sausage as a replacement.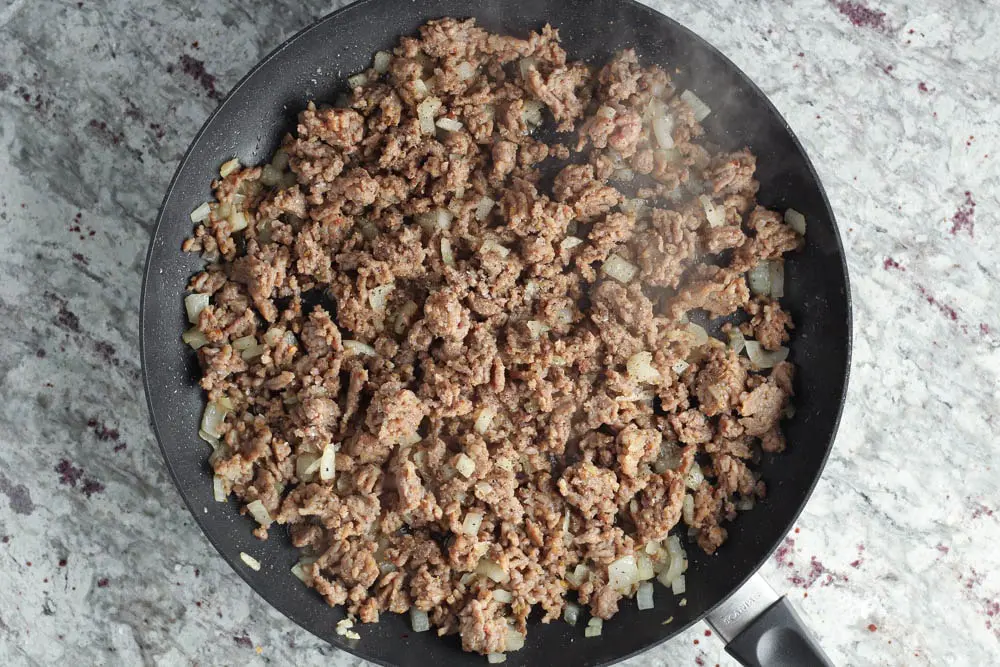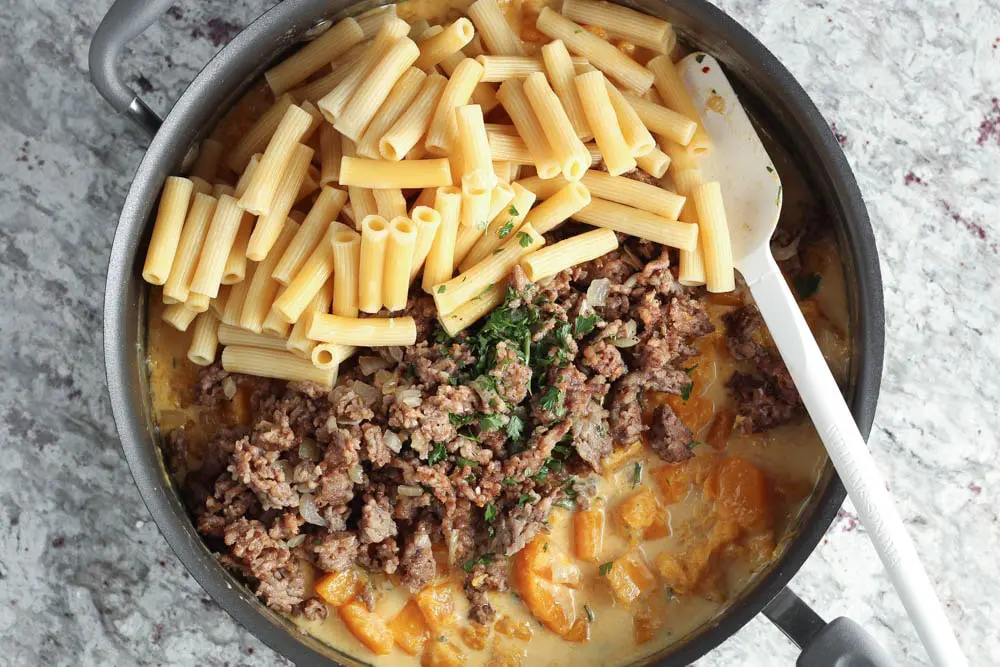 Why fresh nutmeg?
You may find nutmeg to be an odd inclusion in a savory recipe. That's probably because you've never cooked with fresh nutmeg. It has a much more subtle flavor than ground nutmeg. I keep whole nutmeg in my freezer for years, yes years, along with a small nutmeg grater that I've linked to purchase below.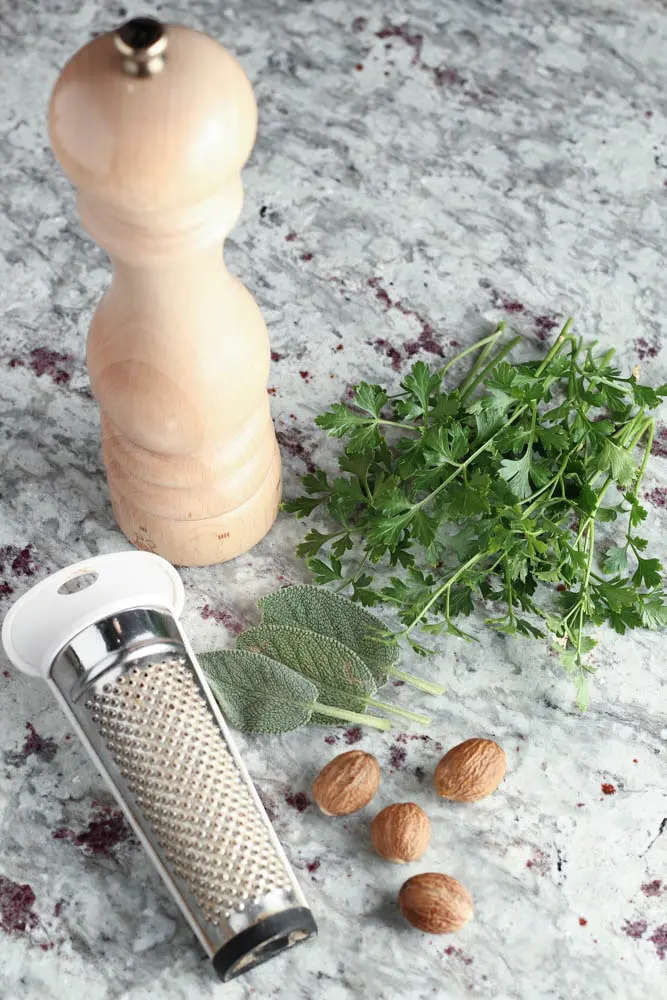 A dash of fresh nutmeg brings cream sauce to life.
Can Sausage Butternut Squash Pasta be made in advance?
Yes, it is a great make ahead recipe. The dish will keep in the fridge for up to 3 days before reheating.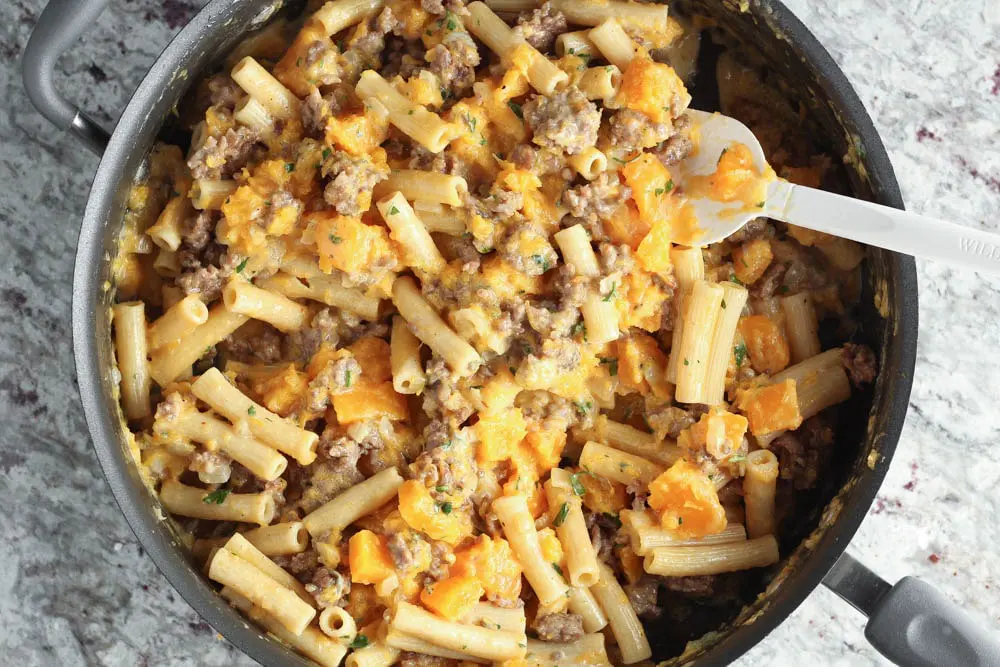 I hope you get a chance to try this amazing pasta recipe. If you're looking for another creative fall pasta recipe, check out my Pork, Bacon and Apple Pasta Bake next!
Sausage and Butternut Squash Rigatoni is wonderful comfort food that your entire clan is sure to love. I can't wait to hear what you think!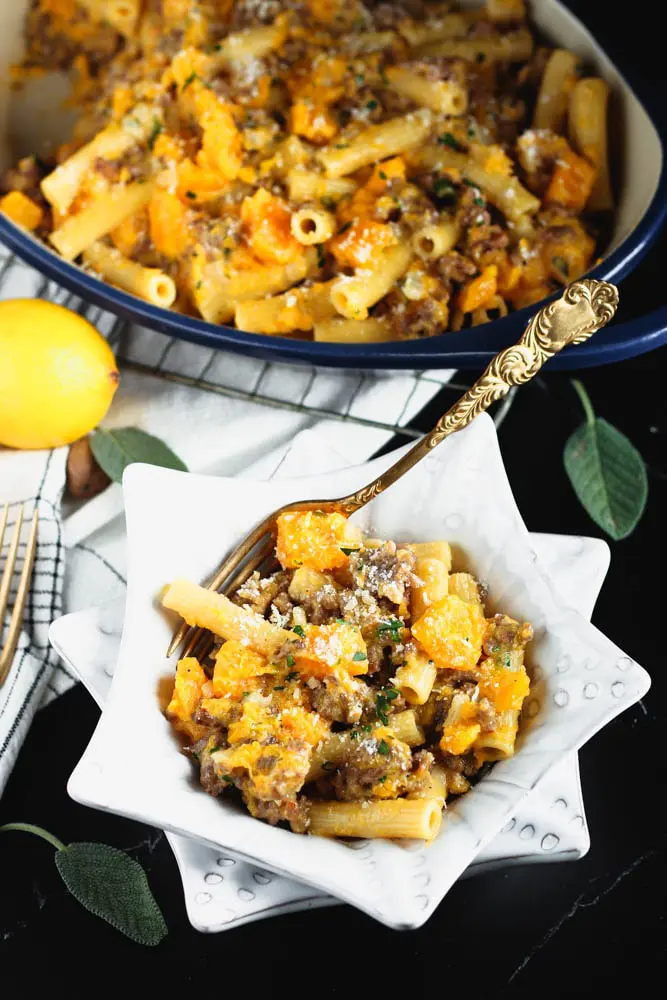 Helpful Utensils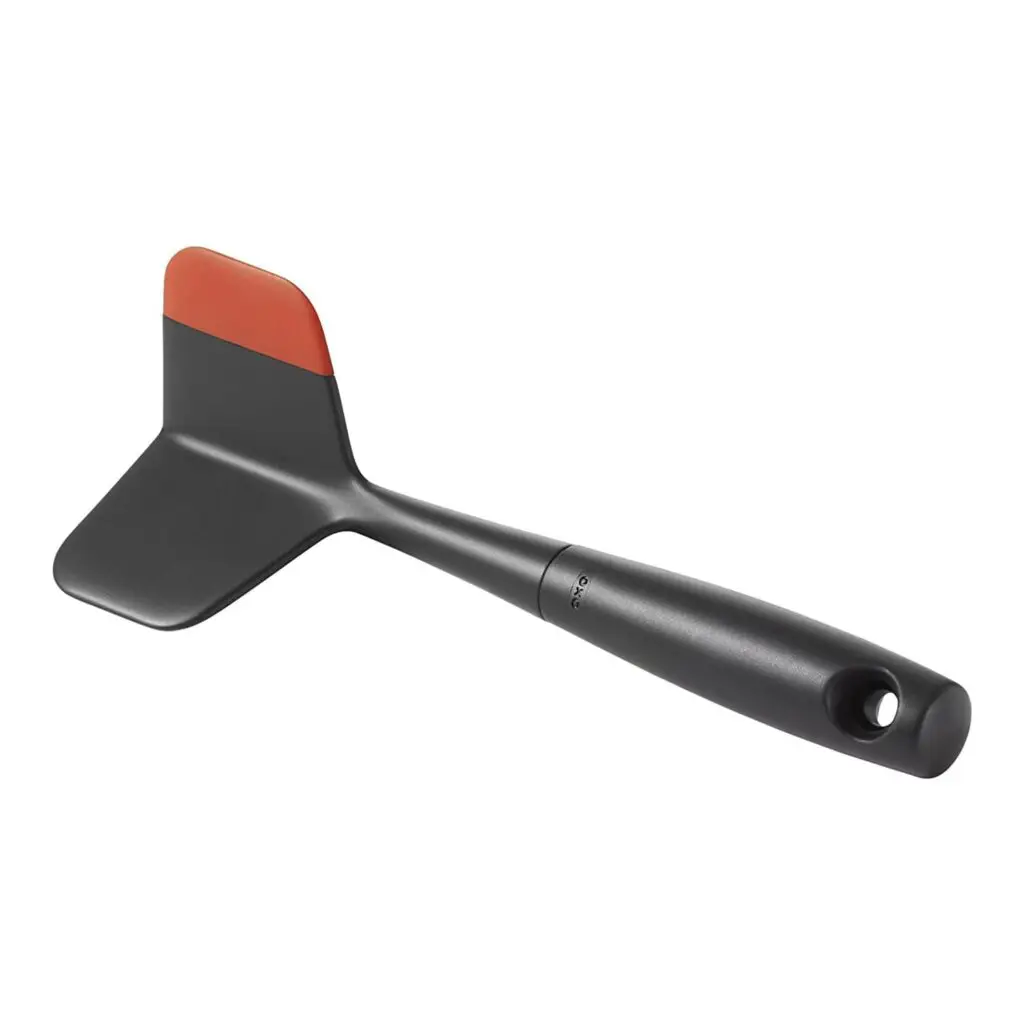 This may seem like a one-trick pony, but I use mine ALL THE TIME. It makes breaking up ground meat in a saute pan so fast and easy!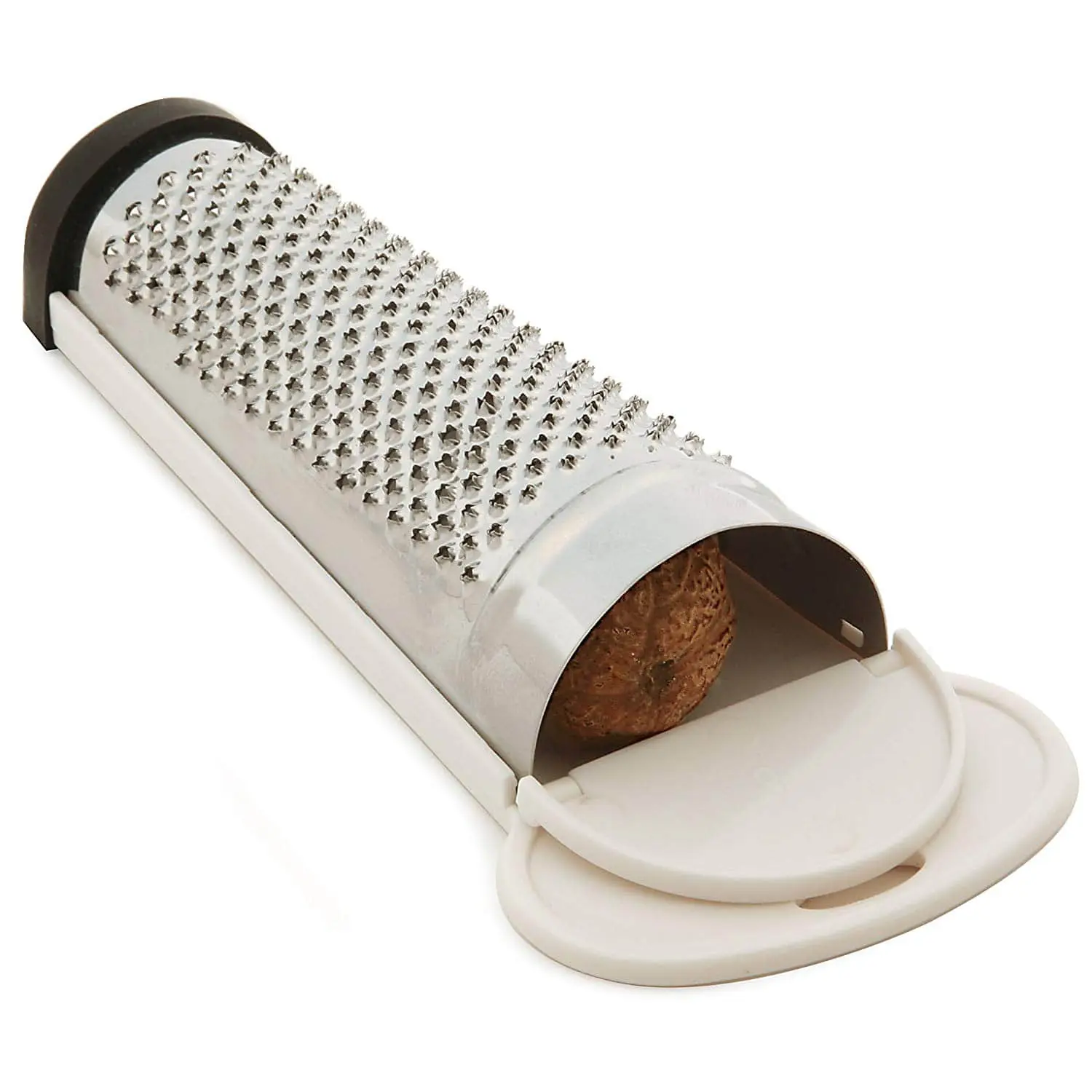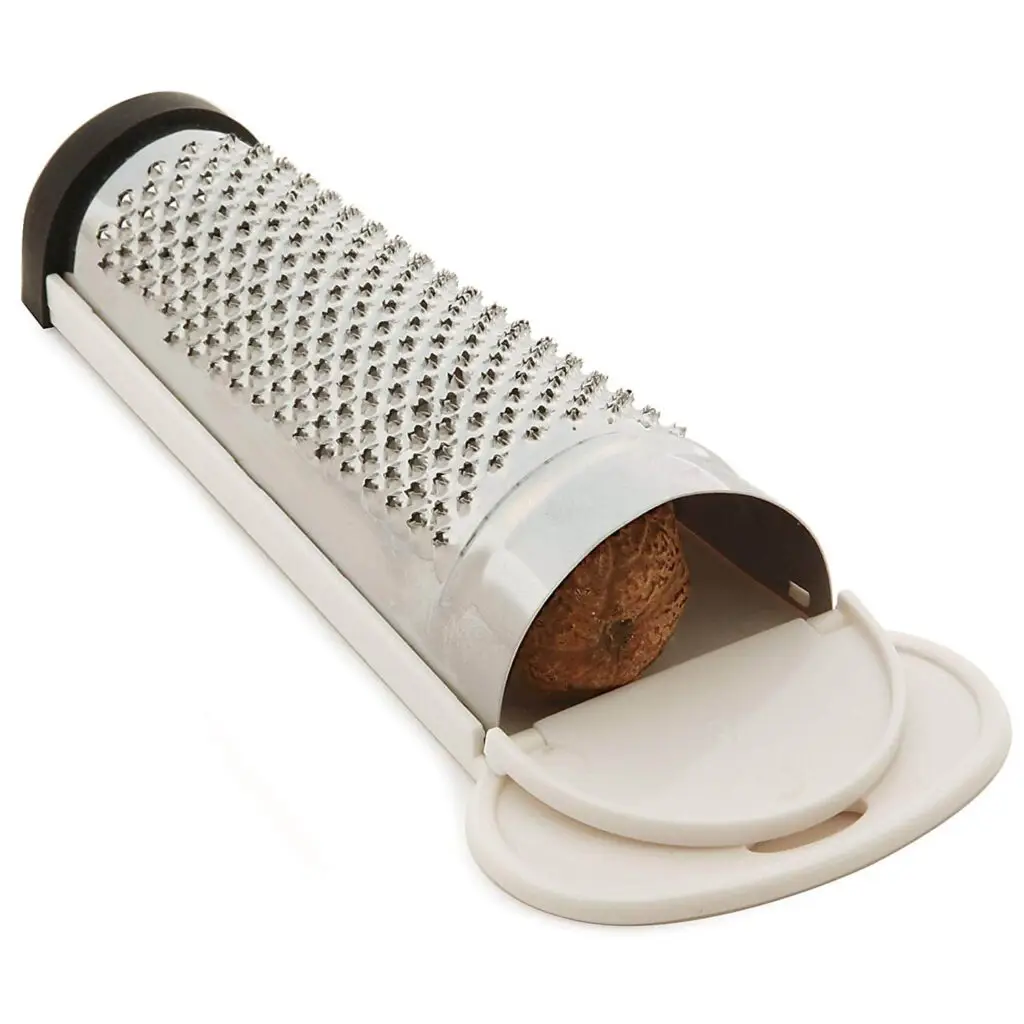 Fresh ground nutmeg is amazing and so different from what you buy already ground. Whole nutmeg will keep in the freezer for up to three years, and this is a convenient way to store and process it.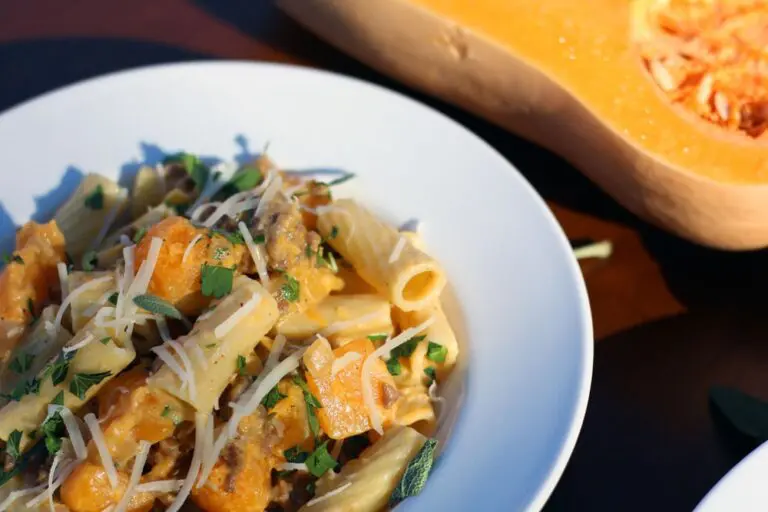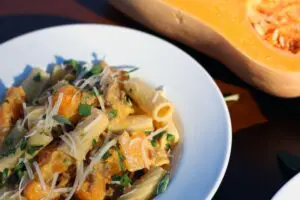 Sausage Butternut Squash Pasta
Sausage Butternut Squash Pasta is the perfect sweet combo of sweet and salty fall flavors. Italian sausage and rigatoni covered in a delicious parmesan cream sauce which gets part of its creaminess from the squash.
Ingredients
8

oz

rigatoni

1

butternut squash

1

lb

ground Italian sausage

1

tsp

fresh sage

1

yellow onion

4

C

chicken stock

½

C

C grated parmesan

1

lemon

1

C

heavy cream

2

Tb

fresh Italian flat leaf parsley

2

Tb

olive oil

½

tsp

salt

½

tsp

black pepper

pinch

fresh ground nutmeg*
Instructions
Bring a large pot of water to a boil. Season the water with a generous tablespoon of salt.

While the water comes to a boil, peel the butternut squash then split down the middle vertically and remove the pulp and seeds from the inside. Once cleaned, dice into 1-inch pieces. Finely dice the onion and set aside. Finely mince the sage.

Place the butternut squash in a large heavy bottom saucepan. Cover the squash with chicken stock and heat the pan over high heat. Bring the mixture to a boil and boil for about 15-20 minutes or until tender.

Once the salted water has come to a boil, add the rigatoni and cook until al dente based on package instructions. Drain the pasta once cooked and coat with a bit of olive oil to avoid sticking. Set aside.

As the squash cooks, heat 2 Tb olive oil in a large nonstick saute pan over medium-high heat. Add the diced onion to the preheated pan and let it soften for about 3 minutes.

Add the ground sausage and break up into bite size pieces. You can use a wooden spoon to break up the meat, but if you want a super efficient tool for the job, check out the ground meat chopper that I've linked to above. It's an awesome kitchen gadget!

Season and sausage with salt and pepper. Cook the pork until browned and cooked through. Turn off the heat and set aside.

Once the butternut squash is fall apart tender and the chicken stock has reduced, add the heavy cream and ground nutmeg to the pot. Continue to boil for about 5 minutes stirring occasionally until the sauce has reduced by about half.

Add the juice of 1 lemon, sage and ¼ C of grated parmesan (reserve ¼ for garnish) and stir until cheese is melted and ingredients are combined. Boil for another 2 minutes stirring constantly until the sauce thickens up to a nice creamy consistency.

Add the sausage mixture and pasta to the sauce and mix well to combine. Roughly chop the fresh parsley and add to the pasta. Mix well.

At this point, the pasta is ready to serve or you can make the dish ahead. If eating right away, garnish with the remaining ¼ C grated parmesan and enjoy!

If you're making ahead, pour the pasta mixture into a lightly greased 9" x 13" casserole dish. Top with the grated parmesan and cover with foil. The dish will keep in the fridge for up to 3 days before baking. When ready to eat, place the covered dish into a preheated oven at 350 degrees and cook for 30 minutes. Uncover and bake an additional 15 or until golden and bubbly.
Notes
* You can find whole fresh nutmeg that can be grated when needed in the spice aisle. I've linked above to a great grinder/container that I always keep stocked in my freezer where it will keep for up to a year.
FREQUENTLY ASKED QUESTIONS
Can I make this recipe without sausage for a vegetarian version?
Absolutely. You may want to increase the salt slightly to taste.
Can I make the recipe ahead of time?
Yes! See the last step in the instructions for details.
Do I have to use rigatoni?
No, but you want a tubular pasta like penne or ziti.
Can I use ground nutmeg instead of freshly grinding my own?
Sure, but use it very sparingly as the flavor is stronger.
The following two tabs change content below.

Hey-ooo! I'm Hailey, and I'm a number cruncher by day and cussing cook by night. I created this site to share my love for delicious food that feeds the soul as well as the belly. I hope my recipes have you running to the kitchen to cook some damn good grub!