If you love jalapeño poppers, let me introduce you to your new favorite recipe- Jalapeño Popper Wontons. Jalapeño peppers are cut into bite-size pieces and stuffed with a cream cheese filling. Instead of the typical breading, I wrap my poppers in a wonton wrap and fry them until they are crispy perfection!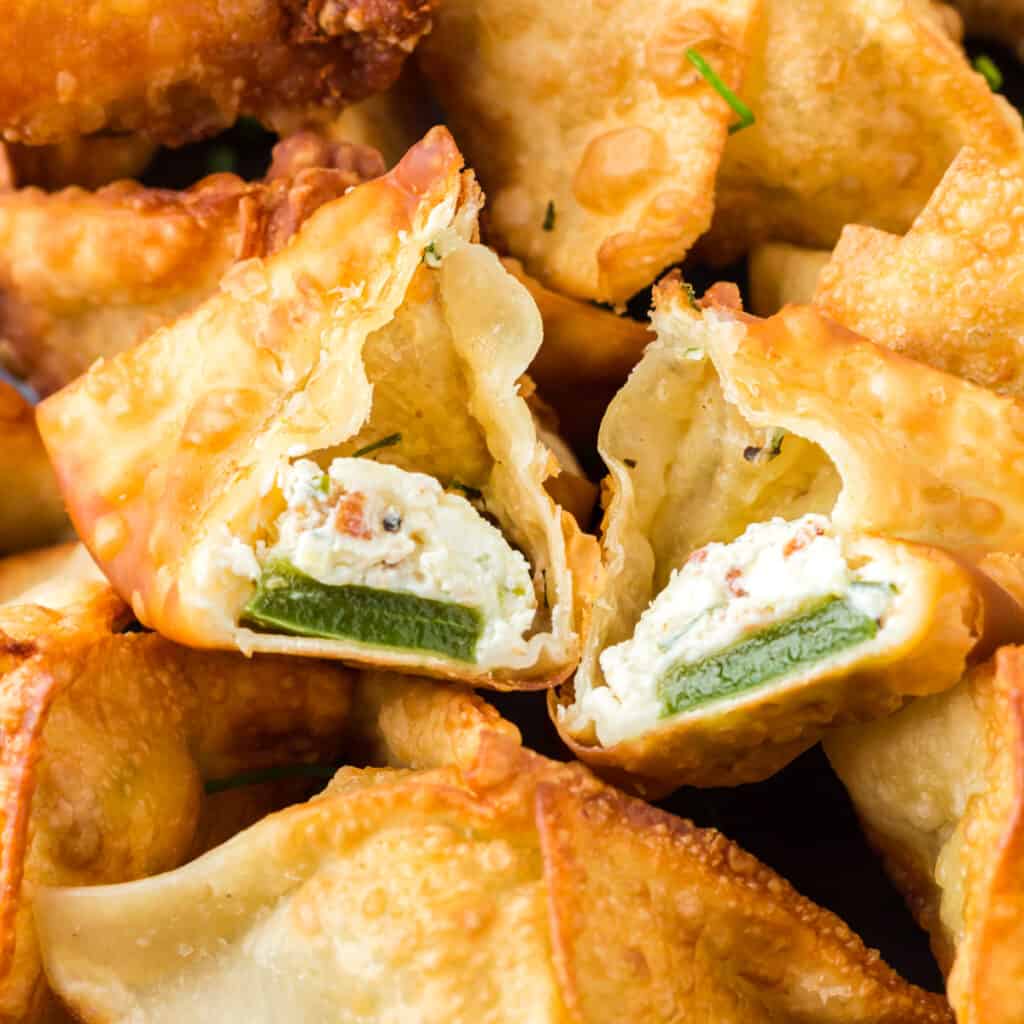 Jalapeño Popper Wontons bring a whole new level of spice and crunch to your snack game. I came up with this recipe when I was brainstorming for unique Superbowl snack recipes, but please don't limit it to a football-only treat. This fried, spicy appetizer is perfect for any crowd or occasion.
Ingredients
The entire recipe for Jalapeño Popper Wontons is packed with my favorite ingredients. Cream cheese is an ingredient that I never tire of – combined with bacon, chives, and MORE cheese - it's what dreams are made of. To make the poppers you'll need:
Jalapeno
Bacon
Pepper jack cheese
Cream cheese
Chives
Black pepper
Wonton wraps- usually found in the cold produce area at the store (near bagged salads)
Egg
Oil
Ranch dressing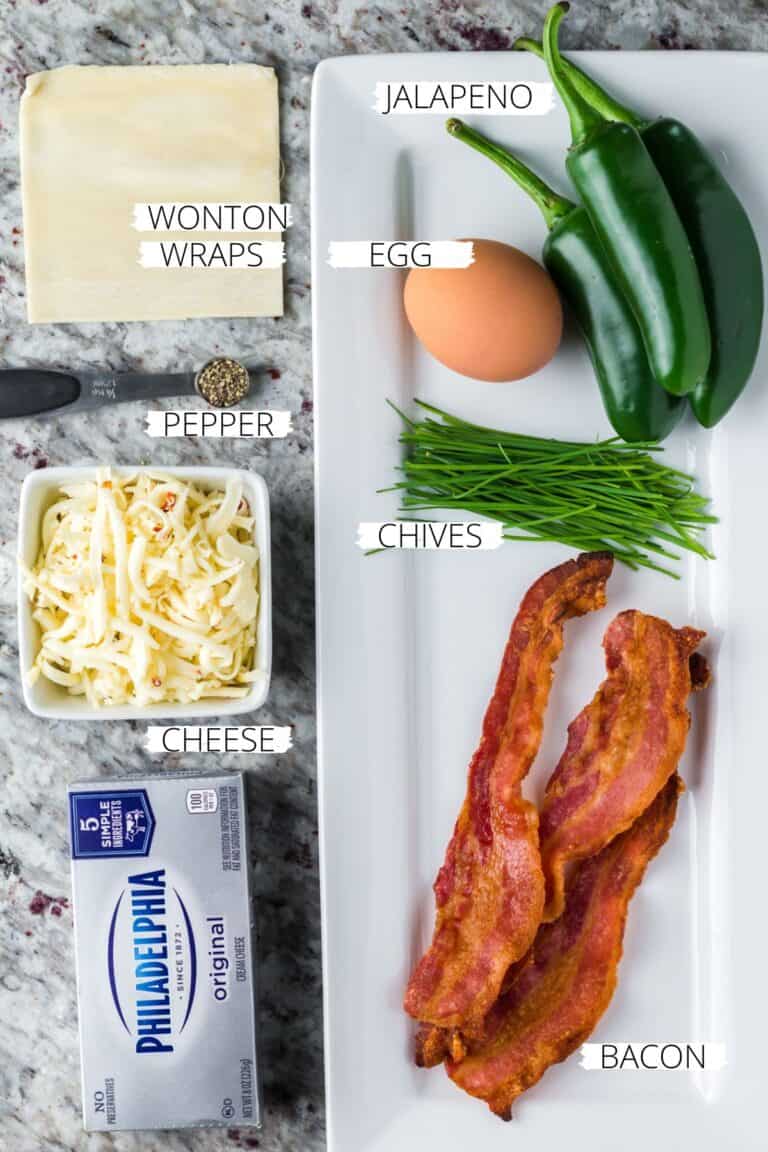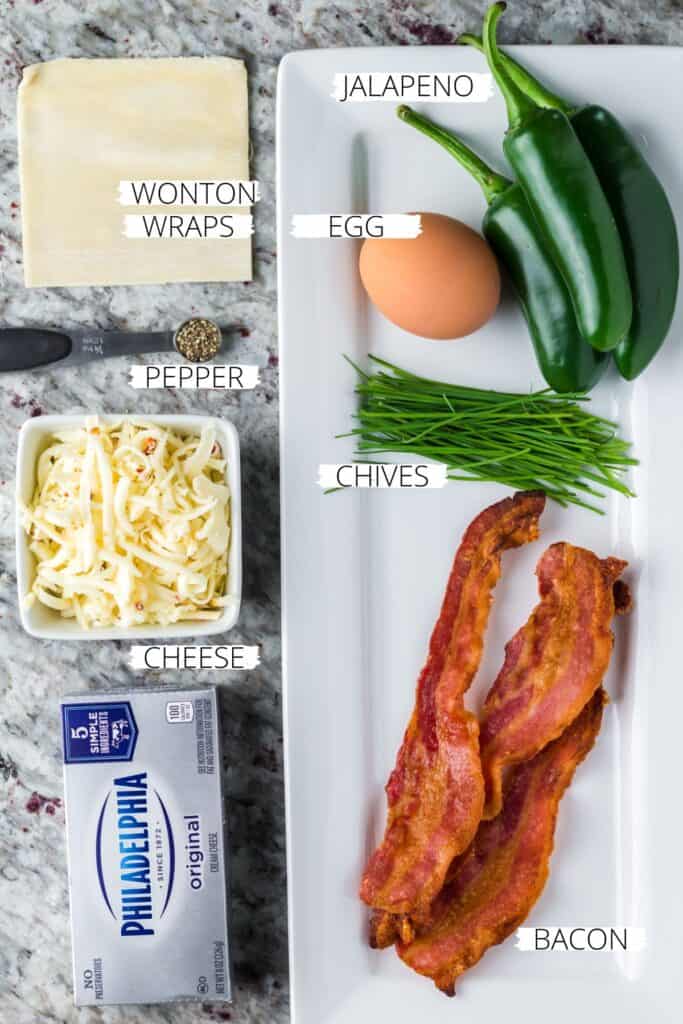 If you're not drooling just looking at this ingredients list, this may not be the blog for you.
Instructions
The most tedious part of making Jalapeño Popper Wontons is the wonton assembly. The rest of the recipe is quick and easy. If you have never made wontons, the process may seem complicated, but it's easier than you think. This video does a great job of explaining the various way you can fold wontons.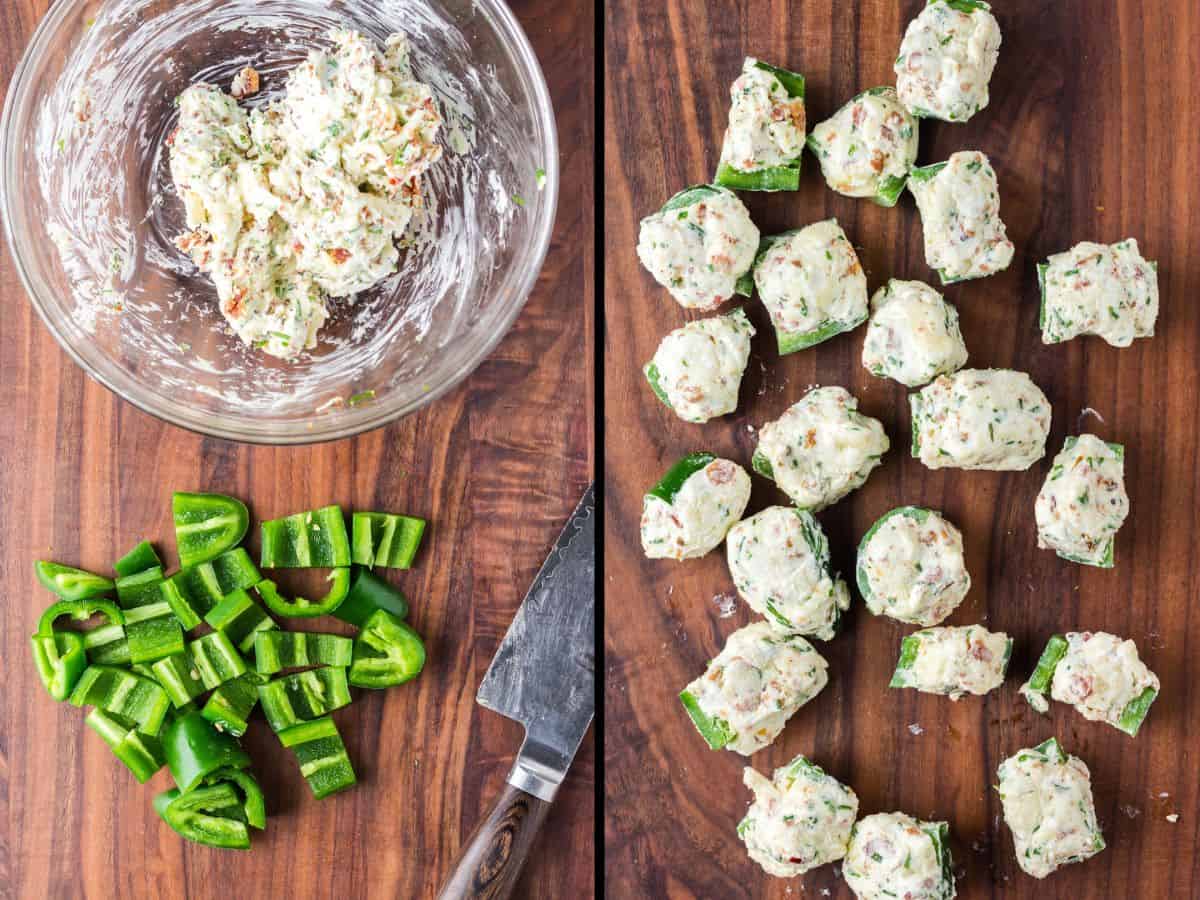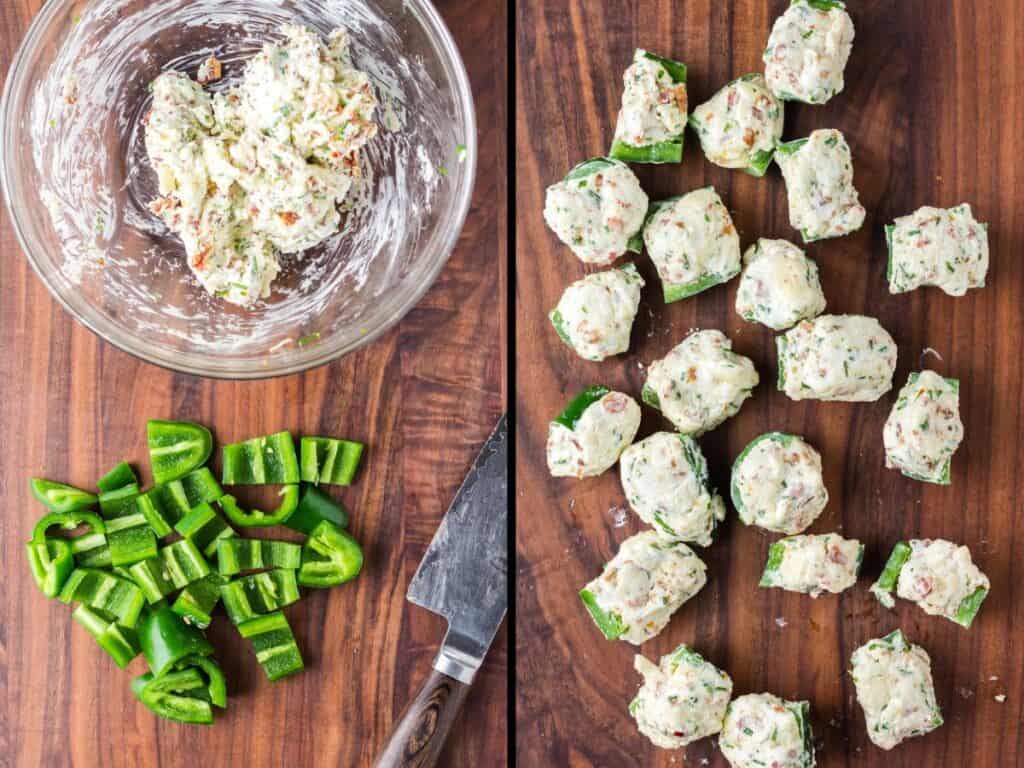 All you need to do to make your popper wontons is:
Cut the jalapeño.
Make the cream cheese filling.
Stuff each pepper piece with the filling.
Wrap each pepper piece in a wonton wrap, fold, and seal.
Fry them up!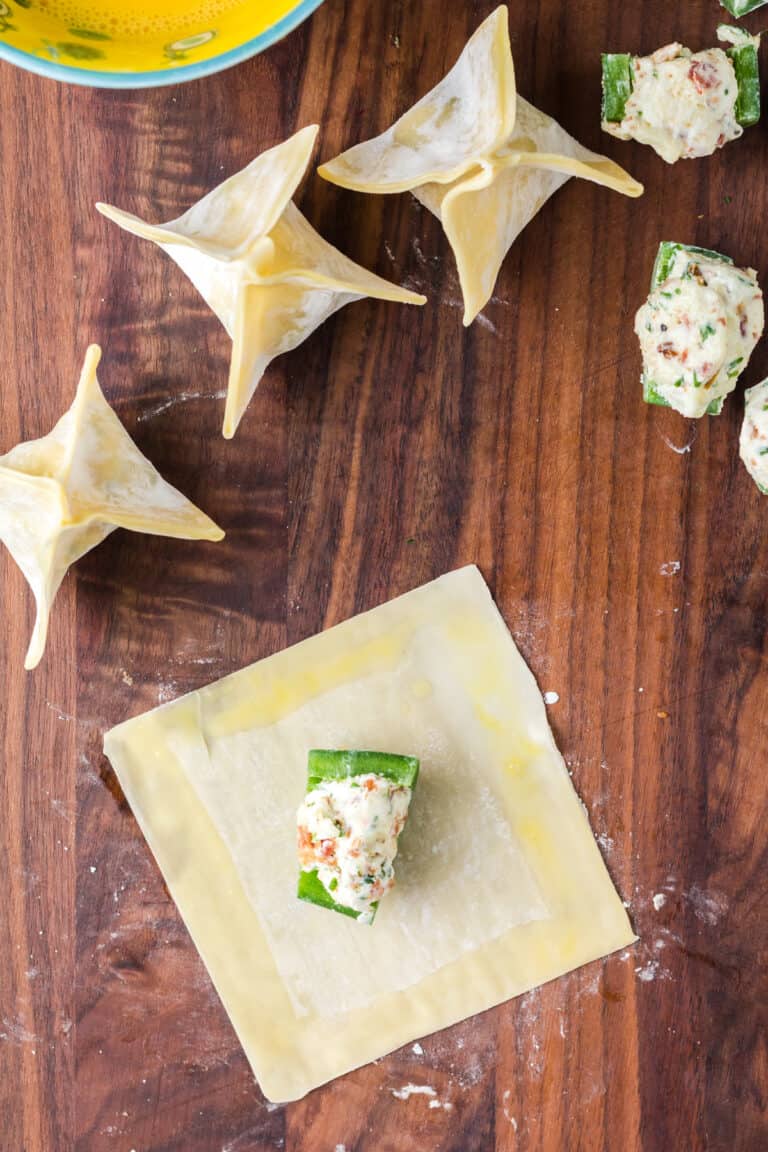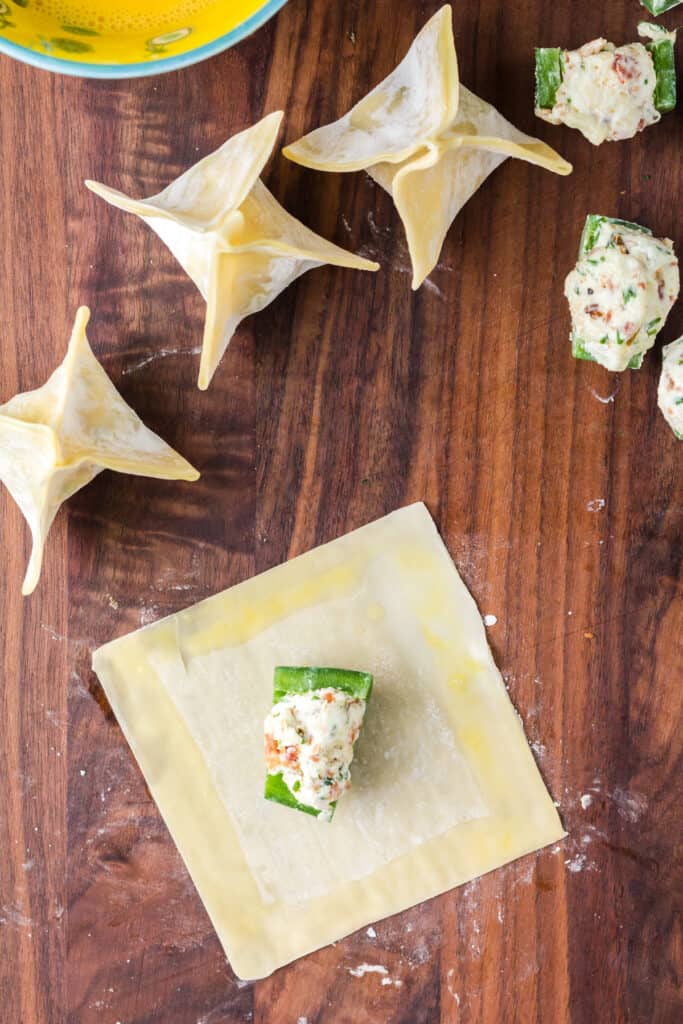 Substitutions
Jalapeño Pepper Wontons are meant to be fun, so you can take some creative freedom with the recipe. First off, if you don't like spicy foods, then mini bell peppers would work as a substitute for jalapeños.
Cream cheese is a must for this recipe, but you can use any kind of shredded cheese you like. Cheddar, Monterey jack, or even smoked gouda would all be delicious.
Equipment
You don't need any special equipment to make wontons. If you have a deep fryer then by all means use it, but I make my wontons in a frying pan instead. The only difference is that you don't have to turn the wontons over if you're deep frying.
Storage
Serve: Jalapeño Popper Wontons should be served hot and fresh from the fryer.
Store: Like most fried snacks, wontons will lose their crunch if stored in the fridge. You can reheat them in an air fryer to bring back some texture, but they are never as crisp as they are right after frying.
Freeze: You can freeze the stuffed jalapeno pieces and thaw them before making the wontons, but the whole wontons, cooked or not, do not freeze well.
Defrost: To thaw the frozen jalapeno poppers, place them in the fridge for 24 hours.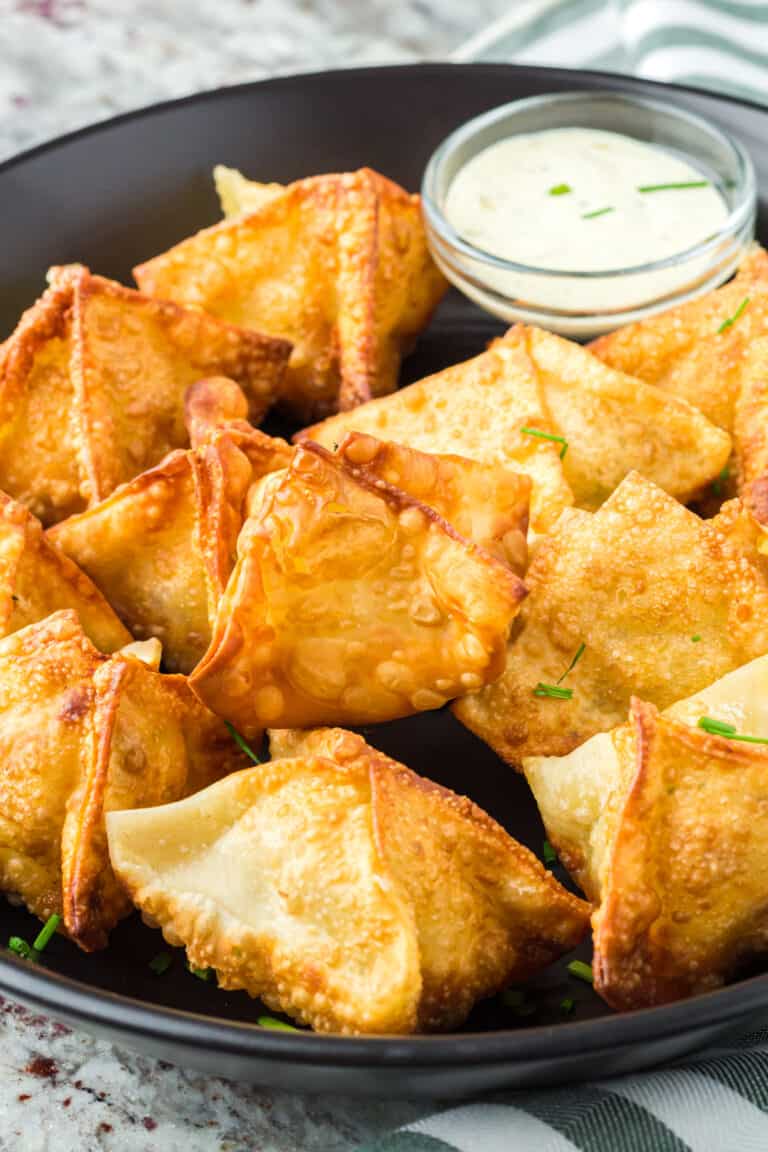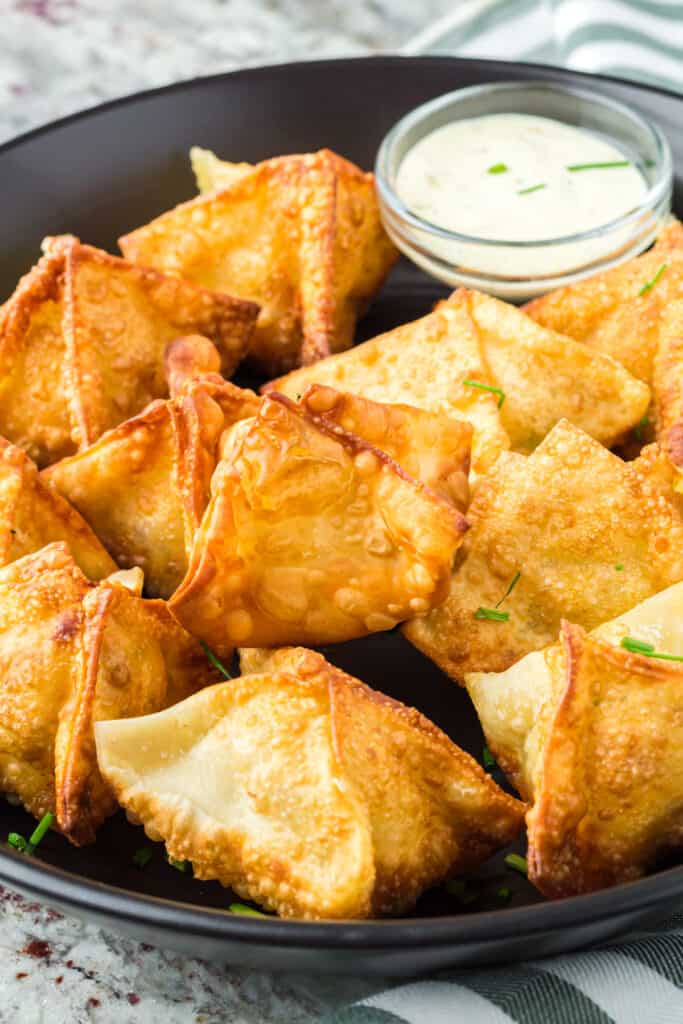 Top tip
Check out this video if you're worried you can't make wontons. It's easy and surprisingly fun! The most important thing is to make sure your edges are completely sealed. If your poppers leak while frying, they can be super greasy. The oil will also pop like crazy if that happens which is never fun.
Also, be sure to only work with one wonton wrap at a time and keep the other wraps in the package and covered with a damp paper towel. Wonton wraps dry out very quickly and then crumble in your hands when you try to fold them.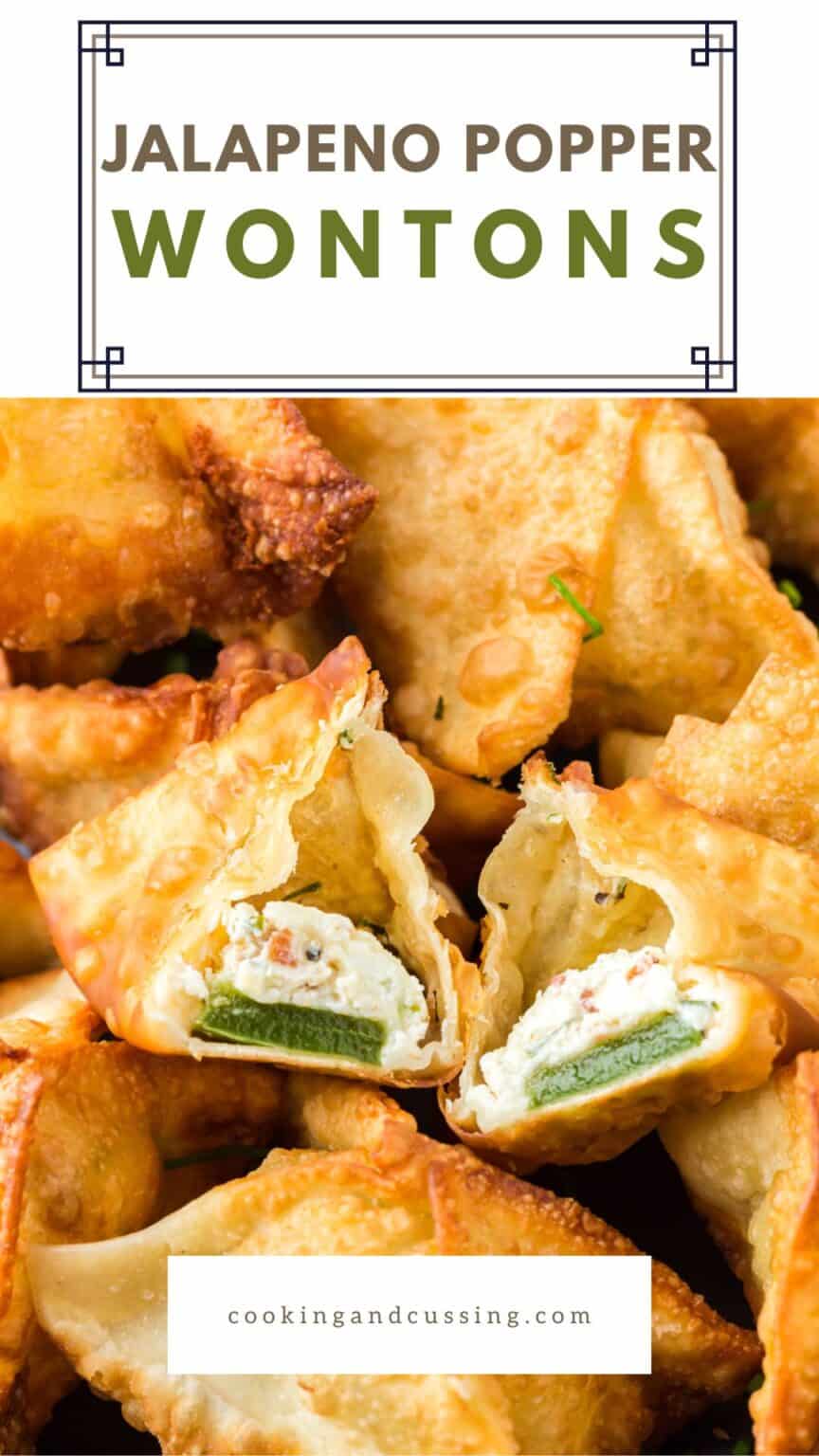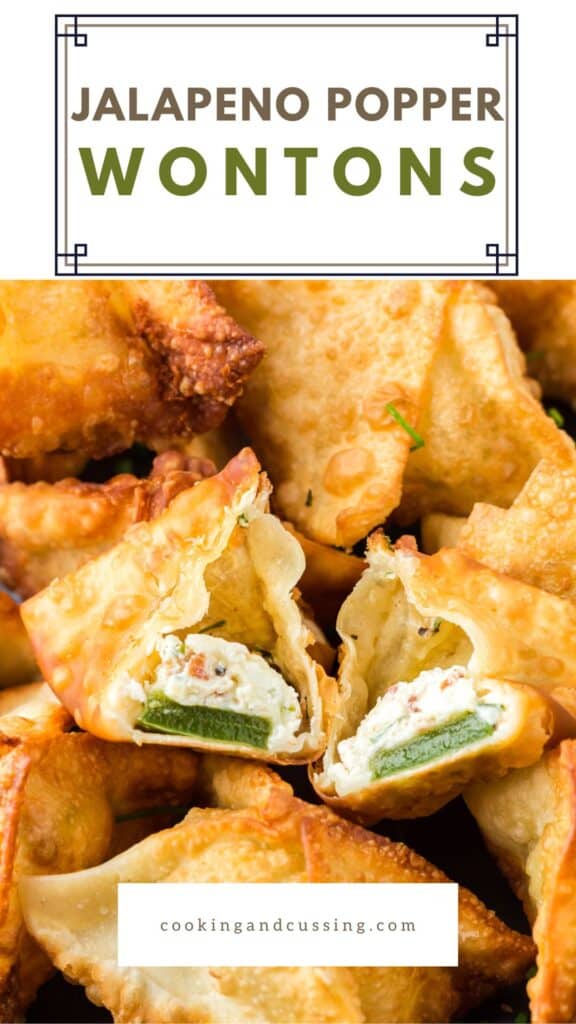 Jalapeño Popper Wontons are spicy, fried cheese perfection. Don't miss out on this crowd-pleaser! Also, if you like this recipe, be sure to check out my Pimento Cheese Wontons. Let me know what you think of the poppers in the comments section below.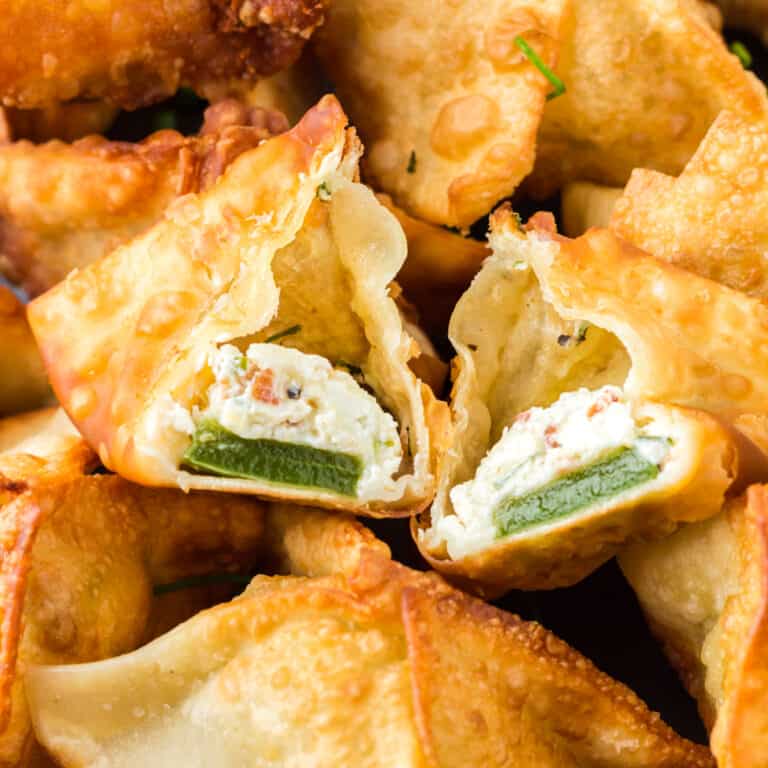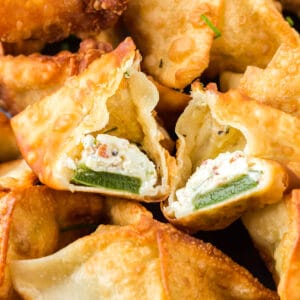 Jalapeño Popper Wontons
Everything you love about a jalapeño popper inside of a crispy fried wonton. Jalapeño Popper Wontons are the spicy snack you don't want to miss.
Ingredients
3

large jalapeños

3

slices

cooked bacon

½

cup

shredded pepper jack cheese

4

oz

cream cheese

room temperature

1

Tb

chives

minced

¼

tsp

ground black pepper

24

wonton wraps

1

egg

oil for frying

ranch dressing

optional for dipping
Instructions
Remove the stem and cut the jalapeño in half. Remove the seeds and then cut each half into 3-4 even pieces. Each piece should be about 1 inch square.

Finely mince the bacon and add to a bowl with the cream cheese. Add the shredded cheese, minced chives, and black pepper and mix well to combine.

Fill each jalapeno piece with about 1 tablespoon of filling. The pieces should be overstuffed to make a rounded top.

Make an egg wash by beating one egg with 1 tablespoon of water.

Remove one wonton wrap from the package at a time and cover the rest with a damp paper towel until ready to fill. Place one stuffed jalapeno piece onto the wrap. Cover all four edges of the wrap with egg wash before folding into a wonton shape. (Check out the video linked in the notes section for tips on wonton folding)

Once all the wontons are assembled, preheat a frying pan with an inch of oil to 350°. Once hot, quickly add the wontons, working in batches so you don't overcrowd the pan.

Let the wontons cook with the bottom down for 60-90 seconds or until golden brown. Turn the wontons over and let them cook for another 30-60 seconds, moving the wontons around to brown all sides. If you have a deep fryer, you'll need to cook for approximately 2 minutes.

Remove the wontons from the oil once cooked and place them on a wire rack over a baking sheet to allow the excess grease to drain. Season with a pinch of salt, if desired.

Serve hot with a side of ranch dressing for dipping.
Frequently Asked Questions
Do I need a deep fryer to make wontons?
No. You can pan-fry or deep fry.
I don't love spicy food. Can I use a different pepper?
Mini-sweet bell peppers can be used as a substitute.
The following two tabs change content below.

Hey-ooo! I'm Hailey, and I'm a number cruncher by day and cussing cook by night. I created this site to share my love for delicious food that feeds the soul as well as the belly. I hope my recipes have you running to the kitchen to cook some damn good grub!