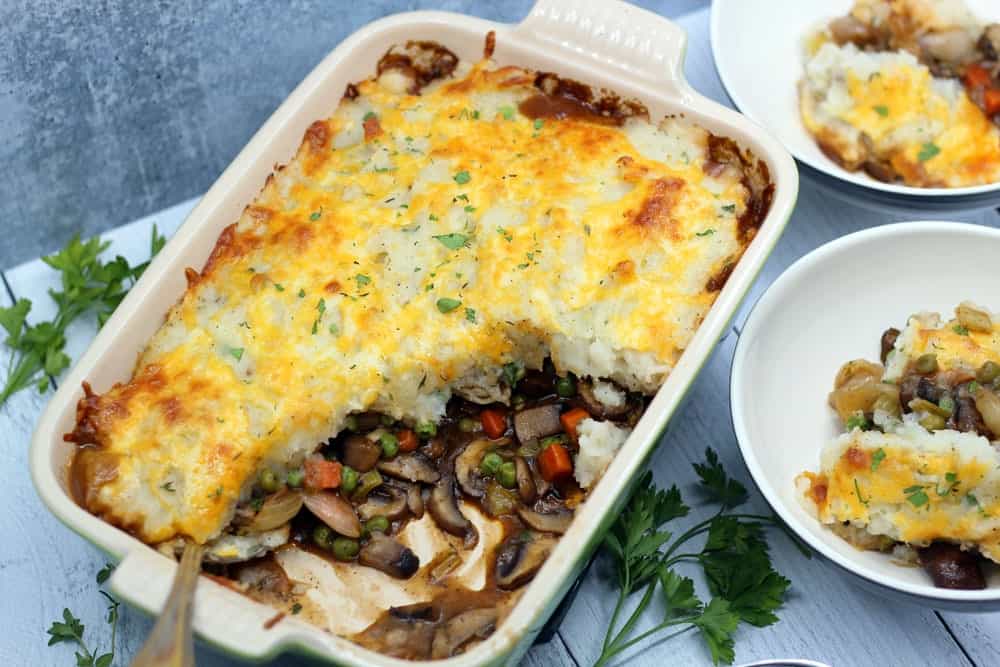 Vegetarian Shepherd's Pie is a balance between healthy New Year's resolutions and the burning desire for decadent comfort food in the depths of winter. My meatless recipe includes loads of mushrooms to replace the savory flavor and chew that meat would typically give the dish. The filling is held together with a rich, umami sauce that will make you forget this recipe is vegetarian.
I know after the holidays, I always feel like I need a huge boost in my vegetable consumption, but I also love rich soul food when the weather is gray and cold.
It has been super dreary here lately (where the f*ck did the sun go?!?) so my attempts to get back on a healthier regiment have been somewhat stifled.
But not today devil! I decided to merge the two worlds so I could have my comfort food and eat it too. Vegetarian Shepherd's Pie is chockful of vegetables and includes very little dairy. I also remove some of the carbohydrates in the recipe by substituting half of the potatoes with turnips.
Potatoes have close to 40 grams of carbohydrates, while turnips have less than 10 grams so this is a great way to reduce your carb intake without sacrificing taste. If you've never had turnips, this is also a great way to try them. Turnips have a lovely creamy texture after being cooked through, and their flavor is sort of like a mildly spicy cabbage. They are sort of like a parsnip with a little more bite.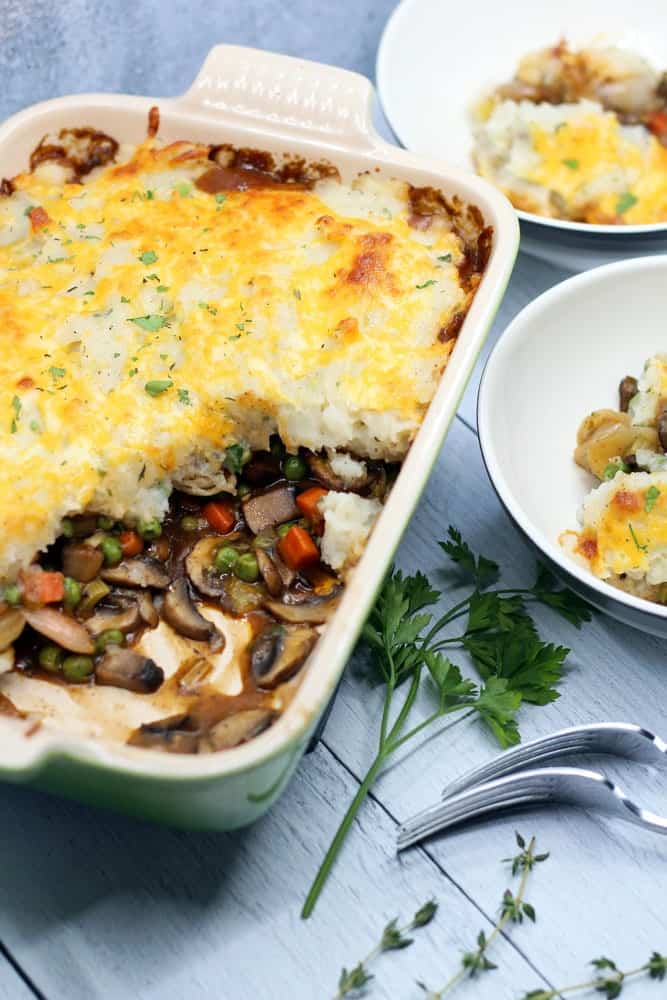 I love the addition of the turnips to this recipe not only for the health benefits but also for the flavor the turnips add. Since there's no meat in this shepherd's pie, it's important that we add extra spice and flavor throughout, so you don't feel like you're missing anything.
Turnips aren't the only thing that ensure this recipe is packed with flavor. The sauce that the vegetables are swimming in is also rich and tasty.
The base for the sauce is soy sauce, Worcestershire and tomato paste. I add a little garlic and black pepper as well. All together these ingredients ensure your carnivores won't be crying for meat.
The other key step for robust, savory flavor is to brown the mushrooms well. I have a 12-inch skillet so I can cook all the mushrooms in two batches without overcrowding, but if you're using a smaller pan, consider working in 3 batches. If you pack too many shrooms in the pan, they steam instead of sear which means less nutty flavor and meaty texture.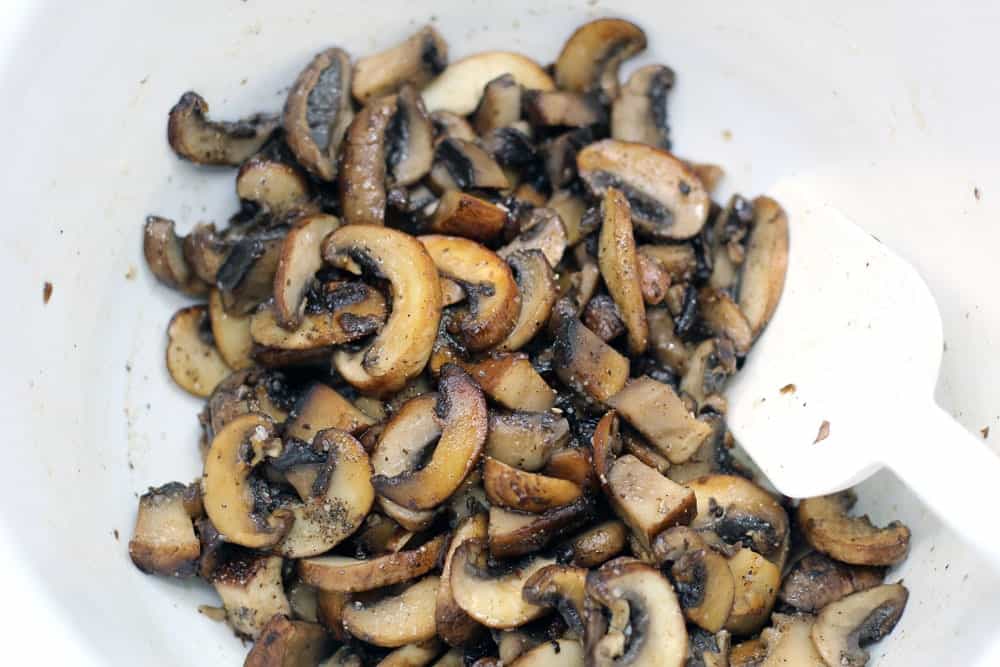 The other element I was sure to include so that this meatless wonder was a hit was texture. Sometimes I find that vegetarian dishes can lack some of the chew that meat usually provides. I love the bite of portabella mushrooms to help bring some texture to the dish, but I also make a point to not cook the vegetables completely soft.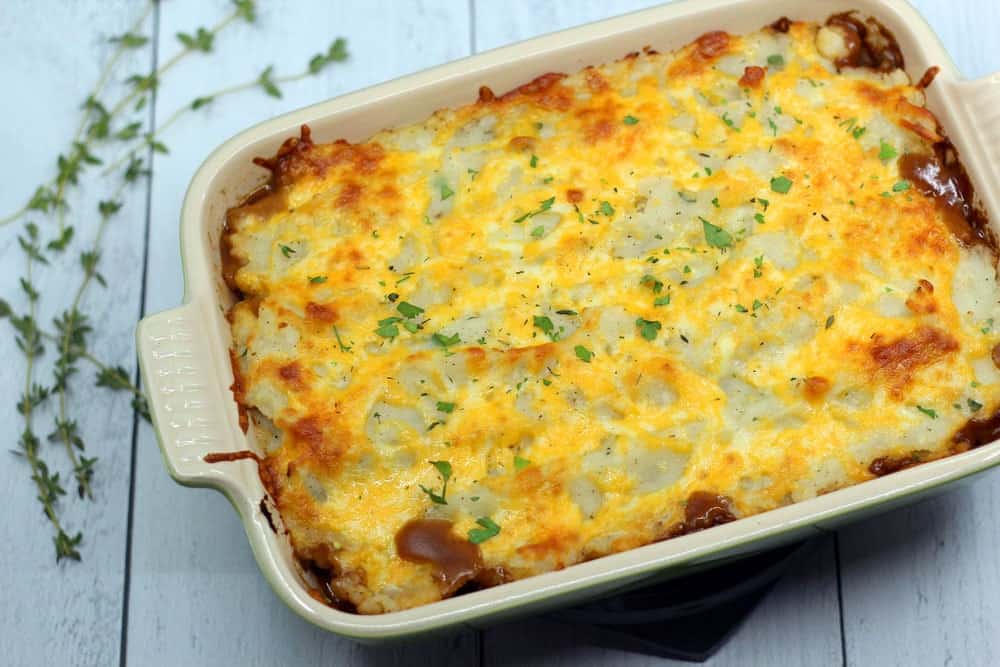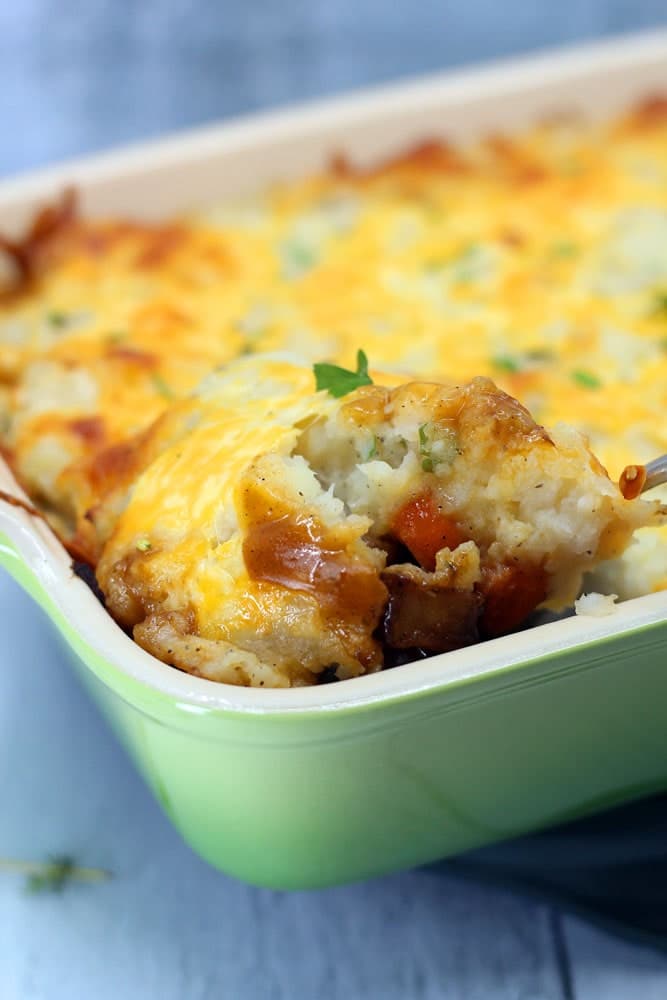 Both the carrots and the pearl onions maintain a bit of their texture in this recipe which I like but feel free to saute them a bit longer if you prefer your vegetables well done. I think the crispness is a nice balance to the soft mashed potatoes and turnips on top.
Whether you're a regular participant in meatless Mondays or just trying to get more vegetables in your diet, Vegetarian Shepherd's Pie is a sure-fire way to please even the biggest meat lovers in your crew. This dish feels decadent without any of the shame spiral of guilt after. Try it, and you'll see. I can't wait to see your feedback in the comments section below.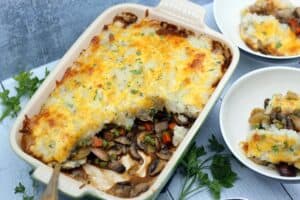 Vegetarian Shepherd's Pie
A meatless mushroom Shepherd's Pie with plenty of savory flavors. Filled with two kinds of mushrooms, carrots, and peas and topped with a mixture of mashed turnips and potatoes, it doesn't feel like anything is missing from this healthy comfort food. This is also a perfect make-ahead weeknight dinner.
Ingredients
1

lb

turnips

1

lb

russet potatoes

2

portabello caps

16

oz

whole baby portabella mushrooms

or creminis

5

Tb

butter

6

Tb

olive oil

1/2

C

diced carrot

1/2

C

diced celery

1/2

lb

pearl onions

frozen peeled*

2

Tb

all purpose flour

2

Tb

Worcestershire sauce

2

Tb

reduced sodium soy sauce

2

cloves

garlic

minced

1

Tb

tomato paste

1 1/2

C

water

2

tsp

salt

1.5

tsp

black pepper

1

C

frozen peas

2

Tb

fresh Italian parsley

chopped

1

tsp

fresh thyme

destemmed and chopped

1/4

C

shredded colby jack cheese

optional
Instructions
Peel the potatoes and turnips. Trim the ends off the turnips and cut the potatoes and turnips in half. The potatoes will be larger than the turnips. It's okay since the turnips have a firmer texture. Add to a large saucepan and cover with 2 inches of water.

Place over medium-high heat and bring to a boil. Boil until tender or about 30 minutes. Strain and place back in the hot pan. Lid the hot pan and allow the potatoes to steam for another 10 minutes.

Remove the lid and using a hand masher, mash the turnips and potatoes until smooth. Add 1 tsp kosher salt, 1/2 tsp black pepper, remaining Tb of chopped parsley, and 2 Tb of butter and mix to combine. Set aside.

While the potatoes and turnips boil, clean the mushrooms with a damp paper towel to remove any dirt. Remove the stems from both types of mushrooms. Additionally, you'll need to remove the gills or the dark soft material that lies under the cap of the portabellas. Just use a spoon to scoop it out.

Cut the portabella into one-inch chunks and cut the baby portabellas into slices. Place a large nonstick pan over medium-high heat. Add 1 Tb of butter and 2 Tb of olive oil. Once the oil is hot, add half of the mushrooms to the pan.

Toss to coat in oil and then leave undisturbed for 3 minutes or until starting to brown. Stir and leave undisturbed again until the other side is browned as well. Once cooked, set aside in a mixing bowl and season with 1/2 tsp salt and 1/2 tsp black pepper.

Cut the celery and carrots into 1/2-inch pieces. If using fresh pearl onions, cut in half length wise. If you're using frozen, proceed with them whole. Put 1 Tb of butter and 2 Tb of olive oil into the same pan used to saute the mushrooms and place the pan over medium high heat.

Once the pan is hot, add the carrots, celery, and onions. Cook, stirring occasionally, for 5-7 minutes until soft and brown around the edges. Add the 2 Tb of flour and stir to combine. In a liquid measuring cup, combine soy sauce, Worcestershire, garlic, tomato paste, water, and 1/2 tsp black pepper. Stir together and add to the veggies.

Let the mixture come to a low boil and cook for about 2 minutes or until the sauce has thickened. Remove from the heat and add to the mixing bowl with the mushrooms. Add the 1 C of frozen peas, 1 Tb parsley, and 1 tsp of thyme and mix to combine.

Preheat the oven to 400 degrees. Prepare a medium casserole dish with baking spray.

Pour the mushroom mixture into the casserole dish and spread out evenly. Top with the mashed turnips and potatoes. Spread the potatoes out evenly and as a final option, top with grated colby jack cheese.

Place in the oven for 30 minutes or until the top is golden brown and the filling is bubbly. Let the shepherd's pie cool for at least 5 minutes before serving.
Notes
This recipe is a great make-ahead. Follow the instruction up to baking in the oven, cover with plastic wrap and place it in the fridge for up to 5 days. Just bake as instructed when you're ready to eat.
* If you can't find frozen pearl onions, fresh is fine. Just add about 10 minutes to your prep time to remove the ends and peel the onions. It's not a huge amount so it's not too tedious, but the frozen variety are very convenient.
The following two tabs change content below.


Hey-ooo! I'm Hailey, and I'm a number cruncher by day and cussing cook by night. I created this site to share my love for delicious food that feeds the soul as well as the belly. I hope my recipes have you running to the kitchen to cook some damn good grub!