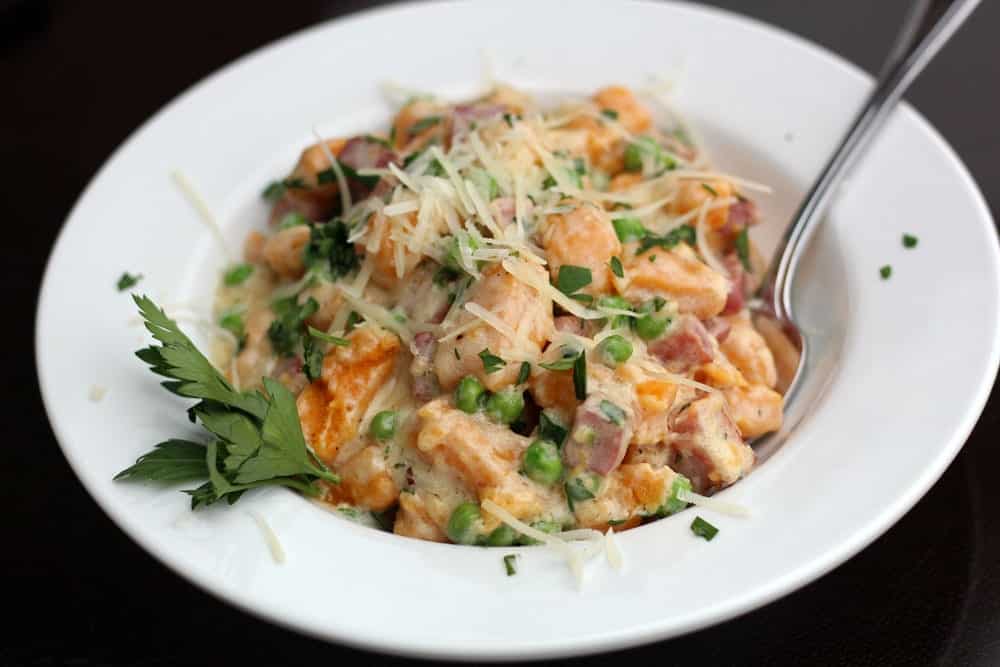 Sweet Potato Gnocchi with Ham and Peas is a glorious combination of textures and salty and sweet flavors. The gnocchi has just enough bite to not disintegrate into the cream sauce while still being light as air. The ham offers a bit of chew to the dish while also providing a nice meaty, salty balance to the sweet potatoes and rich parmesan cream sauce. The peas add a touch of color and a nice fresh taste along with the parsley to brighten up the flavors. You can easily make this recipe gluten free by using rice flour instead of all purpose.
When all the ingredients come together, you have a wonderfully balanced and sophisticated dish that you could easily serve to party guests with pride. Not to mention the colors are simply beautiful so you won't need to work hard to have a lovely presentation.
"Hi. I'm a f*cking kitchen wizard and made homemade pasta for a group."
You might be surprised to learn that this dish is also super family friendly. Since it's pasta, it's familiar enough to not frighten picky eaters and the sweet taste of the gnocchi is sure to please any kiddo. This dish would also be fun to have your little ones help with. There is no right way to roll and cut gnocchi. It doesn't have to be perfect and your little cooks will love having the chance to get their hands dirty!
Most people think gnocchi is intimidating, but it really isn't. I think it's the whole idea of handmaking pasta that makes people's pits start to sweat, but I promise this gnocchi is so simple to make. The gnocchi is made from just a few simple ingredients, sweet potatoes, mascarpone and parmesan cheeses, and flour with a few seasonings. I even microwave the sweet potatoes to make sure the cook time is quick and reasonable for a weeknight dinner.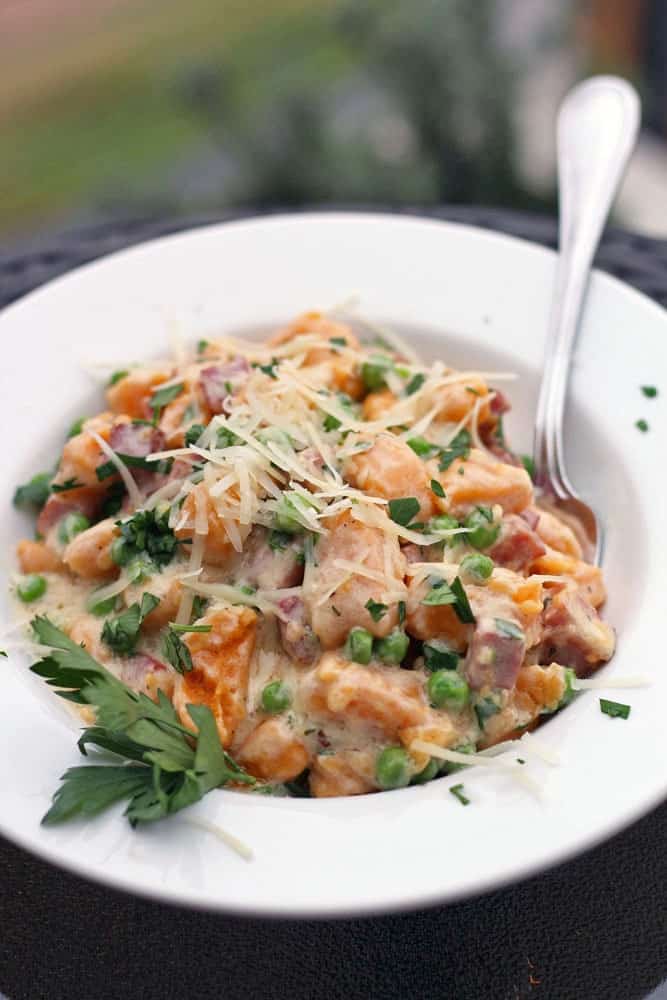 The only "trick," if you even want to call it that, is to chill the dough before working with it and to use soft hands or gentle pressure as you work the dough. Honestly, I'm one of the least gentle or graceful characters you might ever f*cking encounter in life so please don't let that last part scare you away.
Sweet Potato Gnocchi is quick and easy to make!
I love to make gnocchi because you really don't have to do much with the dough, unlike some other kinds of pasta. All you have to do is roll the dough into a long cylinder and cut it into pieces…… BAM (my inner Emeril is showing) …. you've got gnocchi!
The sauce also comes together in a snap. In fact, in the time it takes to cook your gnocchi batches, your sauce will be ready to go! I think the only time-consuming part of the whole recipe is waiting on a big pot of water to boil so start that when you put your gnocchi in the fridge to chill so you're ready to go as soon as the dough is cold enough to handle.
One bite of this incredible homemade gnocchi and you'll be beaming with delight that you made something so awesome and with such little effort. Try out the recipe, and it will definitely become part of your dinner rotation. Let me know if you love this recipe as much as I do below.
Helpful Utensils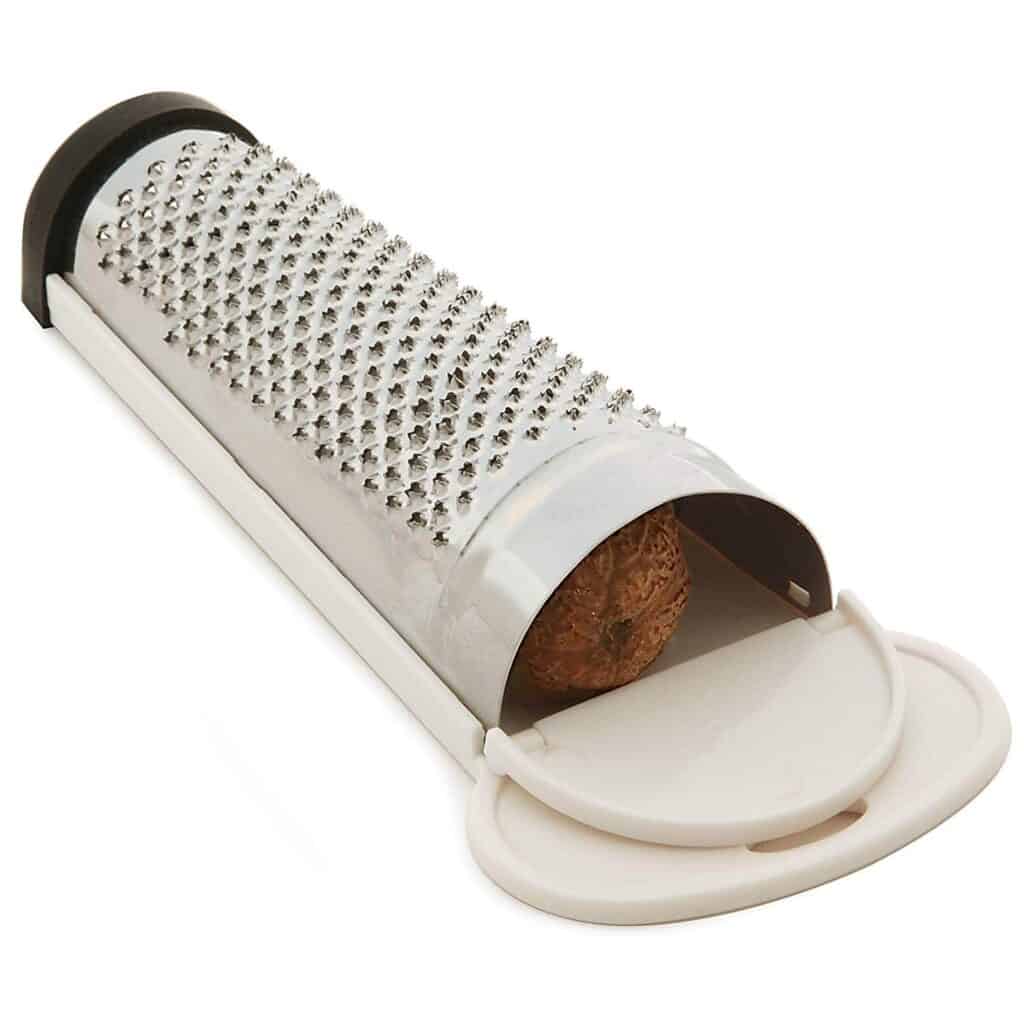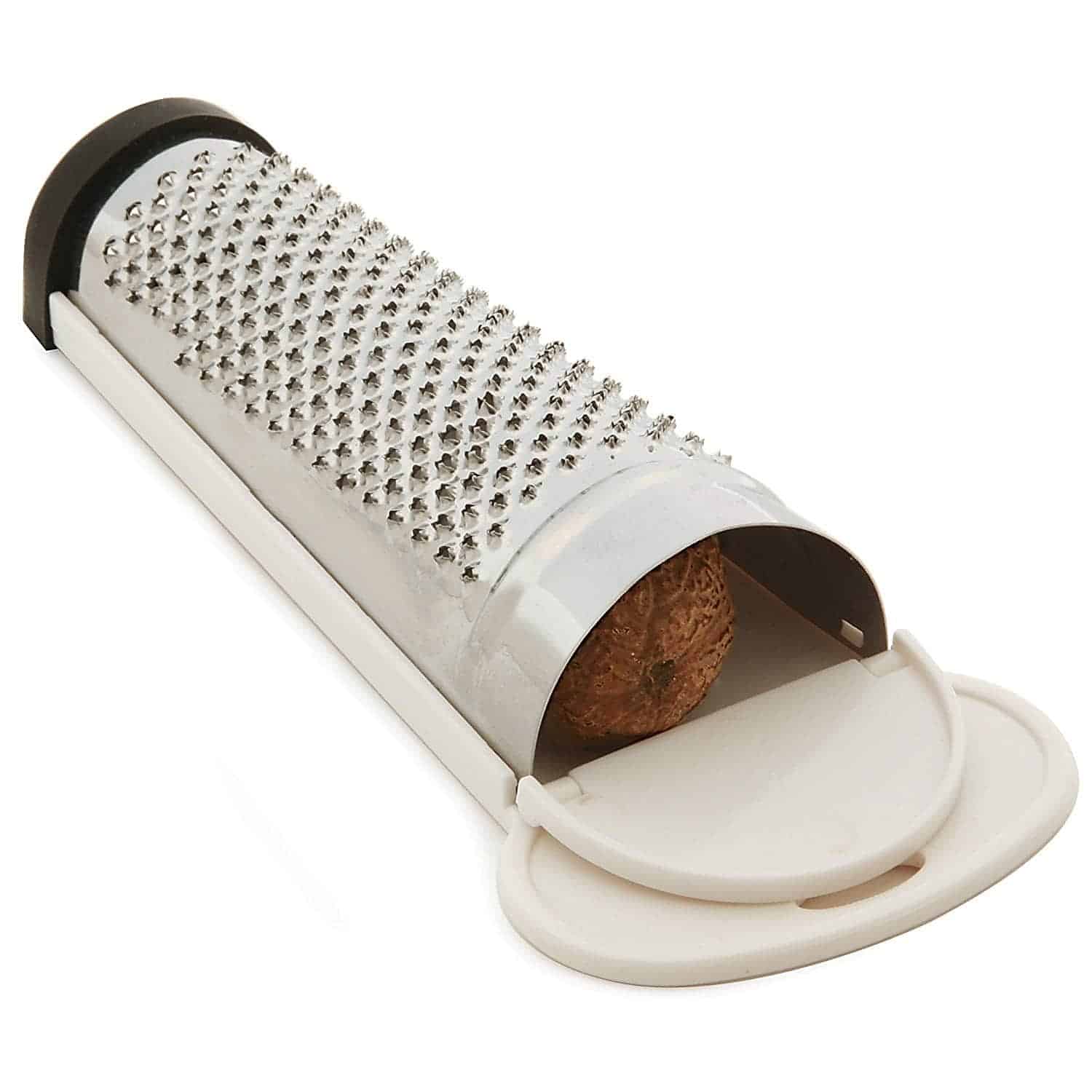 As I mentioned in the notes of the recipe, I really prefer the flavor of freshly grated nutmeg over the kind you buy ground. Whole nutmeg keeps in the freezer for up to 2 years!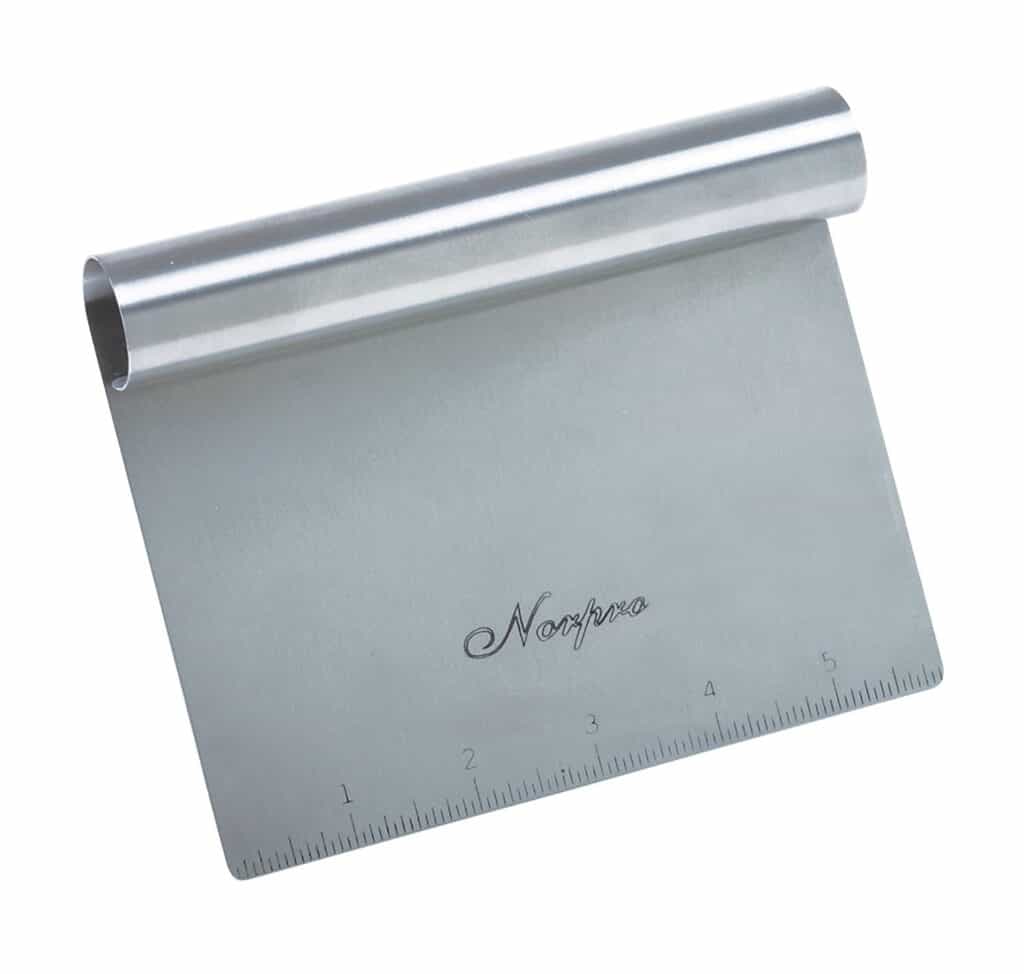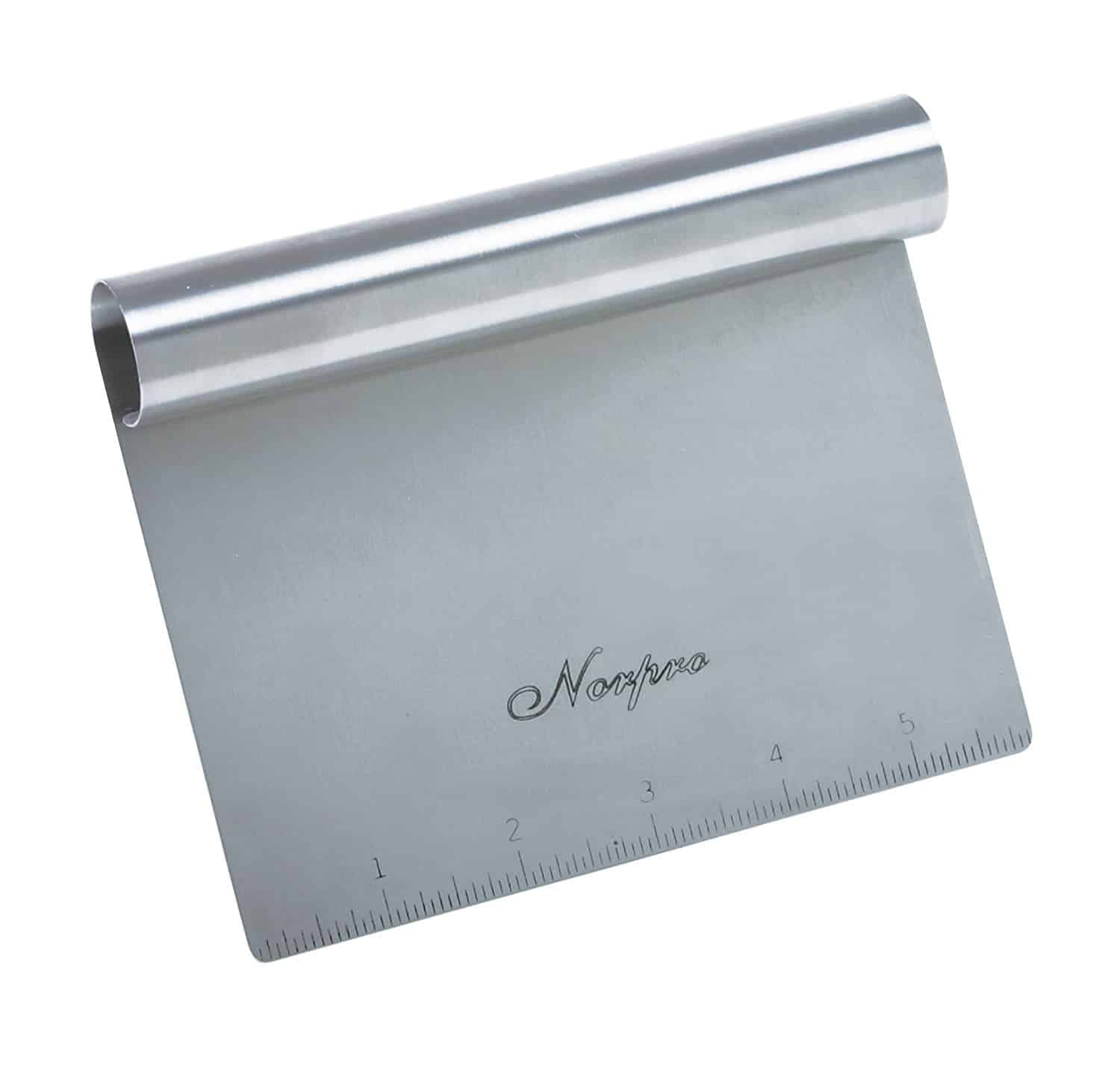 You'll notice a pattern if you start looking around, I LOVE my bench scraper. If you don't have one, you are really missing out. I use it in this recipe to cut the dough into cute little biscuits.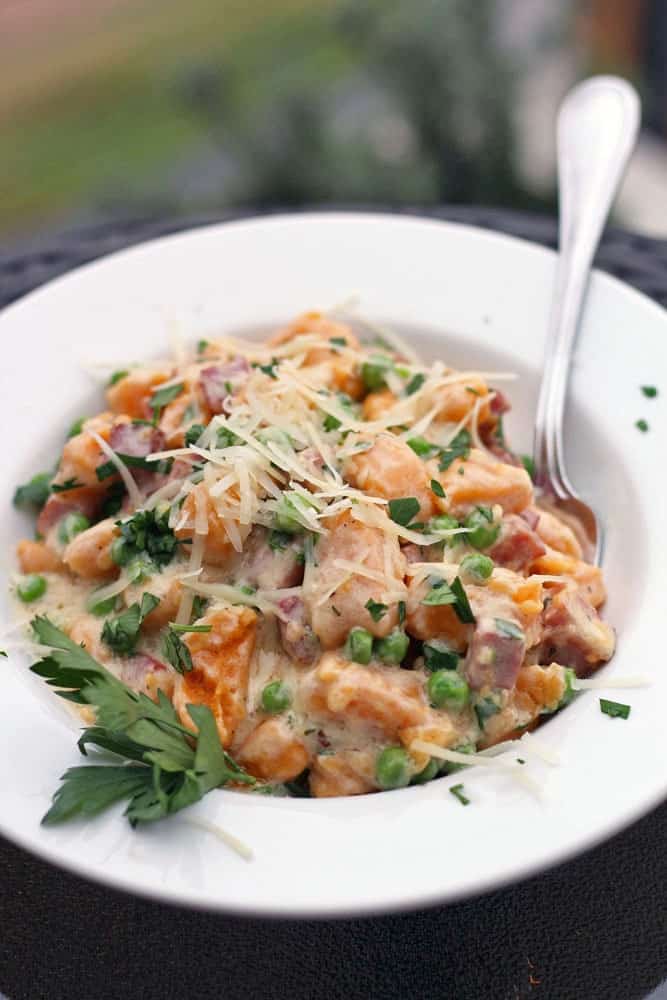 Sweet Potato Gnocchi with Ham and Peas
A delicious combination of sweet, smoky, and salty flavors! Light-as-air gnocchi made with sweet potatoes and mascarpone cheese smothered in a parmesan cream sauce with diced smoky ham and peas and parsley for freshness. Gnocchi really is easy and it cooks super fast making it a great weeknight dinner or even an impressive dinner party option. You can also easily make this recipe gluten-free.
Ingredients
Sweet Potato Gnocchi
1

large sweet potato,

or 2 small

8

oz

mascarpone cheese

2

Tb

grated parmesan cheese

1/2

tsp

salt

1/4

tsp

pepper

1/8

tsp

fresh ground nutmeg *

2

C

all purpose flour,

to make gluten free **
Parmesan Cream Sauce
1/2

lb

country ham

1.5

C

frozen peas

1

tsp

thyme

1

Tb

chopped parsley

1/2

C

butter

1

C

heavy cream

1/2

C

chicken stock

2

Tb

grated parmesan cheese
Instructions
Prick the outside of the sweet potato all over, about 20 times, to allow the steam to escape while cooking. Wrap the sweet potato in a damp paper towel that you have rung out well.

Microwave on high power for 6 minutes for 2 small potatoes and 8 minutes for one large, turning the potato over halfway through the cooking. It may take up to 10 minutes depending on the potato and your microwave. You want the potato to feel soft all the way through.

Being very careful, cut the sweet potato in half immediately after it finishes microwaving. If you cut the potato open and find it's not quite soft in the very center, no biggie. Just put the cut halves back in the microwave for 2-minute increments until cooked through.

Once split in half, poke the inside of the potato with a fork. You want to allow as much steam as possible to escape the potatoes. Moisture is the enemy of good gnocchi because you'll have to add more flour which takes away from the light texture and intense sweet potato flavor.


Allow the potatoes to cool for 10 minutes or until cool enough to handle. Place in a food processor to puree or you can mash by hand. I prefer the texture to be super smooth for gnocchi but even with a little more texture, the gnocchi will taste great.

Place the warm potato puree in a bowl with the mascarpone cheese and allow to sit for 5 minutes until totally cooled. No need to mix at this point. That comes next.

Once cooled, combine the sweet potatoes and mascarpone cheese with a mixer. Add 2 Tb of the parmesan cheese, nutmeg, salt, pepper, and flour. Mix to combine. Add the flour 1/2 C at a time, mixing between each 1/2 C increment. For the last 1/2 C, add 2 Tb at a time roughly until the dough just holds together.

Put the dough in the fridge to chill for about 15 minutes before rolling out.

While the dough is chilling, bring a large pot of well-salted water to a boil. Finely dice the ham, chop the parsley, and remove the thyme from the stem and roughly chop.

Once the dough has chilled, remove from the fridge and pour out onto a well-floured surface. Using a bench scraper or a knife, separate the dough into 6 equal strips. Take each strip and coat in a dusting of flour. Roll each piece of dough out into a long tube or cylinder shape that is about 1-inch in diameter. Just use very light pressure and roll gently back and forth until you reach the desired thickness.

Using a bench scraper or a sharp knife, cut each gnocchi into small 1-inch pieces that resemble little pillows. Try to cut quickly and in one motion to help seal the edges.

Once the water has reached a rolling boil, drop the gnocchi into the pot in batches being sure not to crowd each batch as the gnocchi expand while cooking. In my large pasta pot, I usually do about 4 batches. They cook VERY quickly so it doesn't hurt to cook small batches.

It only takes 1-2 minutes to cook. You will know the gnocchi is done when they float to the top of the pot. Remove the gnocchi from the boiling water and set aside in a large mixing bowl. As you remove each batch. Add a small drizzle of olive oil and toss to make sure they don't stick together. Continue working through the batches in this way.

When you're halfway through your batches of gnocchi, start that sauce by melting a stick of butter in a large saute pan. Once melted, add the diced ham and cook 4-5 minutes or until browned along the edges. Once browned, add the frozen peas and thyme and stir to combine. Cook for another 2 minutes or until the peas are warmed through.

Add the cream and chicken stock and stir to combine and bring to a boil. Last, add the parsley and remaining 2 Tb of parmesan cheese and stir. Once the sauce has reached a creamy but not too thick consistency, add the cooked gnocchi and toss gently to coat in the sauce. Serve immediately, garnishing with extra parsley and parmesan.
Notes
* I really prefer the flavor of fresh ground nutmeg over the kind you buy already ground. You can find whole nutmeg at your grocery store on the spice aisle, and I have linked an awesome grater and storage container in-one above. I store mine in the freezer where it will keep for up to 2 years….seriously, 2 years!
** To make this recipe gluten-free, substitute the all purpose flour with rice flour but only use half the amount of flour or 1 C. I would recommend starting with 3/4 C of rice flour first, working that into the dough, and then adding the remaining flour as needed until the dough comes together and isn't super sticky. Be sure to also use rice flour to roll out the dough.
The following two tabs change content below.


Hey-ooo! I'm Hailey, and I'm a number cruncher by day and cussing cook by night. I created this site to share my love for delicious food that feeds the soul as well as the belly. I hope my recipes have you running to the kitchen to cook some damn good grub!