When it comes to Thanksgiving sides, there is somewhat of a divide in the potato side of choice. I know some people favor classic mashed potatoes, but my family has always been the sweet potato type of people. A Thanksgiving plate is just not right without a big pile of wonderfully sweet, bright orange sweet potatoes. Some people, like my husband Chris, don't like when sweet potatoes are overly sweet so I've actually made Sweet Potatoes 3Ways to offer some different options to suit every palate!
The filling for the casserole is the same no matter which topping you choose. The three toppings I've picked are:
Classic Brown Sugar Pecan Crumble
Chipotle Pepita Crunch
Mini Marshmallow
Now first, let me establish that the mini marshmallow option doesn't have to look quite as burnt as mine. I love my marshmallows black, but disclaimer, I may have left my marshmallows under the broiler for 30 seconds too long.
But let's be real, there is always some really f*cking ugly dish on every holiday table so I decided to roll with it.
I love the marshmallow option especially if you have lots of kids on your guest list. For me, it's a very nostalgic way of serving the sweet potatoes. It's how my Mammaw always prepared them when I was a kid. If you want to go for the certain crowd-pleaser with adults and kids alike, the pecan crumble is a great option. Everyone loves the simple flavor combination of brown sugar and pecans.
If you're having a more adventurous eating crowd over for dinner, then I LOVE the Chipotle Pepita Crumble. It was the favorite of both Chris and me when I was recipe testing. The smoky flavors of the Chipotle Chili Powder mellow some of the sweetness of the filling and create a well-balanced flavor profile. It's also fun to serve sweet potatoes in a way most people have never seen on a holiday table.

I've chosen to present the sweet potatoes three ways which I think is a fun option, but you can also just pick one that suits your family's taste preferences. The recipes for the crumb toppings are written to cover the top of a whole 9" x 13" casserole dish so if you'd like to make the three-way dish like I have, adjust the recipes accordingly.
The recipes for the crumb toppings are written to cover the top of a whole 9" x 13" casserole dish so if you'd like to make the three-way dish like I have, adjust the recipes accordingly.
If you're making the casserole three ways, you'll start the casserole with the crumb toppings leaving the middle empty during the baking process. When you're ready to add the marshmallows, cover both crumb sides with foil so they don't burn under the broiler. Follow the instructions below for proper marshmallow melting.


Give all three of these recipes a try! They are each delicious in their own unique way. Let me know which one was your favorite in the comments section below. Also, if you're looking for more Thanksgiving ideas, be sure to check my Thanksgiving post with my full menu and helpful planning tips.

Helpful Utensils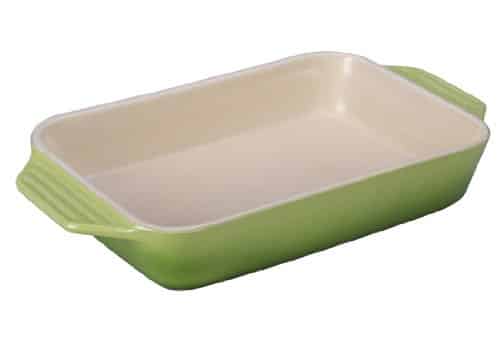 I love Le Creuset bakeware not only because it cooks food so beautifully, but also because it goes from the kitchen to the table with ease. All of their bakeware is pretty enough to be used cooking and serving.

Thanksgiving Sweet Potato Casserole 3 Ways
Creamy sweet potatoes are delicious, but for Thanksgiving, you need a topping for total decadence! Why pick just one? Sweet Potato Casserole 3 Ways has two different crumble topping and traditional marshmallows as toppings. Make it as a three or pick just one to try.
Ingredients
Sweet Potato Filling
10

medium sweet potatoes or about 10lbs

1/2

C

butter

room temperature

1/2

C

maple syrup

1/4

C

heavy cream

2

eggs

1

tsp

salt

1/2

tsp

pepper

1/8

tsp

cayenne pepper

optional
2) Sweet Pecan Crumble
1/2

C

butter

room temperature

1

C

chopped pecans

2

C

brown sugar

2

C

flour

1

tsp

salt

2

tsp

pumpkin pie spice
3) Chipotle Pepita Crunch
1/2

C

butter

room temperature

2

tsp

chipotle chili powder*

1

C

brown sugar

2

C

flour

1

C

roasted and salted pepitas

1

tsp

salt
Instructions
To make sweet potato filling
I like to roast my sweet potatoes for this casserole to bring out the caramel notes in the sweet potatoes. If you're running tight on time you can microwave as well. To roast, place on a sheet pan and roast in a 400-degree oven for an hour to an hour and a half or until potatoes are very soft.

If you prefer to microwave, prick the potatoes with a fork on all sides and place on a plate. Cover with a damp paper towel and microwave on high for 5 minutes. Stop and flip the potatoes over and microwave for another 5-7 minutes or until the potatoes are very soft.

Put the potatoes in a large mixing bowl and mash using a potato masher until smooth. Crack the 2 eggs into a small bowl and beat slightly. Add the eggs and the remaining ingredients and stir to combine. I like to use my stand mixer with a paddle attachment to combine the eggs. This ensures the eggs get well mixed. I also like to remove the fibers that get caught on the paddle attachment during mixing. It smooths out the texture of the sweet potatoes.

Pour the sweet potato filling into a 9″ x 13″ pan and spread out evenly.
To make your topping of choice
The marshmallow topping doesn't require any prep so you can proceed to the next step if that's your choice.

For the Pecan Crumble or Pepita Crunch, mix the butter, flour, sugar, salt, and seasoning (pumpkin pie spice or chipotle chili powder) until well combined. Add the pecans or pepitas and mix until combined.
To make sweet potato casserole
Preheat the oven to 375 degrees.

For the Sweet Pecan Crumble or Chipotle Pepita Crunch, you can pour the topping over the sweet potatoes and spread out evenly. If you're choosing marshmallows, don't add them now. Just bake the sweet potato mix alone.

Bake the sweet potatoes for 45 minutes then turn the oven up to 425 degrees and bake for another 10 minutes or until the topping is golden brown.

If you're topping with marshmallows, after 45 minutes, remove the sweet potatoes from the oven and switch to broil. Top the sweet potatoes liberally with mini marshmallows. Once the broiler is heated to high, put the sweet potatoes back into the oven until the marshmallows are dark brown. Watch VERY closely as this happens fast. You may also need to move the pan around in the oven occasionally to get an evenly browned top.

Once cooked, remove from oven and allow to cool for at least 5 minutes before serving.
Notes
*Regular chili powder is a totally fine substitute if you can't find chipotle powder.
The recipes for the crumb toppings are to cover the top of an entire 9″ x 13″ pan. If you want to make the casserole three ways as I did, you will only need a third of the recipe. You can make the whole recipe and freeze what you don't use or adjust accordingly. Bake the sweet potatoes with crumb toppings as instructed leaving a middle third empty for the marshmallows. Once the crumb toppings are golden brown, remove from the oven and switch to broil. Cover the two crumb toppings with foil leaving the middle open. Cover with mini marshmallows and put under the broiler or until just browned.
The following two tabs change content below.


Hey-ooo! I'm Hailey, and I'm a number cruncher by day and cussing cook by night. I created this site to share my love for delicious food that feeds the soul as well as the belly. I hope my recipes have you running to the kitchen to cook some damn good grub!