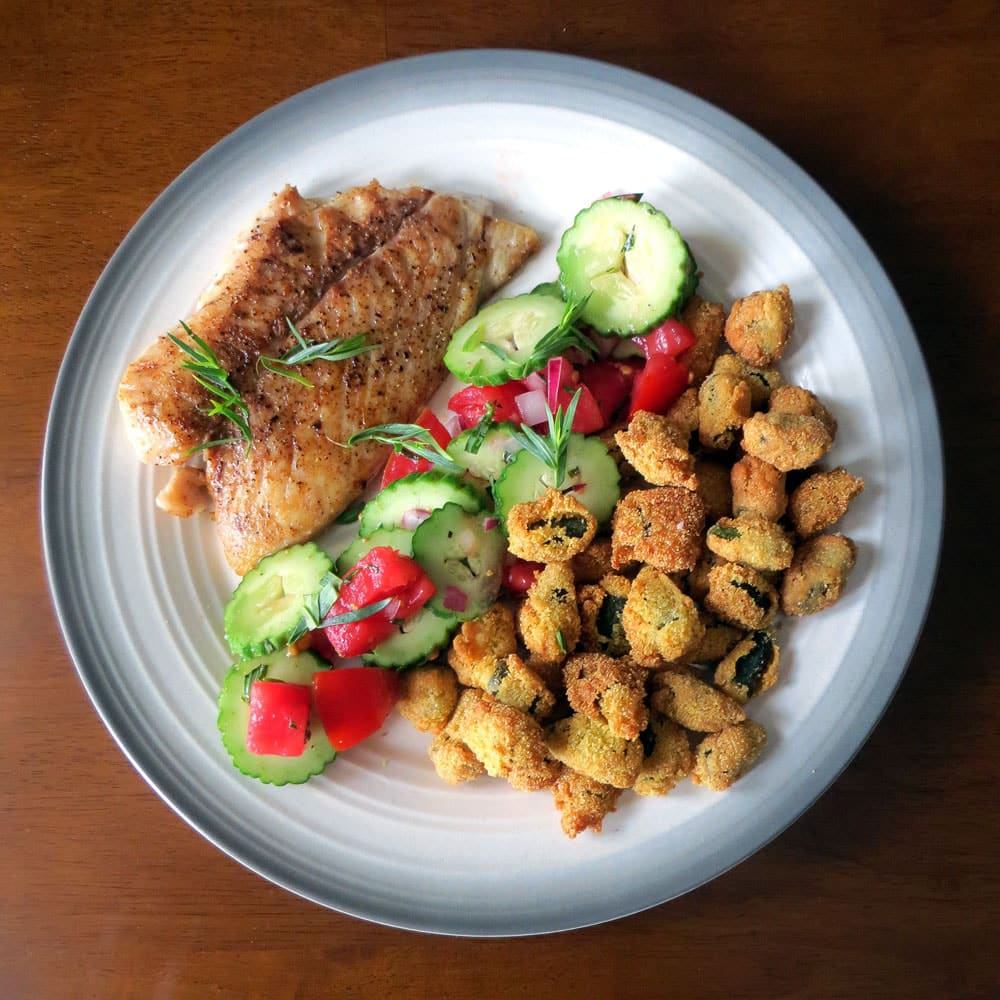 This dish is legit summer on a plate. There is something so special about how light and refreshing summer vegetables can be while still being jam-packed with flavor.
I have a whole lineup of family recipes that I can't wait to show everyone, but that fact is my family wasn't exactly focused on using fresh, seasonal ingredients from local farms. I try to incorporate farm-fresh ingredients into family classics, but I'm also married to a chef who prefers a much more fluid process when it comes to meal planning.
Quite often, our meals start at the farmers market. Oklahoma State University puts on an awesome farmers market every Saturday morning that Chris and I really like. There's nothing better than starting your weekend with a causal meandering through the rows of fresh produce and smatterings of artisan bread, cheeses, and condiments.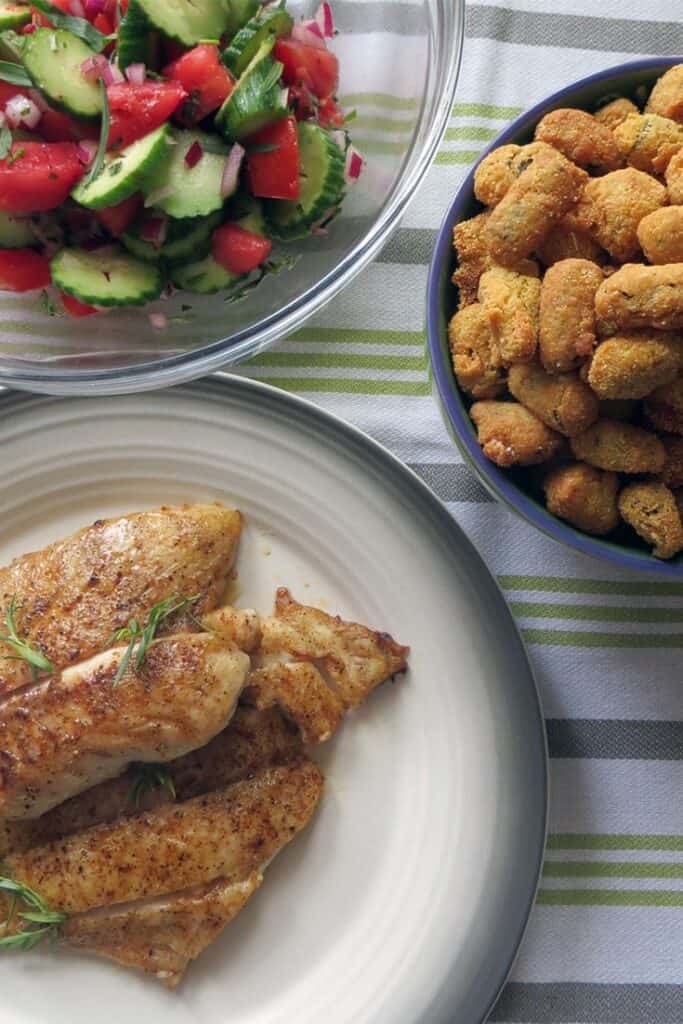 This weekend's trip was all about the summer vegetables. Can we just take a moment to respect the glory that is the summer tomato? I know, I know… your social media feeds this time of year are probably filled with tomato dishes of every variety, but there is a reason for that. They are f**king amazing this time of year.
In fact, I despised tomatoes most of my life, and I believe that is largely due to the fact that I only had tomatoes from a grocery store until late in my adult life. The first time I tried a cherry tomato that was pulled from a plant in our backyard, my mind came alive with all the tomato dishes that I had hated my entire life and how amazing they would be with a real tomato like this.
Cucumber tomato salad is one of those dishes. When made with store-bought tomatoes in January, it's just not an exciting dish. But when made with farm fresh tomatoes that ripened to perfection in the blistering heat of August, it's sublime.
Add to that fresh Persian cucumber that is so crisp it snaps like a potato chip, you've got a side dish that doesn't weigh you down but overloads your senses with color, freshness, acidity, and flavor.
The other vegetable that I get super excited for during the summer is okra. I just love this strange little southern gem. If you've never had it, you really are missing out. It has a squash-like flavor that is all its own. It can have a slime that people often speak of, but when breaded and fried you don't get any of it.
Fried okra is as southern as it comes, but it's also pretty dang basic. Hell, fried okra used to be my favorite side order at Luby's Cafeteria, a place I frequented as a child with my grandparents. You always find it cornmeal crusted, and this recipe is no different.
I was lucky enough to find baby okra at the market today, and they were so tender that once fried they just melted in your mouth. I've made this same recipe before though with regular okra, and it was just as delightful. When you're picking out okra at the market, try to get the smallest pods possible. The larger pods can be a little tough.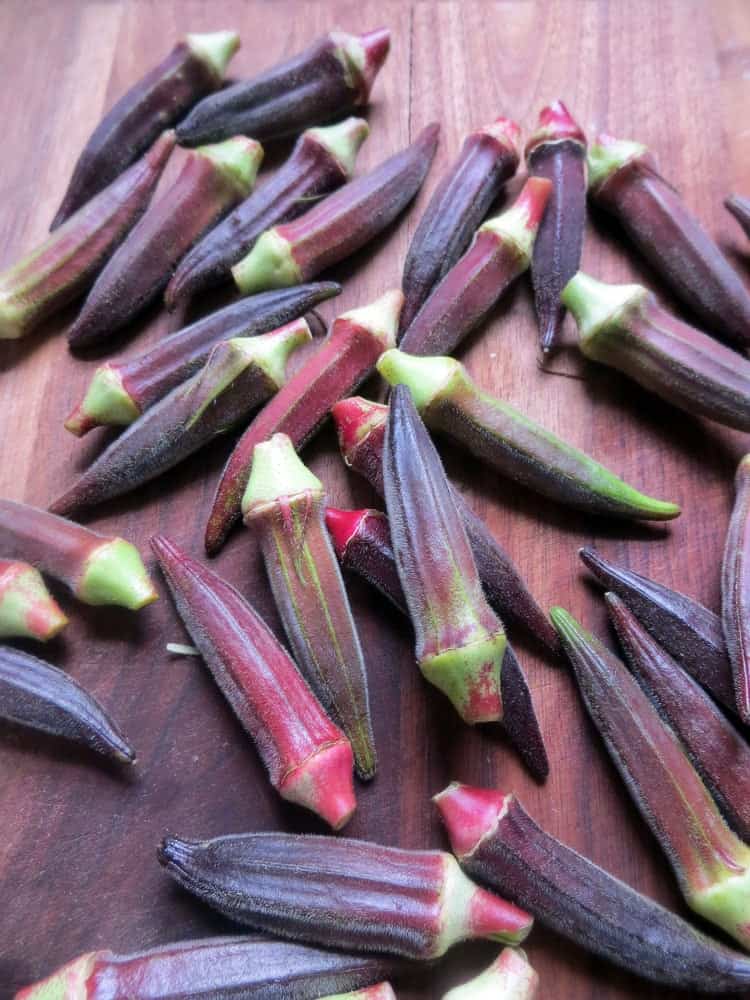 In this case, the snapper was the final piece of the puzzle. You'll find I often center a meal around the sides. What can I say, appetizers and sides are usually my favorite parts of a menu! We chose snapper as it was the freshest at the store that day, but any kind of mild fish would make a perfect accompaniment to these two sides.
I'm not a huge fan of the hot summer temperatures, but the gifts from the garden make this season alright with me. Enjoy these summer treats and let me know what you think!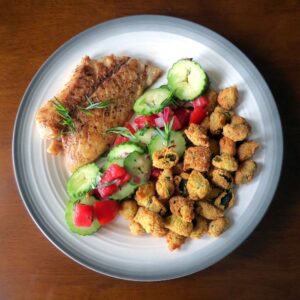 Pan Seared Snapper with Fried Okra and Cucumber Tomato Salad
Summer on a plate! The sides are the star of this dish featuring the southern classic of fried okra and a side of bright, fresh summer veggies.
Ingredients
Snapper
2

red snapper filets

no bones and no skin (ask your fish monger to remove)

Tony Chachere seasoning

black pepper

olive oil
Fried Okra
1/2

lb

baby okra

regular okra is fine, just choose small okra pods

1

C

buttermilk

1

egg

1

tsp

hot sauce

I used Crystal

1

C

cornmeal

2

tsp

Tony Chachere seasoning

vegetable oil

salt
Cucumber Tomato Salad
1

large tomato

1

Armenian or Persian cucumber

English cucumber would be fine

1/2

red onion

3

Tb

red wine vinegar

1

Tb

olive oil

1/2

tsp

finely minced tarragon

salt and pepper to taste
Instructions
Snapper
Pat both sides of your fish filets dry with paper towels. Season evenly with Tony Chachere seasoning and black pepper on both sides. You won't need salt as Tony Chachere is plenty salty. Heat a large nonstick pan over medium-high heat. Add 1 Tb of olive oil to the pan or enough to coat.

When the oil has a ripple, it's hot enough to add fish. If you don't get your pan hot enough, the fish will stick to the pan. Place fish in the pan, and DO NOT disturb for 3-4 minutes or until a crust has formed. Carefully flip fish using a second spatula if necessary to keep fish together. Cook on the second side for 3-4 minutes without moving. Cook until just firm and cooked through. Overcooked expensive seafood is f**king terrible.

Serve immediately.
Fried Okra
Trim the ends off the okra including the entire stem. Cut into 1-inch pieces, cutting horizontally to make small rounds. Prepare a baking sheet with a layer of paper towels and top with a cooling rack.

Mix buttermilk, egg and hot sauce in a small mixing bowl until well combined. Put cornmeal and Tony Chachere in a quart size Ziploc. Working in small batches, add okra first to buttermilk mixture, tossing to coat. Then remove okra from buttermilk being sure to shake off excess liquid and add to cornmeal. Try to separate okra as you drop into the bag so they don't all stick together. Zip the top of the bag shut and toss to coat in cornmeal. SMALL BATCHES ARE ESSENTIAL TO GOOD FRIED OKRA….if you try to do too many you end up with shitty okra that is not thoroughly breaded or crisp.

Heat about 1 inch of vegetable oil in a 10-inch cast iron pan until the oil reaches 350 degrees. If you don't have a thermometer, you can test the oil by dropping a small piece of batter into the oil. If it floats and sizzles immediately, your oil is ready. Cook okra until well browned or about 5 minutes moving occasionally in the pan to ensure browning on all sides. Once browned, remove from pan and place on cooling rack. Don't worry if some fall through. That's why you put the paper towels down first. Season with salt immediately!

Work in small batches until all okra is complete. You can keep what's not cooking warm in the oven on 175 degrees. Keep the okra batches warm while you prepare the fish or serve immediately.
Cucumber Tomato Salad
Core the tomato and cut into a 1-inch dice. Trim ends from cucumber and slice into 1/4″ rounds. Finely dice half of a red onion.

In a bowl, mix remaining ingredients to form a dressing. Add prepared vegetables to dressing and toss to combine. Return to refrigerator for at least 30 minutes before serving. Serve within a couple of hours of preparing to keep the crisp texture of the cucumber.
Notes
1) You may not be familiar with tarragon. It has a very subtle and bittersweet anise flavor. If you can't find tarragon at your market, basil would be a great substitute.
2) I would recommend making the Cucumber Tomato Salad first and keeping in the fridge until your hot items are ready to go. Then move onto making the fried okra and keeping it warm in the oven as you work through the batches. You can then hold it in the oven when you saute your fish to finish the meal.
The following two tabs change content below.


Hey-ooo! I'm Hailey, and I'm a number cruncher by day and cussing cook by night. I created this site to share my love for delicious food that feeds the soul as well as the belly. I hope my recipes have you running to the kitchen to cook some damn good grub!