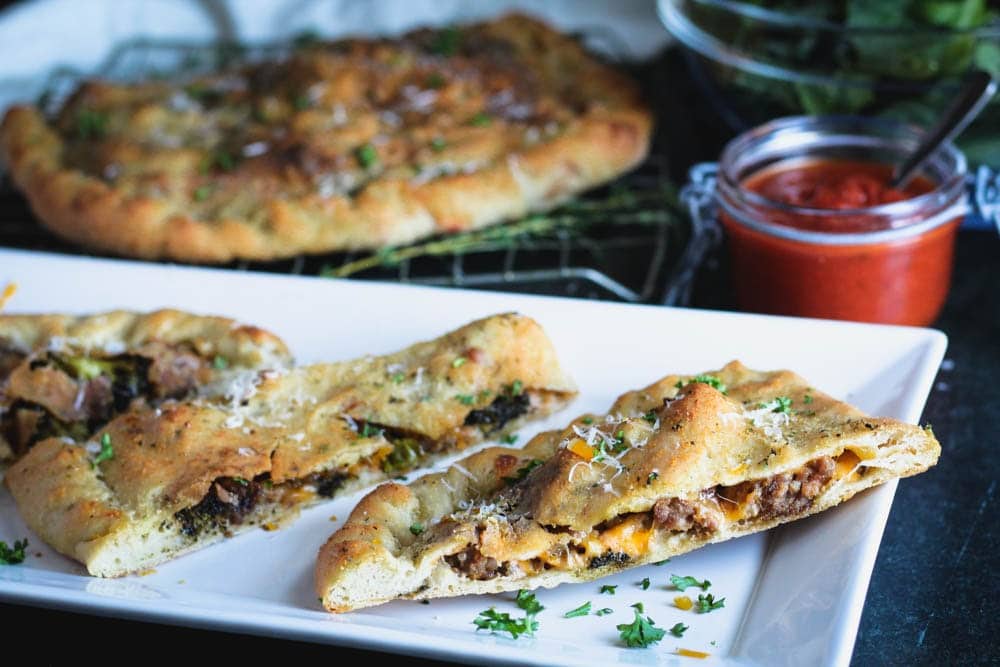 Sausage and Broccoli Stromboli offers a somewhat unique flavor combination in an adored pizza-like package. Italian sausage and roasted broccoli are layered over a cream cheese filling to create a meaty, tangy, earthy, salty and bitter tango of tastes that will have your tribe asking for broccoli pizza all the time!
So first let's briefly cover the difference between a stromboli and a calzone. There are plenty of articles out there that go into calzones vs strombolis so I'm not going to spend too much time here. In short, the sauce is baked inside of a Stromboli, while the sauce is served on the side with a calzone.
To be fair, I really could have called this recipe either a stromboli or a calzone since there is a sauce of sorts inside, but I also serve my Stromboli with a side of dipping sauce to I guess you could technically than call it a Calzone. It's sort of mind-f*ck to figure out.
I ended up going with stromboli for the recipe name mostly because I love the way it sounds when it rolls off the tongue.
I can't say it without a ridiculously bad Italian accent and some animated hand motions to match.
On to the good stuff now…the yummy shit that is tucked away inside. I often see recipes for sausage and broccoli pasta dishes. In fact, I make a simple rigatoni with roasted broccoli and sausage quite often as a quick weeknight meal, but I wanted to do something a little more fun for my cussin' cooks.
I decided to combine these familiar flavors with another favorite at my house: PIZZA! I love making homemade pizza. I make it almost every Friday, but recently I decided to start experimenting with wrapping the dough all the way around my topping to create strombolis. I absolutely love the result!
A stromboli gives me all the feels of a pizza and a sandwich together in one!
When I began experimenting with this recipe, I just included shredded cheese, sausage, and broccoli inside my stromboli, and I felt like it was missing something. The filling needed some creaminess to get the mouthfeel I was looking for but also a little tang and acidity to balance the earthy notes of the broccoli.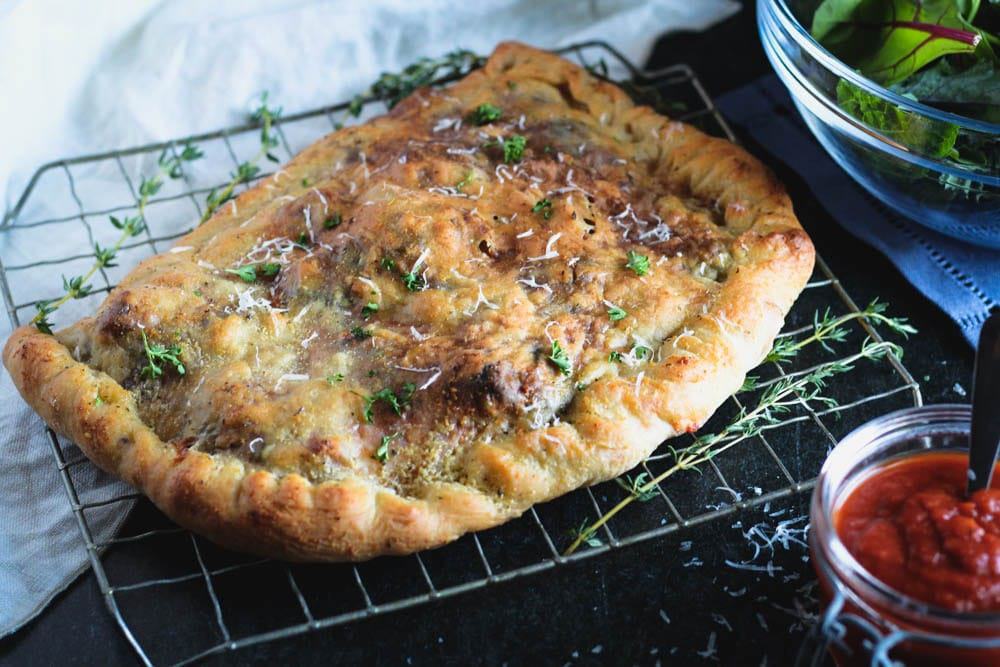 Enter my favorite ingredient on planet earth, cream cheese!! I really look for every excuse possible to add cream cheese to my recipes. It's a perfect fit for this dish. In one of my initial recipe tests, I made caramelized onions and blended them into the cream cheese which was delicious but required an extra step.
The thought struck me that I should just use chive and onion flavored cream cheese, duh! Combined with a splash of balsamic vinegar, chive and onion cream cheese made the perfect base for the sausage and broccoli toppings.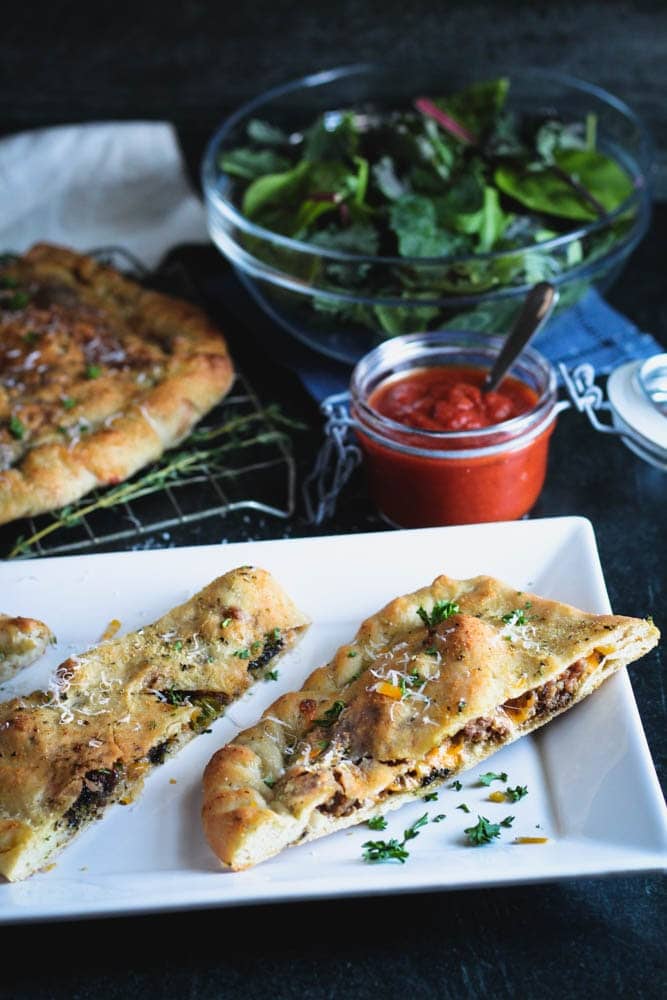 If you've never made pizza dough from scratch, there is really no reason to be intimidated. Pizza dough is very forgiving because it's soft and stretchy. The only thing to look out for is not getting your dough thin enough as you're rolling it out or stretching it. The dough will expand quite a bit as it bakes, and if it's too thick to start the cooked dough will be chewy instead of crispy.
I've tested this recipe quite a few times before it made its way to the blog, but my hubs and I still haven't tired of Sausage and Broccoli Stromboli. Try this recipe out, and you'll see why it's one you'll return to again and again.
Helpful Utensils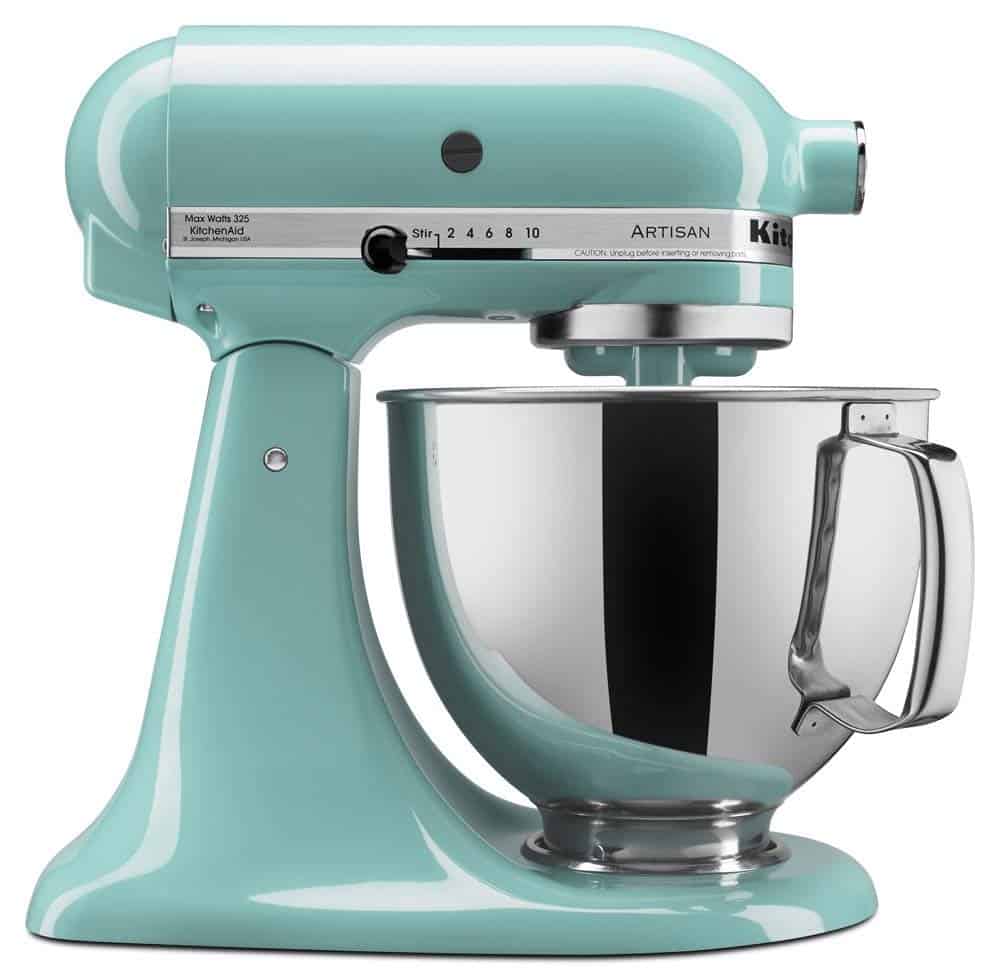 If you don't already have one, this will easily become the most used kitchen appliance in your house. It's a pricey purchase but worth every penny.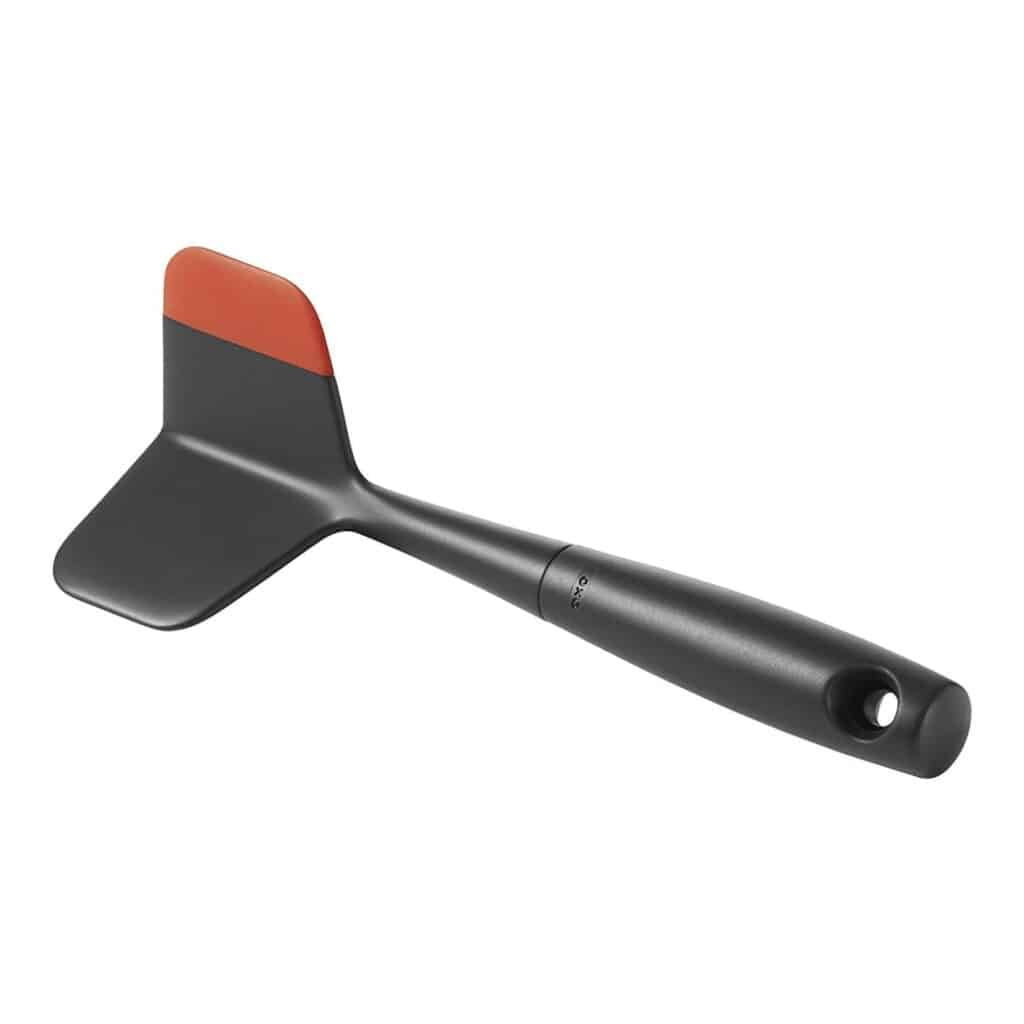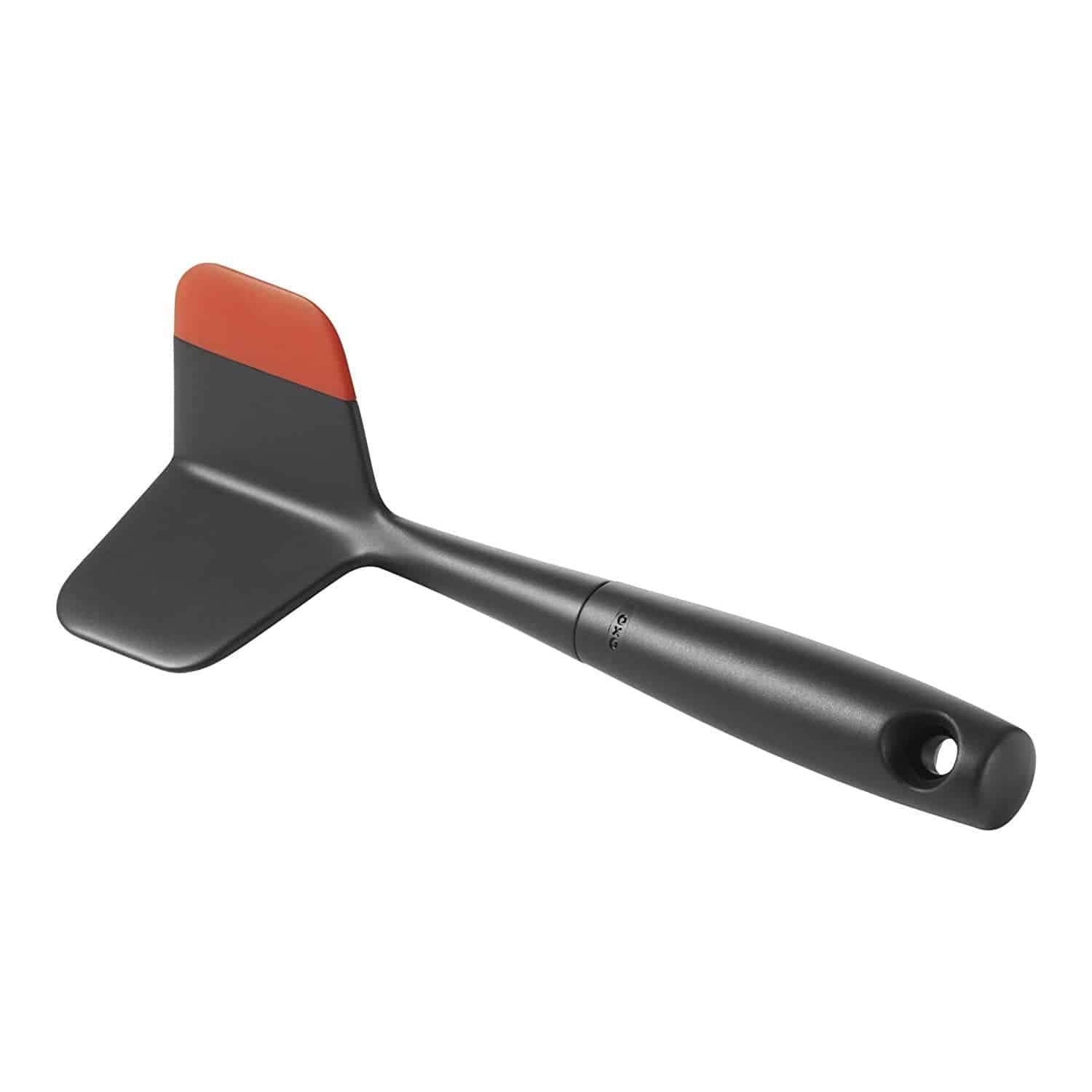 You'll be surprised how handy this little gadget is. Breaking up any sort of ground meat in the pan is easier and not nearly as messy with the help of this chopper.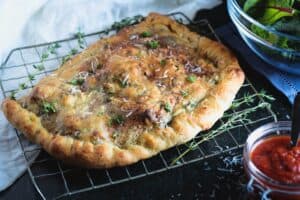 Sausage and Broccoli Stromboli
Italian sausage and roasted broccoli layered over a tangy cream cheese sauce wrapped in homemade pizza dough for an experience as good as any local pizza parlor could offer! Stromboli is also great to feed a crowd especially if there are kids in the group.
Ingredients
Pizza Dough
1

C

water

110 degrees

1

heaping tsp

yeast

1/2

tsp

white sugar

2 – 2.5

C

all purpose flour

1

tsp

kosher salt

pinch

dried oregano
Sauce
6

oz

chive and onion cream cheese

room temperature

1

Tb

fresh parsley

roughly chopped

1

Tb

balsamic vinegar

1

tsp

fresh thyme

1/4

tsp

kosher salt

pinch

black pepper
Fillings
3/4

lb

Italian sausage

1/2

lb

broccoli crowns

1.5

C

shredded colby-jack cheese

2

Tb

olive oil

1

tsp

kosher salt

1/2

tsp

black pepper

1

egg

1

Tb

water
Glaze
1

Tb

butter

1/4

tsp

garlic powder

1/4

tsp

Italian seasoning
Instructions
To make pizza dough
Combine the water, yeast and sugar in a large stand mixer bowl fitted with a hook attachment. Let the mixture sit for a few minutes and then add 2 C flour, salt, and pinch of oregano. Turn the mixer first on low.

Determine if you need any additional flour by assessing the texture once all the ingredients are combined. You want the dough to not be sticky, but you don't want to add so much flour that it is stiff and dry. Add an additional 2 Tb of flour at a time and wait until it is thoroughly combined before adding more. Once the dough is no longer sticky to the touch (turn the mixer off before reaching your hand inside please!), stop adding flour.

Increase the speed to medium once the ingredients are combined and allow the mixer to work the dough for about 2 minutes until the consistency is smooth and the dough has balled up around the hook.

Alternatively, you can make pizza dough by hand. Once all the ingredients are combined, you'll just need to knead the dough by hand until it is a smooth consistency. I will say though that a Kitchen Aid Stand Mixer is a wonderful addition to your kitchen. I've linked to one above to purchase if you're interested. Just the ability to make pizza dough in a snap is worth the purchase.

Prepare a new large mixing bowl with a light coating of baking spray and place the dough ball in the bowl. Cover with a dish towel and put in a warm place for an hour to rise. The dough should double in size before you roll it out.

Once the dough has doubled in size, flour your work surface well and pour out the dough. Split the dough into two equal size pieces and set them about 12-inches apart from one another. You can either stretch the dough by hand or use a rolling pin to spread each dough ball to a 12-inches wide by 18-inches long rectangle-like shape.

Stretching takes a little more patience but means a thinner dough, but if you're more comfortable using a rolling pin that totally works. Just try not to abuse the dough with the pin. Use light even pressure.

I usually trim my dough with kitchen scissors to make a nice shape so don't stress too much about getting a perfect shape. Check out how different mine are above! Just try to get the dough as thin as you can without tearing it. Use a rolling pin to transfer the dough to a baking sheet lightly coated with baking spray. Half of the dough will hang off the edges. See the picture above. Don't worry we're going to fold the dough over for a nice neat finished product.

Now we're ready for fillings.
To make stromboli
Preheat the oven to 375 degrees. Cut the broccoli into small, roughly 1-inch, florets. Place on a baking sheet and coat with 2 Tb olive oil, 1/2 tsp salt and 1/2 tsp pepper. Bake for 20 minutes. Set aside to cool. Increase the oven heat to 450 degrees.

While the broccoli bakes, sauté the Italian sausage. Place a medium nonstick pan oven medium-high heat. Add a drizzle of olive oil and add the raw sausage. Break up the meat into bite size pieces. A ground meat chopper like the one I've linked to above it super handy for this. Cook for 8-10 minutes until the sausage is cooked through and the edges of the meat start to brown.

Remove the thyme from the stem and roughly chop the thyme and parsley. Prepare the sauce by combining all of the ingredients well in a small mixing bowl.

Gently spread the cream cheese filling across the bottom half of each stromboli dough. Try not to pull on the dough too much so you don't make any tears. Leave a 1-inch space around the end of the dough to seal the stromboli.

Next top the cream cheese with the cooked sausage and broccoli and top with the shredded cheese. Create an egg wash by beating the egg in a small bowl with 1 Tb water. Using a pastry brush, brush the edges of the bottom half with egg wash and then fold the clean side of the dough over.

This is the time to trim the dough with kitchen scissors if you have any excess dough. You want enough dough to crimp the edges, but you don't want big bites of just crust around the edge. Aim for 1-inch of dough around the fillings on the bottom and symmetrical match on top.

I use a roll and pinch technique to seal the edges. I roll the dough inward to towards the filling in small half-inch segments and pinch to close. Work your way all the way around the stromboli until all the edges are sealed. Lightly brush the top of the calzones with egg wash and season with the remaining 1/2 tsp of salt.

Using a small sharp knife, cut a couple of 2-inch diagonal slits in the top of the stromboli to let the steam escape. Bake for 20-25 minutes or until the edges are browned and the dough is cooked through. Remove the stromboli from the oven.

Melt the butter in a small bowl and combine with garlic powder and Italian seasoning. Using a clean pastry brush, brush the entire outside of the strombli with the seasoned butter. Place the stromboli back in the oven for 5 minutes until well browned. Allow the stromboli to cool for at least 5 minutes before cutting.
Notes
– The broccoli can be roasted, the sausage cooked, and the sauce made up to 3 days in advance to speed up the prep time for this recipe.
The following two tabs change content below.


Hey-ooo! I'm Hailey, and I'm a number cruncher by day and cussing cook by night. I created this site to share my love for delicious food that feeds the soul as well as the belly. I hope my recipes have you running to the kitchen to cook some damn good grub!