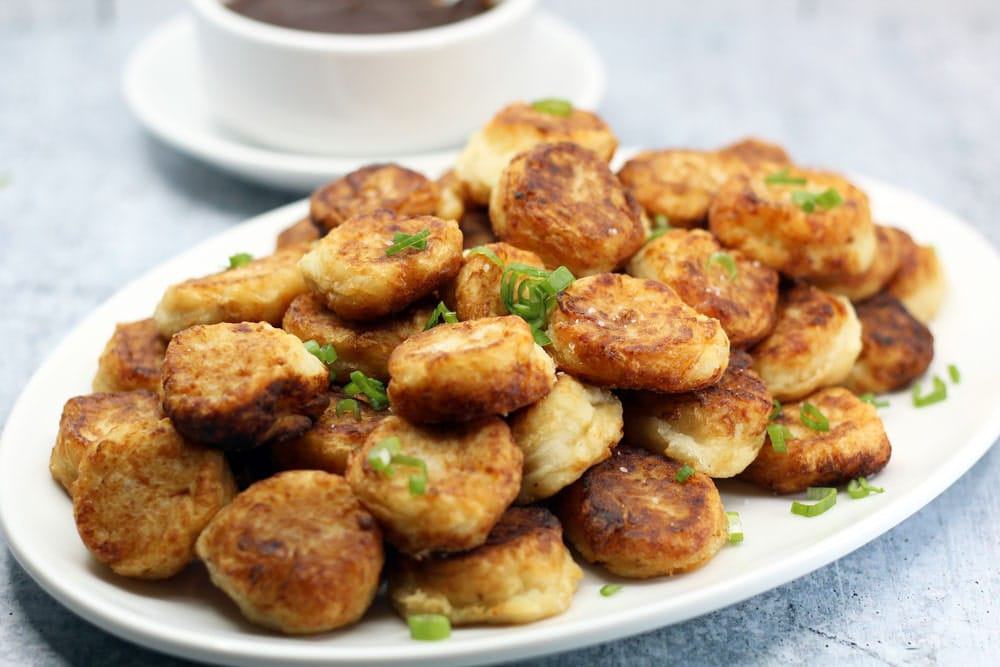 Looking for a snack for an upcoming big game? Potato Puffs are the perfectly snackable yet still elegant appetizer to feature on your next party spread. The easiest way to describe Potato Puffs is to say they are like mashed potatoes in snackable form.
Potato Puffs are a whole lot like the traditional potato pancake you make with leftover mashed potatoes. In fact, this recipe would also work really well with leftover mashed potatoes.
The difference between Potato Puffs and pancakes is the PUFF, of course!
The recipe includes eggs not only to help bind the mixture together but also to provide some leavening to the recipe. When I first made these, I did not include the baking powder that is now in the recipe. I just used eggs, but I thought they needed more puff make them distinct from pancakes or latkes.
With both baking powder and eggs, the Potato Puffs are light as air. The outside has a bit of a crisp shell from being coated in flour and fried, but the inside is so smooth and creamy. They melt in your mouth.
Potato Puffs are quite simple to make if you don't mind doing a little frying. The only time-consuming part of the recipe is boiling the potatoes because I like to boil them whole to minimize the extra moisture in the Puffs.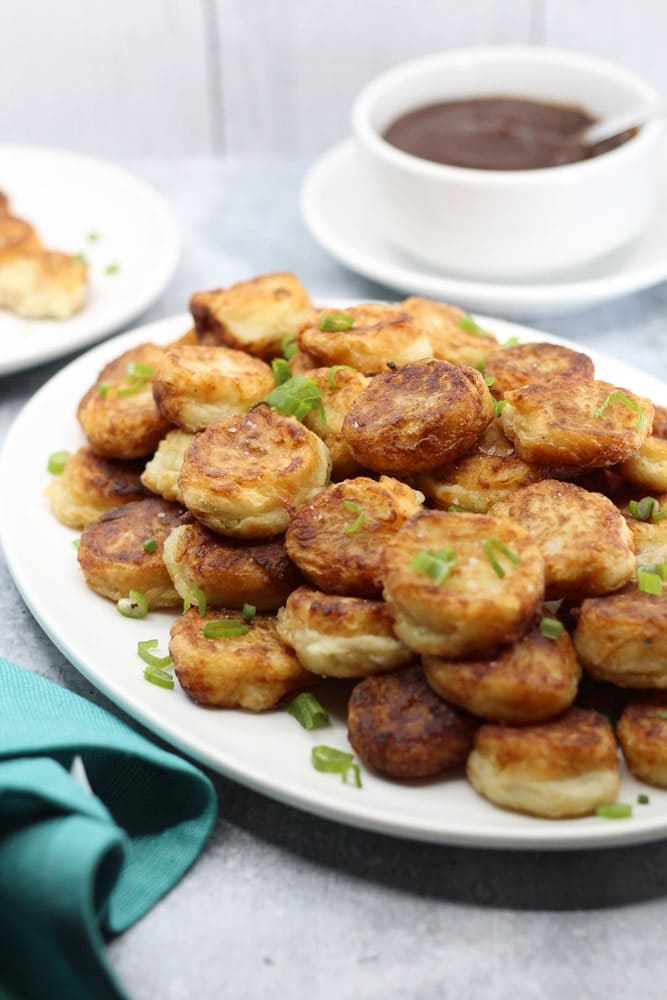 If you're lucky enough to have an Instant Pot (I just don't have room for more kitchen gadgets right now ☹), then that would be a great way to quickly cook the potatoes. Check out A Cozy Kitchen's recipe for Instant Pot Mashed Potatoes for tips!
A Cozy Kitchen- Instant Pot Creamy Mashed Potatoes
Just try to serve your Potato Puffs quickly after cooking. You can hold them in a warm oven while you prepare the batches or even for a bit longer if you need to, but just know that the crispy outer shell fades quickly as they sit.
There are so many options for topping off your Puffs. Here are just a few ideas that were suggested in the Southern Living recipe that inspired mine:
Cream cheese and caviar
Cheddar cheese and bacon crumbles
Parmesan and black pepper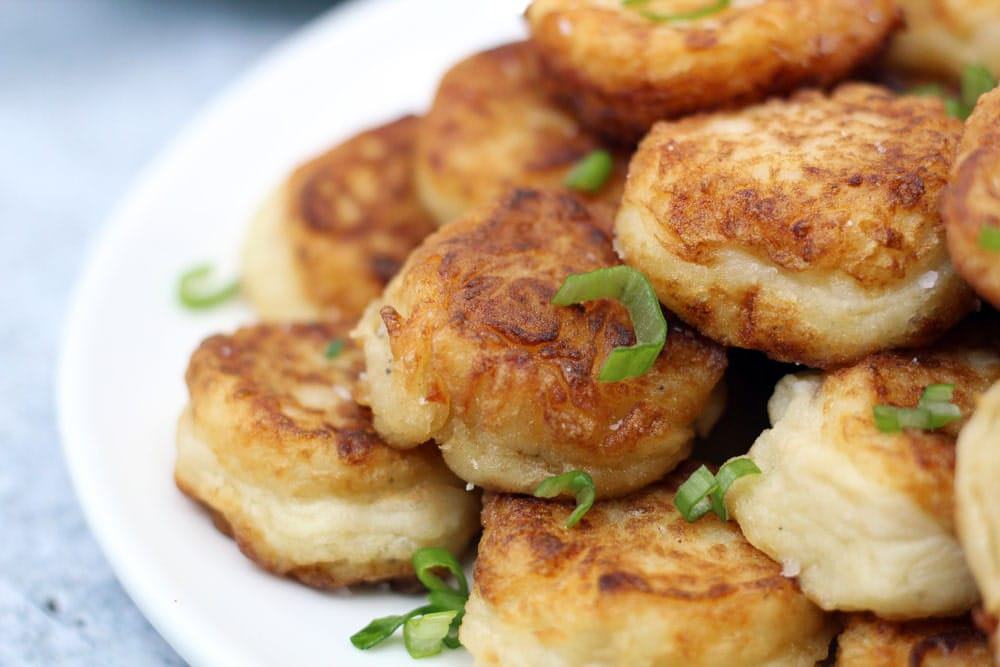 I decided to go a little bit of a different direction with mine although it's a classic flavor combination. Potato latkes are often served with apple butter, and I love that flavor combination. I decided to serve my puffs with a side of apple butter because it's delicious but also, it's much easier than individually topping each puff.
Potato Puffs with Apple Butter are a bite of rich, creamy potato heaven. The salty notes from the potato combined with the sweet flavor of the apple butter are blissful. I also really like saying "Potato Puffs." I find myself saying it like Mrs. Doubtfire or Julia Childs which is always a sure sign that I'm feeling whatever I've made.
Give Potato Puffs a go and let me know what you think in the comments section below!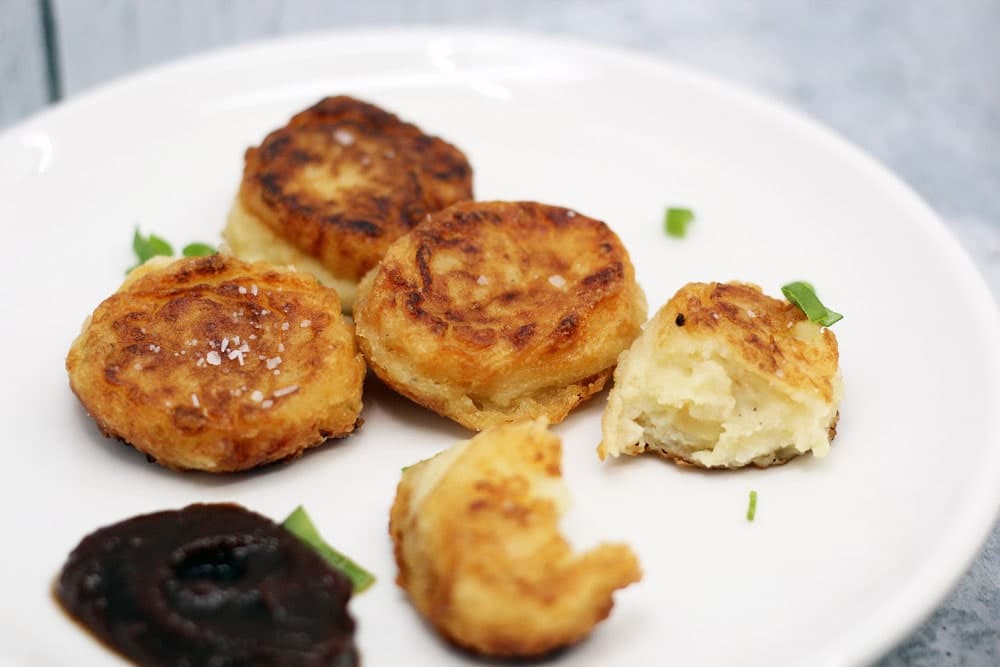 Helpful Utensils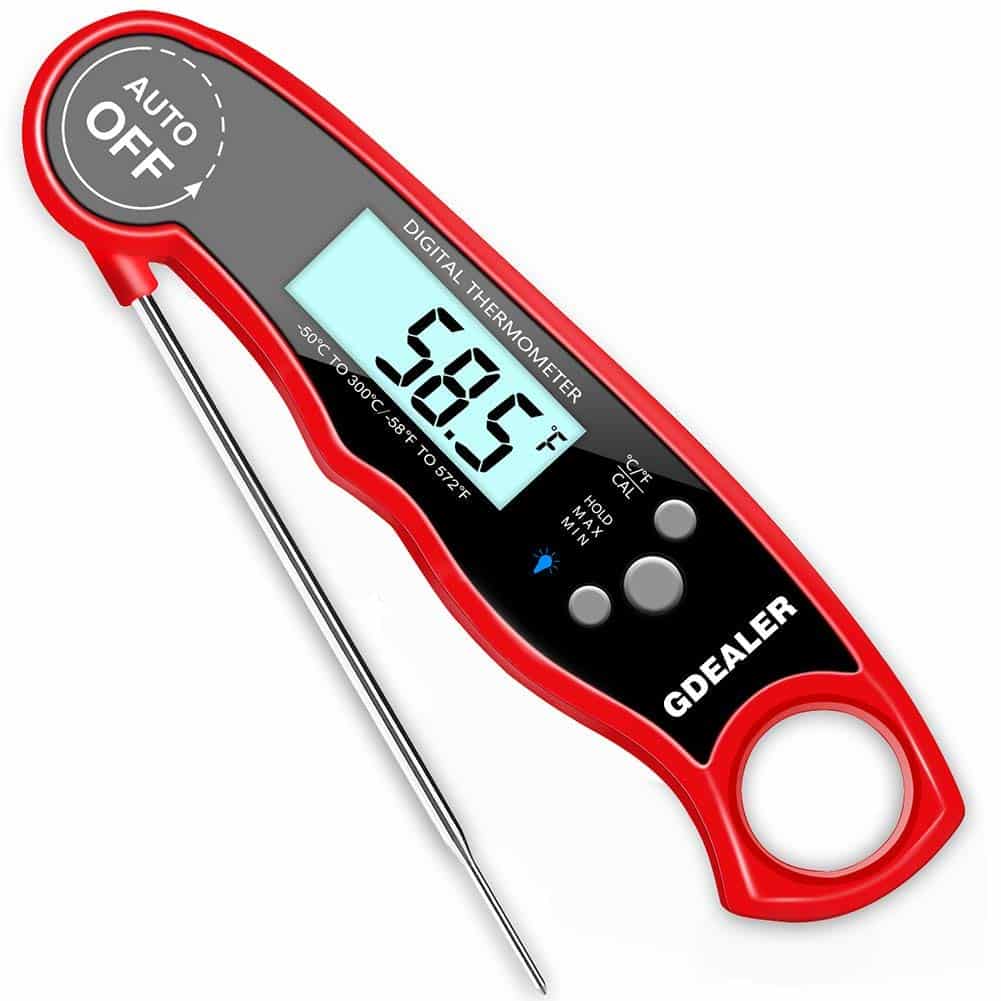 No more guessing when it comes to oil temperature! Frying is a lot less scary when you can check your oil temperature and that's just one use.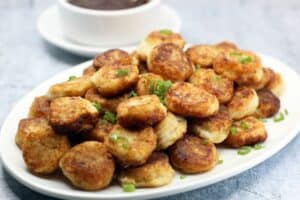 Potato Puffs with Apple Butter
Light as air and buttery potato puffs melt in your mouth. These party snacks are mashed potatoes in snackable form, perfect for entertaining especially for a big football game. These Puffs are flavored with fried shallots and garlic. Potato Puffs are football food with style!
Ingredients
3

large russet potatoes

2

small shallots

4

Tb

butter

divided

2

Tb

heavy cream

1

egg yolk

1

egg

1

tsp

minced garlic

2

tsp

salt

fresh cracked pepper to taste

1

tsp

baking powder

1/2

C

all purpose flour

plus more for work surface

canola oil

apple butter for serving
Instructions
Peel the russet potatoes and place whole in a large saucepan. Cover with 2 inches of cold water and bring to a boil. Boil for 30-45 minutes or until potatoes can be easily pierced with a fork to the center.

Strain the cooked potatoes and place them immediately back into the hot pot and place a lid on the pot. Allow the potatoes to steam in the covered pot for 10 minutes to remove any remaining moisture.

Add 2 Tb of butter to the steamed potatoes. Mash with a hand masher or you can put the potatoes through a ricer if you have one. You want the potatoes smooth but not gummy. Once the potatoes are mashed, set aside.

Peel and thinly slice the shallots. Cut in half and then slice into very thin strips. Place the remaining 2 Tb of butter into a small skillet over medium heat. Once the butter has melted, add the sliced shallots and fry for 2-3 minutes, stirring occasionally for even cooking. Once the shallots are golden brown and crisp, turn off the heat and set aside.

Crack the whole egg and egg yolk to a large mixing bowl. Add the salt, pepper, garlic, fried shallots, and heavy cream and mix to combine. Add about 2 C of the hot mashed potatoes to the eggs and immediately stir vigorously to temper the eggs (IE prevent your potato puffs from turning into scrambled eggs and mashed potatoes).

Once you've tempered the eggs, add the remaining mashed potatoes and fold gently to combine. Add 1/2 C flour and baking powder and continue to fold gently until you don't see any remaining flour in the mix.

Cover the mix with saran wrap and chill for a minimum of 2 hours or preferably overnight. The colder the mixture, the more spherical shape you'll end up with. My photos are from only 2 hours of chill time.

Once the potato mix has chilled, pour about 1 C all-purpose flour onto a work surface and begin dropping 1 Tb of potato mix and rolling each portion to coat in flour and form a ball shape.

Pour 1-inch of oil into a high-edged skillet and heat to 325 degrees over medium heat. A digital thermometer is super handy when frying. I've linked to one above. If you don't have a thermometer, then you can also drop a small piece of potato in the oil. It should rise to the top immediately and start to bubble when the oil is ready. It usually takes about 5 minutes for the oil to heat.

Prepare a baking sheet with two layers of paper towels to absorb any extra grease.

Once the oil is hot, drop the floured potato puffs into the oil leaving about an inch of space around each one. Work in batches, turning each puff after 2-3 minutes of frying. You want a dark golden brown color.

Once the puffs are browned on both sides, place them onto the prepared baking sheet. Season with a pinch of kosher salt right after removing from the fryer.

You can keep the prepared puffs on in a warm oven while you make the others but try to serve the potato puffs quickly after frying.
The following two tabs change content below.


Hey-ooo! I'm Hailey, and I'm a number cruncher by day and cussing cook by night. I created this site to share my love for delicious food that feeds the soul as well as the belly. I hope my recipes have you running to the kitchen to cook some damn good grub!