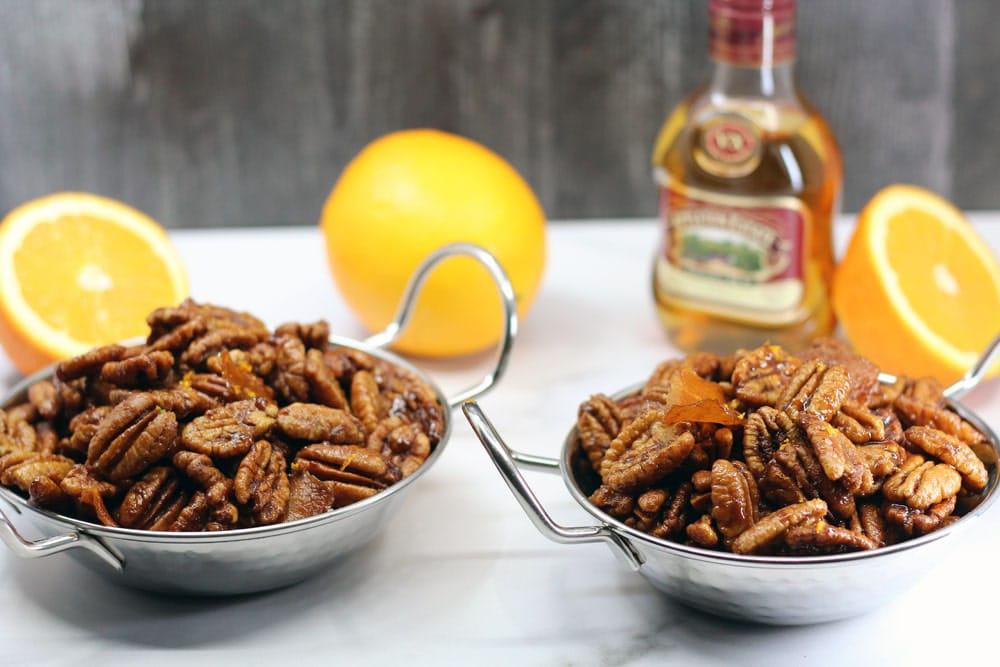 Orange Rum Glazed Pecans are the perfect cocktail party nuts. The citrus bite from plenty of orange rinds is brought to life by a splash of rum to make these toasted pecans unique from your standard salted or candied pecans.
The texture of Orange Rum Glazed Pecans is also delightful. I love candied pecans, but they tend to be quite heavy and sticky. They are great as dessert but definitely not what I want before dinner or to enjoy as a light snack with drinks.
These pecans instead are just lightly glazed, not heavily coated in sugar, and because the pecans toast in a butter orange syrup, they become smooth and creamy on the inside.
The glaze gives a nice snap to the outside of the buttery rich pecans.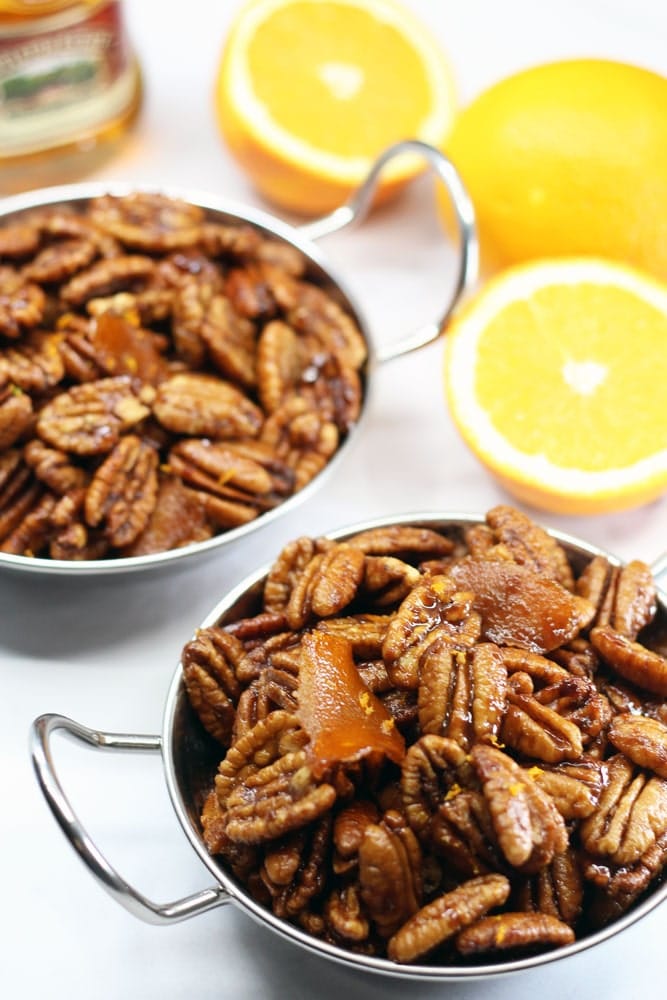 These pecans are not overwhelmingly sweet or salty making them a nice complement to any cocktail you choose, but just because they have booze doesn't mean these are only for the adults. All the alcohol cooks off during the roasting process so don't be afraid to share these with your younger party guests too.
The idea of these pecans came from a classic Southern recipe for orange pecans that uses orange liqueur and doesn't include any sweetness. I wanted to include a touch of sweetness so I added brown sugar to the recipe.
I also wanted to add a little complexity to the flavor profile so I thought adding a different liquor, like rum, would make the pecans more interesting. The end result of these little changes is amazing!
I always have tons of pecans around this time of year because my dad always sends a 3 lb bag of pecan halves to us during the holidays. The pecans he sends are so delicious and fresh.
The quality of your pecans for this recipe definitely matters since there are only a handful of ingredients.
If you can find pecans fresh from a local farm, those would be best. The ones my dad sends are from Leonard Farms in Granbury, TX, but really any super fresh pecans will work.
I always store my nuts including the pecans my dad gifts in the freezer. Nuts will keep for years in the freezer as it prevents the oil in them from going rancid.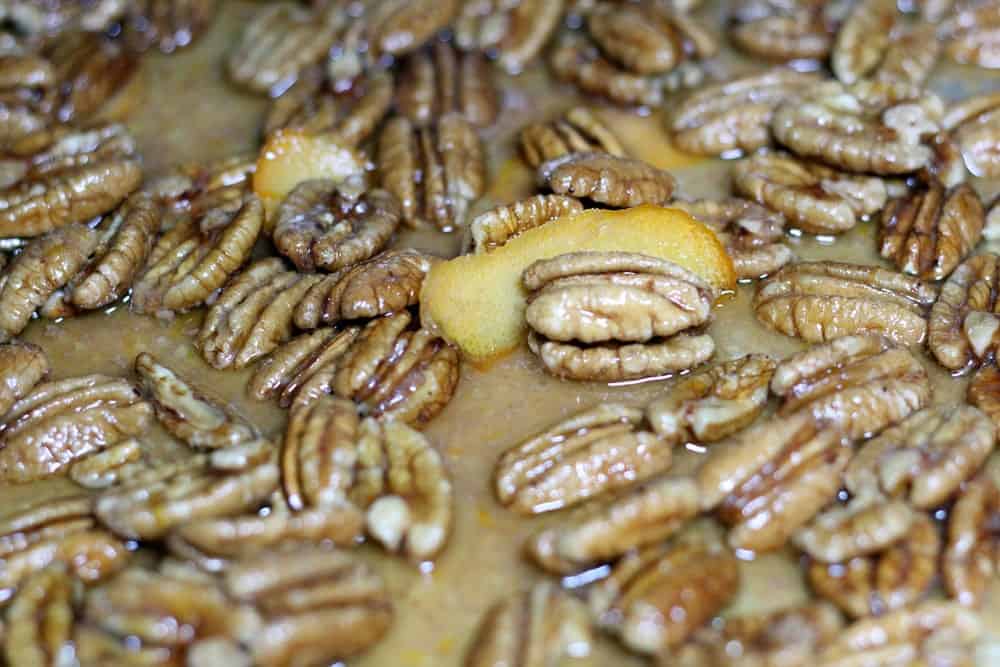 This recipe is so easy to make and just takes a little time and care in the oven to give you a snack your party guests will rave about. I can't forget to also point out that Orange Rum Glazed Pecans are also beautiful! I always serve these nuts with the candied orange peel for added color and aroma.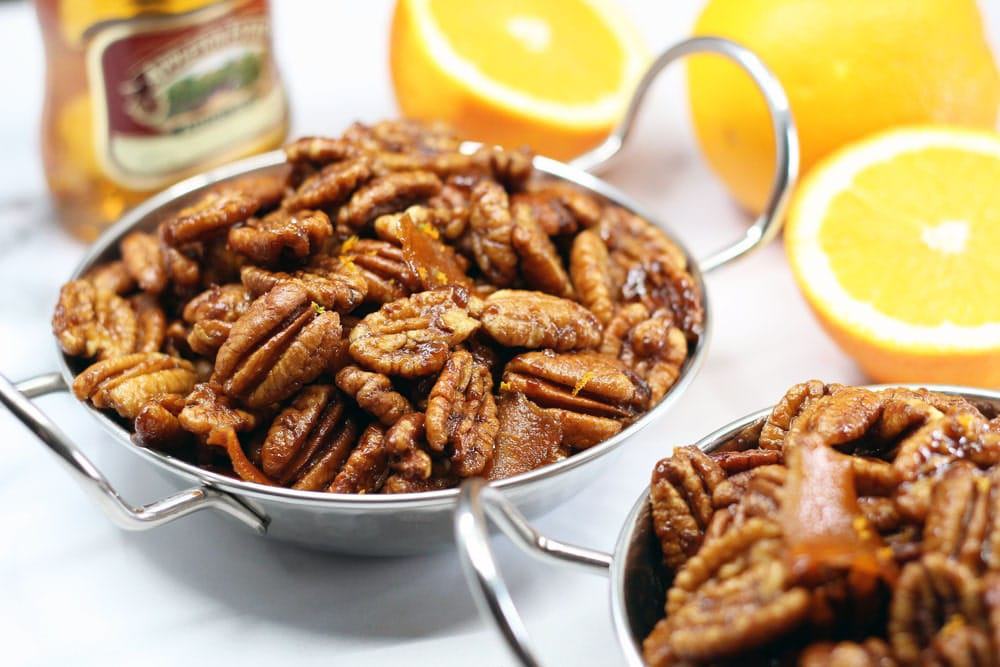 Orange Rum Glazed Pecans will surprise you with just how lovely and tasty they are. I'd love to hear your feedback in the comments section below!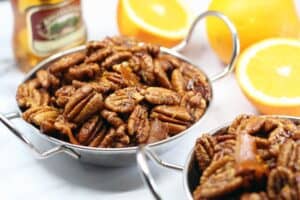 Orange Rum Glazed Pecans
Perfectly toasted buttery pecans glazed in a sweet citrus sauce made from plenty of orange rinds, butter, brown sugar, and rum. The coating isn't too thick but still gives the pecans a snap. This simple party snack is so easy to make and a nice complement to any cocktail.
Ingredients
1

C

or 2 sticks butter

1/4

C

dark brown sugar

1

orange

1-2

Tb

dark rum

1.5

lb

pecan halves

1

tsp

kosher salt
Instructions
Preheat the oven to 350 degrees. Prepare a baking sheet with nonstick foil or parchment paper for easy cleanup.

Combine butter and brown sugar in a medium saucepan and start to melt over medium-low heat. Using a Microplane grater, finely grate 1 Tb of orange zest. Add to the butter. Then using a vegetable peeler, remove the remaining orange rind in large strips and add to the butter.

Juice the orange into a liquid measuring cup. You need a total of 3 Tb of liquid for the recipe so first pick how much rum you'd like to add. 1 Tb just adds a flavor backdrop where 2 Tb will give the pecans a more boozy taste. Add enough fresh orange juice (1-2 Tb) to equal 3 Tb of liquid to the butter mixture.

Increase the heat to medium-high and bring to a low boil. As soon as the liquid reaches a boil, turn off the heat. Add the pecan halves and butter to a large mixing bowl and toss well to combine.

Spread the nuts evenly across the prepared baking sheet. Don't worry if the mixture looks too liquidy. You're going to drain the pecans before serving.

Bake for 45 minutes, stirring every 15 minutes. The pecans will reach a deep golden color and will absorb some of the liquid. There will still be some remaining though so once the pecans are cooked, strain them. Allow to sit for 10 minutes before serving.

These are amazing warm, but you can also store them in an airtight container for up to a week.
The following two tabs change content below.


Hey-ooo! I'm Hailey, and I'm a number cruncher by day and cussing cook by night. I created this site to share my love for delicious food that feeds the soul as well as the belly. I hope my recipes have you running to the kitchen to cook some damn good grub!