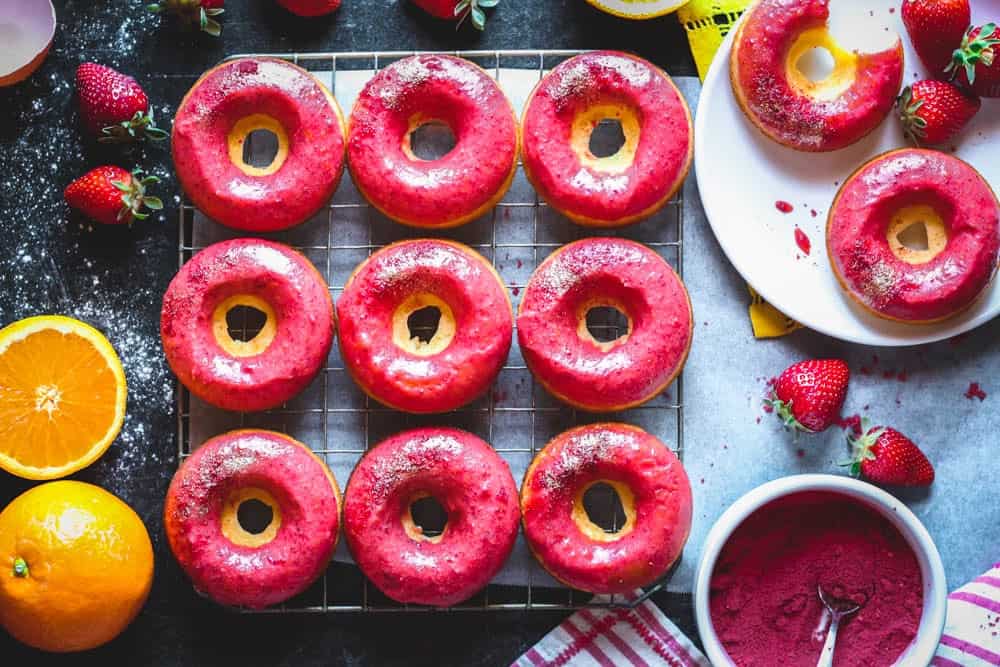 Orange Donuts with Strawberry Glaze are like a bite of summer sunshine. These baked cake donuts are packed with orange zest and extract for a strong citrus note and then glazed with a sweet, tart and acidic glaze strawberry glaze. The strawberry flavor is gloriously pungent since I use freeze dried strawberries which pack a serious punch.
I've had an interest in experimenting with donut recipes since getting more deeply involved in the food blogger space on Instagram. I see so many bloggers playing with America's favorite breakfast pastry and one of my favorite bloggers, Laura, at Tutti Dolci really got my attention with her Baked Coconut Donuts.
You absolutely must check out Tutti Dolci! Her recipes are so creative, simple and delicious! I used her baked donut recipe as a starting place for my own recipe so full credit goes to Laura on this one.
My mom saw my Instagram photo of Laura's Baked Coconut Donut and mentioned that her mom used to make Orange Donuts that she loved as a child. I'm a sucker for some sentimental shit so that's all the inspiration I needed. Off to Orange Donut recipe testing I went!
My grandma had my mom when she was 40 years old, a fact that makes her a rebel and a strong-as-f*ck lady in my book, but it also meant that I didn't get as much time as I wished I had with the feisty woman that was my grandma. My mom often talks about how much she loved to cook and be creative in the kitchen. Much like myself, she often clipped recipes from magazines and newspapers in hopes she would have time to make all of them one day. My mom has all kinds of recipes my grandma saved as well as ones that she scribbled down in what could best be described as chicken scratch. Love for cooking runs deep in my family. My grandma's Orange Donut recipe was made from a fried yeast dough. Now, don't get me wrong. I f*cking love a good, fried donut, but it's just not something I've ever felt inspired to make at home.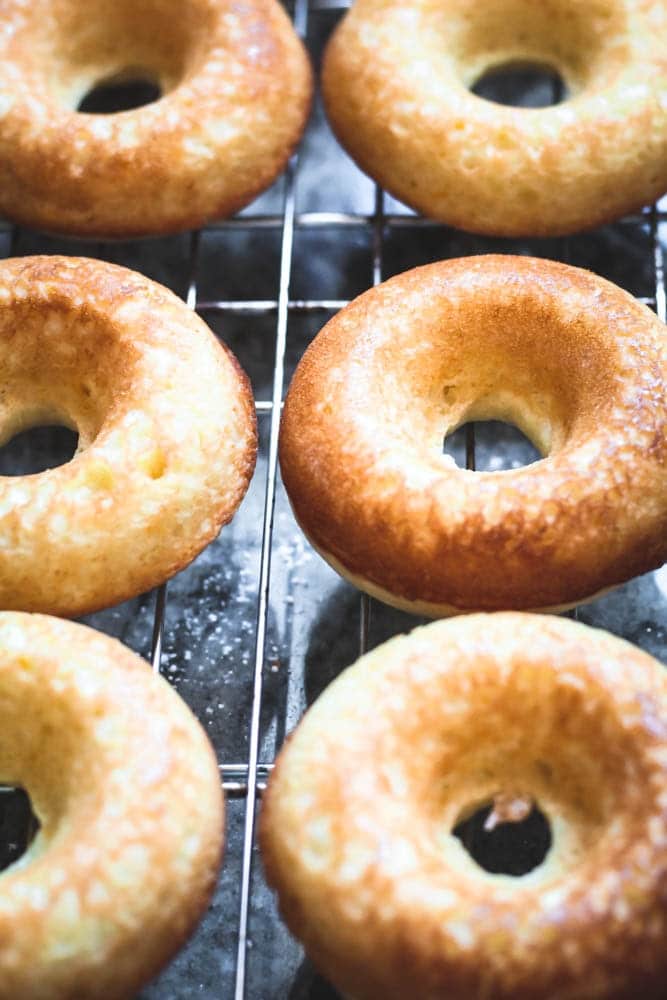 Maybe one day I'll fry some up, but the idea of being able to bake donuts in the oven makes them so much more approachable. I've linked to the donut pan that I purchased below so you too can experience the joy that comes from baking your own donuts.
In less than 30 minutes, you can make homemade donuts. It's amazing!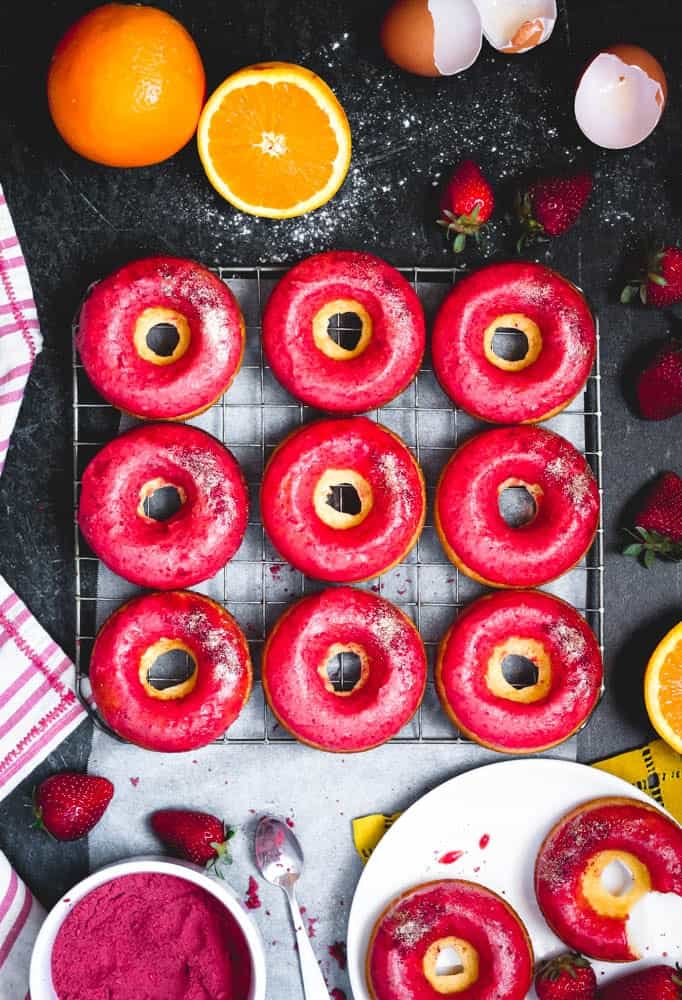 I started off my recipe testing with an orange donut with orange glaze, but I felt like the look and taste needed a little special something still. Strawberry glazed donuts are one of my personal favorites, so it was a natural choice to add strawberries to the mix. Fresh strawberries made the glaze a little too thin when I added enough to get the rich color and taste I was looking for, so I decided to try dried strawberries in the recipe. BA-DA-BING! The glaze turned out a gorgeous shade of raspberry pink and is overflowing with bright strawberry flavors.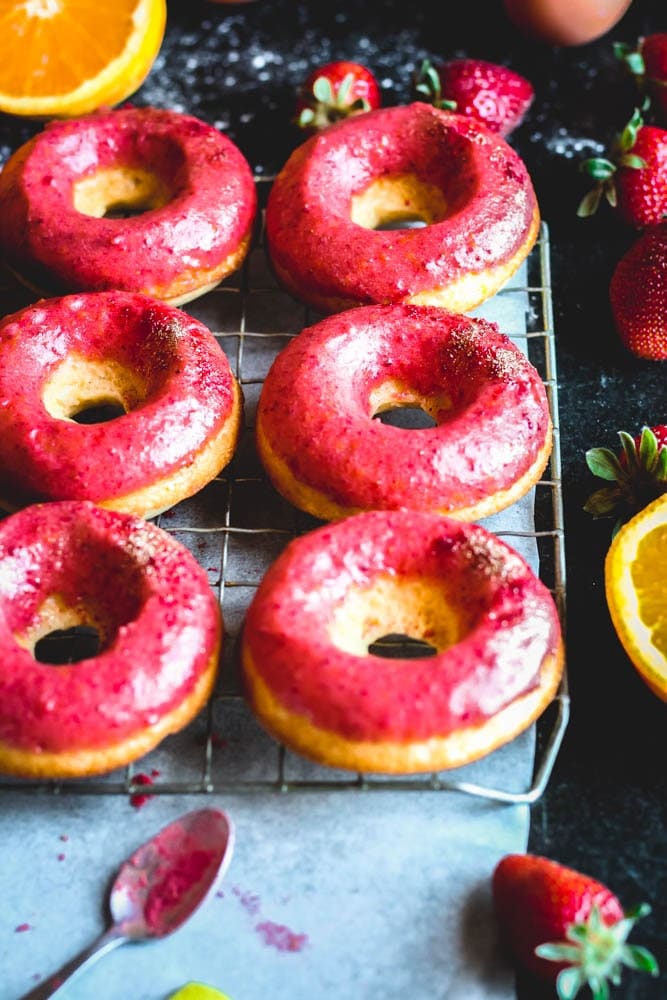 Orange Donuts with Strawberry Glaze are a solid way to start any day. The flavors are fresh and bright which is the perfect match to the light and tender texture of the baked donuts. This recipe is so easy to make but is also special and beautiful enough to proudly serve to your friends and family. I hope you'll find the time to make this homage to two fab women, my grandma and Tutti Dolci. Please let me know what you think!
Helpful Utensils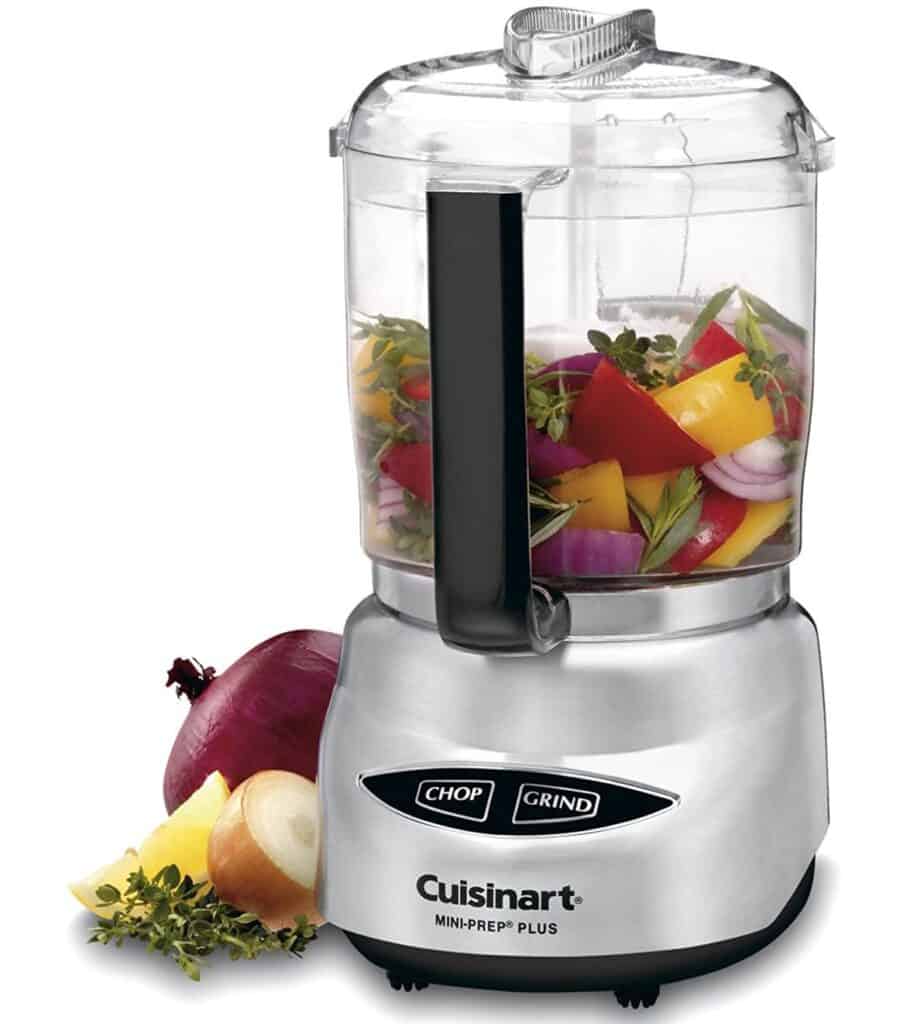 4-Cup Food Processor
A small food processor is a relatively inexpensive piece of kitchen equipment that you'll use again and again. If you don't have one, click the image to purchase one!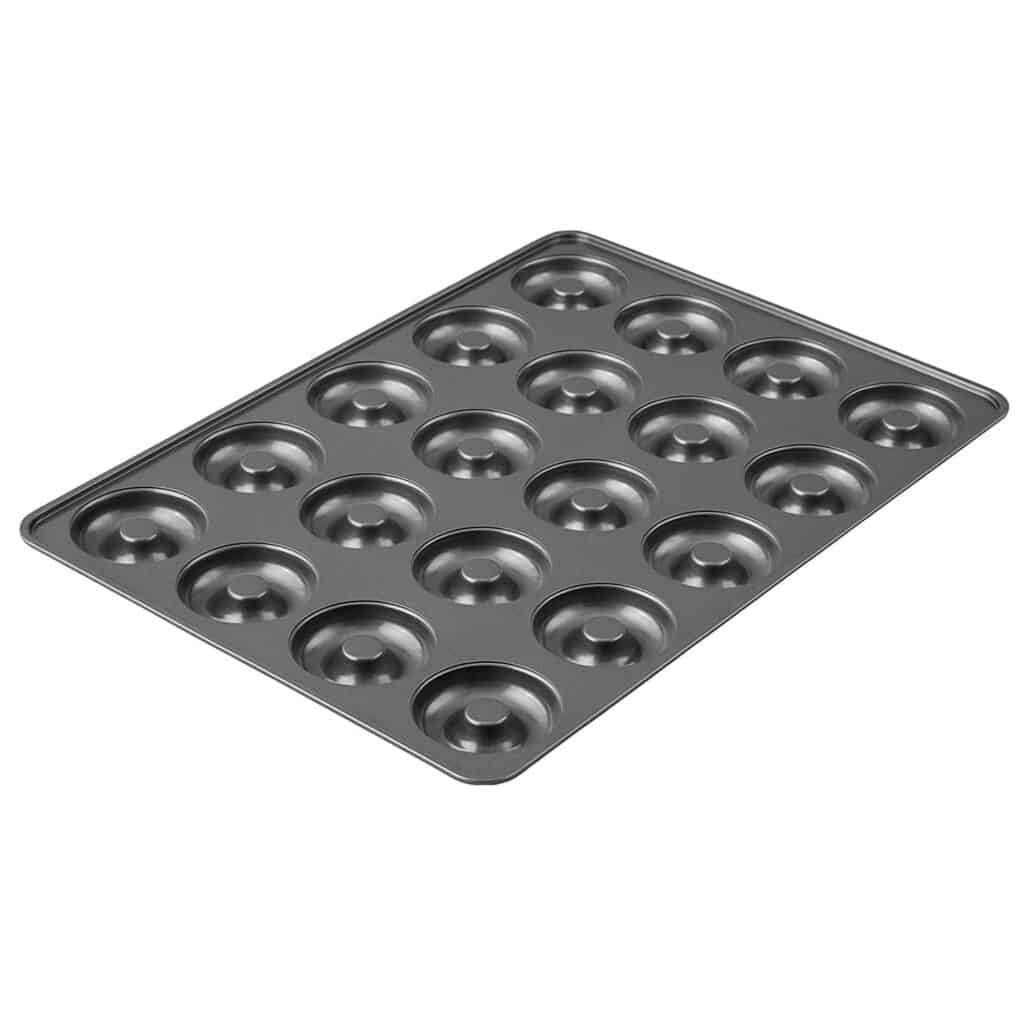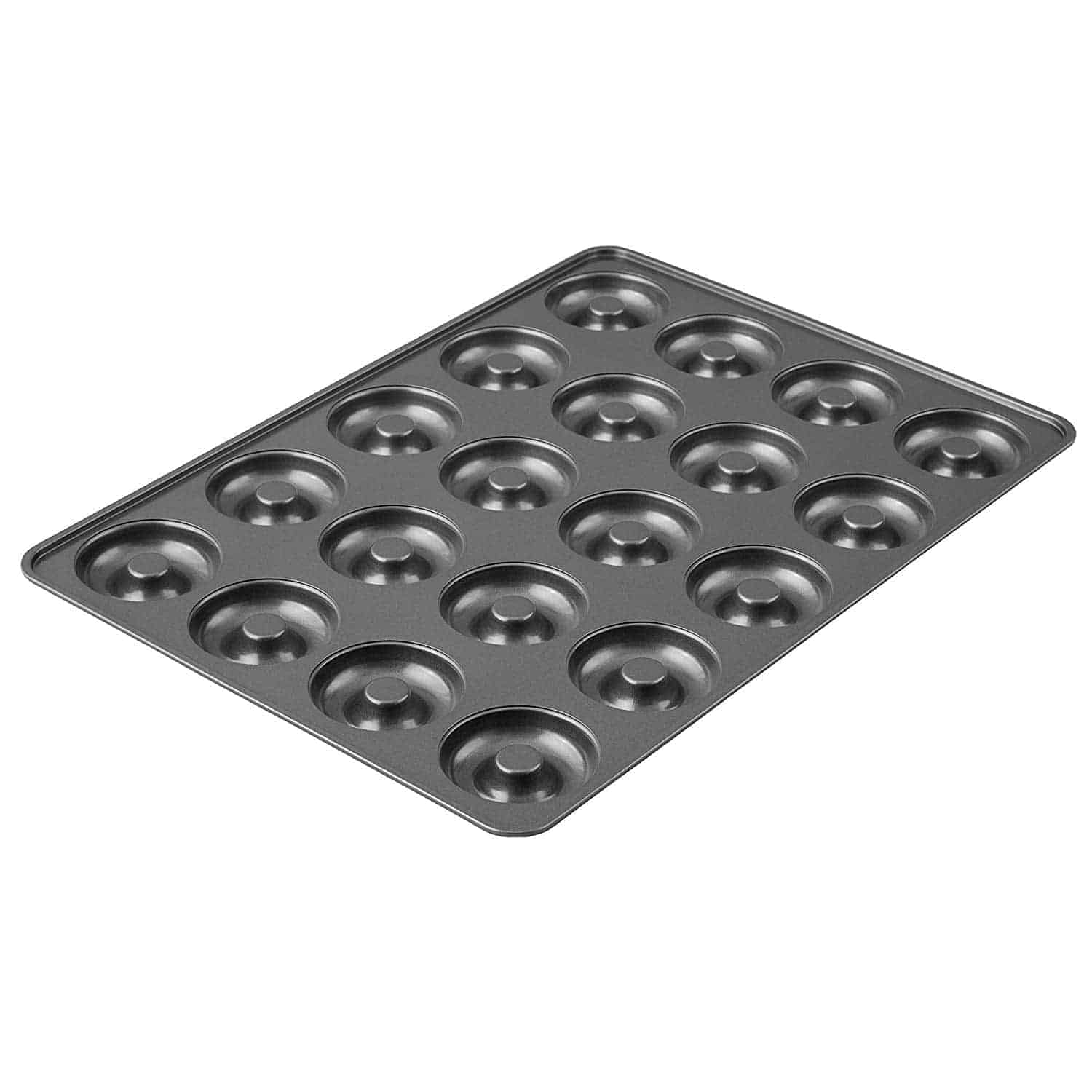 Donut Pan
I never knew how badly I needed this pan until I bought one. You will love it too!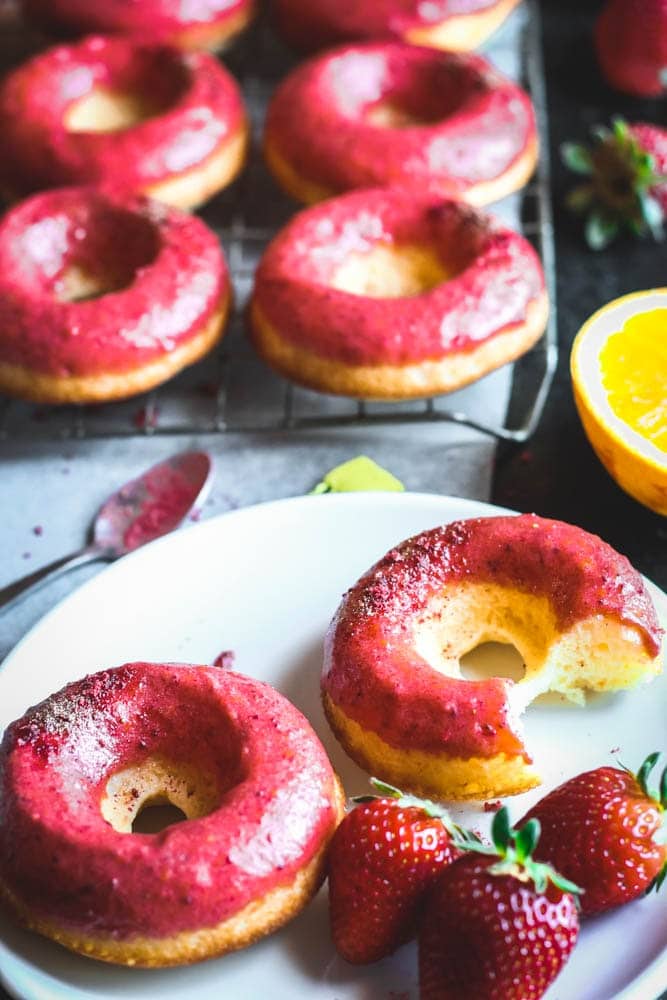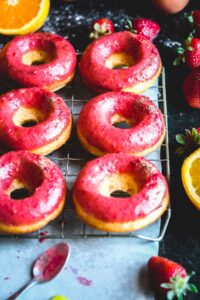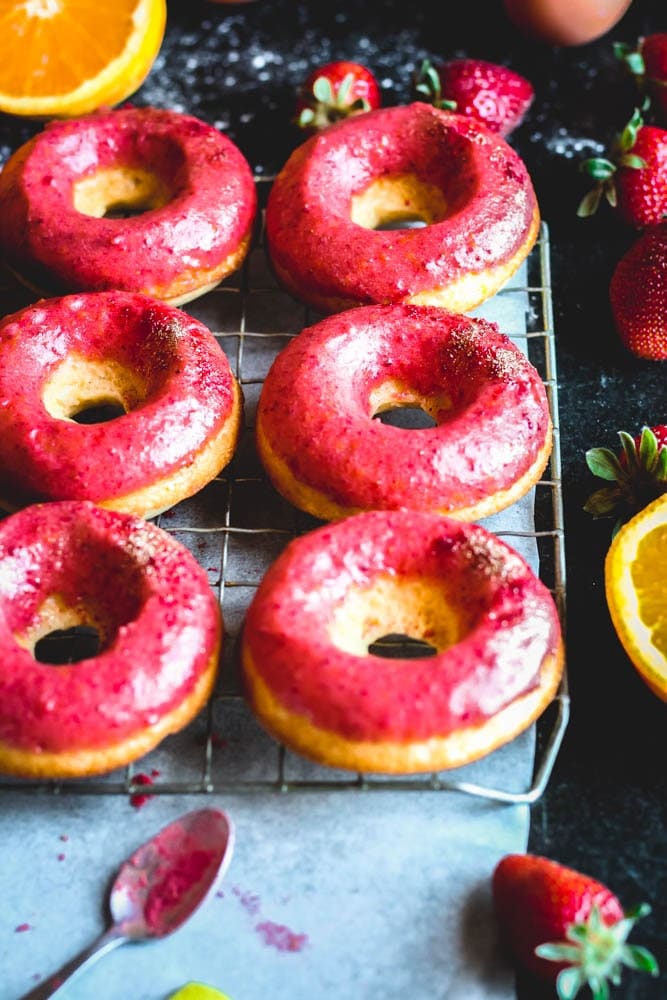 Orange Donuts with Strawberry Glaze
Baked, tender donuts filled with orange flavor and then glazed in a sweet, acidic and tart strawberry icing. This strawberry glaze is extra special because it's made with freeze-dried strawberry powder which packs a fruity punch. Like a bite of summer sunshine, these donuts will brighten any day!
Ingredients
Donuts
2

and 1/4 C cake flour*

1

C

sugar

1.5

tsp

baking powder

1/4

tsp

baking soda

1/2

tsp

salt

2

eggs

lightly beaten

1/4

C

butter

melted

3/4

C

whole milk

1/2

tsp

orange extract

1/2

tsp

vanilla extract

1

orange

zested
Glaze
2

Tb

butter

melted

1

orange

zested and juiced

1/2

lemon

juiced

1

C

powdered sugar

2

Tb

freeze-dried strawberry powder**

pinch

of salt
Instructions
To make donuts
Preheat the oven to 425 degrees. Spray your donut baking pan well with baking spray. If you don't have a donut pan, I've linked to the one I bought from Amazon above.

Whisk together the cake flour, sugar, baking powder, baking soda and salt in a large mixing bowl. Set aside.

In a liquid measuring cup or small mixing bowl, combine the lightly beaten eggs, melted butter, milk, orange and vanilla extract and the zest of 1 orange. Whisk until thoroughly combined and then add to the dry ingredients.

Using a spatula, gently fold together the wet and dry ingredients together until thoroughly combined. Try not to overmix but you don't want any lumps in your batter.

Pour the batter into a gallon size storage bag or a pastry bag. Snip the end of the storage bag to make a 1-inch opening, and pipe the batter into the pan, filling each donut spot about 3/4 full.

Place in the preheated oven for 8 minutes. The donuts will look quite pale, but the opposite side will be golden. If you overcook the donuts, they won't be nearly as tender. As soon as you can handle the donuts or after 1-2 minutes, remove the donuts from the pan and place them on a cooling rack.

Once the donuts have cooled completely, dip one side of each donut into the prepared glaze. Sprinkle one edge with freeze-dried strawberry powder and gold luster dust for a little extra sparkle.
To make glaze
Combine all of the ingredients in a small mixing bowl. Whisk together until smooth.
Notes
* You can also DIY cake flour in a pinch by putting 2 Tb cornstarch in an empty 1-cup then top the remainder with all purpose flour. Sift the mixture a couple of times to combine.
** To make freeze-dried strawberry powder, simply puree freeze dried strawberries in a food processor until it resembles strawberry dust. I have linked to a small food processor for purchase above that is perfect for the job. You can also buy it in powder form online if you don't have a food processor.
The following two tabs change content below.


Hey-ooo! I'm Hailey, and I'm a number cruncher by day and cussing cook by night. I created this site to share my love for delicious food that feeds the soul as well as the belly. I hope my recipes have you running to the kitchen to cook some damn good grub!