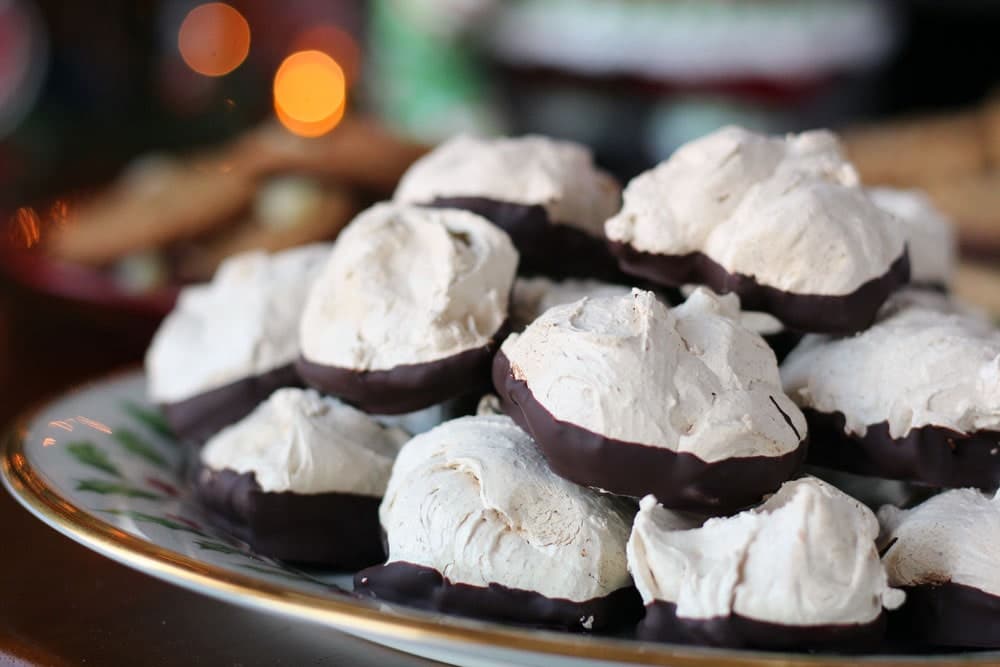 Mocha Meringues have a flavor and texture all their own. If you've never had meringues, you're in for a real treat! Their texture is somewhere between candy and a cookie. The meringues have a chew to them like a cookie, but they melt in your mouth like candy. These meringues, as the name implies, are spiked with instant espresso powder for a strong coffee flavor and dipped in chocolate to finish.
The espresso powder in this recipe is what truly makes it! Meringues can be really, really sweet so you need either acidity or bitter flavors to balance out the sweetness.
The strong coffee flavor of the espresso powder is the perfect bitter balance.
I chose dark chocolate for dipping because it offers a strong chocolate flavor without too much added sweetness. If you're not a fan of dark chocolate, feel free to substitute with semi-sweet chocolate. I wouldn't recommend milk chocolate in this application.
I love this particular meringue recipe also because it is made using brown sugar instead of the traditional white granulated sugar choice. It gives the meringues a little added flavor and richness, but it also adds a nice chewiness to the cookies.

The recipe for these meringues could not be simpler! There are a grand total of 5 ingredients in the recipe, including the chocolate for dipping. The prep time is also less than 15 minutes and most of that time is spent watching the meringues whiz away in a stand mixer. It's like watching magic as they turn from froth to beautiful glossy white peaks.
The most delicate part of this recipe is portioning the cookies out because the whipped egg white mixture becomes quite sticky. I like to keep the look of my meringues rustic and natural so I work with two spoons. Just make sure to not scoop out too big of globs of meringues.
The cookies have a tendency to crack or come out hollow if you make them too big.
They are also quite decadent so a little nibble feels just right. If you want to make these cookies extra fancy, you can also pipe them out using the tip of your choice. Just be sure to give you meringues enough height so that you can dip them in the chocolate and leave a nice edge.

I love meringues for a holiday cookie spread. I think they're quite unique to most people, and they are also beautiful to look at. The look, texture, and taste of Mocha Meringues will be an awesome surprise for all your family and friends, and the flavor combination is just f*cking tasty. Try out this simple recipe and let me know what you think!


Mocha Meringues
With some time and 4 ingredients, you've got delicious light-as-air meringues with a twist. Instant espresso powder is added to the meringues to give them a punchy flavor upgrade, and the cooked cookies are dipped in dark chocolate to bring a dark, earthy flavor that pairs perfectly with the coffee notes and sugary sweet meringues.
Ingredients
2

extra-large egg whites

room temperature

1

C

light brown sugar

1

tsp

kosher salt

2

Tb

instant espresso powder

6

oz

dark chocolate chips
Instructions
Combing the eggs whites, sugar and salt in the top pot of a double boiler or a heatproof bowl. Using a double boiler or a bowl set over simmering, not boiling, water (be sure the pot is not touching the water; it should be sitting just above the water), heat the egg whites, sugar and salt for 3 minutes, whisking constantly.

Remove the egg white mixture from the heat and carefully pour into a large stand mixer bowl. With a whisk attachment, whip the mixture on medium first then increasing to high as the mix thickens. Whip for about 5 minutes or until the meringue is very glossy and stiff.

Turn the mixer back down to medium and add the instant espresso powder. Mix until well combined.

Preheat the oven to 275 degrees and prepare two baking sheets with parchment paper. Using two teaspoons, scoop tablespoon-ish or about 1.5-inch globs of meringue onto the baking sheets. Place about 10 per sheet, leaving room for the meringues to grow.

Place in the preheated oven and cook for 2 hours. Once the cooking time is complete, turn the oven off and let cool in the oven overnight. If you don't have that kind of time, prop the oven door open with a wooden spoon to speed up the cooling process, and leave the meringue in the oven to cool for at least two hours. This drying time is essential for good meringues!

Once the meringues are totally cool and dry, melt the dark chocolate in a microwave-safe bowl. Microwave until melted, stirring every 20 seconds. Once the chocolate is totally melted, let stand at room temperature for a few minutes so it's not piping hot.

Dip the bottom of each cooled meringue into the chocolate allowing the chocolate to come up the side of the cookie by about 1 cm. Place the cookie back on the cookie sheet and allow the chocolate to harden at room temperature. Enjoy these cookies within 3 days of preparing or even sooner if you're in a humid environment. Moisture is the enemy of meringues.
The following two tabs change content below.


Hey-ooo! I'm Hailey, and I'm a number cruncher by day and cussing cook by night. I created this site to share my love for delicious food that feeds the soul as well as the belly. I hope my recipes have you running to the kitchen to cook some damn good grub!