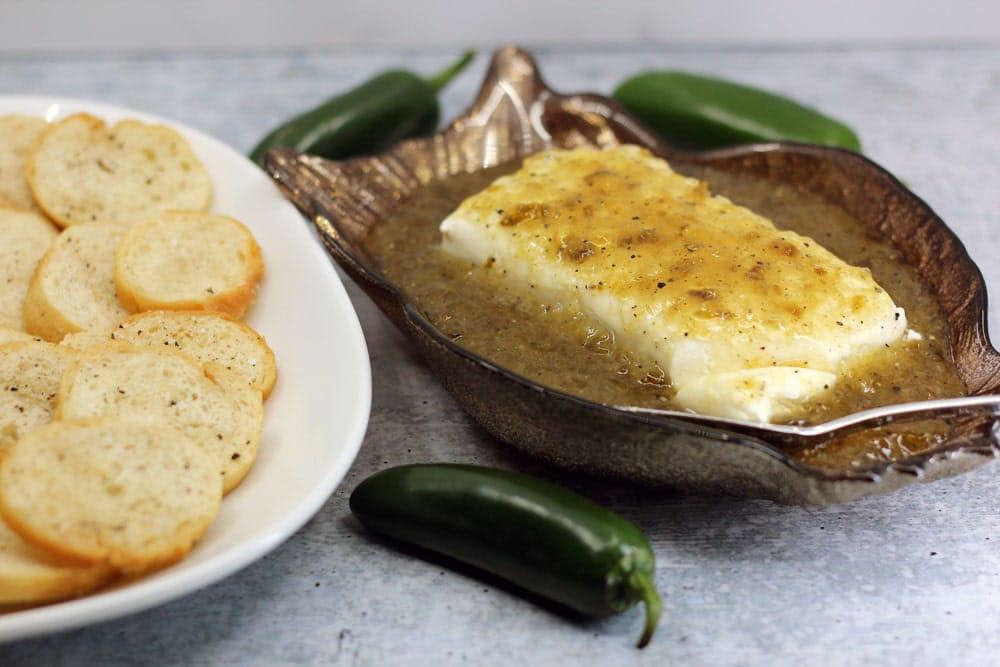 Jalapeno Jezebel Sauce is a new twist on a classic cocktail party snack. Jezebel sauce is a Southern sweet and spicy jelly that is traditionally served over cream cheese. I grew up on cream cheese covered in jalapeno jelly so I decided to marry the two ideas and create Jalapeno Jezebel Sauce.
This appetizer brings all kinds of different flavors to a party. It's sweet from the apple and jalapeno jellies. It's tangy from the awesomeness of cream cheese….man I f*cking love cream cheese, but those of you who read my posts often are aware so I'll stay on track here. Jalapeno Jezebel Sauce is, of course, also part spicy.
It's not so spicy that people will be offended by it, but it packs a punch that is the perfect balance to all the sweetness.
Jalapeno jelly has a little bit of a kick to it in and of itself, but Jezebel Sauce also has tons of fresh cracked black pepper and prepared horseradish.
I love the combination of the horseradish, black pepper, and jalapeno. They all have a completely different kind of spicy. Horseradish has a bite to it. Jalapeno has a nice sharp heat that hits your front palette, but then all the black pepper rounds out the spiciness so that you're left with a well-balanced bite.
Put all that spiciness over cream cheese, and you've got some seriously good shit happening. It may not be the prettiest dish, but it's seriously addictive. Everyone will be asking, "What the hell is in this?!"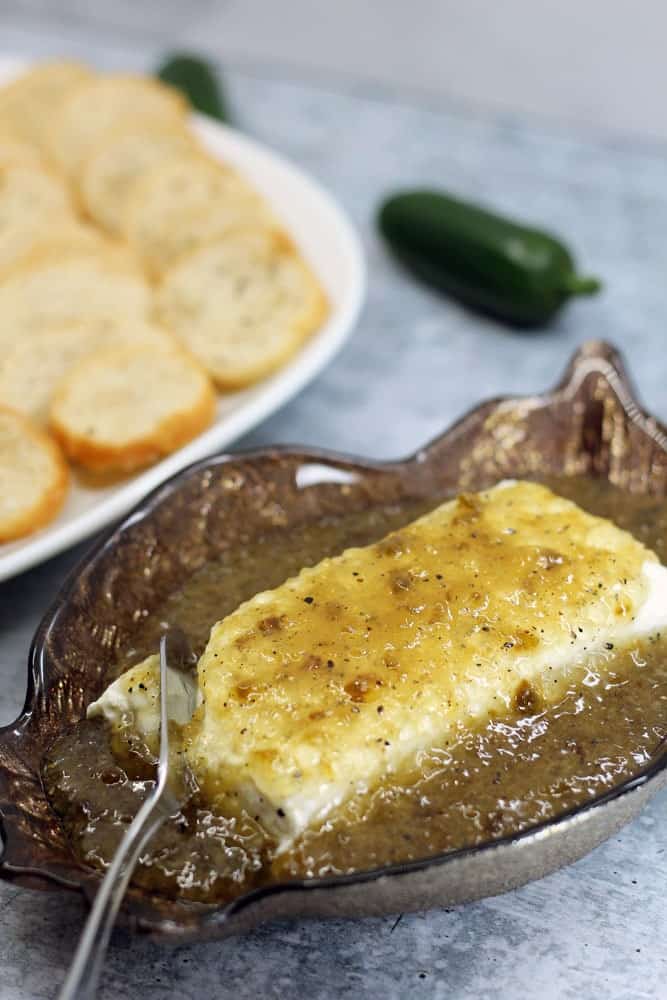 Cream cheese smothered in jalapeno jelly served with simple Club or Ritz Crackers was a staple of holiday celebrations when I was a kid. I can vividly remember camping out by the dish so that I could try to hoover as much of it as possible before others discovered the mysterious wonder.
All of your friends and family will be just like me as a chubby kid bogarting the dip.
Once you have a bite of this delectable jalapeno dip, you'll understand. This appetizer is perfect for any party. We had it last night as part of our College Football Playoffs spread, but it would also be amazing with cocktails as part of your New Year's Eve celebration.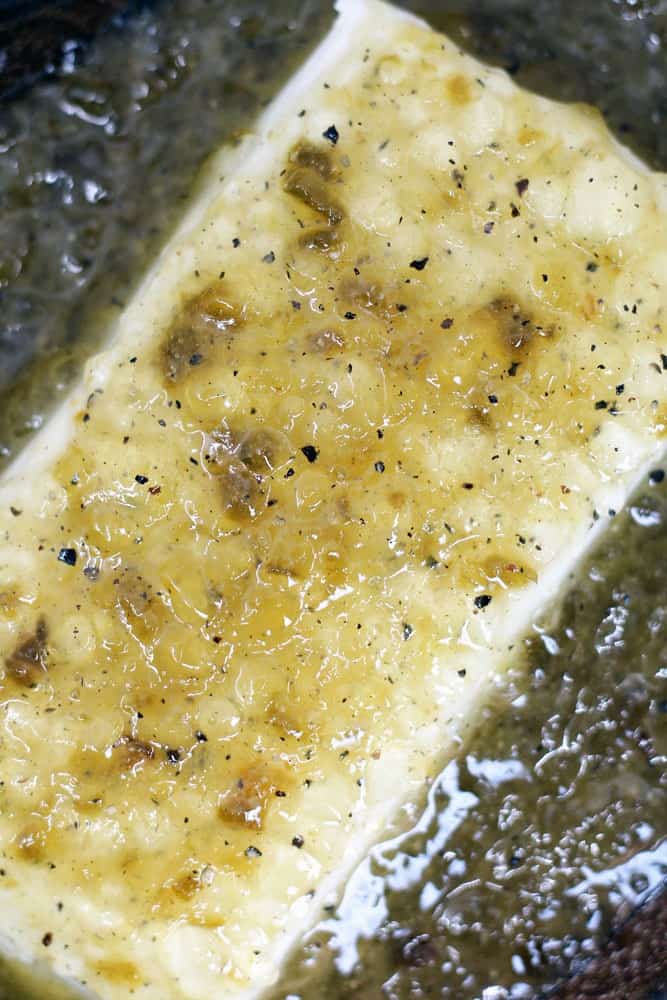 The best part of this recipe is that it takes about 5 minutes to prepare. The sauce is made by combining all of the ingredients and letting them chill. That's it! You can spend your time relaxing, not losing your marbles over party prep.
I can't wait to hear what you think of this recipe. Please let me know in the comments sections below.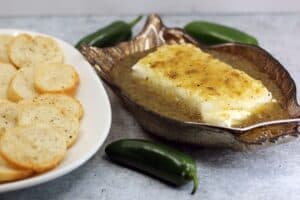 Jalapeno Jezebel Sauce
A combination of two Southern classics, Jalapeno Jezebel Sauce marries jalapeno jelly with the Jezebel flavors of black pepper and horseradish for an epic sweet and spicy combination. Served over cream cheese with a side of crostini, this is the perfect party snack or appetizer.
Ingredients
Jezebel Sauce
1

C

jalapeno jelly

18

oz

jar apple jelly

1/4

C

apple cider vinegar

1

Tb

fresh cracked black pepper

1

tsp

dried mustard

heavy pinch of salt

1-2

Tb

creamy horseradish
For serving
2- 8

oz

packages cream cheese

room temperature

1

baguette
Instructions
To make jezebel sauce
Mix all of the ingredients together. For horseradish, add 1 Tb and taste before adding the second Tb. Once thoroughly mixed, cover and refrigerate for a minimum of two hours or up to two weeks.

Serve over softened cream cheese with crostini.
To make crostini
Slice the baguette into 1/4-inch thick rounds using a serrated knife. Place on a baking sheet and drizzle lightly with olive oil and season with salt and pepper.

Bake at 300 degrees for 30 minutes until crisp and slightly browned around the edges. Let cool before serving.
The following two tabs change content below.


Hey-ooo! I'm Hailey, and I'm a number cruncher by day and cussing cook by night. I created this site to share my love for delicious food that feeds the soul as well as the belly. I hope my recipes have you running to the kitchen to cook some damn good grub!