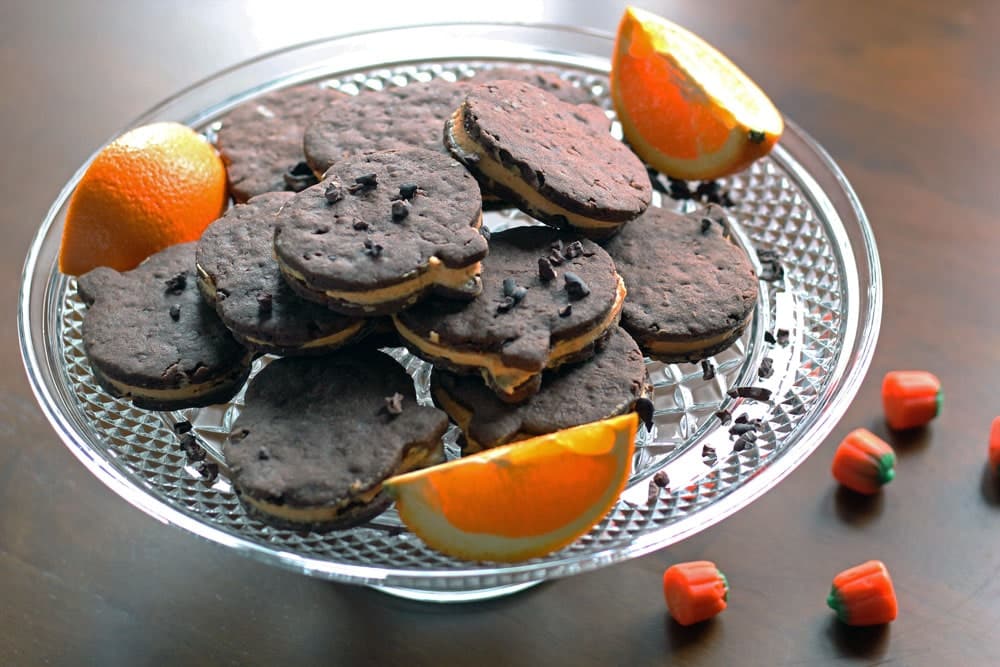 Chocolate Orange Sandwich Cookies are the perfect treat for an adult Halloween party or any fall festivity. I'm f*cking in love with this shortbread recipe. Crushed pretzels and good quality cocoa powder come together to create a delicious buttery, crumbly shortbread cookies. I use Ghiradelli cocoa powder but any good quality brand will do.
I also add cocoa nibs for a bit of surprise crunch and intensely earthy chocolate flavor. The orange flavored cream cheese icing that is sandwiched between two cookies is the perfect contrast to the bitter chocolate notes and makes these cookies much more interesting.
These delightful cookie sandwiches were inspired by the Chocolate Pretzel Shortbread recipe in Mindy Segal's Cookie Love cookbook. You can click the book name here or below to purchase. It's an AMAZING cookbook filled with bomb-ass cookie recipes. I made a few tweaks to the recipe and changed the icing that fills the sandwich cookies completely but feel free to also try out her recipe as is.
Mindy's shortbread recipe is really simple and just requires a bit of patience for chilling in between steps. I'm not the world's greatest at rolling out pastry. Some have compared me to a bull in a china shop before, so very delicate work is not typically my strong suit. That being said, I have zero problems working with this dough. In fact, I'm able to reuse the scraps after cutting out cookies again and again without the dough becoming too difficult to work with.
And the end result of that simple but patient work is delectable. Chocolate Orange Shortbread Cookies have loads of different subtle flavors, but everything comes together in a perfect harmony in your mouth. You'll think, why the f*ck have I never put chocolate, pretzels and orange together before?!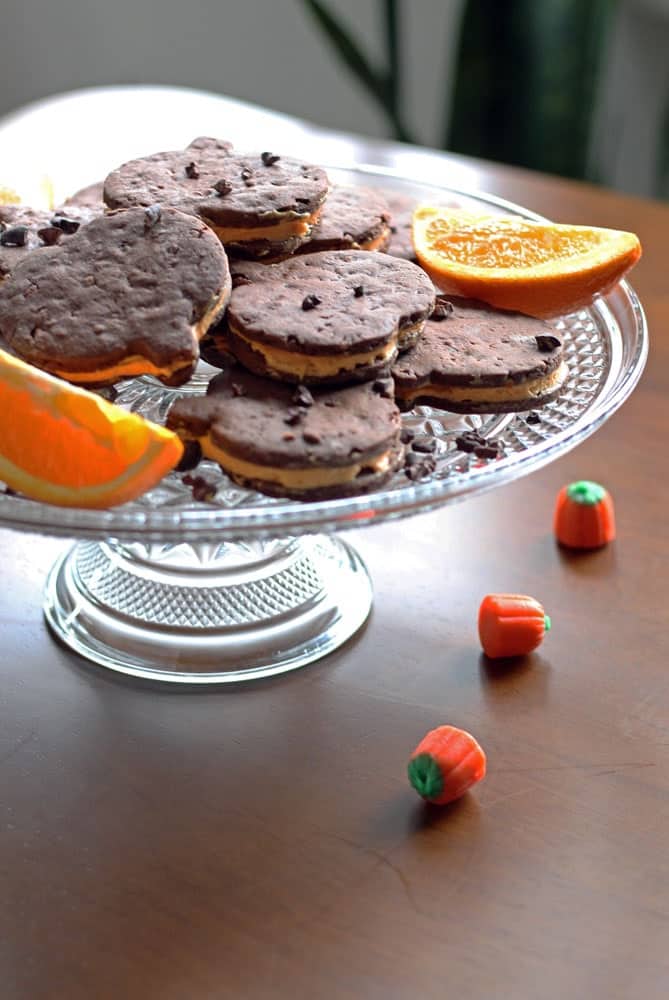 For a little extra pizzazz, I cut this batch into cute little pumpkin shapes and colored the icing orange to celebrate the season, but you could easily cut the dough into simple circles or squares and eliminate the food coloring. The time you spend decorating is completely up to you. Another optional item in the recipe is cocoa nibs. If you've never had cocoa nibs, they are not sweet at all. I love their bitter taste and super crunchy texture, but if you can't find them or just don't like the flavor, feel free to leave them out.
I hope these cookies bring a little extra flavor to your fall season. Please try out the recipe and let me know how they turned out in the comments section below!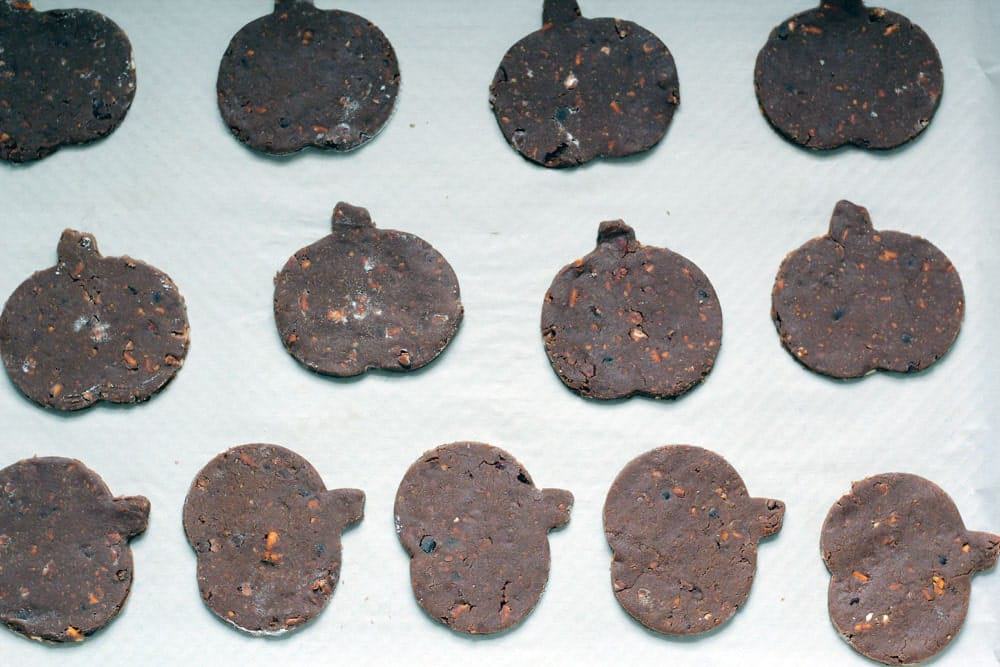 Helpful Utensils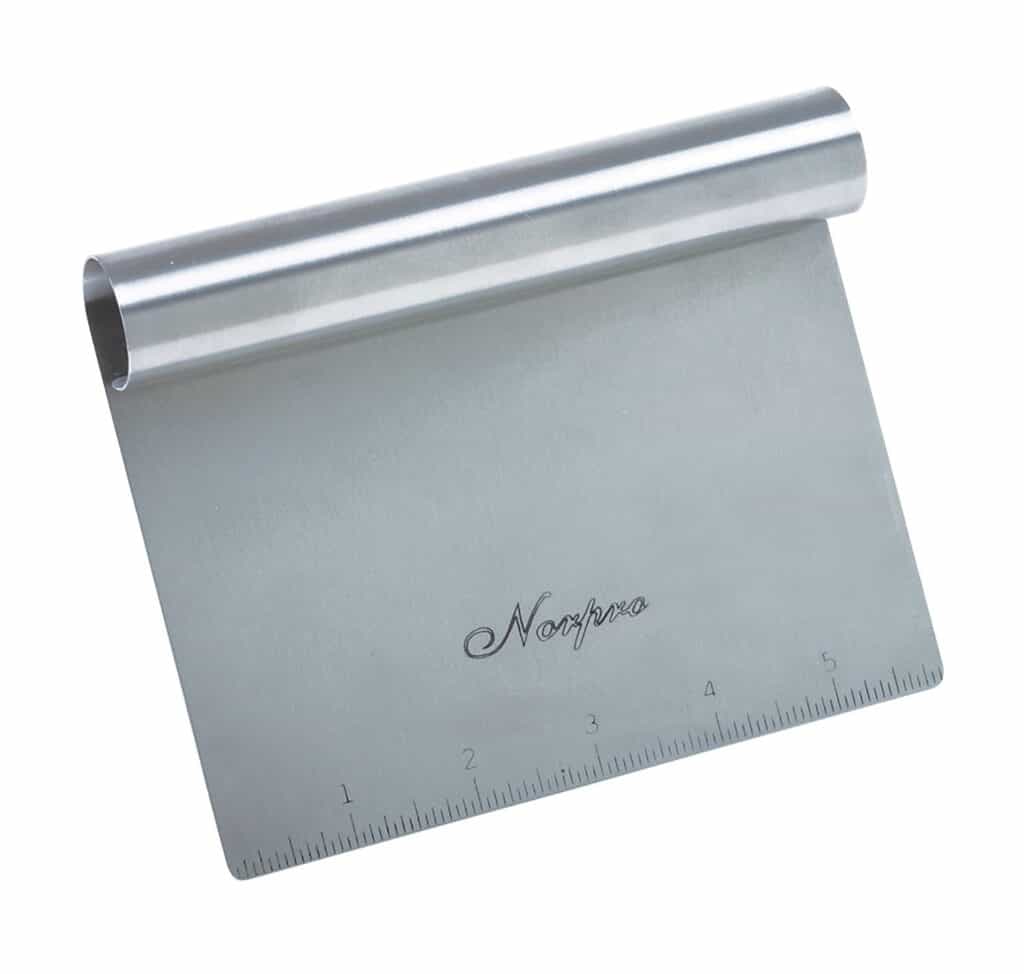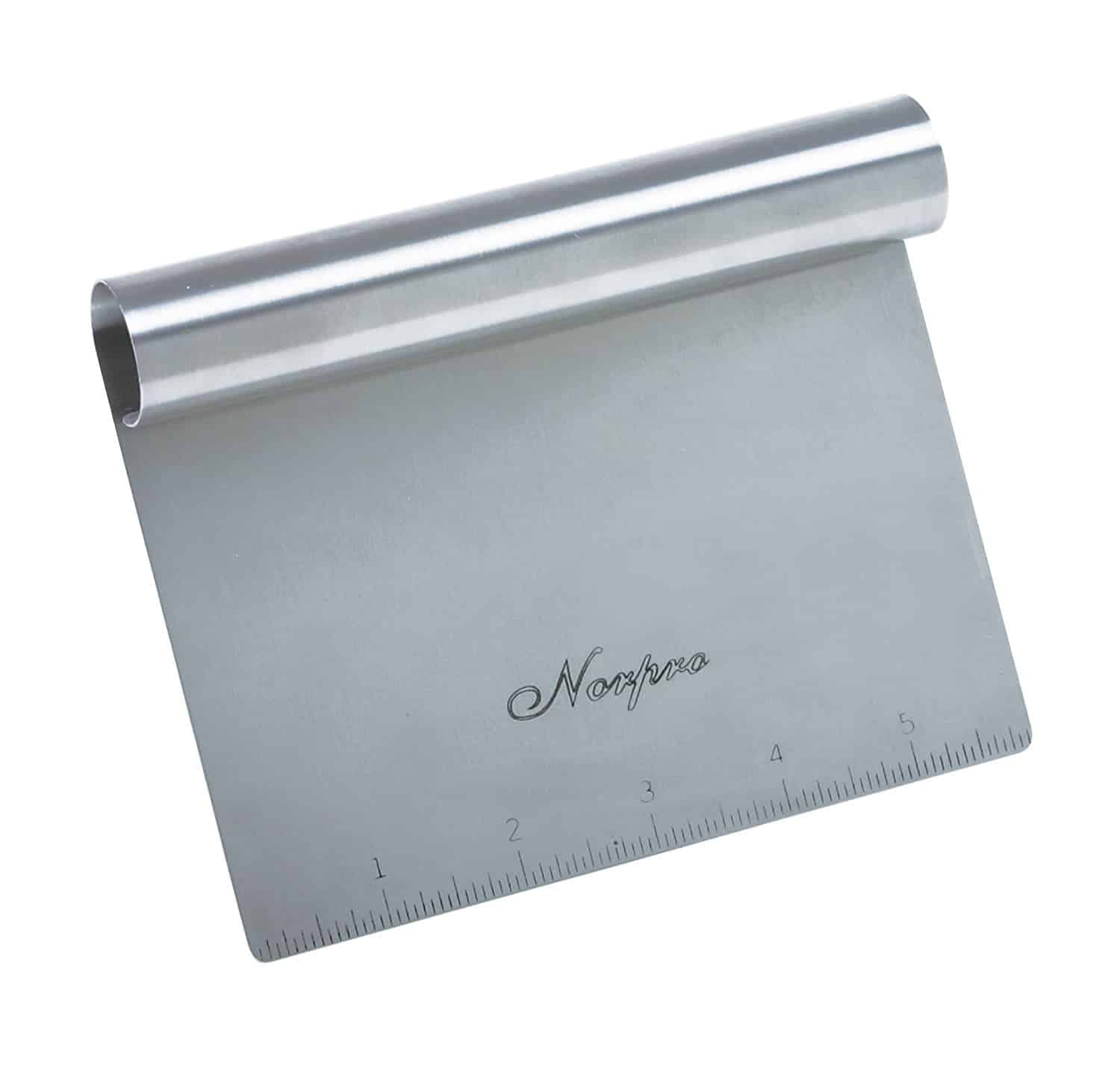 A bench scraper makes rolling out any type of dough or building pastries a synch. You can easily lift items like these raw cut cookies without distorting the shape. I use my bench scraper all the time. I even use it to cut dough since it has a nice sharp, straight edge. That's why you'll find it on my Kitchen Essentials page with tons of other great items for yourself or your loved ones.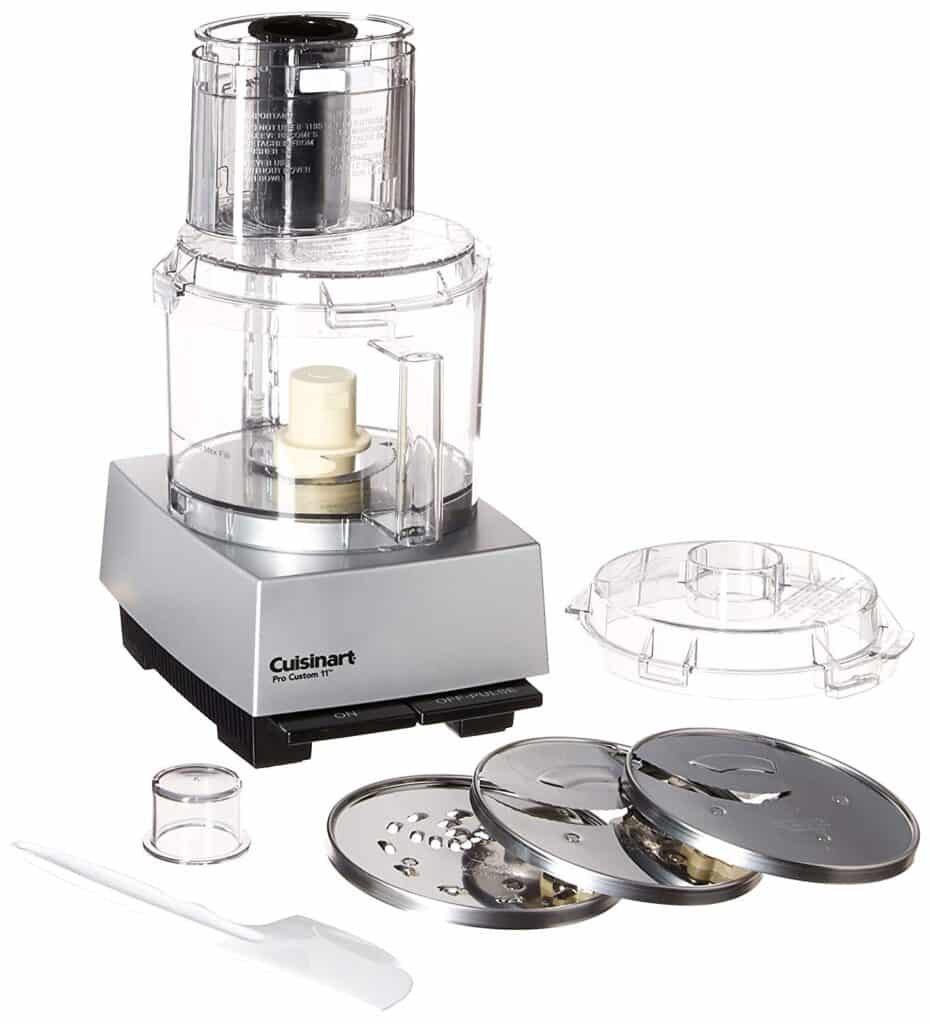 Cuisinart 4-Cup Food Processor
I use this little dude ALL THE TIME. This smaller version of the big food processor I recommend on my Kitchen Essentials page is so handy for quick jobs like grinding the pretzels in this recipe or if you have a smaller kitchen where storing a larger processor may not be feasible.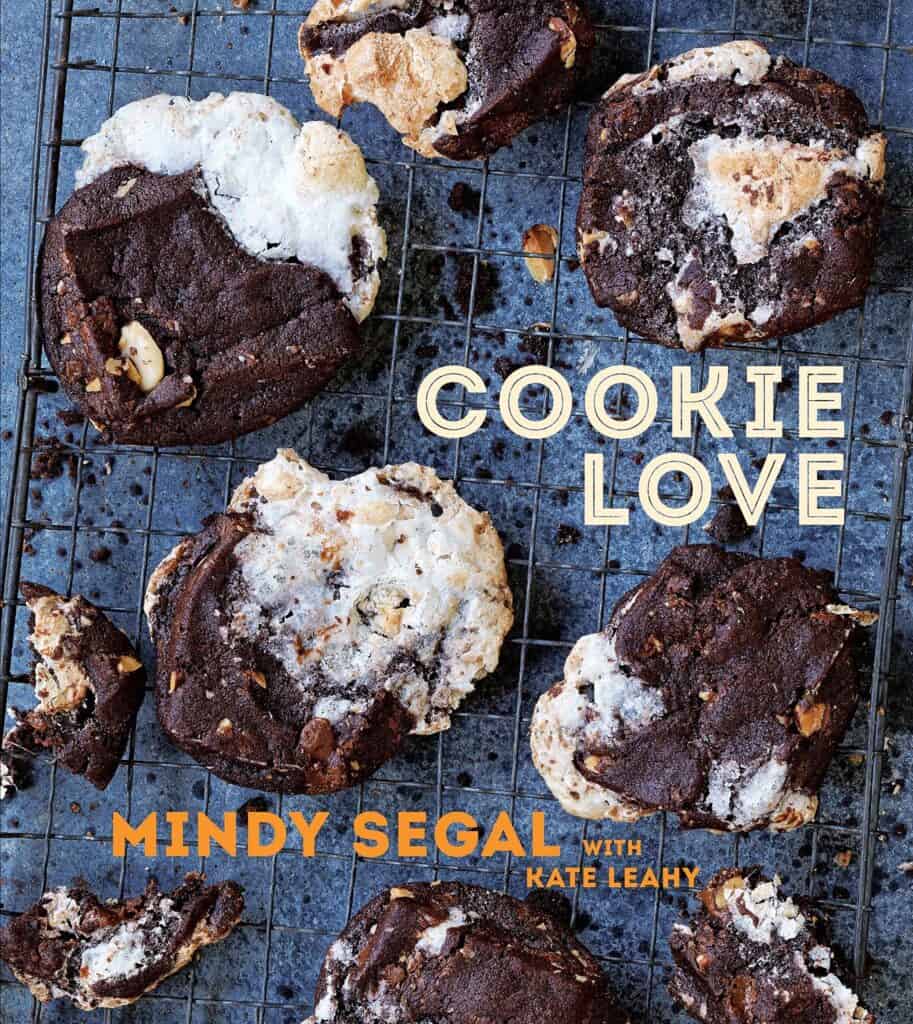 These cookies were inspired by a recipe in this cookbook. It's full of amazing recipes. You'll seriously want to try every single one. I'm working on it myself!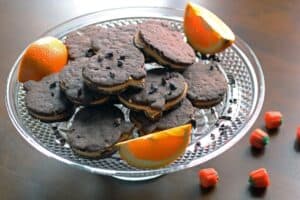 Chocolate Orange Sandwich Cookies
Orange Cream Cheese Icing is sandwiched between two Chocolate Pretzel Shortbread cookies studded with cocoa nibs for extra crunch. Chocolate and orange are a classic flavor pairing for good reason. The citrus notes are the perfect balance to the earthy chocolate flavors.
Ingredients
Chocolate-Pretzel Shortbread Cookies
2

C

pretzel pieces or sticks

2

C

all purpose flour

2/3

C

cocoa powder

good quality

2

tsp

salt

1.5

C

butter

room temperature

1.5

C

powdered sugar

2

egg yolks

2

tsp

vanilla

1/2

C

cocoa nibs

optional
Orange Cream Cheese Icing
1/2

C

butter

room temperature

8

oz

cream cheese

room temperature

1

tsp

vanilla

1

C

powdered sugar

Zest of 1 orange

pinch

of salt

1/4

C

heavy cream

24

drops

yellow food coloring

optional

8

drops

red food coloring

optional
Instructions
To make cookies
In a food processor, grind the pretzel pieces into a fine crumb resembling bread crumbs. If you don't have a food processor (I've linked to a great one above), then you can put the pretzel pieces in a Ziploc bag and use a rolling pin or mallet to beat to a crumb. I would double bag it though to avoid a mess.

Add the flour, cocoa, salt, and cocoa nibs, if you're including, to the food processor and pulse until well combined. You don't want to complete pulverize the cocoa nibs.

In a stand mixer or a large bowl with a hand mixer, beat the butter on medium speed for about 30 seconds. Turn the mixer off and add the powdered sugar. Turn the mixer back on to low to at first to combine, and then increase the speed to medium and allow the mixture to whip for about 3 minutes or until light and fluffy.

Scrape down the bowl well and add egg yolks one at a time, mixing only briefly to combine. Add the vanilla and mix on medium speed for about 30 seconds or until the mixture is well combined.

Add all of the pretzel mixture at once to the butter and mix on low speed just until the dough starts to come together. Turn the dough out onto a cool surface and bring the dough together by hand using a bench scraper (also linked above as you NEED one in your kitchen).

Separate the dough into 2 even disks, flattening them out slightly to make for easy rolling out later on. Cover each disc tightly in plastic wrap and chill in the refrigerator for at least 2 hours, or better overnight. You can also keep this dough in the fridge for up to 5 days prior to rolling out and baking.

When you're ready to prepare the cookies, let the dough sit out for 20-30 minutes at room temperature so that it becomes pliable but is not warm or sticky yet. Roll out on a well-floured surface to 1/4-inch thickness and cut into desired shape. For this season I cut them into pumpkin shapes, but you can do simple circles or any shape you'd like.

The dough is really forgiving so you should easily be able to roll out 4-5 times to get as many cookies as possible. As you cut the shapes, lay out the cookies on sheets of parchment paper. You can stack the layers of cookies on one single baking sheet to take up less space as they chill.

Once all the cookies have been cut and placed on parchment paper, chill the sheet of raw cookies in the fridge for another 30 minutes before baking.

Preheat oven to 350 degrees. Remove the cookies from the fridge and separate layers of parchment. You can cook two sheet pans at a time with one layer of cookies per pan. Keep the dough cold up until the point you place it in the oven for best results.

Bake for 10 minutes, and then rotate each pan 180 degrees and switch the shelf that each pan is baking on. Bake for another 5-7 minutes or until the dough is firm. Let the cookies cool on the baking sheets for about 5 minutes before placing on wire racks to cool completely.
To make icing
While the cookies cool, make the icing by first whipping the cream cheese and butter together in a stand mixer or a large mixing bowl with a hand mixer for one minute until well combined. Turn off the mixer and add the powdered sugar, vanilla, orange zest, and pinch of salt. Turn mixer back on to low speed at first until the powdered sugar is well combined. Then you can increase the speed to high and continue to whip for another 2 minutes.

Turn the mixer down to low and drizzle in the heavy cream and whip for one more minute on high speed until the texture appears lighter and more aerated.

The final step is to color the icing if you want to. The ratio above create a nice pale orange color, but play with the mix to create an orange color that you like! Mix on low speed until the color is thoroughly mixed into the icing.
To make cookie sandwiches
Once the cookies have cooled completely, place 1 heaping Tb of icing on the bottom of one cookie and then top with another cookie, pressing down slightly so the icing just starts to show around the edges. I use a simple butter knife for the job and don't obsess too much about perfection.

I like to let these cookies chill in the fridge for a couple of hours before serving. They're delicious as soon as you smooshed the two cookies together, but the icing can slip out of the sides if it's too soft.
Notes
If you want to make these cookie extra decadent, you could also dip one end in melted chocolate of your choice. Make sure you allow the cookie sandwiches to chill in the fridge for an hour before dipping. Place the dipped cookies on parchment paper and refrigerate until set.
The following two tabs change content below.


Hey-ooo! I'm Hailey, and I'm a number cruncher by day and cussing cook by night. I created this site to share my love for delicious food that feeds the soul as well as the belly. I hope my recipes have you running to the kitchen to cook some damn good grub!