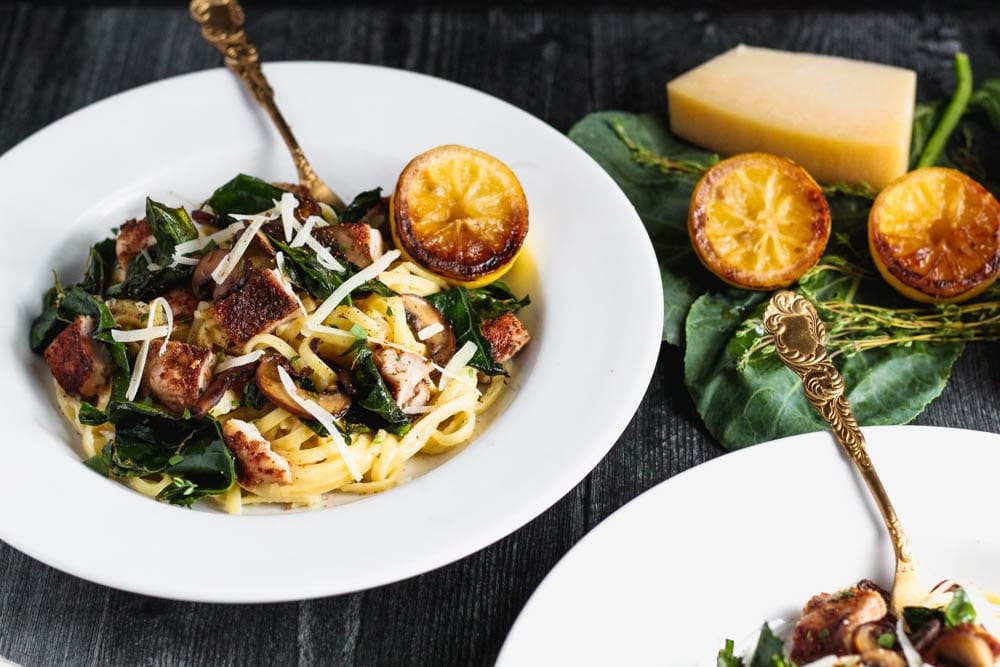 Chicken Alfredo with Charred Greens is the ultimate representation of balance in your dinner. Is Alfredo great for you? Not exactly, but it's so damn delicious. I personally am a total sucker for Chicken Alfredo. It's up there with macaroni and cheese or fried chicken in the comfort food spectrum, but that fact makes it something I don't often make, particularly not for a weeknight meal.
I have now found the perfect way to rationalize scrumptious Chicken Alfredo at any old time you please. Just add some dark leafy greens, and you'll be getting tons of nutrients with your rich, creamy, decadent pasta. ? I like to char the collard greens in my recipe just slightly to add a bitter flavor note that is a nice balance to all the dairy in the sauce.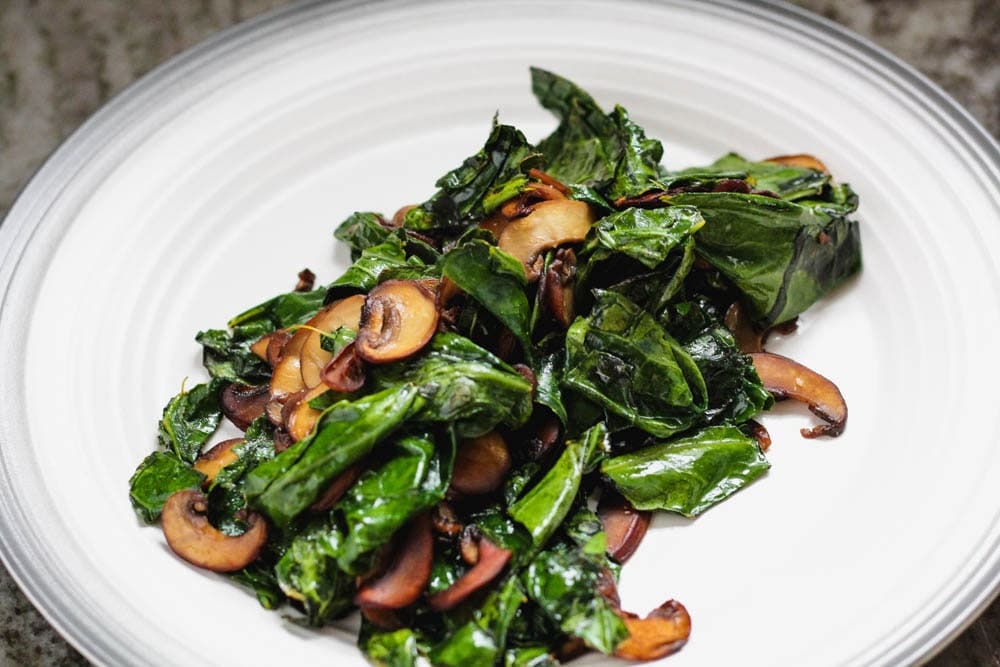 Y'all, this cookware is AMAZING!! I knew as soon as I took it out of the package that this cookware is great quality. I was so excited to try it out, and I'm happy to report I use it often now!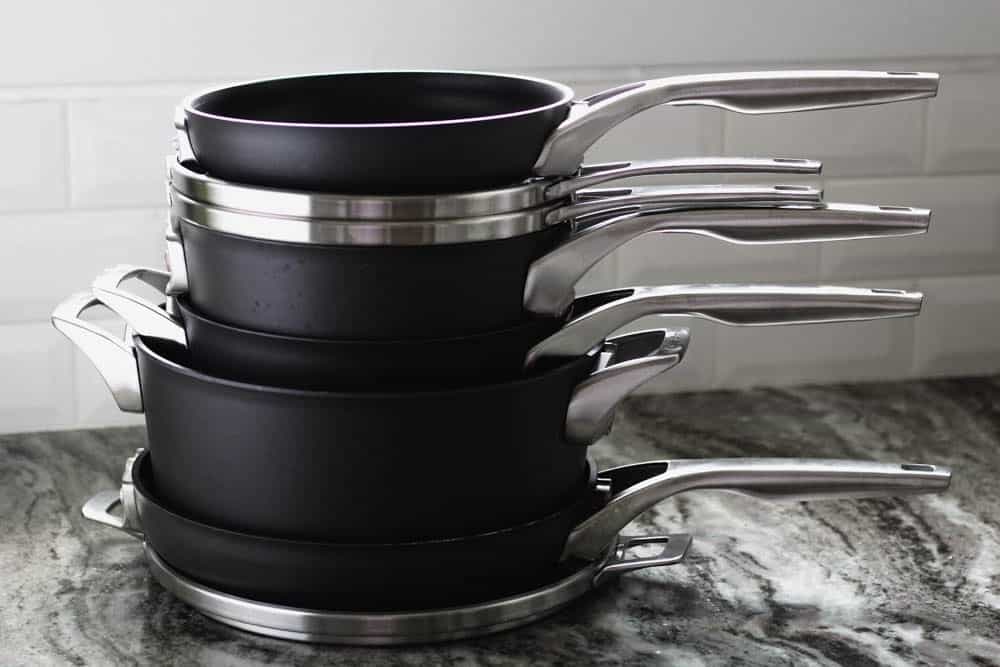 The quality is not the only impressive part of the Calphalon Premier™ Space Saving Hard Anodized Nonstick 8-Piece Cookware Set. The real hat trick is in its unique ability to nest and stack in any way you'd like. There are notches along the side of each piece of cookware so they lock into place when stored.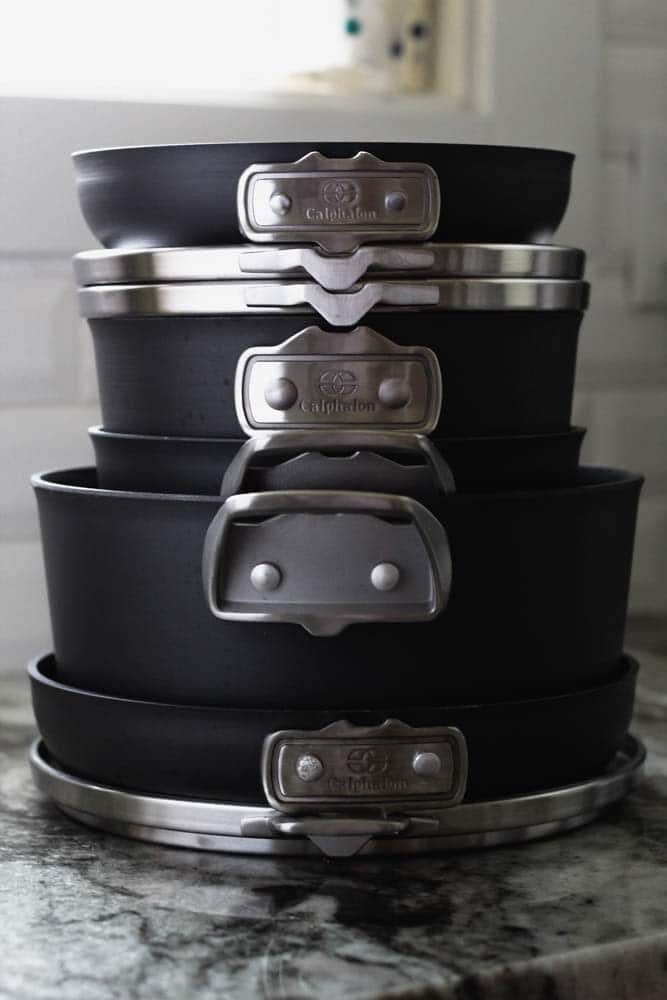 The awesome flat glass lids allow you to store the pots and pans in neat little piles, however best suits your kitchen. I would also add that I think the lids are super effective at sealing in heat and steam which cannot be said for the lids that come with all nonstick cookware.
The last key advantage of the Calphalon Premier™ Space Saving Hard Anodized Nonstick 8-Piece Cookware Set that I would note are the sizes of the pots and pans in the set. Each piece of cookware has a nice depth to it, and I have found myself utilizing every piece in the set because each size is really useful, a bit unusual for multiple-piece cookware sets like this one.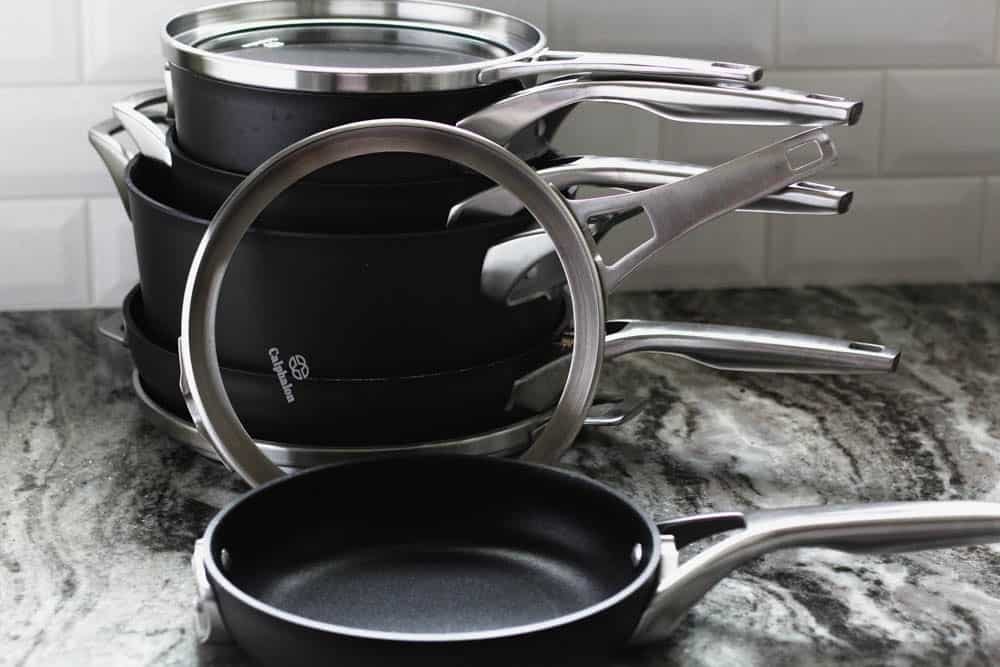 This recipe is so simple to put together. It's perfect for a busy weeknight. In fact, you could easily speed up the recipe even more by using rotisserie chicken from the grocery store if you're really pressed for time. My Alfredo sauce has whopping 5 ingredients (excluding salt and pepper), but it is rich, decadent, and absolutely delicious. It is thick enough to coat pasta but not so gloopy that that vegetables can't shine through.
Speaking of which, if you're looking for a sneaky way to get your kids to eat their veggies, definitely give this recipe a try. I would maybe cut the greens a little smaller to disguise them from a child's eye if you want to pull a fast one.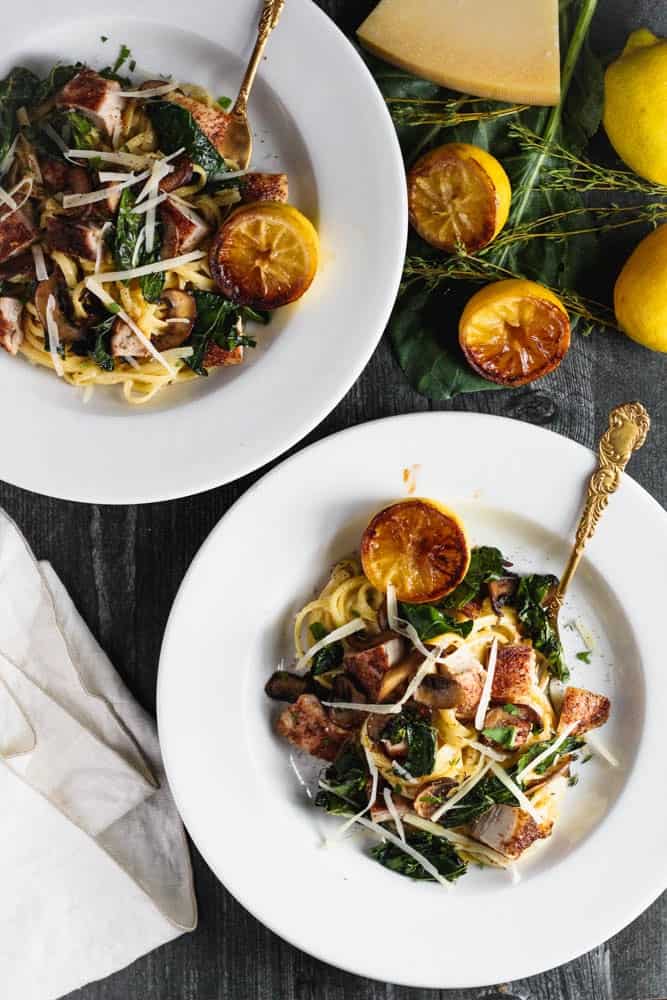 I don't know about you, but the combination of dark leafy greens and silky smooth cream sauce is a combination that speaks to everything I love about food. Earthy and hearty while still being decadent and soul-satisfying, Chicken Alfredo with Charred Greens is the easy dinner recipe you need in your repertoire. Try it with different greens or even without meat for a vegetarian spin, but anyway you make it, it will be a crowd favorite.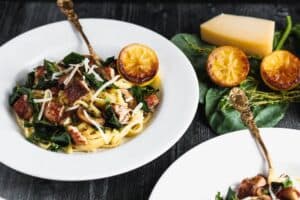 Chicken Alfredo with Charred Greens
A quick weeknight dinner that speaks to both sides of your food cravings, those for healthy vegetables and for rich comfort food. A simple Alfredo sauce covers pasta, Cajun-spiced chicken, browned mushrooms and charred greens for a nutritious and decadent dinner
Ingredients
1

lb

boneless skinless chicken thighs*

2

Tb

cajun seasoning

1

box fettucine

1

bunch collard greens

8

oz

baby portabella mushrooms

½

yellow onion

2

garlic cloves

2

C

heavy cream

1

C

shredded parmesan

plus more for garnish

1

tsp

fresh thyme

2

lemons

3

Tb

butter

1

Tb

olive oil
Instructions
Preheat the oven to 375 degrees. Place the chicken on a baking sheet prepared with nonstick foil for easy cleanup. Season chicken liberally with Cajun seasoning. Bake at 375 for 25 minutes. Prepare the remaining ingredients while the chicken cooks.

Bring a large pot of salted water to a boil. Cook the pasta according to package instructions.

Heat a small cast-iron or nonstick pan over medium-high heat until smoking hot. Cut the lemons in half and place them flesh side down on the hot pan. Char the lemons for 5-6 minutes or until blackened.

Remove the greens from the stem and tear into 2-inch strips. Place in a large mixing bowl and cover with cold water. Toss the greens around in the cold water and let them sit for a few minutes. The sand will settle at the bottom of the bowl and the leaves will stay at the top. Remove the leaves and place in a strainer to dry.

Wipe the mushrooms with a damp paper towel to remove any apparent dirt. Slice the mushrooms into quarter-inch slices. Heat 2 Tb butter and 1 Tb olive oil in a large nonstick pan over medium-high heat. Once hot, add the sliced mushrooms. Toss to coat in oil and then leave undisturbed for 2-3 minutes until the mushrooms start to brown. Once the first side is brown, stir to flip the slices over. Cook for another 2 minutes.

Once the mushrooms are well browned, add the strained greens on top of the mushrooms and place a lid or foil over the pan to let the greens steam for 2 minutes. Once steamed, stir the greens and mushrooms together. Cook for another 5-6 minutes until all the liquid has evaporated and the greens have started to char or brown.

Remove the shrooms and greens from the pan and set aside. Finely dice the onion and mince the garlic. Remove the thyme leaves from the stem ang roughly chop.

Add 1 Tb of butter to the pan. Once melted, add the onions and saute for 2 minutes until translucent. Add the garlic and cooks for another 60 seconds. Add the heavy cream and thyme and bring to a low boil. Let the cream to reduce for 7-8 minutes or until it easily coats the back of a wooden spoon. Add the grated cheese and stir well to combine and the cheese is completely melted.

As the cream reduces, cut the cooled chicken into bite-size pieces. When the sauce is ready, add the chicken, mushrooms, greens, and pasta and toss well to combine. Garnish with parmesan.
Notes
*If you prefer white meat, boneless skinless chicken breasts can be substituted. Adjust the cook time depending on the thickness of the breast. The thin-sliced breasts usually cook in about 15 minutes. You could also use a store-bought rotisserie chicken to make this recipe super speedy.
The following two tabs change content below.


Hey-ooo! I'm Hailey, and I'm a number cruncher by day and cussing cook by night. I created this site to share my love for delicious food that feeds the soul as well as the belly. I hope my recipes have you running to the kitchen to cook some damn good grub!