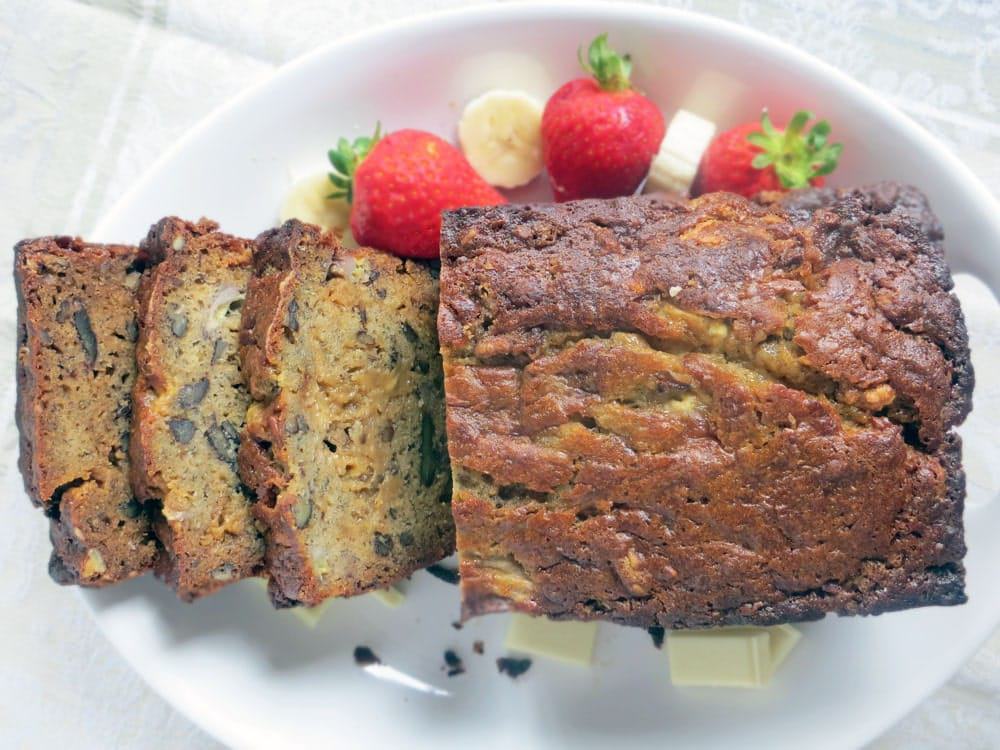 One of the simplest pleasures in life is a delicious piece of banana bread slathered in butter. It always reminds me of family gatherings as it's often a feature on our holiday breakfast table. This recipe takes banana bread to the next level with the addition of pecans, not that special, and caramelized white chocolate. Say what?!? I didn't even know what caramelized white chocolate was not too long ago, and ever since discovering it, I've been searching for the perfect recipe to incorporate it into. Banana bread with caramelized white chocolate takes a simple pleasure and makes it extra special and crazy f*cking tasty.
So what exactly is caramelized white chocolate you ask? It is essentially white chocolate that is slow roasted in the oven until it turns a lovely light golden brown color. It makes the flavor much more robust and complex than usual white chocolate.
To be honest, white chocolate is usually my least favorite of the chocolate family but caramelizing it gives me a whole new level of adoration for the sweet treat. After caramelizing, the flavor shifts from just simple sweetness to a bit of nutty undertone with, of course, strong caramel notes.
One very important thing to note when it comes to caramelizing white chocolate is that you need good quality white chocolate or the whole experiment will be a f*cking bust. Trust me on this one as I epically failed the first two times I attempted to caramelize white chocolate.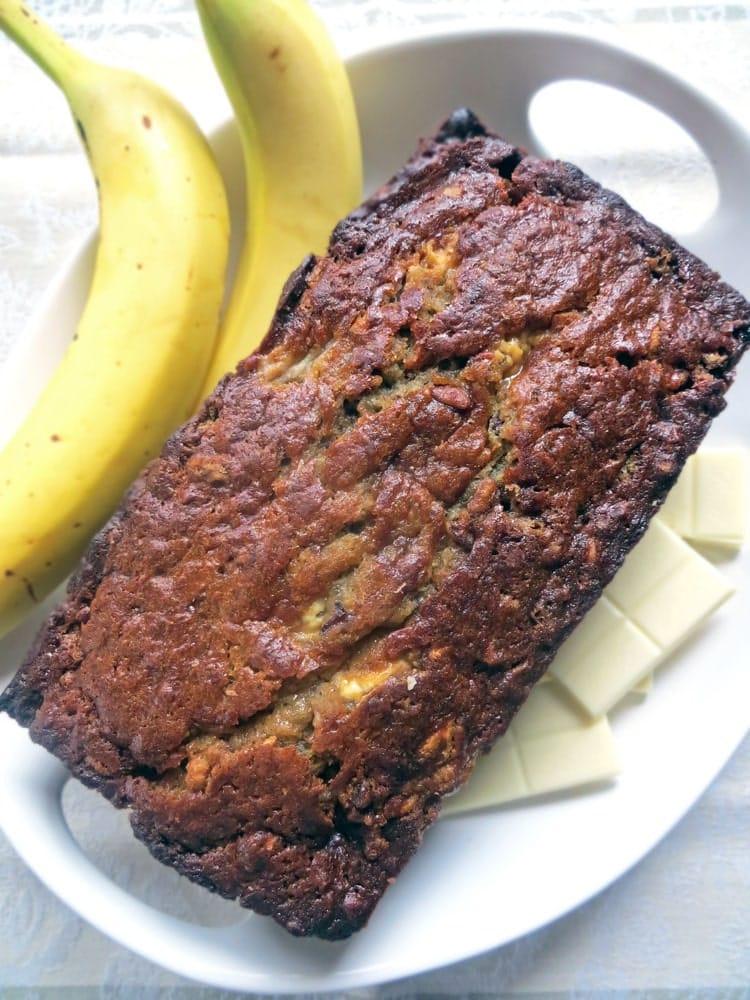 The first time I used white chocolate chips…shit…this didn't work AT ALL. The chocolate seized up within 15 minutes of going in the oven and became this weird pasty, chalky mess. The next time I tried it, I used white baking chocolate. This eventually worked with A LOT of stirring, but the consistency still wasn't quite as dreamy as I imagined.
I finally nailed it when I used Lindt White Chocolate which is not a baking chocolate. It's a bar you might find in the candy aisle of your local grocery store as it is meant to be enjoyed as a stand-alone treat.
As tempting as that might sound, I promise caramelizing white chocolate is so worth the wait. You can substitute caramelized white chocolate in any recipe that includes regular white chocolate. It will just add another dimension of rich, sweet flavor, but it won't significantly alter the dish.
Sometimes I feel like banana bread lacks the freshness that I want to start my day off right. On most busy days, the first thing I eat is a banana. I tend to like mine with a green tip so they aren't terribly sweet. At that point, a banana is the perfect balance of tart acidity and sweetness. I love them that way.
I wanted to bring those flavors into banana bread so, in addition to the 3 overripe bananas included in the recipe, I used one fresh banana chopped as well. This addition really amplifies the banana flavor and helps balance the sweetness of the caramelized white chocolate and overripened bananas.
This banana bread is so damn delicious it doesn't even need butter. This is seriously saying something guys because I f*cking LOVE butter. This banana bread is sweet and salty, crisp on the outside and soft on the inside, and really just everything you want from an indulgent breakfast treat. The addition of caramelized white chocolate makes this banana bread an amazing item to serve at a brunch party or to give as a gift to a friend or neighbor. You'll have everyone wondering, "What in the name of all that's holy is in this crazy tasty bread?"
Please let me know what you think of the recipe in the comments section below!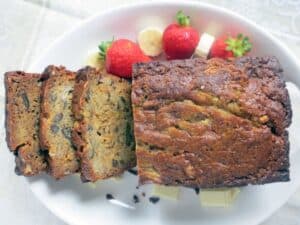 Banana Bread with Caramelized White Chocolate
Flavor-packed banana bread filled with caramelized white chocolate chunks, fresh banana, and chopped pecans. Caramelized white chocolate has all the familiar sweet vanilla flavors of white chocolate just stronger and with notes of toffee.
Ingredients
8

oz

white chocolate bar*

not chips or baking chocolate

1/2

C

butter

1/2

C

brown sugar

1/4

C

white sugar

2

eggs

1

tsp

baking soda

1/4

tsp

baking powder

1

tsp

salt

1

tsp

vanilla

1 3/4

C

flour

3

overripe bananas

1

fresh banana

1

C

chopped pecans
Instructions
To caramelize white chocolate:
Preheat the oven to 250 degrees. Be absolutely certain you're not trying to use chips or baking chocolate. Chips will be a complete f*cking fail…been there, done that, it sucked. The baking bar worked, but it just wasn't as silky smooth as the outcome with a good quality bar. You want the kind of chocolate bar you would eat so check out the candy aisle at your store. Buy the best quality you can find to maximize caramelization. I used Lindt.

Break the chocolate bar into chunks and place on a baking sheet. Put in the oven for about 5-10 minutes to melt. Stir and spread out into an even layer. Continue to bake in 10-minute increments, stirring and spreading back out after every 10 minutes until you've reached about 1 hour to 1.5 hours.

I realize that's a wide range of time. Sugars are a fickle little being though. I made this recipe on a very wet, rainy day, and the chocolate took about 1.5 hours to caramelize. The first time I made it, the weather was dry and hot, and it only took 1 hour.

You're going to think at first that you're totally f*cking it up, but I promise, give it time. Something wonderful starts to happen about 45 to 60 minutes in. You start to see the color darken and the chocolate becomes more glossy and smooth.

At each stage, the chocolate will become thicker in texture and deeper in color until you've reached a lovely golden shade of perfection. See the pictures above to help define lovely golden.

Pour onto parchment paper and spread into a thin even layer. Cool at room temperature for 10 minutes and then place in the freezer to harden while you assemble the banana bread.
To make banana bread:
Preheat the oven to 375 degrees and prepare a 9-inch loaf pan with baking spray.

Cream the butter, brown sugar, and white sugar first on low speed to combine then on medium for one minute until fluffy. Scrape down the sides of the bowl and turn back on to low. Add the eggs, one at a time, making sure each is thoroughly combined before adding another. Add baking soda, baking powder, salt, and vanilla and mix until combined.

Smash the 3 overripe bananas until there are no large pieces remaining. Scrape down bowl again and add the overripe bananas. The fresh banana will get folded in at the very end. Once the ripe banana is combined, add the flour and mix until just combined. You do not want to overmix, or you'll have tough bread.

Remove the caramelized white chocolate from the freezer and break into 1-inch pieces. Chop the fresh banana into 1/2-inch pieces. Add chopped pecans and fold to combine. Add the white chocolate and fold to combine. Last, add the banana and fold very gently to not break up the pieces.

Pour the batter into the prepared loaf pan. Baked for one hour and 15 minutes, covering loosely with tin foil after 30 minutes. The outside will be fairly dark, but you want to check that it's done in the center with a toothpick. If a toothpick inserted into the center comes out clean, it's done! Set aside to cool completely before eating. Depending on the temperature outside, it will take a minimum of two hours to cool, but I prefer to cool overnight.
Notes
If you don't have the time, or even the give-a-shit to caramelize white chocolate, feel free to substitute with white chocolate chips. Just be sure that you DO NOT use chips if you're planning to caramelize.
The following two tabs change content below.


Hey-ooo! I'm Hailey, and I'm a number cruncher by day and cussing cook by night. I created this site to share my love for delicious food that feeds the soul as well as the belly. I hope my recipes have you running to the kitchen to cook some damn good grub!