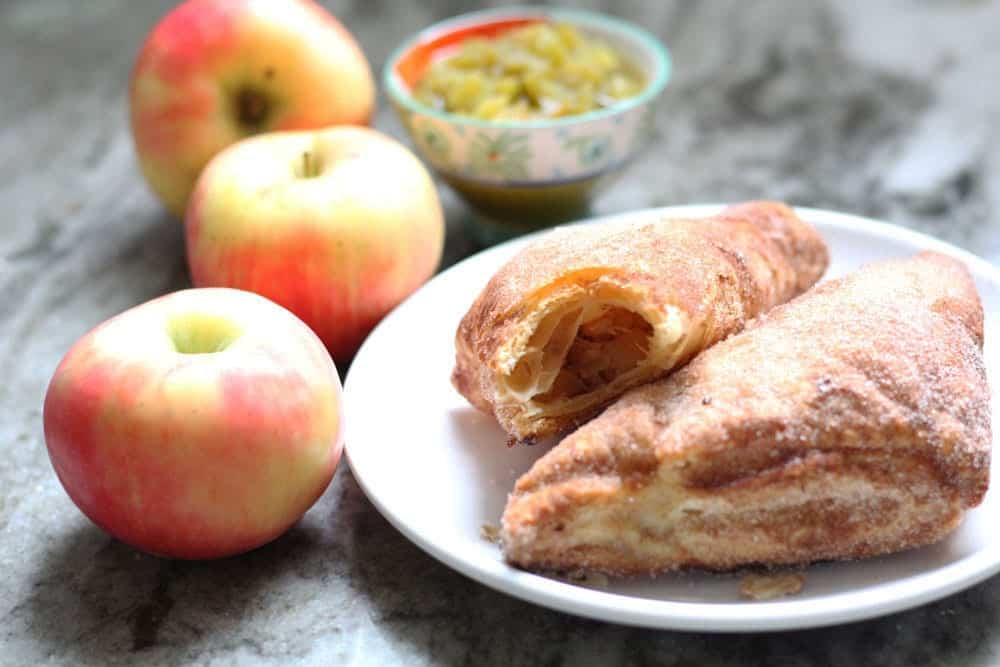 These turnovers are sinfully rich and delicious while still being super simple and not overly sweet. As we are supposed to this time of year, these turnovers celebrate the peak flavor of apples that arrive in the fall but with a little bit of a twist.
I love the combination of sweet and spicy flavors, and green chiles add just enough spice to make these turnovers interesting but not so much that they don't taste like dessert. The addition of crushed pineapple and cinnamon to the filling adds just the right amount of sweetness.
The filling is then wrapped up inside buttery, flaky puff pastry that is so damn tasty and completely idiot-proof… remove from freezer, de-thaw and unfold…. TA-F*CKING-DA! To finish them off, the turnovers are coated in cinnamon sugar to add extra crispness to the shell and give a little sweet bite as it hits your palette.
Fall is my personal favorite season and largely for all the wonderful produce that shows up. Apples are right up there with pumpkins in terms of the most popular fall flavors, and I can't disagree with either. This time of year, apples are so sweet they almost taste like apple juice.
That's why there is no extra sugar in the filling. You really don't need it when the apples are as sweet as they are right now. Gus (my corgi…if you haven't met him yet, check out his post "About Gus") is even digging the apples right now. One fell off my cutting board and now he wants a bite anytime someone in the house is enjoying one.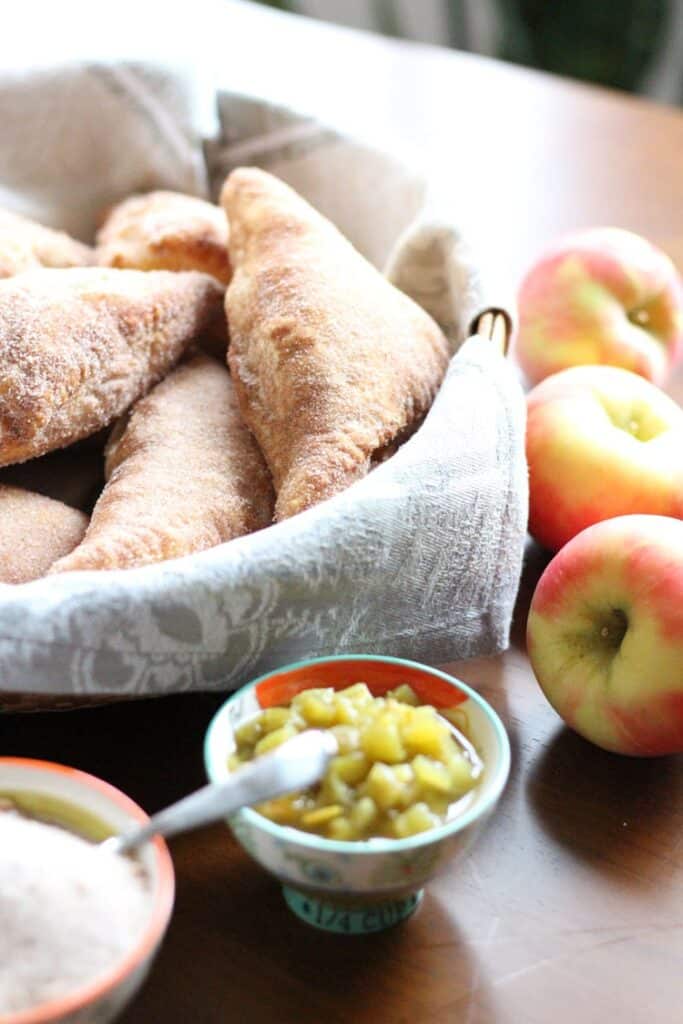 I love to celebrate a star ingredient like apples with a simple recipe like this one. It's really about heightening the heavenly flavor of perfectly ripe Honeycrisp apples and adding a little more interest to make every bite more exciting than the next.
These turnovers were a sweet ending to a somewhat salty end of the Red River Shootout (or for those of you not familiar with that title, the football matchup between the University of Oklahoma and the University of Texas). It's the biggest game of the regular season every year for both teams, and this year's game did not disappoint. Unfortunately, the damn Texas Longhorns were able to pull it out at the very end.
But, hey, at least I have these turnovers to make everything seem alright in the world. I hope you try this recipe and bring a little sweet and spice to your dessert! Feel free to top each turnover with a dollop of whipped cream if you want to really dress them up or serve family style as-is. Either way, they're delicious! Please let me know what you think in the comments section below!
Helpful Utensils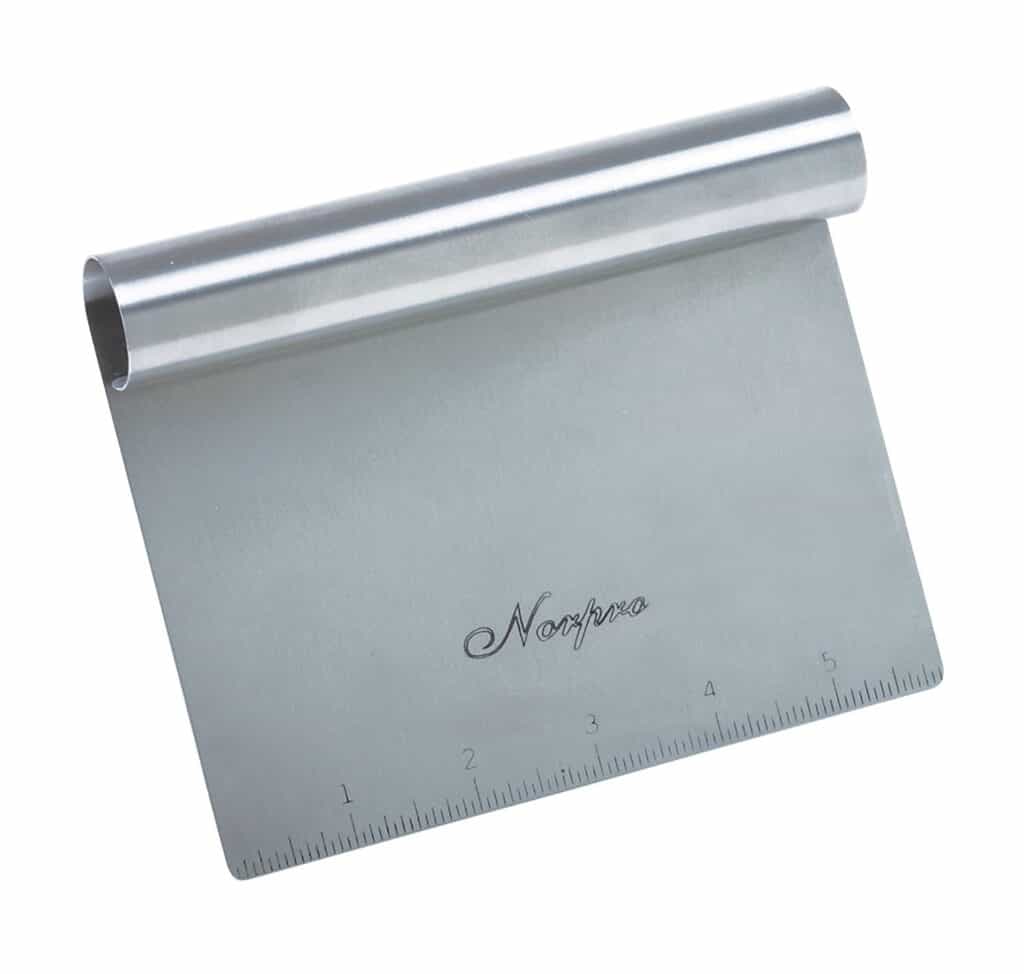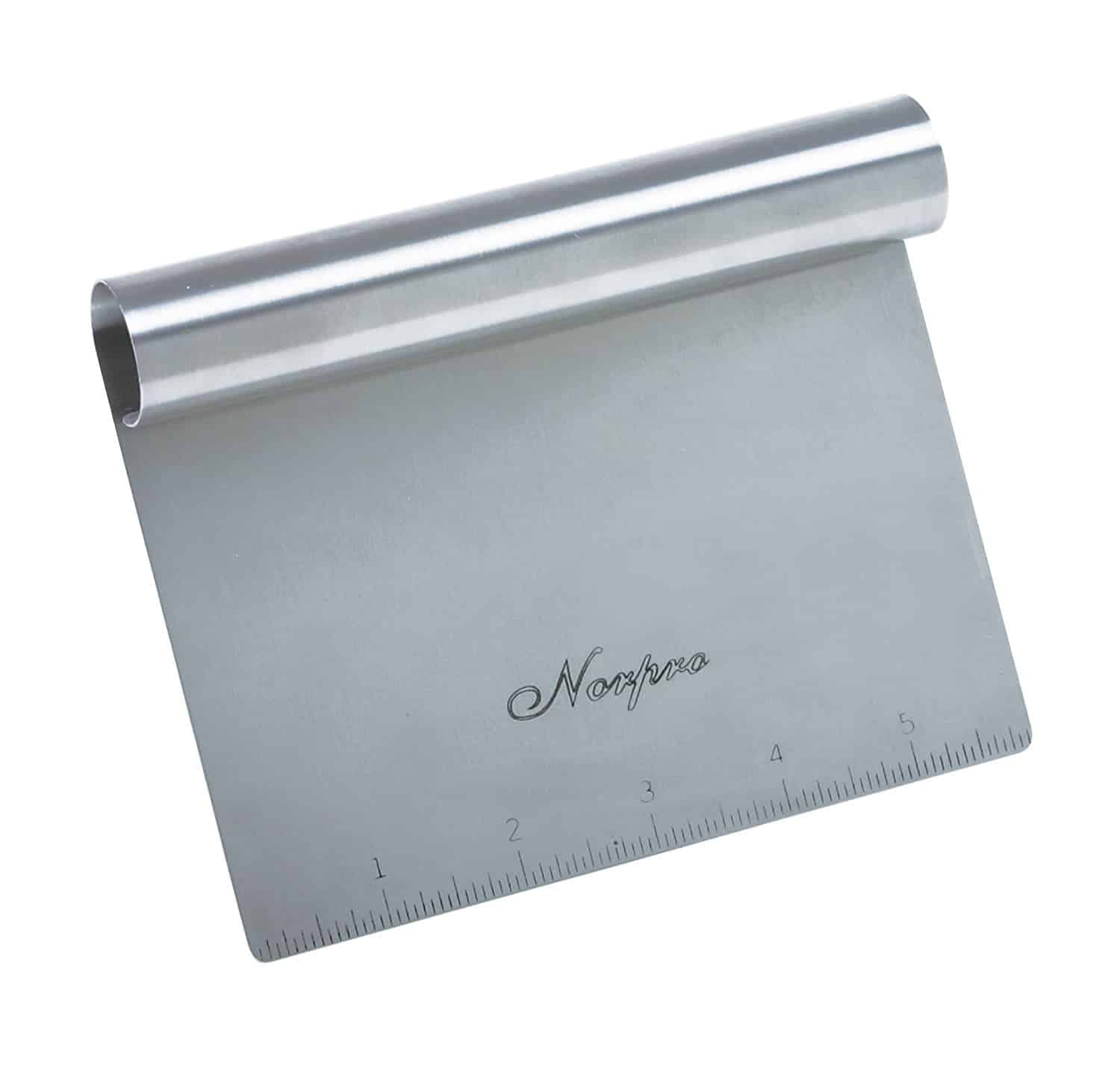 A bench scraper makes rolling out any type of dough or building pastries a synch. You can easily lift items like these turnovers without distorting the shape. I use my bench scraper all the time. I even use it to cut dough since it has a nice sharp, straight edge. That's why you'll find it on my Kitchen Essentials page with tons of other great items for yourself or your loved ones.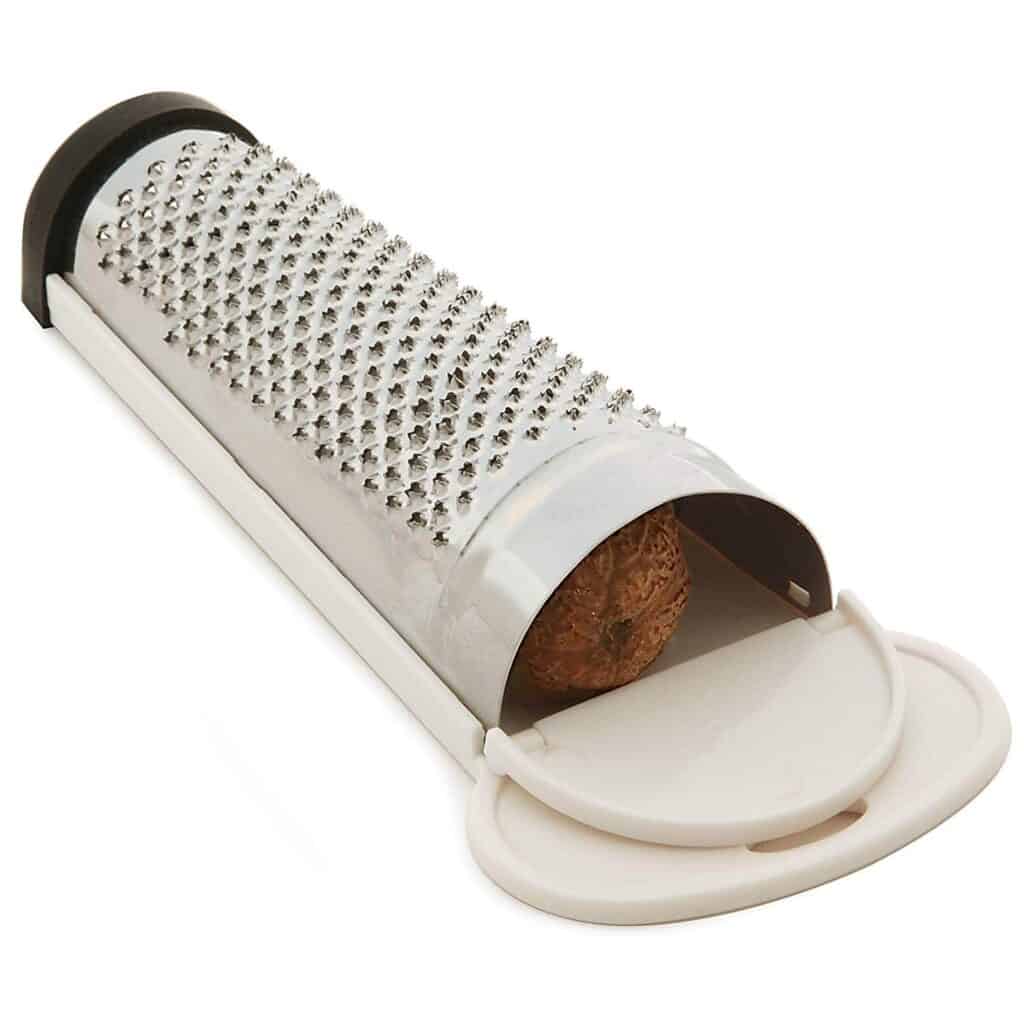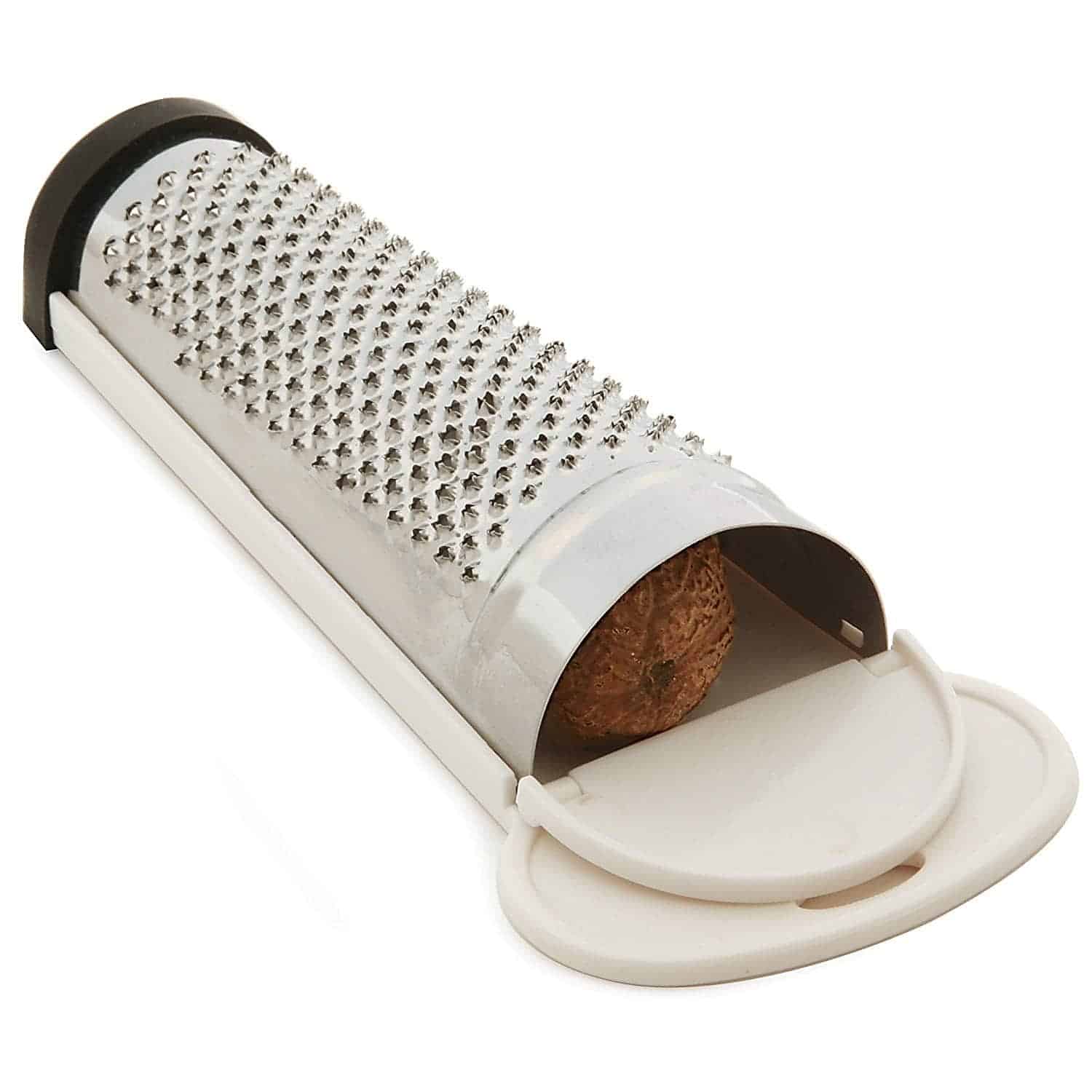 Fresh nutmeg has a totally different and more subtle taste profile than the kind you buy already ground. This holder is super inexpensive and is dual purpose since you can also use it as a grinder. I keep whole nutmeg in my freezer where it can last 2-3 years, yes….YEARS! Seriously, Google it! It makes all the difference in both savory recipes like white sauce or sweet recipes like this one.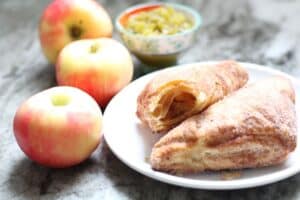 Apple Green Chile Turnovers
Honeycrisp apples, diced green chiles, and crushed pineapple combined are a wonderful balance of sweet, acid and a little bit of spice. All those flavors are wrapped inside buttery, flaky puff pastry coated in cinnamon sugar for the perfect wrapping to a gift of fall produce with a twist.
Ingredients
Turnovers
2 17.3

oz

packages frozen puff pastry

dethawed

1/4

C

crushed pineapple

canned

4

oz

can diced green chiles

drained

2

C

or ~4 small honeycrisp apples *

pinch

of salt

pinch

of cloves

pinch

of fresh ground nutmeg **

1

tsp

ground cinnamon

1/4

C

butter

softened

pinch

of cayenne

optional

1

egg
Cinnamon Sugar Coating
1

C

sugar

1.5

Tb

ground cinnamon

heavy pinch of salt
Instructions
Preheat oven to 400 degrees. Prepare two baking sheets with parchment paper or nonstick foil for easy cleanup.

Drain the can of green chiles well. Peel the apples first, and then finely dice into roughly 1/4-inch pieces. In a large mixing bowl, combine with crushed pineapple, green chiles and all the spices. The cayenne pepper is totally optional. If you're making this for kids, I would definitely remove the cayenne as the green chiles off a bit of kick, but they're mild enough to no get that "It's SPICY." complaint from the little ones. We like our food a little hot at my house so I added a small pinch of cayenne, but this is totally up to you.

Mix thoroughly to combine. Last, add the 2 Tb of butter and mix to ensure even distribution of the butter.

Check to see if your puff pastry is dethawed by trying to unfold it. You'll know it is dethawed if it's easy to unfold. If you cannot unfold without risk of tearing, wait another 15 minutes and try again.

Once the puff pastry is dethawed, unfold onto a lightly flour surface, and using a pizza cutter or sharp knife, cut each sheet into 4.5-inch by 4.5-inch square pieces, or four equal squares if you're not measuring. Place 2-3 Tb of filling onto each square.

Whisk together 1 egg with 1 tsp of water to create an egg wash. Brush the egg wash lightly around all four edges of each square. Fold over the dough to make a triangle with filling evenly distributed inside the center.

First, pinch the edges closed with your hand, and then either use a fork to completely seal the edges or crimp the edges as you would with a pie crust if you've got those skills. Both ways turn out pretty, and frankly, I usually start with crimping and get lazy and switch to the fork method. Whichever method you choose, you want to make sure you seal the edges well since puff pastry rises dramatically and can easily break open around the edges. It's not a disaster if that happens, but try to prevent it as much as possible.

Once sealed, place each turnover about 1-inch apart from each other on a prepared baking sheet. Do not egg wash the top of puff pastry as you risk deflating it's puffiness while baking. There is plenty of butter in puff pastry to ensure a golden brown finish. Bake for 30 minutes or until perfectly puffed and golden brown.

While the turnovers are baking, prepare the cinnamon sugar coating by thoroughly combining all of the ingredients in a mixing bowl with enough room to easily flip the turnover around.

Once you remove from the oven, it's important to roll in your cinnamon sugar as quickly as possible without wrecking your fingers. This is sort of a personal preference, but with the assistant of a fork to stabilize the turnover and a spoon to ladle the sugar over the top, you shouldn't have to wait more than a couple of minutes out of the oven to handle. Just keep in mind, the more quickly you coat from the oven, the more cinnamon-sugar that will stick to the outside.

Once, you've rolled in the cinnamon sugar, let the turnovers cool for a minimum of 15 minutes to ensure the filling inside won't burn your tongue. These are best enjoyed warm so I wouldn't wait too long! Besides the aromas in the air will have you dying to try them!

If you'd like to make ahead, these also reheat nicely in the oven on 250 degrees for about 5-10 minutes. You can keep at room temperature for up to 3 days in an airtight Tupperware and reheat when you're ready to enjoy. Don't microwave them. They=ll just get soggy.
Notes
* You can substitute with any apple you like. Other good options would be fuji or pink lady apples. Honeycrisp apples are my personal favorite. You can also use granny smith if you prefer a more tart and acidic taste profile, but there isn't any added sugar in the filling so keep that in mind.
** I strongly prefer the flavor of freshly ground nutmeg compared to the kind you buy already ground. You can find whole nutmeg at most grocery stores or on Amazon. You can use a Microplane to grate, or they sell these awesome grinders specifically for nutmeg that holds the whole nutmeg in a convenient little compartment. I have linked to one above if you're interested in purchasing.
The following two tabs change content below.


Hey-ooo! I'm Hailey, and I'm a number cruncher by day and cussing cook by night. I created this site to share my love for delicious food that feeds the soul as well as the belly. I hope my recipes have you running to the kitchen to cook some damn good grub!